Preparing your dessert list or trying to organize your baking schedule for Thanksgiving Day? These are 50 of the best Thanksgiving air fryer desserts you'll want to make this year, from pies to cobblers to cookies and layer cakes. Each dessert has been crafted to perfection, offering a convenient, time-saving, and mouthwatering experience.
Thanksgiving Day is approaching, and you have many dishes to prepare. You're juggling turkey, stuffing, sides, and more. The last thing you want is to be stuck in the kitchen for hours, right? That's where your trusty air fryer comes to the rescue.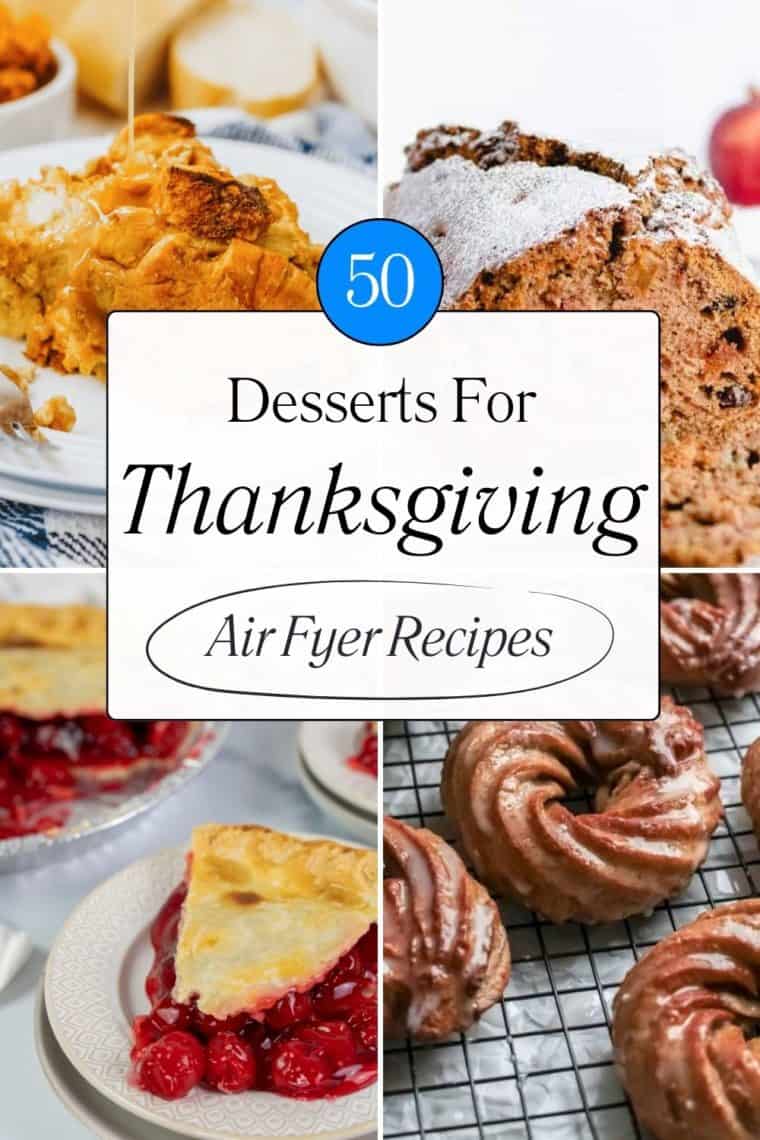 Air fryers are not just for savory dishes. Today, we spotlight the importance of the unsung hero that is your air fryer as another essential kitchen appliance that makes your cooking workflow run smoothly. You'll also have dessert in less time and free oven space for the main course.
Our collection of 50 air fryer desserts is here to make your Thanksgiving prep a breeze. These recipes are designed to shine in your air fryer, giving you that perfect blend of convenience, flavor, and time-saving magic. Say goodbye to oven-related stress and hello to more dessert and relaxation this Thanksgiving! While your turkey is roasting away in the oven, your air fryer can take care of your precious holiday desserts simultaneously. Plus, with desserts cooked in the air fryer, you'll spend less time in the kitchen and more time enjoying the company of your loved ones.
Tips & Tricks For Using An Air Fryer To Make Desserts
Preheating Your Air Fryer: Just like with an oven, it's good practice to preheat your air fryer for a few minutes before adding your dessert. This ensures that it starts cooking immediately and promotes even cooking.
Using the Right Accessories: Air fryers often have accessories like racks, trays, and baking pans. Select the appropriate accessory for your dessert recipe, and consider using parchment paper or silicone baking mats to prevent sticking.
Overcrowding the Basket: Overcrowding can hinder proper air circulation and result in uneven cooking. Leave enough space between dessert items to allow the hot air to circulate freely. If needed, cook in smaller batches.
Lightly Grease or Spray: Depending on the recipe, lightly grease or spray the air fryer basket or accessory with cooking oil to prevent sticking and help achieve a crispy texture.
Cooking Time: Keep a close eye on your desserts, especially the first time you make a particular recipe. Air fryers cook quickly, so it's easy to overcook or burn items if you're not attentive.
Rotate or Flip as Needed: If your air fryer doesn't have a rotating basket, consider flipping or rotating your desserts halfway through the cooking time to ensure even browning and cooking.
Be Cautious with Fillings: For recipes with fillings, like turnovers or pies, be mindful of overfilling, as the filling can leak and create a mess in the air fryer.
Adjust Temperatures and Times: Air fryers can vary in performance, so don't hesitate to adjust cooking temperatures and times to match your specific appliance and preferences.
Use a Foil Tent: If the top of your dessert is browning too quickly while the inside is not fully cooked, you can create a foil tent to shield it from direct heat, allowing the inside to continue cooking.
Allow Desserts to Cool: Give your desserts a few minutes to cool before serving. This allows them to set and be more manageable when serving.
Clean Your Air Fryer: After using your air fryer, make sure to clean it thoroughly to prevent any residual flavors or odors from affecting your next batch of desserts.
Air Fryer Apple Desserts
Air Fryer Blueberry Desserts
Air Fryer Cherry Desserts
Air Fryer Cobblers and Crisps
Air Fryer Cranberry Desserts
Air Fryer Pecan Desserts
Air Fryer Pumpkin Desserts
Air Fryer Dessert FAQs
1. Can I make desserts in an air fryer?
Yes, you can! Air fryers are versatile appliances that can be used to make a wide range of desserts, from pies and cookies to cakes and crisps. They're a convenient and efficient way to prepare sweet treats.
2. How do I adjust cooking times and temperatures when making desserts in an air fryer?
It's important to follow the specific recipe instructions provided for your dessert. You may need to reduce the cooking temperature by about 25°F and shorten the cooking time. However, times and temperatures can vary depending on your air fryer model and the dessert you're making.
3. Can I use regular dessert recipes in an air fryer?
Yes, you can adapt many traditional dessert recipes for use in an air fryer. To do this, you'll need to adjust the cooking time and temperature. Additionally, using air fryer-safe pans, trays, or accessories that fit your appliance is essential.
4. How do I prevent desserts from sticking to the air fryer basket or tray?
To prevent sticking, you can lightly grease the air fryer basket or accessory with cooking oil or use parchment paper or silicone baking mats. Using non-stick accessories specifically designed for air fryers can also help. Check out this article on how to use oil in an air fryer.
5. What types of desserts work best in an air fryer?
Air fryers excel at preparing desserts that benefit from crispiness and browning, such as pies, turnovers, cookies, and certain cakes. They're also great for recipes that you'd like to cook quickly, like muffins or cinnamon rolls. However, not all desserts are suitable for air frying, so it's essential to choose recipes that are designed for this cooking method.