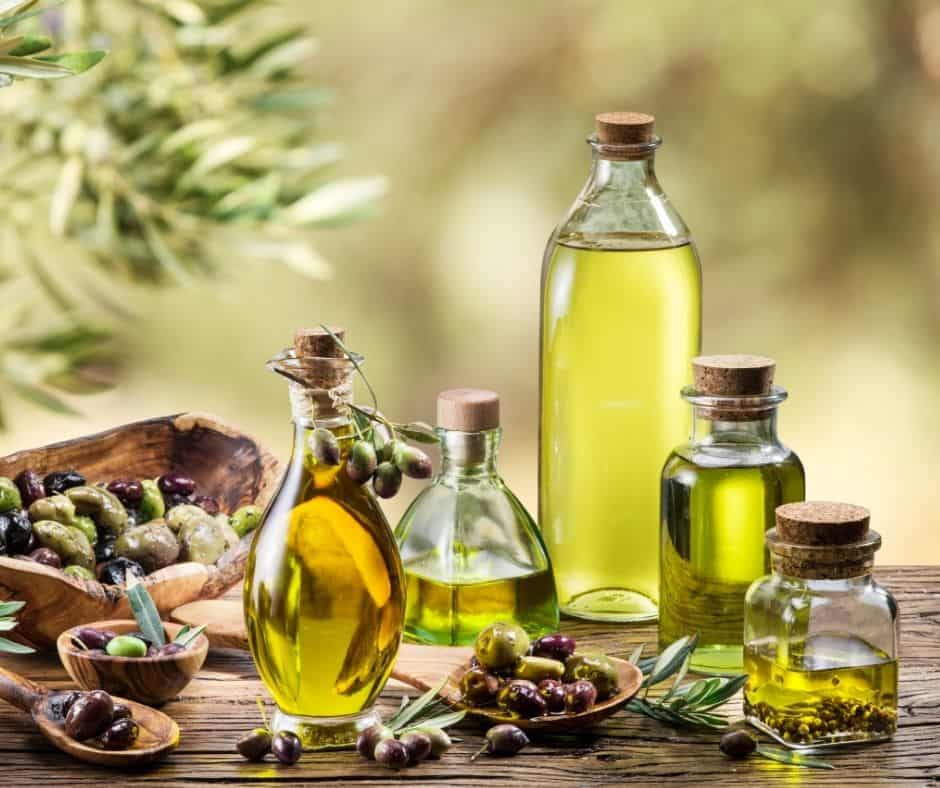 Using Oils With Air Fryers–We went over the other day that air fryer cooking is much healthier because you use less oil.
There is a myth that you do not use any oil when you have an air fryer. I am not sure if that was featured on a commercial or it was advertised somewhere. I know that is a myth.
It is also one of the biggest problems that new air fryer owners run into since they have heard this myth, they have removed the oil from the cooking process, and you end up with two problems when you air fry, and this is most prevalent when you are cooking anything with a breading coating.
White Spots
Brown Food, which looks like it's almost burnt
If this has happened to you, I will explain why, in this article, because my goal has always been you get amazing food from the air fryer, and I think this will help you understand and solve those problems.
What Are The Best Oils For Air Frying
Since I was raised on olive oil, my recipes always call for spraying olive oil, and my youngest son is allergic to coconuts, so obviously, spraying his food with coconut oil is not an option.
Today, I wanted to go over what oils have a high smoking point, and I made a chart for everyone's reference.
From the chart, we can determine that the best oils to use in the Air Fryer are those with high smoke points and will not burn at high temperatures. Since the air fryer's heating element is located closer to the food (and oil) than in an oven, you really want a high heat oil, otherwise you are going to end up with a kitchen filled of smoke.
My choices, from the chart:
Avocado Oil
Refined Olive Oil
Corn Oil
Clarified Butter
peanut Oil
Sunflower Oil
So, now that you know what oils to use, I want you to choose your favorite, the most common in our Air Fryer Group is Avacado Oil, and Olive Oil since they smoke less and truthfully are more common in the grocery stores (in the United States)
What Are The Best Oil Sprayers For Air Frying
This is one of the most common questions I receive. When anyone gets an air fryer, they want to know what should be in their toolbox.
Why Can't You Use An Air Fryer Aerosol Oil Sprayer?
I always recommend people start with an oil sprayer, mister, here is why.
Using any aerosol sprayer can hurt your air fryer, and I don't want your air fryer to rust or peel.
Regular aerosol oil cans usually contain propellants. If you do not know what a propellant is, it is a chemical used to force the oil out of the can. The most common propellant used in the United States is propane.
So, when you constantly spray and heat up the propane, it is not surprising that your air fryer basket's coating starts to come off.
Both of those issues have been traced back to using Aersoal Sprayers in your Air Fryers. They contain propellants. Here are the oil sprayers. I do recommend that you can buy off the shelf or on Amazon (affiliate links)
Grapeseed Oil Non-Stick Cooking Spray (Made with No Propellants)

La Tourangelle, Avocado Oil Cooking Spray, 5 Ounce (Packaging May Vary)
Original High Heat Cooking Oil Spray by 4th & Heart | Blend of Grass-fed Ghee, Avocado, and Grapeseed Oils | Non-GMO Verified | Keto-friendly
The Cheaper Alternative-
So, I air fry a lot. What I have bought were three air fryer sprayers that did not work. They didn't work at all. But there was no way; I would spend $26 for an air fryer sprayer, so I kept on buying the $10 versions. After buying 3 that did not work and spending $30, I was no closer to finding a working mister. Then my girlfriend told me she just got the best mister, and I had to come over to her house to try it. I did, and I was sold.
So, while I can recommend any product, and I'm sure many of you will purchase the $10 version rather than the $20 something version, you will be wasting your money. And I treat my readers like family; if I didn't let my mother purchase it, I would not tell you to buy it. So, truthfully the only one that I have used that works… (affiliate link)
Evo Kitchen and Grill Olive Oil and Cooking Oil Trigger Sprayer Bottle, Refillable, Non-Aerosol, 8-Ounce Capacity, Set of 2
Then, because I am frugal, I fill one with Avacado Oil and One with Olive Oil, and depending on what I am making, I use it accordingly.
I buy my Olive Oil and Avocado Oil in Bulk since I can usually score a great deal at Costco or Amazon, and then fill up my sprayer. My two favorites:

Better Body Foods Avocado Oil, Refined Non-GMO Cooking Oil for Paleo and Keto, 500 Milliliters
Some Other Great Air Fryer Articles, If you liked Using Oils With Air Fryers—
Don't Forget To Pin For Later, Using Oils With Air Fryers