If you've been wondering how to use oil in air fryer, you've come to the right place. I created this helpful guide to teach you everything you need to know. You'll learn about the best oil to use in air fryer, the best spray bottles, and more!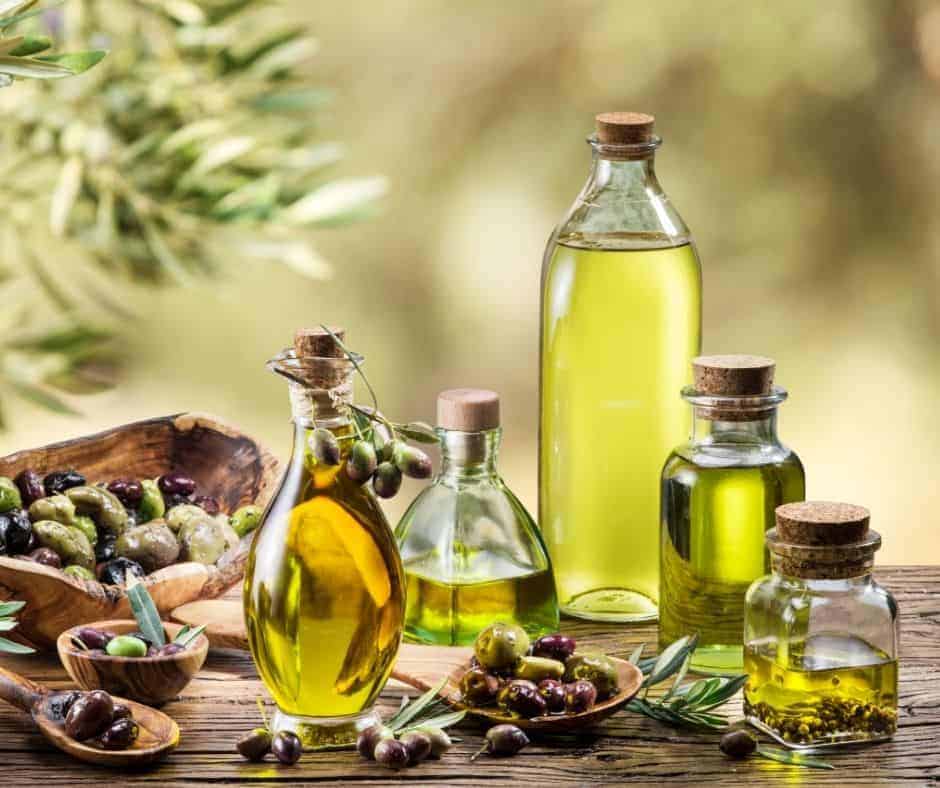 How to Use Your Air Fryer With Oil
Air fryers are everywhere! Almost everyone I know has one and is completely obsessed. I can see why — you'll be able to ditch all of that excess oil normally required for cooking. They also make clean up oh-so-easy.
Because air fryers are famous for using less oil for frying, baking, and roasting, there is a myth that you shouldn't use any oil at oil in the air fryer. I'm not sure if it was featured in a commercial or if it was advertised somewhere. But one thing I do know is that it is a myth. You can (and should in a lot of cases) use oil in air fryer.
One of the biggest problems that new air fryer owners run into (since they have likely heard this myth), is that they completely remove the oil from the cooking process. If you do, you could end up with two problems:
White spots
Brown food that looks like it's almost burnt
These issues tend to come up especially when you air fry anything with a breaded coating.
If this has ever happened to you, I can understand your frustrations! That's why I decided to create this article on how to use oil in air fryer. You'll discover the best oil to use in air fryer so that you can create amazing dishes in no time!
Looking for more air fryer how-to articles? Don't miss THINGS TO CONSIDER BEFORE BUYING AN AIR FRYER, PYREX IN AIR FRYER, and WHY YOUR AIR FRYER SMELLS LIKE BURNT PLASTIC.
What is the Best Oil to Use in Air Fryer?
There are so many cooking oils out there. From vegetable oil like canola to olive oil, avocado oil, coconut oil, and more — there are plenty of options! I personally was raised on olive oil, and I'm in the habit of reaching for it when cooking. Plus, my youngest son is allergic to coconuts, so coconut oil isn't an option. That said, not all oils are created equally and not all oils can go in the air fryer.
Something important to keep in mind when deciding which air fryer oil to use is the smoke point. For air fryer cooking, the higher the smoke point, the better.
I want to go over which oils have that precious high smoke point, so I made a guide for all of my fellow visual learners out there.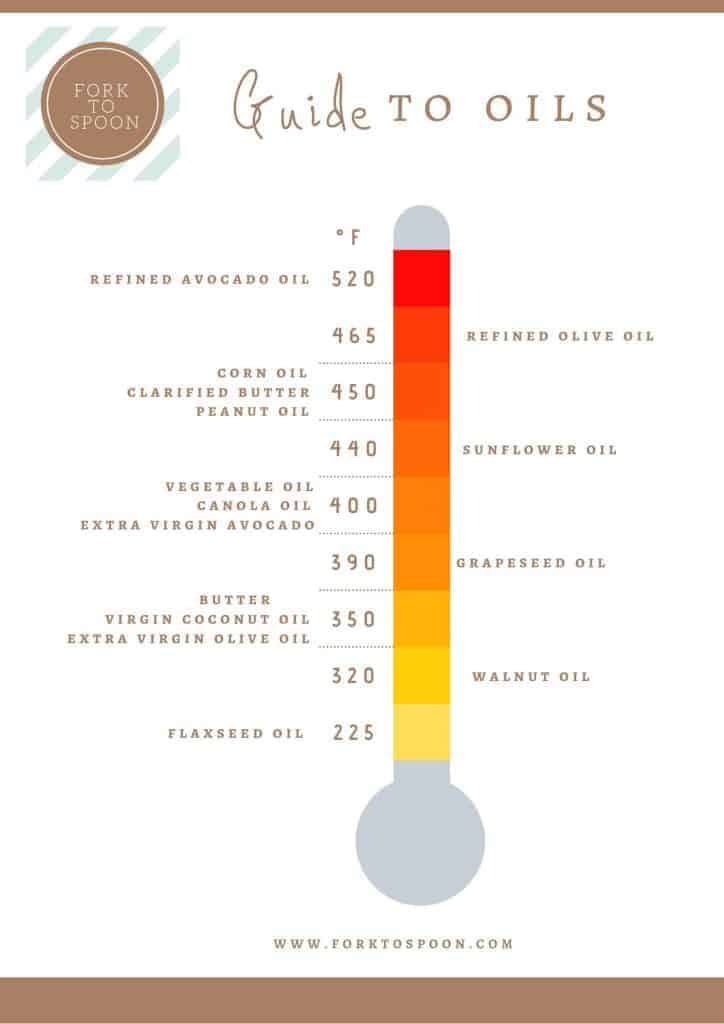 The best way to use your air fryer with oil is to opt for oils with a high smoke point, as they won't burn when cooked at a high temperature. As the air fryer's heating element is located closer to the food (and the oil!) than in an oven, you really need to use a high heat-resistant oil. Otherwise, you could end up with a kitchen full of smoke. Not fun!
My Favorite Air Fryer Oil From the Chart:
Avocado Oil
Refined Olive Oil
Corn Oil
Clarified Butter
Peanut Oil
Sunflower Oil
Now that you know all of the best oil to use in the air fryer options, it's time to choose your favorite. The most common are avocado oil and refined olive oil. They each have a very high smoke point and are easy to find in most grocery stores in the United States.
Can You Use Olive Oil in Air Fryer?
This is one of the most common questions I receive when it comes to using an air fryer with oil! It's understandable — as I mentioned, I grew up on olive oil and I know many of you did too.
You can use olive oil in air fryer, but you need to be very careful about which variety. Always opt for refined olive oil. You may also be able to get away with using extra virgin varieties, although you can see in the chart above that its smoke point isn't as high as refined olive oil in air fryer.
What Are The Best Oil in Air Fryer Sprayers?
One thing you need to be really careful about when it comes to air fryer oil sprayers is what type you use. Below you'll find out why and some options to try now.
Why Can't You Use An Air Fryer Aerosol Oil Sprayer?
I always recommend people start with an oil sprayer, also called a mister. Here's why!
Using any aerosol sprayer can hurt your air fryer, causing it to rust or peel.
Regular aerosol oil cans usually contain propellants. If you don't know what a propellant is, it's a chemical used to force the oil out of the can. The most common propellant used in the United States is propane.
So, when you constantly spray and heat up the propane, it should come as no surprise that your air fryer basket's coating will start to come off. Peeling and rusting have been traced back to using aerosol sprayers in your air fryers because they contain propellants.
Here are the oil sprayers I do recommend that you can buy off the shelf or on Amazon: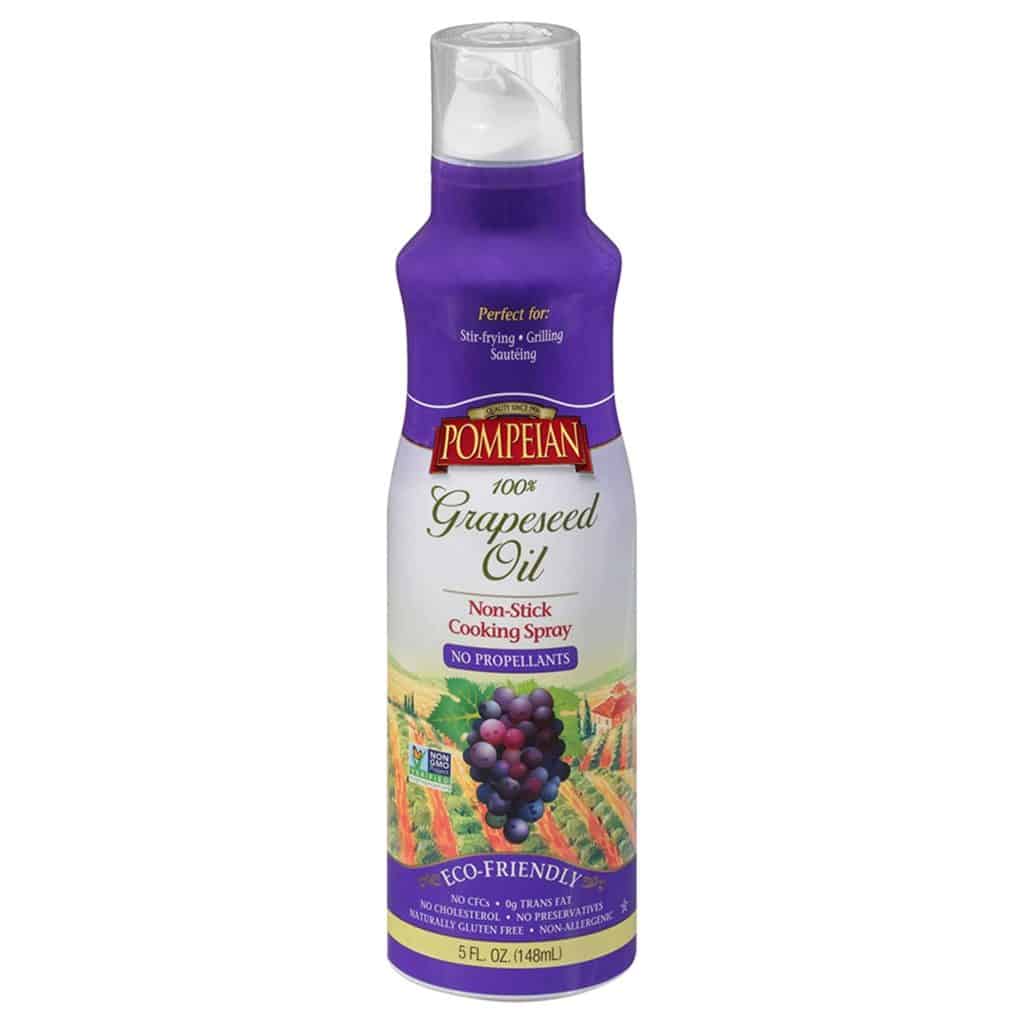 Grapeseed Oil Non-Stick Cooking Spray (Made with No Propellants)

La Tourangelle, Avocado Oil Cooking Spray, 5 Ounce (Packaging May Vary)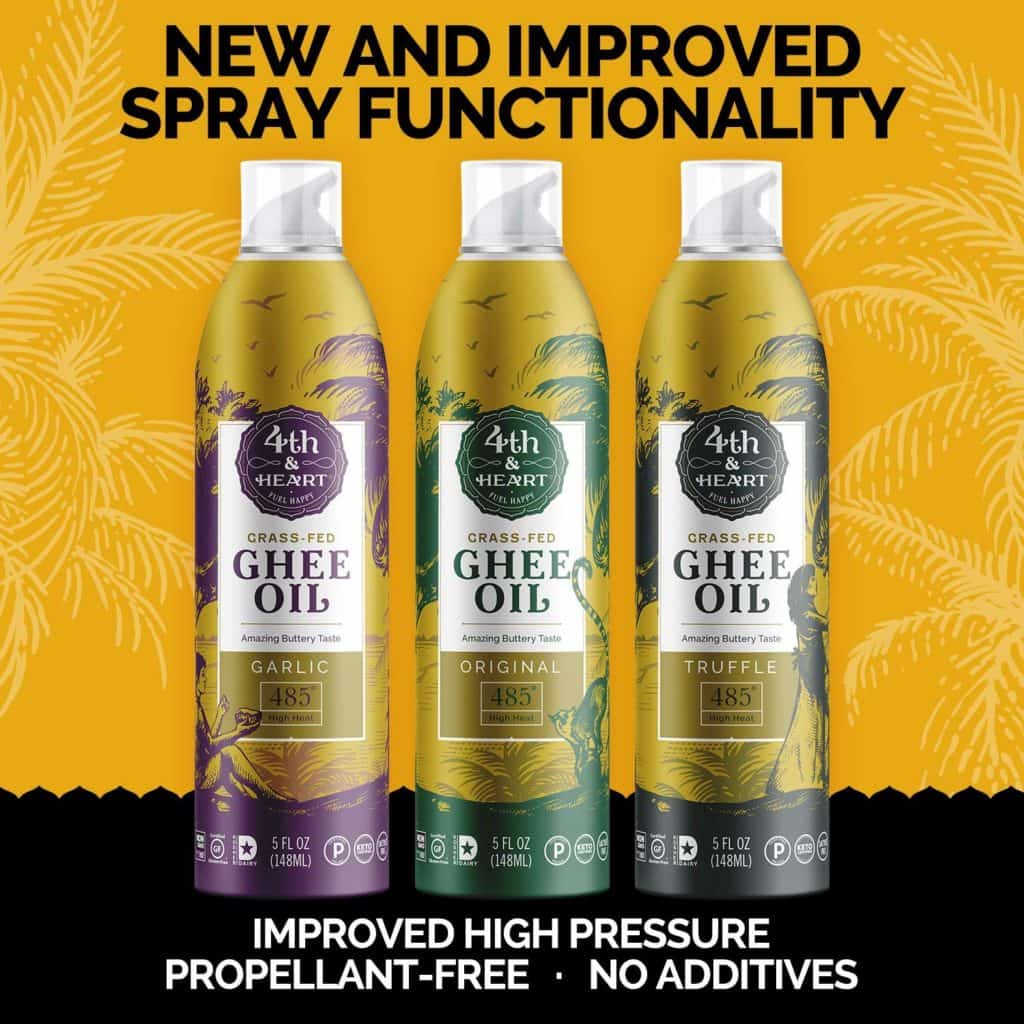 Original High Heat Cooking Oil Spray by 4th & Heart | Blend of Grass-fed Ghee, Avocado, and Grapeseed Oils | Non-GMO Verified | Keto-friendly
An Inexpensive Alternative for an Air Fryer Oil Mister
As you can imagine, I air fry a lot. Unfortunately, I've had to go through a lot of air fryer oil sprayers that didn't work. It was so frustrating. A part of this was because there was no way I was going to spend $26 for a sprayer to use my air fryer with oil, so I kept buying the $10 versions.
After buying three options that didn't work (and spending $30), I was no closer to finding a working mister. Then, one of my friends told me that she found one that worked. I stopped by her house, tried it out, and boy was I sold!
While I can recommend all sorts of products, I'm sure most of you will opt for the $10 version rather than the $20-something version just like me. I treat my readers like family. If I wouldn't feel comfortable recommending it to my mother, I wouldn't recommend it to all of you! So — truth time — the only one that I have used that works really well is this refillable spray bottle.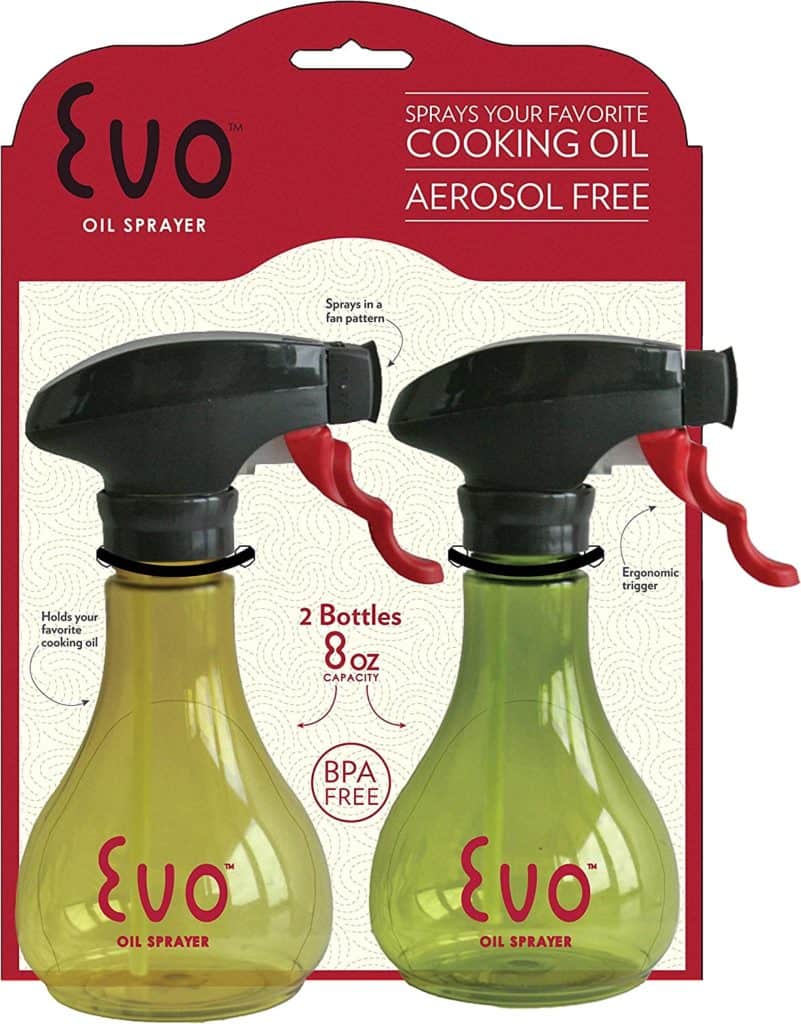 Evo Kitchen and Grill Olive Oil and Cooking Oil Trigger Sprayer Bottle, Refillable, Non-Aerosol, 8-Ounce Capacity, Set of 2
Because I'm frugal, I fill one with avocado oil and one with refined olive oil. Depending on what I am making, I use it accordingly.
I typically buy my oils in bulk as I can usually score a great deal at Costco or Amazon and then fill up my sprayer. My two favorites are: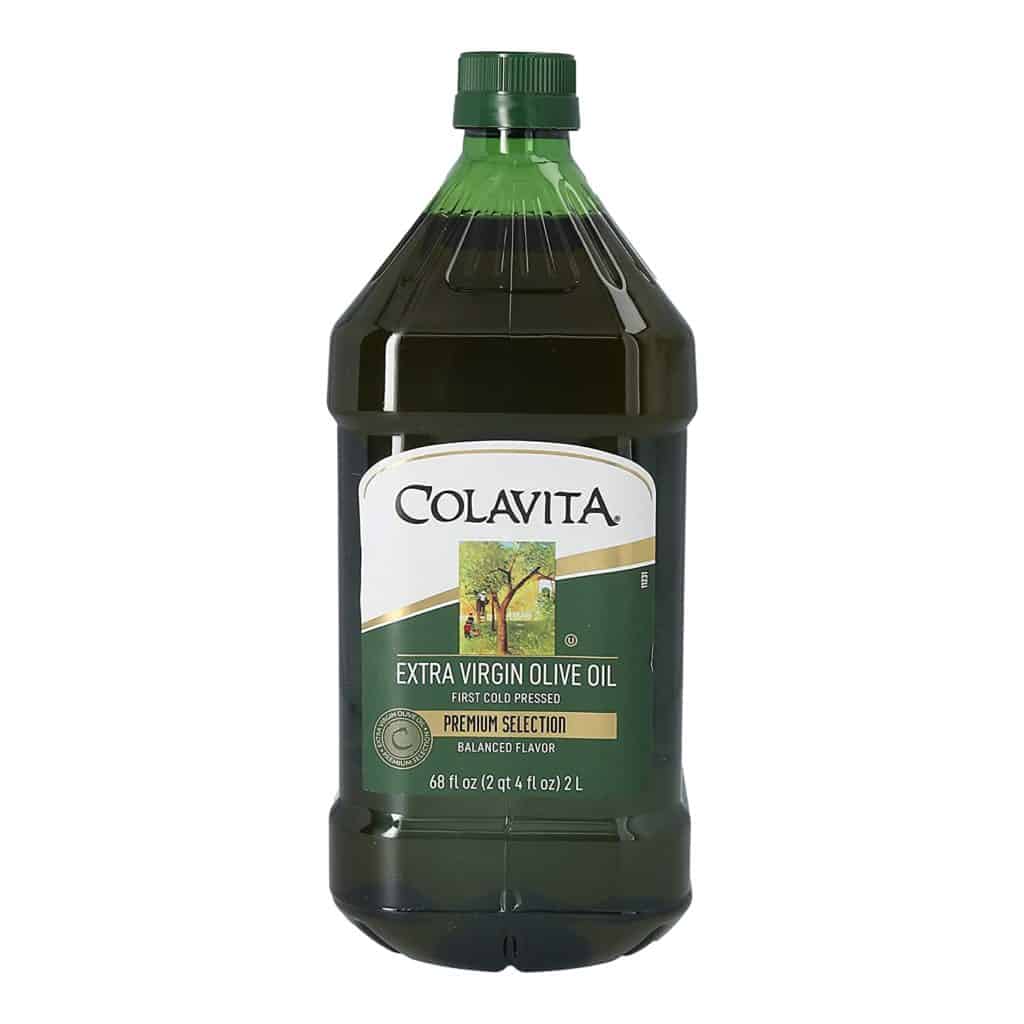 Better Body Foods Avocado Oil, Refined Non-GMO Cooking Oil for Paleo and Keto, 500 Milliliters
More Air Fryer How-To Articles:
Don't Forget To Pin For Later!