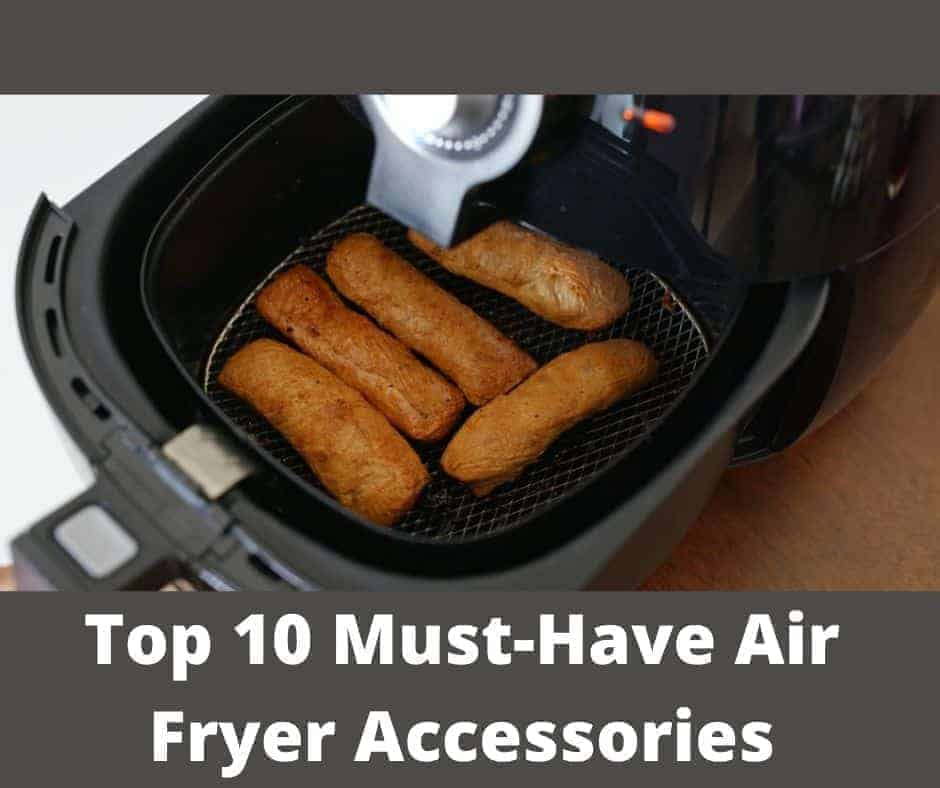 If you are looking for a list of what you need to really use your air fryer to its full level, here are my —Top 10 Must-Have Air Fryer Accessories
Disclosure: Some of the links below are affiliate links. At no cost to you, I will earn a commission if you click through and make a purchase.
This is one of the best ways to keep your air fryer clean. I use them all of the time, to keep my clean up time to a minimum. This helps prevent food from sticking to the air fryer basket.
There are many sizes available for all types of air fryer baskets. The holes do not block the air circulating around the air fryer basket, which means they do not interfere with air frying your food.
I use unbleached as they are touching my food, so I feel better.
Everyone needs at least one, otherwise, you are limiting what you are able to make in the air fryer. I call this an investment because you will only need one set of air fryer pans. The choices are vast, depending on which air fryer you own. I recommend that everyone get a starter set. Just like you got a set of pans when you first started cooking. You need a starter set to get your air frying adventures started.
This is a universal grill pan, which means it will fit almost any air fryer basket. (Always remember to check your size)
This allows you to grill, sear, roast, and fry. The pan with the holes allows the air fry to circulate the hot air around the basket still. The grease will simply drop through the holes and will not make your food sit in the grease. It makes for such a healthier meal.
You will get the perfect sear of your meat, fish and vegetables.
I love using the attachment for my air fryer shrimp, it gets perfectly air fried, and the flavor is amazing.
This is one tool I never thought I would use. But as I started making homemade french fries, homemade carrot chips, and even homemade potato chips, I was using this more and more. (Recipes are at the end of this post)
Easy to Use and clean, this tool will elevate your air fryer adventures to a whole new level.
This is one of the most important tools you need when owning an air fryer. I believe that every kitchen needs one, whether of not you own an air fryer.
EVERY air fryer is different, slightly; therefore, always use one to make sure that your food is cooked.
Oil Sprayer. This will end up saving you lots and lots of money because unlike the rumor floating around that you will never use the oil after you purchase an air fryer. You end up spraying most food, with a few squirts to get your food crispy.
This is the true key to get any food golden brown and crispy.
I have bought about 5 of oil misters before I finally invested in this one and have been using it for about 3 years. So, while others may be cheaper, the old adage remains, you get what you pay for. I highly recommend this one.
These are perfect for the air fryer. And unlike the other muffin cups on the market, the edges help stabilize them with the hot air in the air fryer. I have made so many recipes in these, from individual chicken pot pies to blueberry muffins! They are great!
These racks are amazing. They add the option of making air fryer kebabs to your air fryer menu. I love them, they really help with anything from air fryer grilled cheese to kebabs. Love them, and easy to use, and when you are done with them, toss them into the dishwasher for easy cleanup.
Every air fryer owner needs a pair of tongs to toss the food or remove the food from the air fryer basket.
Always make sure that you get a pair of heat resistant tongs.
Have you ever burned yourself getting stuff out of the air fryer? Me too; my husband actually surprised me with a pair of gloves and told me to use them. So, embarrassed, I never thought about using gloves when getting stuff out of the air fryer basket, even after I had burned myself.
Lesson learned, and one I share with my readers, buy a pair; you deserve them!
Here Are Some Recipes I used with My –Top 10 Must-Have Air Fryer Accessories