Sweet and flaky Air Fryer Apple Pie is the perfect ending to any meal. Try this accessible version of the American classic, ready in just 25 minutes! If you love warm apple pie, you will love this easy recipe!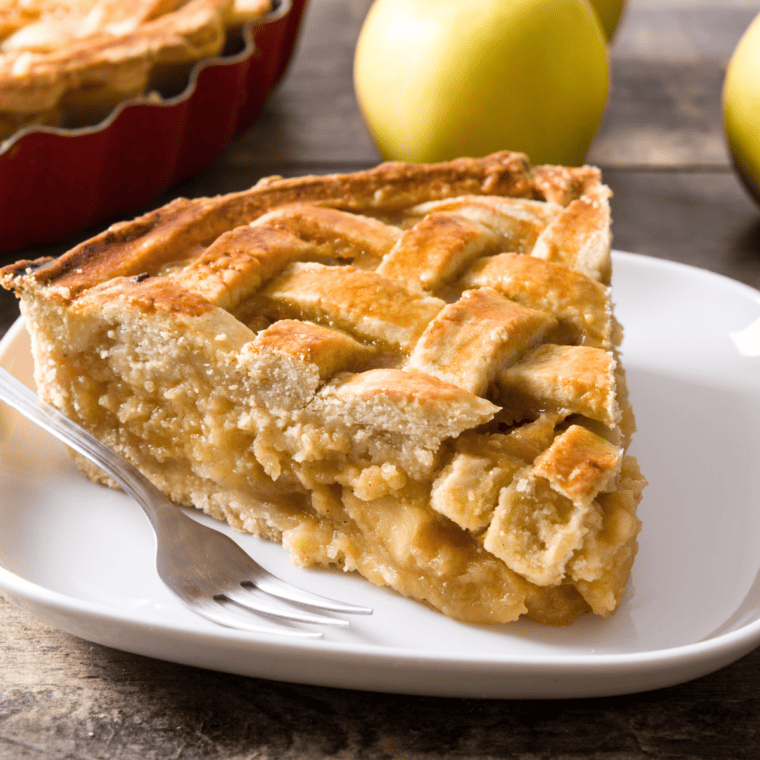 Air Fryer Apple Pie is amazing! If you love homemade apple pie, you will love this recipe! It's simple to put together and makes just enough to satisfy your cravings without days and days of leftovers.
So, suppose you are looking for even more Air Fryer Apple Recipes. In that case, some of my favorites are AIR FRYER BAKED APPLES, AIR FRYER SAUSAGES WITH ROASTED APPLES, AND BUTTERNUT SQUASH, AIR FRYER BAKED APPLES WITH GRANOLA, and AIR FRYER APPLE PIE PIZOOKIE.
The Best Air Fryer Apple Pie Recipe
​Nothing like the aroma of a freshly baked apple pie filling your home. It evokes memories of family gatherings, holidays, and the simple joy of biting into a slice of warm, flaky crust paired with tender cinnamon-spiced apples.
Imagine achieving that perfect pie without preheating an oven or waiting endlessly for it to bake. Welcome to the magic of the Air Fryer Apple Pie! This game-changer recipe delivers the classic flavors we all adore but with the convenience and speed of an air fryer. Whether you're an apple pie aficionado or a baking newbie, get ready to be amazed by the simplicity and scrumptiousness of this modern twist on a timeless favorite. Dive in, and let's embark on this mouthwatering journey together!
Check Your Our YouTube Channel
Why You'll Love Making Homemade Apple Pies In Air Fryer
Easy to make
Use homemade or refrigerated crust
Ready in 25 minutes
Keeps your kitchen cool
Perfectly flaky every time!
Ingredients Needed For Apple Pie In Air Fryer
Dive into the world of quick and easy baking with the help of your air fryer. This apple pie recipe captures the essence of a timeless dessert, ensuring every slice is packed with flavor and that perfect pie texture. Let's get to know our key players!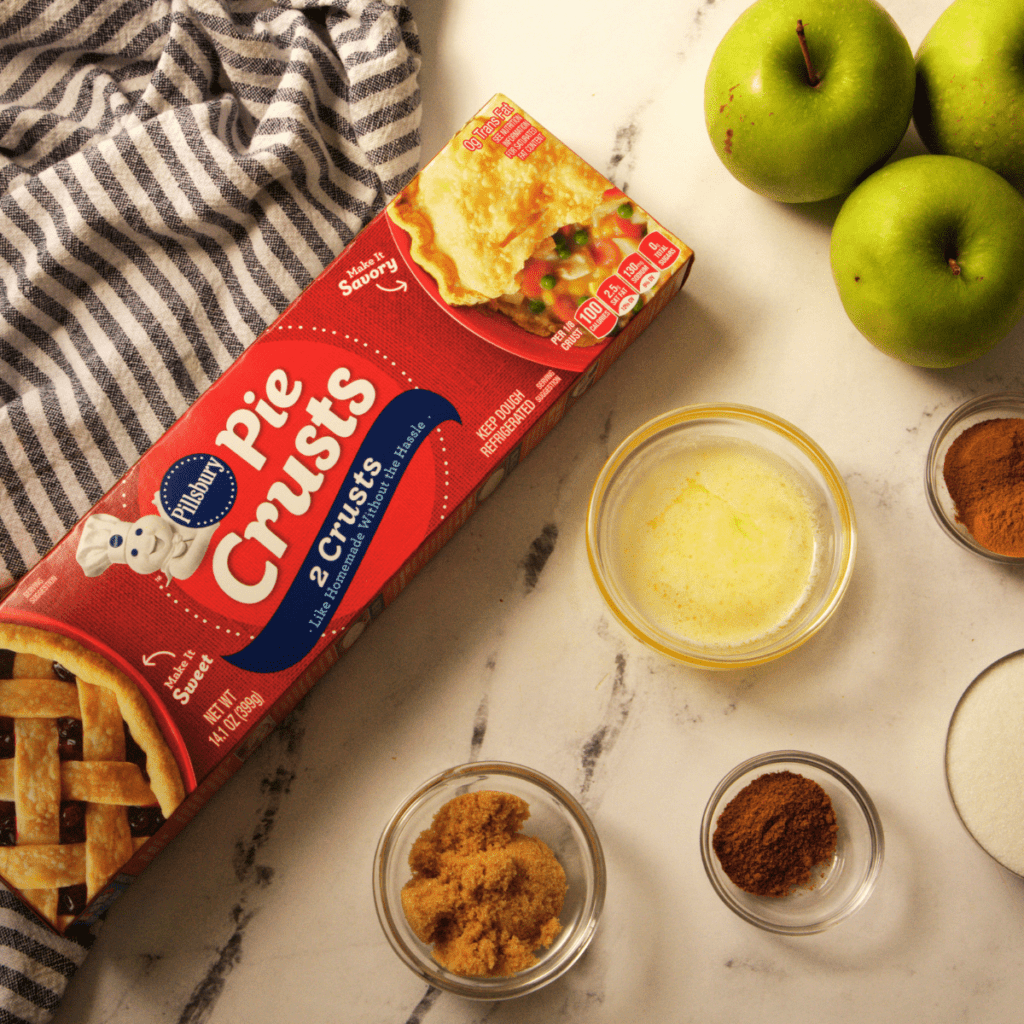 Remember the step-by-step instructions and detailed ingredient list are below in the printable recipe card, as well as the nutritional information.
Pie crust: The foundation of our pie, a good pie crust ensures that flaky, buttery texture, which is a hallmark of every great apple pie. Whether you opt for store-bought or homemade pie crust, it's the canvas for our filling masterpiece.
Apples: The star of the show! Choosing the right fresh apples, like Granny Smith or Honeycrisp, can make all the difference, offering a sweet yet slightly tart flavor profile.
Sugar: Sweetness is essential in any dessert, and sugar balances out the tartness of the apples, creating a harmonious flavor.
Ground Cinnamon: This warm spice infuses our pie with a classic taste and fills the air with its unmistakable, comforting aroma.
Ground Nutmeg: A hint of nutmeg adds depth and warmth to our pie, elevating the flavor profile.
Lemon Juice: A dash brightens the apple filling, enhancing the flavors and preventing the apples from browning too quickly.
Cornstarch: Our secret weapon for achieving that perfect pie-filling consistency. It helps thicken the apple juices, ensuring our filling is lusciously smooth without being runny.
Serving: Serve with a dash of brown sugar or a scoop of vanilla ice cream.
While you can certainly use a homemade pie crust for this recipe, I used a simple Pillsbury refrigerated pie crust.
Whether you use homemade or prepared pie crust, the air fryer pie recipe will remain the same.
How To Make A Homemade Apple Pie In Air Fryer
Transform your kitchen into a haven of sweet aromas with this simple yet delectable air fryer apple pie recipe. Each bite celebrates classic flavors and modern cooking techniques with a crisp crust and a juicy filling.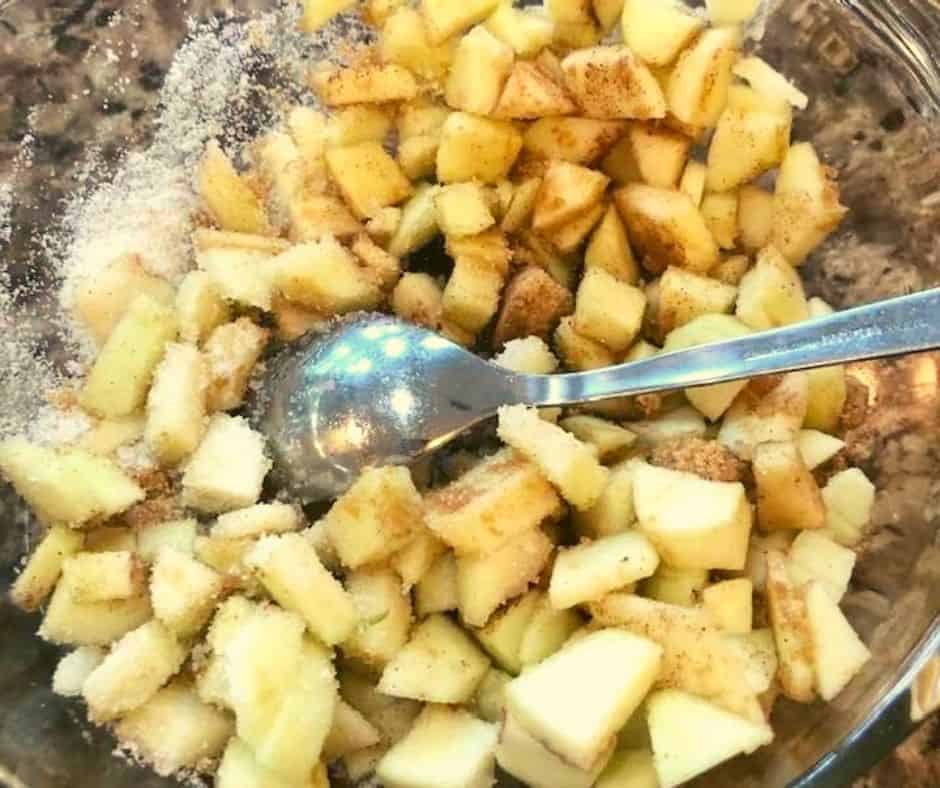 Step 1: Prep the apples
Start by making the homemade apple pie filling; you can skip this if you use canned apple pie filling: Peeling and slicing your apples into thin pieces. In a large bowl, combine the apple slices with sugar, cinnamon, nutmeg, lemon juice, and cornstarch. Stir well to ensure the apples are coated evenly.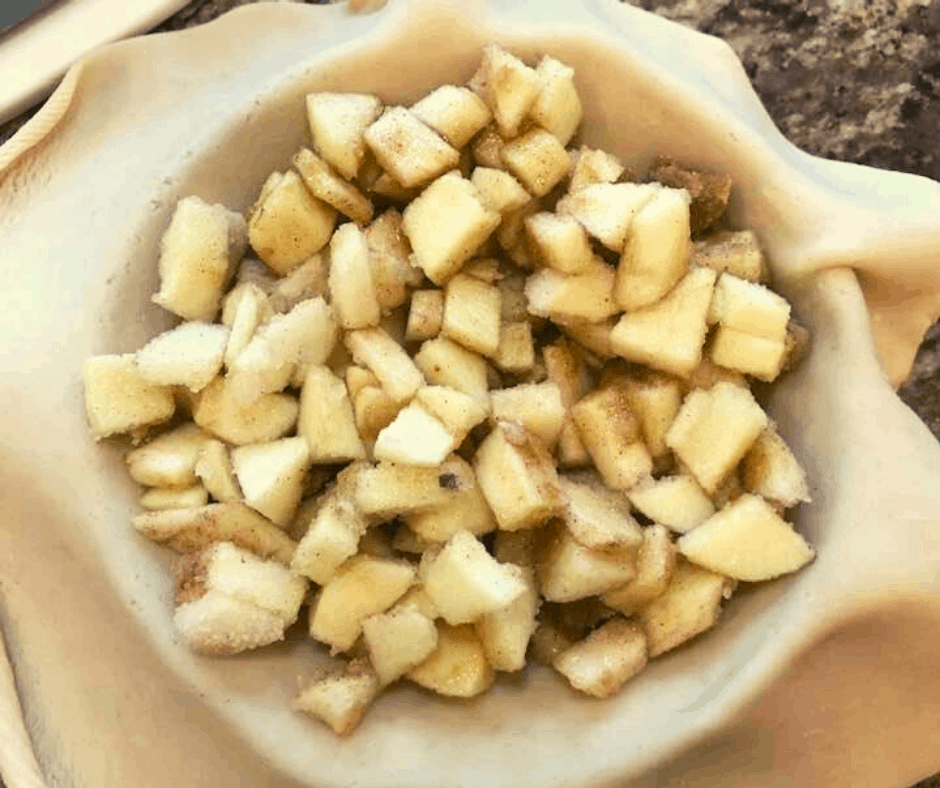 Step 2: Assemble
Pie Crust: Roll out one pie crust with a rolling pin on a lightly floured surface and fit it into your air fryer-friendly pie pan, ensuring it covers the base and sides. Trim any excess crust.
Filling: Pour the apple mixture into the pie crust, spreading it evenly.
Top Crust: Roll out the second pie crust and gently place it over the apple filling. Crimp the edges to seal the pie. You can create lattice patterns or cut-out designs for a decorative touch.
Ventilation: Make several small slits in the top crust using a knife. This allows steam to escape and helps in achieving a crispy crust.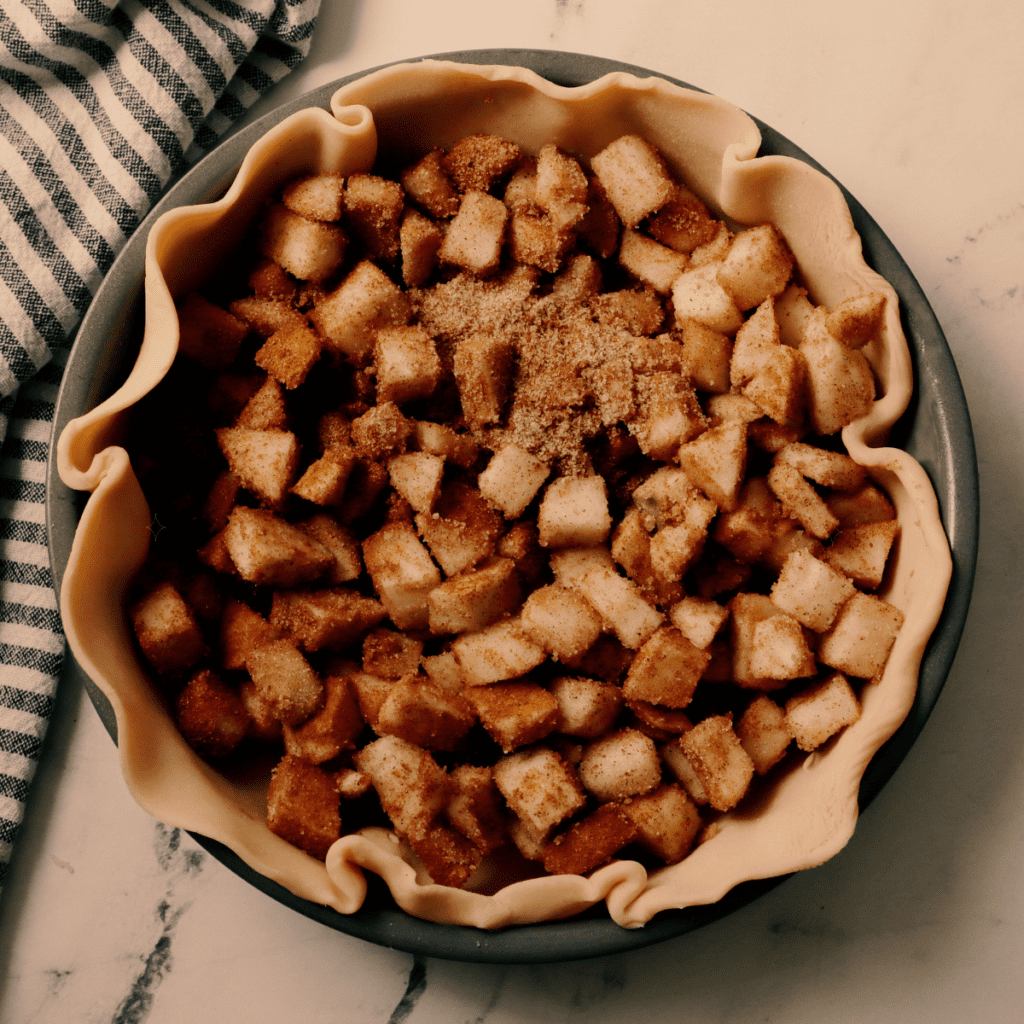 Step 3: Air Fry Apple Pie
Air Frying: Preheat your air fryer to 350 degrees F (175°C). Place the pie pan in the air fryer basket and set the cook time for 20-25 minutes or until the crust turns golden brown and the filling is bubbly. Add an egg wash on the top of the pie for added flavor.
Cooling: Once done, remove the pie from the air fryer and let it cool on a rack for at least 15 minutes before slicing. This allows the filling to set and makes for neater slices.
Serving: Serve your air fryer apple pie with a dollop of vanilla ice cream or a drizzle of caramel sauce or whipped cream for the ultimate dessert experience.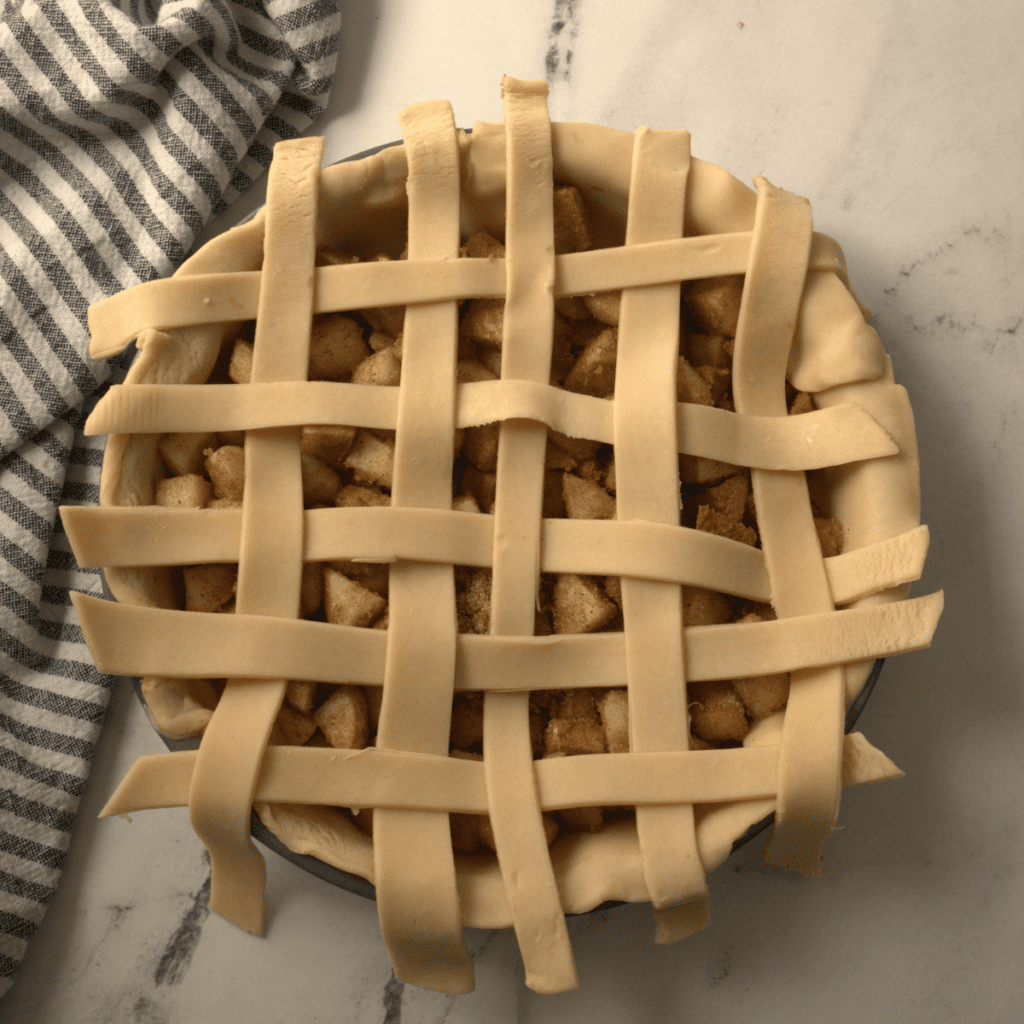 Pro Tips For Making Apple Pie In Air Fryer
Selecting Apples: Opt for firm apples like Granny Smith, Honeycrisp, or Braeburn. These maintain their texture and provide a tangy-sweet flavor profile that works perfectly for pies.
Consistent Slicing: Ensure apples are thinly and uniformly sliced. This ensures even cooking and a better pie texture.
Avoid Overfilling: While stuffing in as many apples as possible is tempting, overfilling can result in a soggy crust and spillage.
Prevent Crust Burning: If you notice the edges of the crust browning too quickly, you can cover them with aluminum foil or a silicone pie crust shield to prevent over-browning. The cooking time will vary based on the air fryer that you are using.
Ensure Ventilation: Make sure to cut adequate slits on the top crust. This allows steam to escape, preventing the pie from becoming soggy and ensuring a crisp crust.
Rotate For Even Browning: Halfway through cooking, consider rotating the pie to ensure even browning if your air fryer doesn't circulate air uniformly.
Cooling Is Crucial: Resist the urge to slice the pie immediately after air frying. Allowing it to cool will help the filling set and ensure clean slices.
Customize Fillings: Feel free to add extra ingredients like raisins, nuts, or cranberries to the apple mixture for added depth of flavor.
Non-Stick is Key: If not using a non-stick pie pan, consider lightly greasing it or lining it with parchment paper for easy pie removal.
Keep An Eye: All air fryers are not created equal. Always watch your pie, especially the first time you make it, to ensure the best results tailored to your device.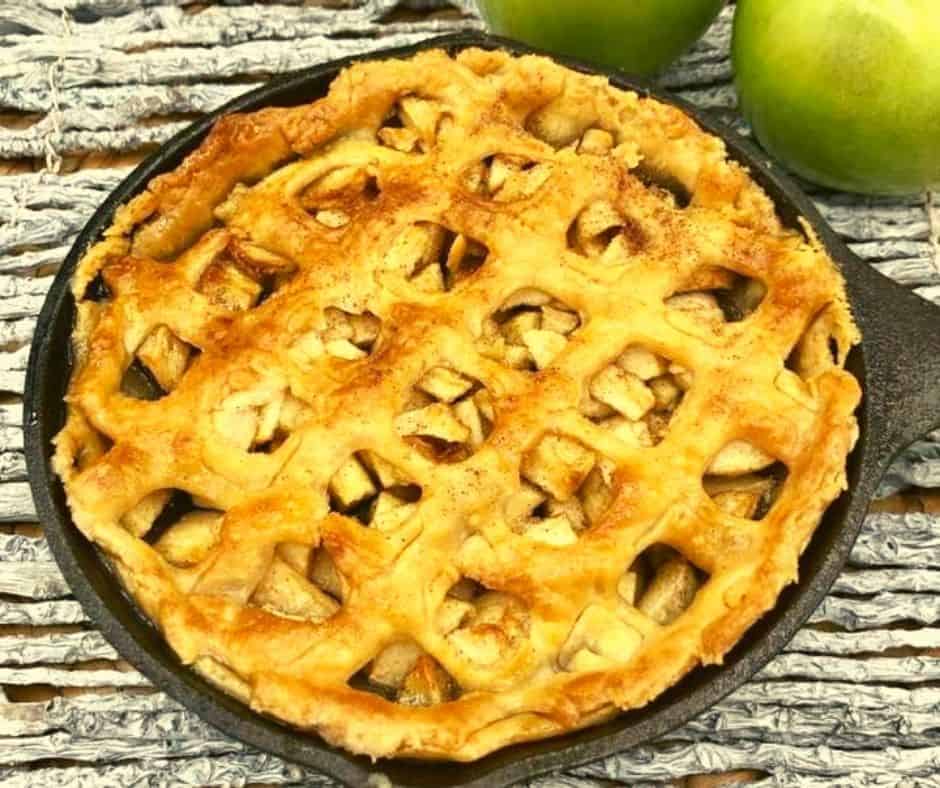 ​How To Cook A Frozen Apple Pie In Air Fryer
Cooking a frozen apple pie in an air fryer can be a quick and easy way to enjoy a delicious dessert. Here are the steps to follow:
Preheat your air fryer to 350°F (175°C).
Remove the frozen apple pie from its packaging and place it in the air fryer basket. If your air fryer basket is small, you may need to cut the pie into smaller pieces.
Cook the apple pie for 20-25 minutes. If the pie is browning too quickly, cover it with aluminum foil to prevent burning.
After 20-25 minutes, check the internal temperature of the apple pie with a food thermometer. The temperature should reach 165°F (74°C) to ensure it's fully cooked.
Once the pie is fully cooked, carefully remove it from the air fryer basket using oven mitts or tongs.
Allow the apple pie to cool briefly before slicing and serving.
Frequently Asked Questions About Making Whole Apple Pie In Air Fryer
Can any apple pie recipe be adapted for the air fryer? Yes, most traditional apple pie recipes can be adapted for the air fryer, though cooking times and temperatures may need to be adjusted.
Can I use store-bought pie crust for air fryer apple pie? Absolutely, store-bought pie crust is a convenient option and works well in the air fryer. Ensure it is fully thawed if frozen, and be mindful of fitting it correctly in your air fryer-safe dish.
What type of apples are best for apple pie? Firm and tart apples such as Granny Smith, Braeburn, and Honeycrisp are often recommended for pies because they maintain texture and balanced flavor.
Do I need to peel the apples? While it's a personal preference, peeling the apples is recommended, resulting in a smoother filling texture allowing the flavors to meld beautifully.
How do I prevent the pie crust from becoming soggy? Avoiding overfilling and ensuring proper ventilation through slits in the top crust can help prevent a soggy pie crust. Additionally, if the filling is too wet, consider precooking it to reduce moisture.
How long should I cool the pie before serving? Let the pie cool for at least 30 minutes to allow the filling to set and avoid the pie falling apart when slicing.
Can I use other fruit fillings in this recipe? You can experiment with other fruits like berries, peaches, or cherries, adjusting sugar and seasoning to taste.
Is preheating the air fryer necessary? While some recipes may not require it, preheating the air fryer can help achieve a consistently cooked and browned crust.
Can I reheat my apple pie in the air fryer? Yes, reheating in the air fryer at a lower temperature, like 300°F, for a few minutes can refresh the crust and warm the filling without overcooking.
Can I freeze the leftover apple pie? Absolutely! Wrap the pie securely in plastic wrap or aluminum foil and place it in a zip-top bag or airtight container before freezing. Thaw in the refrigerator before reheating.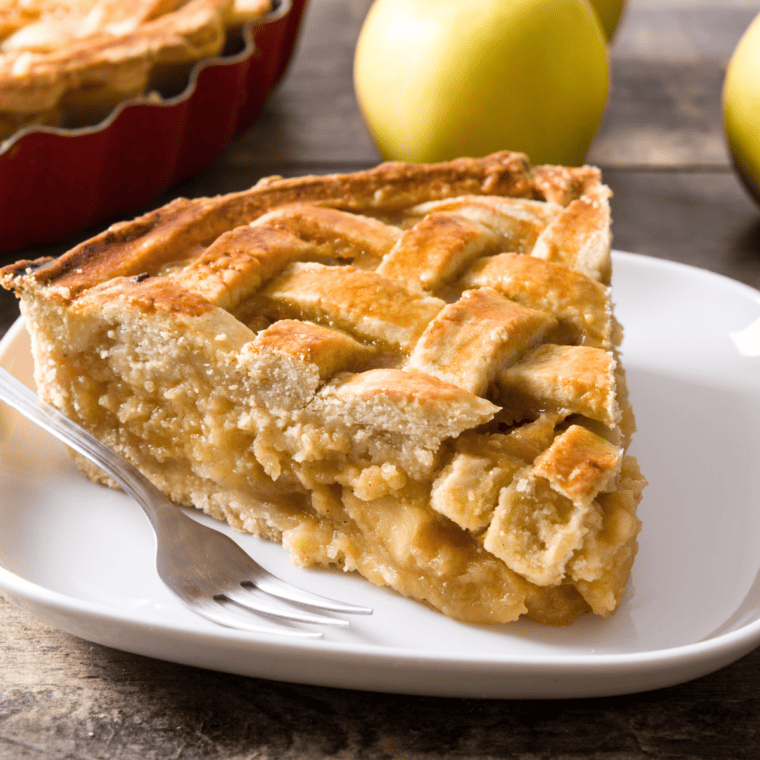 More Air Fryer Recipes
Don't Forget To Pin!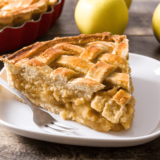 Air Fryer Apple Pie
Description
Sweet and flaky Air Fryer Apple Pie is the perfect ending to any meal. Try this easy version of the American classic, ready in just 25 minutes!
Ingredients
Bottom of Pan:
2

tablespoons

butter

,

melted

1

tablespoon

brown sugar
Pie:
2

pie crusts

,

homemade or pre-made

3

apples

,

peeled, cored, and diced

1/2

cup

sugar

2

tablespoons

brown sugar

2

teaspoons

ground cinnamon

1/2

teaspoon

ground nutmeg
Topping
2

tablespoons

melted butter
Instructions
In an air fryer-safe pan, add the melted butter and brown sugar, and mix well.

Add your pie crust, either homemade or pre-made (I used Pillsbury's refrigerated pie crust)

Mix the diced apples, sugar, ground cinnamon, and brown sugar in a small mixing bowl.

Pour the filling into the dough.

Put the pie crust on, cut off the excess, and then brush with melted butter.

Set in the air fryer and air fry for 15-25 minutes at 320 degrees F (air fryer setting). I checked halfway and brushed with melted butter.
Equipment
Air Fryer

Cooking Spray

Baking Pan
Notes
Storing:
Once the apple pie has completely cooled, cover it tightly with plastic wrap or aluminum foil. If you've already sliced the pie, place a piece of parchment paper between the pie and the wrap/foil to prevent the crust from becoming soggy.
Store the covered pie at room temperature for up to two days. For longer storage, refrigerate for up to five days.
Reheating:
For best results, reheat individual slices rather than the whole pie.
Preheat your air fryer to 350°F.
Place the slice or slices in the air fryer basket without overlapping and heat for 3-5 minutes or until warmed through.
If using an oven, preheat to 375°F and heat slices for 10-12 minutes.
Serve warm and enjoy!
Note: Avoid frequent reheating as it may alter the pie's texture and flavor. It's best to reheat only the portion you plan to eat.
Nutrition
Serving:
1
Serving
Calories:
417
kcal
Carbohydrates:
53
g
Protein:
3
g
Fat:
22
g
Saturated Fat:
8
g
Polyunsaturated Fat:
2
g
Monounsaturated Fat:
10
g
Trans Fat:
0.2
g
Cholesterol:
15
mg
Sodium:
247
mg
Potassium:
135
mg
Fiber:
3
g
Sugar:
24
g
Vitamin A:
213
IU
Vitamin C:
3
mg
Calcium:
26
mg
Iron:
1
mg