Tomato Bliss: 25 Forever-Favorite Air Fryer Recipes — Are you going for the perfect air fryer tomato recipe?
Today, we give 25 of the best tomato recipes for your air fryer! We have everything from roasted air fryer tomatoes to a crispy bacon and tomato air-fried sandwich!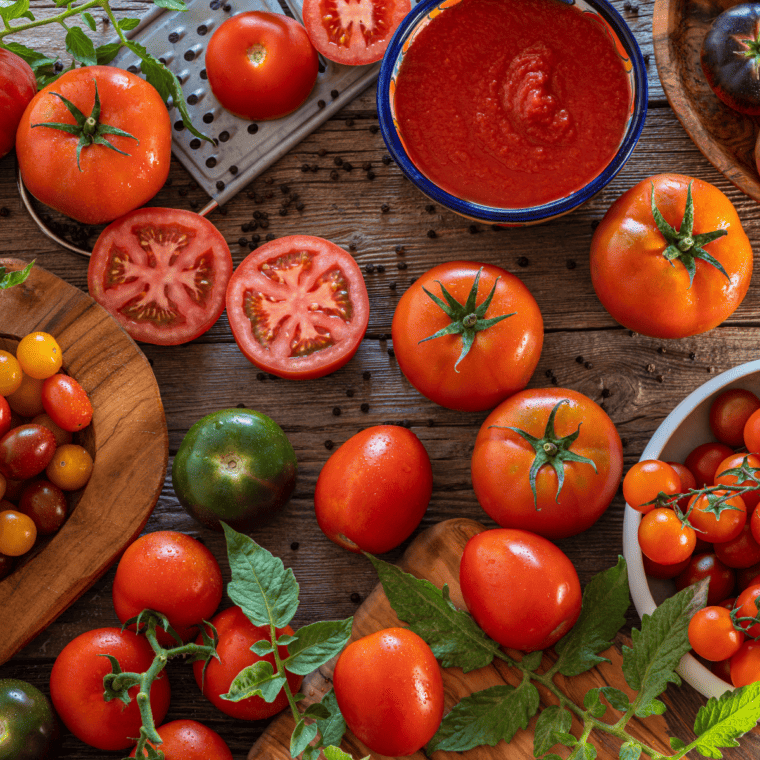 Welcome to "Tomato Bliss: 25 Forever-Favorite Air Fryer Recipes!
If you're a vibrant and versatile tomato fan, you're in for a treat. In this collection, we've harnessed the power of the air fryer to create a treasure trove of tomato-based dishes that will tantalize your taste buds and leave you craving more.
From savory to sweet, from appetizers to main courses, and everything in between, these recipes celebrate the tomato in all its delicious glory.
So, get ready to embark on a culinary journey where tomatoes take center stage, and every bite is a burst of flavor and freshness. Let's dive into the world of "Tomato Bliss" and discover new ways to savor this beloved ingredient with the magic of the air fryer!
25 Best Air Fryer Tomato Recipes
Pro Tips For Air Fryer Tomatoes
Here are some pro tips to help you make the most of your air fryer tomato recipes:
1. Choose the Right Tomatoes:
Select ripe, firm tomatoes for the best results. Roma, plum, or beefsteak tomatoes work well in most recipes. Avoid overly soft or bruised tomatoes.
2. Properly Prepare Tomatoes:
Wash and dry the tomatoes thoroughly before slicing, dicing, or halving them. Removing excess moisture helps prevent sogginess during cooking.
3. Seasoning Is Key:
Don't be shy with seasonings. Tomatoes benefit from a good balance of salt, pepper, and herbs. Experiment with fresh herbs like basil, thyme, or rosemary for added flavor.
4. Use a Light Drizzle of Oil:
When necessary, lightly coat the tomato slices with olive oil before air frying. Use a cooking spray or brush to apply a thin, even layer. Excessive oil can lead to a greasy texture.
5. Avoid Overcrowding:
Arrange tomato slices in a single layer in the air fryer basket, ensuring they don't overlap. Overcrowding can result in uneven cooking and prevent proper air circulation.
6. Monitor Cooking Time:
Keep a close eye on your tomatoes as they cook. Cooking times can vary depending on the thickness of the slices and the air fryer model. Adjust as needed to prevent overcooking.
7. Rotate or Flip:
For more even browning, consider flipping or rotating tomato slices halfway through the cooking process. This helps ensure that all sides get crispy.
8. Add Cheese Wisely:
When adding cheese like Parmesan or mozzarella, do so during the last few minutes of cooking to prevent it from burning or becoming overly crispy.
9. Use a Lower Temperature for Drying:
If you're making tomato chips or sun-dried tomatoes, use a lower temperature setting (around 160-170°F or 70-75°C) to dehydrate them slowly for better results.
10. Experiment with Seasonings: – Don't hesitate to get creative with your seasoning choices. Try different spice blends, flavored salts, or even balsamic glazes to enhance the flavor of your air-fried tomatoes.
11. Serve Promptly: – Enjoy air-fried tomatoes hot and fresh for the best taste and texture. They tend to lose their crispiness as they cool down.
With these pro tips, you'll be well-prepared to create delicious air fryer tomato recipes that are bursting with flavor and have the perfect balance of crispiness and juiciness.
FAQ's Asked About Air Fryer Tomato Recipes
Can I air fry whole tomatoes?
Air frying whole tomatoes is possible, but they may become quite soft and collapse during the cooking process. It's often better to use tomatoes in slices, wedges, or halved for better results.
How do I prevent my tomato recipes from becoming too watery in the air fryer?
To prevent excess moisture, pat dry the tomato slices with a paper towel before air frying. Additionally, you can remove the seeds and pulp from tomatoes, as they tend to release water when heated.
Can I use canned tomatoes in air fryer recipes?
While fresh tomatoes are typically recommended for air fryer recipes, you can use canned tomatoes sparingly. Drain them well and pat them dry before cooking to reduce excess moisture.
Do I need to preheat the air fryer for tomato recipes?
Preheating the air fryer is often recommended to ensure even cooking. However, for certain quick recipes like tomato chips or toast, you may skip preheating.
Can I use different tomato varieties interchangeably in recipes?
Different tomato varieties have varying textures and flavors. While you can often substitute one type for another, keep in mind that it might slightly alter the final taste and texture of your dish.
How do I avoid overcooking tomatoes in the air fryer?
Keep a close eye on the cooking time, as tomatoes can become mushy if overcooked. It's best to start with a shorter cooking time and check for doneness as needed.
Can I make tomato sauces in the air fryer?
Yes, you can make tomato-based sauces and salsas in the air fryer. However, these are typically done at lower temperatures, so refer to specific recipes for guidance.
Are air-fried tomatoes healthier than other cooking methods?
Air frying tomatoes often uses less oil compared to frying or sautéing, making it a healthier option for those looking to reduce calorie intake. It also retains more nutrients compared to deep frying.
Can I reheat tomato-based leftovers in the air fryer?
Yes, you can reheat tomato-based leftovers in the air fryer. Use a lower temperature setting and check for doneness as you reheat.
Some Freebies:
25 best weight watchers air fryer recipes
Don't Forget To Pin For Later!