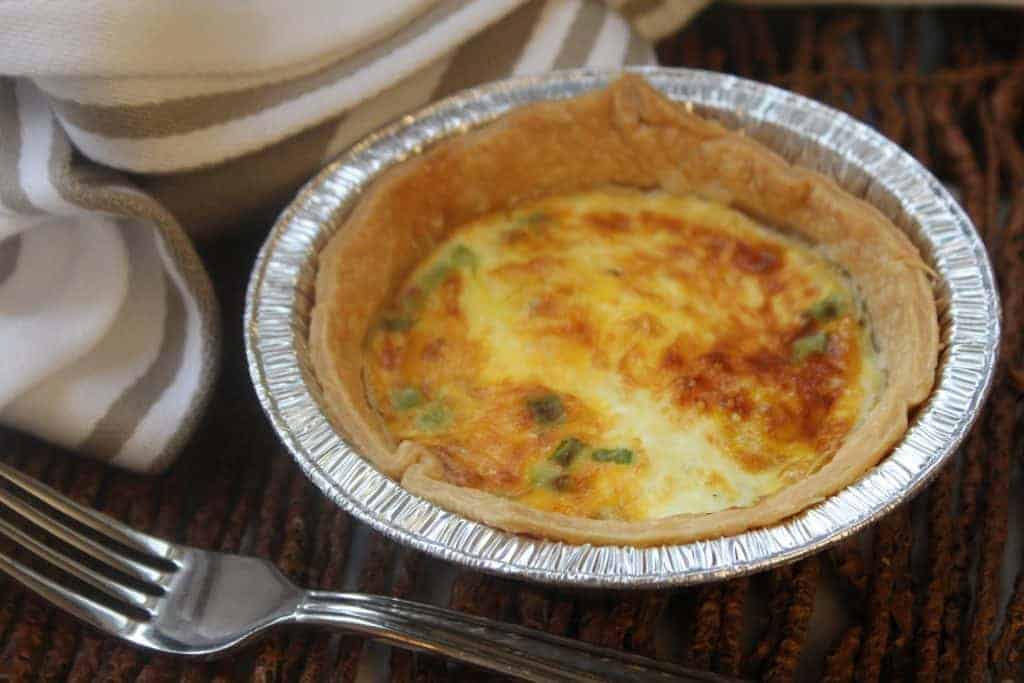 Eggs are one of the cheapest foods you can eat, not only is it cheap it's extremely versatile and filled with protein.  Talk about a bang for your buck.
When you purchase a new Air Fryer or Instant Pot (or any pressure cooker) my advice to all newbies/beginners is that you do the egg test. Since, as I mentioned above they are very cheap, and most people really like eggs they seem like a perfect start for any new kitchen appliance.
Most of the eggs that we eat are chicken eggs, however as most of us are aware there are many different varieties for eggs available for consumption, although they usually require a trip to a farmer's market. But some of them on my blog planner for cooking are:
Duck
Emu
Goose
Guinea Fowl
Ostrich
Gull
Pheasant (and all game birds)
Pigeon
Quail
Rhea
Turkey (This, I never heard of until recently, but it makes total sense since a turkey is almost like a chicken)
The other most asked about eggs is what determines there color?
Many people believe falsely that the chicken's color is determined by what they eat. That is not the case the color of the eggs, whether white or brown is determined by the type of chicken, the eggs come from.
White eggs come primarily the White Leghorns, which is dominated in the United States, they account for over 90% off the eggs, we purchase at the grocery store. The brown eggs (light brown that is) come from New Hampshire Reds, Rhode Island Reds, Plymouth Rocks, or the Delawares. The dark brown eggs all come from the same breed which is Marans. There are of course other shades of eggs, but those are the primary ones sold in grocery stores across the United States.
The size of the eggs ranges from Jumbo to Pee Wee. The jumbo egg is about 2.5 ounces, while the peewee is about 1 ounce. There other sizes in between called Extra Large, Large, Medium and Small. The ones that I see most are the Jumbo, Extra Large, and Large eggs. Next time you are at a supermarket, spend a couple of seconds and see what egg sizes your store sells.
Kitchen Items Used: (Note: Affiliate links are included in this post)
J.A. Henckels 6-Inch High Carbon Stainless Steel Chef's Kitchen Knife
 Stainless Steel Measuring Cups, 5 Piece Set
Hudson Essentials Stainless Steel Measuring Cups Set-6 Piece Stackable Set with Spout
Anchor Glass Measuring Set–This is one of the handiest tools in the Kitchen 
OXO Good Grips 12 Inch Stainless-Steel Locking Tongs
This is a great pan for eggs for the Air Fryer, fit most models
Don't Forget to Pin:
Print
Air Fried-Air Fryer-Quiche Lorraine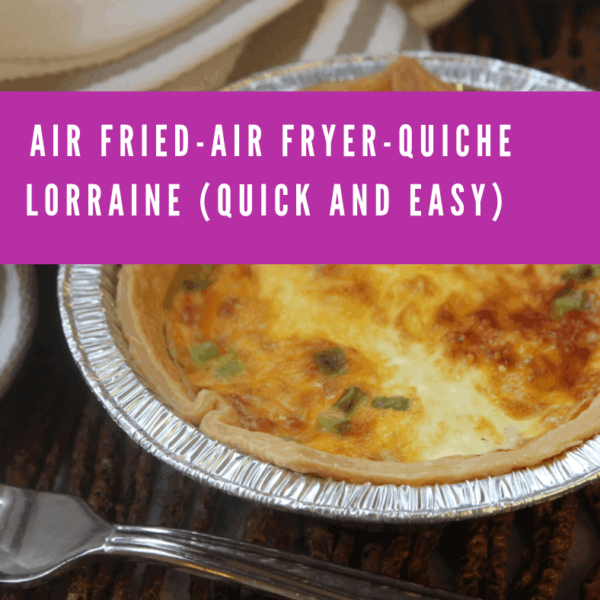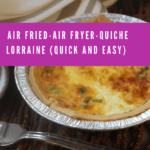 This is the most famous quiche, which is now air fryer ready.
Scale
Ingredients
1/2

refrigerated pie crust

1

slice bacon (cooked and diced)

1/4 cup

shredded Swiss cheese

2 tablespoons

minced scallions

1

large egg

1/4 cup

milk

1/2 teaspoon

salt

1/2 teaspoon

pepper
Instructions
Start by purchasing premade refrigerated pie crust. Found in the dairy aisle.

Cut the pie crust to fit into your pan (see my note for where I purchased the perfect size ones)
I used scissors to cut them into perfect sizes.

Add the bottom of the dough, place your diced bacon.

Then spread the shredded cheddar cheese and minced scallions, on top of the bacon.

Crack 1 egg into a small bowl.

Then add the milk.

Add salt and pepper to taste.

Beat well.

Pour over the other ingredients and place in the air fryer basket at 320 degrees F, for 12 minutes.

Let cool, then remove from the air fryer basket.
Enjoy!