Air Fryer Scotch Eggs — You are not alone if you have heard all the rages about this traditional Scotch egg recipe. This is one of the most believed breakfasts among our air fryer readers!
​
Today, we will show you how to make perfect scotch eggs in your air fryer!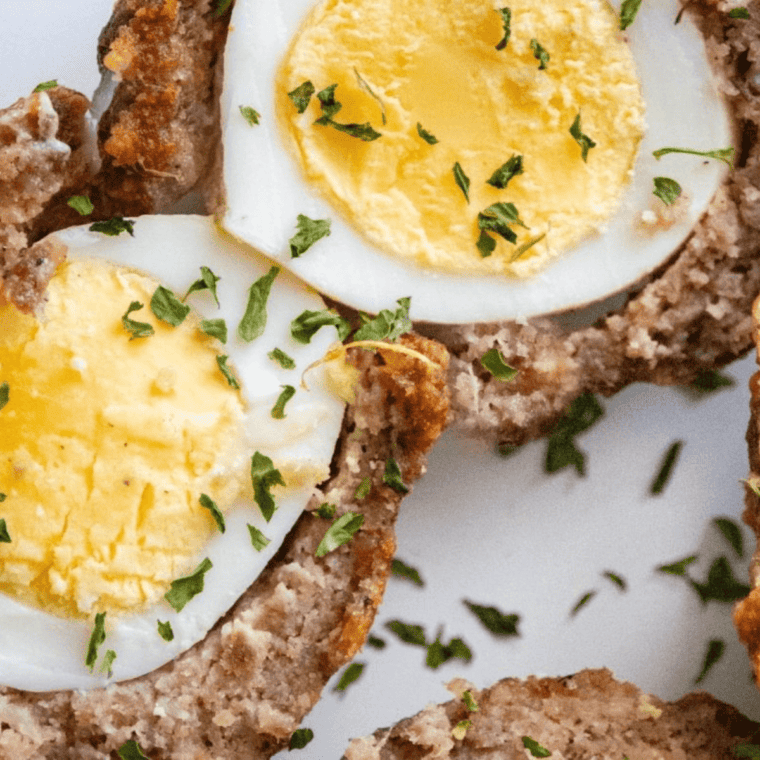 What Is A Scotch Egg?
A Scotch egg is a traditional British dish consisting of a soft or hard-boiled egg wrapped in sausage meat, coated in breadcrumbs, and then deep-fried or baked until golden and crispy.
The origins of the Scotch egg are unclear, though it's believed to have been inspired by Indian and North African dishes brought to England. It's a popular picnic food in the UK and can be found in British-style pubs and eateries worldwide. Many variations of the Scotch egg exist, with different meats and seasonings, but the core concept of the egg encased in meat and breadcrumbs remains consistent.
If you are looking for even more Air Fryer Low Carb Recipes, some of my favorites are BEST AIR FRYER BRATS, KETO AIR FRYER PICKLES, AIR FRYER THE BEST BUFFALO CAULIFLOWER BITES, and AIR FRYER NAKED CHICKEN TENDERS.
Can You Cook Scotch Eggs In Air Fryer
Yes, you can absolutely cook Scotch eggs in an air fryer! An air fryer offers a healthier alternative to the traditional deep-frying method, requiring significantly less oil. Air frying also ensures the Scotch eggs have a crispy exterior while keeping the inside moist and delicious. The even circulation of hot air in the air fryer ensures uniform cooking, making it an excellent choice for preparing Scotch eggs.
Ingredients Needed For Air Fryer Scotch Eggs
Dive into classic British pub fare with an Air Fryer twist! Preparing Scotch Eggs, a delightful treat combining soft or hard-boiled eggs encased in a flavorful sausage shell has never been easier or more delicious than with your trusty air fryer.
Say goodbye to excess oil and hello to a perfectly cooked, crispy exterior. Before we start, round up the ingredients you'll need to bring this savory delicacy to your kitchen table.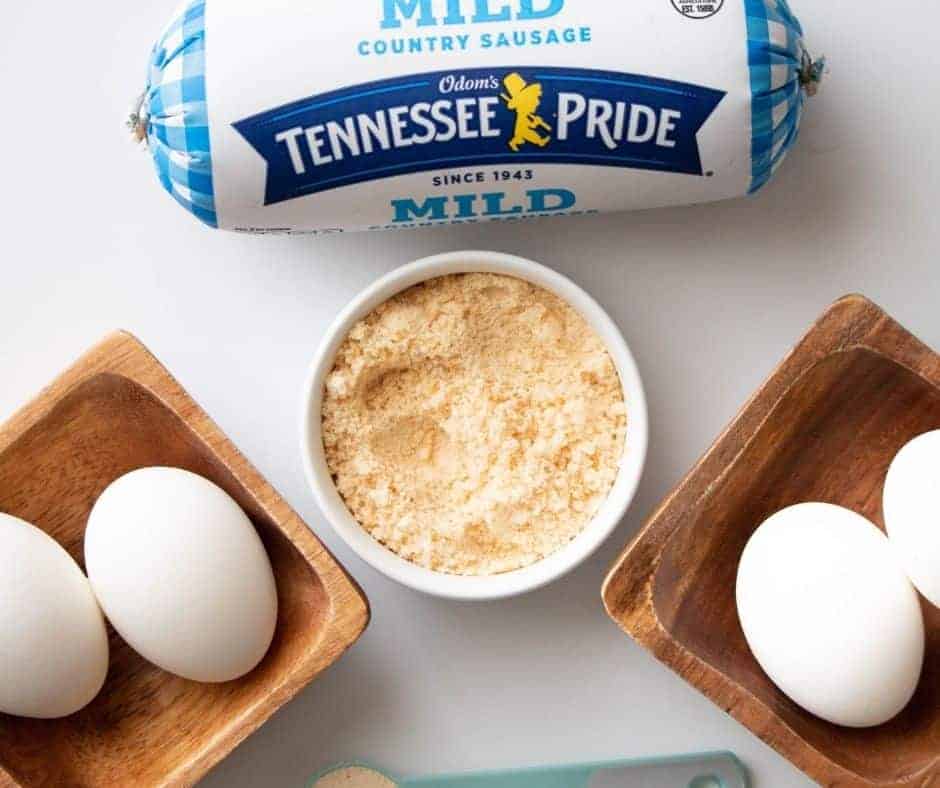 Remember the step-by-step directions and detailed ingredient list are below in the printable recipe card at the bottom of the post, as well as the nutritional information.
​
Eggs: The star ingredient, eggs, are the center of a Scotch egg, providing a rich, creamy contrast to the crispy exterior. Using fresh eggs ensures a smooth, consistent hard or soft boil, depending on your preference.
Sausage Meat: As the protective layer around the egg, sausage meat adds savory depth and flavor. Opt for high-quality, seasoned sausage meat, or customize it with herbs and spices. Other options besides pork sausage are ground turkey sausage or chicken sausage.
Seasonings (e.g., salt, pepper, herbs): Elevate the taste and aroma of the sausage meat. Whether it's just simple Kosher salt, black pepper, Parmesan cheese, or a blend of herbs, seasonings tailor the Scotch egg to your palate.
How To Air Fry Scotch Eggs
Ready to elevate your breakfast or snack game? Discover the magic of cooking Scotch Eggs in an air fryer! This quintessential British dish, traditionally deep-fried, is given a modern, healthier twist using the air fryer.
Crisp on the outside, gooey on the inside, and packed full of flavor, follow along as we delve into the easy steps to create the ultimate Air Fryer Scotch Eggs right in your kitchen.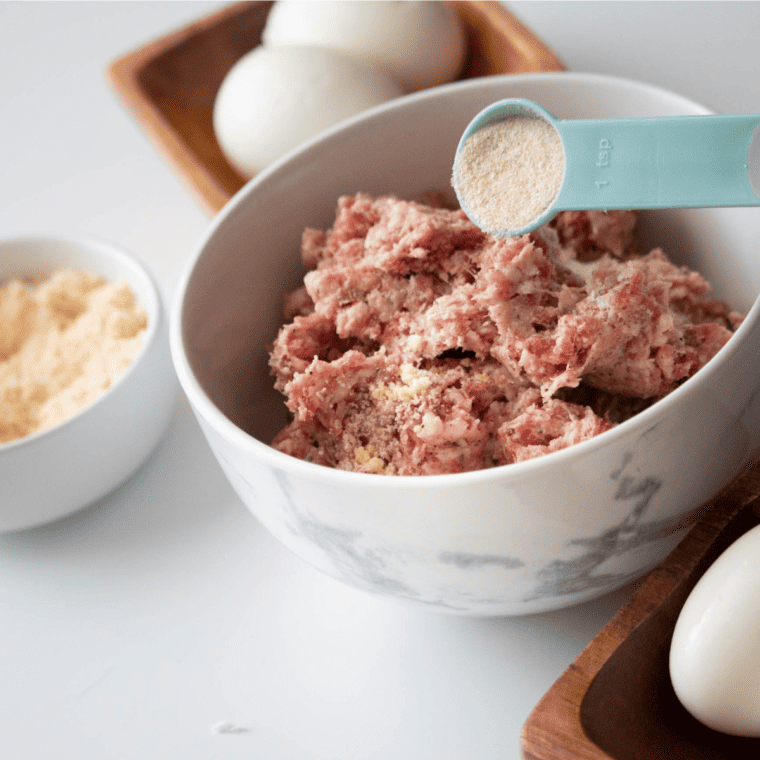 Preparation:
Start by boiling the eggs. Please place them in a medium saucepan with enough water to cover them. Bring to a boil and then reduce the heat to simmer for about 9-12 minutes for hard-boiled eggs or 4-5 minutes for soft-boiled.
Once cooked, place the eggs in cold water to cool or lace them into an ice bath. Peel the shells once they are completely cool.
Prep the Meat Mixture:
In a bowl, mix the sausage meat with your preferred seasonings.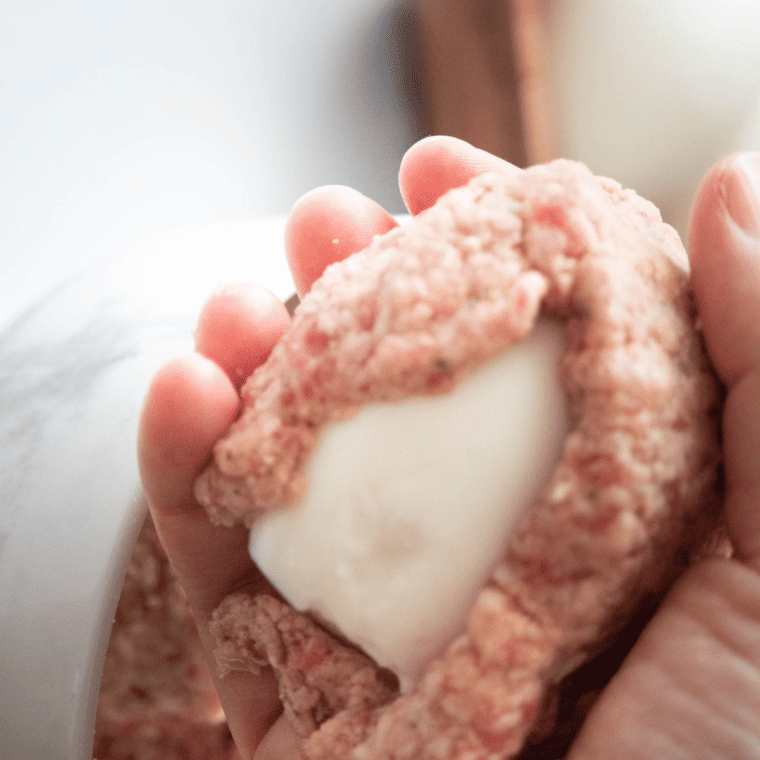 Assembly:
Flatten a portion of the sausage meat in the palm of your hand.
Place one cooked egg in the center and wrap the sausage around it, completely covering the egg.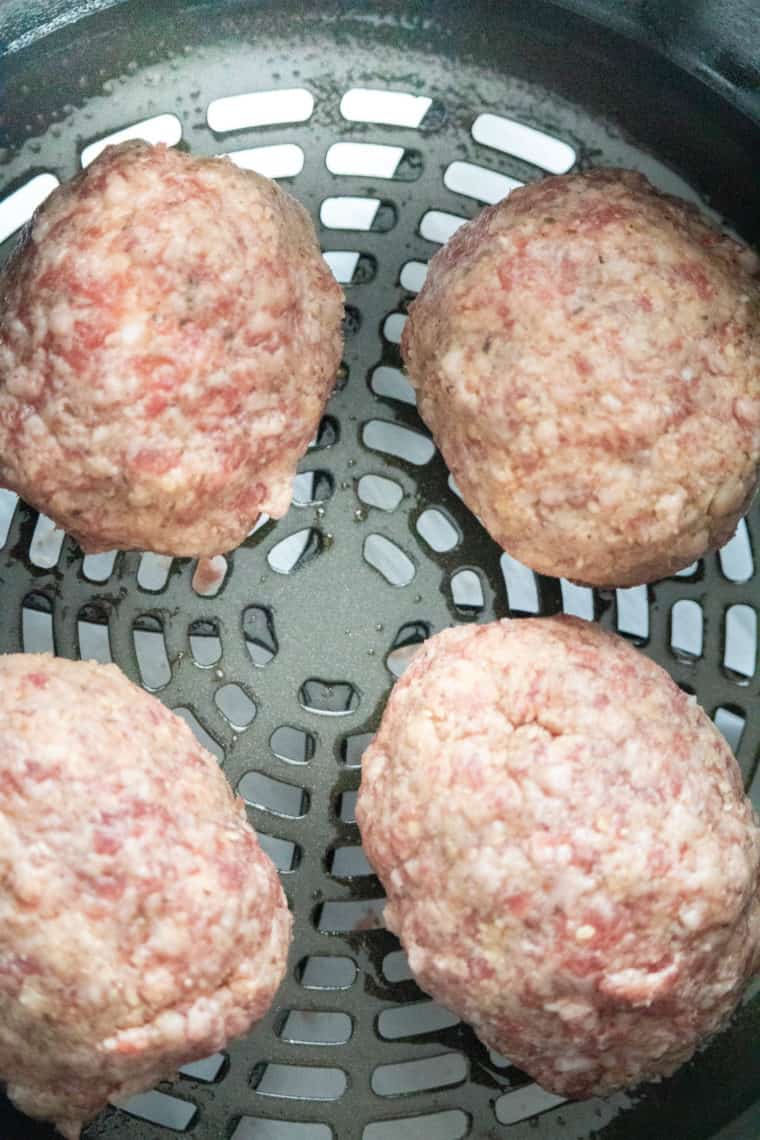 Air Frying:
Preheat the air fryer to 390 degrees F (200°C) for 3-5 minutes. Lightly grease the air fryer basket, or line the air fryer basket with parchment paper to prevent the Scotch eggs from sticking.
Place Scotch eggs in the air fryer basket in a single layer, ensuring they don't touch.
Set cook time for 12-15 minutes or until golden brown, turning halfway through to ensure even cooking. Note cooking times will vary, so use a meat thermometer.
Serving:
Once cooked, remove the Scotch eggs from the air fryer and rest for a few minutes.
Slice them in half and serve warm with a great dipping sauce, honey mustard sauce, or maple syrup,
Enjoy your air-fried Scotch eggs! They are perfect for breakfast, a snack, or even as part of a main meal.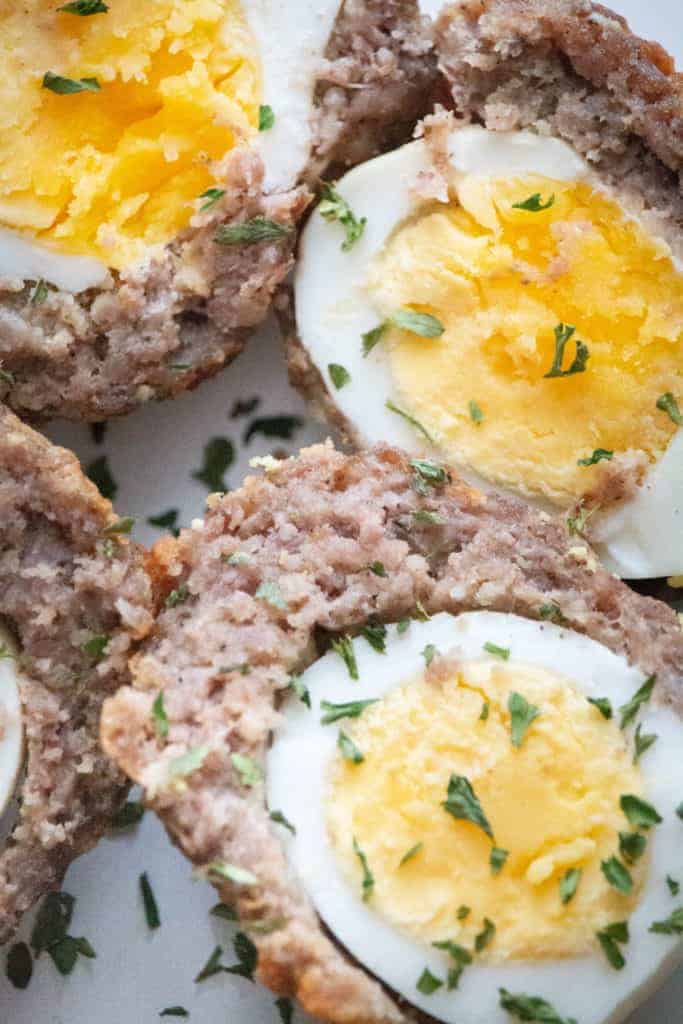 Pro Tips
Even Coating: Ensure the sausage meat wraps uniformly around the peeled egg for even cooking.
Season Generously: Don't shy away from seasoning! Add herbs and spices to your sausage mix for an extra flavor boost.
Chill Before Cooking: Refrigerate the wrapped eggs for about 20 minutes before air-frying them. This helps them hold their shape and ensures the sausage cooks thoroughly without overcooking the egg.
Check the Temperature: Use a meat thermometer to ensure the sausage reaches a safe internal temperature. Check on the scotch eggs halfway through the cooking process.
Serve Warm: Scotch Eggs are best enjoyed soon after being cooked while the outer layer is still crispy.
Soft-Boiled Variation: Start with soft-boiled eggs for a runnier yolk and adjust your air frying time.
Use Breadcrumbs: For extra crunch, consider rolling the sausage-wrapped eggs in breadcrumbs before frying.
Seasonings: Add more flavor using garlic powder, onion powder, or cayenne pepper.
Avoid Overcrowding: Don't put too many eggs in the air fryer at once; they need space for the hot air to circulate and cook them evenly.
Recipe Variations
Another great way to make air-fryer scotch eggs is to batter them with panko breadcrumbs or crushed pork rinds.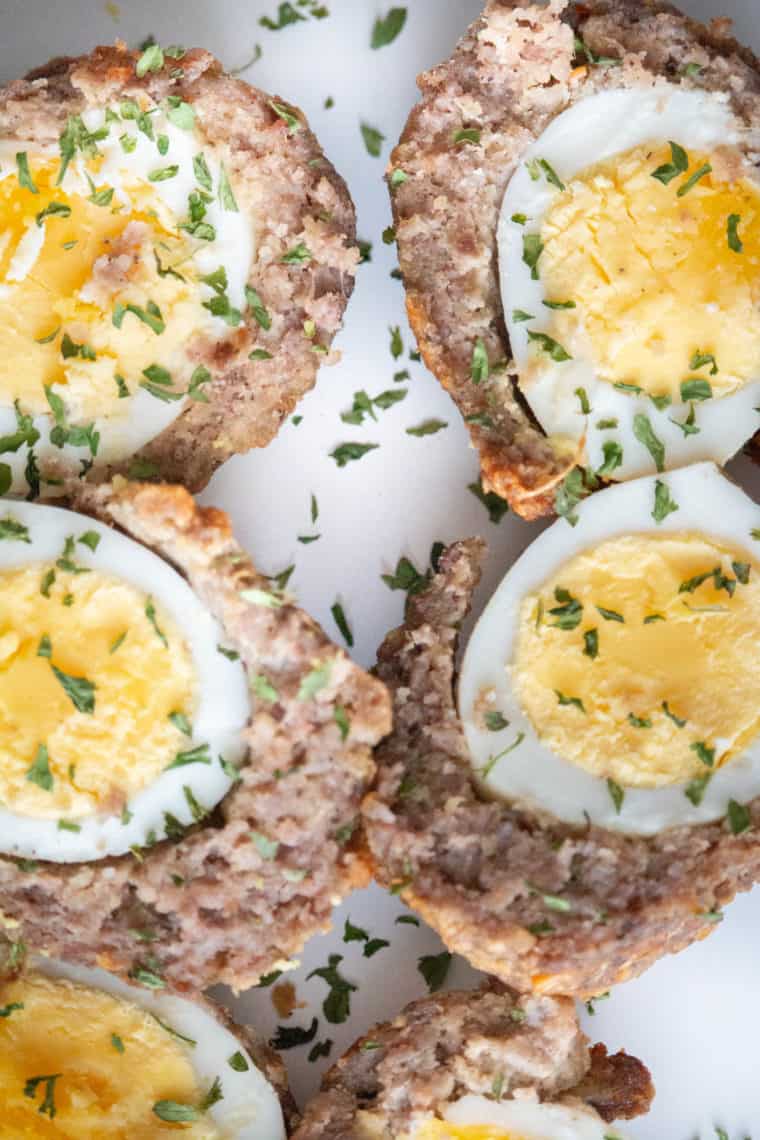 FAQ's:
Do I need to pre-boil the eggs? The eggs must be boiled to your preferred consistency (soft or hard-boiled) before wrapping them in the sausage mixture.
Can I use flavored sausages for this recipe? Absolutely! Using herbed or spiced sausages can add an extra layer of flavor to your Scotch Eggs.
Is it necessary to chill the eggs before air-frying them? While not mandatory, chilling helps the sausage retain its shape around the egg and ensures even cooking.
Can I make these ahead of time? You can prepare the sausage-wrapped eggs and store them in the fridge for a few hours before you air fry.
Why are my Scotch Eggs bursting open during cooking? This can happen if the sausage layer is too thin or if there's an air pocket between the egg and the sausage. Ensure a uniform, snug wrap to prevent this.
How do I achieve a runny yolk with the air fryer method? Start with a soft-boiled egg and be mindful of the air frying time. It may require some experimentation based on your eggs' exact size and starting temperature.
Can I use something other than sausage meat? While traditional Scotch Eggs use sausage meat, you can experiment with other ground meats, but the flavor and texture will differ.
How long will Scotch Eggs keep in the refrigerator? Once cooked, Scotch Eggs can be stored in an airtight container in the refrigerator for up to 3 days. It's best to reheat them in the air fryer or oven to retain crispiness.
Can I freeze air-fried Scotch Eggs? Yes, once cooled, you can freeze them in a single layer on a baking sheet before transferring them to a freezer bag. They can be reheated from frozen, but ensure they're cooked thoroughly before consuming.
More Air Fryer Recipes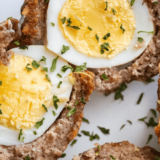 Air Fryer Scotch Eggs
Description
Low-Carb Air Fryer Scotch Eggs — Scotch eggs are typically fried, but these low-carb, air fryer scotch eggs will give you the same taste without all of that grease!
Ingredients
6

large

boiled eggs, cooked

1

pound

breakfast sausage

,

ground sausage

1/4

cup

grated Parmesan Cheese

1

teaspoon

onion powder
Instructions
Peel the boiled eggs. Set the eggs aside.

Combine the onion powder, parmesan, and breakfast sausage in a medium mixing bowl.

Wrap each egg in the sausage mixture to fully enclose the egg.

Place in a single layer in an air fryer basket. Spritz with oil spray.

Air fry at 390 degrees F, air fryer setting, for 12 minutes, flipping halfway through. Check for doneness and continue cooking, if necessary, until sausage is cooked through.
Equipment
Air Fryer

Cooking Spray

Parchment Paper,

optional
Notes
Storing, Freezing, and Reheating Air Fryer Scotch Eggs
Storing:
Room Temperature: Scotch eggs can be left at room temperature for a few hours if you plan to eat them the same day.
Refrigerator: Place the cooled Scotch eggs in an airtight container or wrap them in plastic wrap and store them in the refrigerator. They'll last for up to 3-4 days.
Freezing:
Allow the Scotch eggs to cool completely.
Place them on a baking sheet and freeze for about 1 hour or until they're solid.
Transfer the frozen Scotch eggs to a freezer bag, removing as much air as possible. Label the bag with the date and contents.
Store in the freezer for up to 2 months.
Reheating:
From the Refrigerator: Preheat the air fryer to 350°F (175°C). Place the Scotch eggs into the air fryer basket and cook for about 5-7 minutes or until heated through.
From Frozen: There's no need to thaw. Preheat the air fryer to 350°F (175°C) and cook for 12-15 minutes, turning halfway, until they are hot and crispy on the outside.
Note: When reheating, always ensure that the Scotch eggs reach an internal temperature of 165°F (74°C) for safety. If you're uncertain, use a kitchen thermometer to check.
Nutrition
Serving:
1
Serving
Calories:
320
kcal
Carbohydrates:
1
g
Protein:
19
g
Fat:
26
g
Saturated Fat:
9
g
Polyunsaturated Fat:
4
g
Monounsaturated Fat:
11
g
Trans Fat:
0.2
g
Cholesterol:
244
mg
Sodium:
625
mg
Potassium:
267
mg
Fiber:
0.05
g
Sugar:
0.2
g
Vitamin A:
363
IU
Vitamin C:
1
mg
Calcium:
73
mg
Iron:
2
mg
Don't Forget To Pin: