Air Fryer Cornish Hens is a delicious, easy meal that is cooked in 30 minutes! This is a fantastic and simple method to cook up a Cornish Hen. You will end up with a fabulous crispy, flavorful exterior with a moist and tender interior! Oh so good!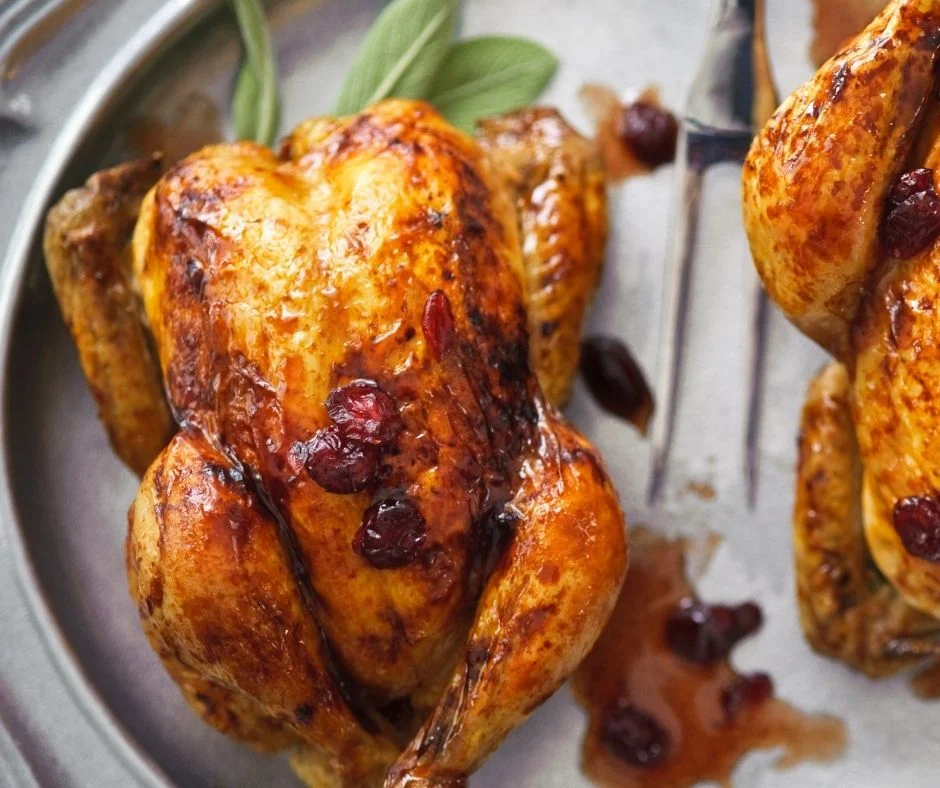 Air Fryer Cornish Hens are amazingly easy and amazingly delicious. These Cornish hens are perfect for a holiday event or a special Sunday dinner. Sometimes cooking a whole piece of poultry can be intimidating, but since we use the air fryer, these are perfectly roasted every time!
I used to get these when I first got married, as I lived many, many miles from my family. Going home for the holiday was not an option, so we would make one for each of us and have a great feast. I would serve them with all of the traditional Thanksgiving sides.
If you've never had a Cornish hen, they are just as simple, or even more so, as roasting a full-sized chicken. This will tell you everything that you need to know how to cook Cornish Hen in the Air Fryer.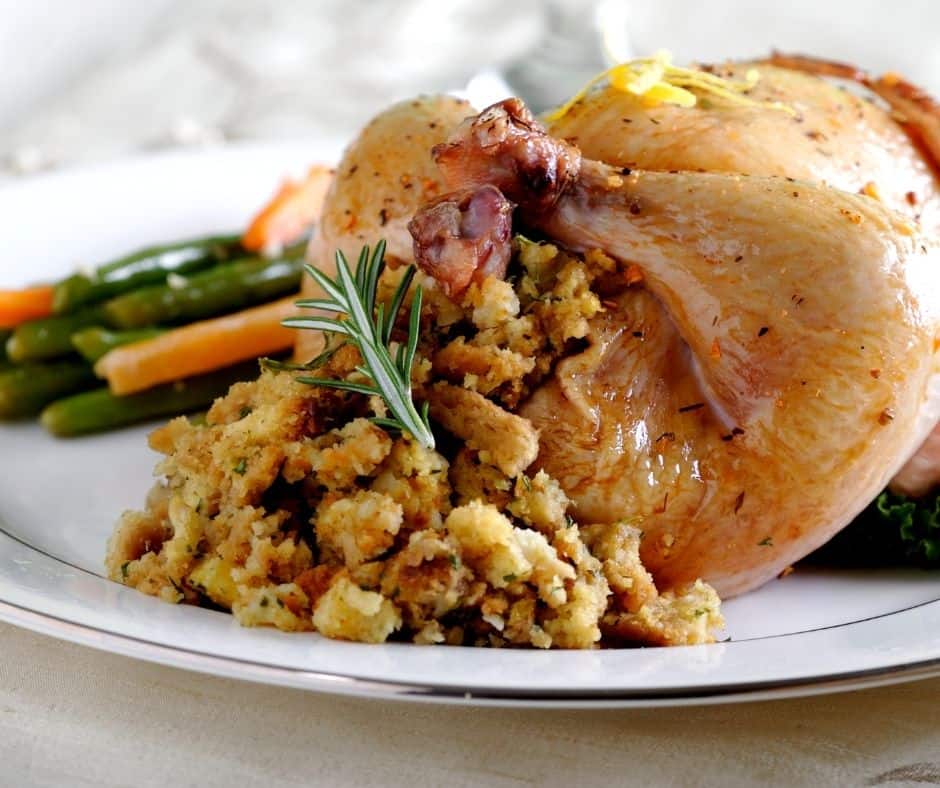 What Are Cornish Game Hens?
Cornish hens are a specific breed of chicken that are smaller and called a Cornish Game Hen or Rock Cornish game hen. They are typically raised as broiler chickens. The typical size of Cornish hens is about 1-2 pounds each. They taste just like chicken and can be seasoned as such. One of the great things about this is that you can serve each person their own, and everyone loves having their own!
Although the serving size for each Cornish hen says it is for 2 (one hen for 2 people), I always serve one Cornish hen per person. They are often found in the freezer section, in the meat department, although the supermarket sometimes carries them fresh around the holidays.
If you have to defrost them, place the frozen Cornish hen into the refrigerator and allow 2 to 3 days to thaw. If you wish to cook it frozen, I find that the best temperature is about 350 degrees for about 35-40 minutes.
Why We Love this Air Fryer Cornish Hen Recipe
This recipe for Cornish hens is so versatile and easy. You can season with whatever your favorite poultry seasonings are. If you want to go for a classic holiday type of seasoning, try salt, pepper, garlic powder, onion powder, thyme and rosemary. If you want the flavor of a grilled chicken, try Montreal Chicken Spice Blend like I did!
You can serve up these Cornish hens with any sides you like. Make some delicious mashed potatoes and roasted veggies, or try some of my favorites!
What You'll Need to Make Air Fryer Cornish Hens
The greatest thing about this recipe is that it is a blank slate. You can use anything to season the cornish hen with. Some popular examples are fresh herbs, onion & garlic, lemon, olive oil, salt & pepper, Italian seasoning, smoked paprika, etc. There are so many variations.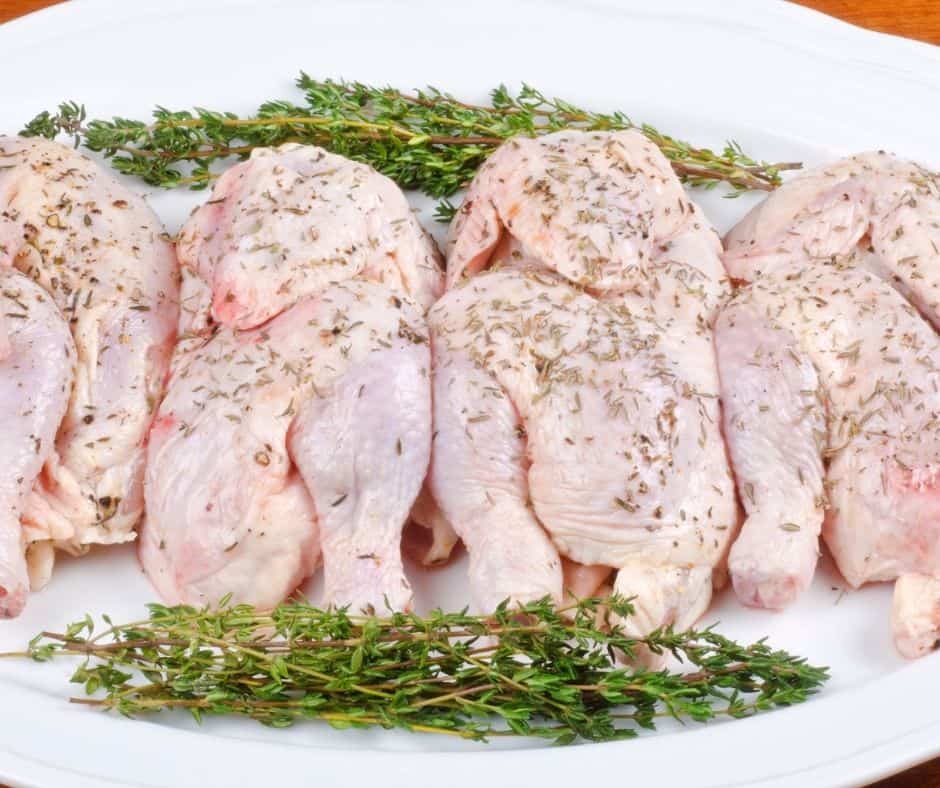 How To Make Air Fryer Cornish Hens
The size of your air fryer basket or tray will determine how many you can air fry simultaneously. If you can only fit one at a time, make your Cornish hens in batches. Keep them warm by covering them in foil and putting them in a warm oven until all of them are done.
Preheat your Air Fryer for 4 minutes at 390 degrees F, air fryer setting.
Then cook each side for 15 minutes; baste, during the cooking process. When the chicken reaches 165 degrees F, remove from the air fryer and let the chicken rest for a few minutes.
Plate, serve, and enjoy!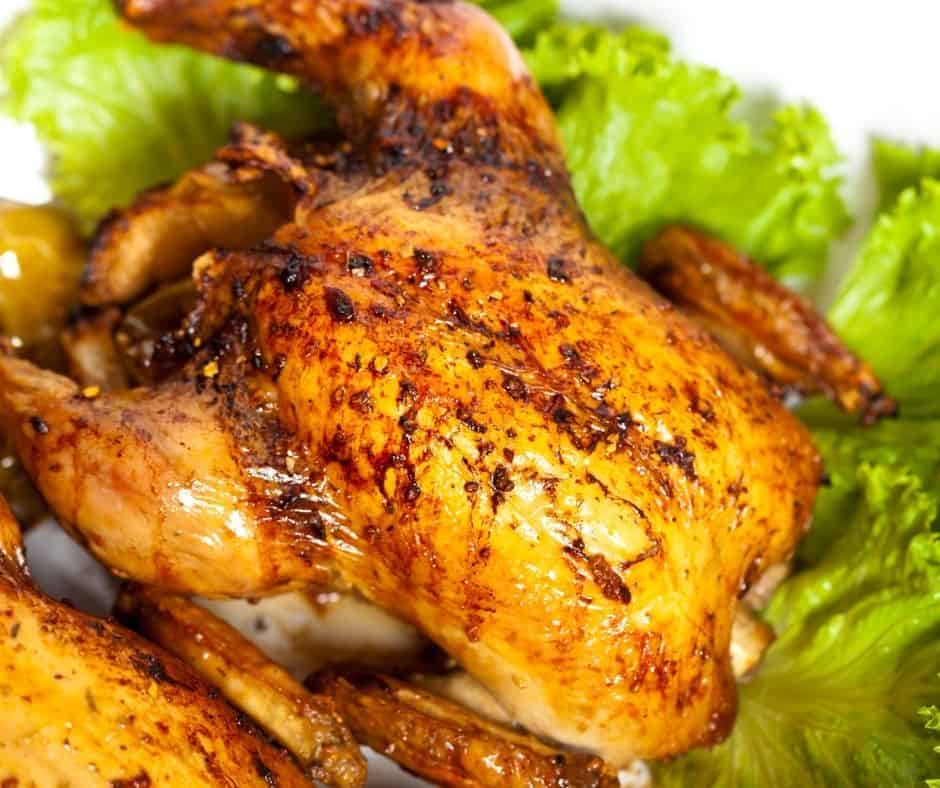 Seasoning For Your Air Fryer Cornish Hens
You can roast cornish hens to perfection in the air fryer. The key is in the seasoning of your Cornish hens. You can choose from a variety of herbs that will give your hen its unique flavor. From classic garlic and onion to more daring flavors like lemon pepper or curry, you're sure to find one that suits your taste buds!
Some great seasoning blends are: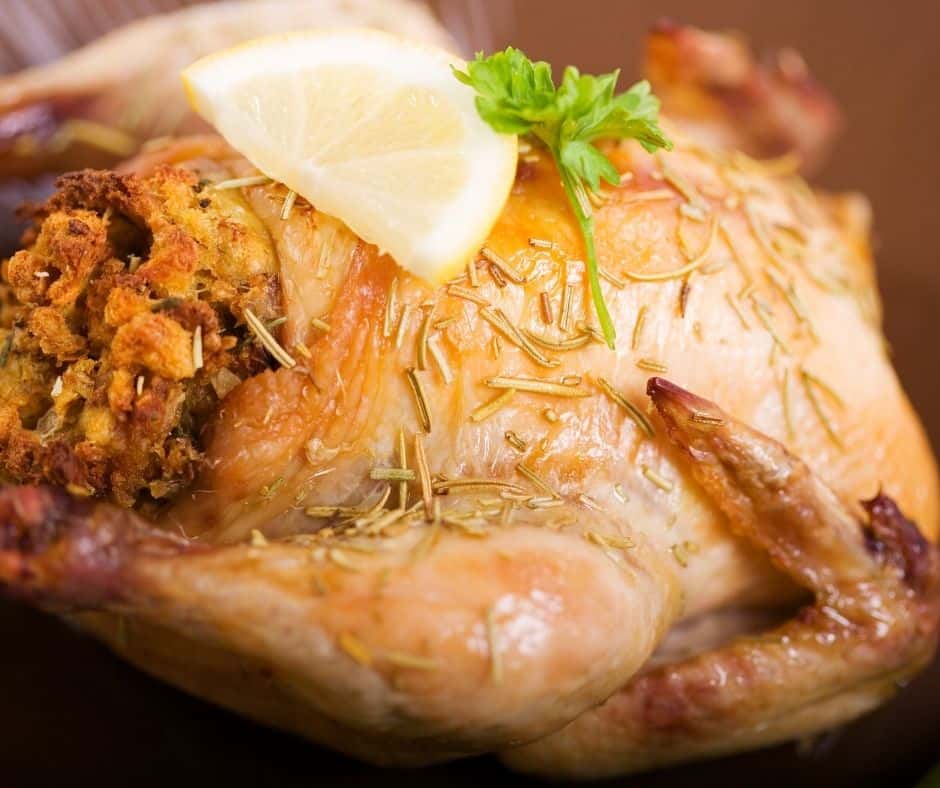 Tips For Cooking Cornish Hens In Your Air Fryer
FAQs
Can I air fry a frozen Cornish hen?
Yes, of course, the only thing that will change is the amount of time that you need for them. To air fry a frozen cornish hen, air fry at 350 degrees F, flipped halfway for about 40 minutes.
The best way to air fry a Cornish Hen would be thawed, so if you take it out of the freezer and place it in the refrigerator a couple of days before you want to air fry them up, that would be best.
How long should I cook my Cornish hen?
Depending on the weight and the air fryer that you own, you will need between 30 minutes to 45 minutes in cooking time. The best way to tell if you are done with cooking your Cornish Hens in the Air Fryer is to use a meat thermometer. When the internal temperature reaches 165 degrees F, remove it from the air fryer.
Should I stuff my Cornish hen?
Stuffing your Air Fryer Cornish Hens is a great way to add flavor and moisture to your already delicious roasted bird. It is also an easy, stress-free way to prep the stuffing ahead of time, so you have one less thing to think about when guests arrive.
You will prepare the stuffing as directed in the instruction or recipe of the stuffing recipe. Then add the stuffing into the cavity of the Cornish hen. Cook until the internal temperature of the chicken and stuffing is 165 degrees F.
How should I store and reheat my Cornish hens?
There is nothing better than left over Cornish hens! Just place the left overs in an air tight container, and store them in the fridge. They will keep for up to 4 days in the fridge. Once you want to reheat them, put them in the air fryer or microwave and heat until warm through out.
More Air Fryer Recipes: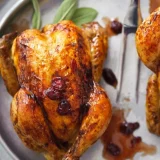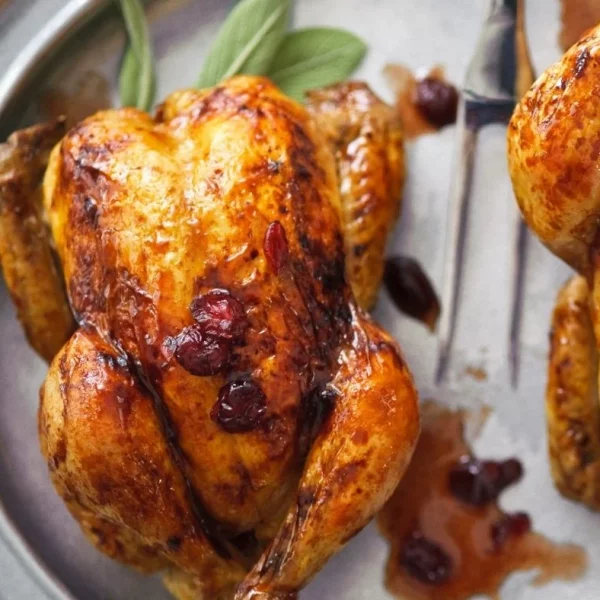 Air Fryer Cornish Hens
Description
Air Fryer Cornish Hens — is a delicious, easy meal that is cooked in 30 minutes! This is a fantastic and simple method to cook up a Cornish Hen. You will end up with a fabulous crispy, flavorful exterior with a moist and tender interior! Oh so good!
Ingredients
1-2

small

Cornish Hen, thawed

2

tablespoons

olive oil

1-2

teaspoons

Poultry Seasoning

salt and black pepper to taste
Instructions
Preheat your AirFryer for 4 minutes at, 390 degrees F, air fryer setting.

Rub the olive oil over the Cornish Hen, season with salt, black Pepper and seasoning.

Cook each side 15 minutes, the chicken is done when it reaches 165 degrees F.
Notes
Use your favorite poultry seasoning to make the chicken just how you like it!
Nutrition
Serving:
1
g
Calories:
577
kcal
Carbohydrates:
1
g
Protein:
39
g
Fat:
46
g
Saturated Fat:
11
g
Polyunsaturated Fat:
8
g
Monounsaturated Fat:
24
g
Cholesterol:
227
mg
Sodium:
138
mg
Potassium:
538
mg
Fiber:
0.1
g
Sugar:
0.03
g
Vitamin A:
269
IU
Vitamin C:
1
mg
Calcium:
35
mg
Iron:
2
mg
DON'T FORGET TO PIN: