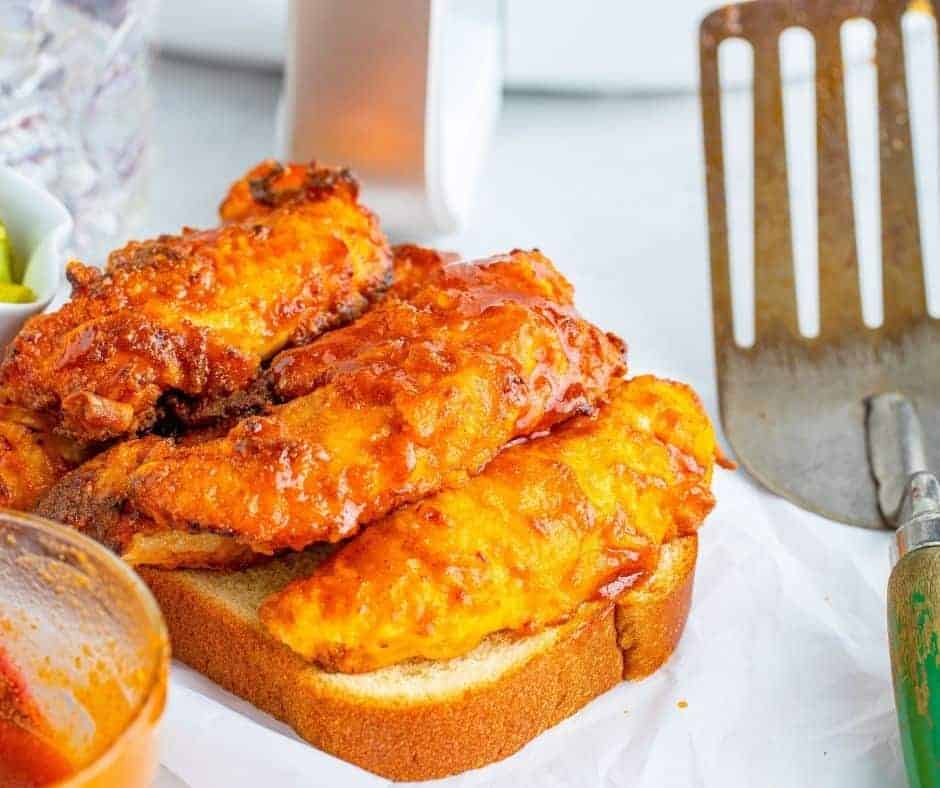 Air Fryer Nashville Hot Chicken Tenders is amazing!! I mean amazing. It's a traditional hot chicken dish, but today I prepared it in the air fryer, and it was simply easy and absolutely delicious—tender, but yet crispy and full and full of flavor.
Nashville chicken is one of my favorite dishes, and I always order it when visiting my relatives in the South. About a month ago, I saw a packaged mix for Air Fryer Nashville Chicken and thought, hmm. that would be really good. So, I purchased it and prepared it in my air fryer, and it was amazing—a real hit with my family.
So, I thought I would make my homemade version. This is the best air fryer Nashville Chicken Recipe, it's spicy, and you get the fried flavor, but it is so much healthier. Serve it with a classical Macaroni and Cheese or Collard Greens, and you have a TRUE Nashville Hot Chicken Meal. And it is simple.
Air Fryer Nashville Chicken
There is a great secret to your chicken, so if you have been coming up with chicken that is dried or with white spots. The secret that most experienced air fryer people would tell you is to spray, spray, and spray your chicken. Always spray your chicken before and after you flip your chicken. This will ensure a moist and delicious chicken dish.
You can make this ahead of time. Just cover it with aluminum foil, depending on how long dinner is, from the time you make it until you eat it. If it's a long time, remember to keep it in the refrigerator until ready to eat.
Here are some tips for air frying chicken:
Seasoning your chicken is important. Making sure to coat your chicken evenly is important as well.
Most chicken dishes can be rubbed and then set into the refrigerator ahead of time. So, when you come home from work/errands/kids, etc., you can place it in the air fryer, spray it with olive oil spray and air fryer.
Spraying the chicken with olive oil spray is one of the keys. I spray the heck out of, and I always get no white spots and tender (way juicy) chicken.
Always flip the chicken halfway, and then spray again. This way, both sides are nice, light, and tender.
Because eating uncooked chicken is unhealthy and can you sick, invest in a meat thermometer.
WHAT IS NASHVILLE HOT CHICKEN?
Nashville chicken is really a great fried chicken recipe. It is usually deep-fried and then coated with a hot sauce.
This was traditionally only served in the South, obviously has its roots in Nashville, Tennesse. It starts with either a breast, thigh, or wings that have been marinated in a brine, then seasoned, floured, and dried. Nashville chicken is typically served over white bread, and on the side, you usually have some pickle chips.
It is different than your regular Buffalo Chicken because there is s paste that you apply on the chicken, which makes it spicy. The Nashville Hot Chicken paste is typically a combination of lard and cayenne pepper. For this version, we removed the lard and changed it out for a healthier version. But you still get the same amazing taste.
Typically, the dish is deep-fried, but you can get the same flavors with the air fryer without all of the oil's added fat.
Ingredients Needed To Make Air Fryer Nashville Hot Chicken Tenders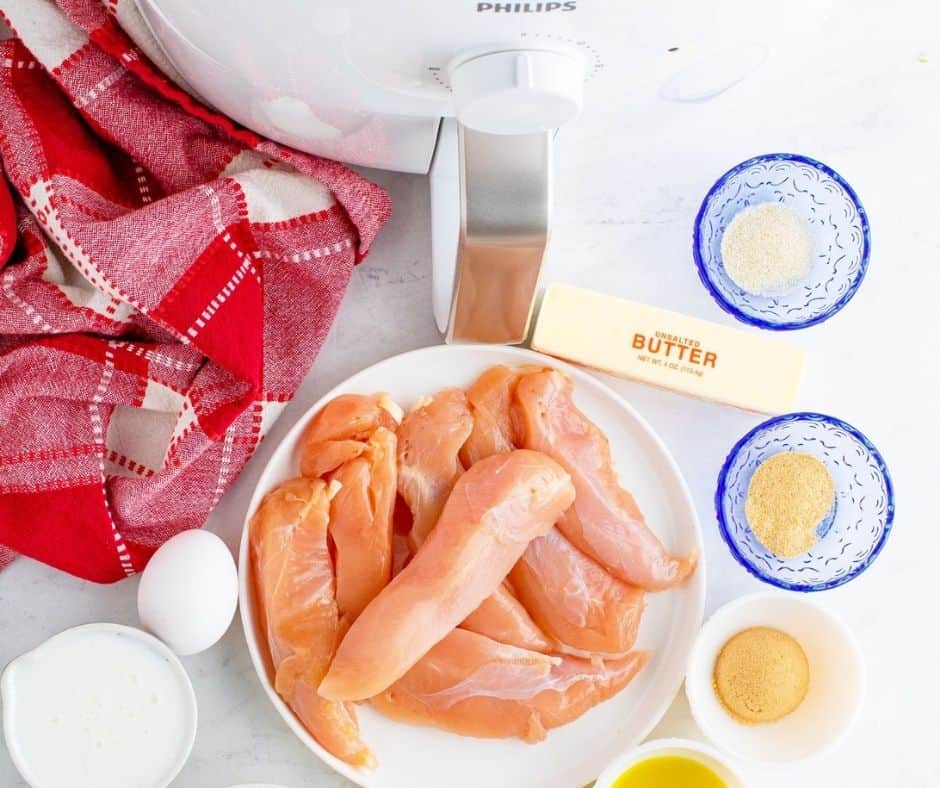 How To Make Air Fryer Nashville Hot Chicken Tenders
For Nashville Hot Chicken Tenders, we started by soaking the chicken in a combination of buttermilk, pickle brine, hot sauce, and egg. Cover and refrigerate for about two hours.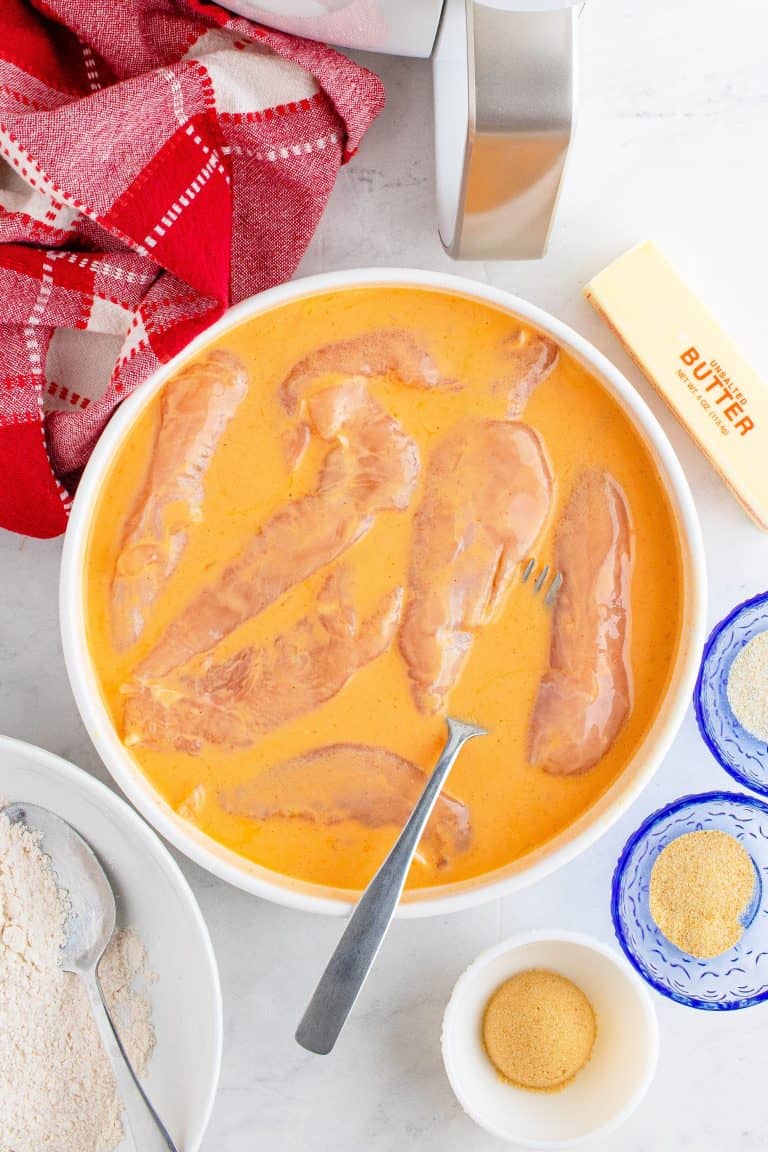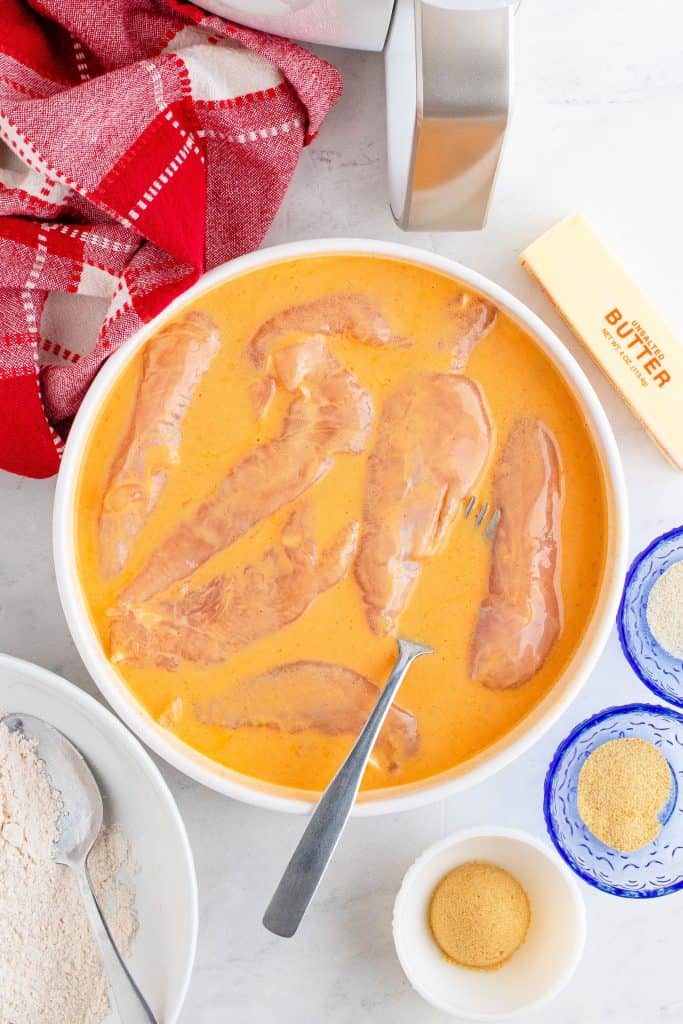 Then in a mixing bowl, combine the flour, cayenne pepper, and salt. Add your chicken to the flour mixture.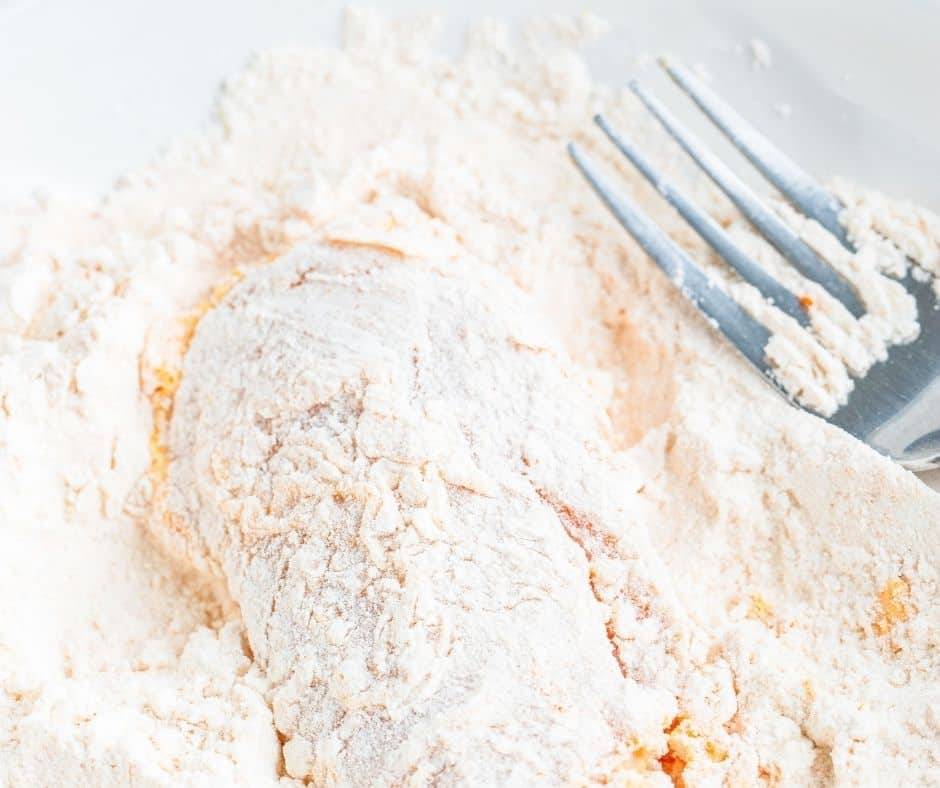 Preheat your air fryer to 400 degrees F for at least 5 minutes. Spray your air fryer basket with olive oil. Then as you coat, your chicken place them into the sprayed basket.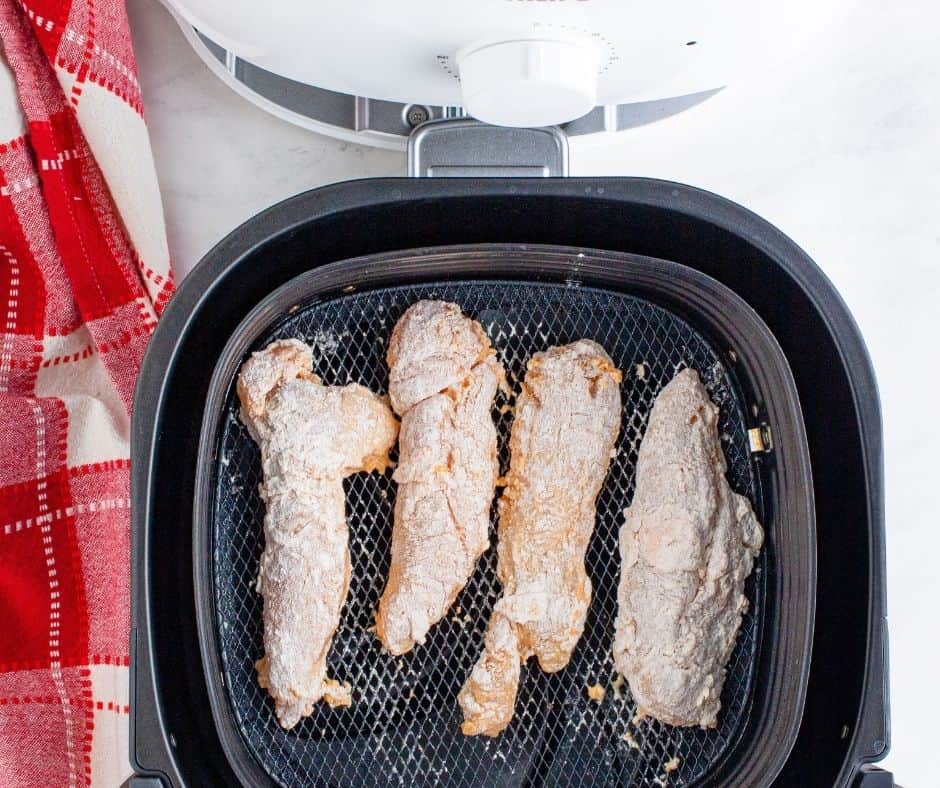 Then in a small bowl, heat the butter, brown sugar, cayenne pepper, garlic powder, onion powder, and salt. Simmer until hot.
Brush the chicken tenders with the sauce.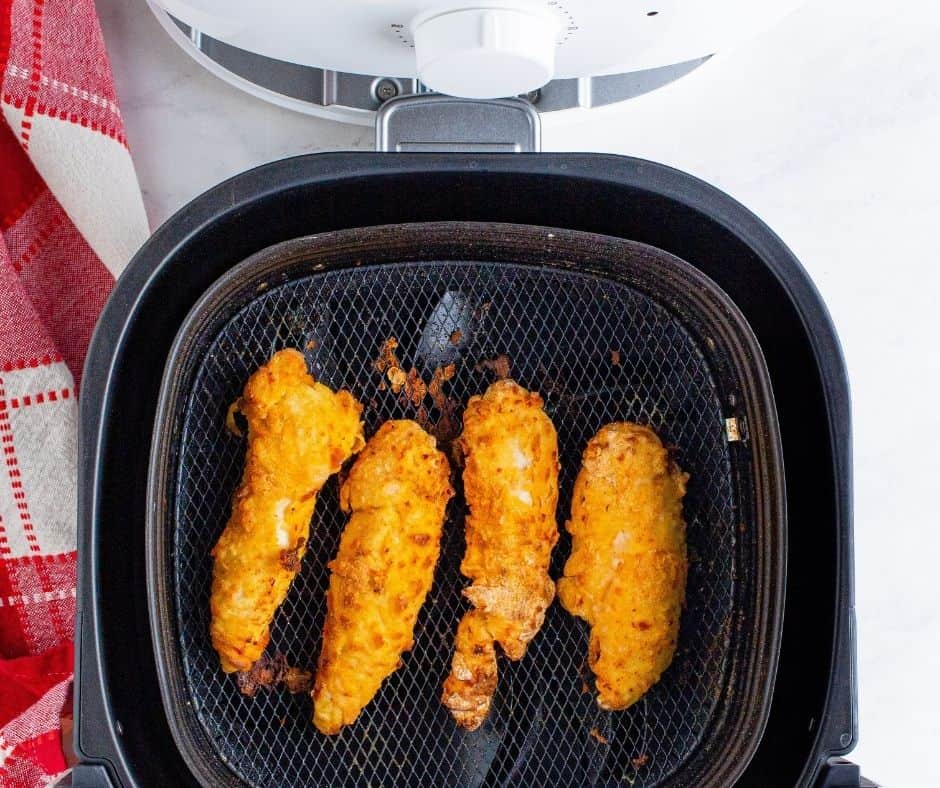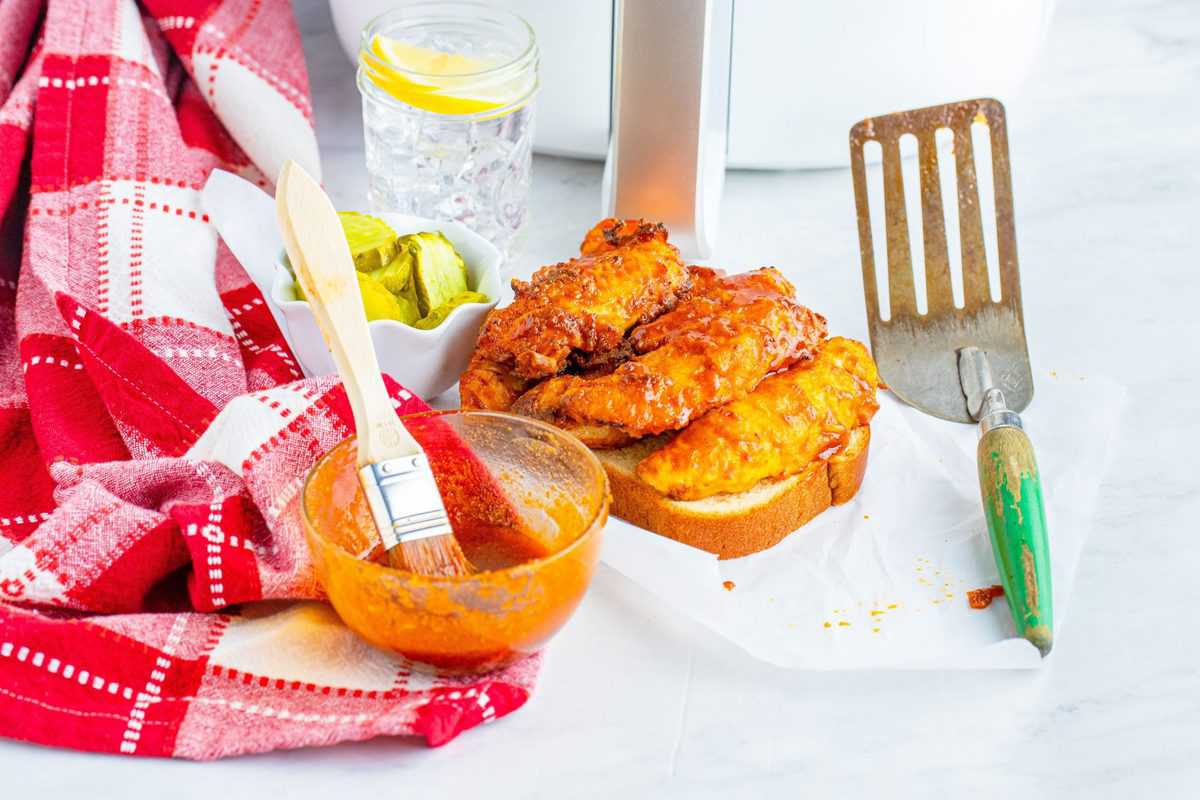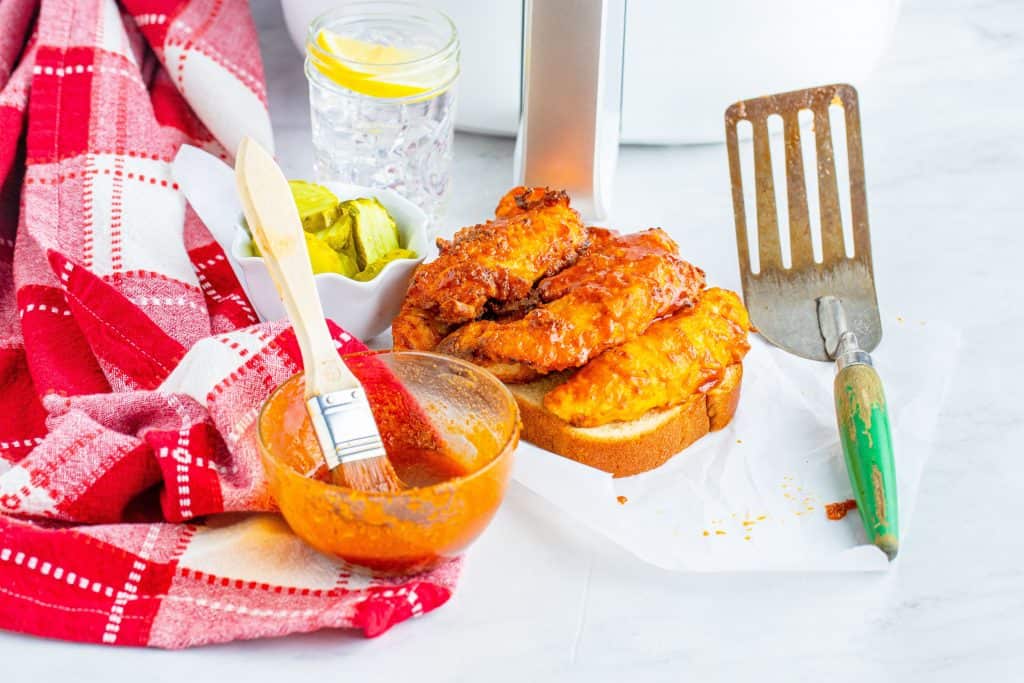 Some Common Questions Asked About This Recipe-
What Does Nashville Chicken Taste Like?
While you would think that this entire chicken dish would be about heat, it is actually a complicated dish to explain. It has a lot of seasoning, which provides a lot of heat, but at the same time, you get a nice flavor of the fried chicken.
Note about the spice in this recipe. The sauce provides a really, VERY spicy, truly hot chicken. Start by adding 1/4 teaspoon of cayenne pepper and tasting it as you add more. Otherwise, you may not like the chicken, as the true Nashville Hot Chicken contains about 2 teaspoons of cayenne pepper.
Can I Use Whole Chicken Breasts Instead of Tenders?
Absolutely, they would come out amazing, as well. I used chicken tenders since they are the classical way that Nashville Hot Chicken is served, but it would be the same.
The cooking time will change by a few minutes, so remember to use your meat thermometer and check the chicken about halfway through the cooking process. The internal temperature of the chicken should be 165 degrees F.
Can I Use Bone-In Chicken Instead of Boneless
This recipe can be used with bone-in chicken; you need to cook the meat until it is fully cooked. Use a meat thermometer to ensure it is 165 degrees. When you cook with bone-in meat, you need to ensure you don't touch a bone when you check the meat. If you hit a bone, it will give you a false reading.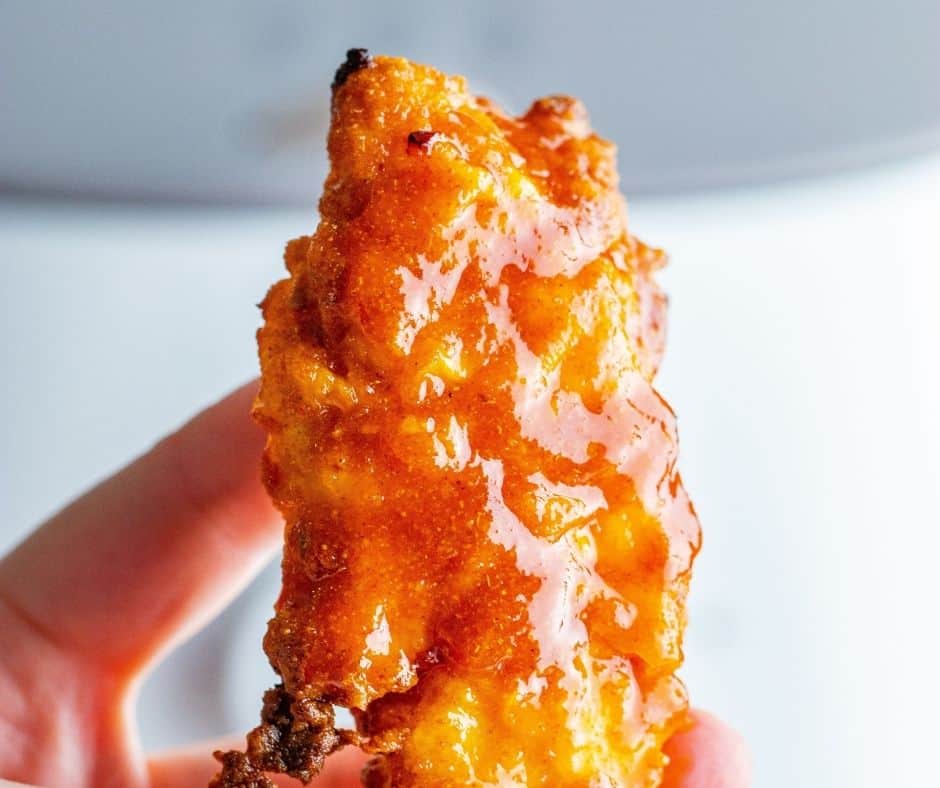 Does The Nashville Chicken Store Well
Like all fried foods, you will find the breading softens a bit once it cools down. You can store leftovers in the fridge for up to three days. Just make sure that you reheat in the microwave, in a skillet on the stove, or warm it up in the air fryer to get a crispier texture as it was when first cooked.
With reheating chicken, you will find it can make the chicken a bit drier, but it will still taste delicious. Or slice up the chicken and use it cold to top a salad!
Want More Air Fryer Chicken Recipes

Instant Pot Chicken Alfredo | Give this chicken alfredo recipe a try. Tender pasta, delicious creamy white sauce, and chicken in every single bite.
Breaded Air Fryer Chicken | You will enjoy another air fryer breaded chicken. It is loaded with flavor, juicy, and one of my favorite chicken recipes.
Instant Pot Sesame Chicken | Sesame chicken made in the Instant Pot chicken loaded with rich flavors. Pair with a bed of rice, rice noodles, etc. This recipe is better than takeout.
Chili's Cajun Chicken Pasta | Skip eating out and make a copycat Chili's Cajun chicken pasta for dinner. Pair with some steamed vegetables, bread, garlic bread, etc.
What Is Nashville Chicken Usually Served With?
The traditional Southern meal is served with:
Sliced White Bread
Pickles
Some Helpful Products Used In Making This Recipe–
Disclosure: Some of the links below are affiliate links. At no cost to you, I will earn a commission if you click through and make a purchase.

Philips Kitchen Appliances Digital Twin TurboStar Airfryer XXL, with Fat Removal Technology, 3 Lbs, Black, HD9650/96
DON'T FORGET TO PIN–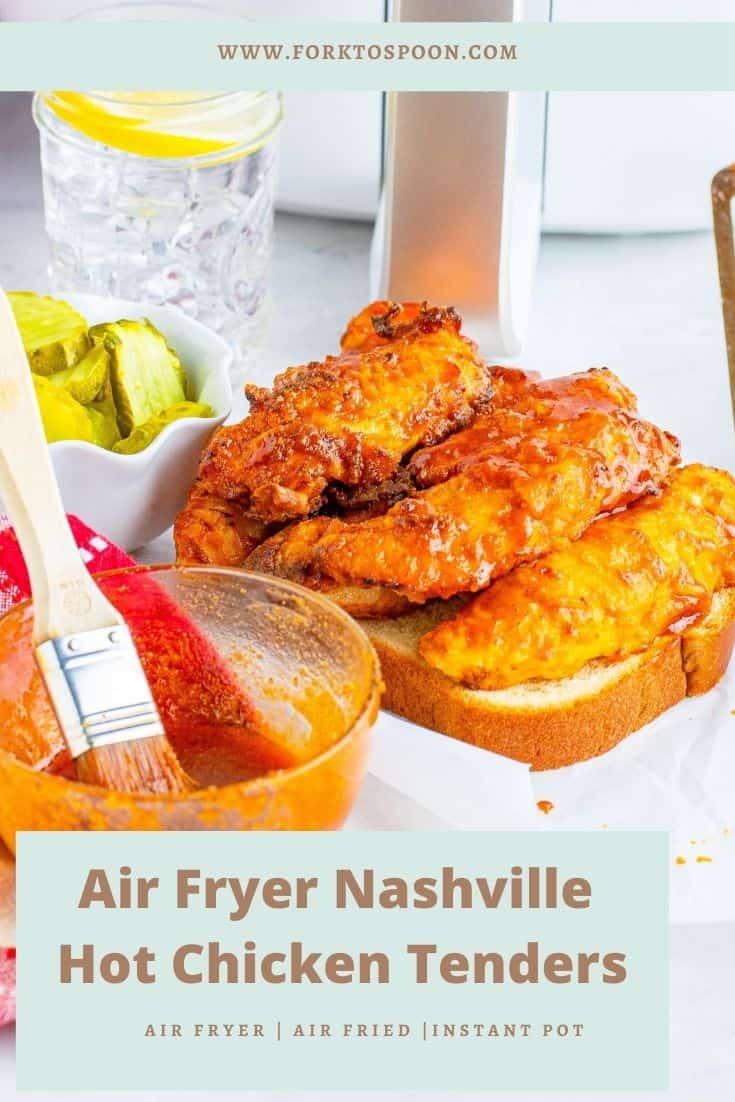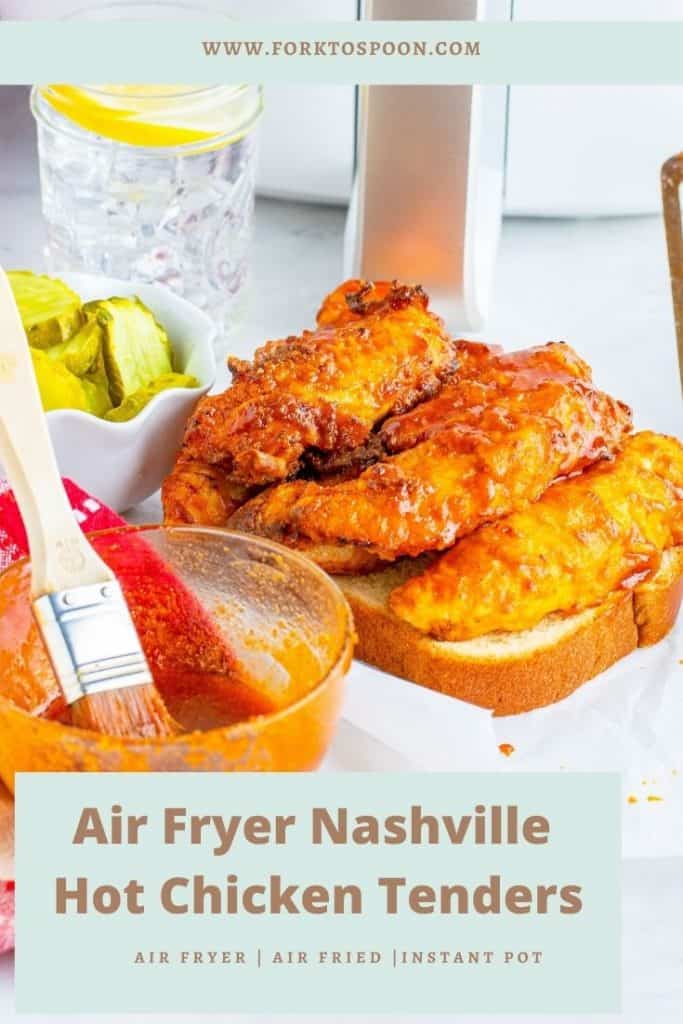 Print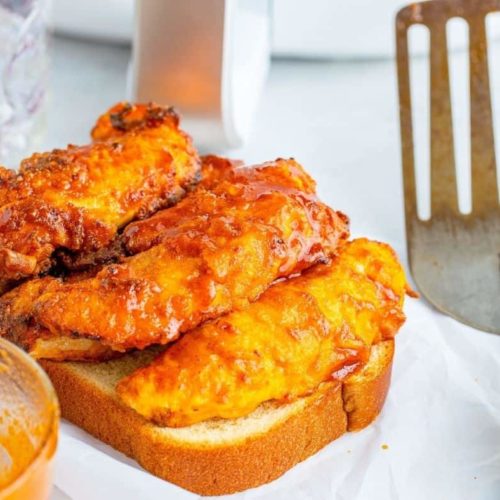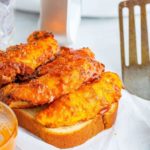 Air Fryer Nashville Hot Chicken Tenders
Author:

ForkToSpoon.com

Prep Time:

10

Cook Time:

10

Total Time:

20

Yield:

4

Servings

1

x

Category:

Main Course

Method:

Air Fryer

Cuisine:

American
---
Description
Air Fryer Nashville Hot Chicken Tenders is amazing!! I mean amazing. It's a traditional hot chicken dish, but today I prepared it in the air fryer, and it was simply easy and absolutely delicious—tender, but yet crispy and full and full of flavor.
---
Tenders:
1/2 cup

buttermilk

2 tablespoons

pickle brine

2 tablespoons

hot sauce

1

egg

1

pound chicken tenderloins

1 cup

all-purpose flour

1/2 teaspoon

cayenne pepper

1/2 teaspoon

salt
Sauce:
1/4 cup

unsalted butter, melted

1 tablespoon

light brown sugar

2 teaspoons

cayenne pepper to taste (see note)

3/4 teaspoon

garlic powder

1/2 teaspoon

onion powder

1/2 teaspoon

salt
Other: 
Olive Oil Spray
---
Instructions
In a medium-sized bowl, add the buttermilk, pickle brine, hot sauce, and egg. Whisk until well combined. 
Add the chicken tenderloins to the bowl and toss in the marinade. Let marinate for about two hours.
Then in another bowl, whisk the flour, cayenne, and salt.
Preheat your air ferry to 400 degrees F, then spray your air fryer basket with olive oil.
Coat your chicken with the flour mixture, shaking off any excess flour, and as you coat them, place them into the air fryer basket. 
Spray the tops of the coated chicken tenderloins with olive oil spray, then set the timer for 10 minutes, flipping and spaying the tops of the chicken again.
Chicken is cooked when the internal temperature reaches 165 degrees F, and the outside is golden brown. 
While the tenders are cooking, prepare the sauce, whisk the butter, brown sugar, cayenne, garlic powder, onion powder, and salt in a small bowl.
Once the tenders are fully cooked, brush with the sauce. 
Serve the extra sauce on the side for dipping.
Plate, serve, and enjoy!
---
Notes
Note: The sauce is VERY hot, a true spicy hot chicken. I would start with 1/4 teaspoon of cayenne and then add it slowly, and tasting in between. 
Keywords: Air Fryer Nashville Hot Chicken Tenders