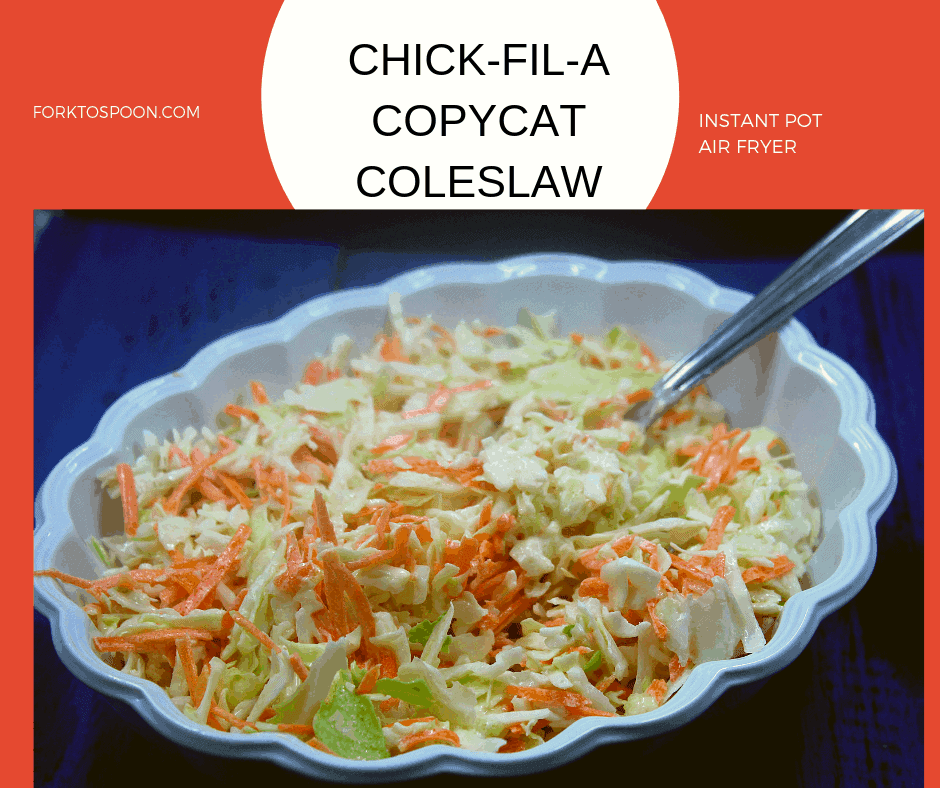 This was one of kid's favorite side dishes when we traveled to Chick-Fil-A in the summertime. We didn't have a Chick-Fil-A in New Hampshire, but when we went, boy did we place a huge order.
I was saddened to hear that the restaurant decided to phase out the coleslaw, for me, it was a perfect balance between the Chick-Fil-A classic sandwich, the waffle fries and a side of cole-slaw if you washed it down with a huge glass of water. Your mouth would do a happy dance. At least mine did.
This is an extremely easy recipe to make, and since it needs to be refrigerated it can easily be made the night before. Which will reduce your mad dash for the kitchen on those busy nights, where you are running around like your head is cut off. Or is that only me?
The recipe is simple but the taste is amazing.
You can start by finding this product in the supermarket, any supermarket has the bag of shredded cabbage, it is usually found in the same place where the salad in the bags are found. If not, just ask your produce department and I'm sure that they can find it for you.
I just love this time of year, spring is almost here, and I start my visions of BBQ parties, and spending time with friends, sitting around and eating grilled food. This is a great dish to share with friends, and it also makes a great and easy side dish at your BBQs, graduations, family reunions or just a night, where you are going to sit around the campfire and make some s'mores.
Here are some tips if you are attempting making coleslaw for the first time. I hope they help you.
 Coleslaw Recipe Tips:
 If you are at a farmer's market or a grocery store and you can find a great sale on cabbage, you can pick out either red or green, both fine for this recipe.  You can even mix both of them together.
I use a bagged coleslaw mix, as it cuts down on my work.
I prefer to stir together the dressing in a small bowl, the sugar, mayonnaise, white vinegar, dry mustard, and salt, mix that all together and then mix in the shredded cabbage.
If you like your coleslaw crisp, serve it right away
This recipe will keep in the refrigerator for a few days, but after a while, the texture starts to get softer.
The spices used in this recipe are:
Dry Mustard-dry mustard is really just powdered mustard. Usually, cooks use it in spice rubs, salad dressings and sauces, dry mustards reduces the amount of acidity in a recipe.
Items Used in this Recipe:
Low-fat Mayonnaise-Personally I think that it tastes exactly like the full-fat one, but I save calories here.
White Vinegar-Look for the distilled white vinegar in your store.
Dry Mustard-This is my favorite dry mustard.
Sugar-Look for pure cane sugar, it's usually sold in resealable bags.
Don't Forget to Pin:
Homemade Chick-Fil-A Copycat Coleslaw Recipe
A great copycat version of the discontinued Chick-Fil-A Coleslaw
Ingredients
14

ounces

shredded cole-slaw mix

1/2

cup

mayonnaise

2

teaspoons

white vinegar

1/2

teaspoon

dry mustard

1/8

cup

cane sugar

1/2

teaspoon

salt
Instructions
In a medium-sized bowl, open your cole-slaw mix and dump it in.

Then add the mayonnaise, white vinegar, dry mustard, cane sugar, and salt. Mix well.

Place the coleslaw in the refrigerator for at least 2 hours, before serving.