Craving a delicious and easy homemade version of your favorite Chick-fil-A cookies? Look no further than this Air Fryer Copycat Chick-fil-A cookie recipe! Not only is this simple to make, but it also tastes just like the real thing.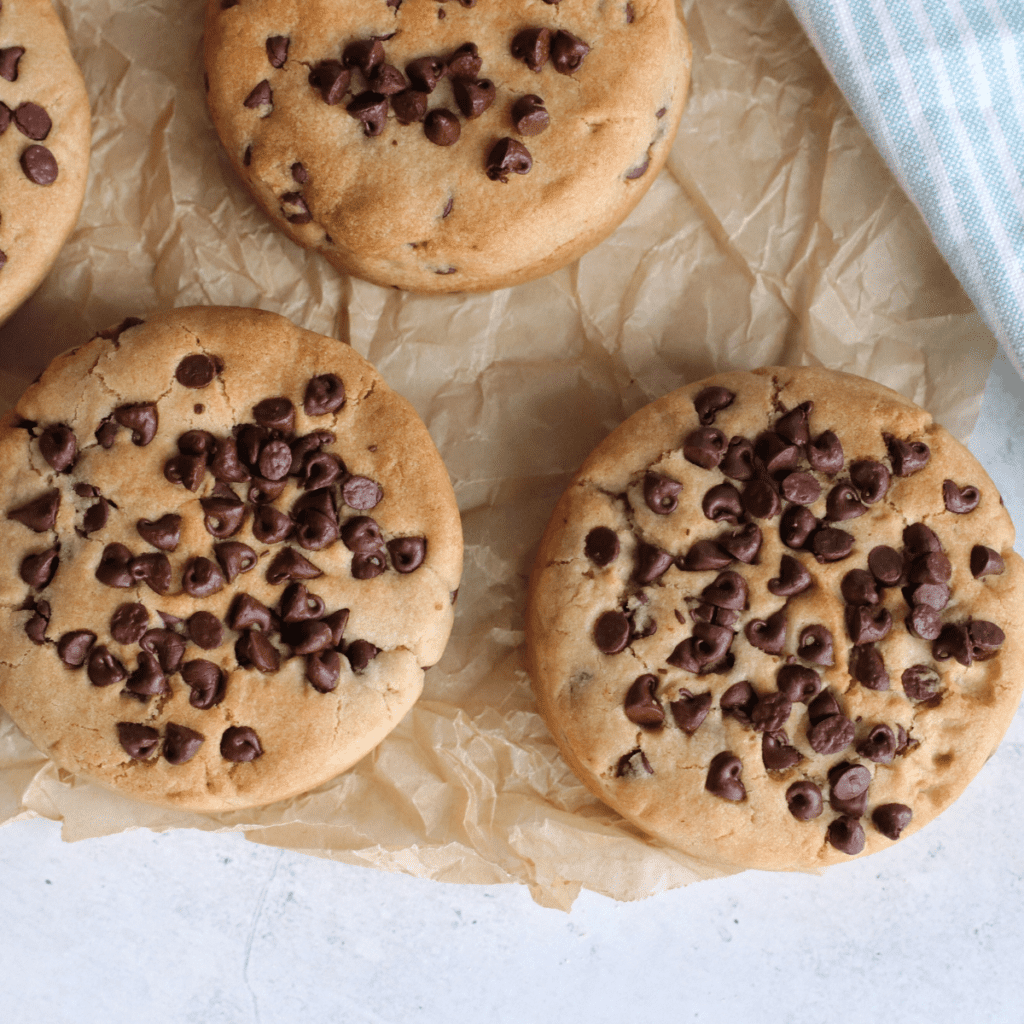 With a soft yet crunchy exterior and chewy inside, these decadent treats are sure to delight all those who try them. Plus, you can feel good about making a healthier version of such a classic dessert food. Get ready for some amazing flavors in your very own kitchen with this copycat Chick-fil-A cookies air fryer recipe!
Why you'll love this recipe!
Fast! Cooks in Less than 10 minutes
Brown Sugar adds so much flavor!
Make 1 Cookie or 10, great for everyone, who lives alone!
Delicious!
Ingredients Needed For Copycat Air Fryer Chick-fil-A Cookies
Are you a fan of the famous Chick-fil-A Chocolate Chunk cookies? Do you find yourself wanting to enjoy the amazing flavor and softness of these iconic treats, but can't because they're not available in your area? Well, then you're in luck because today we will show you how to make an imitation copycat Air Fryer Chick-fil-A Cookie that rivals the original! Gather up your ingredients and join us as we take an exciting trip into the deep south flavors of this signature recipe. Enjoy all the deliciousness without having to leave home with our improved version made specifically for air fryers. Get ready for a tasty treat everyone in your family will love!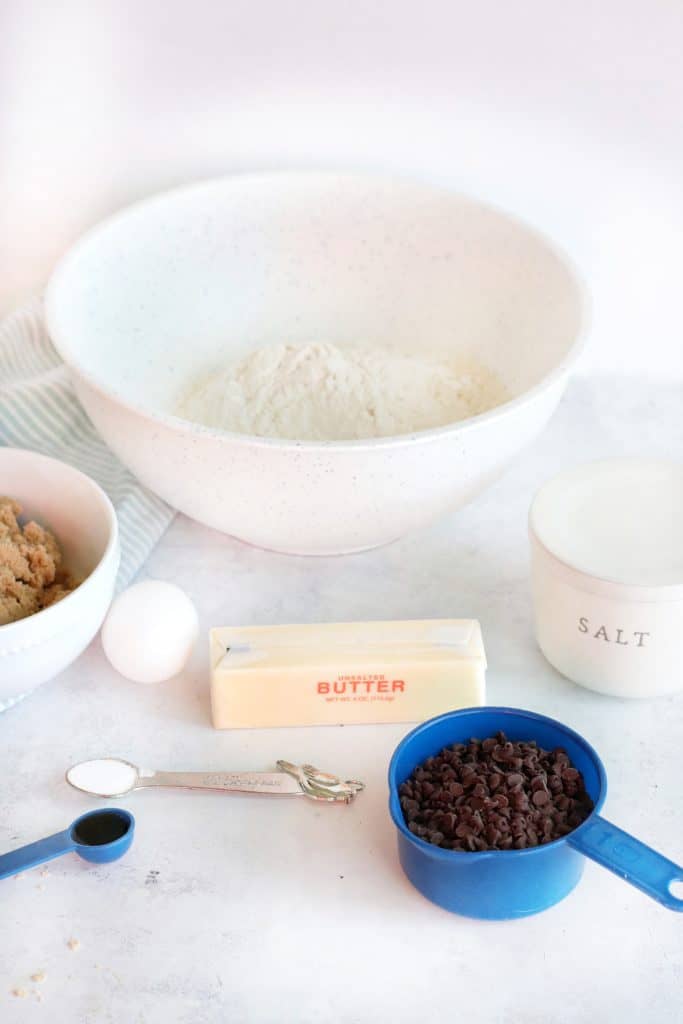 Remember the step-by-step directions are below in the printable recipe card, at the bottom of the page.
Butter: Use unsalted butter, at room temperature.
Dark Brown Sugar: For a sweet cookie, you can also use a sugar substitute.
Vanilla Extract: Use pure vanilla extract, for the best flavor.
Egg: Use a large, room-temperature egg.
Flour: Use all-purpose flour, or for a gluten-free cookie, use gluten-free all-purpose flour.
Kosher Salt: For some added flavor
Baking Powder: Make sure to use fresh baking powder.
Semi-Sweet Chocolate Chips: You can also use chocolate chunks. Or use half semi-sweet chocolate chips and half milk chocolate chips.
How To Make Air Fryer Copycat Chick-fil-A Cookies
Ah, Chick-fil-A cookies – soft and chewy with just the right amount of sweetness. They're beloved by many and have become an iconic dessert served at one of America's favorite fast-food restaurants. But what if you could recreate those classic treats any time you wanted in your very own kitchen? If that thought tantalizes your taste buds, then this post is for you! In it, we will be giving step-by-step instructions on how to make copycat air fryer Chick-fil-A cookies using simple ingredients and best of all they can be cooked quickly in a matter of minutes thanks to the power of the air fryer! So fire up those ovens (or Air Fryers!) because our delicious homemade version awaits!
Step One: Prepare The Cookie Batter
In a large bowl mix together the butter, brown sugar, vanilla extract, and egg. After it's thoroughly mixed, (it should be a thick, creamy texture) add in the flour.
Then gradually add the salt and baking powder. When you're finished mixing all of the ingredients together, fold in the chocolate chips. Cover the bowl and place it in the fridge for 30 minutes.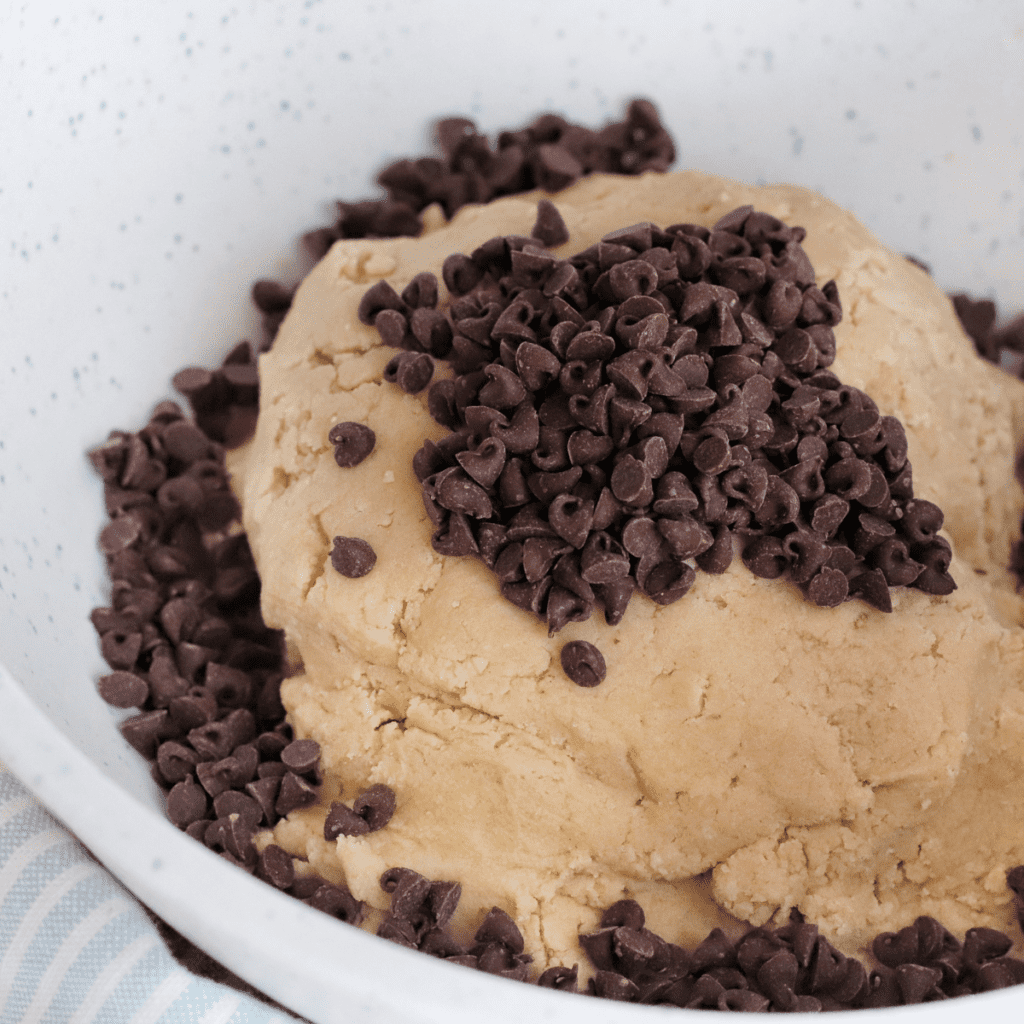 Step Two: Prepare The Air Fryer
When you're ready to make the cookies, remove the dough from the fridge and allow it to sit at room temperature while you preheat the air fryer. Preheat the air fryer to 315 degrees. Line the air fryer basket with parchment paper. Grease 4-6 muffin rings very lightly with vegetable oil. Place the muffin rings (or silicone muffin liners) in the basket, on top of the parchment paper.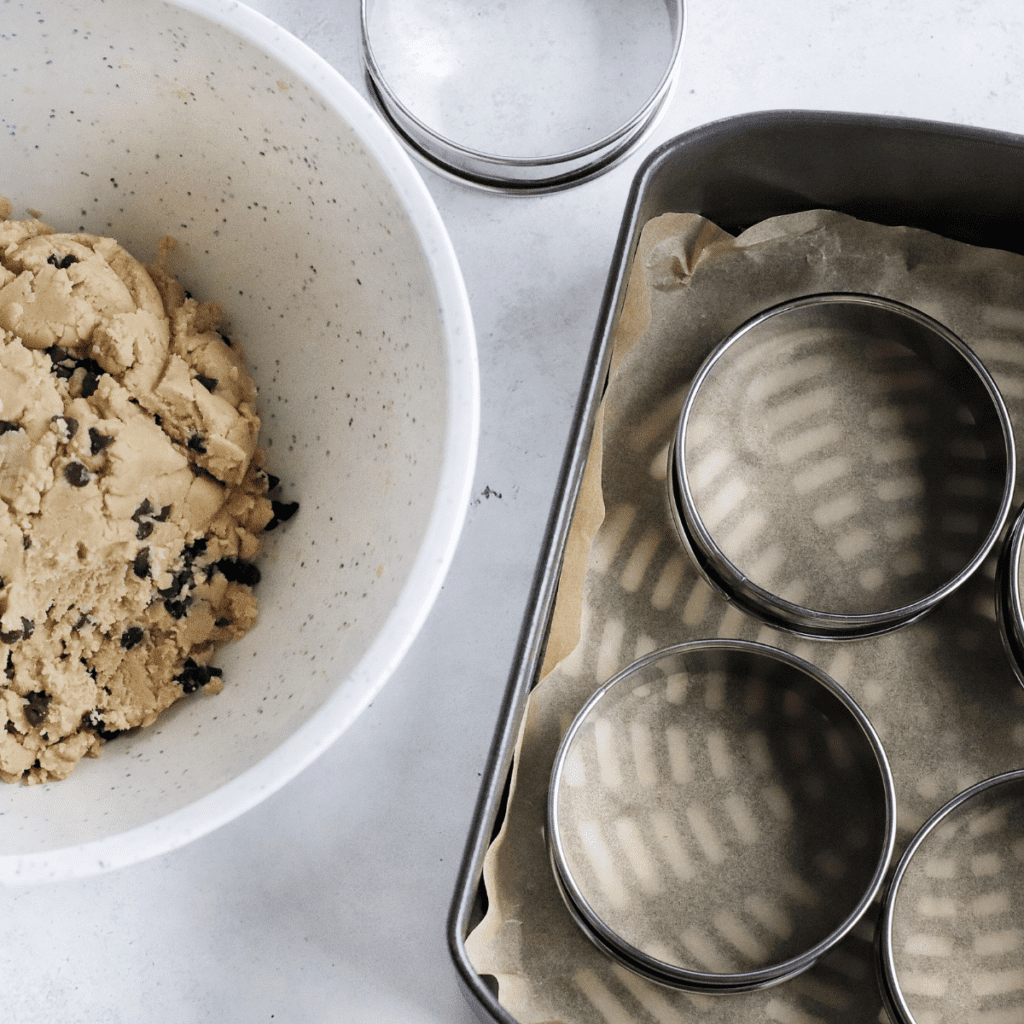 Step Three: Air Fry The Cookies
Roll the dough into balls that are about two inches thick. Flatten the balls, and top with additional chocolate chips. Place them inside the greased muffin rings. Air Fry for about 10 minutes.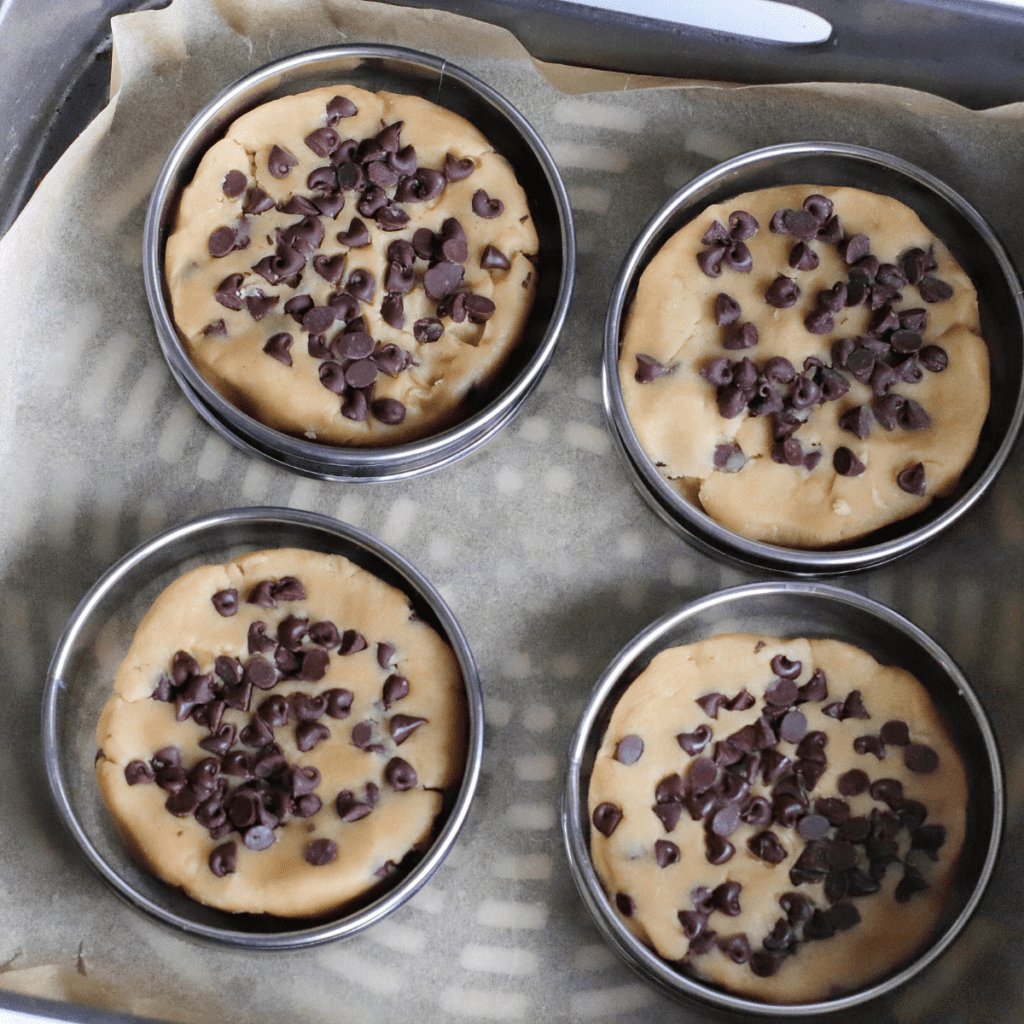 Step Four: Serving
Cookies will be thick, golden brown, and soft in the middle. Allow cookies to sit and cool right in the rings, for about ten minutes before transferring them to a cooling rack until they're completely cooled.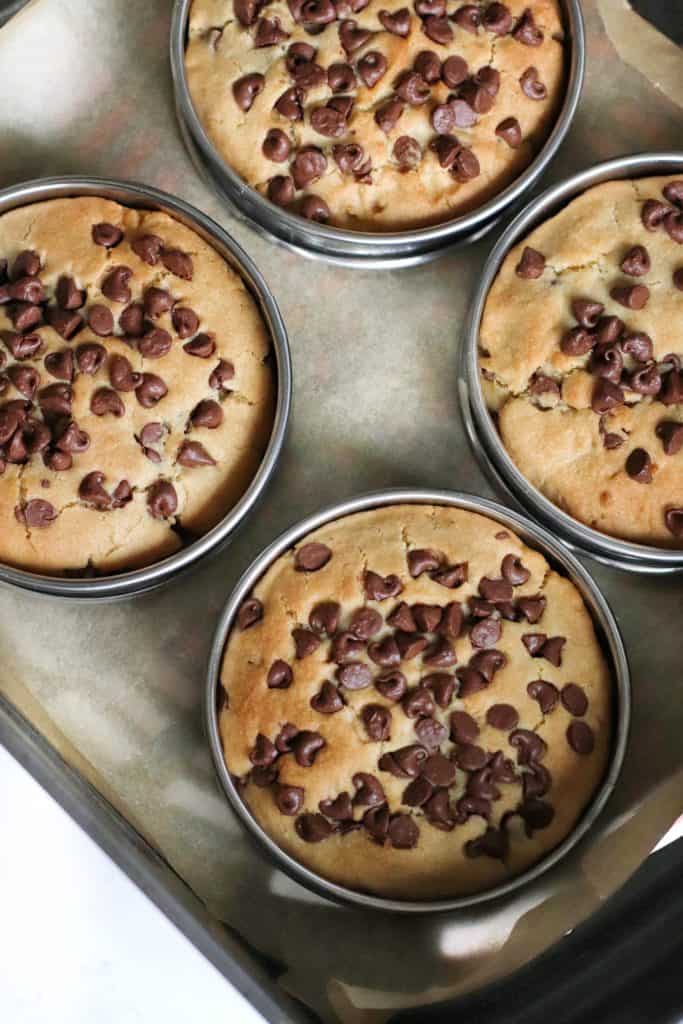 Tips For Making Cookies In Air Fryer
Air fryers are a great way to make quick, delicious, and healthier cookies than traditional baking methods. Here are some tips for making cookies in an air fryer:
Preheat the air fryer to the desired temperature before adding the cookie dough. This will ensure that your cookies cook evenly.
Keep the cookie dough portions small. To avoid uneven cooking, make sure that each portion of dough is no larger than two tablespoons.
Grease the air fryer basket before placing the cookie dough onto it. This will help prevent sticking and make cleanup easier afterward.
Monitor the cookies closely while they are in the air fryer. The cooking time depends on the thickness of the cookies, so keep an eye on them and adjust the cooking settings as needed.
Once the cookies are finished baking, let them cool completely before removing them from the basket. This will help prevent them from sticking or breaking apart.
By following these tips for making cookies in an air fryer, you can enjoy delicious, healthier treats without having to spend too much time or effort. Have fun and enjoy your homemade cookies!
How To Store Leftover Cookies
It's important to store your leftover cookies in an airtight container. If you are storing them for short-term use, like a few days, then a plastic or glass container is your best bet as it will keep the cookies fresh and moist
How To Freeze Chick-Fil-A Cookies
However, if you need to store cookies for longer periods of time, such as a few weeks, you should consider using a freezer container. This will help to keep the cookies from becoming stale and will also help to preserve their flavor. Make sure that the container is completely sealed before putting it in your freezer. When ready to enjoy, simply thaw the cookies at room temperature and they should still be good as new!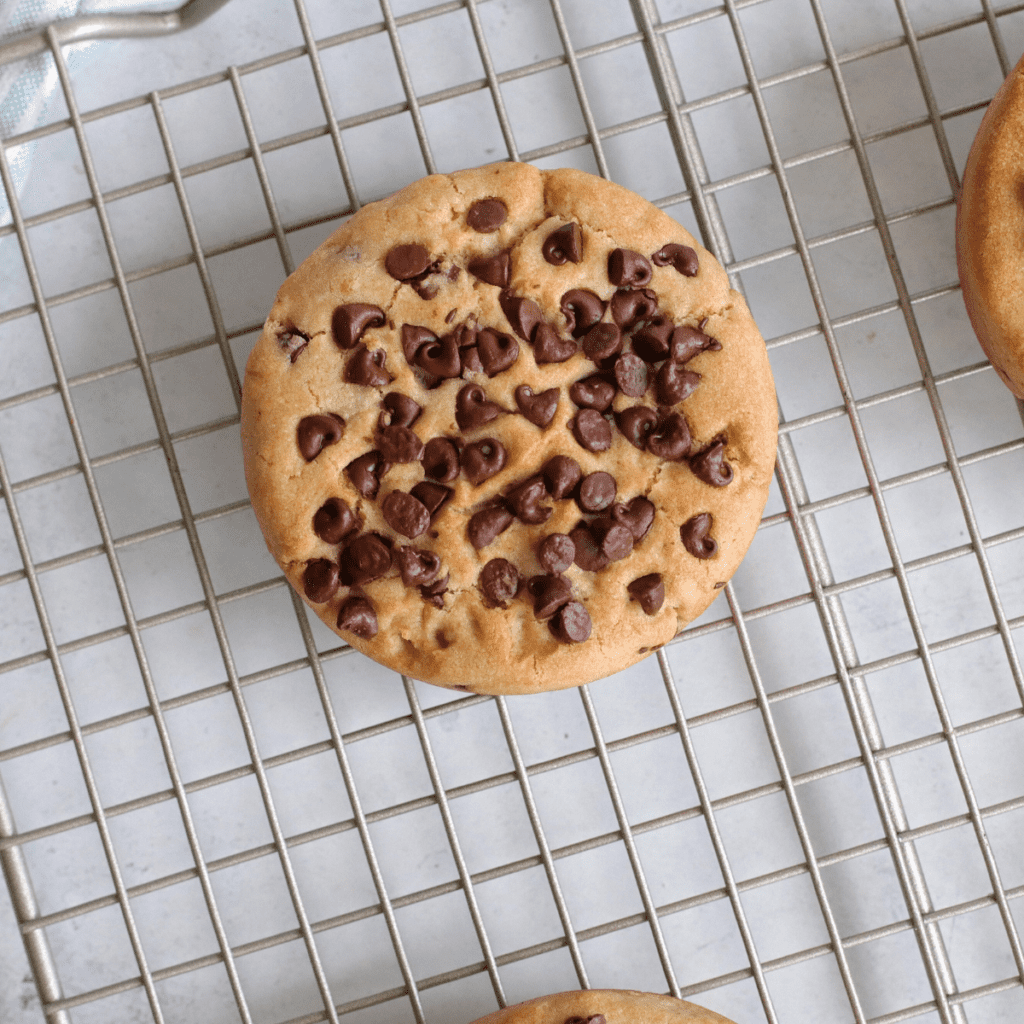 More Air Fryer Copycat Chick Fil A Recipes
As you can see, making Air Fryer Copycat Chick-fil-A cookies is both easy and delicious. Not only do they taste like the real thing,
Note: Due to the thickness these are definitely on the more indulgent side but, they make a special treat. They're also great to keep on hand in the freezer when you get a craving for something sweet! Warm them up a little and top them with ice cream for a fun sundae!
This is a link to the muffin rings I used You could also use silicone muffin liners. You can make the cookies without the rings but, they won't hold the form quite the same.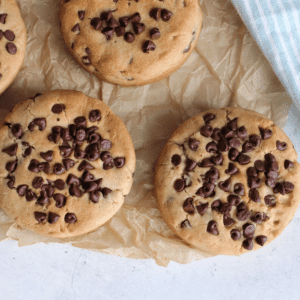 Air Fryer Copycat Chick-fil-A Cookies
Description
Craving a delicious and easy homemade version of your favorite Chick-fil-A cookies? Look no further than this Air Fryer Copycat Chick-fil-A cookie recipe! Not only is this simple to make, but it also tastes just like the real thing.
Ingredients
1

stick

butter

,

unsalted, room temperature

1

cup

light brown sugar

1

tablespoon

vanilla extract

1

large

egg

2

cups

all-purpose flour

1/2

teaspoon

salt

1/2

tablespoon

baking powder

1

cup

semi-sweet chocolate chips

,

mini

1/2

tablespoon

vegetable oil

,

for greasing muffin rings
Instructions
In a large bowl mix together the butter, brown sugar, vanilla extract, and egg. After it's thoroughly mixed, (it should be a thick, creamy texture) add in the flour.

Then gradually add the salt and baking powder. When you're finished mixing all of the ingredients together, fold in the chocolate chips. Cover the bowl and place it in the fridge for 30 minutes.

When you're ready to make the cookies, remove the dough from the fridge and allow it to sit at room temperature while you preheat the air fryer. Preheat the air fryer to 315 degrees. Line the air fryer basket with parchment paper. Grease 4-6 muffin rings very lightly with vegetable oil. Place the muffin rings (or silicone muffin liners) in the basket, on top of the parchment paper.

Roll the dough into balls that are about two inches thick. Flatten the balls, and top with additional chocolate chips. Place them inside the greased muffin rings. Air Fry for about 10 minutes.

Cookies will be thick, golden brown, and soft in the middle. Allow cookies to sit and cool right in the rings, for about ten minutes before transferring them to a cooling rack until they're completely cooled
Equipment
Air Fryer,

Air Fryer Basket or Air Fryer Oven

Parchment Paper

Cooking Spray
Nutrition
Serving:
1
g
Calories:
628
kcal
Carbohydrates:
84
g
Protein:
7
g
Fat:
29
g
Saturated Fat:
17
g
Polyunsaturated Fat:
2
g
Monounsaturated Fat:
8
g
Trans Fat:
1
g
Cholesterol:
73
mg
Sodium:
447
mg
Potassium:
283
mg
Fiber:
4
g
Sugar:
47
g
Vitamin A:
531
IU
Calcium:
124
mg
Iron:
4
mg