Instant Pot Pulled Pork Sandwiches-This is a quick and easy weeknight meal. It's great for the times that you want something hot and delicious, without all of the fuss.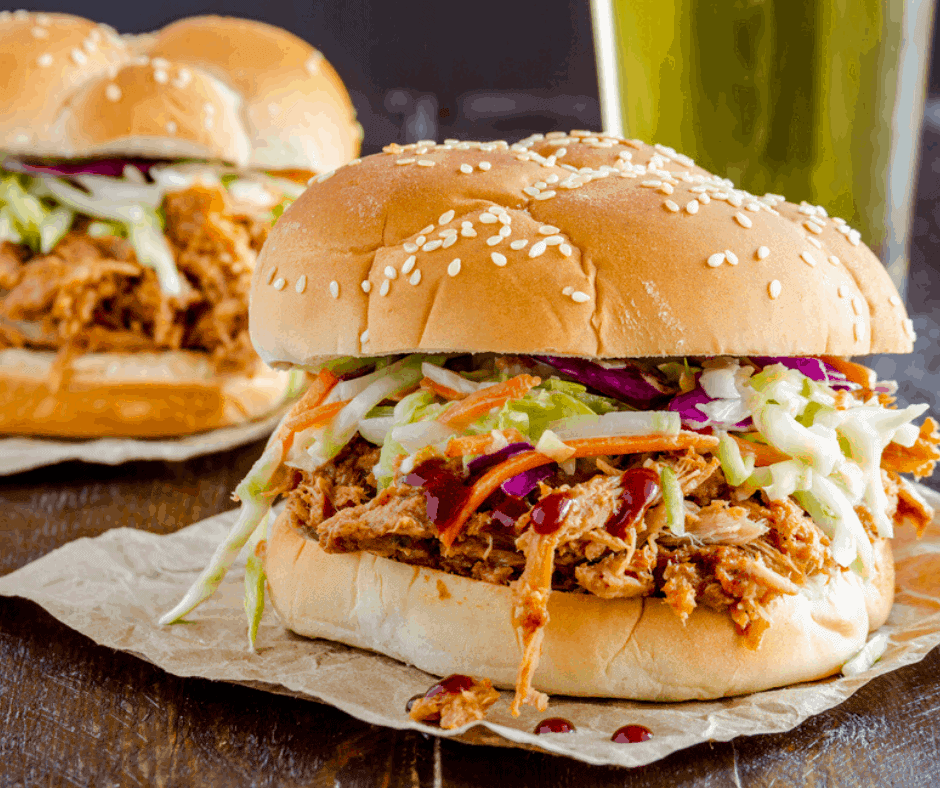 The first time I made these sandwiches was after a long day of hockey games. I loved coming home to dinner already and a hot meal for my family that I didn't have to cook. I set the dinner up before I left.
These have a rich deep flavor that makes it seem like the beef was roasting all day. It's a great recipe and a keeper. So, if you are looking for a quick and easy Instant Pot meal, this is one of my favorites.
What Is Pulled Pork?
Pulled pork is one of the most comforting dinners you can make for yourself and the family. A great and delicious pulled pork sandwich is amazing.
The name is pulled pork because you literally pull the meat off the pork shoulder or Boston Butt to serve. It is typically served as a sandwich, although is great in a number of ways. My favorites are pulled pork salad and pulled pork quesadillas.
Why You Will Love Instant Pot Pulled Pork
It's easy. With only a few ingredients, you will have a great meal, and the leftovers (if any) are even better.
I great flavor. Everyone loves BBQ
Tender, tender meat.
Budget-Friendly Meal.
Absolutely Delicious
Kid-Friendly Meal, who doesn't love a sandwich smothered in BBQ Sauce?
What Is The Best Pork For Pulled Pork?
The most common meat used for pulled pork is pork shoulder or Boston Butt. It will have the most tender meat.
Traditionally pulled pork is made of a boneless pork shoulder.  This is great for Instant Pot cooking since there is not a lot of fat. Boston Butt tends to have more marbling, fat in the meat to get a bit more fat in your dish but tends to add a lot of flavor to the pulled pork.
Why Do You Sear The Meat First?
When I spent a few extra minutes searing the meat, I noticed that it had tons and tons of flavor.
Searing the meat gives an extra layer of flavor to the roast. For making the Pulled Pork in the Instant Pot, you can sear the meat directly in the pan.
Can I Use A Bone-In Pork Roast?
A bone-in will work great in this recipe. The major problem will be finding a roast that will fit inside your Instant Pot bowl.
The Instant Pot comes in a number of sizes, so measure the interior of your bowl, before you purchase your roast. But if you need to cut it to fit that is a great solution.
How Do You Reheat Pulled Pork?
To reheat heat, either place your meat into a skillet or microwave it. I usually add some extra BBQ sauce and mix it so that the meat does not dry out.
Remember to mix it as you heat it up, frequently so it doesn't dry out, or you might overcook it. It's best to heat it slowly and stir (especially if you are using the microwave) I usually reheat mine in 30-second intervals.
Can You Freeze Pulled Pork?
Yes, this is a great make-ahead meal.
To freeze, let the pulled pork cool to room temperature and then place it in an airtight container and then place the container into the freezer. It will last about 1 to 2 months.
To use from the freezer, place the frozen pulled pork into the refrigerator and let thaw, usually one day.
How To Make Instant Pot Pulled Pork Ahead Of Time
This is a great meal to make ahead of time. Make it per the directions, and then either place it in the refrigerator in an airtight container. This should last about two to three days.
This is a great meal to make and keep for the busy week ahead.
Tips For The Best Instant Pot Pulled Pork
Season your meat well before adding it to the Instant Pot. You can use any seasonings, but a dry rub is a perfect solution here.
Use your favorite BBQ sauce; it will be the dominant flavor in the dish. Pick out a great one at the grocery store.
It is usually served with coleslaw on top, which adds a fresh element to the dish and adds some crunch.
Purchase great hearty rolls since you really need a great hamburger bun to hold it all together.
What To Serve With Instant Pot Pulled Pork
I love to pair up my pulled pork with a bunch of items. Here are some of my favorites.
SOME HELPFUL PRODUCTS USED IN MAKING THIS RECIPE-
ForkToSpoon.com may earn a small commission via affiliate links in this post. Please read our full disclosure policy here.
Instant Pot Duo 7-in-1 Electric Pressure Cooker, Sterilizer, Slow Cooker, Rice Cooker, Steamer, Saute, Yogurt Maker, and Warmer, 6 Quart, 14 One-Touch Programs
Don't Forget To Pin–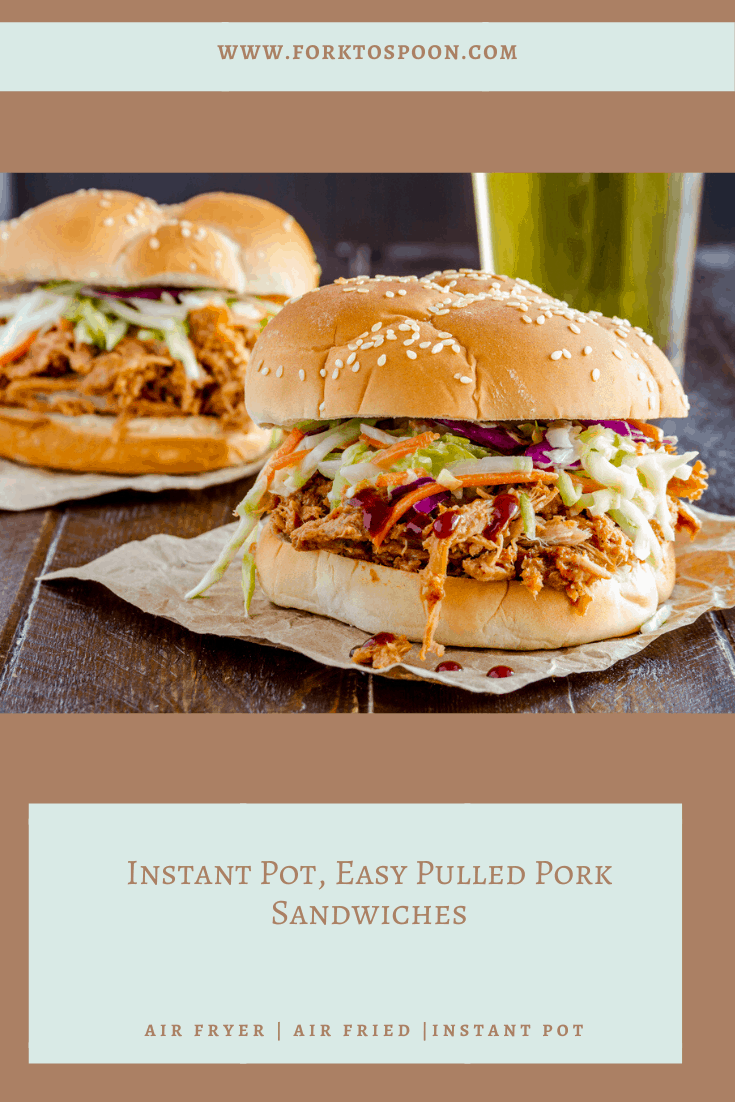 Instant Pot Pulled Pork Sandwiches
This is one of the easiest dinners to make in your Instant Pot. It is also great for leftovers.
Keyword:
Easy Insant Pot Recipes, Instant Pot Pulled Pork Sandwiches
Ingredients
1/4

cup

canola oil

1-2

pounds

pork roast

2

cups

beef or chicken broth

16

ounces

bbq sauce
Instructions
Pour the oil into the Instant Pot.

Press the Saute Button, heat the oil

When the oil is nice and hot, add the pork loin (you might have to cut it so it fits in the pot so that each side can get browned)

Saute each side for about 3 minutes.

After each side is done, (each side was browned for 3 minutes)

Then hit the button for stews, add time for 90 minutes.

Seal the vent, let the Instant Pot do its magic.

When the beeper beeps, set the vent to escape, let it continue to work.

When all done and cooled slightly, so you can touch it.

Transfer the pork loin to a bowl and start shredding. Mine was super easy.

Add BBQ sauce, mix all together

serve on top of a bun or top of rice.
Nutrition Facts
Instant Pot Pulled Pork Sandwiches
Amount Per Serving (1 g)
Calories 477
Calories from Fat 216
% Daily Value*
Fat 24g37%
Cholesterol 43mg14%
Sodium 1245mg54%
Potassium 617mg18%
Carbohydrates 48g16%
Protein 18g36%
Vitamin A 260IU5%
Vitamin C 1mg1%
Calcium 61mg6%
Iron 1mg6%
* Percent Daily Values are based on a 2000 calorie diet.