This tater tots in air fryer recipe gets you perfectly crispy, golden results every time. Try this easy and family favorite side dish today!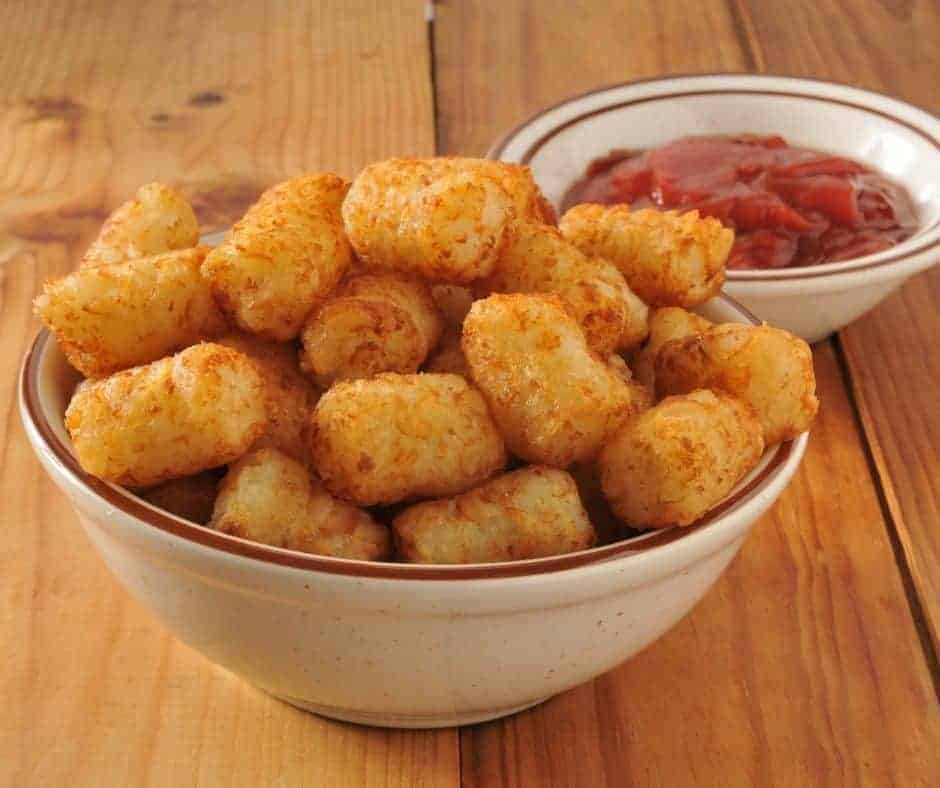 Crispy tater tots are a fun, family-friendly addition to any meal! They go great with nuggets or sandwiches for lunch, or you can serve them alongside all of your cookout favorites.
You can also top them with other ingredients to make tater tot nachos, or use them in a breakfast tater tot casserole. Pair this tater tots in air fryer recipe with your favorite dipping sauce for a quick and easy game day appetizer.
If you are looking for even more Air Fryer Side Dish Recipes, some of my favorites are AIR FRYER LOADED POTATO SKINS, AIR FRYER EASY POUTINE FRENCH FRIES, AIR FRYER GARLIC PARMESAN FRIES, and AIR FRYER MASHED POTATO PANCAKES.
Tater Tots In Air Fryer
Cooking tater tots in the air fryer is the best method for maximum crispiness. The air fryer works like a mini convection oven, making it a much healthier alternative to deep-frying. It circulates hot air around the food so it is evenly cooked and crisp without the need for lots of oil!
Depending on the brand and model, your air fryer may have a basket or a tray. You can also make this recipe in a conventional oven, but I recommend cooking frozen tater tots in the air fryer to get the best results. Plus, using an air fryer takes way less time!
There are a lot of different types of air fryers, but some popular models are:
Say goodbye to soggy tater tots — after cooking them in the air fryer, you will never want to make them any other way!
Why You'll Love Frozen Tater Tots In Air Fryer
Ready in just 15 minutes
Perfectly golden and crisp
An easy snack or side dish
Kid friendly
Make as much or as little as you need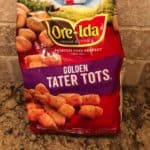 Ingredients Needed For Air Fryer Tater Tots
Frozen tater tots (potato puffs) – You will need 1 package for this tater tots in air fryer recipe. Find them in the frozen foods section of your favorite grocery store. You can also substitute sweet potato or cauliflower tots.
Cooking spray – You can use a brand like Pam, or use a mister and add your own oil. I like using olive oil, avocado oil, or grapeseed oil in the oil mister.
Seasonings – Salt and pepper work great, but you can also try some of your other favorite seasonings like Tony's, garlic powder, garlic salt, or onion powder.
Dipping sauces – This is optional, but highly recommended. Some of our favorites are ranch dressing, barbecue sauce, honey mustard, or ketchup. You can also try sour cream topped with chives!
How To Make Tater Tots In The Air Fryer
Step One: Preheat the air fryer
This is optional for this tater tots in air fryer recipe, but it can help decrease the overall cook time. Preheat the air fryer to 400 degrees F on the air fryer setting for about 5 minutes.
Step Two: Add the tots
Arrange the frozen tater tots in a single layer in the basket (or on the tray). You can split into multiple batches if you need to make a lot or if the whole bag doesn't fit in your air fryer.

Spray generously with oil or cooking spray. You can skip this step if you don't want to add extra oil, but the oil does help the tots crisp up even more.
Step Three: Cook
Air fry for 10 minutes, flipping them halfway through. If your air fryer has a basket, you can give it a good shake instead.

If they aren't crispy and warmed all the way through, add another minute or two.

Transfer your air fryer tater tots to a platter or divide onto individual plates. Add your favorite dipping sauce and dig in!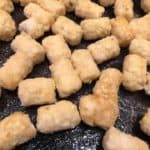 Pro Tips:
No need to defrost! Like cooking most frozen foods in the air fryer, it is better to transfer them straight from the freezer.
Preheat the air fryer. Allowing it to warm for a few minutes will decrease the overall cooking time.
Don't overcrowd the basket or tray. There should be room for the hot air to circulate or the tots won't cook evenly.
Storage and Reheating
Let the air fryer tater tots cool to room temperature. Transfer to an airtight container and refrigerate for 2 to 3 days. Reheat leftover tater tots in the air fryer or microwave until hot and crispy.
What are tater tots?
Sometimes labeled as potato puffs, tater tots are cylinders of shredded potatoes and are usually deep-fried. They can be described as crunchy and crispy with a soft center, and they taste similar to shredded hashbrowns or potato croquettes.
What is the best brand of frozen tater tots?
There are dozens of different brands of tater tots. The most popular brand is Ore-Ida, which is also the company that invented them to use up potato scraps. Other popular brands are Alexia Potato Puffs, 365 Tater Puffs, and Trader Joe's. Cascadian Farms has an organic version called Spud Puppies.
What to serve with frozen tater tots?
Air fryer tater tots are a versatile dish! They make the perfect side dish for hamburgers or sandwiches. I also like to serve them with frozen pizza. They can be used for game day appetizers or a quick snack. You can even use them in a casserole for the main dish!
Loaded tater tots – Top with cheddar cheese, sour cream, chives, and bacon.
Tater tot nachos (Totchos) – Top crispy tots with melted cheese sauce, salsa, jalapeño slices, and green onions.
Tater tot breakfast casserole – Layer with eggs, cheese, and sausage and bake for a quick breakfast idea.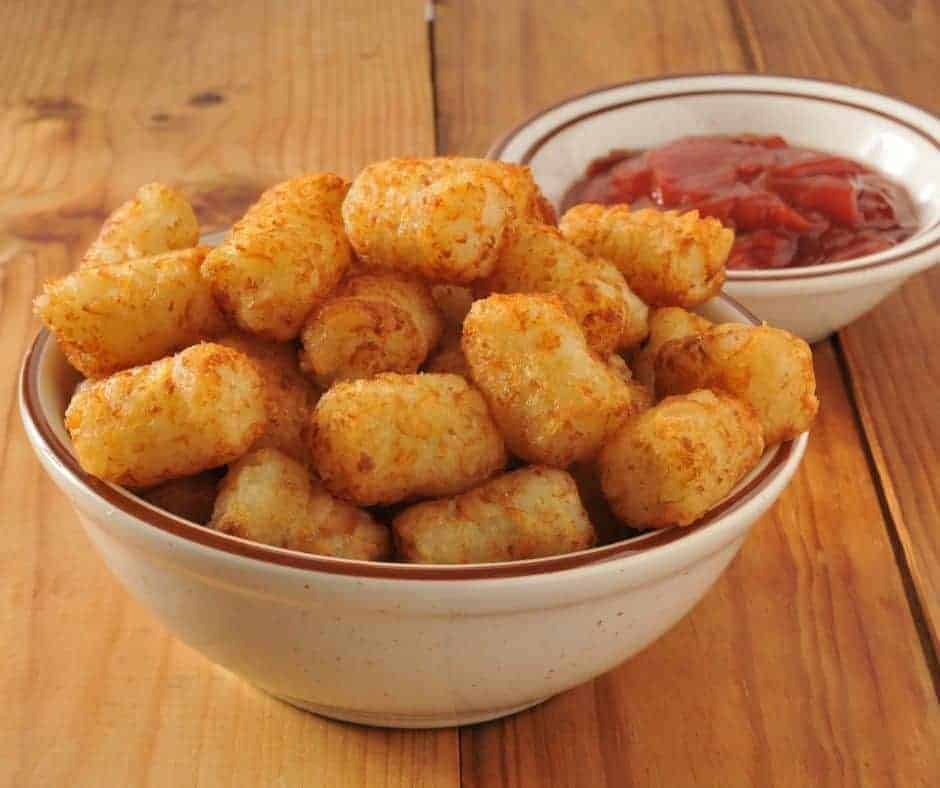 FAQs
How to make frozen tater tots crispy?
The best way to get extra crispy tater tots is to cook them in the air fryer. You can also spray with olive oil to help them get even more crispy.
Are frozen tater tots precooked?
Yes. Frozen tots come already cooked. They need to be heated up to serve.
What to season air fryer tater tots with?
You can use salt and pepper or a combination of your favorite seasonings to spice up your tots. Try seasoning salts like Tony's or all-purpose seasoning.
Should you defrost frozen tater tots before cooking them in the air fryer?
No, always put tater tots in the air fryer frozen.
How long to cook frozen tater tots in air fryer?
Frozen tots will take about 10 minutes to cook in the air fryer. Don't forget to flip halfway through for even results.
More Easy Air Fryer Side Dishes: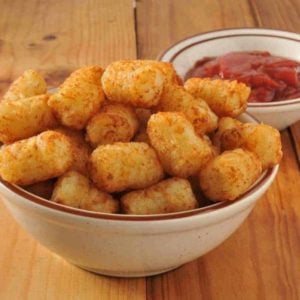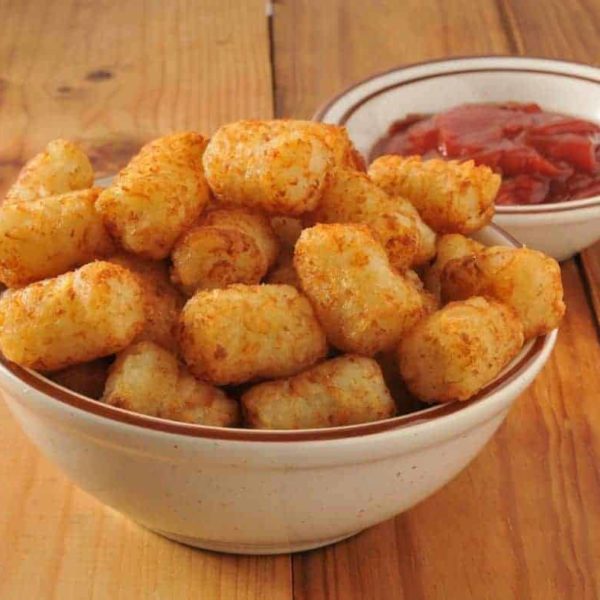 Air Fryer Frozen Tater Tots
Description
Frozen tater tots (potato puffs) are a family favorite side dish, but have you tried them in the air fryer? It is the best way to cook them, and they come out golden brown and perfectly crispy every time!
Ingredients
1

package

frozen tater tots, any brand

cooking spray

salt

Optional: Seasonings, sauces, toppings
Instructions
Add frozen tater tots in a single layer of the air fryer basket or tray.

Generously spray the Tater Tots with Olive Oil Spray.

Set the temperature to 400 degrees F (air fryer setting). Cook for 5 minutes, then flip or toss tater tots. Cook another 5 minutes. Tater tots are done when crispy, and warmed throughout.
Nutrition
Serving:
1
g
Calories:
424
kcal
Carbohydrates:
59
g
Protein:
5
g
Fat:
21
g
Saturated Fat:
3
g
Polyunsaturated Fat:
7
g
Monounsaturated Fat:
8
g
Sodium:
1042
mg
Potassium:
590
mg
Fiber:
5
g
Sugar:
1
g
Vitamin A:
9
IU
Vitamin C:
16
mg
Calcium:
32
mg
Iron:
1
mg
Don't Forget to Pin!