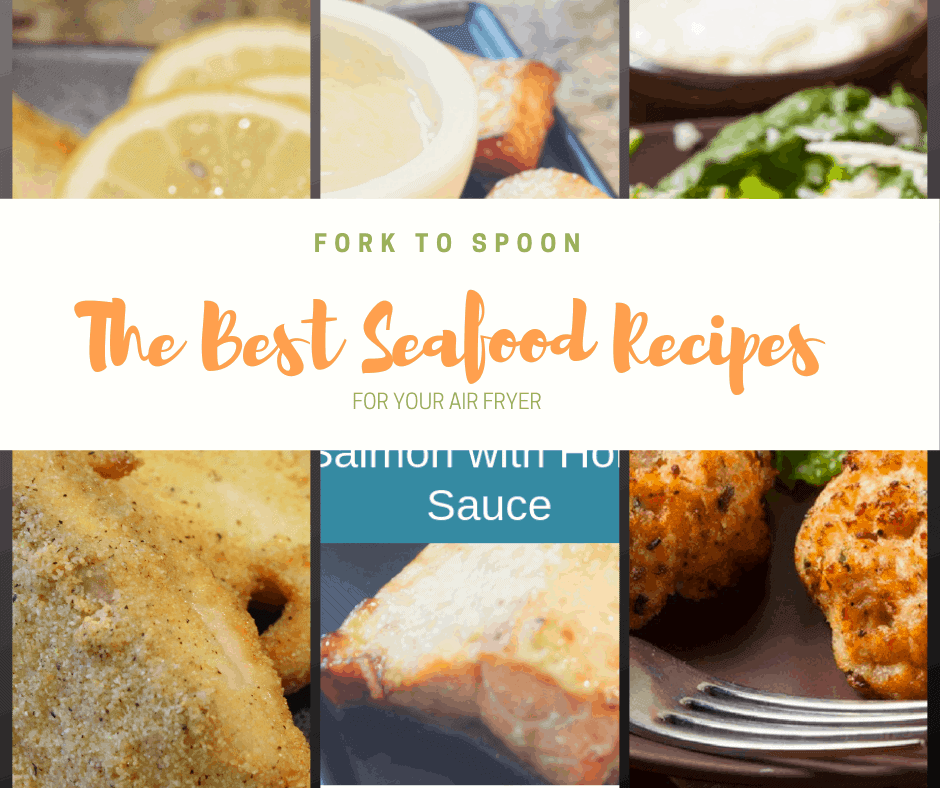 THE BEST AIR FRYER FISH RECIPES –Everyone loves seafood, and with the air fryer, it's so easy and makes and delicious. Today, I wanted to give you some great go-to recipes!
If you have fallen in love with your air fryer, you probably have realized by now that it can cook anything perfectly, from a great piece of lobster to a great and crispy piece of cod. Of course, it can also make and prepare anything that you have not even thought of yet.
How about some clams, mussels, or beer-battered seafood? Yep, the Air Fryer can cook it all up, and usually within minutes!
So, the next time you are looking for a KETO, low-carb fish dish with no breading, battered, or any way you want, you can make it in your air fryer!
It's easy, and they are delicious dishes!
CAN FROZEN FISH BE COOKED IN AN AIR FRYER?
Oh yes, remember that anything that you make in a traditional oven can be prepared in the air fryer. This includes frozen fish, salmon, cod, tuna, shrimp, and so much more!
Air Fryer Cod With Creamy Mustard Sauce is an amazingly great piece of perfectly air-fried fish.
Air Fryer Tilapia is a great, quick, and easy fish recipe for any day of the week. Today, I used some simple flavorings to get a grilled tilapia fish.
Lemon Dill Air Fryer Salmon is a perfectly roasted salmon fillet with an amazing lemon, garlic, and dill butter sauce. It makes for a great dinner, perfectly cooked up in less than 10 minutes.
Air Fryer Frozen Fish Sticks are amazing! There is nothing better than a perfect and crispy piece of fish.
Air Fryer Lemon Crab Cakes are amazing! Serve up a plate of homemade crab cakes to your family tonight, and have a great meal!
Air Fryer Salmon with Whole-Grain Mustard is a great, light, and flavorful salmon dish that the entire family will devour!
If you love crab cakes, this is the perfect recipe for you. Today, I bring you my recipe for Easy Air Fryer Crab Cakes.
There is nothing better for quick lunch or dinner than a traditional Air Fryer Seafood Boil. Today, I added shrimp, lobster, and corn cooked up in a traditional butter sauce.
Blackstone Crab Cakes are truly amazing! They are light, they are flaky, and they are crispy, and they cooked up in no time.
Blackstone Griddle Recipe Shrimp is so good. It's tender, and it's delicious, and it cooks up in less than 10 minutes from start to finish.
Air Fryer Lemon Pepper Shrimp is amazing! You get a great and yummy flavor, and the truth is nothing cooks shrimp better than an air fryer!
Today, I made one of my family's favorite air fryer recipes. Homemade Air Fryer Salmon Patties. They are simple dishes to make, and the best thing is most of the items come from the pantry. So, it's a great meal to have on hand.
Air Fryer Frozen Coconut Shrimp is amazing! Crispy on the outside and warm and tender on the inside, they are truly amazing!
Air Fryer Flounder Fish is amazing. It has a great and light coating, and the Cajun spice blend really brings a lot of flavor out of this fish, and it is air-fried to perfection.
There is nothing better on a Friday afternoon during Lent than a great Air Fryer Tuna Melt Grilled Cheese. The air fryer does an amazing job of crisping up the bread while the inside gets all warm and the cheese starts to melt. It's amazing!
Air Fryer Salmon Steak is amazing. I never thought that making salmon in my air fryer would be awesome, flavorful, and tender. This is going to be one of your favorite ways to cook salmon! So easy and so delicious!
Air Fryer Almond Crusted Cod-This is a great and easy air fryer recipe for cod. I love a great and easy seafood recipe for the air fryer. Made with a few ingredients, you get a light and flaky piece of fish. And it's a relatively healthy meal since it uses so little oil.
I had some great leftover crawfish from one of my crawfish boil dinners, so I thought I would make a great Air Fryer Crawfish Cakes.
For Even More Air Fryer Seafood Recipes, head over to ForkToSpoon.com
Some Great Air Fryers To Make These Dishes in (affiliate links included)

Instant Vortex Plus 7-in-1 Air Fryer Oven with built-in Smart Cooking Programs, Digital Touchscreen, Easy to Clean Basket, 10 Quart Capacity

Instant Vortex 4-in-1 Basket Air Fryer with 4 Customizable One-Touch Cooking Programs, Digital Touchscreen, Large Non-Stick Fryer Basket, and 6 Quart…
Don't Forget To Pin: