Like many of you, I love crab cakes. Something about their delicate flavor and texture makes my mouth water.
Today, I'm going to share a recipe for Blackstone Crab Cakes. These crab cakes are easy to make, and they taste delicious! So, if you're looking for a new recipe, check out this one! Enjoy!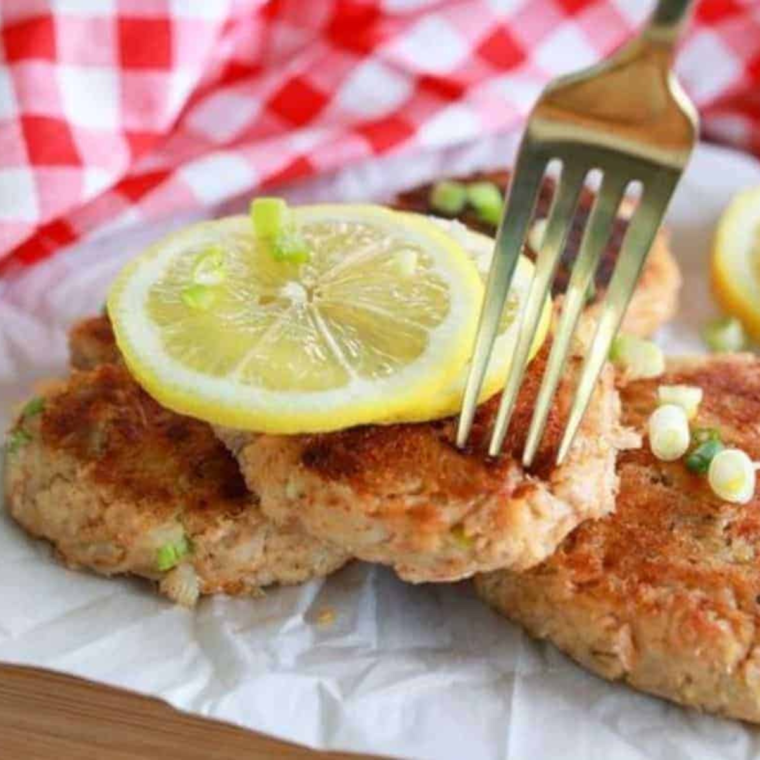 Blackstone Crab Cakes are genuinely amazing! They are light, they are flaky, and they are crispy, and they cooked up in no time.
This is one of my favorites if you want a simple and delicious meal made on your Blackstone Griddle and Air Fryer Combo.
If you have never made homemade crab cakes, they are much better than premade or store-bought. So, if you are a fan of my Air Fryer Salmon Patties or Air Fryer Tuna Patties, you will absolutely love them. They are fabulous.
If you are new to using your Blackstone Griddle Air Fryer Combo, some great and easy recipes are BLACKSTONE GRIDDLE RECIPE SHRIMP, BLACKSTONE GRIDDLE PHILLY CHEESESTEAK, BLACKSTONE GRIDDLE SMASH BURGERS and BLACKSTONE LOADED GRILLED NACHOS.
Ingredients Needed For Blackstone Crab Cakes
Dive into the savory world of Blackstone Crab Cakes, where the rich sea flavors meet the unique cooking style of the flat-top griddle.
Perfectly golden on the outside and tender and flavorful on the inside, these crab cakes are an ideal way to enjoy a classic seafood dish with a twist. Let's explore the essential ingredients to help you create these delectable crab cakes.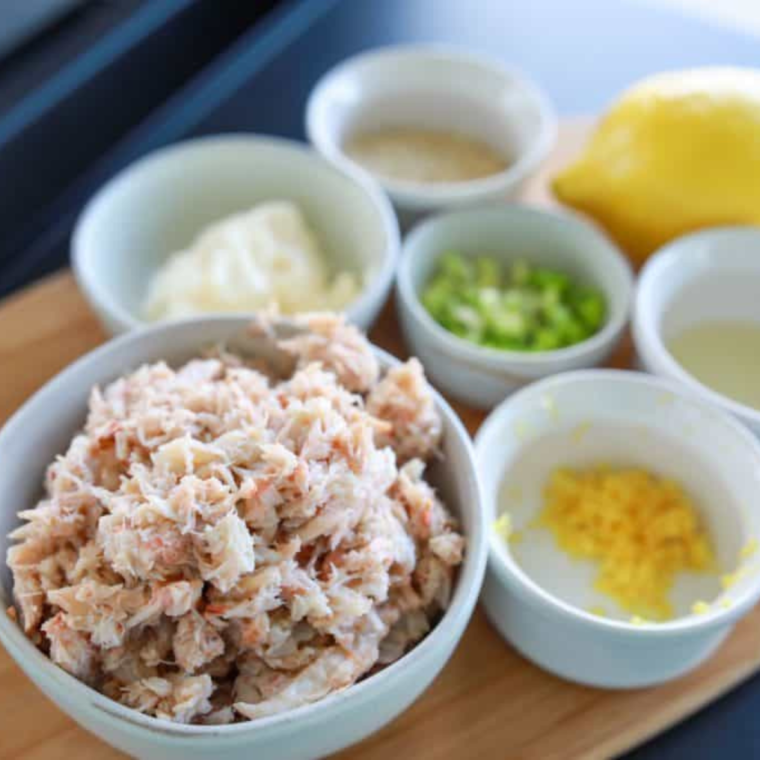 Remember the step-by-step directions and detailed ingredient list are below, in the printable recipe card at the bottom of the post, as well as the nutritional information.
Lump Crab Meat: The dish's star, lump crab meat, offers a delicate yet rich flavor and a pleasing texture, essential for authentic crab cakes.
Breadcrumbs: This helps to bind the crab cakes together and add a subtle crunch. Panko breadcrumbs are an excellent choice for a lighter texture.
Mayonnaise: Acts as a binding agent and adds moisture, ensuring the crab cakes are tender and not dry.
Lemon Juice and Lemon Zest: Adds a fresh, zesty flavor, brightening the crab meat's natural taste.
Green Onions: A fresh, herbaceous note adds color to the crab cakes.
Butter or Oil (for griddling): Necessary for cooking the crab cakes on the griddle, providing a crispy exterior while keeping them moist inside
How To Make Crab Cakes on Blackstone
Cooking crab cakes on a Blackstone griddle is a fantastic way to achieve a perfectly crispy exterior while keeping the inside moist and flavorful. Here's a step-by-step guide to making delicious crab cakes on your Blackstone griddle: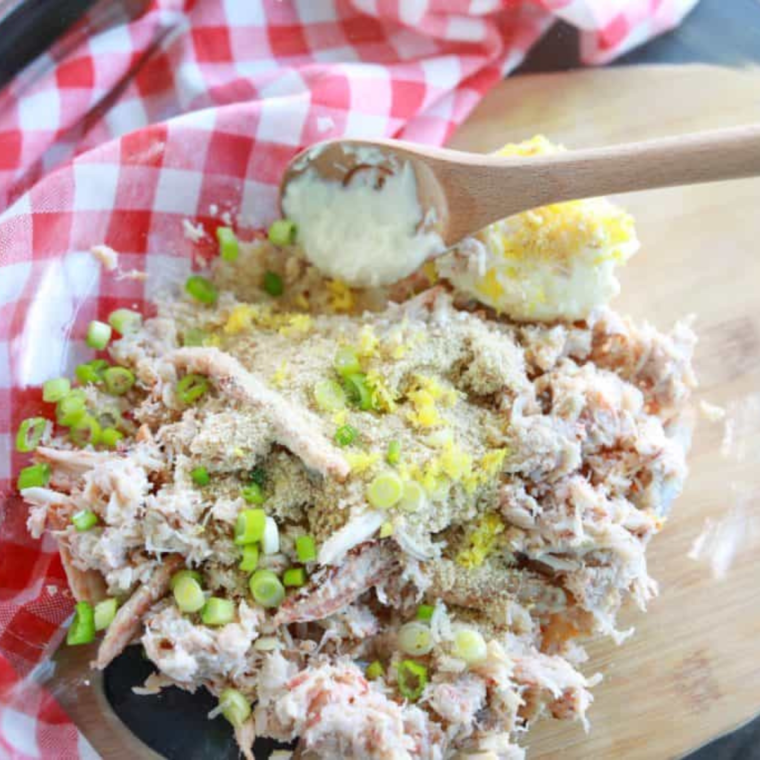 Mix Crab Cake Ingredients:
Mix the crab meat, green onions, mayonnaise, lemon zest, lemon juice, and bread crumbs in a large bowl.
Season with salt and pepper to taste. Gently fold the mixture carefully not to break up the crab meat too much.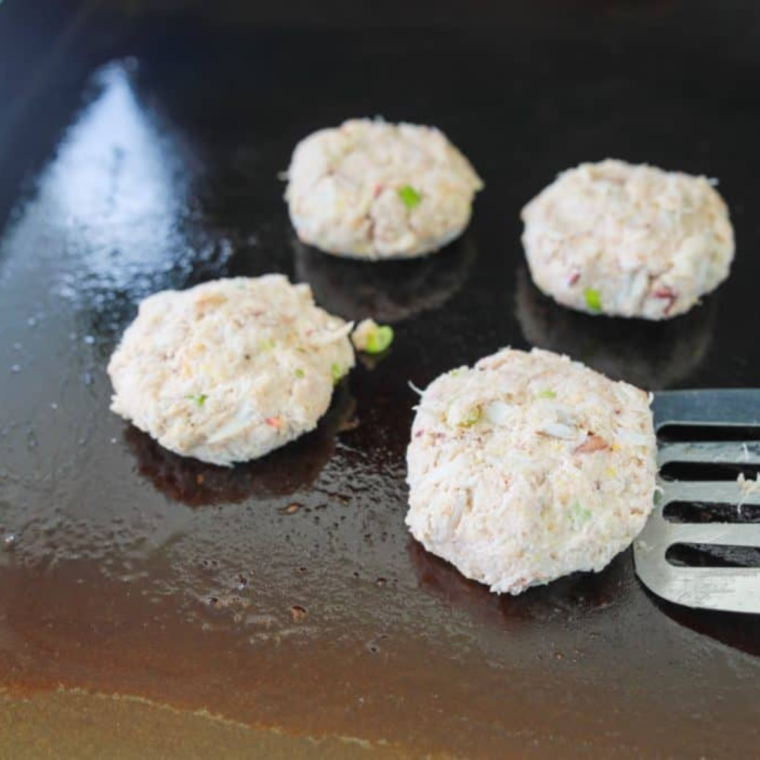 Form Crab Cakes:
Shape the crab mixture into patties. The size is up to you, but typically, crab cakes are about the size of a standard burger patty.
Preheat the Blackstone Griddle:
Heat your Blackstone griddle to medium-high heat, around 350 to 375 degrees F.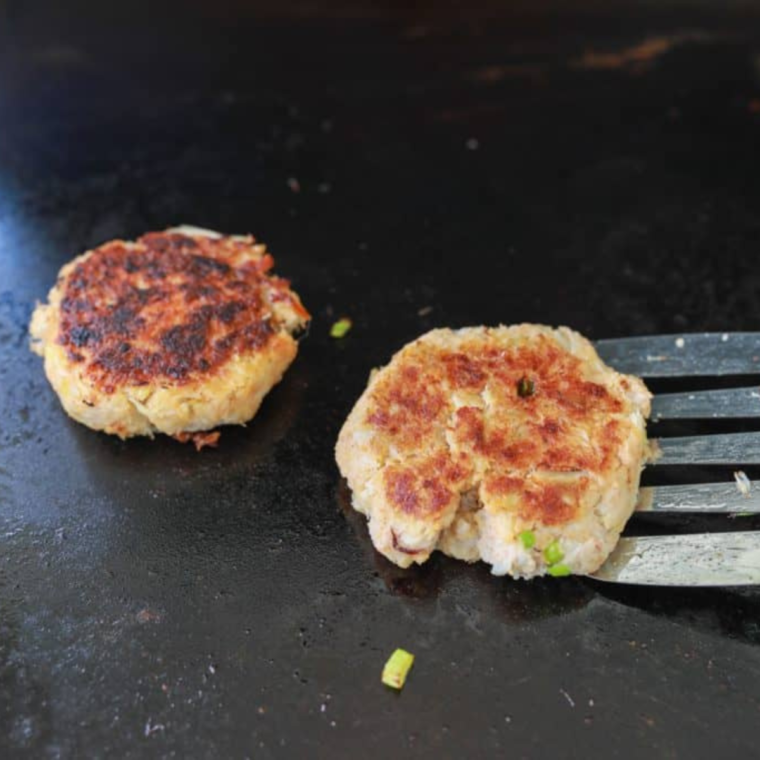 Cook the Crab Cakes:
Lightly oil or butter the griddle surface. Carefully place the crab cakes on the griddle.
Cook for 4-5 minutes on one side or until golden brown and crispy. Gently flip the crab cakes and cook on the other side for another 4-5 minutes.
Check for Doneness:
The crab cakes should be golden brown on the outside and hot all the way through.
Serving:
Serve the crab cakes hot off the griddle. They are great with lemon wedges, tartar sauce, or a simple green salad.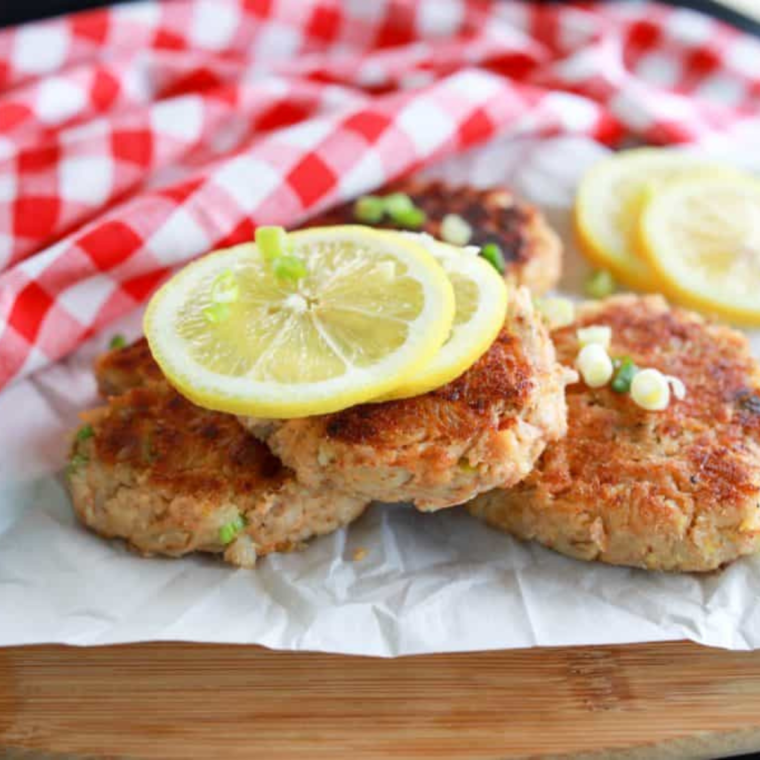 Pro Tips
Creating exceptional crab cakes on a Blackstone griddle involves more than just basic cooking techniques. Here are some pro tips to elevate your crab cakes to gourmet levels:
Quality of Crab Meat: Choose high-quality lump crab meat for the best flavor and texture. The fresher the crab meat, the better the taste of your crab cakes.
Minimal Handling: Handle the mixture as little as possible when mixing and forming your crab cakes. Overworking it can make the crab cakes dense and heavy. The goal is to keep them light and delicate.
Chill Before Cooking: Chill them in the refrigerator for about 30 minutes after forming the crab cakes. This helps them hold together better when cooking.
Even Thickness: Form your crab cakes to an even thickness to ensure they cook uniformly. Consistent sizing is key to getting that perfect golden crust on each one.
Preheat the Griddle: A properly preheated griddle is crucial. A medium heat setting is ideal for cooking crab cakes thoroughly without burning them.
Oil or Butter Choice: Use clarified butter or high smoke point oils to prevent burning. Clarified butter adds a rich flavor that complements the crab.
Gentle Flipping: Use a thin, wide spatula for flipping the crab cakes. Be gentle to avoid breaking them apart. They should only be flipped once during cooking.
Don't Overcrowd: Give each crab cake enough space on the griddle. Overcrowding can lower the cooking temperature and cause them to steam rather than fry.
Searing the Exterior: The key to a great crab cake is a crispy exterior with a moist, tender interior. Sear them quickly on each side to achieve this texture.
Serving Suggestions: Serve with a light aioli, tartar sauce, or a squeeze of fresh lemon juice to enhance the crab flavor without overpowering it.
Freshness of Ingredients: Use fresh herbs, lemon juice, and freshly ground seasonings for the best flavor profile in your crab cakes.
Experiment with Flavors: Don't be afraid to add a personal touch to your crab cakes with different herbs, spices, or even some finely chopped bell pepper or scallions for extra flavor and color.
By following these pro tips, your Blackstone crab cakes will be a delightful blend of crispy outside and tender, flavorful inside, sure to impress any seafood lover.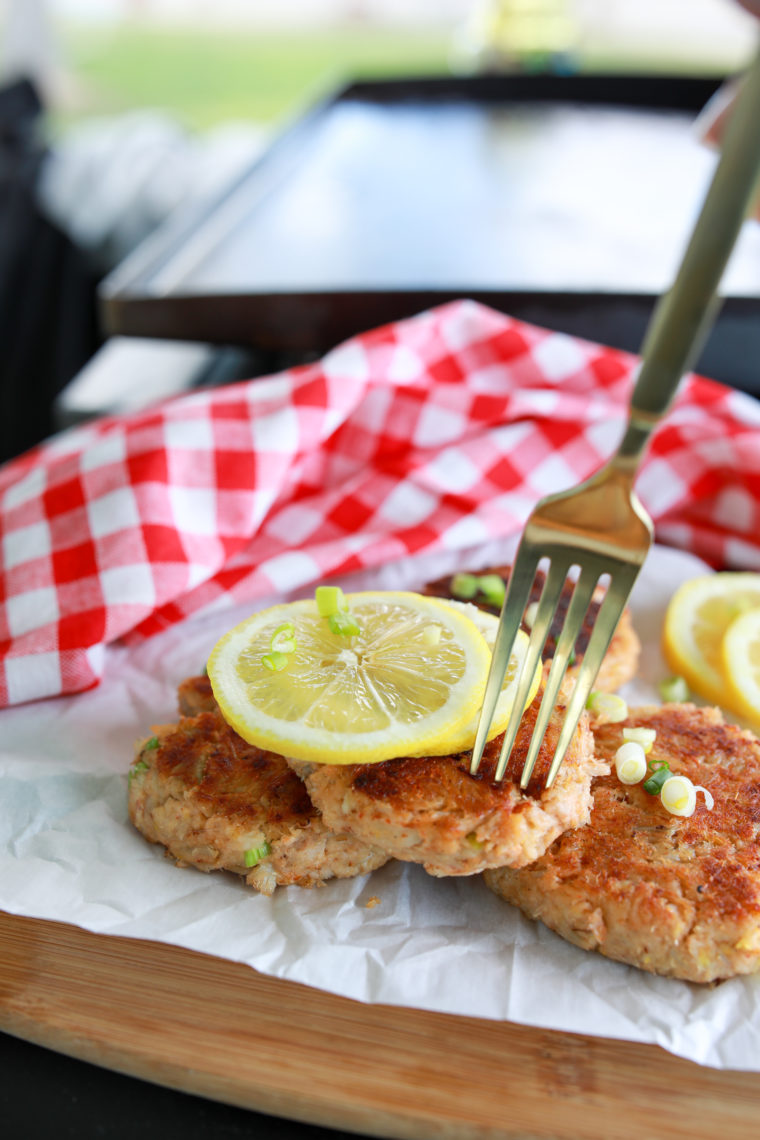 Can I use canned crab meat instead of fresh?
Yes, you can use canned crab meat, but the quality and flavor of fresh or refrigerated lump crab meat are generally superior. If using canned, ensure it's well-drained and check for any shell fragments.
How do I keep my crab cakes from falling apart on the griddle?
Ensure the crab mixture is not too wet and adequately chilled before cooking. Also, be gentle when flipping them and avoid moving them around too much on the griddle.
What temperature should the griddle be for cooking crab cakes?
A medium heat setting, around 350°F to 375°F, is ideal. It's hot enough to cook the crab cakes through and get a nice crust without burning them.
How long should I cook crab cakes on the Blackstone?
Cook crab cakes for 4-5 minutes on each side or until golden brown and heated through.
What are some good sauces to serve with crab cakes?
Classic choices include tartar sauce, remoulade, or a simple aioli. Lemon wedges are also an excellent accompaniment for a fresh, zesty flavor.
Can I make crab cakes on the Blackstone in advance?
You can form the crab cakes and refrigerate them a few hours before. If you need to cook them beforehand, reheat them gently on the griddle or in the oven.
What are the best breadcrumbs to use for crab cakes?
Panko breadcrumbs are popular for their light and crispy texture, but regular breadcrumbs or crushed crackers can be used.
How do I store leftover crab cakes?
Store them in an airtight container in the refrigerator for up to 2 days. Reheat on the griddle or in an oven to maintain their texture.
Can I add other ingredients to the crab cake mixture?
Absolutely! Feel free to experiment with additions like diced bell peppers, scallions, or different herbs for variations in flavor.
Is it necessary to use egg in the crab cake mixture?
The egg acts as a binder to help hold the crab cakes together. If you have an allergy or dietary restriction, you can look for alternative binders like mayonnaise or mustard.
Best Sauces For Crab Cakes
Some great dipping sauces are:
More Seafood Recipes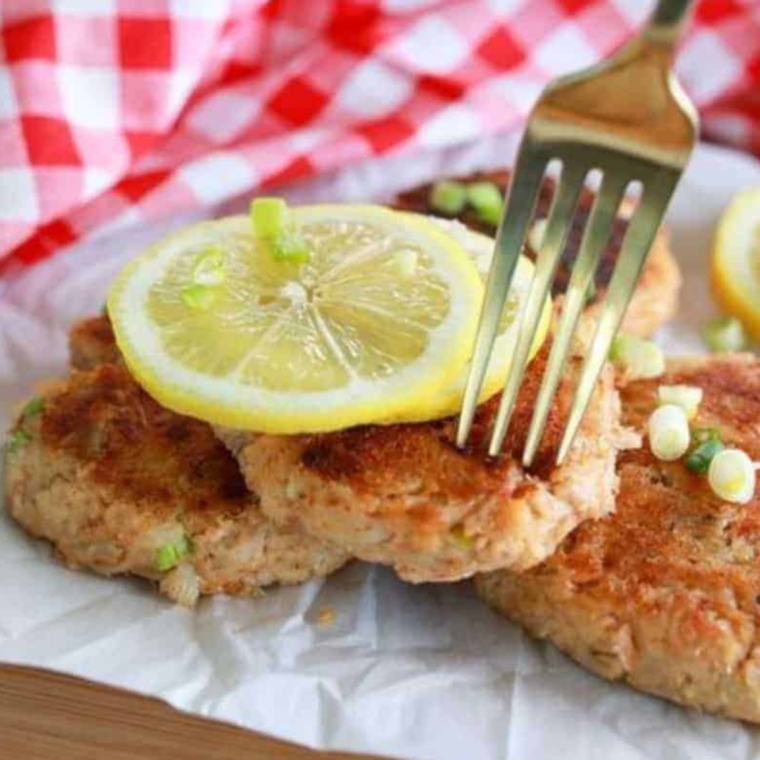 Don't Forget To Pin!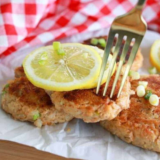 Blackstone Crab Cakes
Description
This is an easy recipe for Lemon Crab Cakes made on the Blackstone. They are amazing, light and fluffy and tender,
Ingredients
8

ounces

fresh lump crab

1

stalk

green onion

,

sliced

2

tablespoons

mayonnaise

2

tablespoons

bread crumbs

1

teaspoon

lemon zest

1

tablespoon

lemon juice
Instructions
In a large bowl, mix the crab meat, green onions, mayonnaise, lemon zest, lemon juice, and bread crumbs.

Form the crab cake mixture into crab cakes, and then place them into the refrigerator for about an hour. Preheat your Blackstone Griddle on medium-high heat for 5 minutes. Then add some vegetable oil to the griddle and cook for about 10 minutes, flipping halfway during the cooking process.

Plate, serve, and enjoy!
Equipment
Blackstone Griddle

Cooking Oil
Nutrition
Serving:
1
Serving
Calories:
117
kcal
Carbohydrates:
4
g
Protein:
11
g
Fat:
6
g
Saturated Fat:
1
g
Polyunsaturated Fat:
3
g
Monounsaturated Fat:
1
g
Trans Fat:
0.01
g
Cholesterol:
27
mg
Sodium:
556
mg
Potassium:
140
mg
Fiber:
0.4
g
Sugar:
1
g
Vitamin A:
49
IU
Vitamin C:
7
mg
Calcium:
39
mg
Iron:
1
mg