Blackstone Griddle Philly Cheesesteak — If you have been looking for an authentic Philly cheesesteak recipe, this is the Blackstone recipe for you; prepared with the best meat and smothered with provolone cheese, this makes for the perfect meal!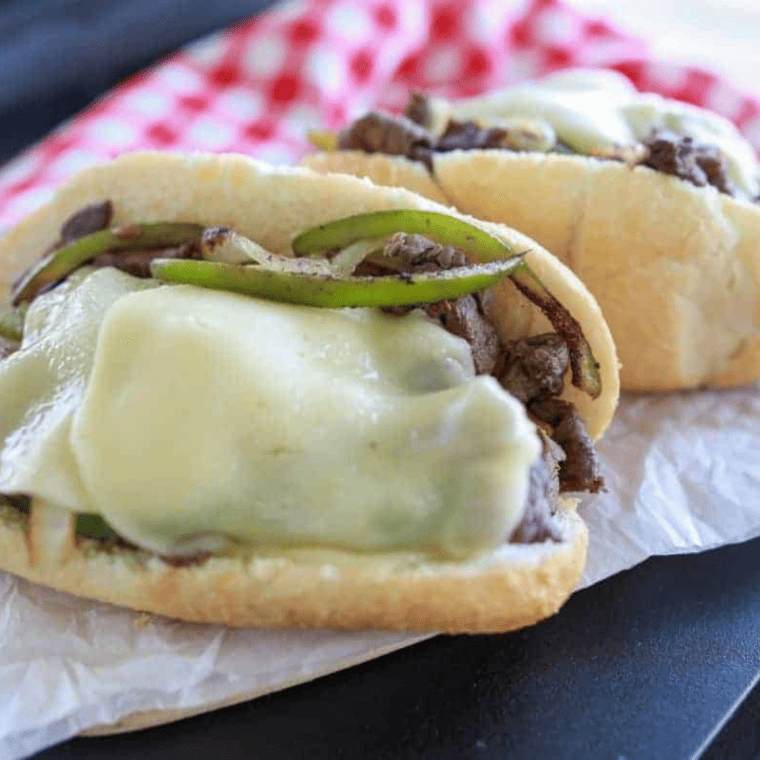 What is a Philly Cheesesteak?
A Philly Cheesesteak, often called a "Cheesesteak," is a popular sandwich that originated in Philadelphia, Pennsylvania. It comprises thinly sliced pieces of beefsteak and melted cheese, served on a long, crusty roll. Here are some key elements and variations of a Philly Cheesesteak.
I lived in Philly for several years. I can tell you that the biggest debate is over the cheese! The traditional Philadelphia cheesesteak does not contain gooey melted cheese. Instead, they use Cheese Whiz. Today, we went with provolone cheese.
The debate is between two rivals, who are situated across the street from one another, Pat Olivieri, who owns Pat's King of Steaks, and Geno's Steakhouse. Who has the best Philly Cheesesteaks? You will have to visit Philly to do a taste test!
Can You Cook Delicious Philly Cheesesteaks On A Blackstone Griddle?
​
Absolutely! The Blackstone Griddle, with its large, flat cooking surface, is ideal for preparing Philly Cheesesteaks. The enormous Blackstone Griddle, or flat-top grill, allows for even cooking thinly sliced meat and ample space for sautéing onions, peppers, or mushrooms if desired.
If you are looking for even more Blackstone Recipes, some of my favorites are BLACKSTONE GRIDDLE SAUSAGE & MUSHROOM FLATBREAD PIZZA, BLACKSTONE GRIDDLE CINNAMON ROLLS, BLACKSTONE LOADED GRILLED NACHOS and BLACKSTONE GRIDDLE SMASH BURGERS.
Ingredients Needed In The Best Blackstone Philly Cheesesteak Recipe
Dive into the authentic flavors of Philadelphia with this ultimate Blackstone Philly Cheesesteak recipe. Gather these simple ingredients to craft a sandwich that's both savory and melts in your mouth, ensuring every bite is a trip to cheesesteak heaven.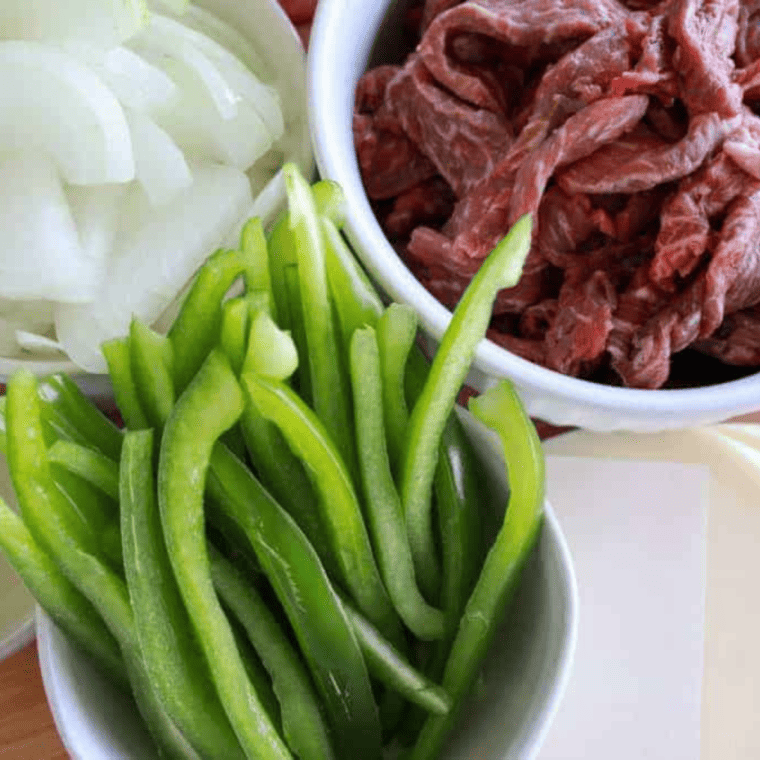 Remember the step-by-step directions and detailed ingredient list are below in the printable recipe card at the bottom of the post, as well as the nutritional information.
Ribeye Steak: Thinly sliced ribeye is the heart of the cheesesteak, offering rich flavors and a tender bite unrivaled by other cuts.
Cheese (Provolone, American, or Cheez Whiz): The melt-in-your-mouth quality of the cheese binds the ingredients together, with each type offering its distinct creamy texture and savory flavor.
White Onions: When sautéed to perfection, onions bring a touch of sweetness and a slightly caramelized taste, complementing the robustness of the meat.
Bell Peppers: Adding a slight crunch and a fresh, sweet contrast, bell peppers elevate the sandwich's overall texture and flavor profile.
Mushrooms (optional): These provide an earthy undertone and an extra layer of juiciness, blending seamlessly with the other ingredients.
Rolls: A crusty exterior with a soft inside, the right roll absorbs the juices and holds the filling, making every bite a delightful experience.
Oil: A touch of oil ensures the meat and veggies cook perfectly, enhancing their natural flavors and preventing them from sticking to the griddle.
Kosher Salt and Black Pepper: These basic seasonings enhance the ingredients' natural flavors, rounding out the sandwich's taste profile.
How To Cook A Blackstone Philly Cheesesteak Sandwiches
Cooking a Philly Cheesesteak on a Blackstone Griddle is straightforward and guarantees delicious results. Here's a step-by-step guide to crafting the perfect Blackstone Philly Cheesesteak sandwiches: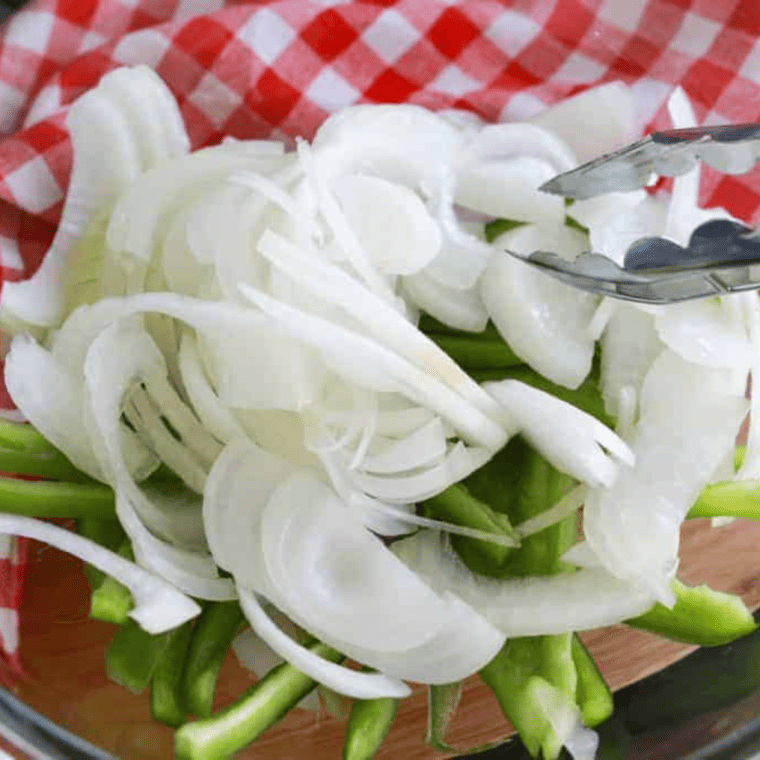 Step 1: Combine ingredients
Preheat the Griddle: Start by turning on the Blackstone Griddle and letting it heat to a medium-high heat.
Prepare the Ingredients: While waiting for the griddle to heat up, ensure your rib-eye steaks are thinly sliced. Also, slice your onions, bell peppers, and mushrooms if you use them.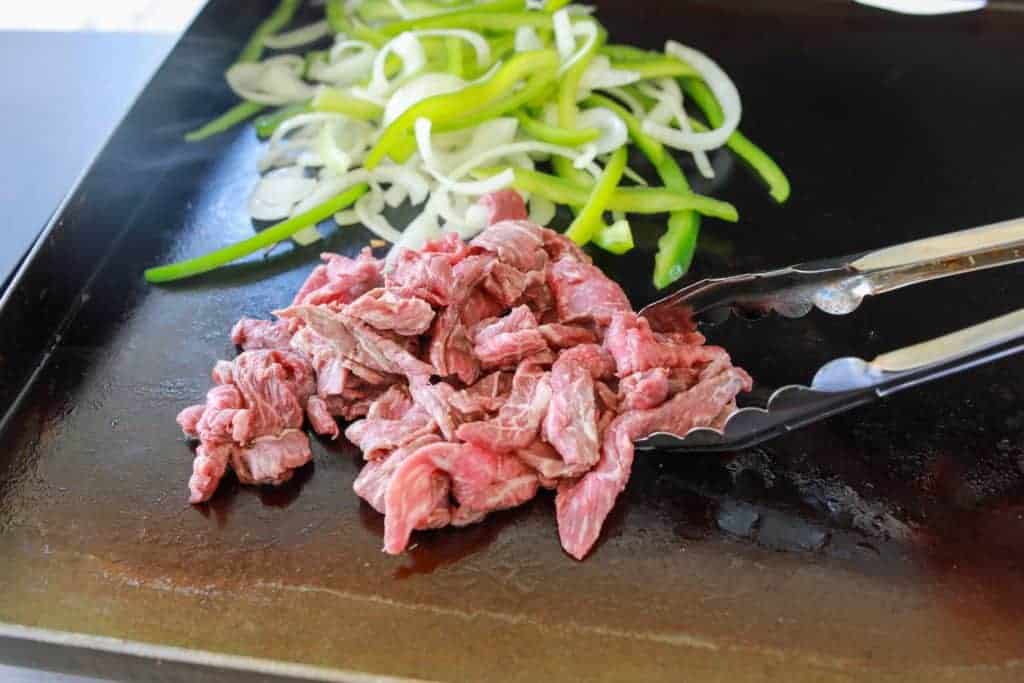 Step 2: Add ingredients to Blackstone
Oil the Griddle: Add a little cooking oil (vegetable oil) to the flat top grill to prevent sticking and enhance cooking.
Cook the Steak: Place the thinly sliced ribeye steak on the griddle. Since it's thinly sliced, it'll cook quickly. Use a metal spatula to chop and turn the meat, ensuring it cooks evenly.
Sauté the Veggies: Push the cooked steak to half of the griddle. On the other side, add your sliced onions and bell peppers. If you're using mushrooms, add them as well. Sauté until they're soft and slightly caramelized.
Combine and Season: Mix the steak with the veggies on the griddle, ensuring an even distribution—season with Worcestershire sauce, garlic powder, and Blackstone Cheesesteak Seasoning.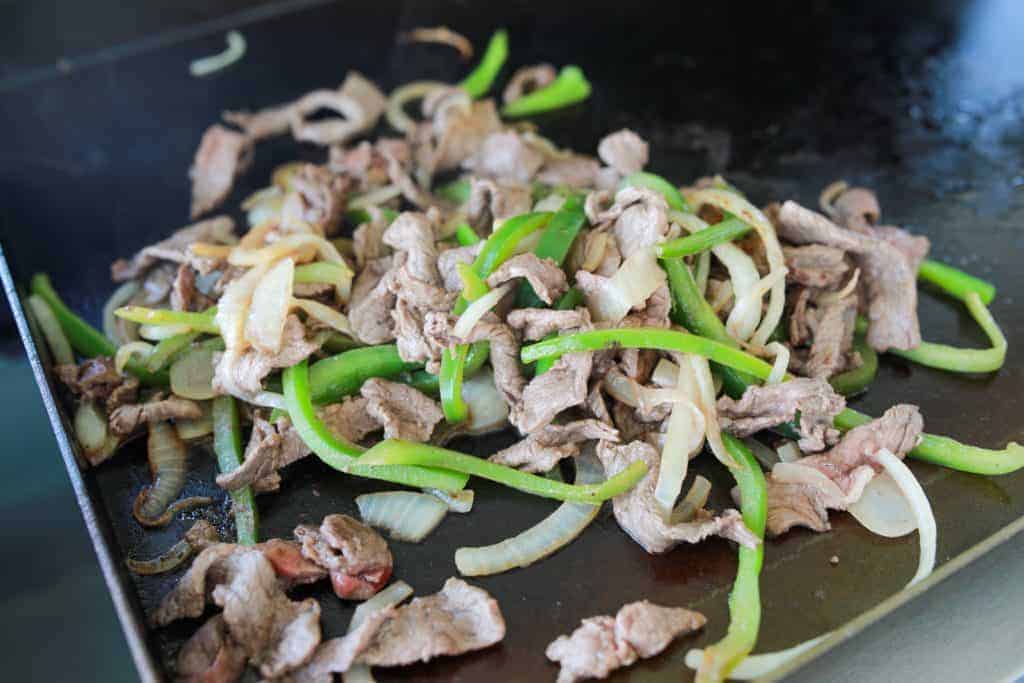 Step 3: Saute
Add the Cheese: Divide the steak and veggie mixture into portions on the griddle, each roughly the size of your rolls. Layer your choice of cheese (Provolone, American, or Cheez Whiz) over the portions. Allow the cheese to melt slightly.
Assemble the Sandwich: Lift each cheesy steak and veggie portion off the griddle using a spatula and place it onto an open roll.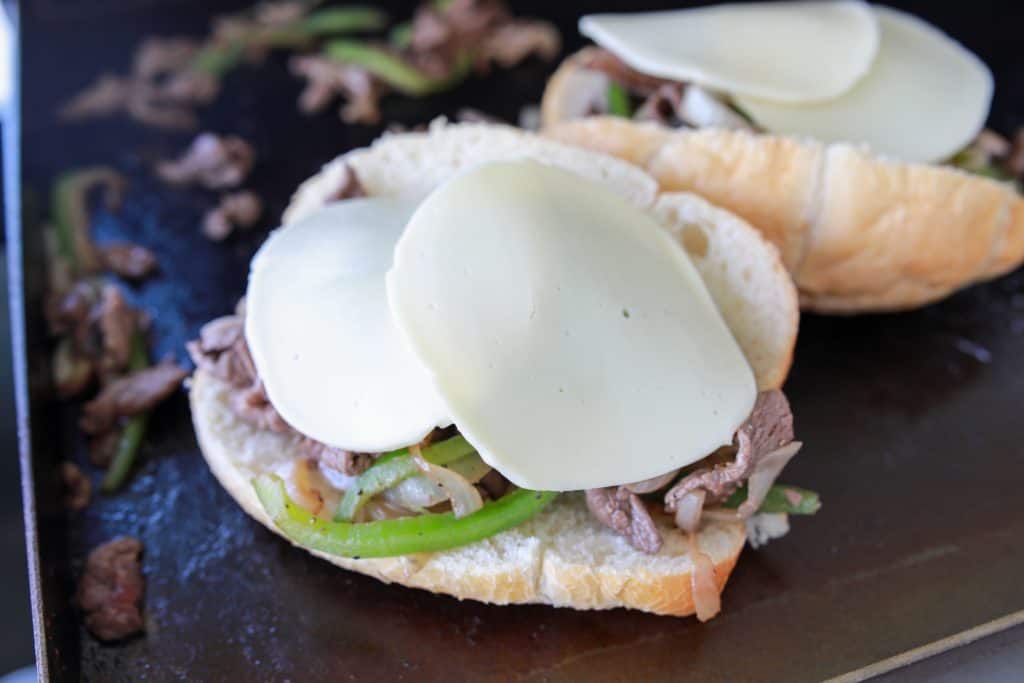 Step 4: Toast rolls
You can add your rolls to the griddle or leave them as they are. If you want to toast the buns, add them face down.
Serve and Enjoy: Serve your Blackstone Philly Cheesesteak immediately, preferably with some pickles, chips, or a cold drink on the side.
The expansive cooking space of the Blackstone Griddle ensures that you can prepare multiple sandwiches at once, making it an excellent tool for serving a hungry crowd.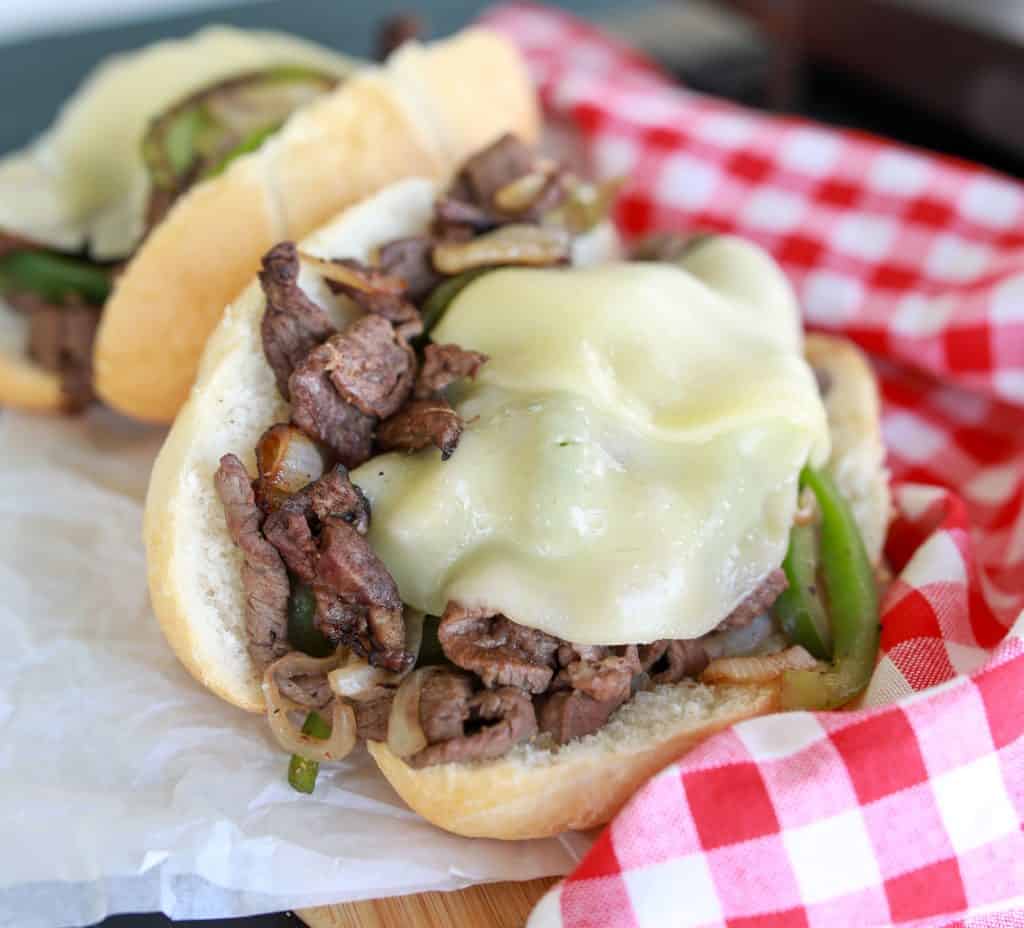 Pro Tips
When crafting the perfect Blackstone Philly Cheesesteak, these pro tips can elevate your sandwich game:
Choice of Meat: Choosing the right cheesesteak meat, while ribeye is traditional and preferred due to its flavor and tenderness, you can opt for sirloin steak, top-round steak, or flank steak as budget-friendly options.
Freeze Before Slicing: For easier and thinner slicing of the steak, partially freeze it for about 30 minutes beforehand.
High Heat for Meat: Cook the meat on high heat quickly. This will sear the outside while keeping the inside tender.
Layer, Don't Mix: Instead of mixing the cheese into the meat and veggies, layer it on top so it melts directly onto the steak, creating a creamy texture.
Quality Rolls: Invest in good-quality, fresh rolls. Amoroso or similar hoagie rolls are traditional choices.
Season at Every Stage: Lightly season the meat and veggies as you cook, building layers of flavor.
Don't Overcrowd the Griddle: Allow your ingredients to cook properly, especially the meat. Overcrowding can cause steaming instead of searing.
Cheese Options: While Provolone and Cheez Whiz are traditional, experiment with other cheeses like Monterey Jack or Pepper Jack for a spicy twist.
Stay Organized: Have all ingredients prepped and ready before you start. Due to the quick cooking time, you won't have much time to chop veggies or slice meat once you begin.
Resting Time: Once assembled, let the sandwich sit for a minute or two. This allows the juices to be redistributed and ensures a flavorful bite without a drippy mess.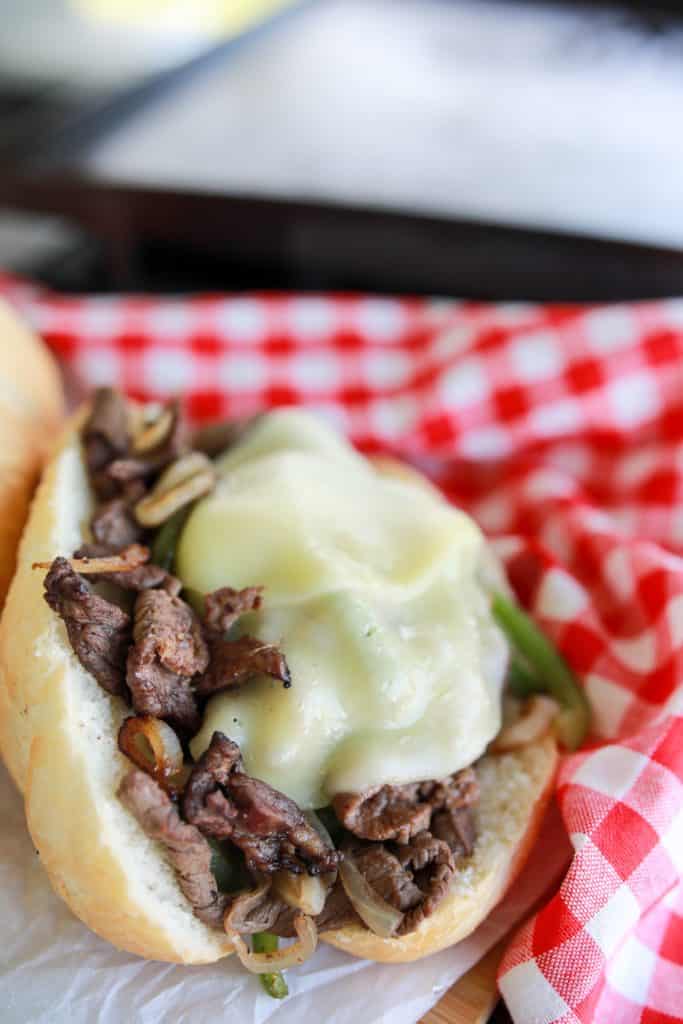 What type of meat is best for a Philly Cheesesteak?
Traditionally, ribeye steak is used due to its tenderness and flavor. However, shaved steak, sliced steak, shaved meat, sirloin, or flank steak can also be used as alternatives.
Can I use other cheeses besides Provolone or Cheez Whiz?
Yes, while Provolone and Cheez Whiz are traditional, many enjoy using American cheese, Monterey Jack, or even Pepper Jack for a spicy twist.
How do I prevent my steak from being chewy?
Ensure that you slice it thinly against the grain and avoid overcooking it. Cooking on high heat for a shorter time helps retain its tenderness.
Can I add other toppings to my cheesesteak?
Absolutely! While the classic version primarily uses onions and bell peppers, you can customize it with green bell peppers, mushrooms, jalapeños, hot peppers, or even spinach based on preference.
How long does it take to cook the steak on the Blackstone griddle?
Due to its thin slicing, the steak cooks quickly, typically in just a few minutes. It's crucial to keep an eye on it to prevent overcooking.
Can I prepare the meat or veggies ahead of time?
Yes, you can slice the meat and veggies ahead of time. If you're prepping the meat a day before, consider marinating it for added flavor.
How do I clean my Blackstone griddle after cooking?
While the griddle is still warm, scrape off any residue using a griddle scraper. Then, wipe it down with a cloth or paper towel. You can use a mixture of water and vinegar for a deeper clean.
Can I make a vegan/vegetarian version?
Yes, replace the steak with portobello mushrooms or a meat substitute. Use vegan cheese to keep it dairy-free.
How do I reheat leftover Philly Cheesesteak?
To maintain the best texture, reheat on a skillet or griddle over medium heat until the cheese melts and the meat is warm.
Is there a gluten-free version?
For a gluten-free alternative, you can use gluten-free rolls or serve the steak and toppings over a salad or rice.
More Blackstone Recipes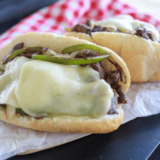 Blackstone Philly Cheesesteak
Description
Blackstone Griddle Philly Cheesesteak is amazing! Talk about a great and easy dinner, made entirely on the Blackstone Griddle and Air Fryer Combo.
Ingredients
1

pound

prime rib

,

or rib-eye steaks sliced thin

1

green pepper

,

sliced

1

onion

,

sliced

2

tablespoons

olive oil

4

slices

provolone cheese

4

hoagie

,

or sub rolls

seasonings

,

of your choice
Instructions
In a large bowl, mix the sliced onions and sliced bell peppers, add the olive oil and toss to coat.

Set the Blackstone Griddle to high heat, preheat for a couple of minutes, and then add the vegetables to the griddle. After a few minutes, add the sliced prime rib.

Continue to saute and season until the meat and vegetables are completely cooked.

You can either add your rolls to the griddle or leave them as is. If you want to toast the buns, add them face down.
Equipment
Blackstone Griddle

Vegetable Oil
Notes
Storage and Reheating Blackstone Griddle Cheesesteaks
Storage:
Cool Before Storing: Allow your Philly Cheesesteak to cool to room temperature before storing. This prevents excess moisture and ensures the bread doesn't become soggy.
Separate Components: If possible, store the bread and the steak filling separately. This helps the bread maintain its texture.
Airtight Containers: Place the steak filling in an airtight container. If storing the sandwich whole, wrap it tightly in aluminum foil or plastic wrap.
Refrigeration: Store in the refrigerator for up to 3-4 days.
Reheating:
Griddle/Skillet Method (Recommended):

Heat the Blackstone griddle or a skillet over medium heat.
If you've stored the components separately, reheat the steak filling first until it's warmed through. Place the bread on the griddle just long enough to regain its crispiness.
If reheating a whole sandwich, place it on the griddle and cover with a lid or foil. Turn occasionally for even heating.

Oven Method:

Preheat the oven to 350°F (175°C).
Place the whole sandwich or the components on a baking sheet.
Heat for about 10-15 minutes or until warmed through.

Microwave:

While it's quick, this method can make the bread a bit soggy.
If using the microwave, it's best to separate the components. Heat the steak filling in a microwave-safe dish for 1-2 minutes, stirring halfway. Warm the bread separately for 10-15 seconds.
Note: Avoid reheating the sandwich multiple times to maintain optimal flavor and texture. If you've stored the sandwich in components, consider assembling it after reheating for the freshest taste.
Nutrition
Serving:
1
Serving
Calories:
341
kcal
Carbohydrates:
20
g
Protein:
14
g
Fat:
23
g
Saturated Fat:
9
g
Polyunsaturated Fat:
2
g
Monounsaturated Fat:
10
g
Cholesterol:
41
mg
Sodium:
271
mg
Potassium:
228
mg
Fiber:
1
g
Sugar:
4
g
Vitamin A:
139
IU
Vitamin C:
13
mg
Calcium:
132
mg
Iron:
2
mg