Air Fryer Corn on the Cob is an easy summertime side, great for weeknight meals and potlucks. Enjoy sweet and juicy kernels in minutes!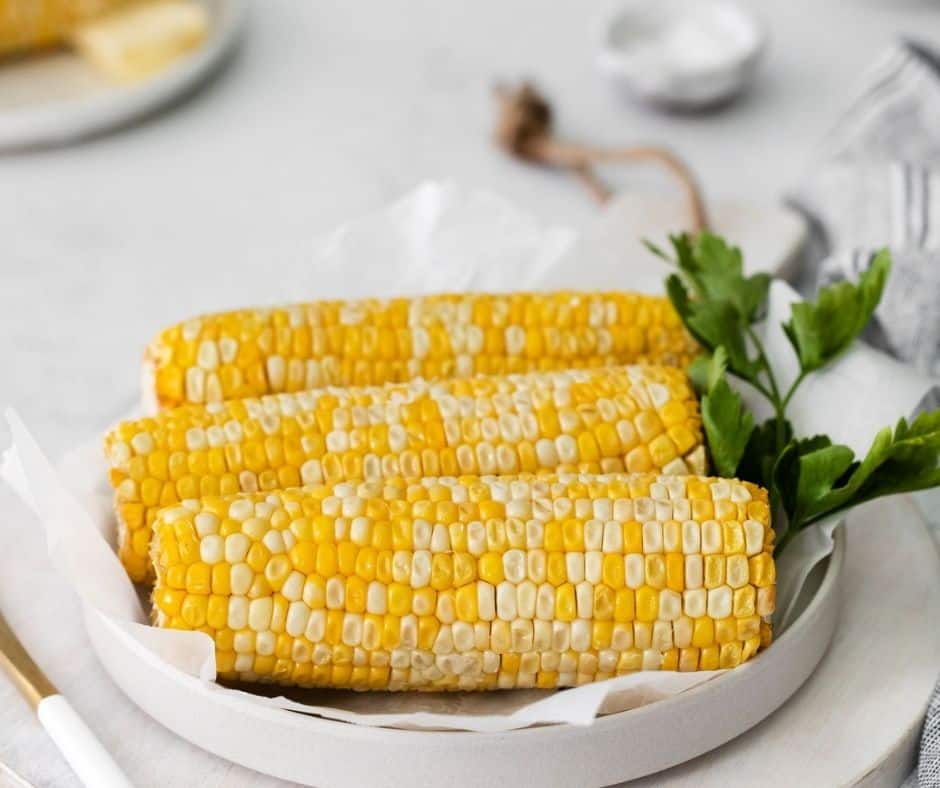 This is one of my favorite vegetables in the air fryer, but again, who doesn't love Air Fryer Corn On The Cob? Perfectly roasted and smothered with butter and herbs.
Truthfully, this recipe came out of laziness. I didn't want to drag out the large boiling pot from the basement. So, I thought to myself, if Brussels Sprouts came out amazing, why not try corn on the cob in the air fryer?
In less than 10 minutes, you can have the best corn on the cob you have ever had in your life, grilled to absolute perfection. If you don't want it grilled, simply cook it for less time.
Looking for more Air Fryer Vegetable Recipes? Here are some of my favorites: AIR FRYER FRIED CABBAGE, AIR FRYER CARROT FRENCH FRIES, AIR FRYER BROCCOLI, and AIR FRYER ACORN SQUASH.
Air Fryer Corn On The Cob
Are you ready for the summer to start? I know I am! There's nothing better than gathering with family and friends outside in the backyard, enjoying some delicious food.
One of my favorite dishes is corn on the cob. It's simple, easy to make, and doesn't require too much effort. Luckily for us, there's an even easier way to cook your corn this year – in your air fryer!
Air fried corn on the cob is an especially great option when you want to avoid heating up your oven or grill. This quick and easy side dish takes a fraction of the time as roasting but comes out just as delicious!
Why You'll Love Air Fried Corn On The Cob
Kid friendly
Simple ingredients
Faster than roasting
Easy side dish
Flavor with seasonings
Ingredients Needed To Air Fry Corn On The Cob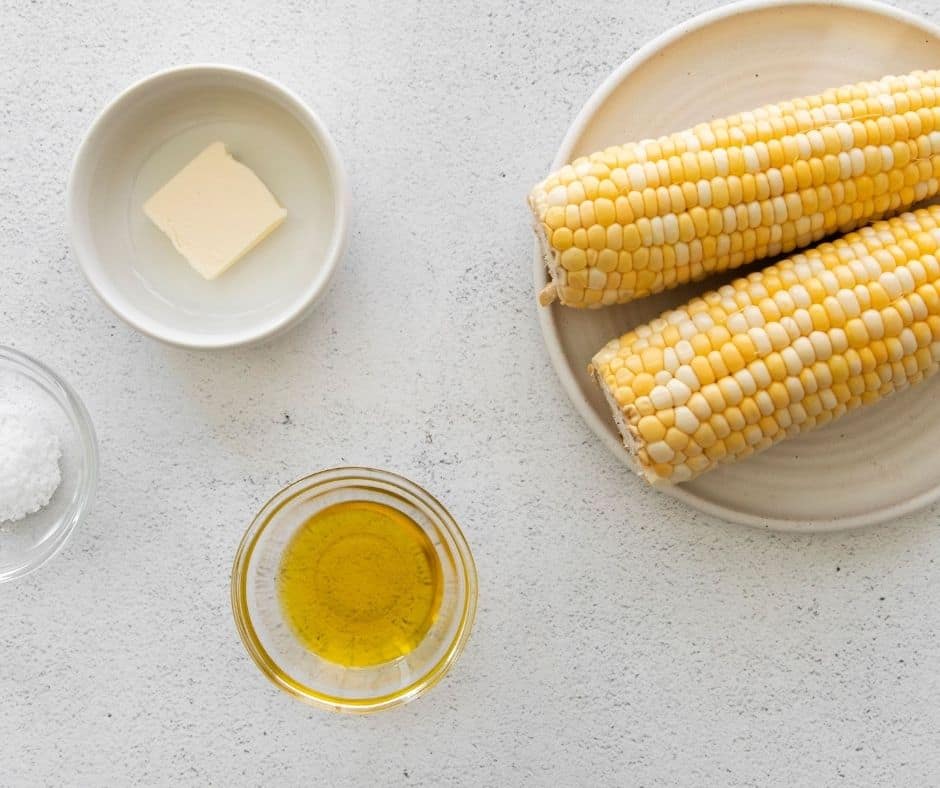 Corn: Start with some fresh ears of sweet corn. I used "bicolor" corn because it's what was freshest at the grocery store. However, this corn on the cob air fryer recipe will work with yellow or white corn as well!
Olive Oil: This helps the kernels cook without burning and gives them that great roasted flavor. It also helps the salt stick to the surface.
Salt: Salt enhances the flavor of the corn and helps balance out the corn's natural sweetness.
Butter: Slather this on your air fried corn on the cob while it's hot, then add your favorite seasonings!
Optional Seasonings:
Garlic Parmesan: After adding the butter, sprinkle on ¼ teaspoon garlic powder and 2 tablespoons freshly grated parmesan cheese.
Elote: Instead of spreading the corn with butter, use 2 tablespoons of mayonnaise or sour cream. Then, sprinkle on ¼ cup crumbled cotija cheese, ½ teaspoon chili powder, 1 teaspoon lime juice, and chopped cilantro for garnish.
Spicy Corn: For spicy air fryer corn on the cob, add red pepper flakes, hot sauce, or cayenne pepper to taste.
How To Roast Corn On The Cob In Air Fryer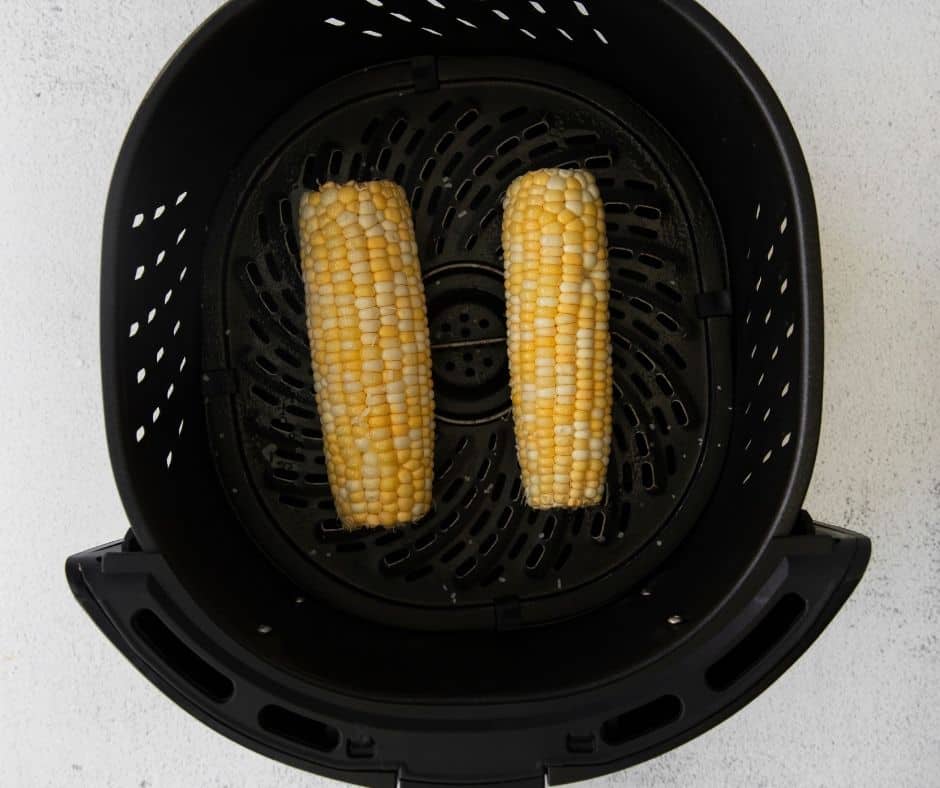 Step 1: Prep the corn
Remove the husks and silk so only the corn is left. Cut each cob in half so they will fit in your air fryer basket. Then, rub vegetable or olive oil over the kernels and sprinkle with salt.
Step 2: Cook
Place corn on the cob in air fryer and set the temperature to 375 degrees F for 8 minutes. Flip each piece, then cook for another 5 to 8 minutes. The kernels will be hot, plump, and juicy when done.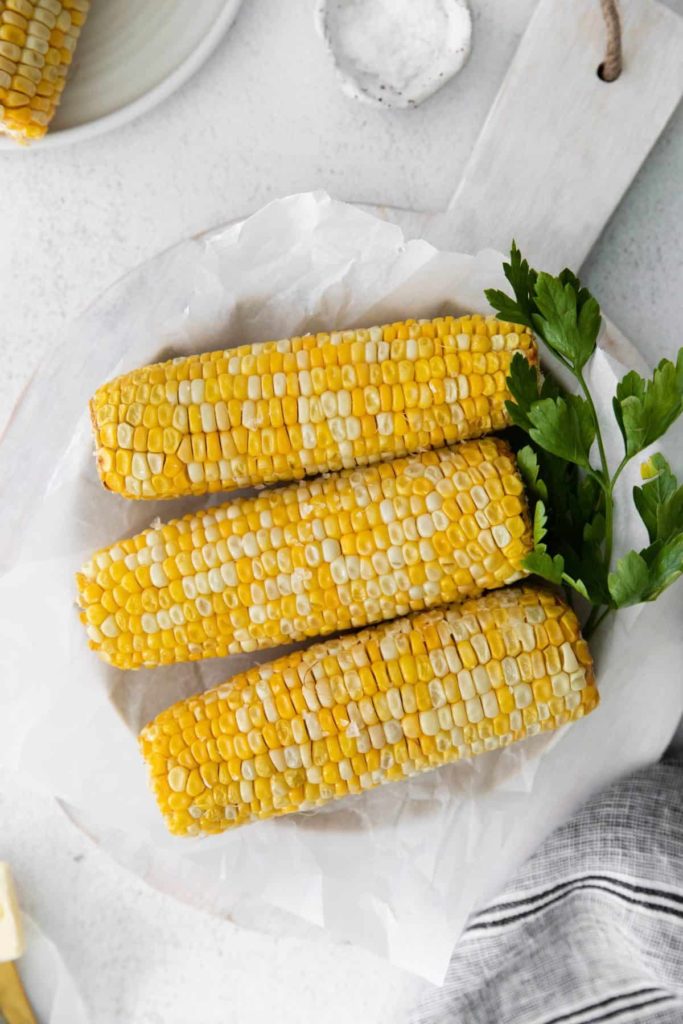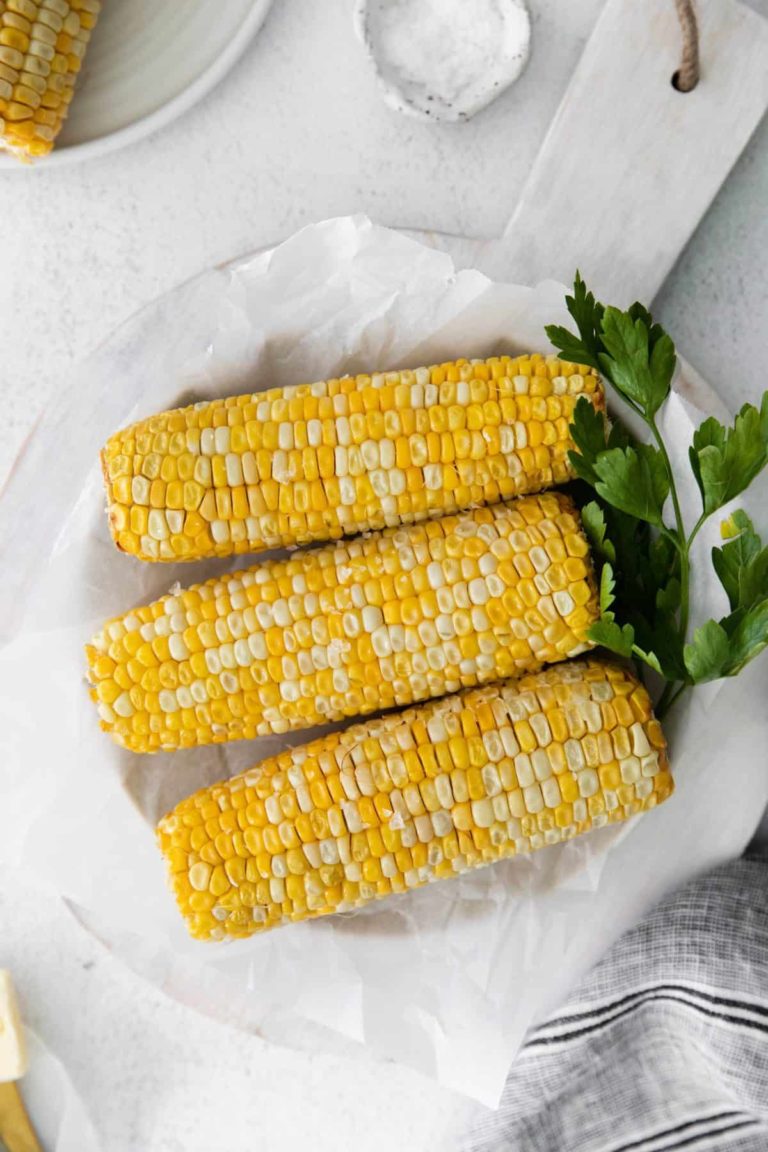 Pro Tips:
Watch carefully.

Since every air fryer cooks a bit differently, the total cooking time may vary. Check on the corn frequently so it doesn't overcook.

Don't crowd the basket.

When you air fry corn on the cob, be sure to leave space between each piece. This way they will all be cooked to absolute perfection.

Oil or cooking spray. You can use oil or cooking spray for this corn on the cob air fryer recipe. Just remember not remember to not use Pam or any other aerosol spray directly on the basket or it will ruin your air fryer. Here is a great post that explains more.
Don't stack!

Never stack food in an air fryer or you will end up with uneven and raw spots in your food. Air fry corn on the cob in a single layer for best results.

Cut if needed.

Depending on the size of your air fryer, you may need to cut your corn into halves or smaller pieces to fit them into the basket.
Storage and Reheating
Allow air fried corn on the cob to cool completely, then store it in an airtight container. It can be refrigerated for several days, allowing you to have sweet, delicious corn all week long.
To reheat, simply pop it back in the air fryer for several minutes until hot!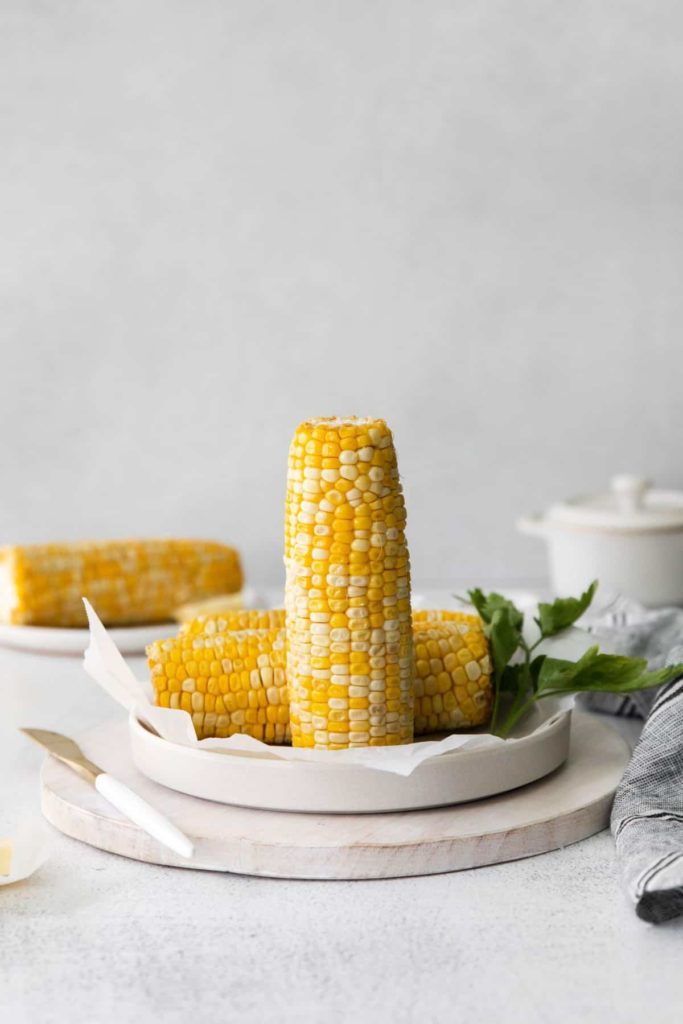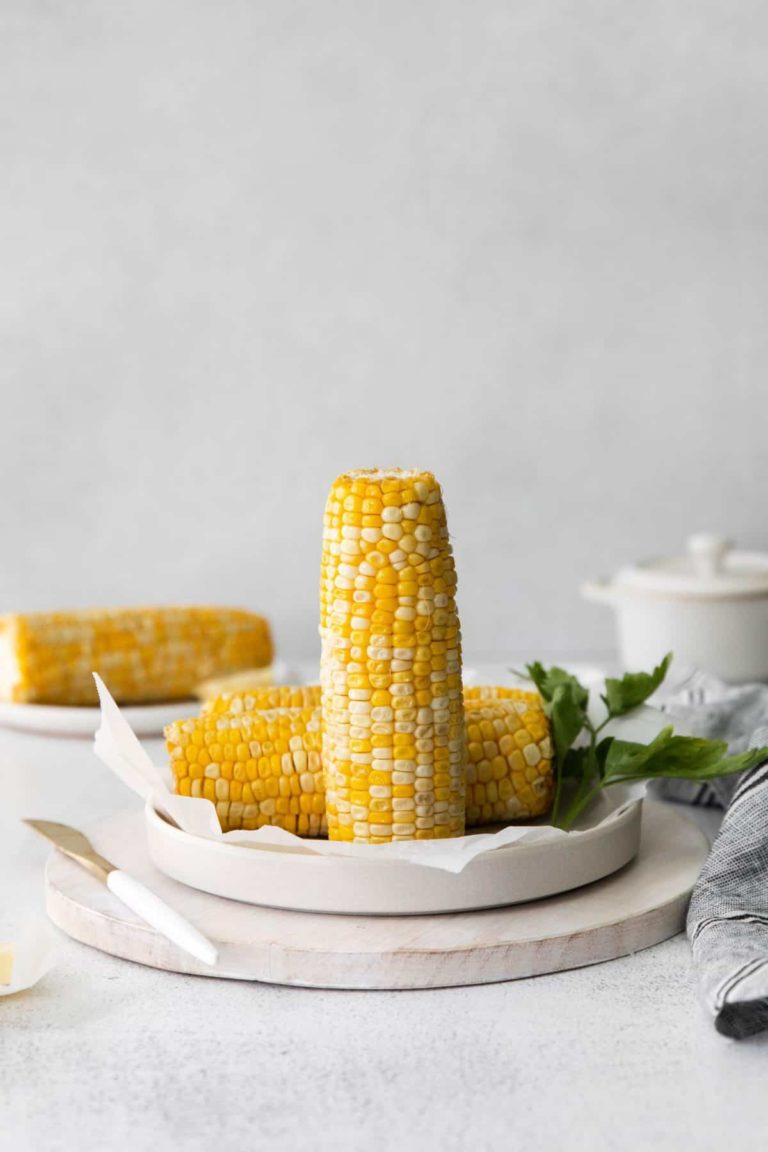 How To Pick The Best Corn On The Cob
Cooking corn on the cob is a quick, easy, and delicious way to feed your family or guests. But how do you pick out the perfect ear of corn without knowing what it tastes like? Here are some tips to help you choose the perfect ear of sweet corn for your next meal!
Look for firm, tightly wrapped husks that have moist silk strands coming from them. The silk should be dry and not wet.
Make sure that there aren't any holes in the husk where bugs might have gotten into it.
You can check if an ear has ripened by peeling back a bit of its husk. If it's pale yellow under the dark green outer layer, that means it's at peak freshness.
What Spices Go Well With Corn?
I like generally love plain old salt and pepper on my air fryer corn, but I find that smoked paprika, parsley, chives, lemon zest, and lime juice also work very well.
Can I Wrap Corn In Foil In Air Fryer?
Yes, using foil for air fryer corn on the cob really keeps the grilled flavor in. Just remember not to crowd the air fryer. Otherwise, none of your corn will cook correctly.
How Long Does It Take To Cook An Ear Of Corn In An Air Fryer?
It takes about 13 to 15 minutes at 375 degrees F to cook corn on the cob in the air fryer.
More Air Fryer Vegetable Recipes:
Don't Forget To Pin: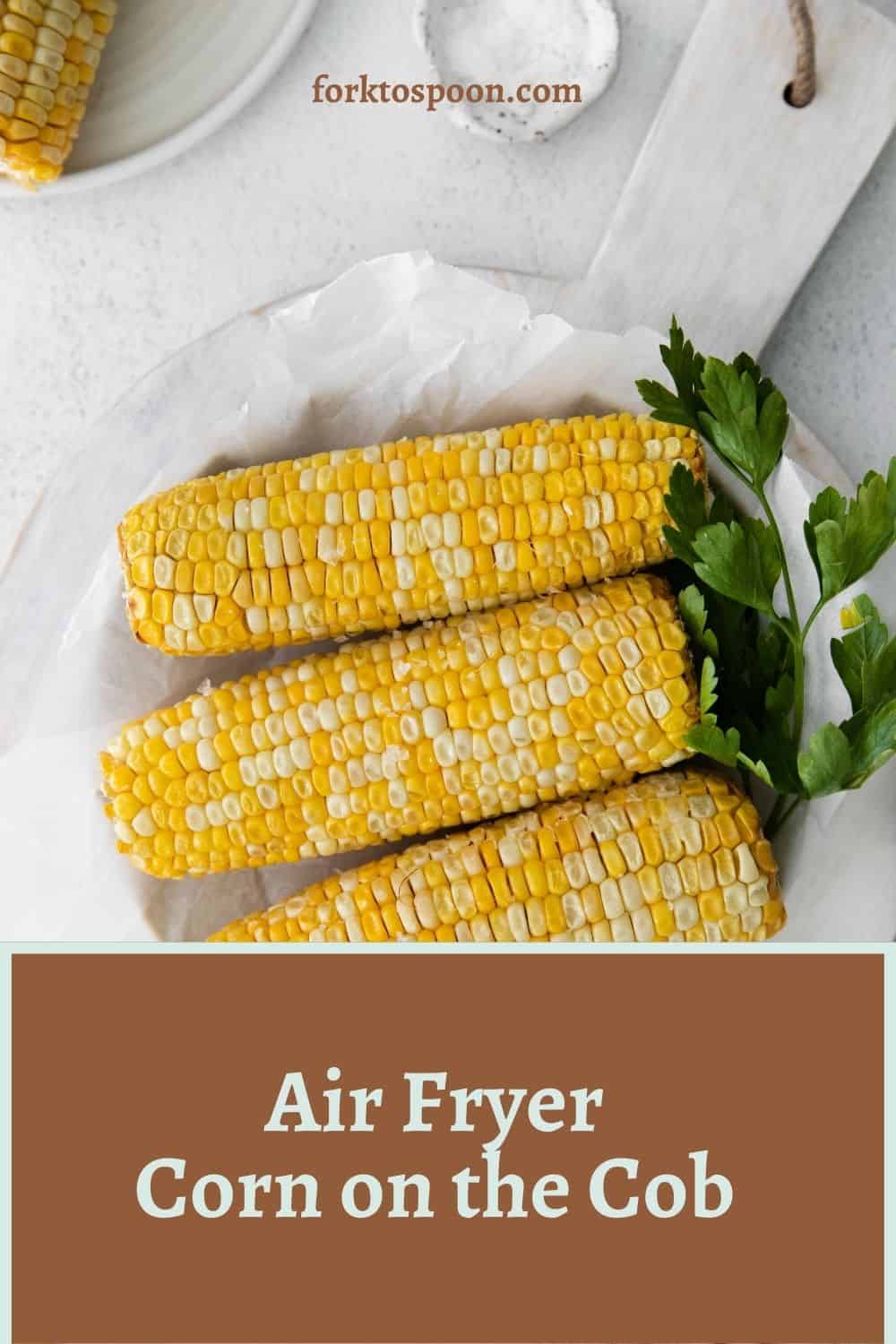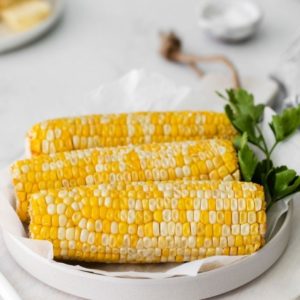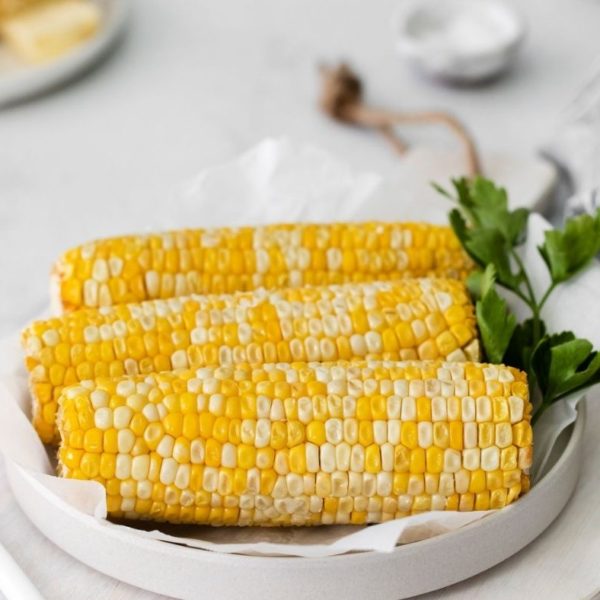 Air Fryer Corn on the Cob
Description
Air Fryer Corn on the Cob is an easy summertime side, great for weeknight meals and potlucks. Enjoy sweet and juicy kernels in minutes!
Ingredients
2

ears

corn, shucked and with silks removed

1

teaspoon

olive oil or cooking spray

1/2

tesapoon

salt

1

tablespoon

butter
Instructions
Brush (or spray) the corn with olive oil andsprinkle over the salt. Make sure to cover all sides of the corn!

Add the corn to the air fryer and cook at 375F for 8 minutes. Then, flip the cornand cook for an additional 5 minutes.

While the corn is still warm, spread over the butter. Garnish with any additionalseasonings and enjoy.

Storeany leftover corn in an airtight container, in the refrigerator.
Nutrition
Serving:
1
Serving
Calories:
34
kcal
Carbohydrates:
0.1
g
Protein:
0.05
g
Fat:
4
g
Saturated Fat:
2
g
Polyunsaturated Fat:
0.2
g
Monounsaturated Fat:
1
g
Trans Fat:
0.1
g
Cholesterol:
8
mg
Sodium:
71
mg
Potassium:
2
mg
Fiber:
0.01
g
Sugar:
0.02
g
Vitamin A:
89
IU
Vitamin C:
0.03
mg
Calcium:
1
mg
Iron:
0.01
mg