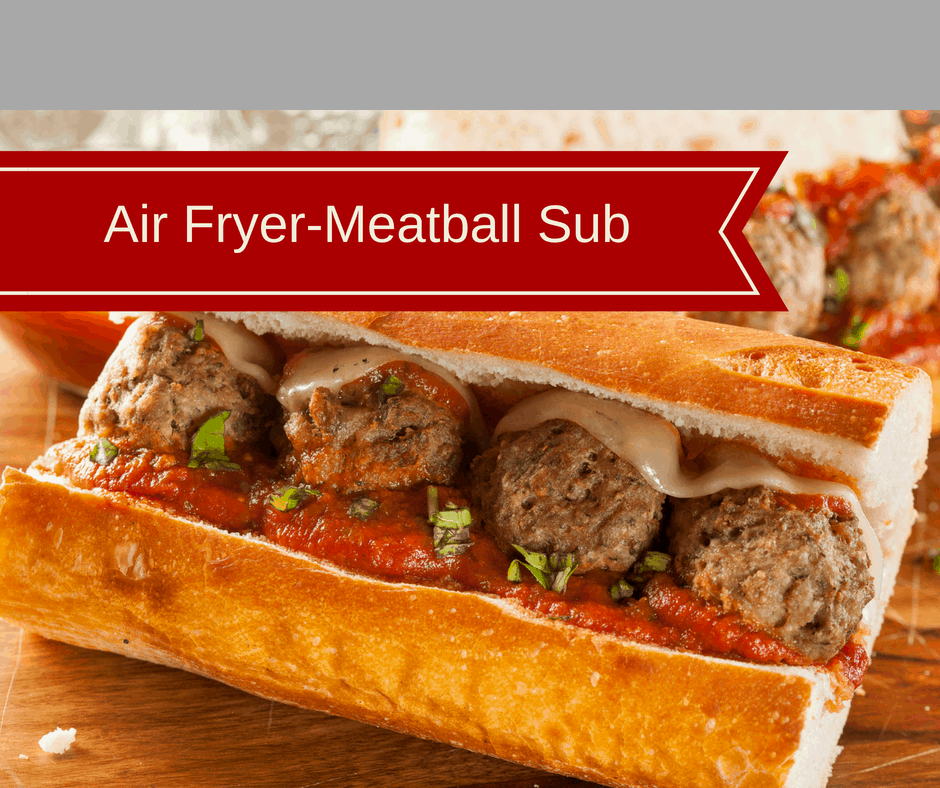 This will be one of the easiest dinners you ever make. And if you are looking for an amazingly easy appetizer, this should be your go-to recipe, this recipe only requires a few ingredients and within about 10 minutes, you will have a dinner or appetizer on the table.
I always make this recipe or a variation of it for any get-together, party, event, holidays that we have at my house. The recipe is easy and fast enough to feed a hungry guest list. You can either make and freeze the meatballs ahead of time, or you can eliminate all of the work and just use frozen meatballs. There are a lot of good quality meatballs in the freezer section of your grocery store. They come in a variety of meat products, from turkey, ground beef, meatless option, they even have a beef and bacon version.
If you have never cooked frozen meatballs in the air fryer one of the biggest questions, I get asked is will they break up during the cooking process.  I answer that question with no, they withstand the cooking (pressure) process quite well. There is no need to saute them first, since they are frozen, as they start to defrost, they will just stick to the bottom of the pan. Then mix in the desired sauce that you want, just heat up the sauce in a small saucepan.  And if you want to serve them later at a party/get together/holiday, etc. Just leave them soaking in the sauce. You will end up with a tasty morsel in your mouth.
If you are looking to incorporate fresh meatballs into this recipe. I would advise you to saute the meatballs first, and put down a coat of olive oil in a skillet, then saute' the meatballs, and then continue with the instructions.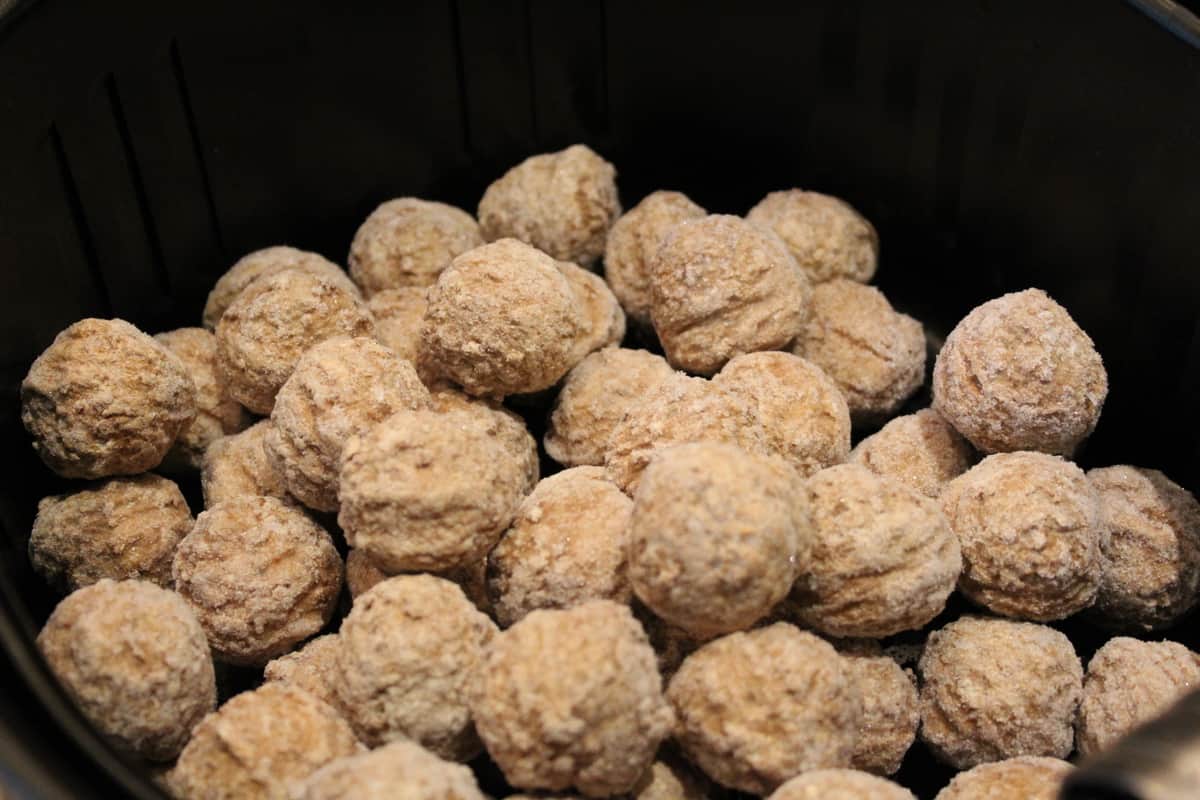 Add all of the frozen meatballs to your air fryer basket, then set the time for 5 minutes at 350 degrees F.
Then flip them after 5 minutes and do another 5 minutes.
Meanwhile, heat up the sauce in a small saucepan and then add the meatballs to a serving bowl, and pour the sauce over it, and then
scoop the meatballs into a sub roll.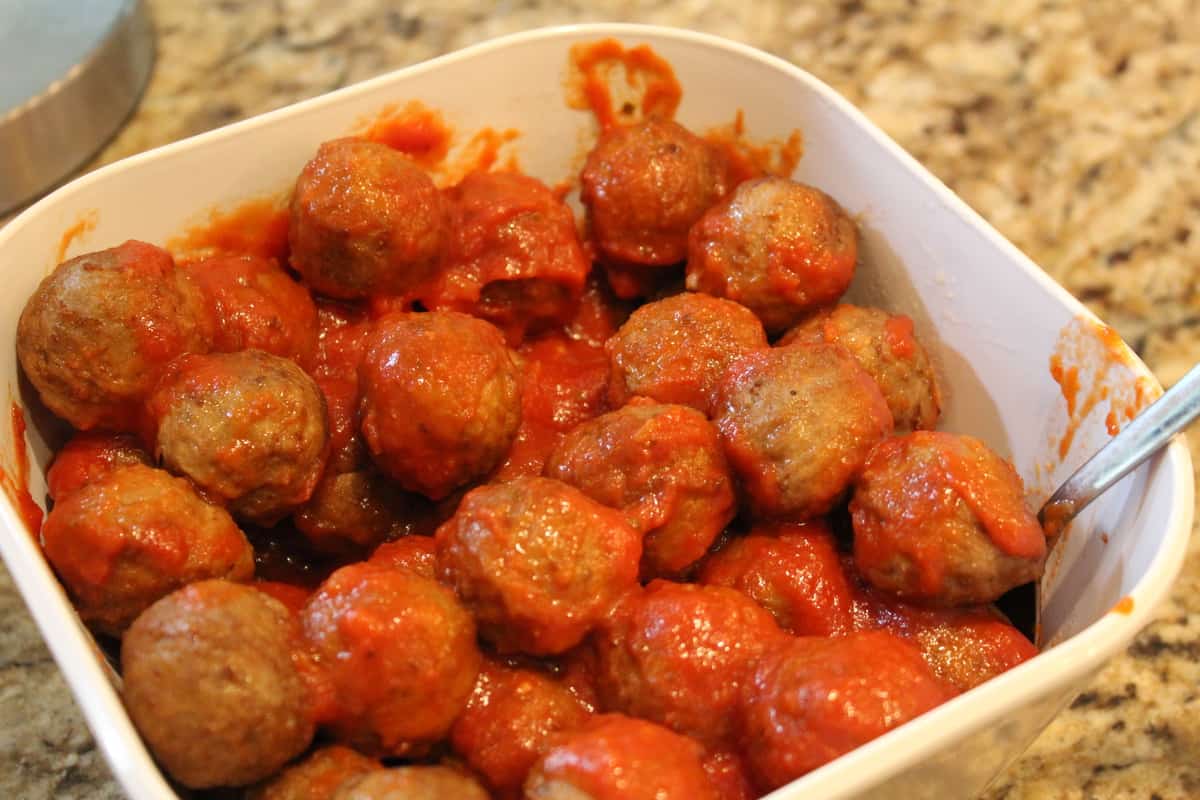 Kitchen Items Used: (Note: Affiliate links are included in this post)
J.A. Henckels 6-Inch High Carbon Stainless Steel Chef's Kitchen Knife
 Stainless Steel Measuring Cups, 5 Piece Set
Hudson Essentials Stainless Steel Measuring Cups Set-6 Piece Stackable Set with Spout
Anchor Glass Measuring Set–This is one of the handiest tools in the Kitchen 
OXO Good Grips 12 Inch Stainless-Steel Locking Tongs