This Air Fryer Cabbage is incredible, tender, and the perfect side for all your meals. When you air fry cabbage, the texture is amazing, and it makes the ultimate fuss free dish!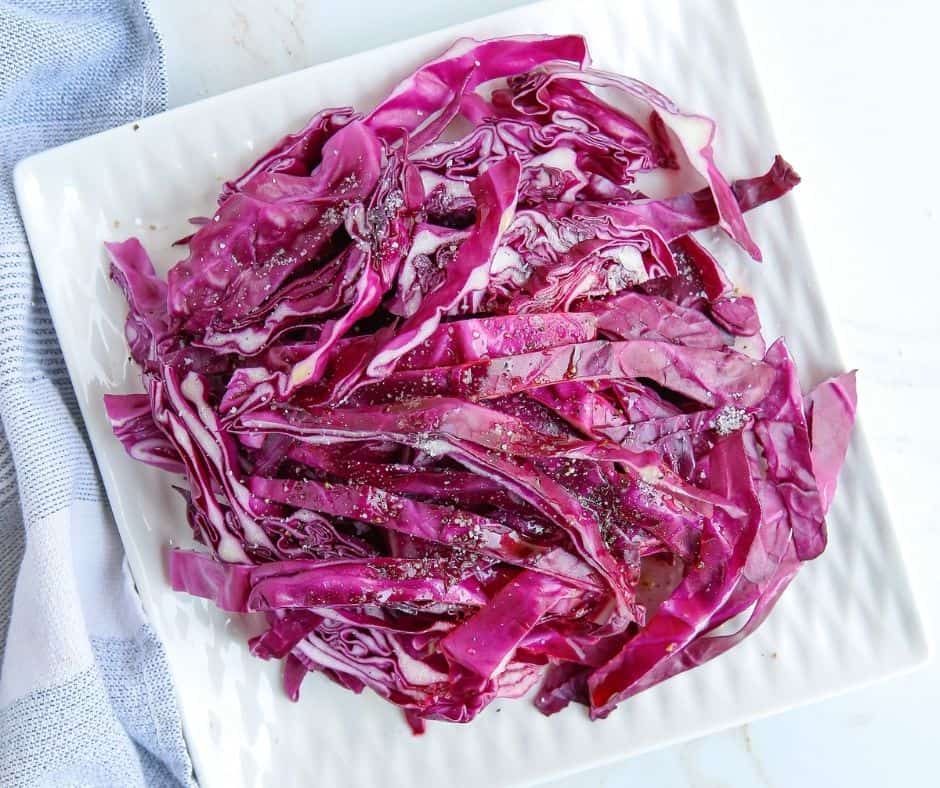 Cabbage In The Air Fryer
Looking for a delicious way to enjoy cabbage? Air frying is a great way to cook up veggies without using any oil, and it's perfect for those who are watching their calorie intake. This air fried cabbage recipe is simple and easy to follow and yields a tasty dish that the whole family will love. So what are you waiting for? Start cooking!
I know a lot of people aren't fans of cabbage, but I think that's because they don't know how to use it properly. When it's added to salads, it's insanely good. Or when you roast or air fry cabbage, it becomes a delicious dish that is hard to resist. And it happens to be healthy too!
If you love roasted Brussels Sprouts, you will absolutely love this. It comes out crispy and juicy. It is the perfect vegetable to go with any meal. You can cut the cabbage into fine strips or leave it as cabbage steaks.
If you have never roasted cabbage in the air fryer, you are missing out. It's light, flavorful, and becomes perfectly charred.
If you are looking for even more Air Fryer Vegetable Recipes, some of my favorites are AIR FRYER SUN-DRIED TOMATOES, AIR FRYER CHICKEN WITH ROASTED ARUGULA AND TOMATOES, AIR FRYER RICOTTA TOAST WITH ROASTED GARLIC AND TOMATOES and AIR FRYER, SKILLET TORTELLINI, WITH GRILLED TOMATOES, ZUCCHINI, AND RED PEPPERS.
Why You'll Love Fried Red Cabbage
Made with simple ingredients
Tastes great
Healthy
You can use red or green cabbage
Easy to follow directions
What Is Cabbage?
Is cabbage a vegetable? Is it a fruit? Botanically speaking, it's both! Cabbage is (usually) green and leafy and grows in cool weather. It's a staple of European cuisine but can be found worldwide.
Cabbage is a vegetable typically used in salads but can also be cooked. It is very low in calories, and a good source of vitamins C and K. Cabbage can be bought fresh or frozen and comes in several colors, including green, red, and white.
Air Fried Cabbage Ingredients
If you're looking for an easy, delicious way to prepare cabbage, you need to try air frying it! This technique produces a light and crispy result, perfect for any meal. To make air-fried cabbage, you'll need a few simple ingredients:
Cabbage: We recommend fried red cabbage, but you can also use green or white. If you want to make roasted air fryer cabbage steaks, slice them into steaks about 3/4″ thick; otherwise, you can shred them by cutting them into smaller pieces. Either will work with this recipe.
Oil: Any high heat oil will work in this recipe. You can use olive oil, avocado oil, grapeseed oil, or even coconut oil.
Seasonings: I added some simple seasonings, salt, black pepper, garlic powder, and red pepper flakes for some added flavor.
How To Make Air Fryer Cabbage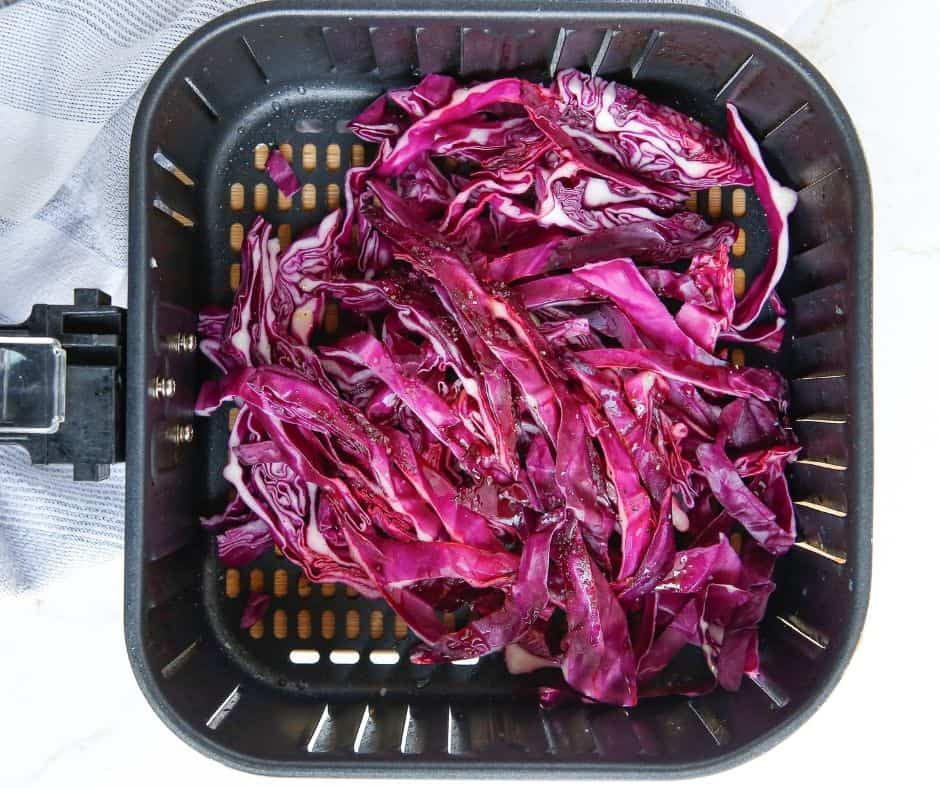 Step 1: Prep the cabbage
Slice your cabbage into 1 inch thick slices, or cut it into cabbage steaks. Coat your cabbage slices with olive oil and sprinkle your spices onto them.
Step 2: Air fry cabbage
Place the coated and spiced cabbage pieces into the air fryer, and set the time to 350 degrees F, air fryer setting for 4 minutes. When the time is up, flip the cabbage and set the temperature for another 3 minutes.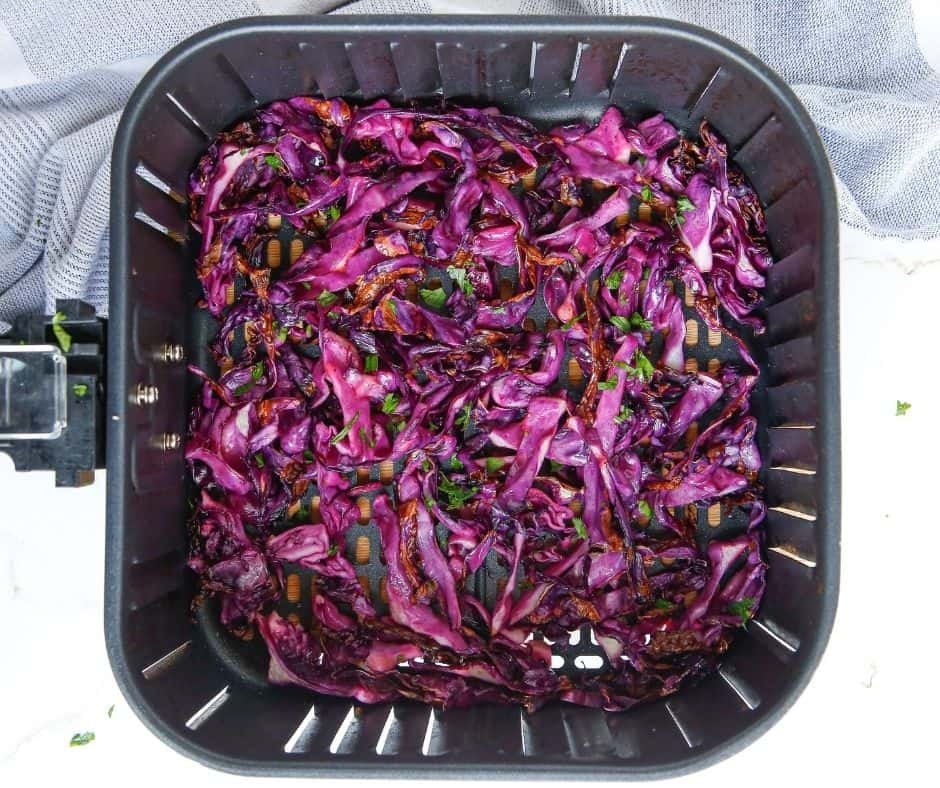 Frequently Asked Questions
What Are Cabbage Steaks?
A popular way to make fried cabbage is to slice it into "steaks." Cabbage steaks are thick slices of cabbage grilled or roasted in the oven or air fryer. They make a delicious and healthy side dish or main course. They are often served in place of traditional steaks for vegetarian meals or as a side dish.
At what temperature do you cook cabbage in the air fryer?
I have done a lot of trial and error when I have fried red cabbage. In my experience, the perfect temperature to cook cabbage in the air fryer is 350 degrees F. Remember, since every air fryer is slightly different, watch your cabbage as it cooks up!
Is air fried cabbage healthy?
You! Not only is it packed with nutrients it's also low in calories and carbs. It makes for a great KETO and low-carb option!
What meat goes with cabbage?
Fried red cabbage goes well with chicken, fish, beef, and pork! Some of my favorite recipes to serve this with are Air Fryer Italian Sausage, Air Fryer Ground Beef, Air Fryer Corned Beef, Air Fryer Brisket, or even a simple Air Fryer Chicken Schnitzel.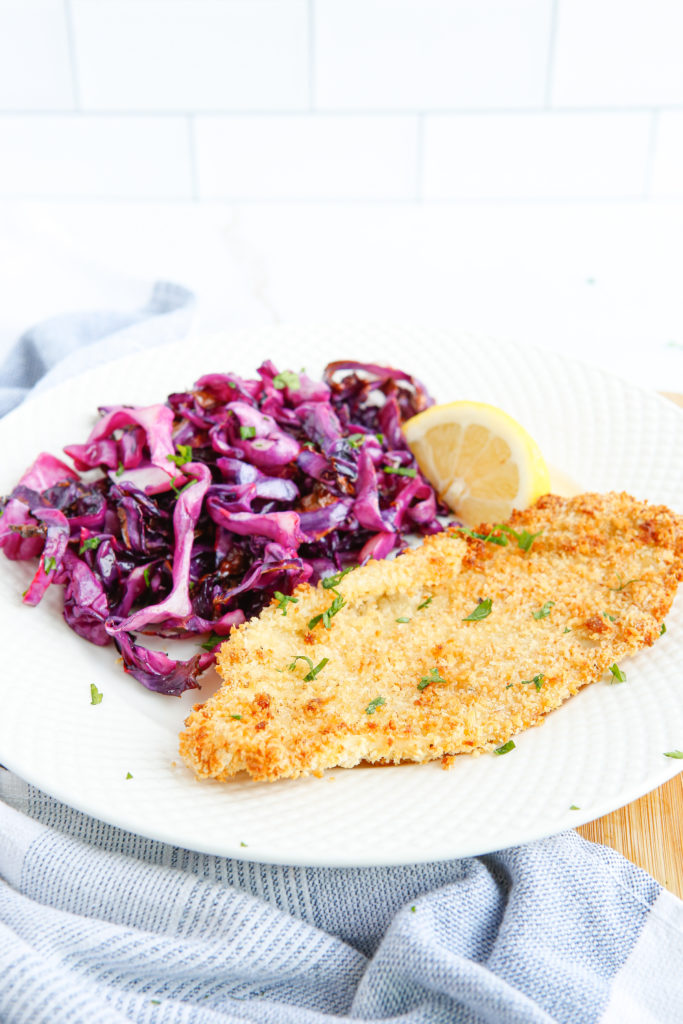 How to store leftovers:
When you're done cooking, don't forget to transfer the leftovers into an airtight container for storage. You can keep them in the fridge for up to three days.
To reheat, pop it back into a 395 degrees F air fryer setting and cook for about 3 to 4 minutes until warmed through.
More Air Fryer Recipes:
Don't Forget To Pin: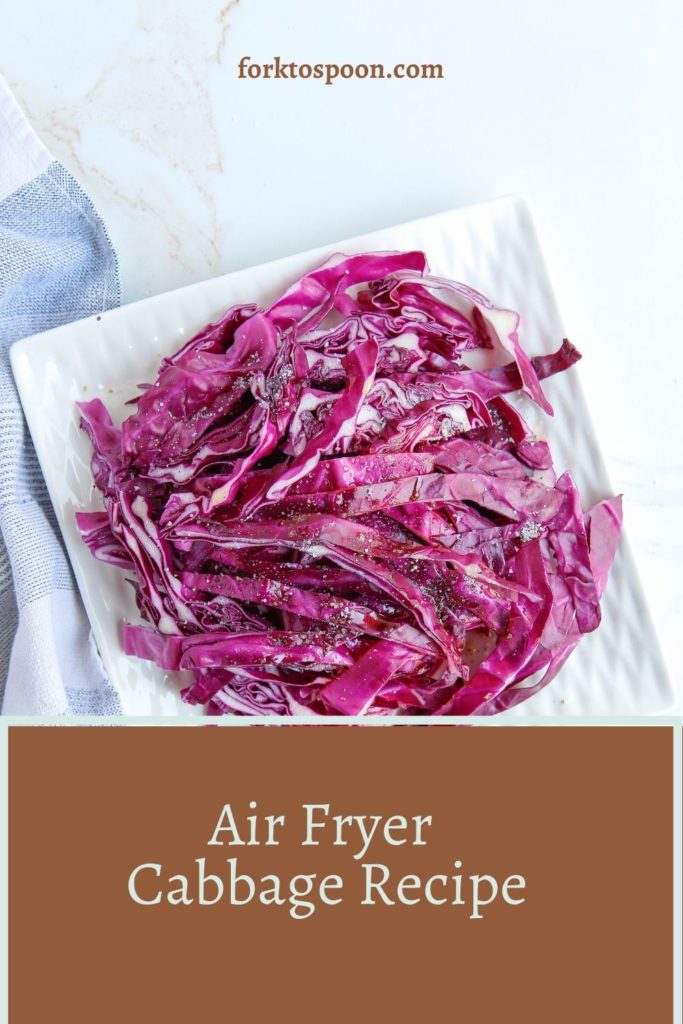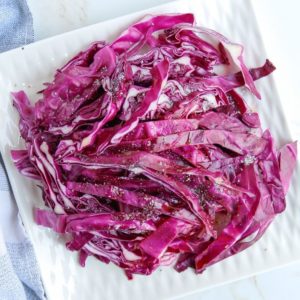 Air Fryer Cabbage Recipe
Description
Looking for a new way to cook cabbage? Try this air fryer cabbage recipe! It's quick and easy to make, and the results are delicious. Plus, it's a great way to add some extra vegetables to your diet. give it a try today!
Ingredients
1

head

cabbage

1

tablespoon

olive oil

1

teaspoon

salt

1

teaspoon

black pepper

1

teaspoon

garlic powder

1/4

teaspoon

red pepper flakes

,

optional
Instructions
Slice your cabbage into 1 inch thick slices, or shred.

Coat your cabbage slices with olive oil, and sprinkle your spices on to them.

Place the coated and spiced cabbage pieces into the air fryer, set the time for 350 degrees for 4 minutes. When the time is up, flip the cabbage and set the temperature for another 3 minutes.
Nutrition
Serving:
1
g
Calories:
92
kcal
Carbohydrates:
14
g
Protein:
3
g
Fat:
4
g
Saturated Fat:
1
g
Polyunsaturated Fat:
1
g
Monounsaturated Fat:
3
g
Sodium:
625
mg
Potassium:
404
mg
Fiber:
6
g
Sugar:
7
g
Vitamin A:
262
IU
Vitamin C:
83
mg
Calcium:
94
mg
Iron:
1
mg