Air Fryer Mexican Street Corn Recipe — Tired of spending hours over a hot stove slaving away to make delicious Mexican Street Corn? Now, you can have it ready in minutes with this easy air fryer version.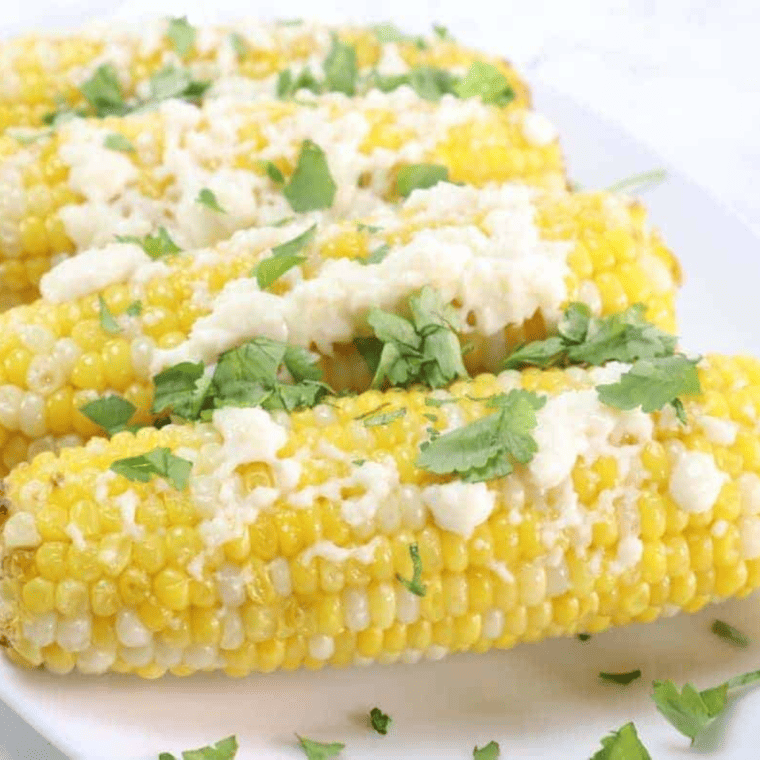 Easy Mexican Street Corn
This is the perfect recipe for all the corn lovers who crave the warm, creamy flavor and crunchy texture of Mexican street corn but need an easier way to enjoy their favorite dish! With minimal prep time, a few ingredients, and under ten minutes of cooking time in your air frying machine – get ready for some amazing tastes. Read on for our incredibly tasty take on traditional Mexican Street Corn!
You aren't going to want to miss out on my other air-fried veggie recipes. Here are some of our favorites: AIR FRYER ZUCCHINI BROWNIES, AIR FRYER BRUSSELS SPROUTS AND BACON, AIR FRYER AVOCADO FRENCH FRIES, and AIR FRYER LOW-CARB (KETO) EVERYTHING BAGEL ZUCCHINI CHIPS.
What Is Mexican Street Corn?
Mexican Street Corn, commonly known as "Elote" (pronounced eh-LOH-teh), is a popular street food in Mexico and has gained significant popularity in many other parts of the world. It's traditionally made from grilled corn on the cob slathered in a creamy mixture and then sprinkled with chili powder and other seasonings.
Can You Cook Ears Of Corn In Air Fryer?
Yes, you can absolutely cook ears of corn in an air fryer! Air frying corn gives it a slightly roasted and caramelized flavor, similar to grilling but without needing a grill.
Why You'll Love Elote Corn
Great for entertaining
Flavorful
Easy
Faster than grilling
Cleanup is a breeze!
Ingredients Needed For Air Fryer Mexican Corn
Anyone looking for a deliciously simple and quick way to add some zest to their meal should look no further than this Air Fryer Mexican Corn recipe. When cooked correctly, you can create a vibrant and effortlessly flavorful side dish that will surely be the star of your meal. Using just a few simple ingredients, this marvelously savory snack takes less than 15 minutes from start to finish! After reading through the easy-to-follow instructions below, you'll munch on your perfectly air-fried Mexican Corn in no time.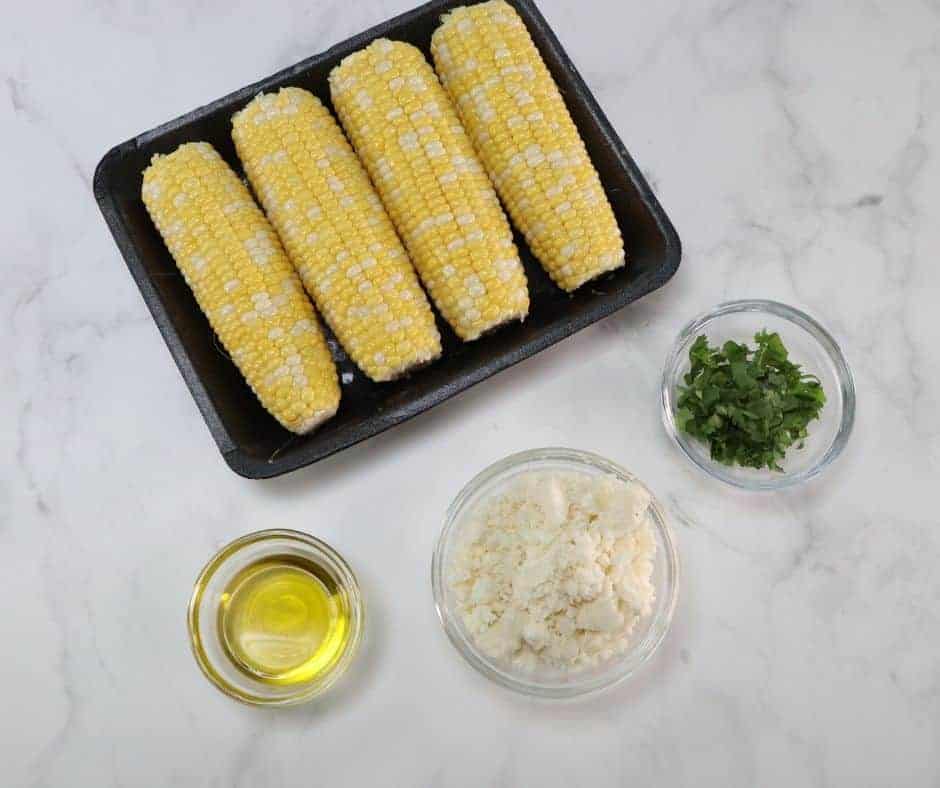 Remember the step-by-step directions and the full recipe are below in the printable recipe card at the bottom fo the post, as well as the nutritional information.
Fresh Ears of Corn: The star of the dish, fresh corn provides a sweet and juicy base. For this recipe, select plump corn cobs with bright green husks.
Olive Oil or Melted Butter: Used to brush on the corn before air frying; this gives it a golden color and prevents it from drying out. Olive oil offers a lighter touch, while butter provides a rich flavor.
Mayonnaise: Acts as the creamy binder for the other toppings. It adheres well to the corn and gives the dish its classic creamy texture.
Lime: Freshly squeezed lime juice adds a tangy contrast to the rich, creamy mayo. It's always best to use fresh limes for the brightest flavor.
Mexican Cotija Cheese: A crumbly Mexican cheese, cotija is salty and adds a wonderful texture contrast. If you can't find cotija, crumbled feta can be used as a substitute.
Chili Powder: This spice provides a mild heat and smoky flavor. Adjust the amount based on your heat preference.
Fresh Cilantro (optional): Chopped cilantro adds a fresh, herby touch. If you're not a fan of cilantro, you can skip it or replace it with chopped parsley.
Kosher Salt: Enhances the natural sweetness of the corn and balances out the other flavors.
Garlic Powder (optional): For those who want a hint of garlic, a dash of garlic powder can complement the other seasonings beautifully.
Using these ingredients, you can recreate the delicious taste of Mexican street corn (Elote) right in your air fryer, combining the charred goodness of roasted corn with the classic creamy and tangy toppings.
How To Cook Mexican Street Style Corn in Air Fryer
If you can't make it to the streets of Mexico, you can easily make this recipe in your air fryer. Mexican street-style corn on the cob is a delicious treat full of flavor and enjoyed worldwide. Whether you're hosting a special occasion or looking for an easy yet flavorful snack, this Mexican street-style corn dish will surely please. Packed with bold spices, it's both savory and sweet – all in one bite!
We've got you covered if you're ready to tantalize your taste buds and have never tried cooking in an air fryer. Read on to discover how quick and easy it can be to make Mexican street-style corn at home – no grill or stovetop required!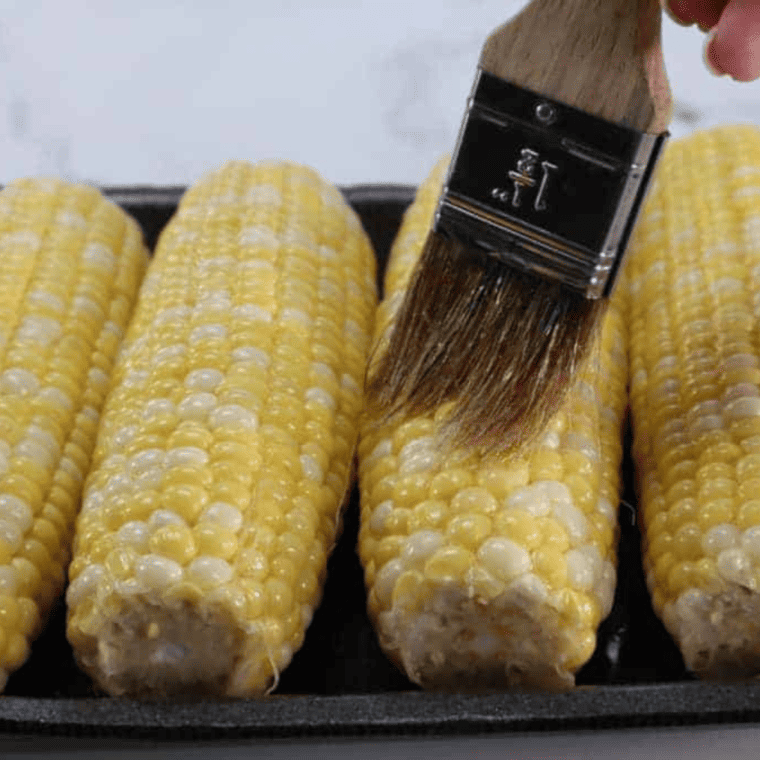 Step 1: Prepare The Corn
Preparation: Husk the ear of corn and remove the silk. Ensure the corn is clean and free of any leftover silk threads.
Brush: Lightly coat each corn ear with olive oil or melted butter using a pastry brush. This helps to give a nice color to the corn and prevents it from drying out in the air fryer.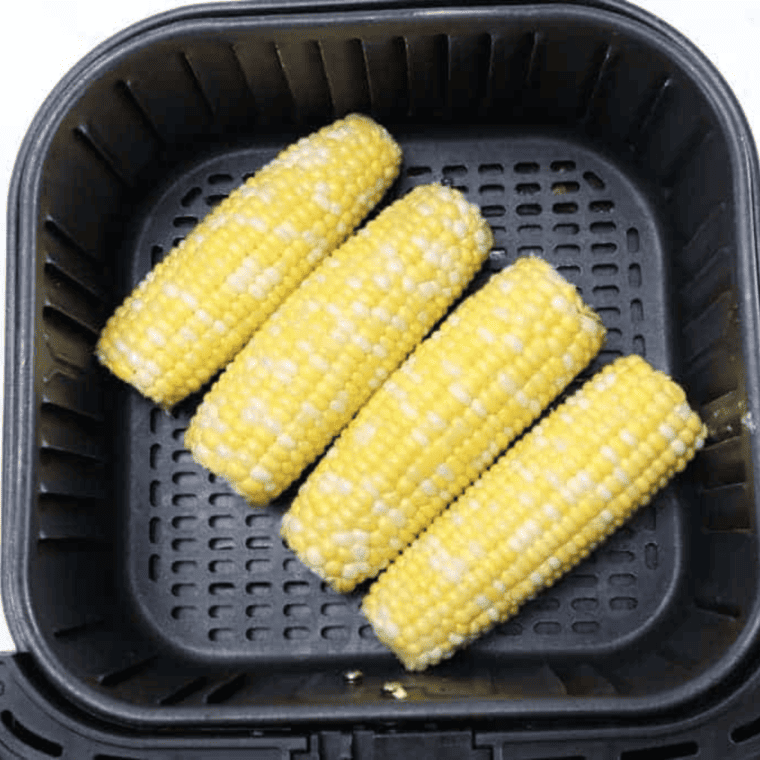 Step 2: Air Frying
Air Frying: Place the corn ears into the air fryer basket in a single layer, ensuring they do not overlap. Set the air fryer to 390 degrees F (200°C). Cook for about 12-15 minutes. Ensure you turn the corn every 3-4 minutes for cooking and coloring.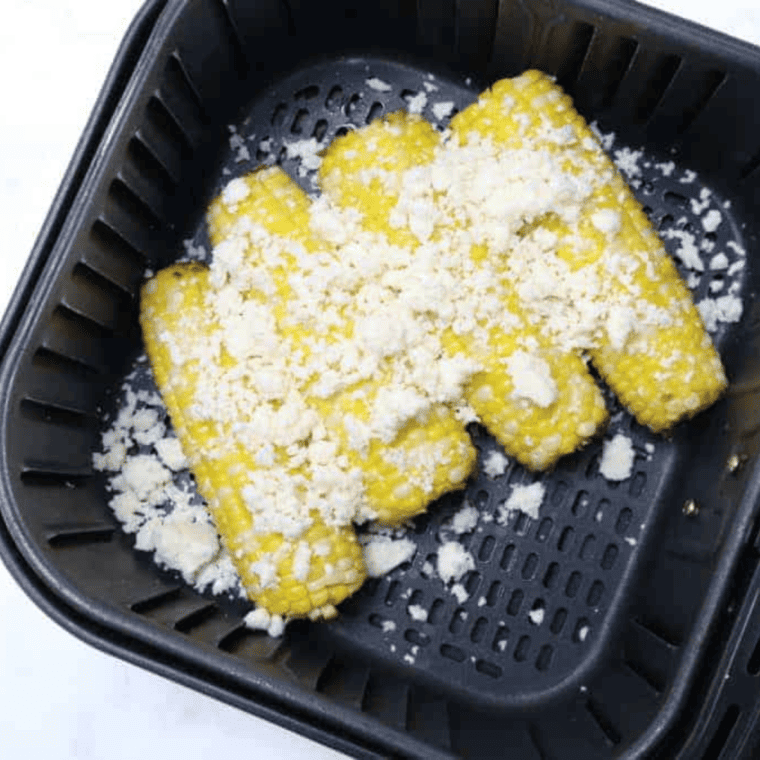 Step 3: Add Toppings
Mayonnaise Mixture: In a bowl, mix mayonnaise, a squeeze of lime juice, a dash of garlic powder (if using), and a little salt. Adjust the seasoning as per taste.
Coat the Corn: Once the corn is done, remove it from the air fryer. While it's hot, brush each corn ear generously with the mayonnaise mixture.
Toppings: Sprinkle each mayonnaise-coated corn ear with crumbled cotija cheese, chili powder, and chopped cilantro.
Serve: The corn is best served hot, with a lime wedge or hot sauce on the side for an additional zesty kick.
Note: You can adjust the amount of toppings based on your preference. If you like it spicier, add more chili powder. If you want it creamier, don't hesitate to slather on more of the mayonnaise mixture.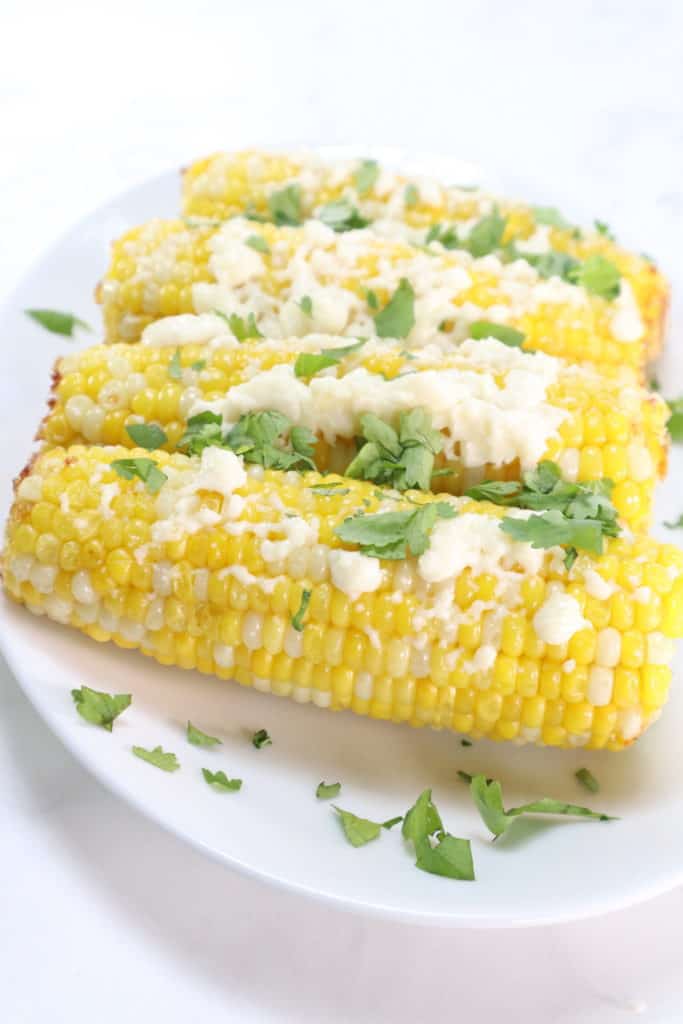 Pro Tips For Cooking Air Fryer Elote Corn Cob Recipe
Making Elote (Mexican Street Corn) in an air fryer is a fun and efficient way to recreate this traditional treat. Here are some pro tips to ensure you get the best results:
Preheat the Air Fryer: Just like an oven, preheating the air fryer ensures consistent cooking. A few minutes of preheating can help achieve that perfect char on your corn.
Don't Overcrowd: Ensure space between each ear of corn in the air fryer. This allows the hot air to circulate effectively, giving the corn an even cook and desirable roasted appearance.
Rotate for Even Cooking: Turn the corn every few minutes to ensure an even side char. Some air fryers may have hot spots, so rotating can help avoid overly charred areas.
Adjust Cooking Time: Depending on the size and freshness of your corn, cooking times might vary. It's always a good idea to check earlier and adjust as necessary.
Fresh is Best: Use fresh corn for optimal flavor and texture. Fresh corn has a sweetness that pairs wonderfully with the tangy and spicy toppings of Elote.
Season While Hot: Apply the mayonnaise mixture and toppings while the corn is hot. This helps the mayo melt into the crevices and the cheese to stick better.
Customize Your Toppings: Traditional Elote toppings are delightful, but don't be afraid to experiment. Consider additions like smoked paprika for a smokier flavor or grated Parmesan if you can't find cotija cheese.
Grated vs. Crumbled Cheese: If you can't find crumbled cotija cheese, you can use a block of it and grate it yourself. The cheese will stick better to the corn if it's finely grated.
Serve Immediately: Elote is best enjoyed right after it's made. The combination of hot, juicy corn with cool, creamy toppings makes this dish exceptional.
Lime Zest: For an added burst of flavor, consider adding some lime zest to your mayonnaise mixture or sprinkling it on top of your finished Elote.
Remember, the key to the perfect Air Fryer Elote is balancing the creamy, tangy, spicy, and salty flavors. Adjust the toppings to your personal taste, and most importantly, enjoy the process and the delicious results!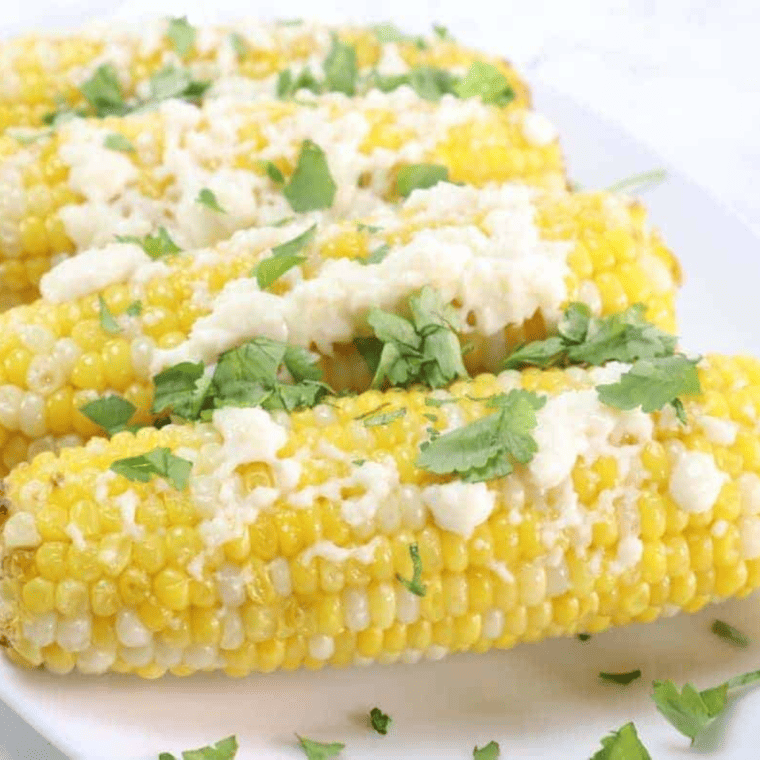 Frequently Asked Questions Air Fryer Street Corn
Is air-fried Elote healthier than traditionally grilled Elote?
Air frying requires less oil than traditional grilling or pan frying, making it a slightly healthier option in terms of fat content. However, most of the flavors and ingredients remain consistent, so enjoying them in moderation is essential.
Can I use frozen corn on the cob for this recipe?
Yes, you can use frozen corn. However, it's essential to thaw the corn first and pat it dry to remove excess moisture. Cooking times may also need a slight adjustment.
I can't find cotija cheese. What can I use as a substitute?
Feta cheese is a common substitute for cotija due to its similar crumbly texture and salty flavor. Grated Parmesan cheese, or queso fresco, can also be an alternative.
How can I make my Elote spicier?
You can add more chili powder, sprinkle on some cayenne pepper and chile powder, or add a dash of hot sauce to the mayonnaise mixture for an added kick.
Why is my corn not getting that charred look in the air fryer?
Each air fryer can vary in terms of heat distribution. If you're not getting the desired char, try slightly increasing the cooking time or temperature. Rotating the corn more frequently can also help achieve a more even char.
Can I make this recipe dairy-free or vegan?
Absolutely! Replace the mayonnaise with a vegan version, skip the cheese, or use a vegan substitute. There are many plant-based alternatives available in markets today.
How do I store leftover Elote?
If you have leftover Elote, remove the toppings, wrap the corn in plastic or aluminum foil, and store it in the refrigerator. When ready to eat, reheat in the air fryer and reapply the toppings.
Can I prepare a batch of Elote for a party?
While Elote is best enjoyed fresh, you can prepare the corn in advance and store it in the refrigerator. Heat the corn in the air fryer when you're ready to serve, and add the toppings.
More Air Fryer Recipes:
Don't Forget To Pin: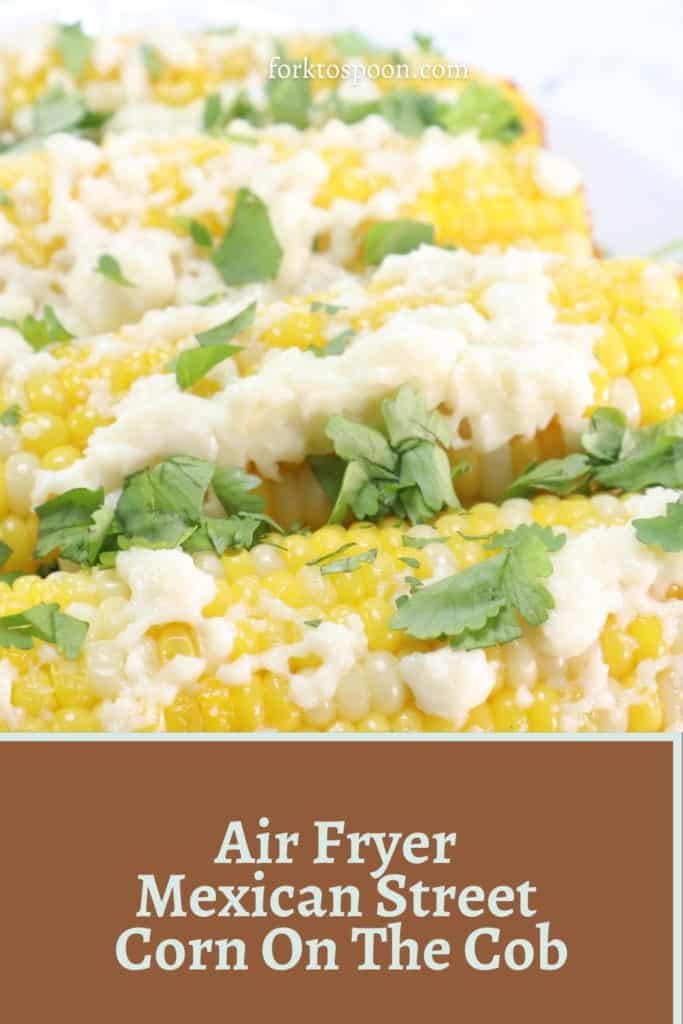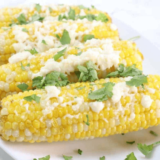 Air Fryer Mexican Street Corn Recipe
Description
Air Fryer Mexican Street Corn Recipe — Tired of spending hours over a hot stove slaving away to make delicious Mexican Street Corn? Now, you can have it ready in minutes with this easy air fryer version.
Ingredients
4

ears

corn

2

tablespoons

olive oil

1/4

cup

Cojita cheese

2

tablespoons

cilantro

,

fresh

salt

,

to taste

pepper

,

to taste
Instructions
Using a pastry brush, brush the oil over the corn—Preheat the oven to 400 degrees F, air fryer setting, for 5 minutes. Then add the corn.

Place the corn on the cob into the air fryer basket, and set the time for 10 minutes, flipping the corn about halfway during the cooking process.

Then sprinkle the cheese over the corn on the cob, and air fry for another 2 to 3 minutes, until the cheese starts to melt.

Plate, serve, and enjoy!
Equipment
Air Fryer

Cooking Spray

Parchment Paper
Nutrition
Serving:
1
Serving
Calories:
83
kcal
Carbohydrates:
0.5
g
Protein:
2
g
Fat:
8
g
Saturated Fat:
2
g
Polyunsaturated Fat:
1
g
Monounsaturated Fat:
5
g
Cholesterol:
4
mg
Sodium:
55
mg
Potassium:
10
mg
Fiber:
0.03
g
Sugar:
0.1
g
Vitamin A:
57
IU
Vitamin C:
0.1
mg
Calcium:
81
mg
Iron:
0.1
mg