Air Fryer Zucchini Brownies –Air Fryer Zucchini Brownies for a zucchini-loving crowd. It's not just brownies that you can make in an air fryer. These treats are moist and delicious with a light zucchini flavor.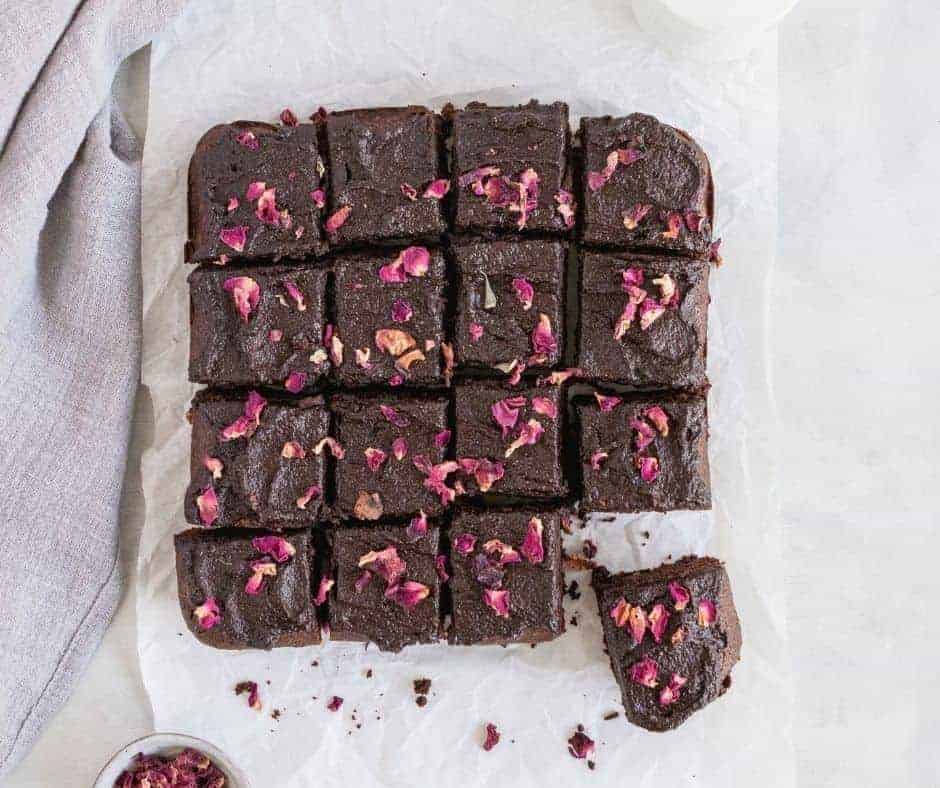 Air Fryer Zucchini Brownies are a delicious air fryer dessert. Chocolate frosted zucchini brownies will dress up any dessert table. This is a super easy homemade brownie recipe that is loaded with zucchini.
Head out and harvest your zucchini in the garden, and come indoors and whip up a chocolate zucchini brownie that will win over the whole family—a great way to sneak veggies into your dessert.
I will be honest with you, my kids ate these for an after-school treat and didn't even know that they had a trace of zucchini in them!
Are you looking for more Air Fryer Zucchini Recipes for Zucchini Season? Some of my favorites are AIR FRYER ZUCCHINI CHEDDAR SAVORY MUFFINS, AIR FRYER ZUCCHINI BACON CHEDDAR SCONES, and AIR FRYER PARMESAN ZUCCHINI FOIL PACKET.
Ingredients For Zucchini Brownies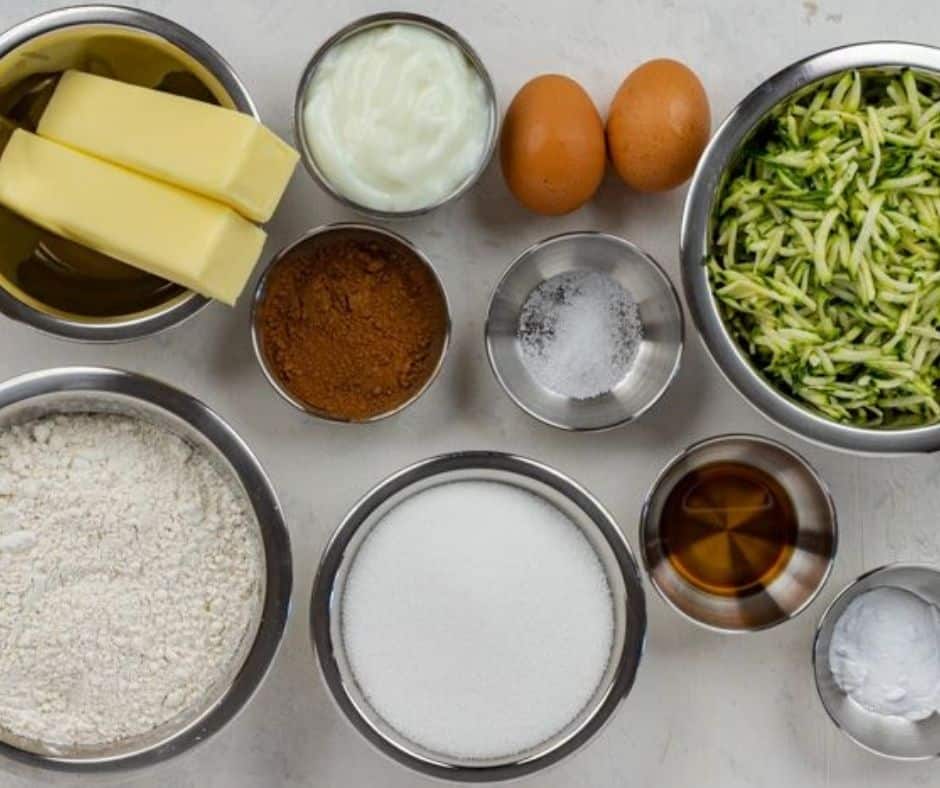 Butter – unsalted. If you use salted, omit the salt in recipe.
Granulated sugar
Eggs
Plain yogurt
Vanilla
Flour
Cocoa powder
Baking Soda
Salt
Shredded Zucchini
Chocolate Chips
Peanut Butter
How to Make Air Fryer Zucchini Brownies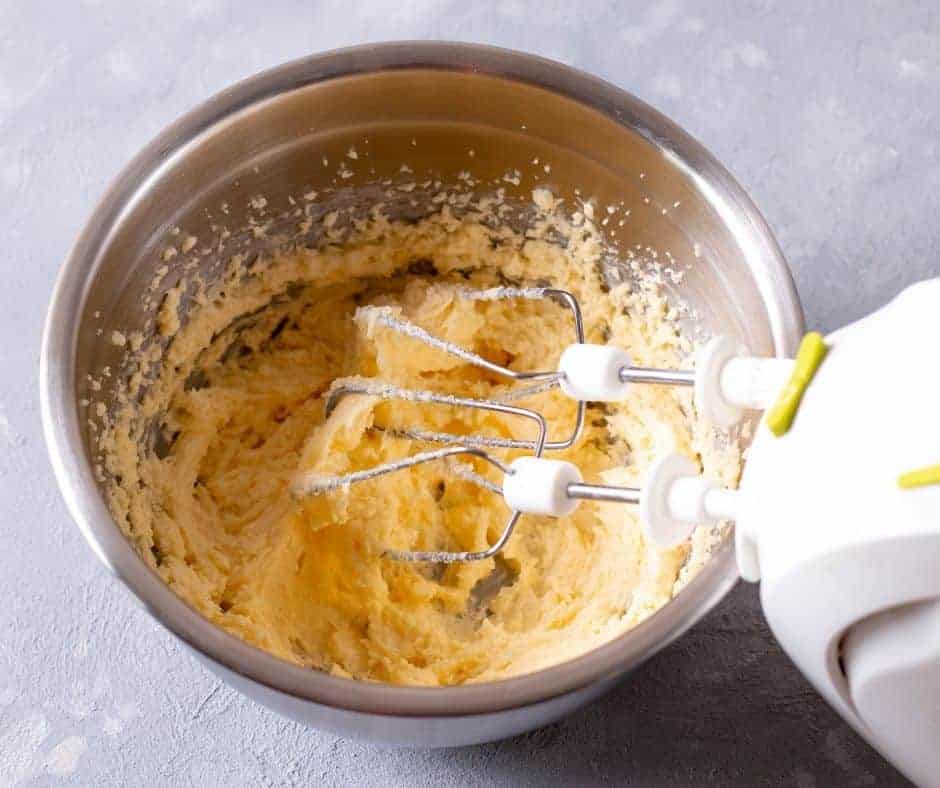 To make these brownies, you will start by creaming your butter and sugar together. Incorporate the eggs, yogurt, and vanilla.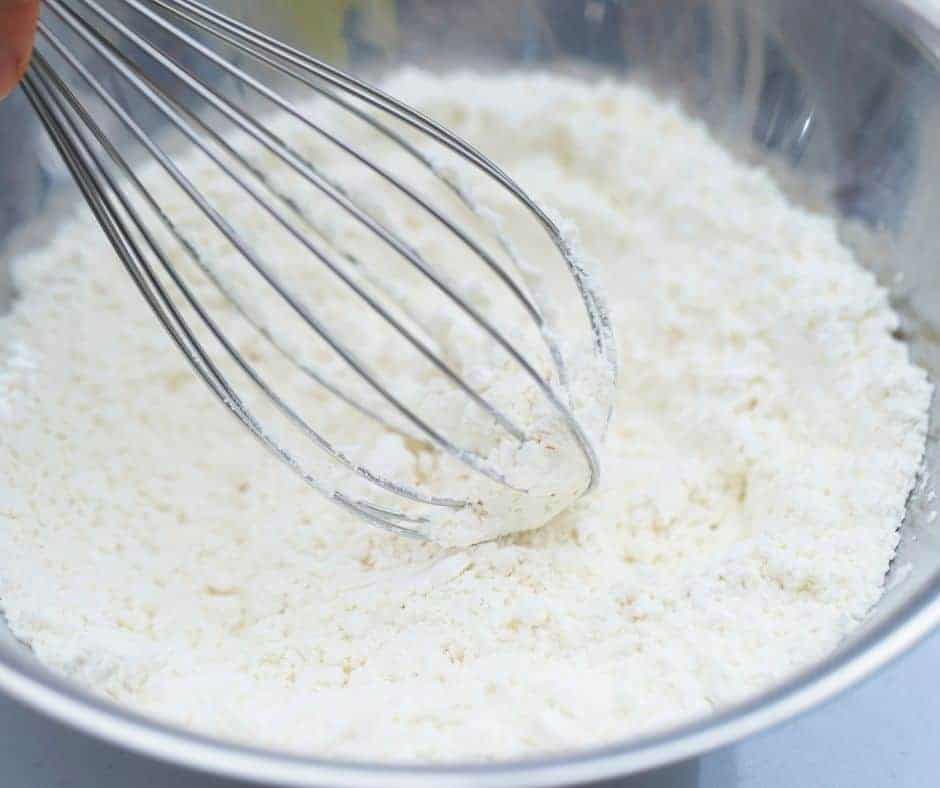 Now you will add all your dry ingredients into a small bowl. Once well mixed, slowly add the dry into the wet.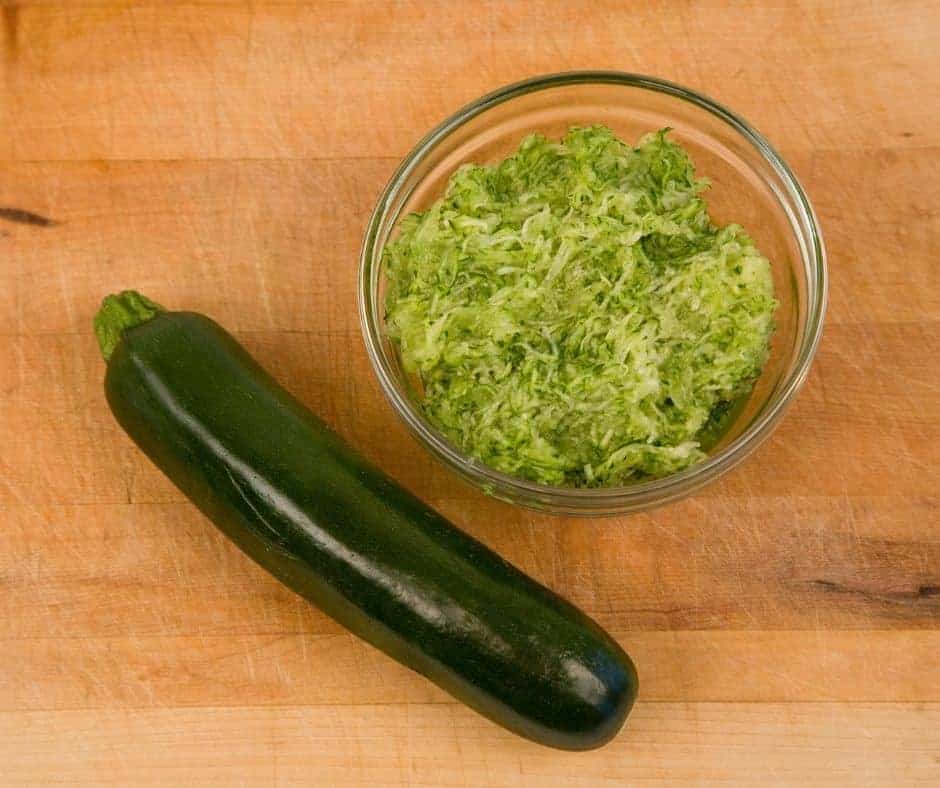 Fold in your shredded zucchini. Spray your pan and pour the brownie batter into the pan.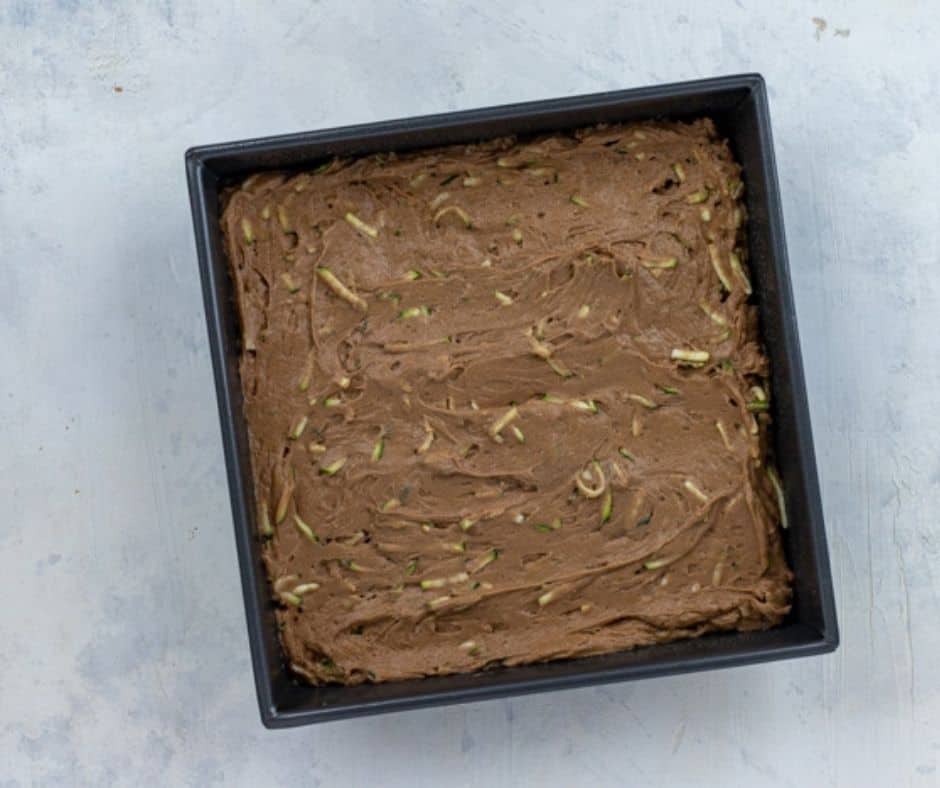 Air fry for 20-30 minutes or until the brownies are fully cooked. Once done, remove and place on a cooling rack.
For the frosting, melt your chocolate chips and peanut butter together. You will heat until fully melted and the mixture is smooth. Spread over your brownies and allow them to cool.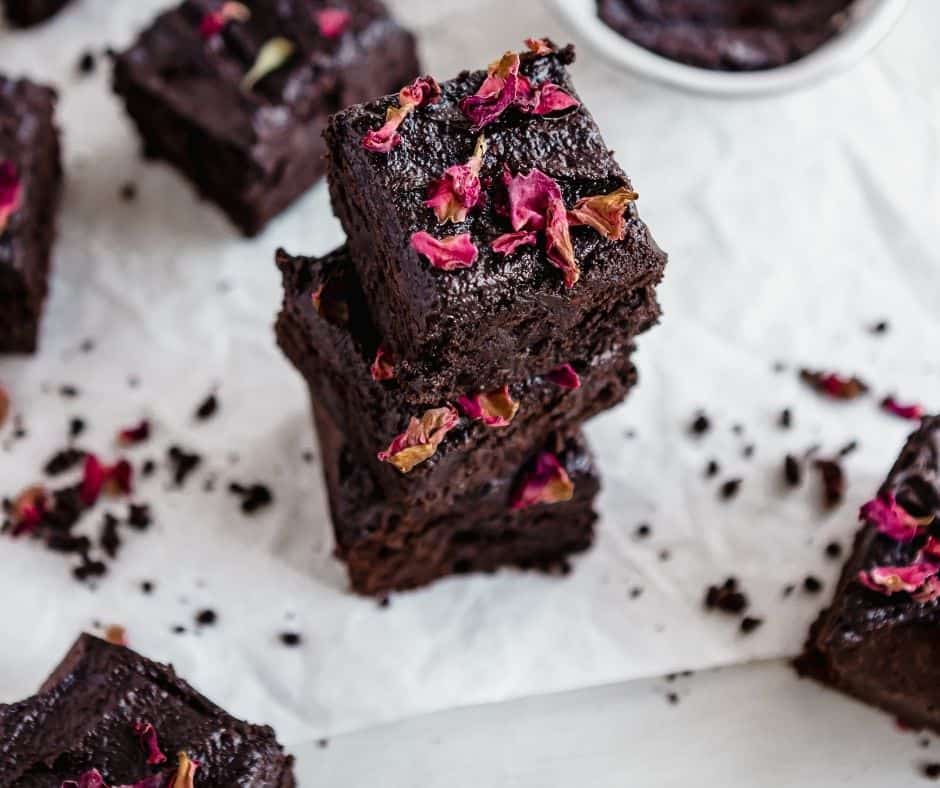 Do I Need to Peel Zucchini For Baking
The skin on zucchini is fragile, so you do not need to peel the skin before you shred it. Go right ahead and slice the zucchini with the peel on. It will not affect the flavor or texture of the brownies.
Then measure and use as you would for any recipe.
Do zucchini brownies need to be refrigerated?
I recommend refrigerating your brownies, as they will store the best-refrigerated ones. The homemade brownies will keep for 4-5 days in the fridge.
Just make sure that you keep them covered in an airtight container or wrap them well in aluminum foil.
How to pick zucchini?
Smaller or medium zucchini offer more moisture where larger zucchini tend to be drier and the flavor will not be as crisp.
Look for brightly colored zucchini. Avoid zucchini that has blemishes or bruising.
You want to ensure the zucchini feels firm in the hand, if you gently squeeze. If you find it is soft or offers a rubbery texture, the zucchini is spoiled or close to it.
Tips for Making Air Fryer Zucchini Brownies
Grate your zucchini into fine pieces. If they are larger chunks it will alter the flavor and be a lot more noticeable in the brownies.
Use a toothpick to stick in the center of the brownies to make sure they are fully cooked. If the batter comes out wet, the brownies need a bit more time in the air fryer.
All air fryers cook differently so use the cooking time as a guide.
If you are using an air fryer oven, you will want to put the brownies in the center of the air fryer.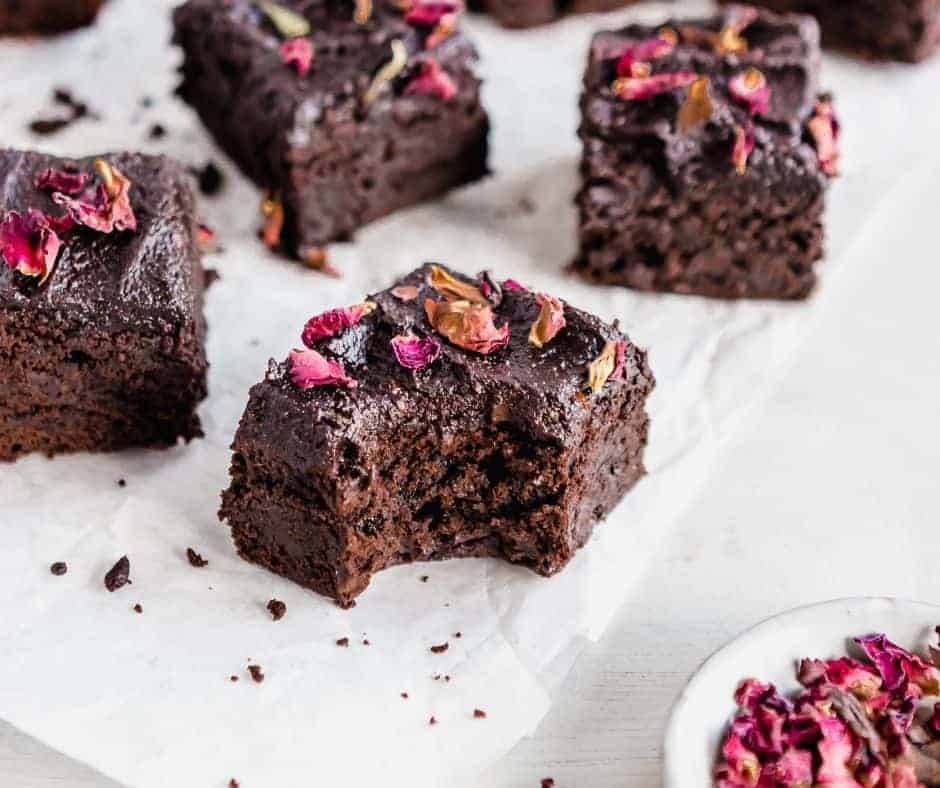 Can I Bake these Brownies in the Oven Instead of Air Fryer
If you don't want to make these easy zucchini brownies in the air fryer, you can bake them in the oven. Mix and prep the same way. Bake in a 350-degree preheated oven for 15-20 minutes or until the brownies are fully baked.
Can I Leave the Frosting off Brownies?
Don't want to spread on the frosting mixture? Go right ahead and skip it if you would like. These brownies are just as tasty with or without the frosting.
Do these brownies freeze well?
Don't plan to eat the brownies right away? You go right ahead and freeze any brownies you don't prepare to eat right away.
Store in a freezer bag or airtight container. They will freeze for 3-4 months. Thaw on the counter or in the fridge the night before you plan to eat.
Check out these other air fryer brownie recipes to give a try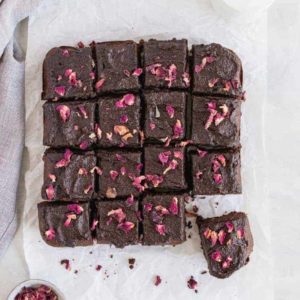 Air Fryer Zucchini Brownies
Description
Serve up a batch of these air fryer zucchini brownies as your weeknight dessert. An easy zucchini frosted brownie recipe. Serve up a batch of these air fryer zucchini brownies as your weeknight dessert. An easy zucchini frosted brownie recipe.
Ingredients
1

cup

butter

,

room temperature

1 1/2

cups

granulated sugar

2

large

eggs

1/2

cup

plain yogurt

1

teaspoon

pure vanilla extract

2 1/2

cups

all-purpose flour

1/4

cup

baking cocoa

1

teaspoon

baking soda

1/2

teaspoon

kosher salt

2

cups

zucchini

,

shredded
Frosting:
2/3

cup

semisweet chocolate chips

1/2

cup

creamy peanut butter
Instructions
In a large mixing bowl, cream the sugar and butter together.

Add the eggs, yogurt, and vanilla, mix well.

In another bowl, add the flour, cocoa, baking soda, and salt. Mix well.

Slowly add the dry mixture into the liquid mixture, and then mix well.

Spray a baking pan with cooking spray, and pour the mixture into the pan, set the temperature to 330 degrees F, air fryer setting for 30-40 minutes, or until a toothpick inserted in the center comes out clean.

Let the brownies cool while you make the frosting.

To make the frosting mix the chocolate chips and peanut butter in a small saucepan. Over low heat, mix until smooth.

Spread the frosting over the brownies, and let cool.
Equipment
Air Fryer

Brownie Pan

Cooking Spray,

or Parchment Paper
Notes
The actual time will depend on what type of air fryer you own and what pan you own. I recommend that you use a thin pan.
Nutrition
Serving:
1
g
Calories:
713
kcal
Carbohydrates:
82
g
Protein:
12
g
Fat:
40
g
Saturated Fat:
21
g
Polyunsaturated Fat:
3
g
Monounsaturated Fat:
13
g
Trans Fat:
1
g
Cholesterol:
110
mg
Sodium:
564
mg
Potassium:
389
mg
Fiber:
4
g
Sugar:
46
g
Vitamin A:
861
IU
Vitamin C:
6
mg
Calcium:
64
mg
Iron:
4
mg