This remoulade sauce is the perfect topping for seafood, chicken, or even fries! It's quick and easy to make, and you can customize it to your liking. So go ahead and give it a try – you won't be disappointed!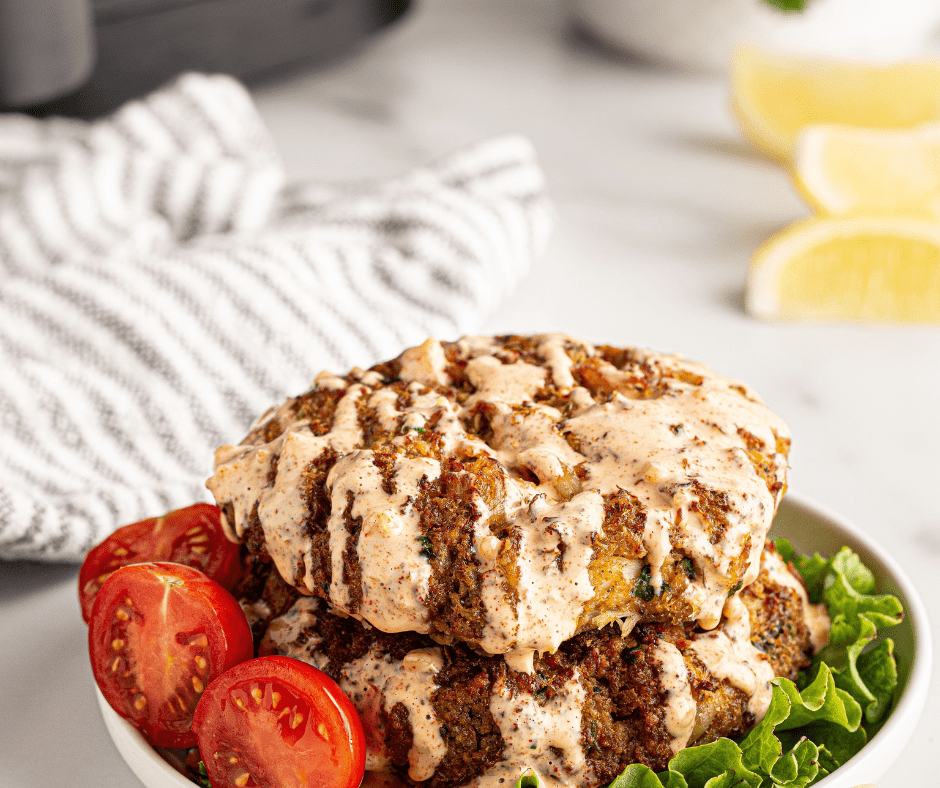 Most people are familiar with remoulade sauce, but might not know how to make it at home. This is a simple recipe that anyone can follow, and the results will be a delicious and tangy sauce that is perfect for seafood, chicken, or even as dip. Give this recipe a try today!
As always the full recipe and ingredient amounts are in the recipe card below.
What Is Remoulade Sauce?
Typically, no one actually knows what it is called, and it is often referred to as the orange sauce that goes with the crab cakes. (which is what a reader asked me) Remoulade Sauce is a French sauce that tastes almost like tartar sauce with the same base ingredients of mayonnaise, herbs, dill pickles, and capers.
But when Remoulade Sauce came to America, we started to add creole seasoning and hot sauce. You add a deep orange to the sauce during the white sauce, depending on how much hot sauce and seasonings you add.
This is a perfect sauce that you can serve alongside air fryer salmon cakes, Air Fryer French fries, fresh lump crab meat, Blue Crabs, or Maryland crab cakes
Why You Should Make Remoulade Sauce
For those unfamiliar, remoulade sauce is a tangy, savory condiment made with mayonnaise, mustard, and herbs. It packs a delicious punch on sandwiches and salads, but its true magic lies in its versatility as a dip. From fried shrimp to boiled potatoes, remoulade adds fabulous flavor to any type of seafood or vegetable dish. It's also quick and easy to make – all you need is a bowl and a whisk! Why not try whipping up a batch next time you're looking for a flavorful addition to your meal? You won't regret it. Plus, homemade sauces are always a hit at gatherings and parties. Impress your friends with this sophisticated yet simple recipe – they'll be asking for the secret ingredient. So give remoulade sauce a try – you won't be disappointed.
This will soon be your favorite crab cake sauce recipe!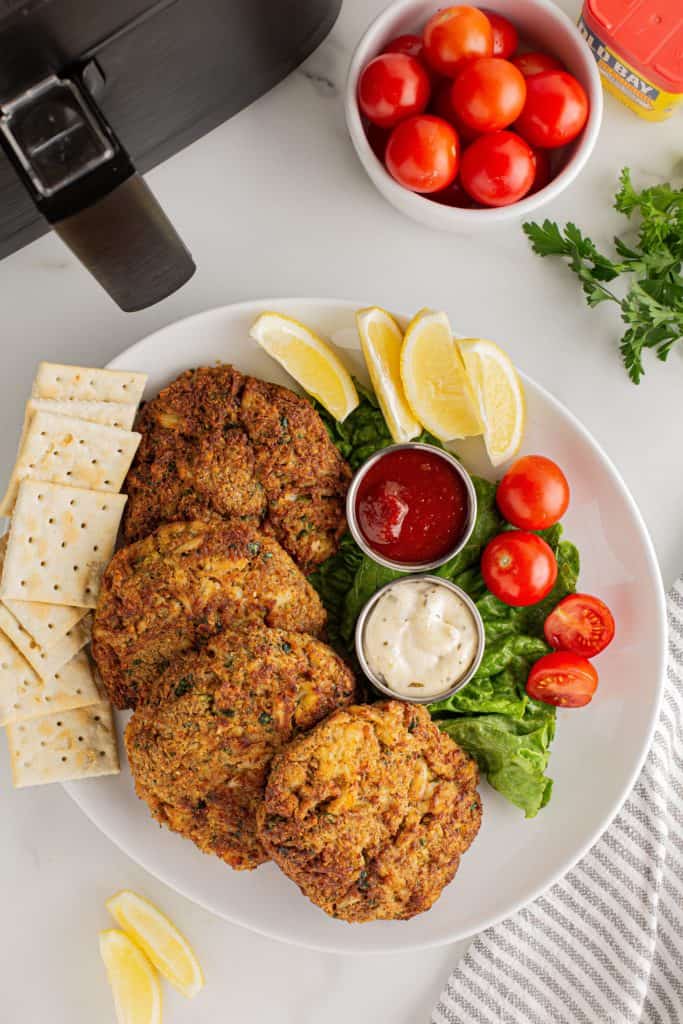 How To Use Remoulade Sauce
Remoulade sauce is a versatile condiment that can be used in a variety of dishes. It adds a delicious tangy kick to fried seafood, such as shrimp or oysters. It also pairs well with salads or cold cuts for sandwiches and charcuterie boards. In French cuisine, it is often used as a condiment for beef tartare or crab cakes. Remoulade can also be used as a dip for vegetables or spread onto burgers and sandwiches. Experiment with different flavors by adding herbs, spices, and other ingredients to customize the taste to your liking. Whether you serve it as an accompaniment or incorporate it into your dish, remoulade sauce is sure to add flavor and excitement to any meal.
Ingredients Needed For Homemade Remoulade Sauce Recipe
If you're in the mood for a tangy, flavorful sauce to add some extra zing to your meal, look no further than remoulade. This French-inspired sauce is traditionally used as an accompaniment for seafood dishes, but can also be used as a spread or dip for vegetables or meats.
The base of the sauce is typically mayonnaise, which is then mixed with mustard, vinegar, or lemon juice, and herbs and spices such as Worcestershire sauce, paprika, cayenne pepper, and parsley. For an added touch of sweetness and texture, some recipes also call for diced pickles or cornichons, onions, and capers. With its versatile flavor profile and endless possibilities for customization, it's no wonder remoulade has become a beloved condiment across the culinary world. So whip up a batch of this delicious sauce and add some extra pizazz to your next meal. Bon appetit!
How To Make Remoulade Sauce
In a large bowl, mix all of the dry ingredients. For best results, then fold in the wet ingredients. Refrigerate for about 30 minutes before serving.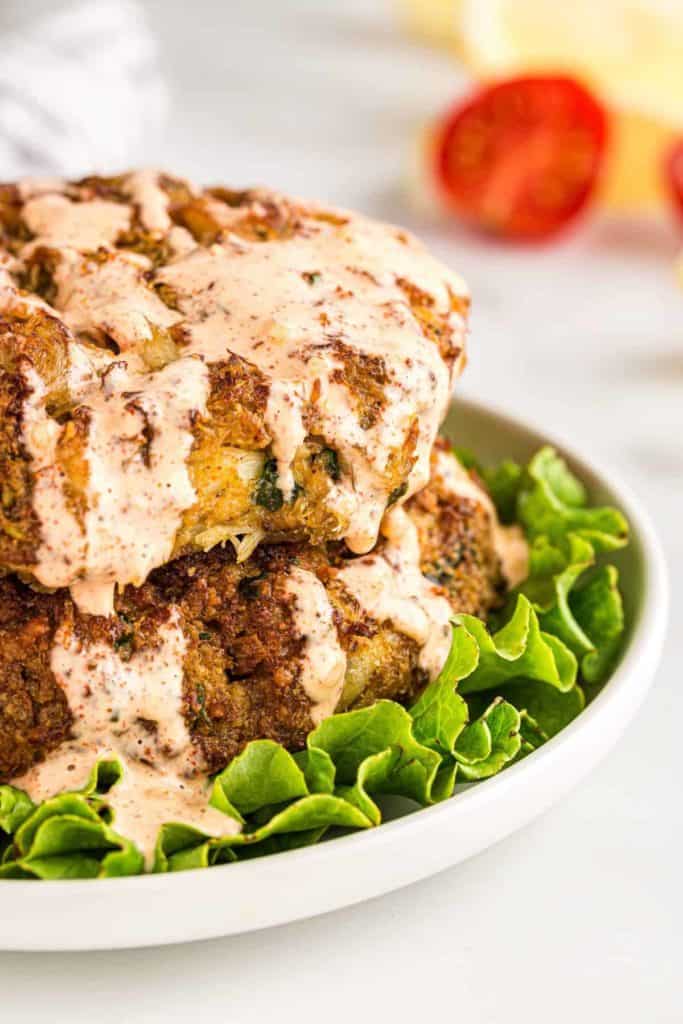 How To Use The Sauce
How To Store The Sauce
If you have any sauce left over, place the sauce into an airtight container, or cover it tightly with plastic wrap and then place it into the refrigerator.
The sauce will last for 2 to 3 days, after that dispose of the sauce.
What Else Can You Serve With Crab Cakes?
You can never go wrong with a classic side of lemon wedges, lemon zest, cocktail sauce, green onions, tartar sauce, and coleslaw to serve alongside your homemade crab cakes.
But if you're looking for something a little more creative, try pairing them with roasted asparagus or green beans – the slight crunch pairs well with the crispy crab cakes. Adding some citrus elements, such as an orange-infused couscous, green salad, or citrus salad, can also add brightness to the dish. For a heartier option, serve the crab cakes with roasted potatoes or a quinoa vegetable medley. Whichever sides you choose, make sure to have plenty of napkins on hand for messy eating – it's all part of the delicious experience!
The Best Air Fryer Crab Cake Recipes
The air fryer is the perfect cooking tool for crab cakes, producing a crispy exterior while locking in all of that delicious flavor
Some of my favorite recipes are:
More Air Fryer Homemade Sauce Recipes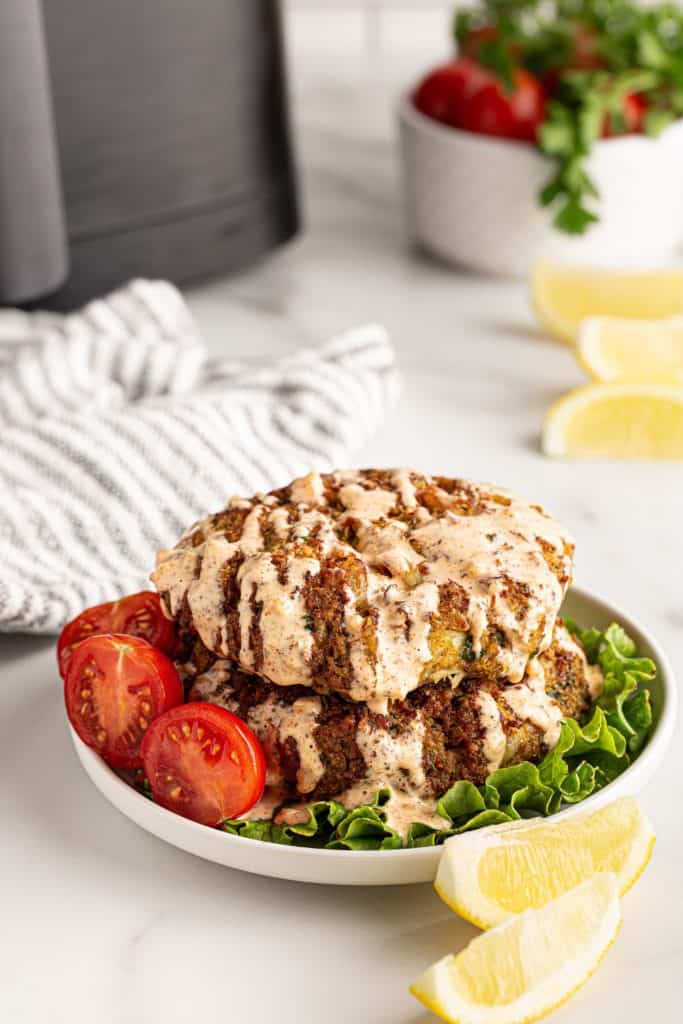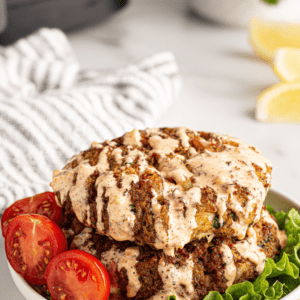 Remoulade Sauce
Description
This is a great homemade sauce to serve with everything seafood and everything else! This creates a great dipping sauce; the entire family will love!
Ingredients
1

cup

mayonnaise

1/4

cup

Dijon mustard

1/2

tablespoon

paprika

1

teaspoon

creole seasoning

1

teaspoon

sweet pickle juice

1

teaspoon

hot sauce

1

teaspoon

minced garlic
Instructions
In a small bowl, mix all of the ingredients. For best results, refrigerate for about 30 minutes before serving.
Nutrition
Serving:
1
g
Calories:
14
kcal
Carbohydrates:
0.1
g
Protein:
0.05
g
Fat:
1
g
Saturated Fat:
0.2
g
Polyunsaturated Fat:
1
g
Monounsaturated Fat:
0.3
g
Trans Fat:
0.004
g
Cholesterol:
1
mg
Sodium:
20
mg
Potassium:
2
mg
Fiber:
0.03
g
Sugar:
0.02
g
Vitamin A:
10
IU
Vitamin C:
0.1
mg
Calcium:
1
mg
Iron:
0.01
mg