French fries are a classic side dish, but they can also be elevated with the right seasoning. If you love homemade french fries or frozen fries, but wanted to add some extra flavor, here is a recipe for you, and it's so easy! And it's full of flavor! So the next time you want to make some fresh fries, whip up this seasoning mix! You can thank me later!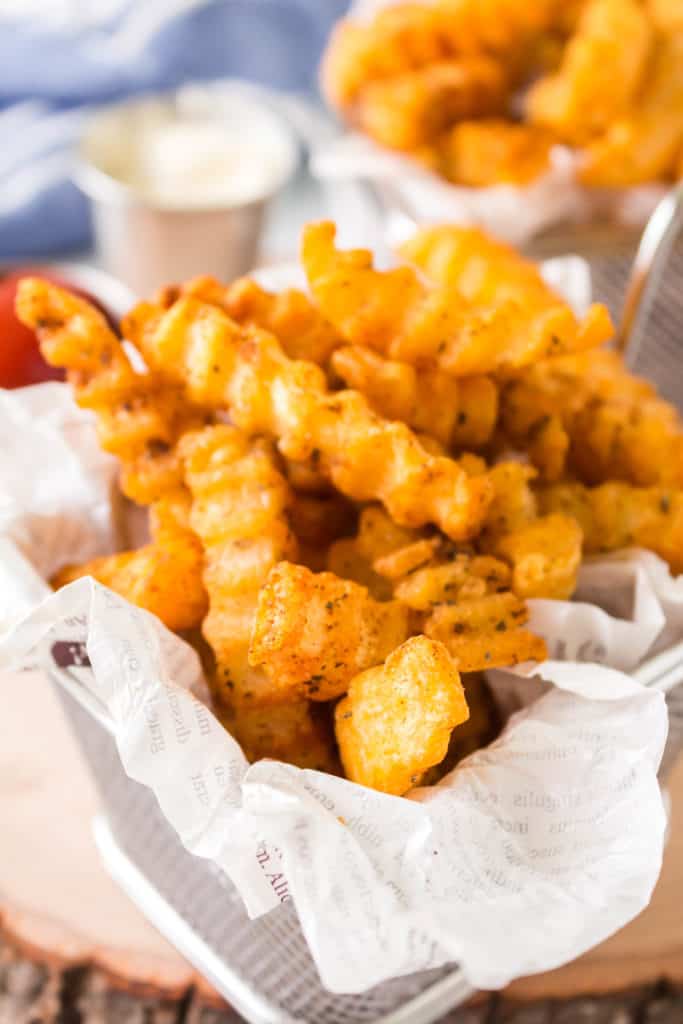 French fry seasoning is a delicious addition to any French fry dish. The combination of herbs and spices adds depth and flavor to the fried potato slices, elevating them from a simple side dish to a crave-worthy snack. Popular French fry seasoning blends often include garlic powder, onion powder, paprika, and black pepper.
However, you can also experiment with adding your own favorite herbs and spices for a unique twist on the classic seasoning mix. Sprinkle French fry seasoning on hot French fries straight out of the fryer for maximum flavor, or use it as a dry rub for French fry-inspired dishes like chicken or roasted vegetables. Whether it's store-bought or homemade, French fry seasoning is an easy way to add bold flavor to your next French fry treat.
Homemade French Fry Seasoning Recipe
Do you love the flavor of seasoned French fries, but hate all the preservatives and chemicals in store-bought varieties? Homemade seasoning is the perfect solution!
Through years of experimenting with different flavor combinations, I have finally perfected my homemade French fry seasoning recipe. It combines the classic flavors of garlic powder and paprika with a touch of cayenne for an added kick. But my secret ingredient is smoked sea salt, which adds a delicious smoky depth to the fries. Just sprinkle it on hot, freshly cooked fries and enjoy. It's also great for adding an extra burst of flavor to oven-roasted potatoes or even popcorn. Trust me, once you try this seasoning blend, you'll never go back to store-bought again. Give it a try for your next batch of sweet potato fries, or homemade fries, and they will even elevate frozen french fries!
I promise you won't be disappointed!
Ingredients In A Traditional French Fry Seasoning
When it comes to seasoning french fries, there are endless options to choose from. However, many traditional recipes rely on just a handful of ingredients to enhance the flavor of crispy fried potatoes. The full recipe is in the recipe card below: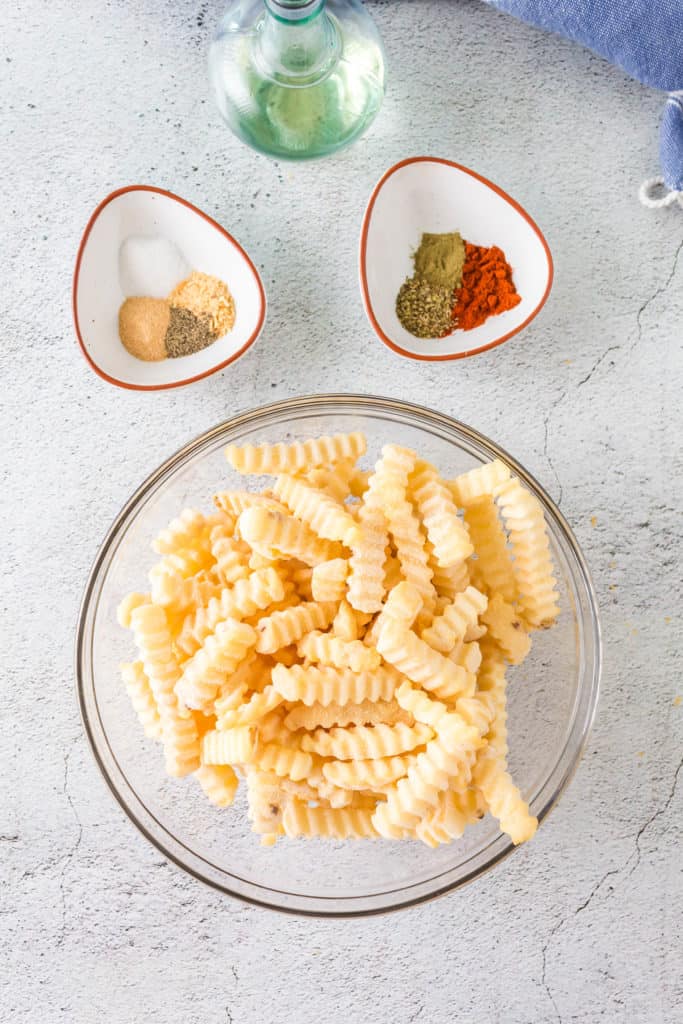 Onion Salt
Paprika
Parsley
Garlic Powder or Garlic Salt
Oregano
Thyme
Basil
Black Pepper
Cayenne Pepper
Kosher Salt –Or in place of salt, you can use seasoning salt
Chili Pepper (Optional)
When to Season French Fries
When it comes to seasoning your French fries, the key is timing. You want to add the Fry Seasoning after the French fries have been cooked and are hot out of the fryer, or air fryer.
This enhances the flavor and ensures that the seasoning sticks to the surface of the fry instead of just sinking to the bottom of the bowl or tray. If you season before cooking, some of the seasonings will likely fall off during the frying process.
How To Store
If you have any leftovers pour the easy french fry seasoning into an airtight container, spice jar, or spice container. The shelf life is about 1-3 years if stored in a dry place. This will soon become a staple in your spice cabinet.
Brands You Can Buy For French Fry Seasoning
If you want to purchase a premade French Fy Seasoning. I can recommend Lawry's Original French Fry Seasoning, which you find on Amazon. It's a great pre-mixed spice blend, that you might want to try. It comes with a flip-top lid, for easy use.
Other Uses For This Seasoning
Other than adding flavor to your French Fries this fry seasoning can also be used in a variety of unexpected ways.
Some of my favorite ways to use this homemade seasoning blend are: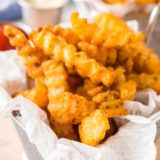 French Fry Seasoning
Description
Everyone always asks me about French Fry Seasoning after putting my recipe for foolproof Air Fryer Homemade French Fries. The best thing about this is that it adds a ton of flavor without much work.
Ingredients
2

teaspoons

onion salt

,

or onion powder

2

teaspoons

paprika

2

teaspoons

parsley

1

teaspoon

garlic powder

,

or garlic salt

1/2

teaspoon

thyme

1/2

teaspoon

basil

1/2

teaspoon

black pepper

1/2

teaspoon

salt

1/4

teaspoon

Cayenne Pepper

,

optional
Instructions
In a small bowl, mix all of the ingredients.

Toss with the French Fries, coating them well.

For best results apply after cooking the French Fries.
Nutrition
Serving:
1
g
Calories:
2
kcal
Carbohydrates:
0.5
g
Protein:
0.1
g
Fat:
0.02
g
Saturated Fat:
0.01
g
Polyunsaturated Fat:
0.01
g
Monounsaturated Fat:
0.003
g
Sodium:
727
mg
Potassium:
11
mg
Fiber:
0.1
g
Sugar:
0.1
g
Vitamin A:
74
IU
Vitamin C:
2
mg
Calcium:
2
mg
Iron:
0.1
mg