Today, I wanted a twist on the traditional air fryer French fries I always make, so I took them up and made a batch of Air Fryer Spicy Chili French Fries.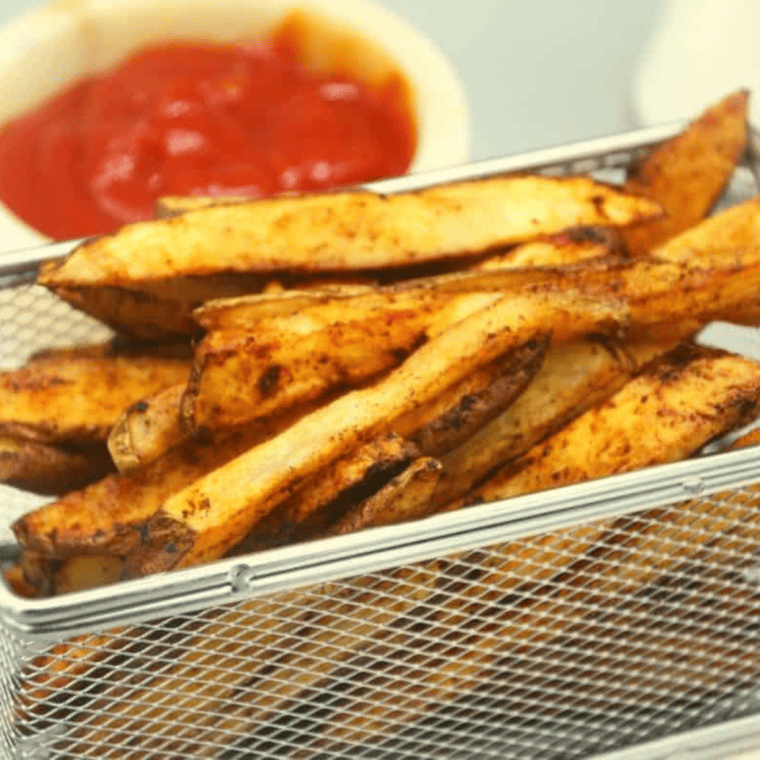 So, if you want to elevate your air fryer French fries, this is the perfect recipe. I love a great batch of crispy air fryer French fries, and they are done in less than 30 minutes from start to finish. And they are so good!
This recipe is perfect if you have been struggling to make homemade French fries. They will taste just like take-out, but so much better. And they are not saturated with oil. Providing you with a healthier alternative makes for a great and easy side dish to any meal!
If you are looking for some other great and easy air fryer side dishes, here are some of my favorites, AIR FRYER TACO BELL COPYCAT NACHO FRIES, AIR FRYER EASY POTATO SKIN RECIPE, AIR FRYER HASSELBACK SWEET POTATOES, and AIR FRYER TWICE BAKED POTATO.
Air Fryer Spicy Chili French Fries
Get ready to take your taste buds on a fiery adventure with these Air Fryer Spicy Chili French Fries. This recipe combines the beloved comfort of crispy fries with a bold and zesty twist. The secret ingredient?
A mouthwatering chili seasoning blend that infuses each bite with a tantalizing kick of heat.
Whether serving these fries as a snack, a side dish, or a game-day favorite, you'll appreciate the perfect balance of crispy, spicy, and utterly delicious.
Plus, thanks to the magic of the air fryer, you'll achieve that coveted crispiness with minimal oil, making these spicy chili fries a healthier indulgence ready in a flash. Get ready to savor the heat and savoriness in every bite!
Ingredients Needed For Air Fryer Spicy Chili French Fries
These ingredients combine to create the perfect spicy chili seasoning for your fries, ensuring a burst of flavor in every crispy bite.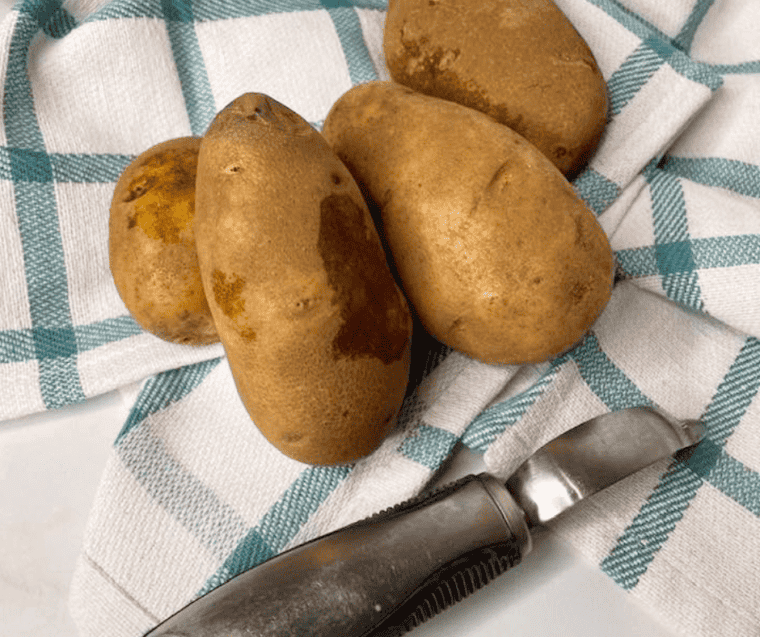 Remember the step-by-step directions and detailed ingredient list are below in the printbel recipe ecard, at the bottom fo the post, and the nutritional information.
Potatoes: Russet potatoes are the show's star, providing the foundation for your crispy fries. These starchy spuds will turn golden brown and crunchy in the air fryer.
Olive Oil: A light drizzle of olive oil helps the seasoning adhere to the fries and promotes even browning while air frying.
Chili Powder: Chili powder adds a bold and spicy kick to the fries. Adjust the amount to your preferred level of heat.
Paprika: Paprika contributes a smoky and slightly sweet flavor to the seasoning blend, enhancing the overall taste of the fries.
Cayenne Pepper: For an extra punch of heat, cayenne pepper delivers that fiery element to the seasoning mix. Adjust the quantity based on your spice tolerance.
Garlic Powder: Garlic powder gives the fries a savory and aromatic dimension, enhancing their overall flavor profile.
Onion Powder: Onion powder complements the garlic powder, adding a subtle oniony note to the seasoning.
Salt: Salt seasons the fries and draws out moisture, promoting crispiness during air frying.
Black Pepper: A pinch of black pepper enhances the flavor by hinting at mild heat and spice.
How To Cook Spicy Chili French Fries In Air Fryer
Prepare to elevate your fry game with a spicy twist! If you're a fan of crispy, golden fries with a kick of heat, you're in for a treat. This guide will walk you through the simple steps to create irresistibly Spicy Chili French Fries in your trusty air fryer.
With a dynamic blend of spices and the magic of air frying, you'll achieve perfectly crispy fries with a fiery chili kick. Whether serving them as a side dish, a snack, or a bold addition to your game-day spread, these fries will surely spice up your culinary repertoire.
Prepare to savor the flavor and enjoy the satisfying crunch of homemade spicy chili fries!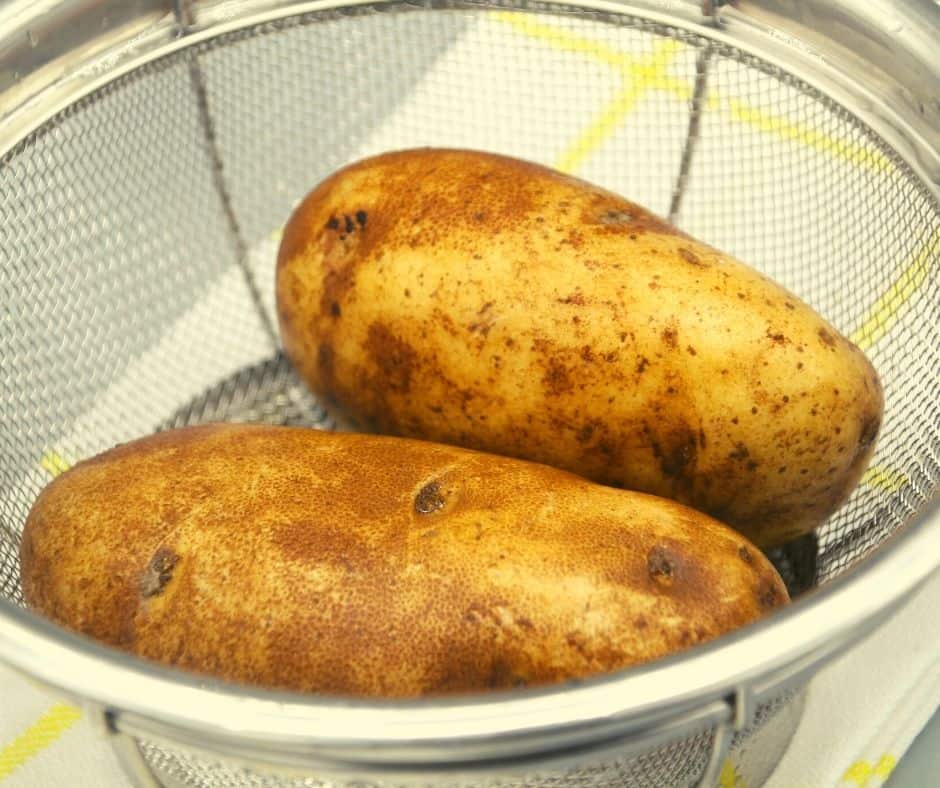 Preheat the Air Fryer: Preheat your air fryer to 375 degrees F (190°C) for about 5 minutes.
Prepare the Seasoning: In a bowl, combine the chili powder, paprika, cayenne pepper, garlic powder, onion powder, salt, and black pepper. Mix well to create your spicy chili seasoning blend.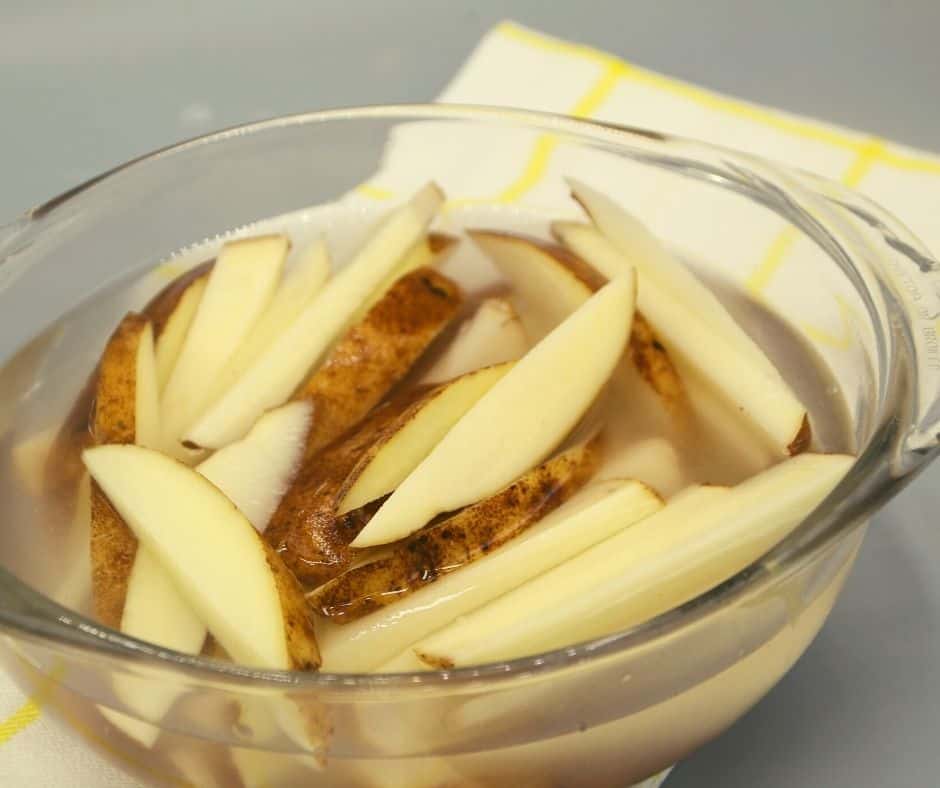 Coat the Fries: Place the cut potato fries in a large bowl. Drizzle the olive oil over them and toss to coat evenly. Sprinkle the spicy chili seasoning mix over the fries and toss again until they are well coated with the seasoning.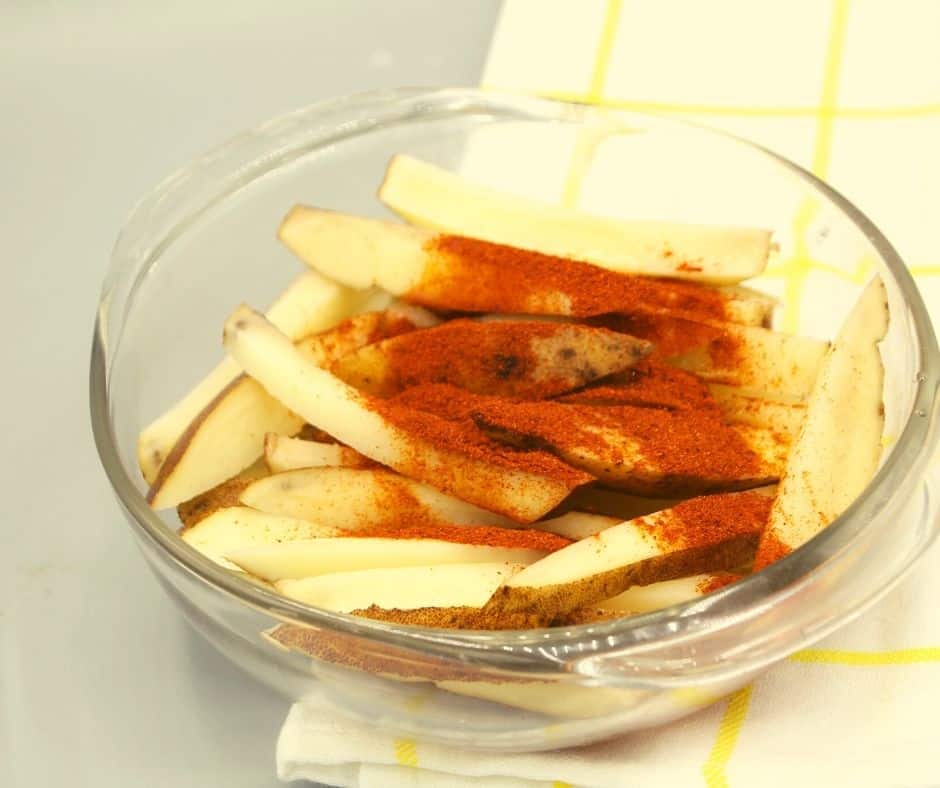 Air Fry the Fries: Carefully arrange the seasoned fries in the air fryer basket in a single layer, ensuring they aren't overcrowded. Cook in batches if necessary. Air fry at 375°F (190°C) with a cook time of 15-18 minutes, shaking the basket or tossing the fries halfway through to promote even cooking.
Check for Doneness: Keep an eye on the fries and cook until they reach your desired level of crispiness. You can adjust the cooking time for softer or extra-crispy fries.
Serve Hot: Remove them from the air fryer once your Spicy Chili French Fries are perfectly golden and crispy. Serve them immediately with your favorite dipping sauce, or enjoy them just as they are.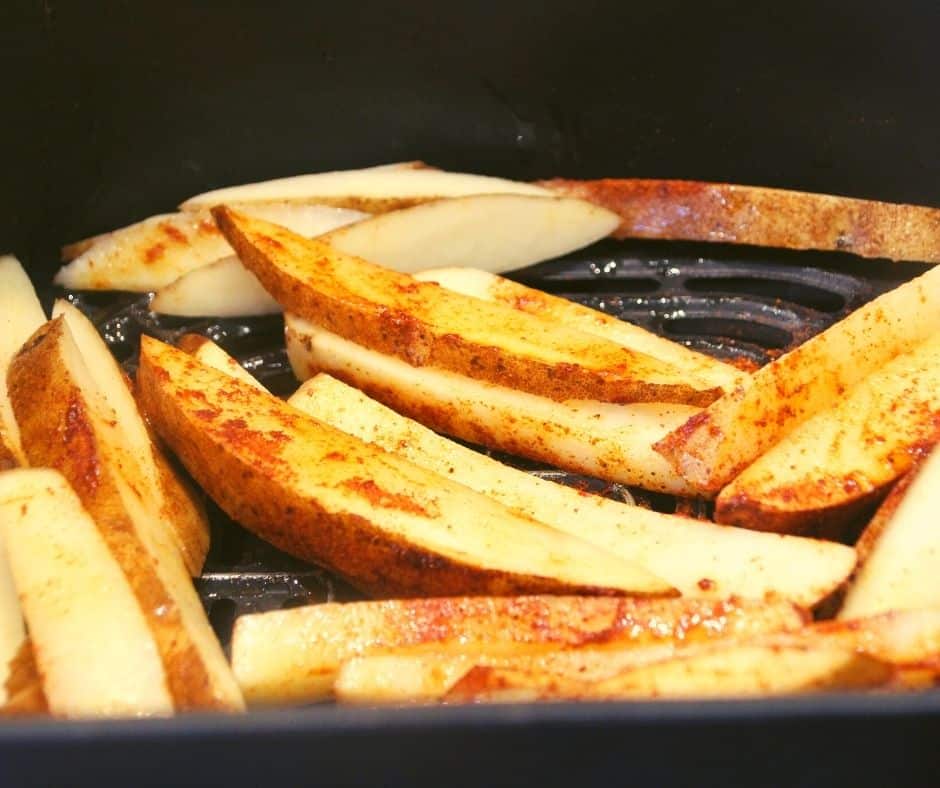 These Spicy Chili French Fries are a delightful fusion of crispy and spicy, making them a flavorful addition to any meal or a fantastic snack. With the air fryer, you'll achieve that restaurant-quality crunch with minimal oil, ensuring a healthier indulgence that's bursting with bold flavors. Get ready to spice up your fry game!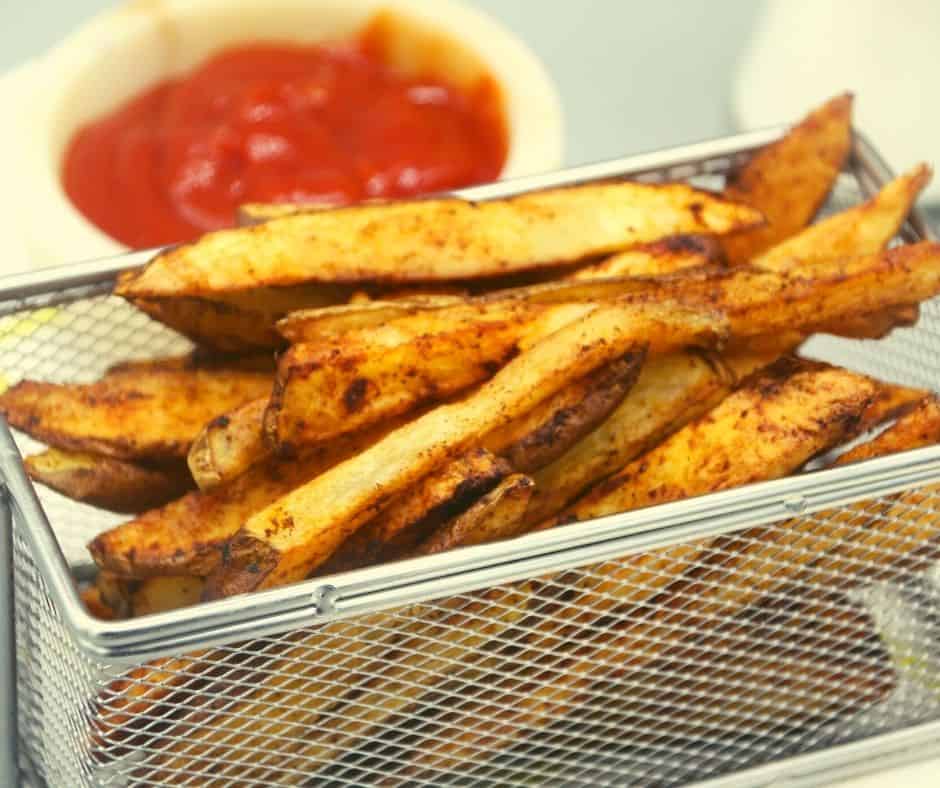 Pro Tips
Evenly Cut Fries: Cut your potato fries into uniform sizes to ensure even cooking. This way, they will all cook at the same rate, resulting in consistently crispy fries.
Soak in Cold Water: After cutting the potatoes, soak them in cold water for about 30 minutes to remove excess starch. This helps achieve a crispier texture.
Dry Thoroughly: Paint the soaked fries dry with a kitchen towel or paper towel before seasoning and air frying. Removing excess moisture is key to achieving crispy fries.
Adjust Spice Levels: The spice level in the chili powder and cayenne pepper can vary depending on brands and personal preferences. Start with the recommended amounts, then adjust to your desired heat level. Remember, you can always add more spice, but you can't take it away.
Preheat the Air Fryer: Preheating the air fryer is crucial to cooking the fries immediately and ensuring even crispiness.
Don't Overcrowd: Avoid overcrowding the air fryer basket. If needed, cook the fries in batches, leaving enough space between them for proper air circulation. Overcrowding can result in uneven cooking.
Shake or Toss: Shake the air fryer basket or toss the fries with tongs halfway through the cooking time. This helps ensure that all sides of the fries get crispy and evenly seasoned.
Check for Doneness: Keep a close eye on the fries during the last few minutes of cooking to prevent overcooking. The exact cooking time may vary depending on your air fryer model and the thickness of your fries.
Serve Immediately: Enjoy the Spicy Chili French Fries right after cooking for the ultimate crispiness and flavor. Fries tend to lose their crispiness as they cool.
Dipping Sauces: Pair your spicy fries with various dipping sauces, like ketchup, mayonnaise, sriracha mayo, or a cooling ranch dressing, to balance out the heat and enhance the overall taste.
Following these pro tips, you'll master the art of making Spicy Chili French Fries in the air fryer, ensuring they turn out perfectly crispy, spicy, and oh-so-delicious. Get ready to delight your taste buds!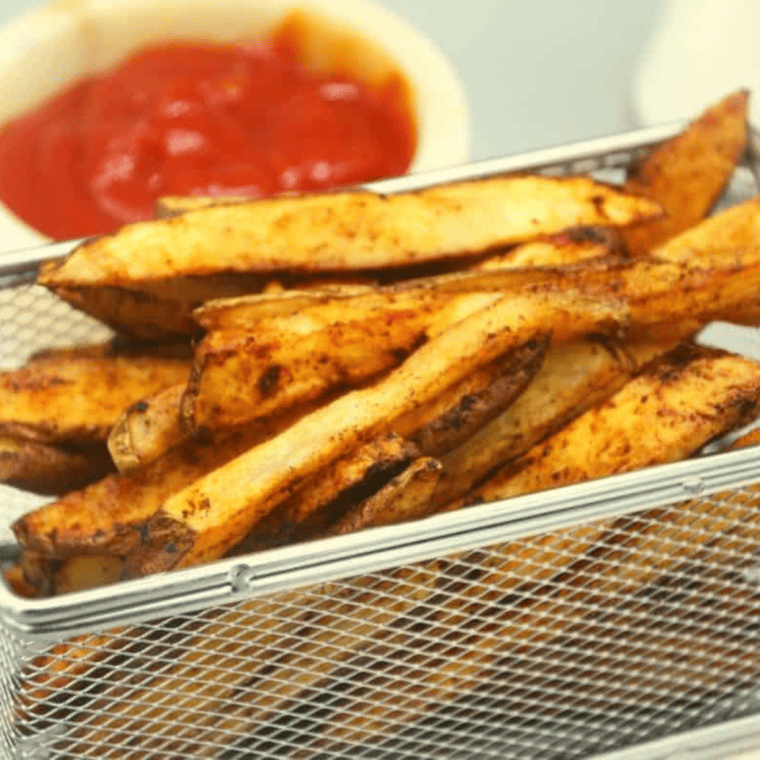 FAQ's:
Can I use other potato varieties for these fries?
While russet potatoes are commonly used for fries due to their starchy texture, you can experiment with other varieties like Yukon Gold or sweet potatoes for a unique twist on this recipe.
Can I make these fries without the spicy seasoning?
Absolutely! If you prefer non-spicy fries, omit the chili powder and cayenne pepper from the seasoning mix. You'll still have delicious homemade fries.
How do I store and reheat leftover fries?
Place leftover Spicy Chili French Fries in an airtight container in the refrigerator to store them. To reheat and maintain their crispiness, use the air fryer at a lower temperature (around 325°F or 160°C) for a few minutes until heated through.
Can I use frozen pre-cut fries for this recipe?
While it's best to use fresh-cut potatoes for optimal results, you can use frozen fries. However, adjust the cooking time and follow the package instructions for your frozen fries.
What dipping sauces go well with these fries?
These spicy fries pair wonderfully with classic dipping sauces like ketchup, mayonnaise, or a zesty aioli. You can get creative with sriracha mayo, barbecue sauce, or a cooling cucumber yogurt dip.
Can I make a milder version for kids or those who don't like spice?
Certainly! Reduce or omit the cayenne pepper entirely to make a milder version of these fries. You can always customize the spice level to suit everyone's taste.
How can I make the fries extra crispy?
To make the fries extra crispy, ensure you thoroughly dry the potato slices after soaking them in water. Additionally, make sure not to overcrowd the air fryer basket and shake or toss the fries halfway through the cooking time for even crispiness.
More Air Fryer Recipes
Air Fryer Spicy Chili French Fries
Description
This is such an easy and foolproof way to make seasoned fries. Today I used a special Chorizo Spice Blend, but change it for your favorite spices.
Ingredients
2

large

Russet Potatoes

2-3

Tablespoons

Olive Oil

1

teaspoon

salt

1/2

teaspoon

black pepper

2

teaspoons

Chorizo Chili Spice Blend
Instructions
Start by washing your potatoes with a scrub brush, and then dry them. Using a Mandoline slicer or use a sharp knife, slice your potatoes into French fries. You can choose whatever thickness you want, but try to get them all the same size so they air fry simultaneously.

Place the sliced French fries into an ice-cold water bath for about an hour.

Then spray your basket with olive oil, and preheat the air fryer at 375 degrees F (air fryer setting) for about 5 minutes.

Drain your French fries, and then add them to a large mixing bowl. Mix in the olive oil, salt, black pepper, and chorizo chili spice blend. Make sure to coat each French fry, so they all crisp up.

Place the French fries into a single layer into the air fryer basket and the air fryer for about 12-15 minutes. The exact time will depend on the thickness of the French fries and what air fry you own. But remember to shake the basket a few times while your fries are air frying.

Plate, serve, and enjoy!
Equipment
Air Fryer

Cooking Spray

Parchment Paper,

optional
Nutrition
Serving:
1
Serving
Calories:
146
kcal
Carbohydrates:
33
g
Protein:
4
g
Fat:
0.1
g
Saturated Fat:
0.05
g
Polyunsaturated Fat:
0.1
g
Monounsaturated Fat:
0.003
g
Sodium:
9
mg
Potassium:
769
mg
Fiber:
2
g
Sugar:
1
g
Vitamin A:
2
IU
Vitamin C:
11
mg
Calcium:
24
mg
Iron:
2
mg