There is nothing better than a low-carb version of your favorite chicken recipe, and this chicken recipe will not disappoint. If you have been looking for the perfect Keto Southern Air Fryer Drumstick Recipe, this is it!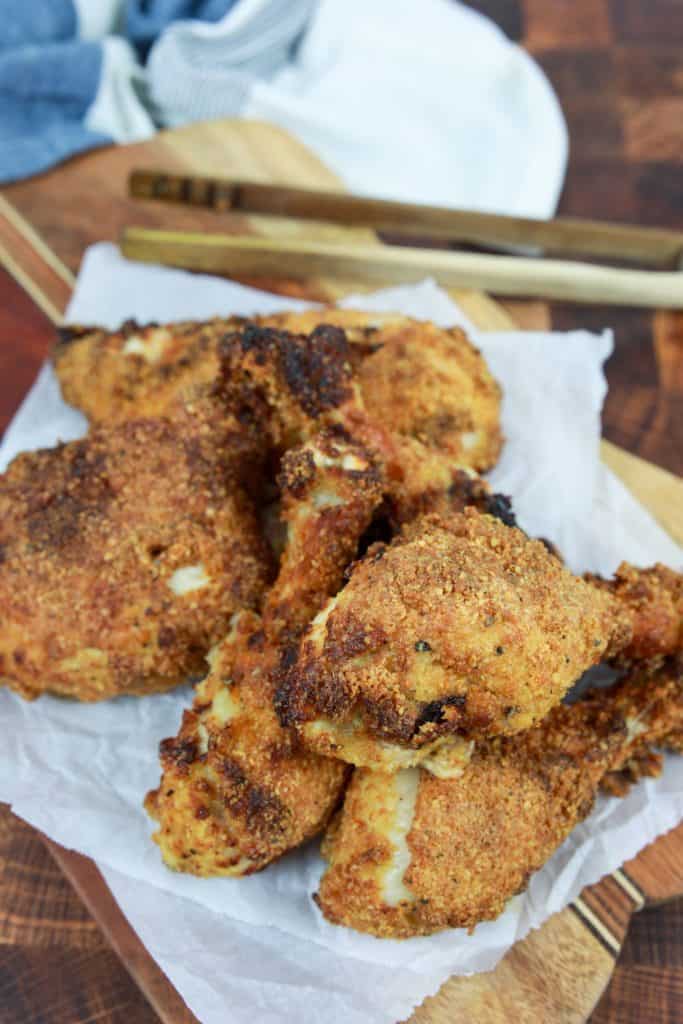 This is a version of my top-rated recipe for Air Fryer Southern Fried Chicken, with just a few replacements, and it's low carb, paleo, gluten-free, and only a few net carbs per serving! The good news is that it still has the same flavors, with crispy skin and juicy and tender chicken!
It's the perfect dinner, lunch, or snack! While staying on your ketogenic plan!
The Best Keto Air Fryer Chicken Drumsticks Recipe
Drumsticks are a versatile, family-friendly dish that are quick and easy to make in the keto Southern style. Using an air fryer makes them crispy without the need for oil or extra fat, giving you a keto-friendly fried chicken dinner that's packed with flavor. Try this recipe for keto Southern drumsticks, and serve with traditional Southern sides like corn on the cob, greens, or a loaded baked potato!
Ingredients Needed For Crispy Air Fryer Chicken Drumsticks
Forget about deep-frying chicken and prepare to conjure up the most delicious crispy meal using your trusty air fryer! Crispy chicken drumsticks cooked in an air fryer are sure to be the talk of your next cookout; they're a healthier alternative to their deep-fried counterparts, low in fat but still big in flavor. Prepare to whip up some flavorful fried food with just a few simple ingredients. With this guide, you'll learn everything you need to create the juiciest, crunchiest batch of air fryer drumsticks that everyone is sure to love.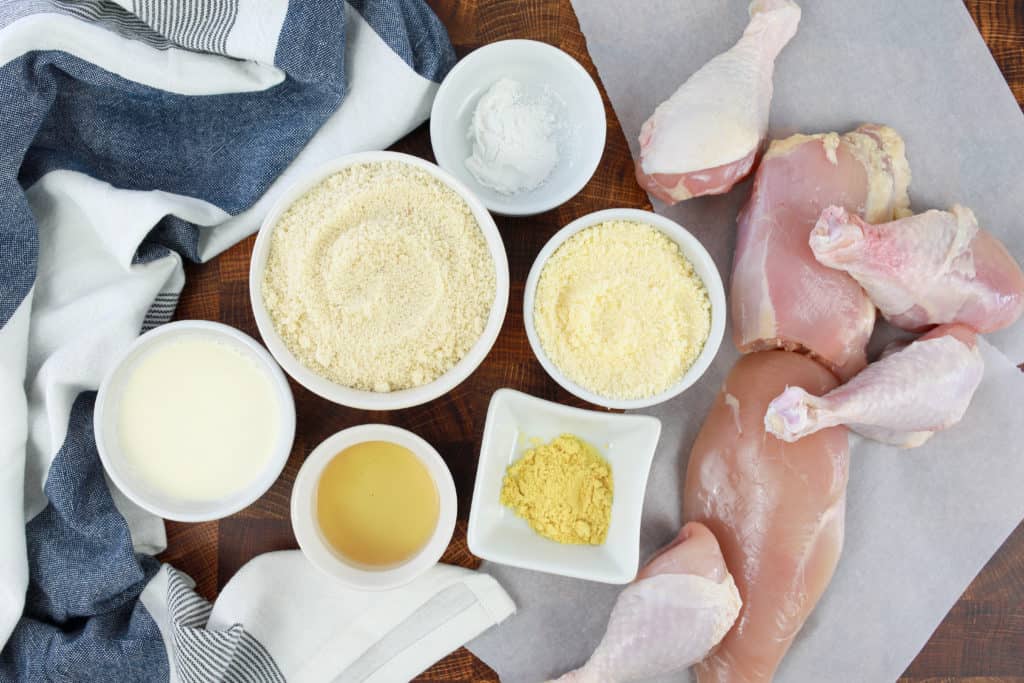 Remember all of the step-by-step instructions and exact measurements are below in the printable recipe card, as well as the nutritional information.
Chicken: You can use regular chicken drumsticks or chicken legs. The skin on or off
Pork Rinds: User regular or seasoned crushed pork rinds
Flour: Use coconut flour or almond flour
Egg: Use large room temperature eggs
Seasonings and Spices: Paprika, Ground Ginger, Garlic Powder, Kosher Salt, Black Pepper, Dried Oregano, Mustard Powder
How To Cook Keto Southern Drumsticks In Air Fryer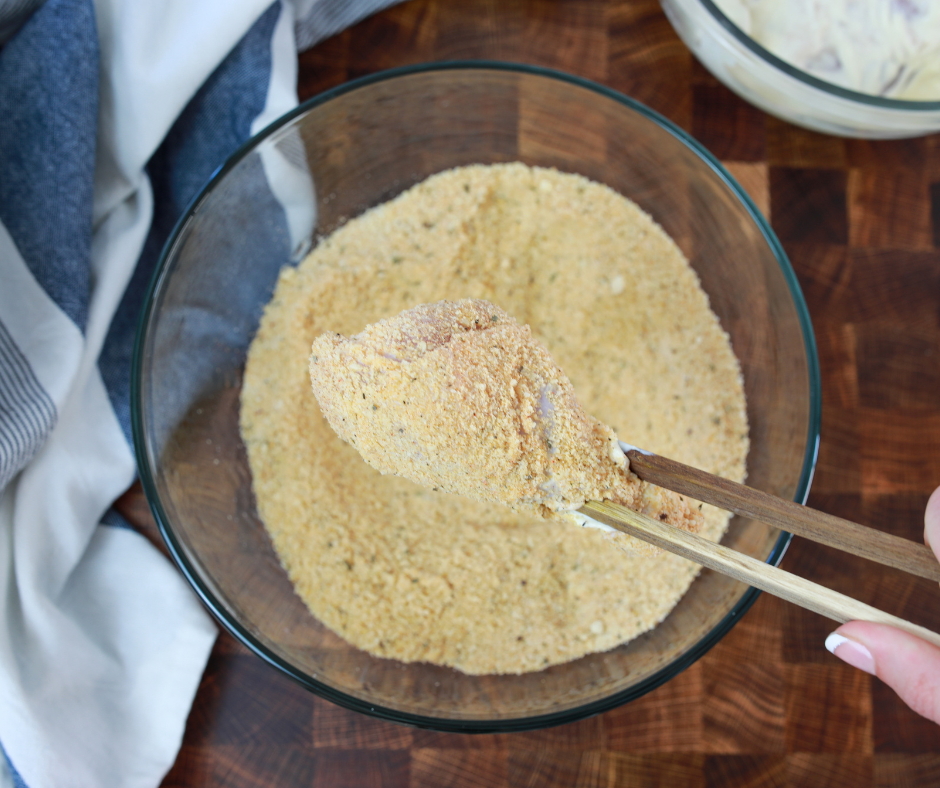 Step One: Preheat The Air Fryer
Start by preheating the air fryer to 350 degrees F; brush the air fryer basket with cooking spray or brush with olive oil. Let heat up for 5 minutes.
Step Two: Prepare The Dredging Stations
In a large bowl, crack the eggs, and use a fork to whisk. In another large bowl, or shallow bowl, make the pork rind mixture: Add the pork rinds, almond flour, and seasoning, and mix well.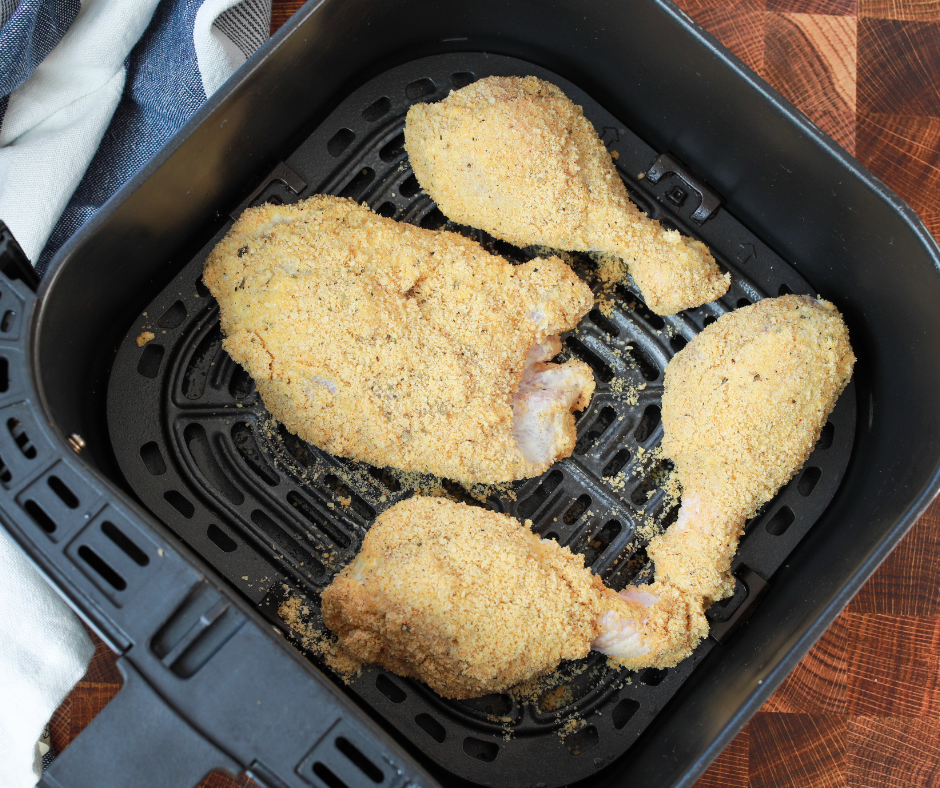 Step Three: Batter The Chicken Legs
Dry the chicken legs off with a paper towel, dip the chicken legs into the eggs, then into the almond mixture, and use your hands to have the pork rind mixture adhere to the chicken legs. Place the coated chicken legs into the air fryer in a single layer.
Set the temperature to 350 degrees F, and the cooking time for 18-20 minutes, flipping halfway during the cooking process. For best results, spray the chicken leg batter with avocado oil or cooking spray, which will help you get the same flavor as deep frying. Remove when the internal temperature reaches 165 degrees F using a meat thermometer.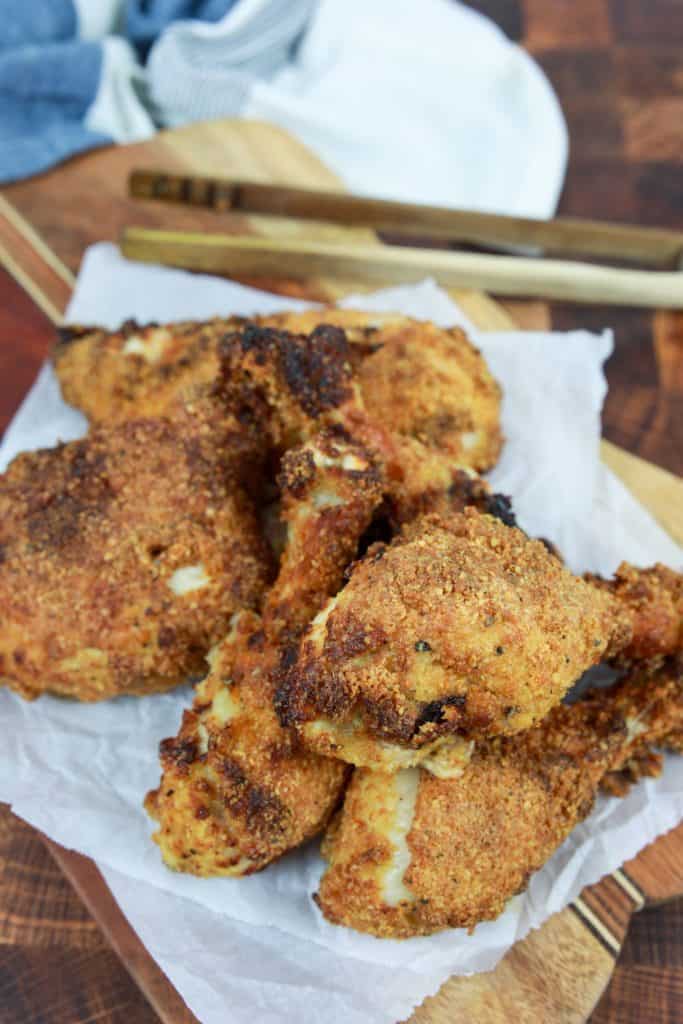 Pro Tips For The Best Air Fryer Low-Carb Southern Drumsticks
Crowding: For best results, do not overcrowd your air fryer basket. You are better off letting the hot air circulate around the raw chicken, which will help crisp up the chicken skin. You may need to cook in batches, depending on the size of your air fryer.
Timing: Since every air fryer is slightly different, the only true way to know if your chicken is fully cooked is to use a meat thermometer. Stick the meat temperature and check the internal temperature of the chicken in the thickest part of the chicken. You can safely remove your chicken when the temperature reads 165 degrees F.
Seasonings and Spices: For additional seasonings, you can add hot sauce to the egg mixture or blend onion powder, cayenne pepper, and chili powder for additional flavor.
Oil: For crispy skin, spray or brush a little olive oil onto the skin; this will help crisp up the breading. For best results, brush with olive oil.
How To Make Your Pork Rinds Breading
Can't for crushed pork rinds at your local grocery store; you can easily make your own by using a rolling pin and a bag of pork rinds. Crush pork rinds until they are small enough to bread the chicken.
What To Serve With Southern Fried Chicken
This is an easy recipe that the whole family will love. If you are following a keto diet, you can add a side garden salad or air fryer roasted asparagus. Some great side dishes are classic recipes such as potato salad, French fries, or even with:
More Air Fryer Recipes
Suppose you have been looking for a recipe for tender chicken drumsticks. In that case, this is one of the best, a lot of people have told me that this is their favorite recipe, so remember to leave a star rating below and check out the other keto recipe on ForkToSpoon; enjoy!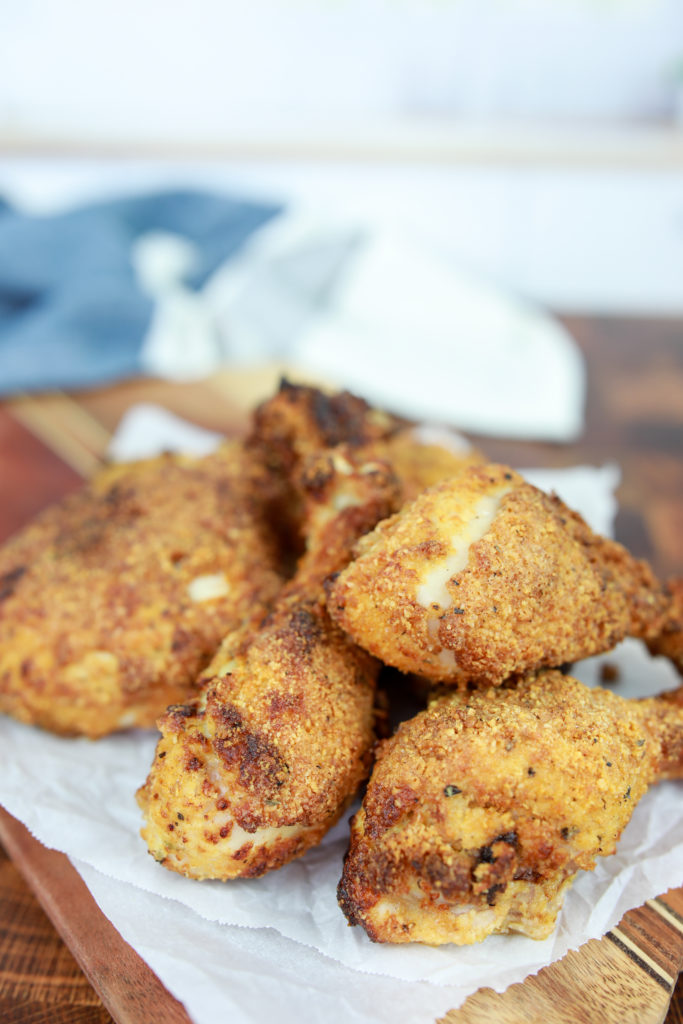 Keto Southern Air Fryer Drumsticks
Description
There is nothing better than a low-carb version of your favorite chicken recipe, and this chicken recipe will not disappoint. If you have been looking for the perfect Keto Southern Air Fryer Drumstick Recipe, this is it!
Ingredients
2

pounds

chicken drumsticks

,

bone-in

1

cup

crushed pork rinds

1

cup

almond flour

1 1/2

teaspoon

paprika

1 1/2

teaspoon

ground ginger

1 1/2

teaspoon

garlic powder

1

teaspoon

kosher salt

1

teaspoon

dried oregano

1

teaspoon

black pepper

1/2

teaspoon

mustard powder

,

or dry mustard

2

large

eggs
Instructions
Start by preheating the air fryer to 350 degrees F; brush the air fryer basket with cooking spray or brush with olive oil. Let heat up for 5 minutes.

In a large bowl, crack the eggs, and use a fork to whisk. In another large bowl, or shallow bowl, make the pork rind mixture: Add the pork rinds, almond flour, and seasonings, and mix well.

Dry the chicken legs off with a paper towel, dip the chicken legs into the eggs, then into the almond mixture, and use your hands to have the pork rind mixture adhere to the chicken legs. Place the coated chicken legs into the air fryer in a single layer.

Set the temperature to 350 degrees F, and the cooking time for 18-20 minutes, flipping halfway during the cooking process. For best results, spray the chicken leg batter with avocado oil or cooking spray, which will help you get the same flavor as deep frying. Remove when the internal temperature reaches 165 degrees F using a meat thermometer
Nutrition
Serving:
1
g
Calories:
383
kcal
Carbohydrates:
6
g
Protein:
28
g
Fat:
28
g
Saturated Fat:
6
g
Polyunsaturated Fat:
4
g
Monounsaturated Fat:
7
g
Trans Fat:
0.1
g
Cholesterol:
144
mg
Sodium:
570
mg
Potassium:
245
mg
Fiber:
2
g
Sugar:
1
g
Vitamin A:
283
IU
Vitamin C:
3
mg
Calcium:
70
mg
Iron:
2
mg