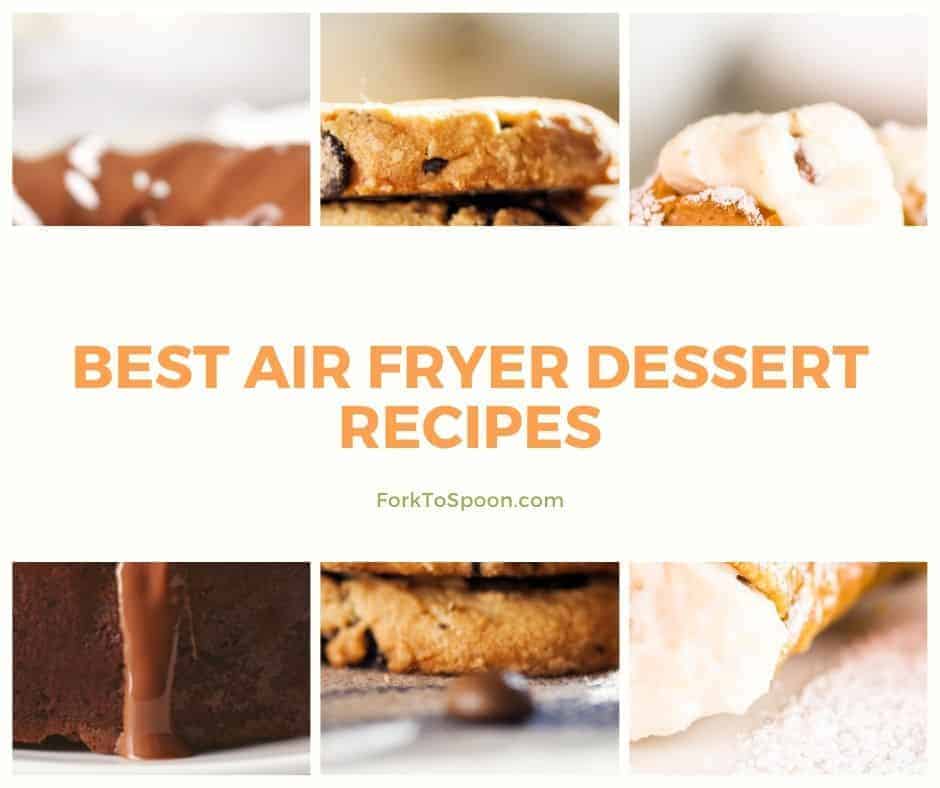 Best Air Fryer Dessert Recipes: The air fryer makes excellent chicken wings, breast, roasts, and even chicken pot pies.
What you probably do not know is that it is fantastic at baking! If you have never baked in the air fryer, you are so missing out.
The cakes come out amazing, the brownies come out moist, and the cookies are to die for.
So, if you have a sweet tooth, this post is for you!
I have been baking with my air fryer for over four years, becoming a great baker and hacker. Here are some of the tips that I want to share with you.
THINGS TO KNOW WHEN MAKING AIR FRYER DESSERTS
You can create any baked good with the correct pan that you would go in the oven, from scones, cookies, Bundt Cakes, cannolis, cheesecakes, and even some quick bread. With the right pan, you can bake anything!
The key to baking in the air fryer is using the correct temperature as well. Reducing the time, and deducing time, does not work. It's more of a science, and I share it all with you on ForkToSpoon.com.
You might need to use some parchment paper or a reusable silicone liner.
Any box mix will work, whether for a cake mix, brownie mix, or even cookie mix. The general rule of thumb is if you can make it in the oven, you can make it in the air fryer!
Here is my list for 25 of the BEST AIR FRYER DESSERTS!
This is a light and airy dessert. My kids love these with a drizzle of caramel sauce. They are a wonderful kid-friendly dessert.
Is there anything better than air-fried ice cream? Well, until I have a recipe for that, this will come in first, so good, with a scoop of ice cream, some whipped cream, and cherries on top!
One of my favorites, who wouldn't love a stuffed egg roll with cookie dough? This is a truly indulgent dessert.
An egg roll stuffed with cherry pie filling? What is better? This is so good, and you will be stocking up on these soon!
If you love some Elvis creations, this is amazing. Peanut Butter and Banana Egg Rolls, oh so good!
Who doesn't love candy? Today, I jazzed up a regular Twix Bar with some dough to make a great dessert, which the family loves!
Nothing is a greater nod to my childhood than some homemade Italian Cannoli! I love this, and they come out unique in the air fryer!
If you have ever been to a country fair, this is one of the best desserts from there. So, easy to make, and the air fryer does a fantastic job at perfectly cooking it.
What is better than a perfect egg roll with blueberry pie filling. The air fryer does a fantastic job at cooking it.
With parchment paper, this proves that you can make anything in the air fryer. Who does not like tarts?
Pecan rolls wow, what a fantastic treat anytime, including breakfast or dessert? This is what you can do with a simple can of cinnamon rolls!
Puff pastry is impressive in the air fryer; with a few ingredients, make your creations!
Nothing is better for Taco Tuesday than a Cherry Cheesecake for dessert. This is a twist on a traditional taco!
There is nothing to say. This is amazing. Serve with some vanilla ice cream on top for an over-the-top dessert.
Who said you could not make pastry in the Air Fryer? This is light, tender, and delicious. Fill with some chocolate pudding for a great dessert.
This is amazing for apple season, and don't they look fantastic! You can bring these to a friend's house for a tremendous treat for all of your friends.
There is nothing better than a McDonald's Pie; how about a copycat version! So good, and it will take you less than 20 minutes, from start to finish!
Imagine this took less than 10 minutes to make in the air fryer. With a crispy exterior and warm and apple pie filling!
Is there anything better than a homemade strawberry shortcake? Filled with whipped cream and fresh strawberries!
I love this. It's so good, and if you love Chocolate and Almonds together, this is to die for!
One of my favorite to-go items from Starbucks. I made a copycat version that is truly out of this world.
Nothing will say apple season like these Apple Pie Crescent rolls, and the drizzle of caramel sauce on top is the best.
If you love lemon, this is everything best about lemon pastry! Light, flaky, and delicious!
What else is there to say? Snicker Bars takes it up a notch!
Oreos Wow!
I hope you enjoyed this round-up of the best Best Air Fryer Dessert Recipes!
Some Great Freebies!