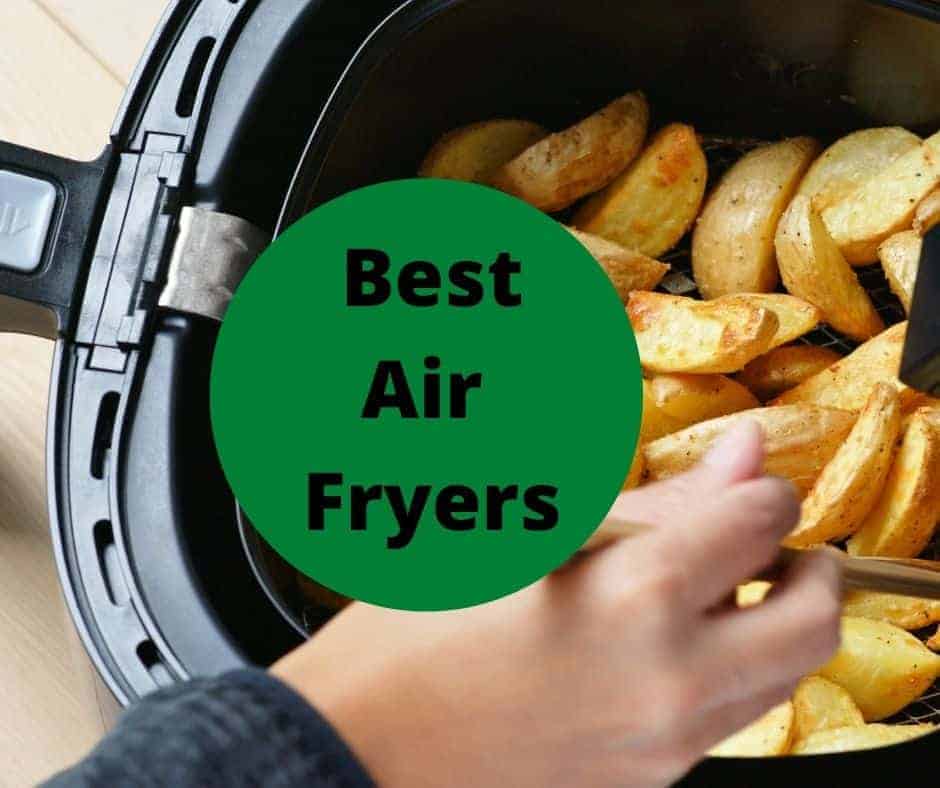 Best Air Fryers —One of the most popular questions I get asked is what air fryer is best? What is the best air fryer? While I absolutely hate answering these questions, today, I am sharing with you 5 of my favorites.
The important thing to remember when you are purchasing an air fryer, is you need to remember:
How many people are you cooking for?
What do you like to cook?
Those answers will give me a lot of information. If you have 10 people in your family, do not purchase an air fryer basket.
You really should opt for an air fryer oven. If you want to cook hamburgers and fries together, you can not get a basket air fryer, and you need to go with an air fryer oven.
If you want to make cookies, or pancakes, you really should think about getting an oven.
But, if you really want to cook frozen fries all day and all night, you should opt for a basket. A basket-style air fryer is so much easier for little foods. Otherwise, picture yourself with a pair of tongs, flipping the food while it cooks up!
Here are The Top 5 & Reasons Why I Like Them:
Remember I have had over 30 air fryers in my lifetime, and these are mine, and why I like them.
This is one of my favorite basket models.
Pros:
It's easy to use and easy to clean. It holds enough food for you to make it, and I can use a mini loaf pan inside of it. You can easily line it with parchment paper to make pancakes and cookies.
The display unit is also really easy to use. My teens use this one all of the time. It's durable, and the presets are amazing.
Worth mentioning their customer service is very good.
Cons:
If you go to the group, they always complain about the screws coming off. But this is not an issue if you do not mind re-screwing them.
Overall:
I have had mine for over a year, it's in great shape and one of my go-to air fryers.
This one I use every single day. It's in great shape.
Pros:
This one is straightforward to use, it has mixed ratings, but overall, everyone in my FB group has really loved it. I loved it so much, and I bought my friend one when she was getting married.
Easy to Clean and Use.
The display is easy to set for both the time and temperature. And it makes everything from toast to roast beef.
The customer service is excellent, and Instant Pot just came out with many Air Fryer Accessories to go, so now you can make everything from bagels to potato chips!
Cons:
The only real con is that after a while, the plastic inserts came off, and at this time, you can not purchase a replacement.
But, it works perfectly without the basket inserts.
PROS:
This is another one of my favorites. Not only is it an Air Fryer, but it's also a pressure cooker. So, if you are low on space, this will save you a ton of room.
It works well. The basket is large enough for a full chicken.
Great customer service. Easy display function, and easy to use and clean.
CONS:
This is a bit bulky, so if you are looking for a streamlined appliance, this will not cut it. It requires more space than a basic air fryer.
PROS:
This is my first air fryer, and I used it all of the time, and it's in perfect condition. And it dates back to August 2017. So, that's the biggest pro, and it's durable.
Easy to use and program. This is a great model if you do not want a digital model. This one is great for any older who is wanting to get a simple air fryer.
CONS:
It is a smaller basket, so if you want a larger model to cook several foods at once, go for a larger one.
PROS:
Large this one is large enough that you can cook for a family of 4 and up. I love it because you can put full-size pans into it.
If you want a LARGE air fryer to go with this version. It's one of my favorites, and it's such my favorite that I have 3.
CONS:
It's large, this is almost the same size as a full-size microwave, so if you are short on counter space, this model will not work for you!
SOME GREAT FREEBIES: