Clearly, You Don't Own An Air Fryer, Have you seen the meme? It's so funny since I have been writing about air fryers and using them since 2017! Times have changed and at that time, the hot appliance was the Instant Pot, nowadays, the Air Fryer is all the Rage!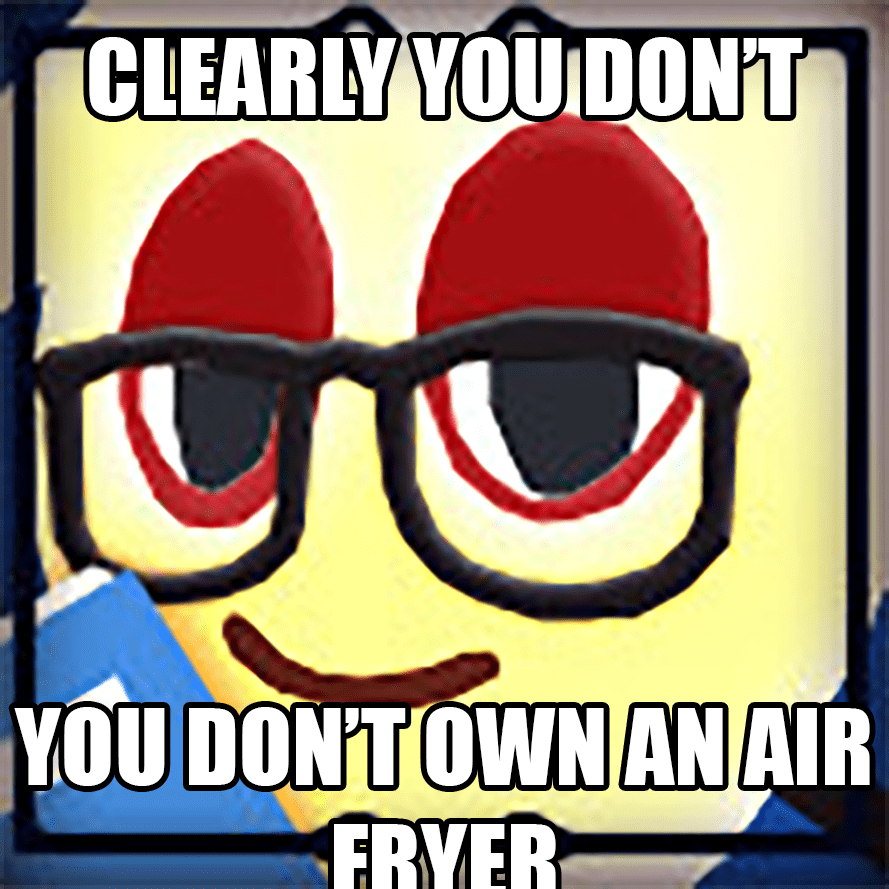 I fell in love with air fryers, probably like a lot of you, at ForkToSpoon, I love to show you why you should own an air fryer. And if you are still thinking about whether or not you want an air fryer, let me tell you. Try it!! You will never regret it!
I have personally used over 30 air fryers, and I'm still going strong! There is nothing like owning an air fryer.
Why did I buy all these air fryers? Because they are all different, and in order to help you, learn how to air fry, I need to do it myself first, then and only then, can I tell you what I love about each model, and troubleshoot it with you!
And if you eat out a lot, the cost of the air fryer will pay for itself many times over! There is nothing better than eating homemade food! And saving some dough along the way!
Types Of Air Fryers
There are so many air fryers out there. From Basket Style, Oven Style, and even some built-in ovens, rangers, and microwaves. And let's not forget about the combinations ones available.
On the fence about what air fryer to purchase, here are my favorites, I have been updating the list since 2017 because I want you to get the Best Air Fryer for you and your family!
Different Air Fryer Are Different
Seems like common sense. But all of the air fryers are different, and as a result, they all cook differently!
The key is to check on your food frequently as it cooks up, this way it can be done to perfection for you!
Once you get used to your air fryer, it will be like second nature! As always, start with something simple, I highly recommend making Cinnamon Rolls in the Air Fryer. Why you ask, because if you burn them, no one cares, you can simply make another batch, and it takes minutes! Plus it gives you a lot of confidence in using the air fryer! Then you can build up to making that great Air Fryer Italian Meatloaf.
Can I Use Oil?
One of the biggest misconceptions is that you don't use oil. Of course, you do! But you aren't using a LOT of oil. You are using a small amount of oil, to keep your food moist, and if you're making Air Fryer Fried Chicken, you do spray your batter, to help it crunch up! Who doesn't love crispy fried chicken?
Where Do I Start?
Startoing air fyring is easy! Depending on the model that you purchase, you may or may not have gotten an air fryer manual. If you have not, here is a link to get all of the air fryer manuals in one place.
Here is a Free Chart To help you get started, and if you want to start with freezer foods, here is a free chart for that too. I highly recommend printing out both charts.
The Best Air Fryer Recipes
I am proud to say that I have the best air fryer recipes, which are tried and true, I have made them several, several times since 2017.
Here are the recommended foods that you start with!!
Still, Looking For More?
Join our popular Air Fryer Tips and Recipe Group, to get all of the latest recipes and tips that we share. And maybe you can even catch a live cooking demonstration!
As always leave a comment, and tag us at @forktospoon on Instagram! And share with all of your friends who purchased an air fryer! And don't forget to check out the thousands of videos on our You-Tube Channel!