The Best Air Fryer Cake Recipes — Are you looking for a delicious and stress-free dessert to serve for your family or guests? Nothing beats an air fryer cake!
These timesavers are perfect for busy nights when you don't have the energy to bake something from scratch. Not only do they cut down on baking time, but they also add incredible flavor and crunchy texture to any cake.
Whether craving traditional recipes or trying something new, we have the best air fryer cake recipes to make your taste buds soar. With easy prep instructions and step-by-step guides, creating mouthwatering cakes is now easier than ever!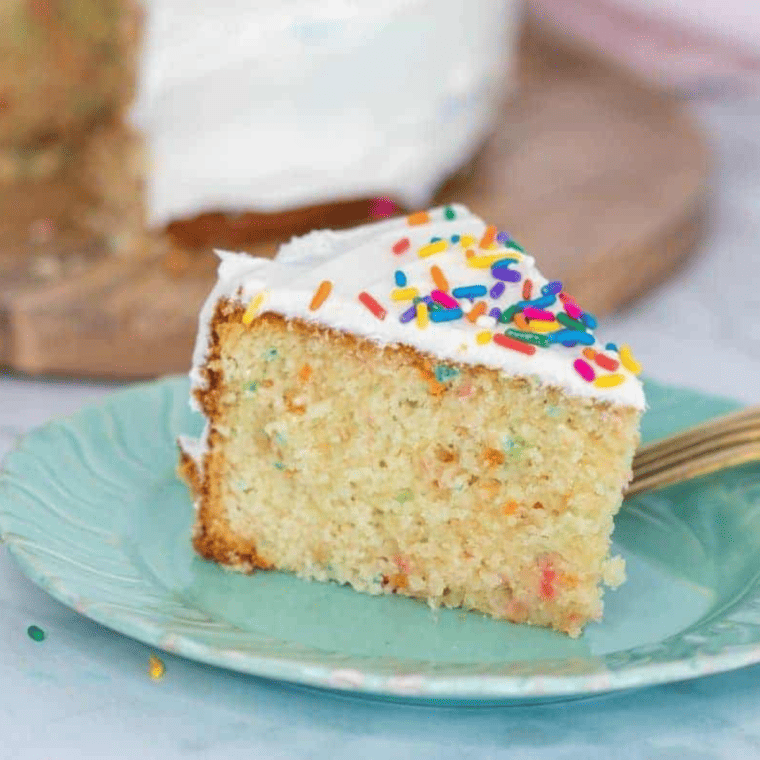 The Best Air Fryer Cake Recipes
Dive into the world of air frying desserts with our compilation of the best air fryer cake recipes!
Gone are the days when air fryers were only for cooking savory dishes. Now, you can create scrumptious, moist, and perfectly baked cakes without ever preheating an oven.
From classic vanilla sponge to decadent chocolate lava cakes, the air fryer ensures even baking and a delightful crust every single time. Whether you're a seasoned baker or just venturing into the dessert realm, these recipes will guide you to cake perfection with the revolutionary convenience of the air fryer. Let's get baking!
Pro Tips For Cooking Cakes In Air Fryer
Preheat Before Baking: Just like an oven, preheating your air fryer ensures an even cooking temperature from the start. This helps the cake rise properly and results in a consistent texture.
Use the Right Pan: Not all cake pans fit inside an air fryer. It's best to use a smaller pan or even silicone molds specifically designed for air fryers. If using a regular pan, ensure it's oven-safe and fits comfortably inside your air fryer basket.
Adjust Cooking Time: Typically, air fryers cook faster than conventional ovens. Start by reducing the cooking time by 20% and checking the doneness with a toothpick.
Avoid Overfilling: Fill your cake pan only halfway or up to two-thirds full. This ensures even cooking and prevents the batter from overflowing as the cake rises.
Rotate for Even Cooking: Some air fryers might cook more evenly on one side. Halfway through the baking, rotate your cake to ensure even cooking and browning.
Don't Crowd the Basket: If making multiple cakes or cupcakes, make sure there's enough space around each for proper air circulation. It's better to cook in batches than to overcrowd.
Check for Doneness: Since cooking times can vary between air fryer models, always check the cake a bit earlier than the recipe suggests. Insert a toothpick or cake tester into the middle – if it comes out clean, your cake is ready!
Let It Cool: Once done, remove the cake from the air fryer and let it sit for a few minutes in the pan. Transfer to a wire rack to cool completely. This makes the cake easier to slice and often enhances the flavor.
Mind the Temperature: Always stick to the recommended temperature in the recipe. Even if the air fryer can reach higher temps, higher isn't always better for baking cakes.
Experiment and Adjust: Every air fryer is a bit different. Don't get discouraged if your first cake doesn't come out perfect. Note the results, adjust the time or temperature as needed, and try again.
With these tips, you're on your way to mastering the art of air fryer cake baking!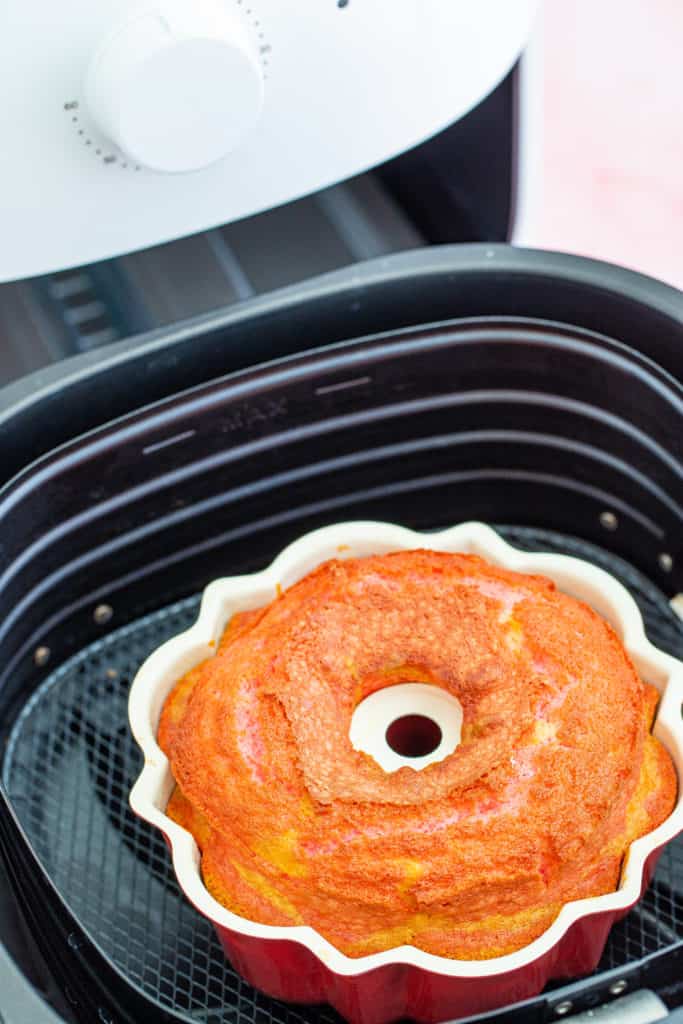 Do I need a special cake pan for an air fryer?
While there are specific pans designed for air fryers, you can also use any oven-safe pan that fits comfortably inside your air fryer basket. Silicone molds and small springform pans are popular choices.
Can I use regular cake mix from the store in my air fryer?
Absolutely! You can use any store-bought cake mix. Just follow the mix instructions, but adjust the cooking time based on your air fryer.
How do I know when my cake is fully cooked?
The best method is the toothpick test. Insert a toothpick or a cake tester into the center of the cake. If it comes out clean, the cake is done.
Why did my cake sink in the middle?
This can happen due to several reasons: over-mixing the batter, opening the air fryer too often during cooking, or not cooking the cake long enough. Ensure you follow the recipe closely and avoid peeking too much!
Can I bake other desserts in my air fryer?
Yes, the air fryer is versatile! You can make a variety of desserts, from brownies and muffins to cookies and pastries.
Do I need to grease the pan before pouring in the batter?
Yes, it's a good idea to lightly grease the pan or use parchment paper to prevent sticking and make the removal process easier.
My air fryer has multiple racks. Can I bake on different levels at the same time?
While some air fryers have this capability, it's essential to ensure even cooking by rotating the cakes between racks halfway through the baking time.
How long should I let the cake cool before removing it from the pan?
Let the cake cool for about 10-15 minutes in the pan before transferring to a wire rack to cool completely.
Can I frost the cake after baking it in the air fryer?
Absolutely! Just ensure the cake has cooled completely to prevent the frosting from melting.
Is there a difference in taste or texture when baking a cake in an air fryer compared to a traditional oven?
Air fryer cakes often have a slightly different texture, typically moister due to the rapid air cooking method. The taste should remain the same, but the exterior can be a bit crisper than oven-baked cakes.
Remember, baking with an air fryer might have a bit of a learning curve if you're used to a conventional oven. With practice and some experimentation, you'll find the perfect settings and techniques for your delicious air-fried cakes!
Best Pans For Baking In The Air Fryer
2pcs/set Universal Air Fryer Accessories Steel Pizza Pan Baking Cake Barrel Nonstick Deep Fryer Accessories Set Fit all 3.2QT-5.8QT
Air Fryer Silicone Cake Pans for Baking, 7.5 inch Large Airfryer Bakeware Set with Muffin Cups, Scrapers, Magnetic Conversion Chart, Fits Ninja, Instant Pot, Chefman, Dash, BPA Free