Air Fryer Banana Cake — This is one of the best recipes for a perfect banana cake, and if you have ever baked a cake in the air fryer, you know it comes out light and fluffy, thanks to the hot air that circulates your cake, cooking it to perfection!!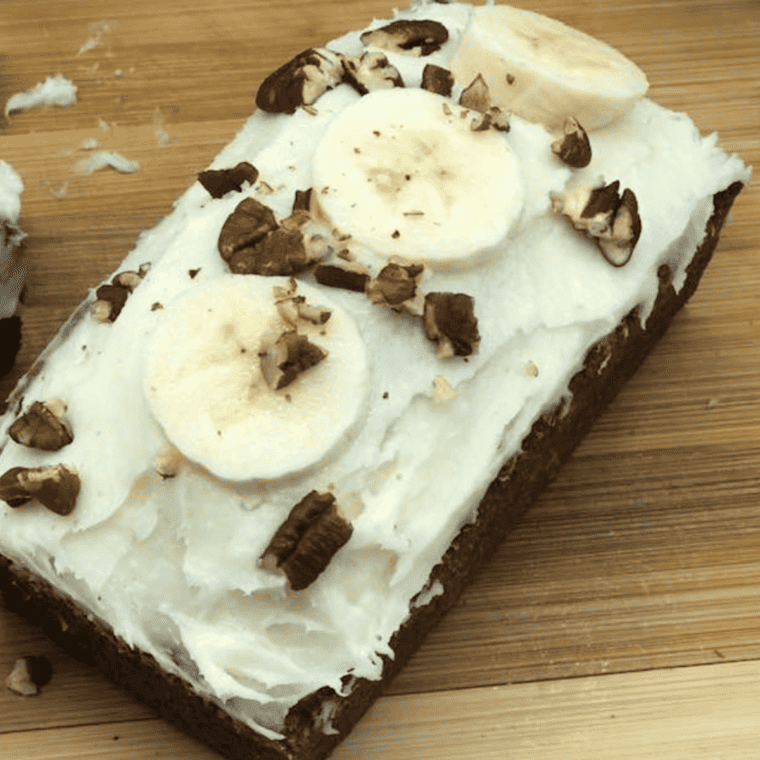 Can you cook banana cake in air fryer?
Yes, you can cook banana cake in an air fryer. Air fryers circulate hot air around the food, allowing it to bake evenly and quickly. This makes them suitable for baking small cakes, including banana cakes.
Some other great Make-Ahead Air Fryer Recipes are AIR FRYER BANANA BREAD MUG CAKE, AIR FRYER CRANBERRY WALNUT BREAD, AIR FRYER RASPBERRY BREAD, and AIR FRYER GLUTEN-FREE PUMPKIN BANANA NUT BREAD.
Check Out Our YouTube Channel
The best air fryer banana cake recipe
Ah, the sweet allure of banana cake! There's something truly comforting about its moist, flavorful crumb infused with the richness of ripe bananas. But have you ever tried making it in an air fryer? If not, you're in for a delightful surprise.
The air fryer doesn't just make your favorite fried foods healthier; it can also be a baking aficionado's best friend. Its rapid air circulation ensures your banana cake is baked perfectly—moist and golden brown on the outside. Whether you're a seasoned baker or just venturing into the world of air frying, this recipe will become a favorite. Read on for a journey into the realm of the best air fryer banana cake you'll ever taste!
Ingredients Needed For Air Fryer Banana Cake
Below are the ingredients to make a delicious banana cake in your air fryer.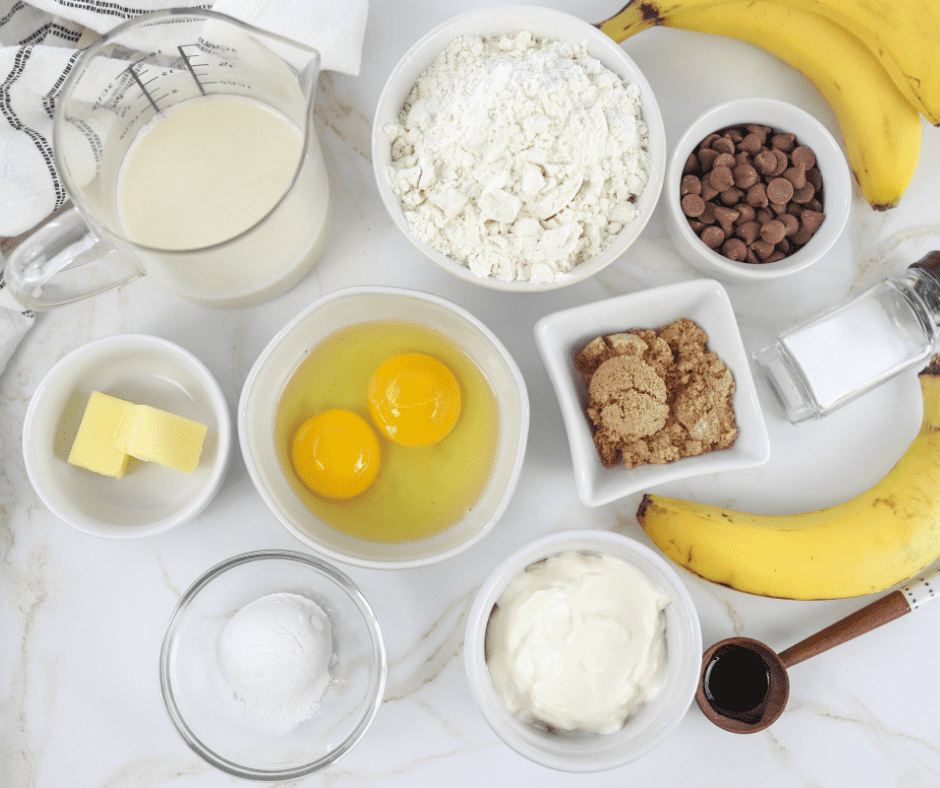 Remember the step-by-step directions and detailed ingredient list are below in the printable recipe card at the bottom of the post, as well as the nutritional information. ​
Ripe Bananas: The star ingredient that offers natural sweetness and a moist texture, ripe bananas ensure a deeply flavored cake.
All-Purpose Flour: The foundation of our cake, flour provides the necessary structure and body.
Granulated Sugar: Adding a touch of sweetness, sugar complements the bananas and enhances the overall flavor. For a sweeter banana cake, you can use brown sugar or maple syrup.
Baking Powder: This leavening agent helps the cake rise and become fluffy, ensuring a light texture.
Kosher Salt: A pinch balances the sweetness and highlights the banana flavor.
Large Egg: bind the ingredients and introduce air into the batter, making the cake light and moist.
Unsalted Butter: Adds richness, moisture, and a buttery flavor to the cake, ensuring a tender crumb.
Vanilla Extract: A hint of vanilla elevates the flavor profile, adding depth and aromatic sweetness.
Milk: Softens the batter, contributes to the cake's moisture, and ensures a tender texture. You can use regular milk or almond milk.
How To Make A Banana Cake In Air Fryer
You can find the full recipe card below. Here are the step-by-step directions,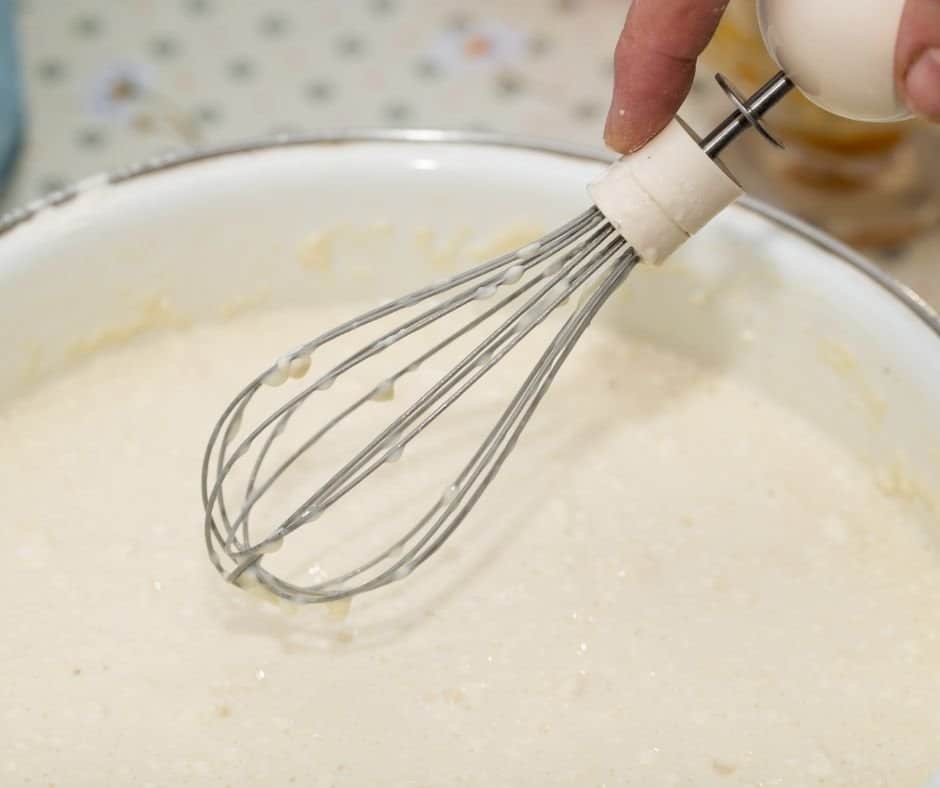 Preparation:
Preheat the air fryer to 320 degrees F (160°C), using the air fry function, for 3-5 minutes.
Grease a round cake pan that fits comfortably inside your air fryer basket. Alternatively, you can use parchment paper.
Dry Ingredients:
Whisk together the dry ingredients in a large mixing bowl.
Wet Ingredients:
Add the mashed bananas to a large bowl and the rest of the wet ingredients.
Combine:
Gradually fold the dry ingredients into the wet mixture. Mix just until combined, being careful not to overmix.
Air Frying:
Transfer batter to the greased baking pan, spreading it out evenly.
Insert the pan into the air fryer basket.
Set the air fryer temperature to 320 degrees F (160°C) and set cook time for 25-30 minutes. The exact time might vary depending on the air fryer brand and size.
Check for doneness by inserting a toothpick or a skewer into the center of the cake. The cake is done if it comes out clean or with a few crumbs.
Cool & Serve:
Once baked, carefully remove the cake pan from the air fryer and allow the cake to cool on a wire rack for 10-15 minutes.
After that, you can remove the cake from the pan and let it cool completely to room temperature.
If desired, serve with a dusting of powdered sugar, whipped cream, or your favorite frosting.
Enjoy your delicious Air Fryer Banana Cake! Adjust the recipe as needed based on personal preferences or specific ingredients you want to include.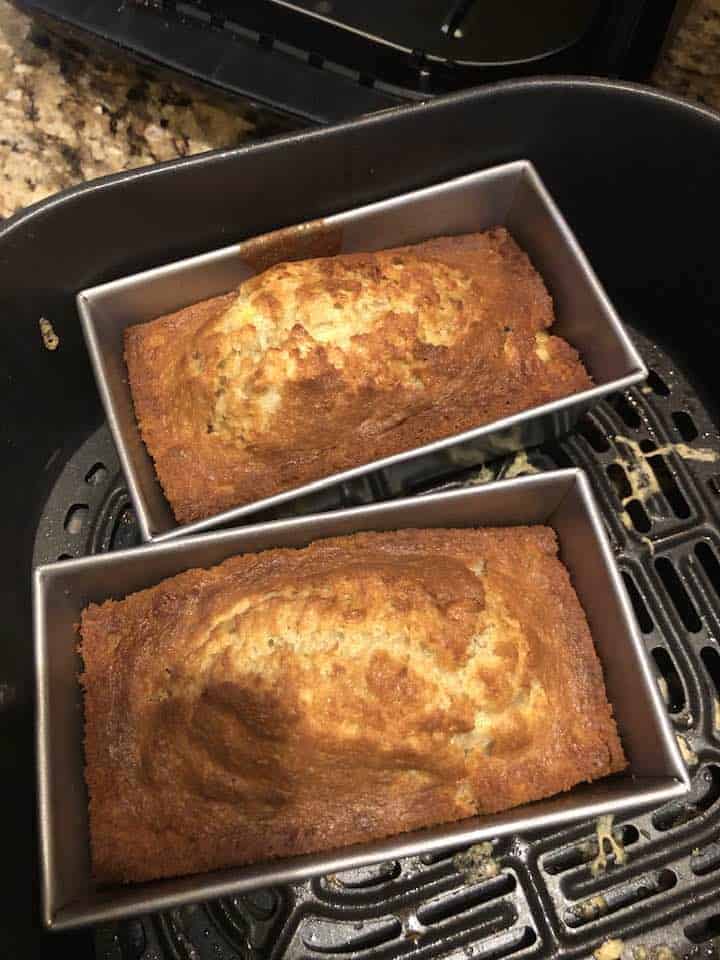 Pro Tips For Banana Cake In Air Fryer
Ensuring the perfect banana cake from your air fryer requires a little know-how. Here are some pro tips for nailing that delectable dessert:
Ripe Bananas: Always use overripe bananas for a sweeter and richer flavor. They're easier to mash and will blend seamlessly into your batter. Brown bananas are ideal for this recipe.
Even Spread: Make sure to spread your batter evenly in the cake pan. An uneven cake will cook unevenly, possibly leaving you with overcooked and undercooked sections.
Pan Size: Ensure your cake pan fits comfortably within your air fryer basket with some room on all sides to allow proper air circulation.
Temperature Monitoring: Air fryer temperatures can vary between brands. It's a good idea to keep a close eye on your cake, especially the first time you make it, to prevent overcooking.
Preheating: Always preheat your air fryer before adding your cake. This ensures that the cooking time is consistent from start to finish.
Toothpick Test: About 5 minutes before the timer is set to go off, start testing the cake's doneness by sticking a toothpick or skewer in the center. Your cake is ready if it comes out clean or with a few crumbs.
Avoid Overmixing: Once you add the dry ingredients to the wet, mix until combined to ensure a soft, moist cake. Overmixing can result in a dense cake.
Cooling: Always allow your cake to cool for several minutes in the pan before transferring it to a cooling rack. This makes handling easier and reduces the risk of the cake falling apart.
Variations: Feel free to add extras like chocolate chips, nuts, or even dried fruits to customize your banana cake to your liking.
Storage: Store any leftover cake in an airtight container to retain moisture and softness. If you've frosted the cake, consider storing it in the refrigerator, especially if the frosting is dairy-based.
With these tips in hand, your Air Fryer Banana Cake will taste divine and have that professional touch to its texture and presentation!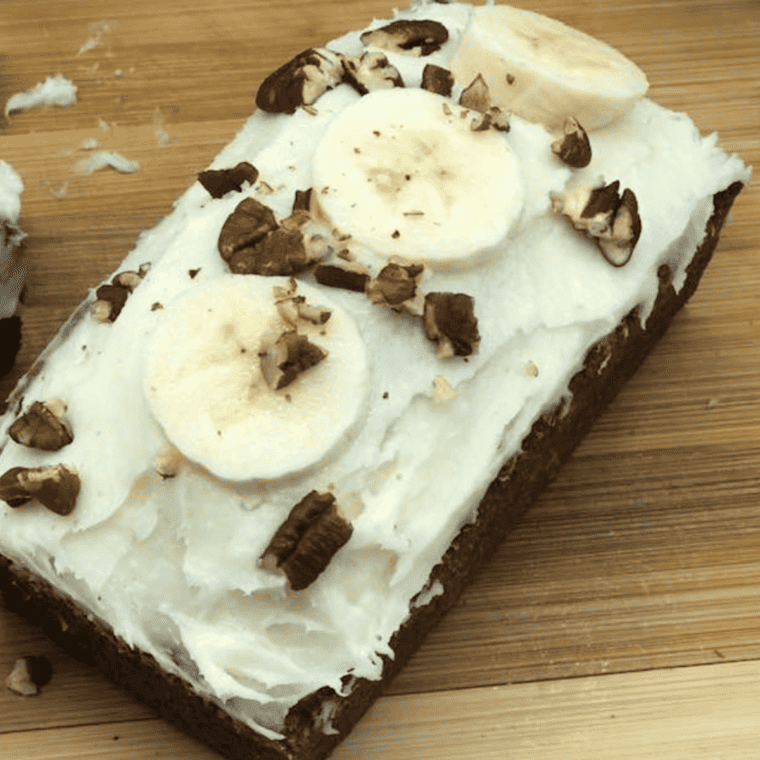 Can I use a different type of pan other than the one recommended?
Yes, you can use any oven-safe pan that fits in your air fryer. Just ensure there's adequate space around the pan for air circulation. Adjust the cooking time accordingly if the pan size varies significantly. I love using foil loaf pan or disposable loaf pans, which are the perfect way to share! I love adapting this recipe for mini banana cakes.
Can I add frosting to my banana cake?
Absolutely! Once your cake has completely cooled, you can add your favorite frosting—cream cheese frosting pairs beautifully with banana cake.
My cake is browning too quickly. What should I do?
If you notice the top of your cake browning too quickly, you can cover it lightly with aluminum foil to prevent direct exposure to the heat.
Can I use this recipe for banana muffins in the air fryer?
Yes, you can use the same batter to make banana muffins. Adjust the cooking time, as muffins will likely cook faster than a whole cake.
Can I make this cake gluten-free?
Yes, substitute the regular flour with a gluten-free flour blend. Ensure to check other ingredients to confirm they're gluten-free, too.
I don't have ripe bananas. Can I still make this cake?
Ripe bananas provide the best flavor and sweetness. However, if you don't have ripe bananas, you can bake them unpeeled in a 300°F (150°C) oven for about 15-20 minutes until they are soft and blackened. Let them cool before using.
How long will the banana cake last?
Stored in an airtight container at room temperature, the banana cake will stay fresh for 2-3 days. If refrigerated, it can last up to a week.
Can I add nuts or chocolate chips to the cake?
You can customize your banana cake by adding extras like walnuts, pecans, chocolate chips, or even shredded coconut.
The center of my cake isn't cooked, but the edges are perfect. Why?
This can happen if the batter is too cold (using cold eggs or milk) or if the cake pan is too big for the air fryer, preventing proper air circulation. Next time, ensure your ingredients are at room temperature and use the appropriate pan size.
Can I double this recipe?
If you're cooking for a crowd, you can double the recipe. However, remember to cook in batches or use a larger pan and adjust the cooking time accordingly.
How to store?
Let the banana cake cool to room temperature, and then place it into an airtight container wrapped in plastic wrap or a freezer bag. The banana cake will last for 1-2 days at room temperature; for longer storage, store it in the refrigerator or freezer.
Serving: Serve with fresh fruit or a dollop of sour cream.
More Air Fryer Recipes
Enjoy this delightful, moist banana cake straight from your air fryer – perfect for dessert or a sweet treat with your afternoon tea!
Don't Forget To Pin: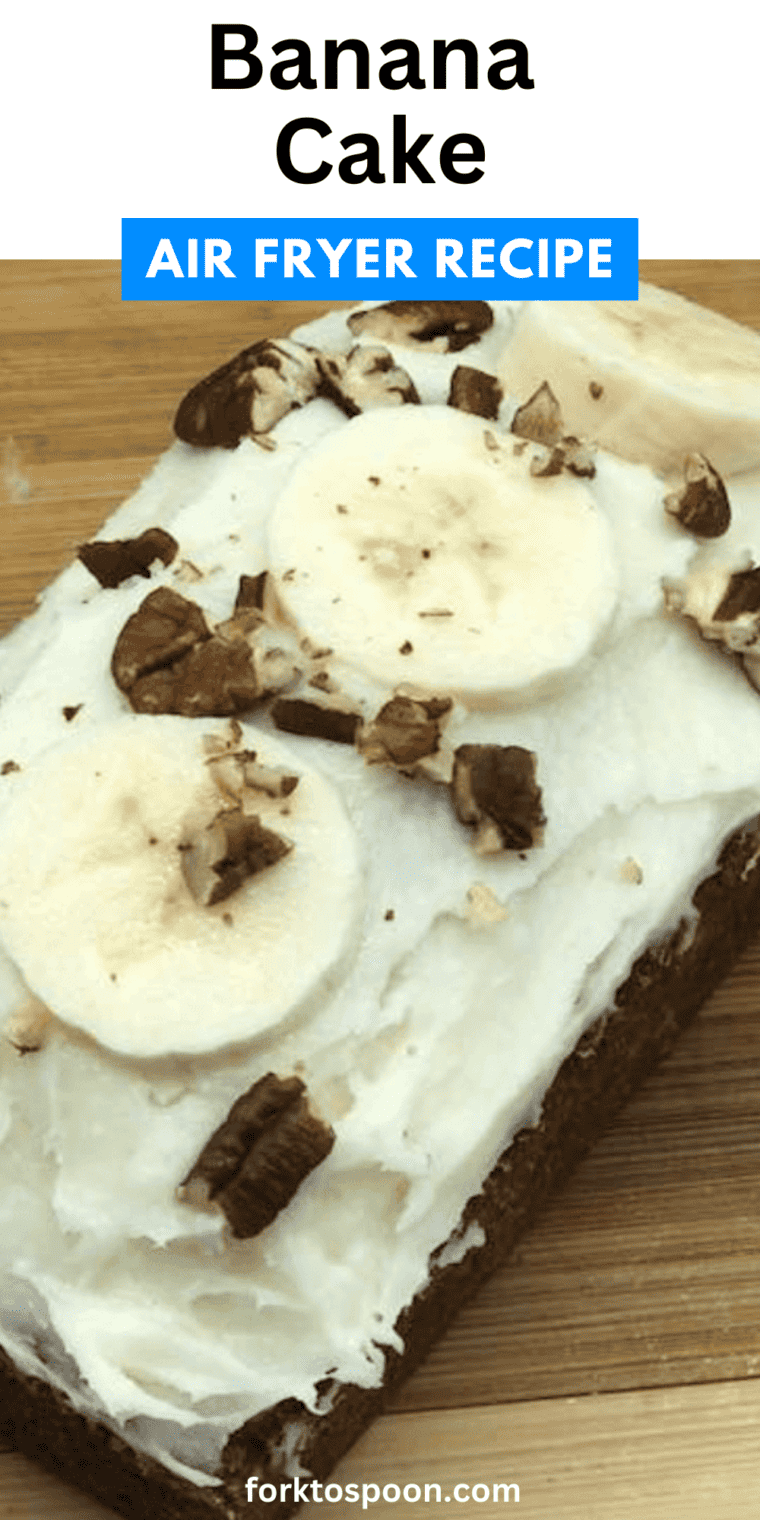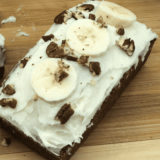 Air Fryer Banana Cake
Description
Air Fryer Banana Cake is truly amazing! This might be the best banana cake I have ever eaten. It's light, it's flavorful, and it's absolutely delicious!
Ingredients
2

ripe

bananas

,

mashed

1 1/2

cups

all-purpose flour

1

teaspoon

baking powder

1/2

teaspoon

baking soda

1/2

teaspoon

salt

1/2

cup

unsalted butter

,

softened

1

cup

granulated sugar

2

large

eggs

1/4

cup

milk

,

or buttermilk

1

teaspoon

vanilla extract
Instructions
Prep the Batter: In a medium bowl, whisk together flour, baking powder, baking soda, and salt. Set aside. In a large mixing bowl, cream together butter and sugar until light and fluffy. Beat in the eggs one at a time, then stir in the mashed bananas. Mix in the vanilla extract. Gradually mix in the flour mixture alternately with the buttermilk until just combined.

Preheat Air Fryer: Preheat your air fryer to 320°F (160°C).

Pour and Flatten: Pour the batter into a greased, air fryer-safe cake pan and spread it out evenly.

Cook in Air Fryer: Place the cake pan in the air fryer basket. Cook for 25 minutes or until a toothpick inserted into the center of the cake comes out clean.

Cool and Serve: Once done, carefully remove the cake from the air fryer and let it cool in the pan for about 10 minutes. Transfer to a wire rack to cool completely. Slice and serve!
Equipment
Air Fryer

Cooking Spray

Baking Pan

Parchment Paper,

optional
Notes
Notes:
Make sure your ingredients, especially eggs and milk, are at room temperature to ensure even baking.
You can customize this basic banana cake by adding extras like chocolate chips, walnuts, or even shredded coconut.
Storage:
Keep in an airtight container at room temperature for 2-3 days. If refrigerated, it can last up to a week.
Nutrition
Serving:
1
Serving
Calories:
308
kcal
Carbohydrates:
44
g
Protein:
4
g
Fat:
13
g
Saturated Fat:
8
g
Polyunsaturated Fat:
1
g
Monounsaturated Fat:
4
g
Trans Fat:
0.5
g
Cholesterol:
78
mg
Sodium:
290
mg
Potassium:
59
mg
Fiber:
1
g
Sugar:
26
g
Vitamin A:
435
IU
Vitamin C:
0.02
mg
Calcium:
53
mg
Iron:
1
mg