Air fryer Tuscan Chicken — Looking for a delicious and healthy chicken dish? Try air fryer Tuscan chicken! This dish is loaded with flavor and takes just minutes to prepare. Plus, it's perfect for busy weeknights. So what are you waiting for? Give this easy recipe a try today!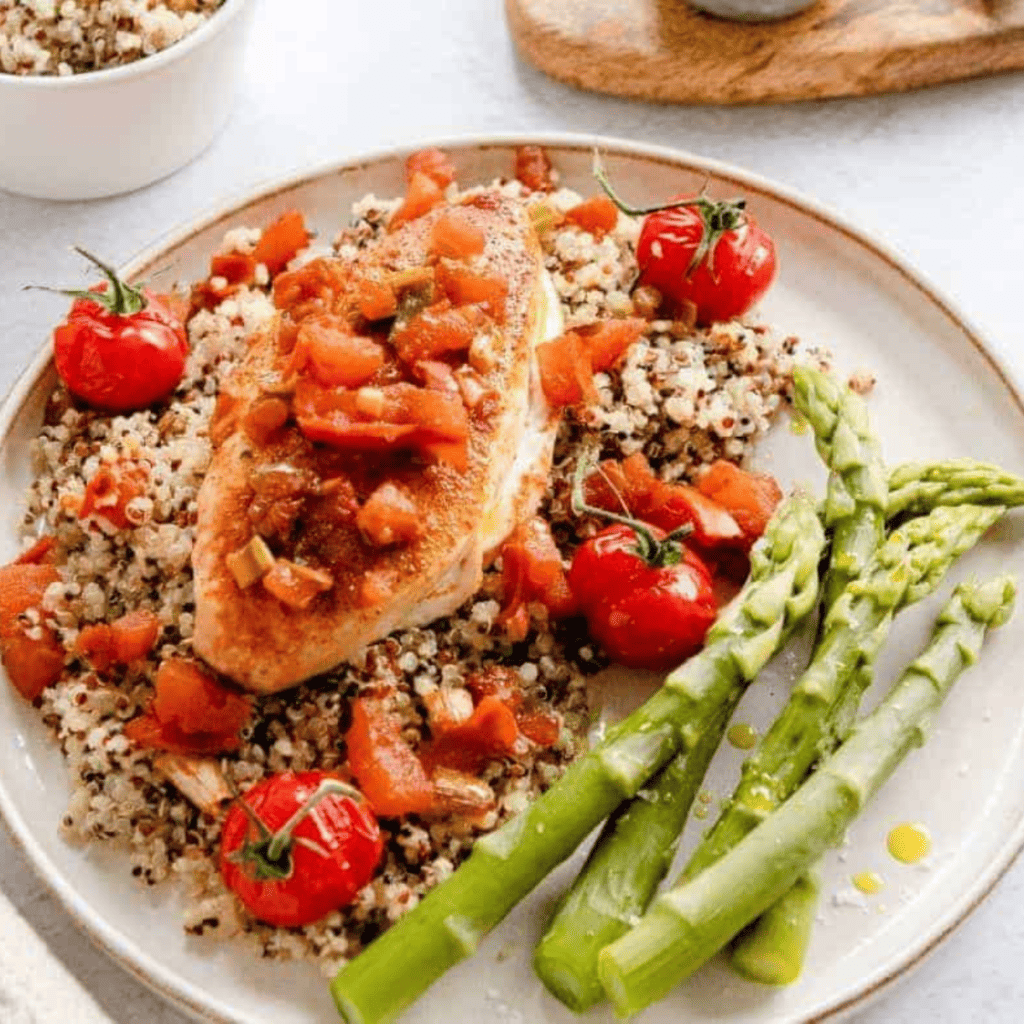 Air Fryer Tuscan chicken is an air fryer chicken breast recipe. Perfectly seasoned, served with Farro and asparagus.
Dish up this incredible air fryer Tuscan chicken. A tender and juicy seasoned chicken that is paired with a creamy vinaigrette and asparagus.
This air fryer chicken breast recipe is so delicious. Plus it offers a stunning presentation for serving guests. A delicious air fryer chicken recipe you don't want to skip over.
If you are looking for even more Air Fryer Chicken Recipes, some of my favorites are AIR FRYER SESAME CHICKEN, AIR FRYER BUTTERMILK CHICKEN TENDERS, BBQ AIR FRYER CHICKEN BREAST, and AIR FRYER COPYCAT KFC SPICY CHICKEN SANDWICH.
What Is Tuscan Chicken?
Looking for a delicious and easy chicken dish to make for dinner tonight? Tuscan chicken is a fantastic option! This dish is simple to prepare and full of flavor. You'll love the combination of herbs and spices used in the recipe. Plus, it's perfect for serving with pasta or rice. Give this tasty dish a try tonight!
Ingredients Needed For Air Fryer Tuscan Chicken
If you're looking for a delicious and healthy chicken dish to make in your air fryer, look no further than this Tuscan chicken recipe. It only requires a few simple ingredients, and it's bursting with flavor. Plus, it's low-calorie and gluten-free, so it's perfect for anyone on a special diet. give this recipe a try today!
Chicken: Use boneless, skinless chicken breast, or boneless, skinless chicken thighs.
French Mustard Vinaigrette: Adds a lot of flavor to the chicken.
Vegetables: Grape Tomatoes, Tomatoes, Artichoke Hearts, Capers
Seasonings: Salt and Black Pepper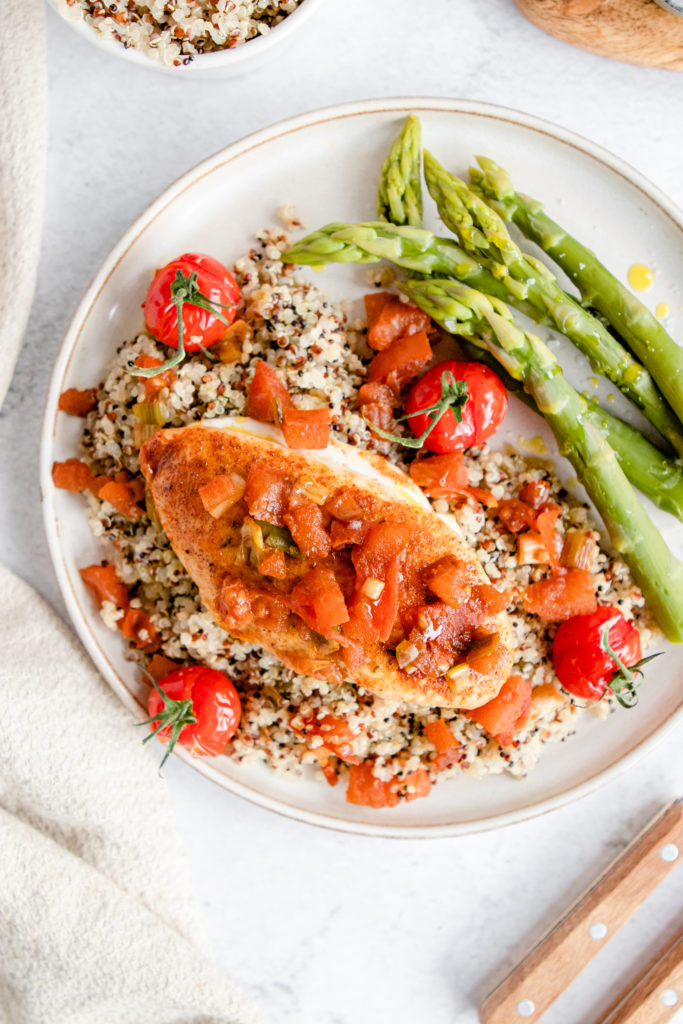 How to Make Tuscan Chicken In The Air Fryer
The first thing you want to do is season your chicken on both sides. Then you will place the chicken in the air fryer basket or tray.
Cook for 7-10 minutes and flip and baste the chicken with the mustard vinaigrette. While your chicken is cooking, place the roasted tomatoes, artichoke hearts, tomatoes, and capers place in a saucepan.
Pour the balsamic vinaigrette into the pan and season with salt and pepper. Toss till mixed. Place the Farro in the center of the dish. Top with steamed asparagus, and Farro.
Once the chicken is done, place it on the serving plate, and sprinkle it with a tomato artichoke mixture. And finish dressing up the chicken, then serve.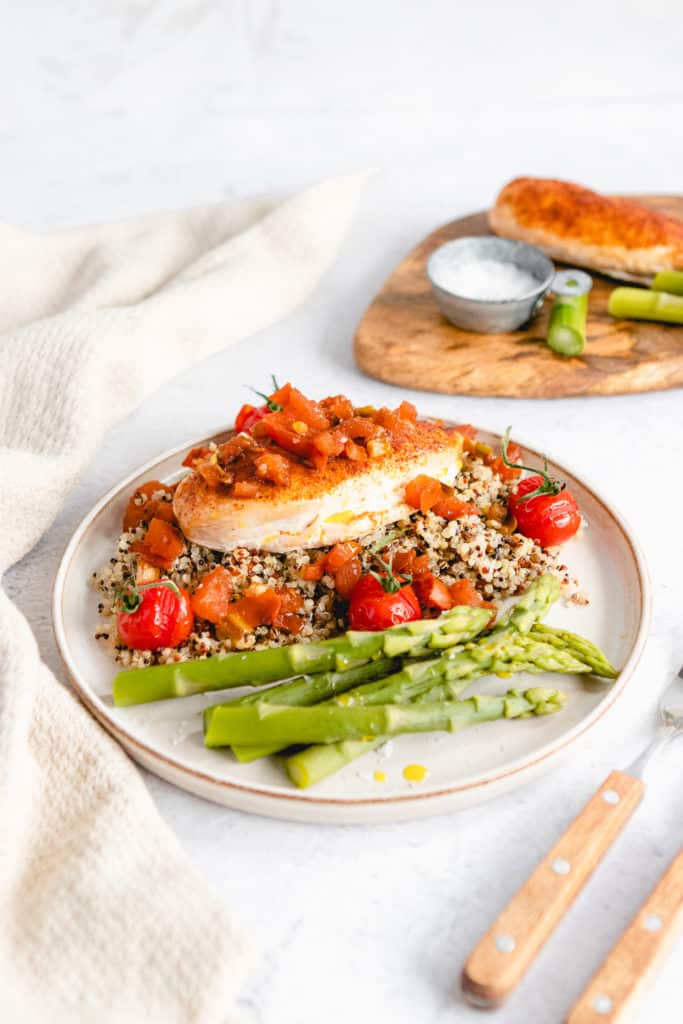 How to know when chicken is done
Grab a meat thermometer and use it to push into the thickest part of the chicken. You want the thermometer to read 165 degrees. This means your chicken is fully cooked.
You will find that depending on the thickness of the chicken, it will vary in cooking.
Bone-in chicken takes longer to cook, so if you swap with bone-in meat, it will need a longer air fry time.
Do I need to let the chicken rest before serving
Chicken is recommended to allow it to rest 5-10 minutes once it is fully cooked. It will help to lock in the juices, so you have moist chicken, not dry.
Just remove from the air fryer, place on a plate, and then use aluminum foil on the tent. This will help to keep the chicken warm and allow it to rest.
Then plate up or slice the chicken and serve as you would. This step can be used for any style of chicken you make.
What is Farro
Farro is a type of grain that is great for pairing with this chicken. You will buy it dried and follow the directions on the package on how to cook it.
Farro is a great item to serve as a side dish, as a base like this recipe, mix in soups, top salads, etc.
You will find that Farro is a wonderful source of fiber to incorporate into your diet. This grain offers other health benefits. It is a great alternative to say rice or other grains.
Tips For Tuscan Chicken Air Fryer Recipe
Invest in a meat thermometer; it will be your best friend in the kitchen! Never question if your meat is fully cooked or not.
Make sure to leave space between each piece of chicken for an even cook.
Depending on the thickness of your chicken, the cooking time will vary, so keep an eye on your chicken.
You can replace farro with rice or other carb-style option.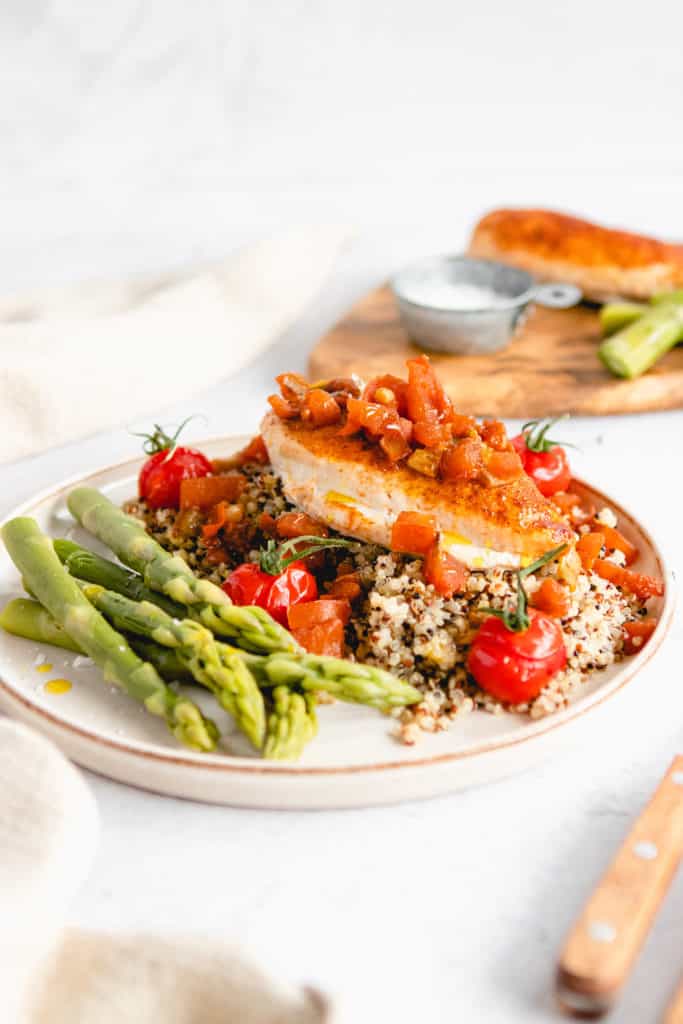 Craving More Chicken Recipe Ideas
Storing Leftovers
If you don't eat all your chicken right away, you can store the leftovers in the refrigerator for up to three days. Just place it in an airtight container in the fridge.
This tastes amazing leftover, so you can use leftovers as a meal prep option.
Some Other Great & Easy Air Fryer Chicken Recipes-
Don't Forget To Pin-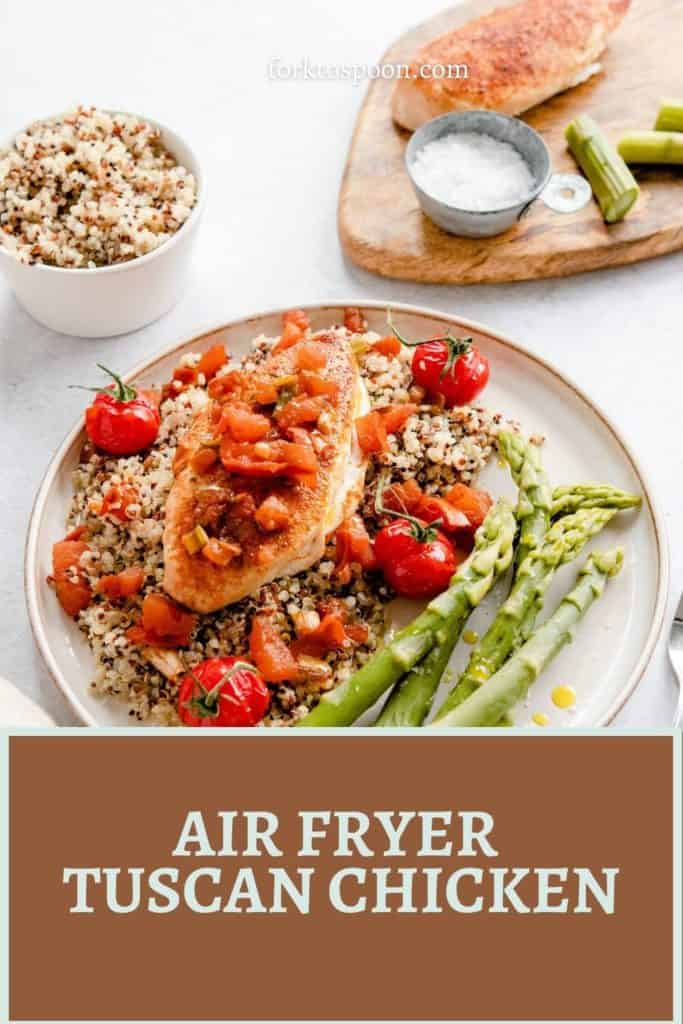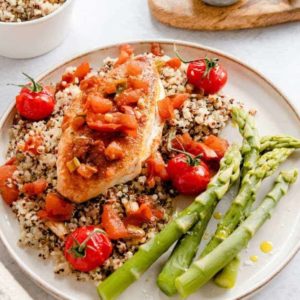 Air Fryer Tuscan Chicken
Description
Air fryer Tuscan chicken is an air fryer chicken breast recipe. Perfectly seasoned, served with Farro and asparagus.
Ingredients
2

Boneless, Skinless Chicken Breasts

1

teaspoon

salt

1/2

teaspoon

black pepper

1

tablespoon

French Mustard Vinaigrette

4

ounces

Grape Tomatoes, diced in half

1/2

cup

Oven Roasted Roma Tomatoes

12

ounces

Artichoke Hearts, diced in half

1

teaspoon

capers

1

ounce

Balsamic Vinaigrette

1

teaspoon

salt

1/2

teaspoon

black pepper

1

cup

farro

,

cooked

6

Asparagus Spears

,

steam

1

tablespoon

olive oil
Instructions
The first thing you want to do is season your chicken on both sides. Then you will place chicken in the air fryer basket or tray. Set the temperature to 370 degrees F, air fryer setting.

Cook for 7-10 minutes and flip and baste the chicken with the mustard vinaigrette.

While your chicken is cooking, place the roasted tomatoes, artichoke hearts, tomatoes, capers place in a sauce pan.

Pour the balsamic vinaigrette into the pan and season with salt and pepper. Toss till mixed.

Place the farro in the center of the dish—top with steamed asparagus and farro.

Once the chicken is done, place it on the serving plate, and sprinkle it with a tomato artichoke mixture. And finish dressing up the chicken, then serve
Nutrition
Serving:
1
Serving
Calories:
712
kcal
Carbohydrates:
103
g
Protein:
42
g
Fat:
17
g
Saturated Fat:
2
g
Polyunsaturated Fat:
2
g
Monounsaturated Fat:
6
g
Trans Fat:
0.01
g
Cholesterol:
72
mg
Sodium:
3049
mg
Potassium:
1661
mg
Fiber:
27
g
Sugar:
7
g
Vitamin A:
1230
IU
Vitamin C:
37
mg
Calcium:
138
mg
Iron:
7
mg