Instant Pot Orange Chicken—This is a great and easy Copycat Panda Express recipe you can make easily in the Instant Pot. And it is amazing.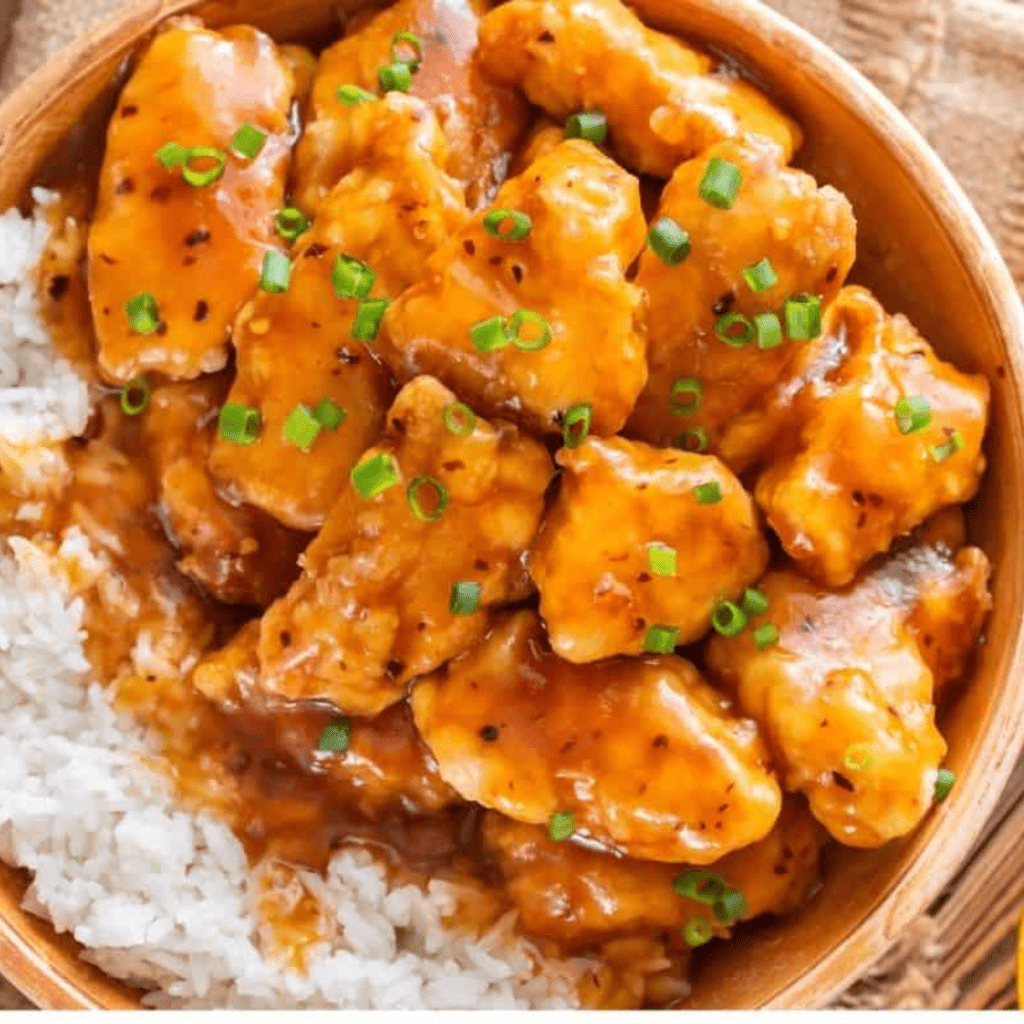 My husband loves Chinese food, and I think when I was dating him, he had Chinese food every night. While I like Chinese food too, it's not too good for the waistline or the pocketbook. So, I started to experiment with making Instant Pot Chinese food because I absolutely love Chinese food, and I love to make homemade food for my family.
One of my children's favorite things at the Chinese restaurant is Orange Chicken, so I tweaked a few recipes I found online and came up with this recipe.
What Is Instant Pot Orange Chicken
Instant Pot Orange Chicken is a popular and delicious Chinese-American dish consisting of tender and juicy chicken pieces coated in a sweet and tangy orange sauce. The chicken is usually marinated in a mixture of soy sauce, rice vinegar, and orange juice and then pressure-cooked in an Instant Pot to make it tender and flavorful.
The orange sauce is made with a combination of orange juice, brown sugar, soy sauce, rice vinegar, and other ingredients and is added to the cooked chicken to create a sticky and delicious coating. Instant Pot Orange Chicken can be served over rice or noodles and is a perfect choice for a quick and easy weeknight meal or as a crowd-pleasing dish for a dinner party or special occasion.
Why You and Your Family Will Love Pressure Cooker Orange Chicken
It is such an easy recipe
Orange Chicken is filled with flavor
Served with rice, it's a perfect one-pot meal.
It is relatively healthy since you use boneless, skinless chicken breast and do not need to fry this deep.
Cooks up quickly, and hardly any clean-up; wash the Instant Pot Bowl.
Leftovers are amazing and make a great lunch the next day.
Ingredients Needed for Instant Pot Orange Chicken
Are you looking for a delicious weeknight meal that your family will enjoy? Look no further than this crowd-pleasing Instant Pot Orange Chicken recipe! This dish combines the sweet and savory flavors of orange with a saucy stir fry.
With only ten ingredients needed, it'll be on your table in 30 minutes or less! If you've wanted to experiment with the fabulous flavors of Asian cuisine but don't know where to start, look no further: this is a great beginner dish. Read on for the ingredients you'll need and directions to get started!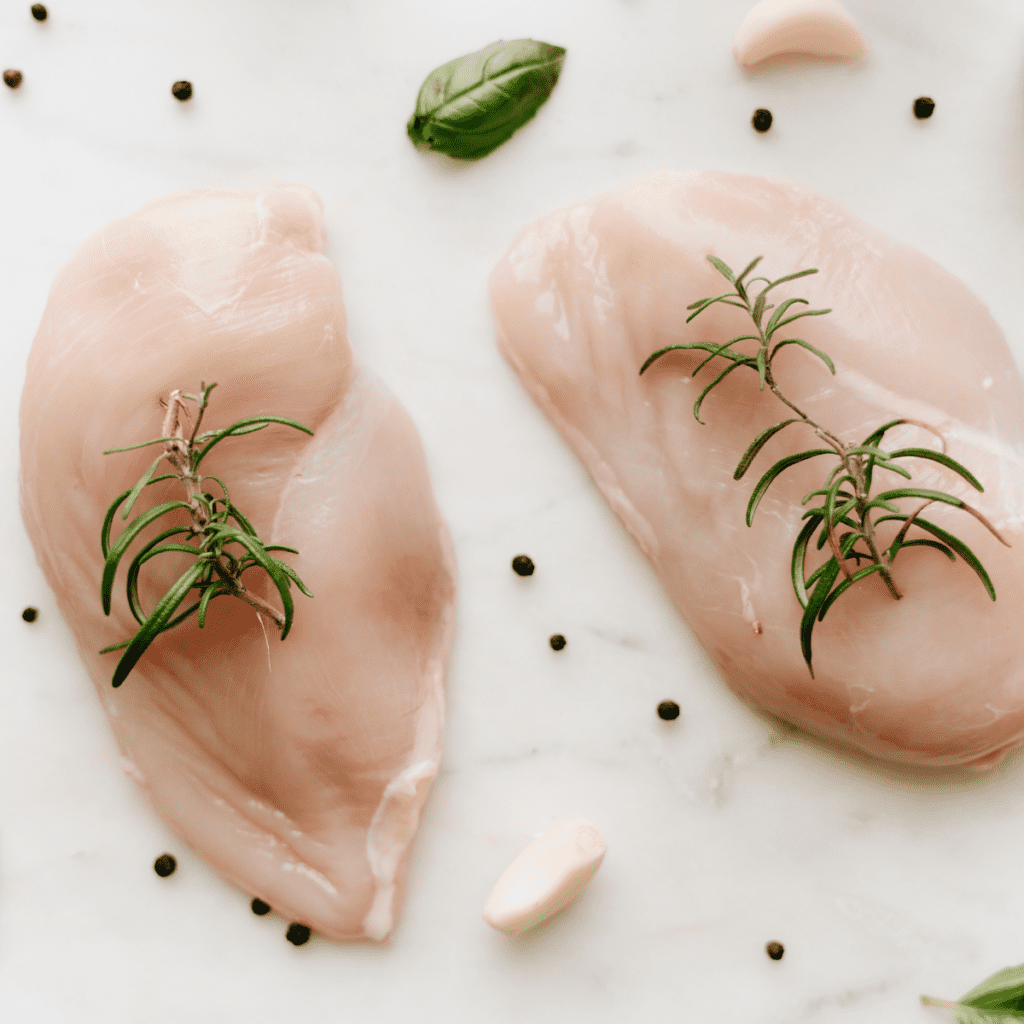 ​
Remember the step-by-step directions are below in the printable recipe card at the bottom of the page, as well as the nutritional information.
Chicken: Use boneless skinless chicken breast or chicken tenderloins
Liquid: Use water, chicken broth, chicken stock, vegetable broth, or vegetable stock.
Soy Sauce: Regular or gluten-free soy sauce
Brown sugar: For some added sweetness
Red Wine Vinegar: For some acid and tang
Orange Marmalade: A quick way to get a sweet sauce
Seasonings and Spices: Kosher Salt, Black Pepper, Red Pepper Flakes, Orange Zest, and Chili Powder
Flour: Use all-purpose flour or gluten-free all-purpose flour
Serving: Serve with sliced green onions, sesame seeds, or white rice
How To Make Orange Chicken In Instant Pot
Orange chicken is a classic Chinese-American dish that can be enjoyed at home if you can make it! While many people incorrectly assume this dish must be fried, it's actually quite easy to whip up delicious Instant Pot orange chicken with far less effort. It's a great recipe for beginners and experienced cooks alike because all the ingredients come together quickly and evenly cook while they are under pressure. Not only is Instant Pot orange chicken packed full of flavor, but its creamy sauce will leave your mouth watering and ready for more! Keep reading if you want to learn how to create restaurant-worthy orange chicken right inside your kitchen.
Step One: Add Your Ingredients To The Instant Pot Bowl
Cut your chicken on a cutting board with a sharp knife, and cut it into bite-size pieces.
Add Your Ingredients to the bottom of the pot; add the chicken water, soy sauce, brown sugar, red wine vinegar, and chili powder, and mix well.
Step Two: Pressure Cook Your Orange Chicken
Set the cooking time for the Instant Pot, for 5 minutes, on high pressure; when it's done, do a quick release so the meat does not dry out. Then add the sauce ingredients to the Instant Pot, and mix well. I added flour to thicken the sauce, but you could substitute it for Corn starch. Continue to saute the dish until it's completely done. Use the sauté function to saute until the sauce has thickened.
Serve over brown rice or white rice.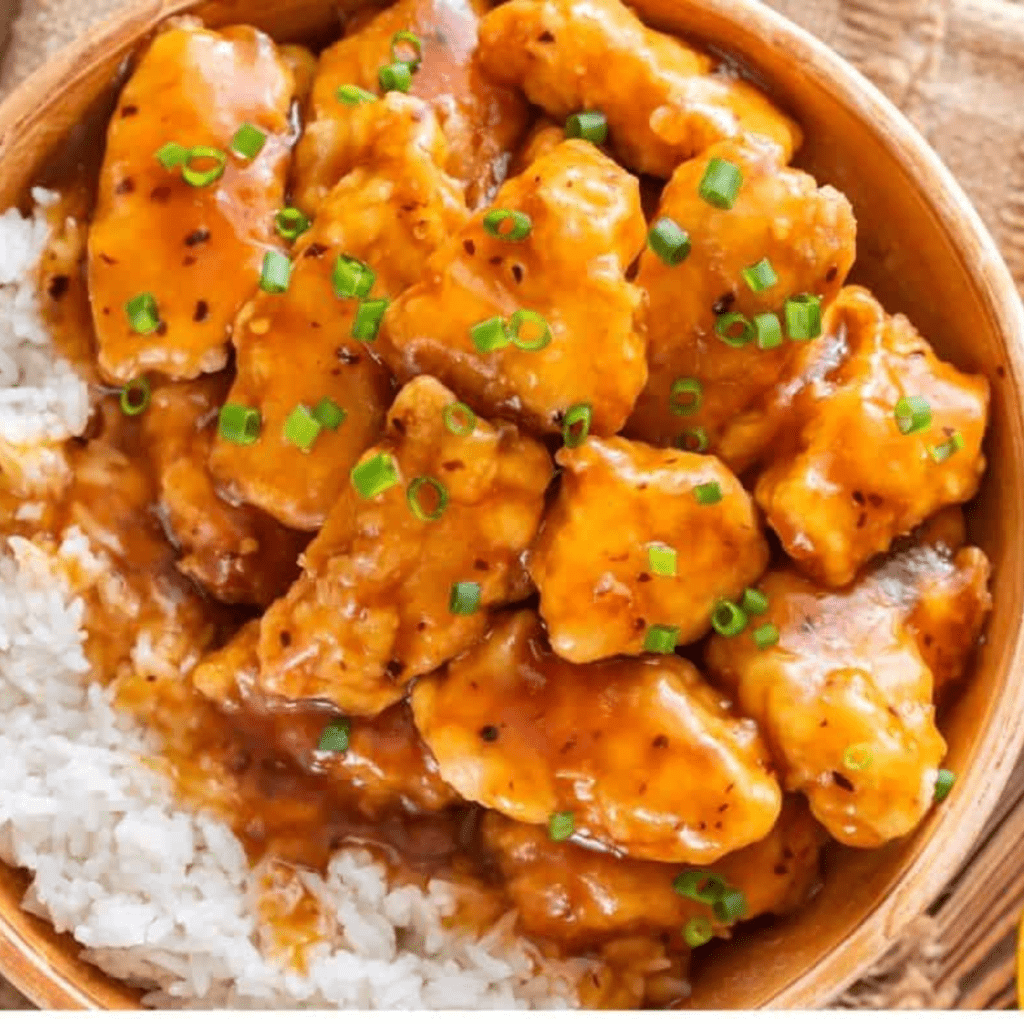 Pro Tips For Easy Instant Pot Orange Chicken
Here are some pro tips to help you make the best Instant Pot Orange Chicken:
Use boneless chicken thighs instead of chicken breasts for a more flavorful and juicy dish. Another option is chicken tenders.
Cut the chicken into evenly sized pieces to ensure they cook evenly in the Instant Pot.
Marinate the chicken in the sauce for at least 30 minutes or overnight to allow the flavors to develop fully.
Sauté the chicken in the Instant Pot before pressure cooking to brown the chicken and add extra flavor.
Use fresh orange juice for the best flavor, and be sure to zest the orange before juicing it for extra orange flavor. This is really the secret ingredient for orange chicken.
Use cornstarch to thicken the sauce after pressure cooking. Mix the cornstarch with cold water before adding it to the Instant Pot to prevent clumping.
Garnish with sliced green onions and sesame seeds for a beautiful presentation and added flavor.
By following these pro tips, you can make the best Instant Pot Orange Chicken that is flavorful, tender, and delicious.​
Frequently Asked Questions
Can I use chicken breasts instead of chicken thighs?
Yes, you can use chicken breasts instead of chicken thighs, but remember that the chicken may not be as tender and flavorful as using chicken thighs.
Can I use bottled orange juice instead of fresh orange juice?
Yes, you can use bottled orange juice, but remember that fresh orange juice will give the dish a more vibrant and authentic flavor.
Can I make this recipe without an Instant Pot?
Yes, you can make Orange Chicken on the stovetop or in the oven. Simply cook the chicken in a skillet or baking dish, and then add the orange sauce to the chicken to coat it.
Can I freeze Instant Pot Orange Chicken?
Yes, you can freeze Instant Pot Orange Chicken. Allow the dish to cool completely before transferring it to an airtight container, or freezer-safe container, or plastic bag. Reheat in the microwave or in a skillet over medium heat.
Can I make Instant Pot Orange Chicken ahead of time?
Yes, you can make the chicken and sauce ahead of time and store them separately in the refrigerator for up to 3-4 days. When you are ready to serve, reheat the chicken and sauce separately and then combine them just before serving.
By following these frequently asked questions, you can make delicious and easy Instant Pot Orange Chicken that will surely be a hit with your whole family.
What to serve wtih Orange Chicken
Serve with white rice, brown rice, noodles, green beans, cauliflower rice, or even alone as an appetizer!
What Happens If You Get The Burn Notice on The Instant Pot?
The burn note on the Instant Pot men's that the Inner pot has gotten too hot. The problem is that the Instant Pot stops heating up as a safety mechanism to keep the Instant Pot from overheating.
The truth is that the usual problem is that there is a piece of food (brown bits of food stuck to the bottom and are probably getting burnt). This is one of the reasons when you add ingredients to the Instant Pot, and you really need to stir well so nothing sticks.
Most of your food will be fine, and a few pieces will be burnt. So, to prevent this, stir well before adding your lid.
What Should You Serve With Instant Pot Orange Chicken?
I love serving this with rice; I have made so many rice dishes in my Instant Pot. Here are some of my favorites to go along with Orange Chicken.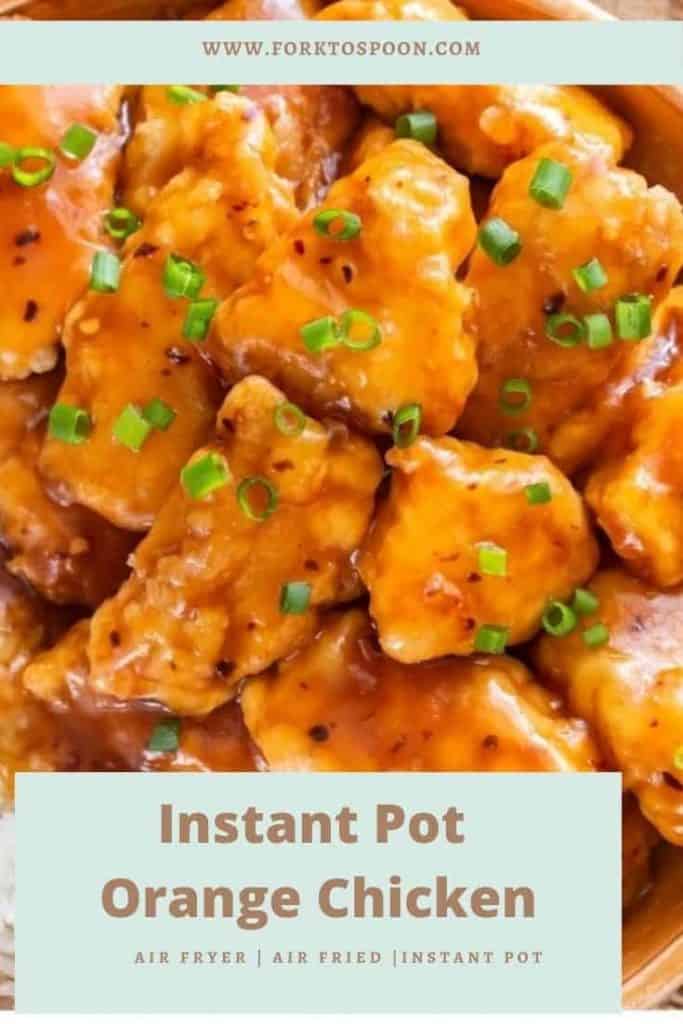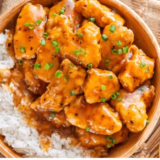 Instant Pot Orange Chicken
Description
One of the easiest and tastiest dishes for Chinese Instant Pot is Orange Chicken, which absolutely delicious.
Ingredients
4

boneless chicken breasts

,

(diced into cubes, about 1 inch)

1/3

cup

water

1/4

cup

soy sauce

2

tablespoons

brown sugar

1

tablespoon

red wine vinegar

1/2

teaspoon

chili powder

1

teaspoon

kosher salt

1

teaspoon

black pepper

1/2

cup

orange marmalade

2-4

tablespoons

water

3

tablespoons

flour

,

any type of flour (substitute gluten-free if you want)
Instructions
In the Instant Pot, add the chicken, water, soy sauce, brown sugar, red wine vinegar, and chili powder.

Mix well so that the sauce is over the chicken, which will allow it to absorb the flavor.

Lock the lid into place and change the vent to seal.

Press manual and set it for 5 minutes.

When it's done, do a quick release, then remove the lid.

Mix in the marmalade, water (2-4 tablespoons only), flour, salt, and black pepper, and mix well.

Press saute and saute until the sauce is thickening.
Nutrition
Serving:
1
g
Calories:
232
kcal
Carbohydrates:
25
g
Protein:
17
g
Fat:
7
g
Saturated Fat:
2
g
Polyunsaturated Fat:
2
g
Monounsaturated Fat:
3
g
Trans Fat:
0.1
g
Cholesterol:
48
mg
Sodium:
995
mg
Potassium:
214
mg
Fiber:
1
g
Sugar:
20
g
Vitamin A:
130
IU
Vitamin C:
1
mg
Calcium:
27
mg
Iron:
1
mg