When I was a child, we would usually just have plain white rice for a side dish, we would either have white rice or if my mother purchased a box of Near East, we would have a fancy dish and have rice pilaf. We didn't have it often, because having plain rice was just a necessary side, nothing anyone was looking forward to.
When I got married, my husband lived in Japan for a while, during college, and in Japan as one can imagine they had rice at every meal. In Asian countries having a rice cooker is seen as a necessary appliance.
When we registered for our wedding gifts, my husband wanted a rice cooker. So, we got one, and it quickly became one of my favorite kitchen appliances.
Fast forward 20 years and the new kitchen gadget for rice is the Instant Pot (Pressure Cooker) and using the Instant Pot, couldn't be easier for making tasty and easy recipes. The mini (3 quarts) is also amazing for side dishes. So, wait for a sale and snag one, you will not be sorry.
You will soon be able to make foolproof and delicious side dishes with your Instant Pot.  You can all sorts of rice dishes, from Pilafs, Risottos, Polenta, Porridge, Puddings and more.
Here are some tips for getting the best tasting rice dishes from your Instant Pot (Pressure Cooker)
Always wash the rice (or at least rinse the rice)–In the United States we are never told to rinse the rice because in American the rice has been fortified with powdered vitamins, and when you rinse the rice, you also wash out the fortified vitamins. Washing or at least rinsing the rice removes the loose surface starch and in turn that will reduce the stickiness of the rice. The only kinds of rice you should not rinse are Arborio and other risotto styles rice because you need the starch to make the rice creamy.

I have found that the Ceramic Instant Pot Bowl works better than the regular stainless steel bowl, that comes with it. I find that there is less burning or scorching. I think because with the thicker surface the Instant Pot Ceramic bowl controls the heat better.
Sauteeing the rice in butter before cooking. This does two things for your dish, first, it increases the flavor of the rice dish and second the butter or oil coats the rice grain, which prevents them from sticking to each other.
For the best rice, after it is cooked and it does a natural release, let it sit for a few minutes before opening the lid, this gives time for the moisture to evenly distribute through the rice.

Now for the Mini–great set


I used to hate making rice until I got the Instant Pot. Now, each rice dish is flavorful and well cooked. Not too dry or too hard.
Kitchen Items Used: (Note: Affiliate links are included in this post)
J.A. Henckels 6-Inch High Carbon Stainless Steel Chef's Kitchen Knife
Stainless Steel Measuring Cups, 5 Piece Set
Hudson Essentials Stainless Steel Measuring Cups Set-6 Piece Stackable Set with Spout
Anchor Glass Measuring Set–This is one of the handiest tools in the Kitchen 
Italian Olive Wood Spatula (I LOVE THis for my IP)
Don't Forget To Pin–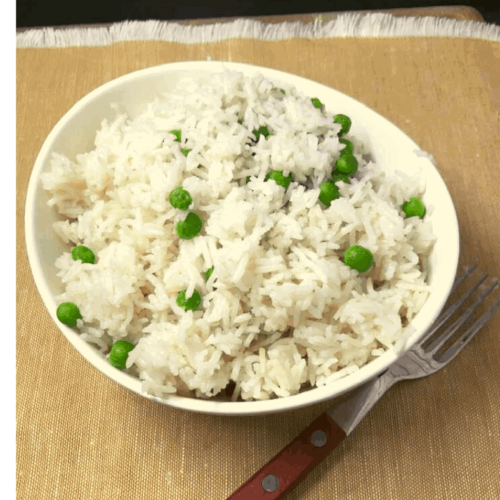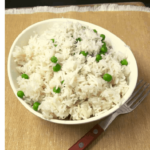 Instant Pot, Coconut Jasmine Rice
A very easy recipe, with only a few key ingredients. This is a really quick and easy side dish for any meal.
Ingredients
2

cups

Jasmine rice (rinsed)

13.5

ounces

coconut milk

1

cup

water

1

cup

peas (either thawed from frozen or canned)
Instructions
In the Instant Pot bowl, mix together the rice, coconut milk, and water. Mix well.

Place the lid on top, and make sure it's in the sealing position.

Press the rice button on the display panel, which should come up as 12 minutes. (if you do not have a rice button, simply press manual low pressure for 12 minutes)

When the time is up, naturally release.

When all of the pressure in the Instant Pot is released, open the lid, and mix in the peas.