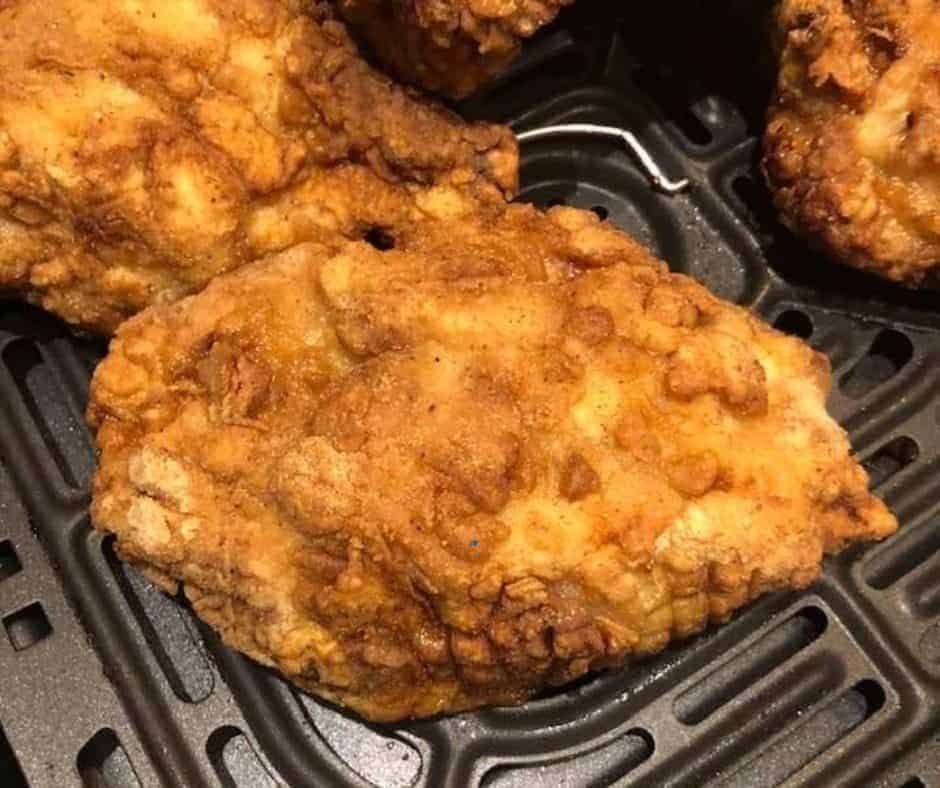 Air Fryer Southern Fried Chicken is a southern seasoned chicken. This is my go-to air fryer fried chicken. The chicken is crispy coated, with juicy meat in the center. Whip this up and pair it with all your favorite sides: Collard greens, mashed potatoes, gravy, corn, dinner rolls, etc.
Here is a great recipe, which is a twist on a basic air fried chicken dish, last year, I used the grill to make this chicken dish, and my kids loved it so, I decided to try it in the air fryer.
Air Fryer Southern Fried Chicken
The sauce adds a great flavor to the chicken, along with the rub. My kids love it because it reminds them of fried chicken, but better because they can have it at home. This chicken is moist, flavorful, and has a great texture as well. My entire family ate it, and it can be made ahead of time. Just cover it with aluminum foil and keep it in the refrigerator until ready to eat.
I purchased our air fryer last April, and then I purchased another air fryer in December, yet I just ordered another one this week. It has quickly become one of our favorite kitchen appliances, and it replaced my oven. The other day, I was dusting my oven, and I thought, when was the last time I used this?
Is The Air Fryer Chicken Heavy
The air fryer is nice and light, and with very little oil, you too can get healthy, crisped dinners (chicken, etc.). And, it saves you a ton of time because it doesn't require you to wait for the oven to preheat, and the dishes quickly cook, compared to the oven.
Here are some tips for air frying chicken:
Seasoning your chicken is important. Make sure to season your chicken for optimal flavor evenly.
Most chicken dishes can be rubbed and then set into the refrigerator ahead of time. So, when you come home from work/errands/kids, etc., you can place it in the air fryer, spray it with olive oil spray and air fryer.
Spraying the chicken with olive oil spray is one of the keys. I spray the heck out of, and I always get no white spots and tender (way juicy) chicken.
Always flip the chicken halfway, and then spray again. This way, both sides are nice, light, and tender.
Because eating uncooked chicken is unhealthy and can you sick, invest in a meat thermometer.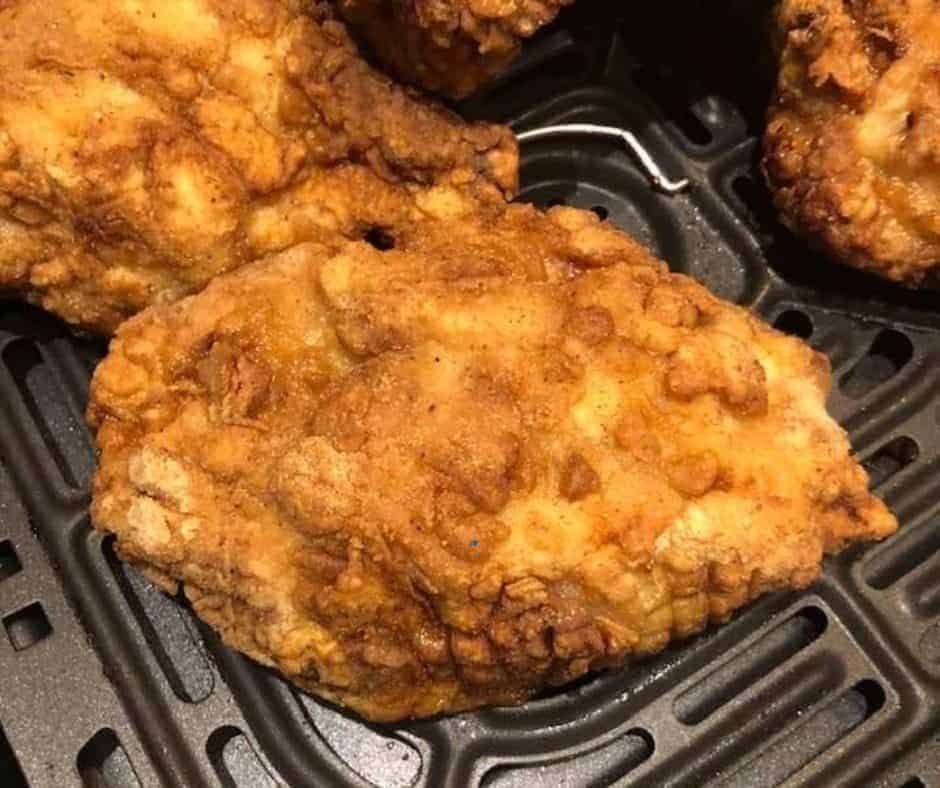 Can I Use A Gluten-Free Flour
If you need a gluten-free option, go right ahead and reach for a gluten-free flour blend. You want something that mimics the texture of flour without being overpowering in flavor. You will dredge just the same and serve and enjoy.
The same goes for if you wanted to do a keto style breading. I am sure almond flour ground up fine would work great, or a blend of coconut and almond flour in one.
Best Sides to Make With Air Fryer Chicken
Sweet Potato Hash | Here is a different style of side dish. Transform your sweet potatoes into a hash recipe. This is one of my favorites and compliments the chicken. 
Instant Pot Broccoli | Here is a wonderful way to whip up broccoli if you enjoy it. This allows for the perfectly tender broccoli that pairs great for a vegetable side dish. 
Air Fryer Veggie Tots | I love taking frozen veggie tots and cooking them up for a crispy and delicious outside filled with tasty vegetable flavor. Dip in some ranch, or eat alone. 
Can You Freeze Air Fried Chicken 
If you make up extra chicken or find extra on hand, allow the chicken to cool down a bit. Then place in a freezer bag or airtight container and freeze for up to three months. 
When you want to eat it, remove and cook in the oven straight from frozen, covered with aluminum foil. Or you can opt to thaw it in the fridge the night before. Then reheat in the air fryer to help get the outside crispy again, or do the microwave. 
Best Way To Reheat Fried Chicken
 I have found reheating your chicken in the air fryer is the best method. You reheat for a few moments until it warms it up. This allows keeping the integrity of the breading.
If you do the microwave, it can make the breading and skin feel a bit softer and rubbery in texture. Go ahead and heat it as you would like. Just remember chicken is a bit delicate and can dry out if overheated
Does This Recipe Double Well
You are more than welcome to make as much or as little as you would like for this air fried chicken. The biggest thing is cooking in batches. That way, you can get an even cook on all your chicken. Make sure to check the internal temperature of the meat to ensure the chicken is fully cooked. 
Let it rest for a few minutes, and then serve it up. Allowing the chicken to rest for around five minutes helps to ensure the moisture stays in the chicken. Otherwise, it can end up being a bit dry. 
HERE ARE SOME HELPFUL PRODUCTS TO HELP YOU MAKE THIS RECIPE-
Disclosure: Some of the links below are affiliate links. At no cost to you, I will earn a commission if you click through and make a purchase.
DON'T FORGET TO PIN-
Yield: 4-6 servings
Air Fryer, Southern Fried Chicken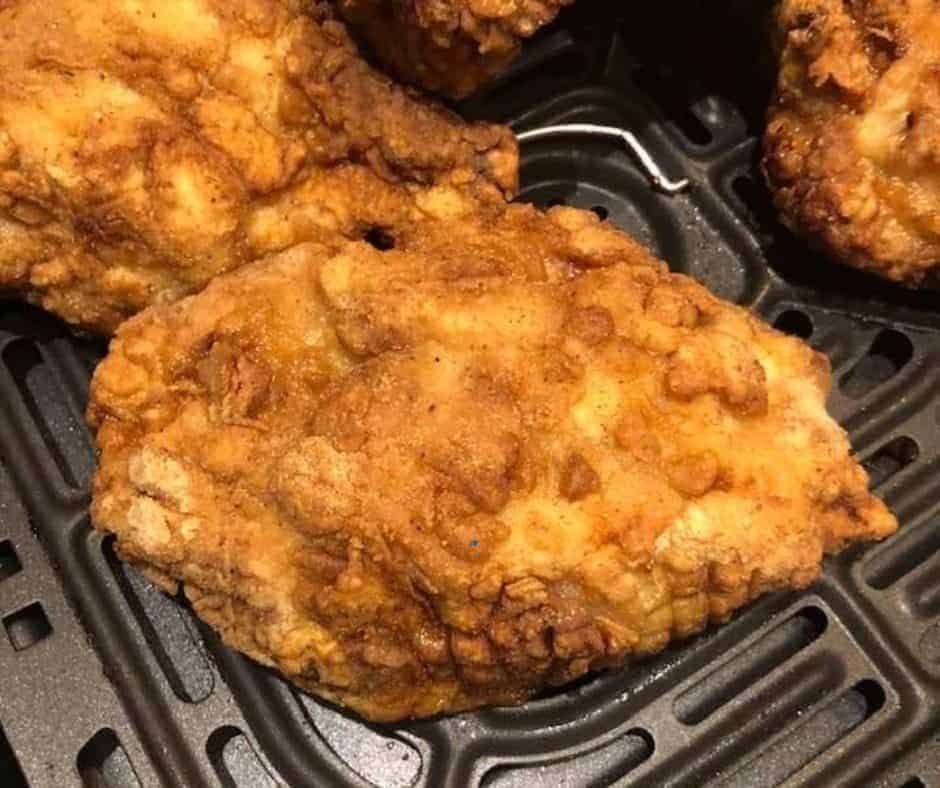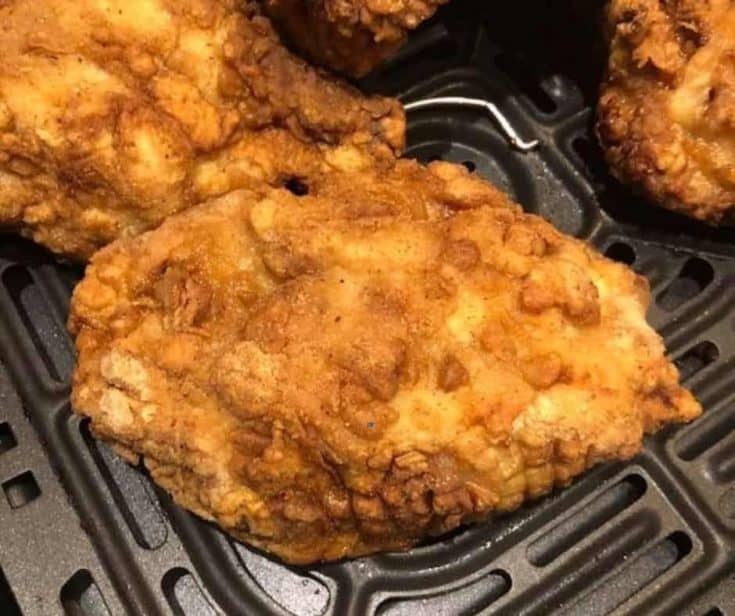 This is such an easy way to serve chicken to the entire family. The coating is amazing and crisps really nice in the air fryer. My kids love this, I adapted it from my mom's recipe, where she used the oven and the broiler. This is truly a classical southern fried chicken, with all of the flavor and so much less of the fat.
Ingredients
2 pounds assorted chicken thighs and legs
Southern Spice Blend:
2 teaspoons salt
1 teaspoon black pepper
1 teaspoon white pepper
1 teaspoon dried thyme
1 teaspoon dried basil
1 teaspoon dried oregano
1 teaspoon dried celery salt
1 teaspoon dried paprika
1 teaspoon onion powder
2 tablespoons olive oil
1 cup flour
1 1/2 teaspoons baking powder
1/4 cup cornstarch
1 teaspoon salt
1 teaspoon black peper
1-2 tablespoons hot sauce (depending on how hot you like it)
2 tablespoons buttermilk
1/4 cup water
2 eggs
Instructions
In a small bowl, mix together all of the spices.
Add the olive oil into the spice mixture.
Use your hands and rub the spices and olive oil into the chicken.
Then in another small mixing bowl, mix together the flour, baking powder, cornstarch and salt, and pepper. (about a teaspoon each)
Then in another mixing bowl add the eggs, hot sauce, water, and buttermilk. Mix well.
Dredge the chicken into the flour mixture, use your hands to really coat the chicken.
Then shake the excess off.
Soak the chicken in the buttermilk mixture.
Then recoat it in the flour mixture.
Spray your basket with olive oil spray.
As you coat the chicken for the second time, place it in the air fryer basket.
Then GENEROUSLY spray the chicken with olive oil (this helps it crisp up)
Set the temperature to 350 degrees F, for 15-20 minutes.
Plate, serve, and enjoy!