Air Fryer Mexican Corn Dip — I will never forget the first time I tried air fryer Mexican corn dip. It was the most fantastic thing I have ever put in my mouth! The heat from the air fryer perfectly melts the cheese and creates a perfect crispy texture. You can't go wrong with this recipe because it is so easy to make. You need a few ingredients!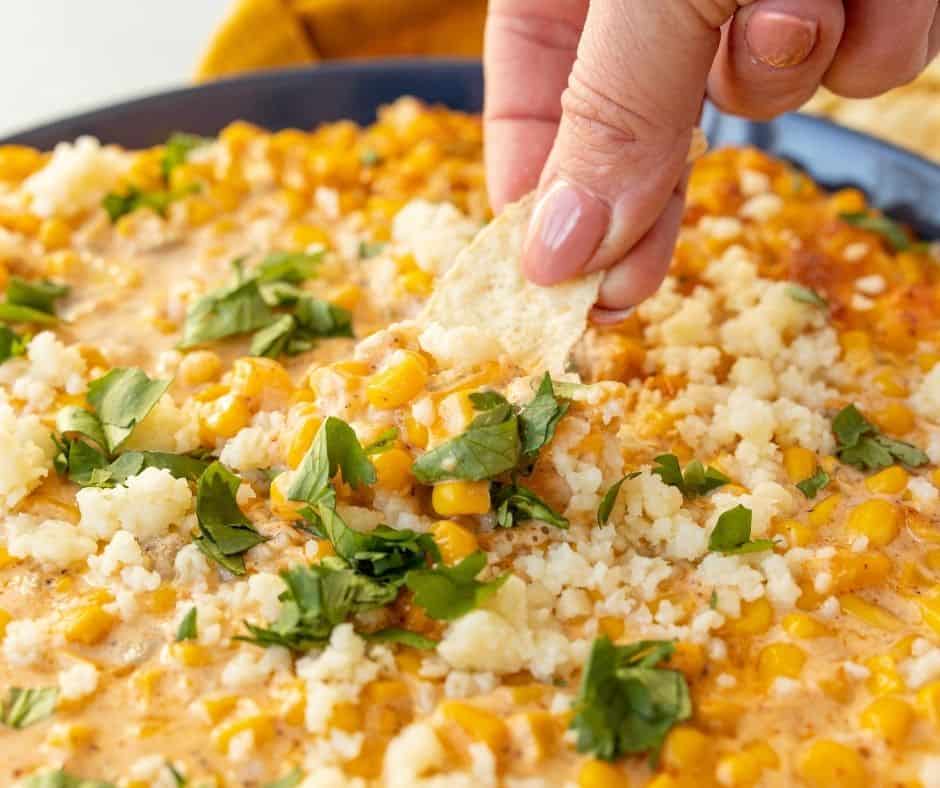 It's officially summer, and that means it's time to break out of the grill! This recipe is perfect for your next BBQ because you can make it in an air fryer. This dip has all of your favorite Mexican flavors like cheese, sour cream, tomatoes, green chilies, and more. Plus, it only takes about 15 minutes to whip up this delicious appetizer or snack. If you're looking for a quick fix for those hot days ahead, then this Mexican Corn Dip should be just what you need!
What Is Mexican Corn Dip?
If you love Mexican food, chances are you've tried Mexican corn dip.
Mexican corn dip is a delicious appetizer that's great for parties. It contains sour cream, mayonnaise, chili powder, and cumin. You can serve Mexican corn dip with chips or fresh vegetables as a healthy alternative to other dips such as cheese or ranch, often high in fat and calories. This easy-to-make recipe will have you ready to serve the party in no time!
Why This Recipe Works:
This recipe is perfect for the beginning air fryer cook because it is simple, easy to follow, and makes for a quick snack or appetizer.
It also has only a few steps so you can easily follow along. The ingredients are inexpensive and easy to find in most grocery stores. This recipe only takes 5 minutes of preparation time, making it great for weeknights when you want something fast but delicious!
And of course, it's absolutely delicious!
Ingredients Needed For Air Fryer Mexican Corn Dip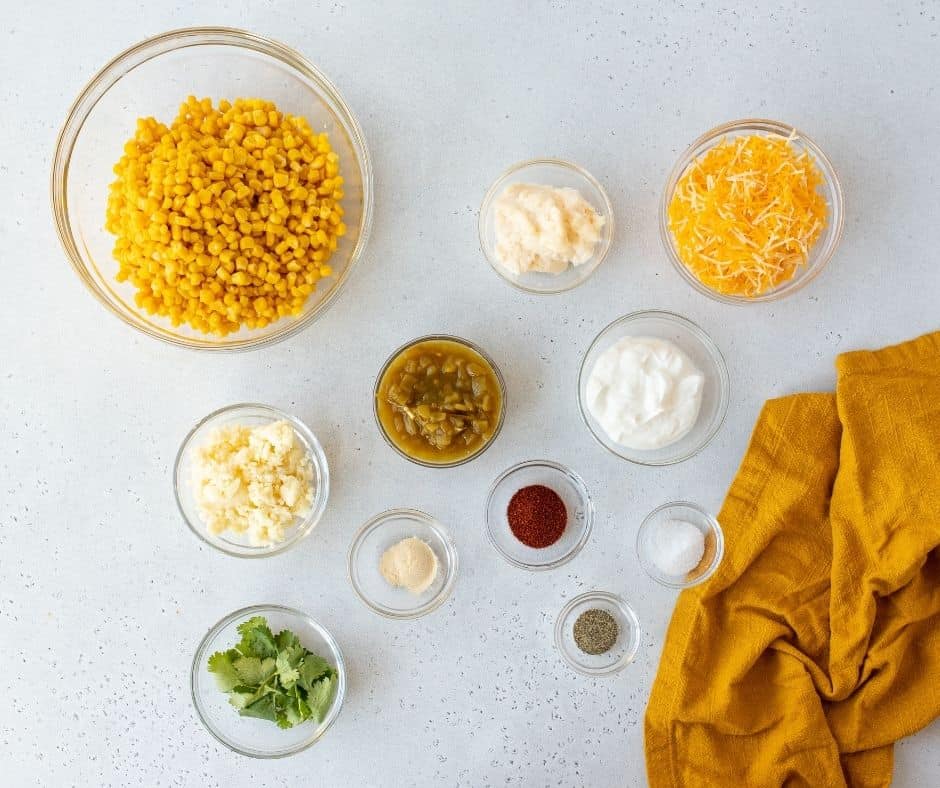 Corn Kernels
Roasted Chilies
Mayonnaise
Sour Cream
Garlic Powder
Salt
Black Pepper
Cilantro
Shredded Mexican Cheese
How To Make Air Fryer Mexican Corn Dip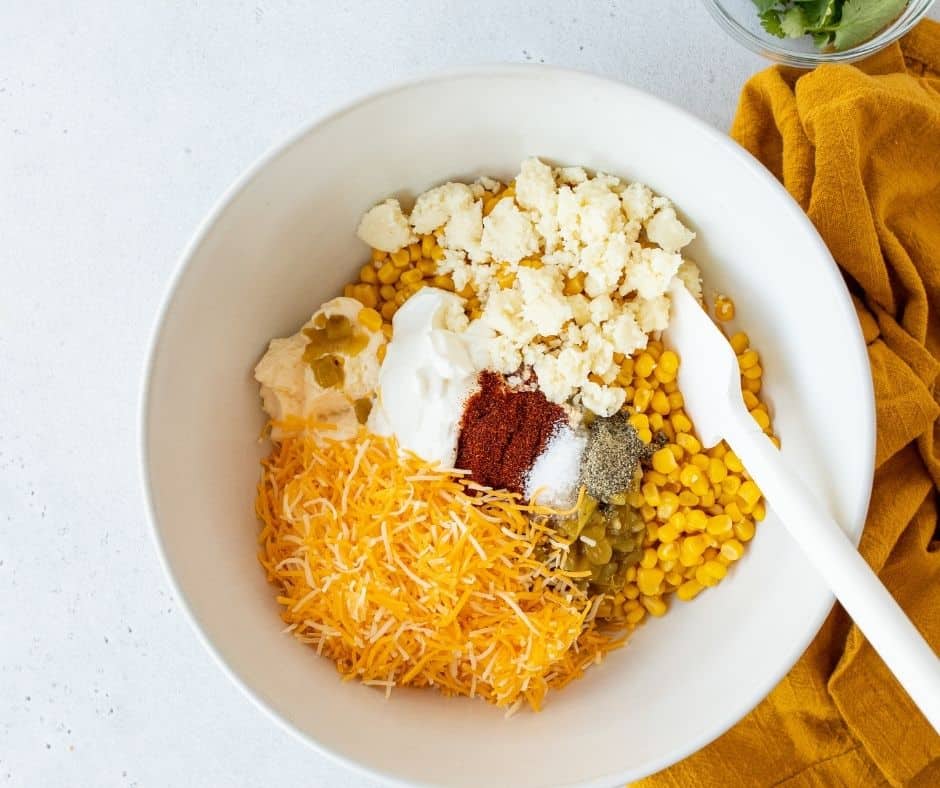 Start by warming the corn kernels in a small saucepan or the microwave until warm. Drain the corn, if needed. In a large bowl, mix the ingredients, reserving 1/2 cup of the Cotija Cheese and 1 cup of Mexican Cheese.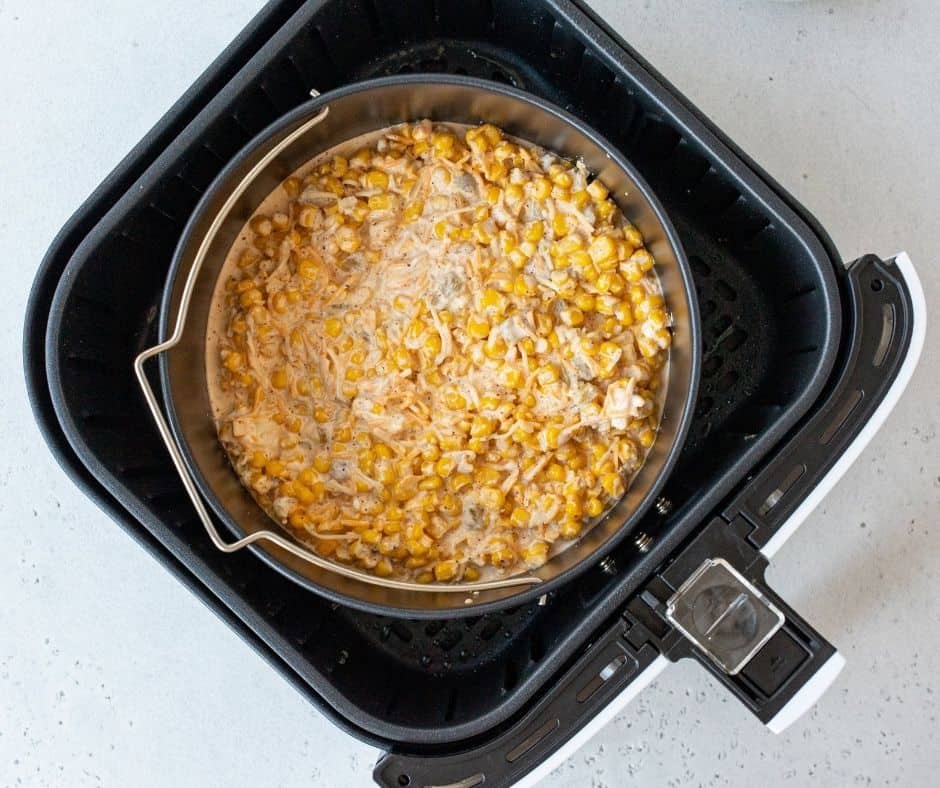 Pour the dip into your baking pan, and set the temperature to 330 degrees F, air fryer setting for 5 to 8 minutes, mixing about halfway during the cooking process.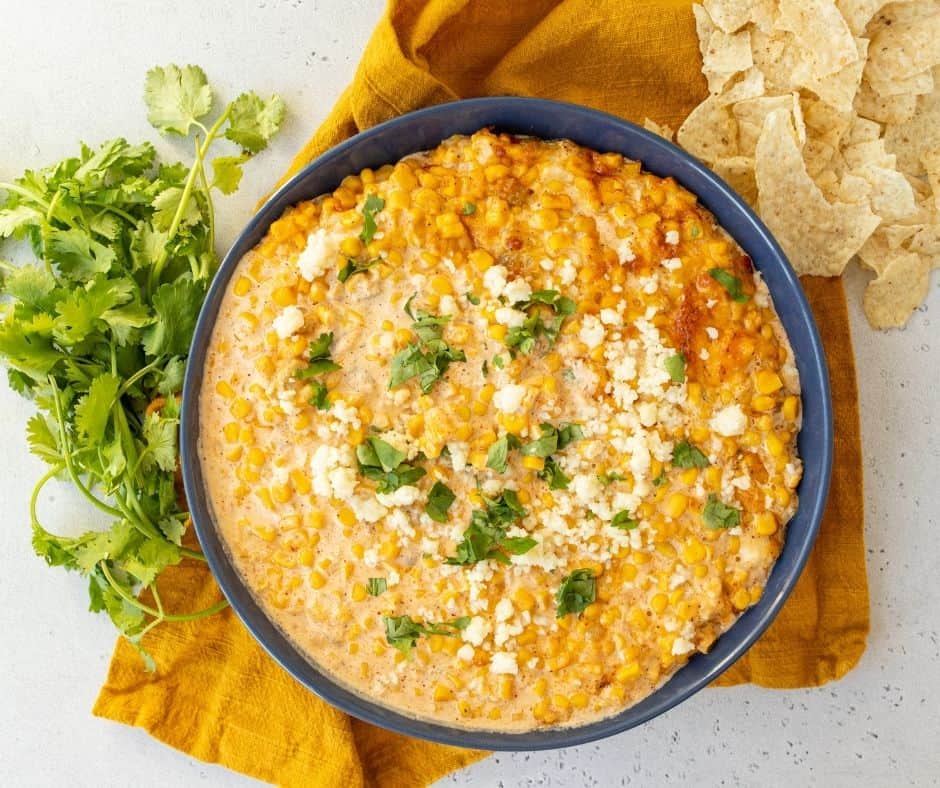 Top with the rest of the Mexican cheese, and Cojita Cheese, serve with fresh cilantro!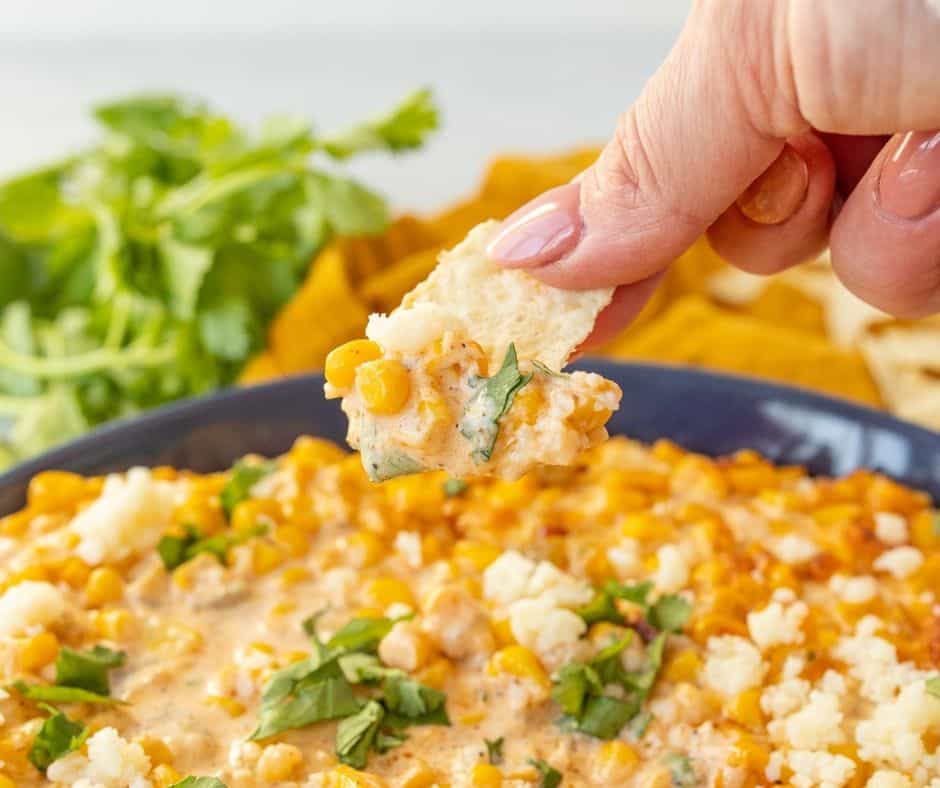 What Type of Corn Should I Use?
You can use anything that you want for the corn, the three most common are canned corned, frozen corn, and corn on the cob.
The key would be to heat the corn up and drain (if needed) before adding it to the other ingredients.
Should I cook the corn first?
Yes, the best thing to do with your corn is to heat it. Yes, that's right! You can warm up all of those kernels in either a small saucepan or on an open flame (such as over a fireplace or grill).
The reason why we want you warming up this delicious vegetable? It will make it more tender and sugary, which will enhance the flavor of the corn dip.
How can I make a lighter corn dip?
Today I'm going to be talking about how to make a healthier version of corn dip. It's one of those foods that everyone loves whether they're dieting or not, but it doesn't have to be bad for you!
Let me show you how we can make this classic crowd-pleaser without all the guilt. With a few substitutions, you can lighten this dip up. Here are some suggestions.
Mayonnaise: Use light Mayonnaise, such as Kraft Light Mayonnaise or Hellmann's Light Mayonnaise; you will not be able to tell the difference. The flavor will remain the same.
Sour Dream: You can either use light sour cream or Greek yogurt. Do not use regular yogurt, as it is thinner and will thin your dip out.
Cheese: Use a light Mexican Cheese or light Cotija Cheese. There will be no difference in the flavor of the corn dip.
What else can I add to this dip?
Even though this dip is perfect as is, you might want to experiment with adding different ingredients. If you are looking for a spicy kick, try adding some hot sauce or chopped jalapenos. For an Italian flair, add some grated Parmesan cheese and fresh basil leaves.
What else can I add to this dip?
Spice: Add some hot sauce, diced jalapeno pepper, poblano peppers, sriracha sauce, red pepper flakes.
Cheese: Change the cheese to shredded cheddar cheese, shredded pepper jack, or even shredded Monterey Jack cheese.
Vegetables: Add some diced tomatoes, diced avocados, cucumbers, or even bell peppers.
Protein: Add shredded chicken, ground beef, taco meat, bacon bits, pulled pork, or even ground chorizo. Make sure that when you add proteins, they are fully cooked.
What can I use if I don't have Cotija cheese?
Cotija cheese is a Mexican cheese often used in dishes such as tacos and enchiladas. However, if you don't have any on hand or can't find it at the grocery store, several alternatives will produce similar results when cooking or baking!
Queso Fresco
Feta Cheese
Goat Cheese Crumbles
Can Air Fryer Mexican Corn Dip
be served hot?
This is a versatile dip; you can either serve it hot or cold. You can make this dip ahead of time and then heat it up right before serving.
Can corn dip be made ahead of time?
Yes, this is a great dip that you can easily make ahead of time. For best results, let it cool to room temperature and then cover with saran wrap. Place into the refrigerator, where it il last for 2 to 3 days.
More Air Fryer Appetizer Recipes:
Don't Forget To Pin Air Fryer Mexican Corn Dip: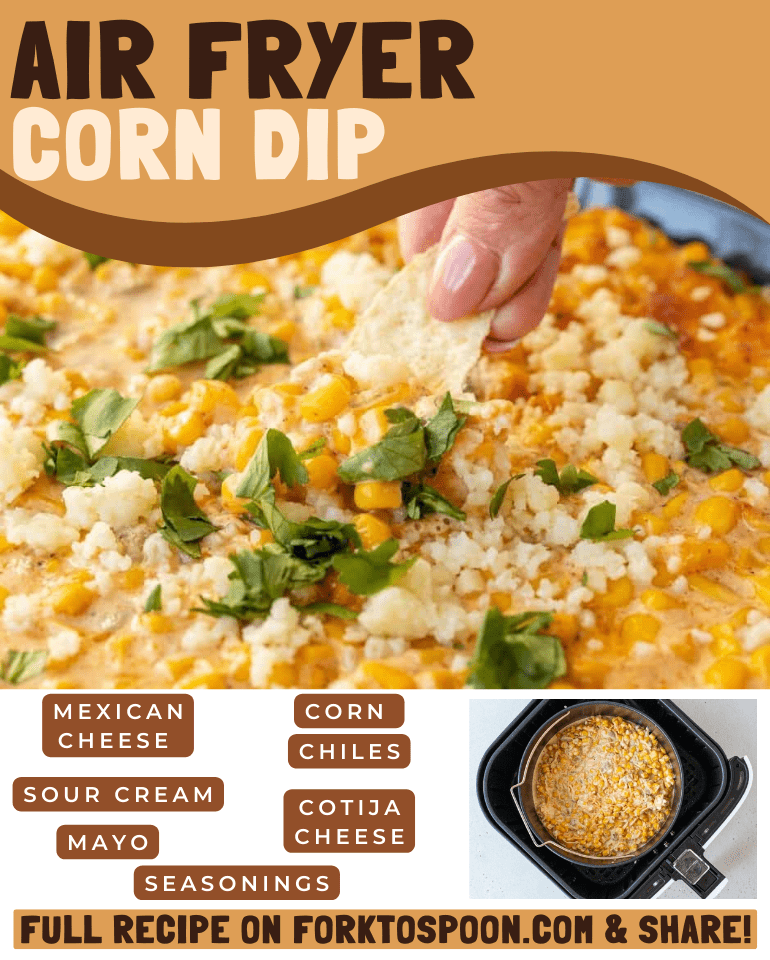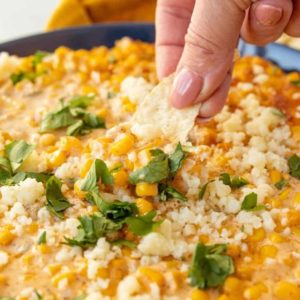 Air Fryer Mexican Corn Dip
Description
Warm weather is the perfect time to break out the air fryer and make some delicious Mexican corn dip! This recipe is easy to follow and perfect for a party or game day. Plus, it's a great way to use up leftover corn from dinner. So get your air fryer ready and enjoy this tasty dip!
Ingredients
3

cups

corn kernels

4

ounces

roasted chiles

3

tablespoons

mayonnaise

3

tablespoons

sour cream

1

teaspoon

chile powder

1/2

teaspoon

garlic powder

1/2

teaspoon

salt

1/4

teaspoon

black pepper

2

tablespoons

cilantro

,

diced

1/2

cup

cotija cheese

1

cup

Mexican Cheese

,

shredded
Instructions
In a microwave bowl, heat up the corn.

Drain the corn if needed.

Add the corn to a large mixing bowl, then add the chiles, mayonnaise, sour cream, and spices. Add about ½ of the cotija cheese into the mixture, and 1 cup of the Mexican cheese.

Pour the mixture into an air fryer safe pan, and set the temperature to 330 degrees F, air fryer setting. Air Fry for 5 to 8 minutes, or until the dip is bubbly, and the cheese has melted.

Add the rest of the Cotija cheese, and diced fresh cilantro, on top, right before serving.
Nutrition
Serving:
1
g
Calories:
168
kcal
Carbohydrates:
11
g
Protein:
7
g
Fat:
12
g
Saturated Fat:
5
g
Polyunsaturated Fat:
3
g
Monounsaturated Fat:
3
g
Trans Fat:
0.01
g
Cholesterol:
27
mg
Sodium:
504
mg
Potassium:
160
mg
Fiber:
2
g
Sugar:
4
g
Vitamin A:
407
IU
Vitamin C:
21
mg
Calcium:
149
mg
Iron:
1
mg