Are you looking for a delicious and simple meal that comes together quickly? Look no further than these irresistible Air Fryer Ranch Pork Chops.
This fantastic dish is packed with flavor in every bite, thanks to the tangy ranch dressing marinade that infuses the pork chops and combined with the perfectly crisp outer crunch of the air fryer – your taste buds will be asking for more! As a bonus, this dish takes minimal effort to make, so you can have it ready to eat any night of the week.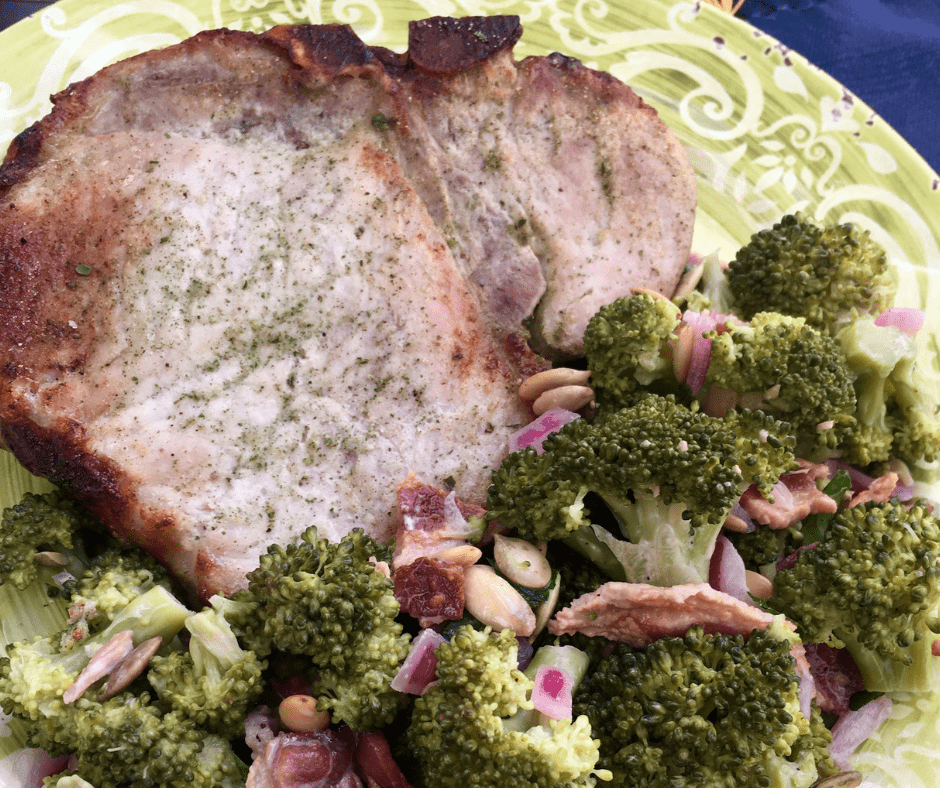 Sometimes, weeknight dinners can be a challenge. You're tired and want to eat something healthy, but you don't have the energy or time to spend hours in the kitchen. That's where air fryer ranch pork chops come in!
This delicious dish is sure to make any family happy without wasting time in the kitchen, and it's so simple that even someone with little cooking experience can make it turn out perfectly. These pork chops are juicy and tender and packed full of flavor from herbs like parsley, thyme, oregano, rosemary, and garlic – all blanketed under ranch seasoning for an extra kick of savory goodness! Read on for all the tips you need to know about making this easy meal ready in under 15 minutes!
Air Fryer Pork Chops With Dry Ranch Seasoning
These are some of the most effortless pork chops that you can make. They are one of my favorite meals, and with only three ingredients, you can make these pork chops in about 15 minutes!
Ingredients Needed For Air Fryer Ranch Pork Chops
Do you crave the delicious taste of pork chops but don't love all the fat and calories? Making Air Fryer Ranch Pork Chops is a quick and easy way to enjoy this classic dish without all the extra grease. Not only will you indulge in this tasty meal, but you'll also save time and energy! Read on for our complete guide to preparing your own flavorful ranch pork chops with an air fryer — we guarantee they'll be both healthy and delicious!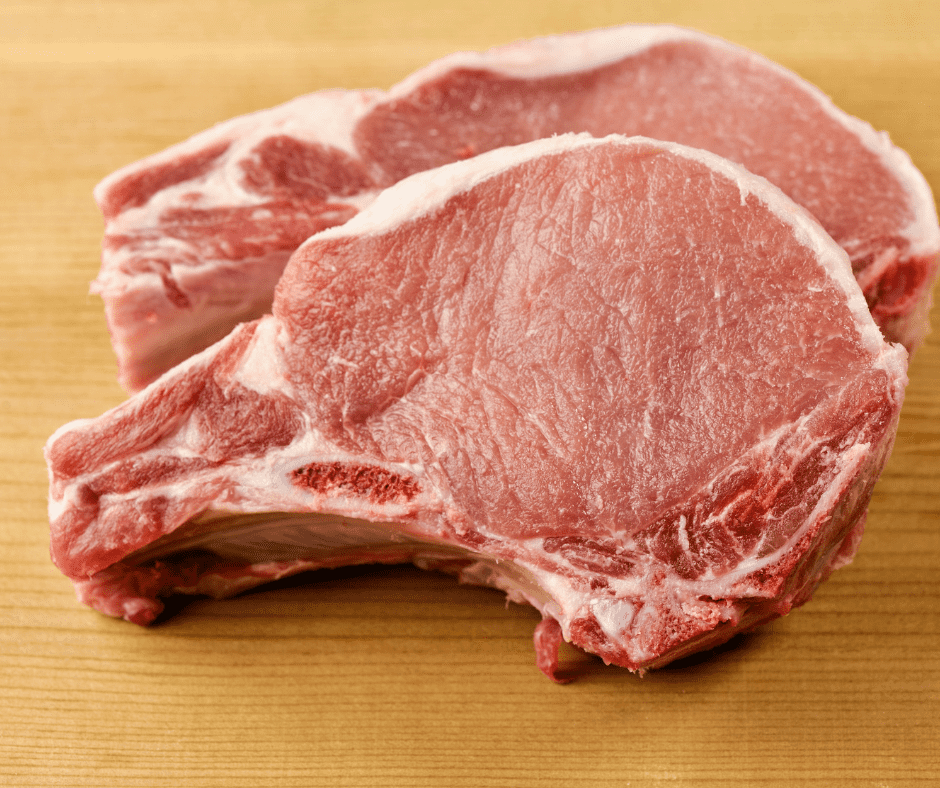 Remember the step-by-step instructions are below in the printable recipe card, at the bottom of the post.
Pork Chops: Use Bone-In Thick Cut Pork Chops or boneless pork chops
Oil: use any high-heat oil, such as avocado oil, coconut oil, or extra virgin olive oil
Dry Ranch Seasoning: Dill Weed, Parsley, Onion Powder, Kosher Salt, and Black Pepper
How To Cook Ranch Pork Chops In Air Fryer
Step One: Prepare Seasoning Mix
Add the dill weed, parsley, onion powder, kosher salt, and black pepper in a small bowl, and mix well.
Step Two: Oil and Season Your Pork Chops
Rub the olive oil over the pork chops (both back and front), and then apply your seasoning mix over the pork chops.
Step Three: Air Fry Your Pok Chops
Add your pork chops to the air fryer basket, set the temperature to 375 degrees F, and set cook time for 8-10 minutes. Flip the pork chops halfway during the cooking process> Remove the pork chops when the internal temperature reaches 160 degrees F.
Step Four: Serving
Let your pork chops rest for a couple of minutes, then serve with your favorite dipping sauce or Ranch dressing.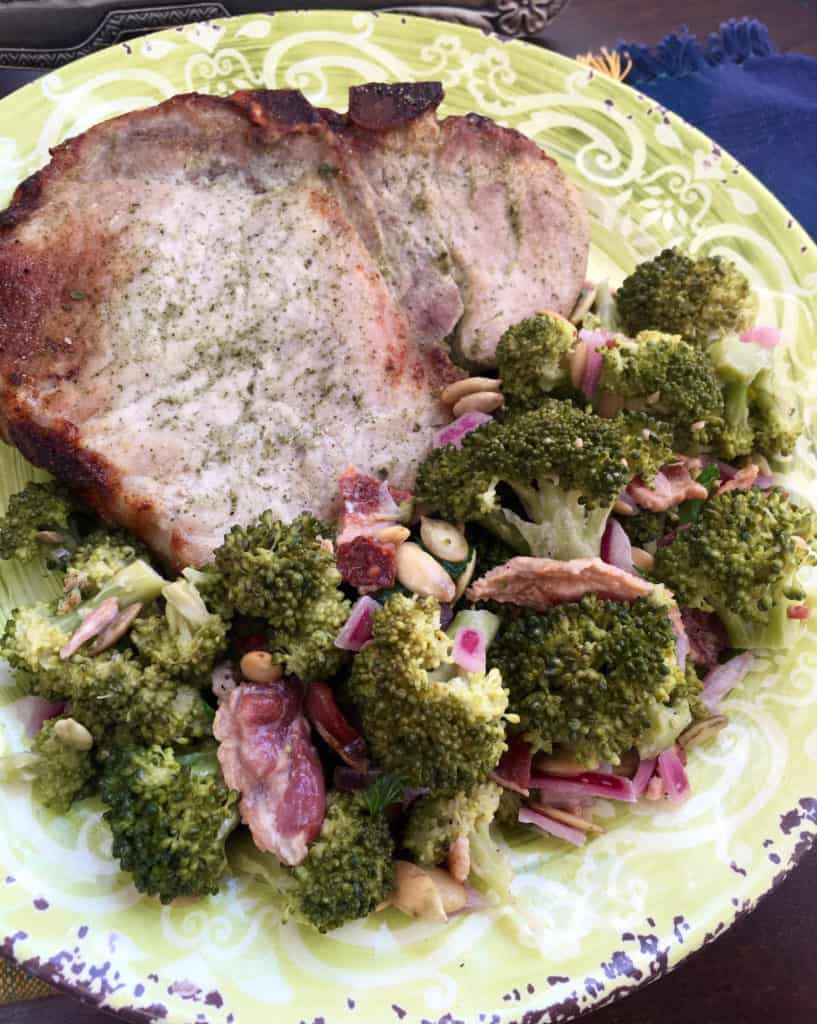 Frequently Asked Questions
How Long Do Pork Chops Take To Air Fry
The best temperature to cook pork chops without breading is 375 degrees F, which takes an average of 8-10 minutes. This will depend on the thickness of your pork chops.
If you cook your pork chops at a high temperature, 400 degrees F, you will find they get dried out in the air fryer. So, my advice is low and slow for tender and juicy pork chops!
What Temp Should Pork Chops Be Cooked To
Pork chops should always be cooked to an internal temperature of 145 degrees F to 160 degrees F, as measured by a food thermometer.
Allowing the pork chops to reach this temperature will ensure that they are cooked through and safe to eat. Insert the meat thermometer into the thickest part of each chop for an accurate reading. Allow the pork chops a few minutes to rest after cooking before serving.
To achieve perfect pork chop results, it is essential not to overcook them, or else they will become dry and tough.
What To Serve With Air-Fried Ranch Pork Chops
Air-fried ranch pork chops are a delicious and easy way to enjoy juicy and succulent pork. To make the perfect meal, serve these flavorful pork chops with some side dishes that complement their savory flavor.
Air Fryer Mashed Potatoes are a fantastic choice for an accompaniment to air-fried ranch pork chops.
Air Fryer Roasted Vegetables such as bell peppers, carrots, or squash.
Garden Salad with crisp lettuce and a tangy dressing. This can help to cut through some of the richness of the pork chops and give them an incredible crunchy texture.
No matter what side dishes you choose, air-fried ranch pork chops will surely be a hit at any dinner table! With these easy-to-make yet delicious pork chops and perfectly paired sides, you're sure to have all your guests asking for seconds.
More Air Fryer Recipes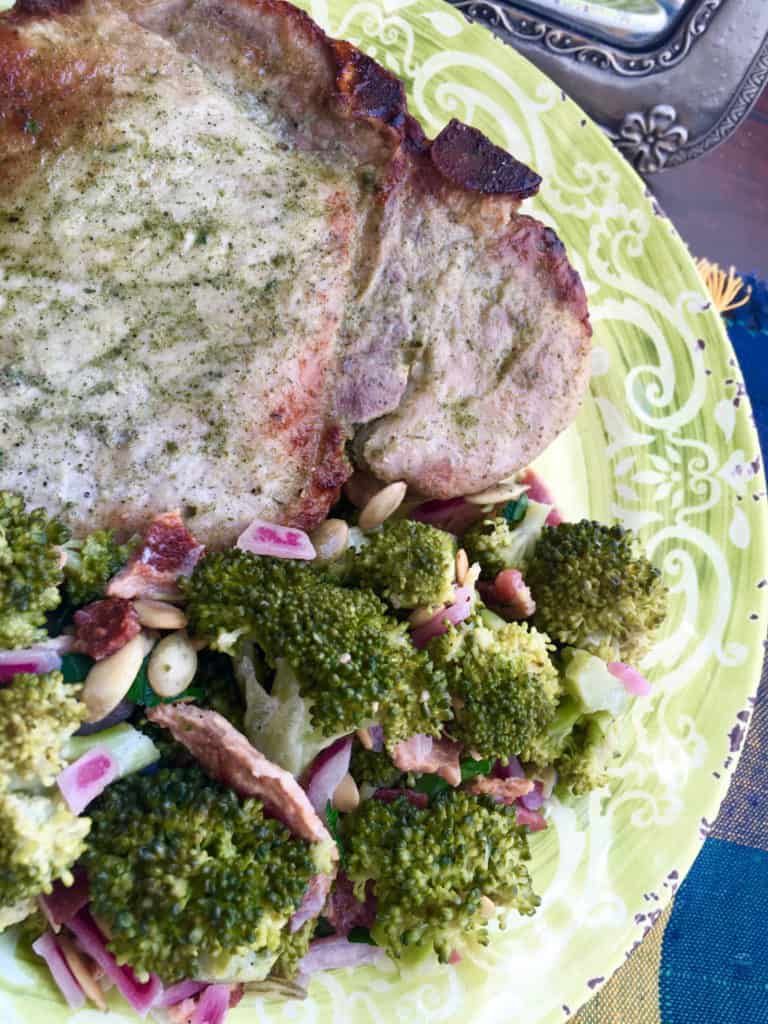 To sum it up, air-fried ranch pork chops make a delicious entree that everyone will love. It is an easy meal that tastes amazing and is still healthier than the traditional fried approach.
With only a few ingredients and instructions, you can have a nutritious and tasty meal ready for your family in no time! Plus, having an air fryer makes it even easier, as you can experiment with other recipes beyond this ranch pork chop.
Don't Forget To Follow Us Along on Social Media; Instagram, Facebook, and TikTok, and Join Our Facebook Page and group for all your Air Fryer Recipes and Tips!
Air Fryer Ranch Pork Chops
Sometimes, weeknight dinners can be a challenge. You're tired and you want to eat something healthy but you don't have the energy or time to spend hours in the kitchen. That's where air fryer ranch pork chops come in!
Keyword:
Air Fryer Ranch Pork Chops
Ingredients
Ranch Seasoning Mix:
2

tablespoons

dill weed

3

tablespoons

dried parsley

2

teaspoons

onion powder

2

teaspoons

garlic powder

2

teaspoons

kosher salt

1/2

teaspoon

black pepper
Pork Chops:
1

tablespoon

olive oil

4

1-inch thick

bone-in pork chops
Nutrition Facts
Air Fryer Ranch Pork Chops
Amount Per Serving (1 g)
Calories 46
Calories from Fat 36
% Daily Value*
Fat 4g6%
Cholesterol 1mg0%
Sodium 1172mg51%
Potassium 76mg2%
Carbohydrates 3g1%
Protein 1g2%
Vitamin A 46IU1%
Vitamin C 2mg2%
Calcium 25mg3%
Iron 1mg6%
* Percent Daily Values are based on a 2000 calorie diet.