Frozen Salmon
in the Air Fryer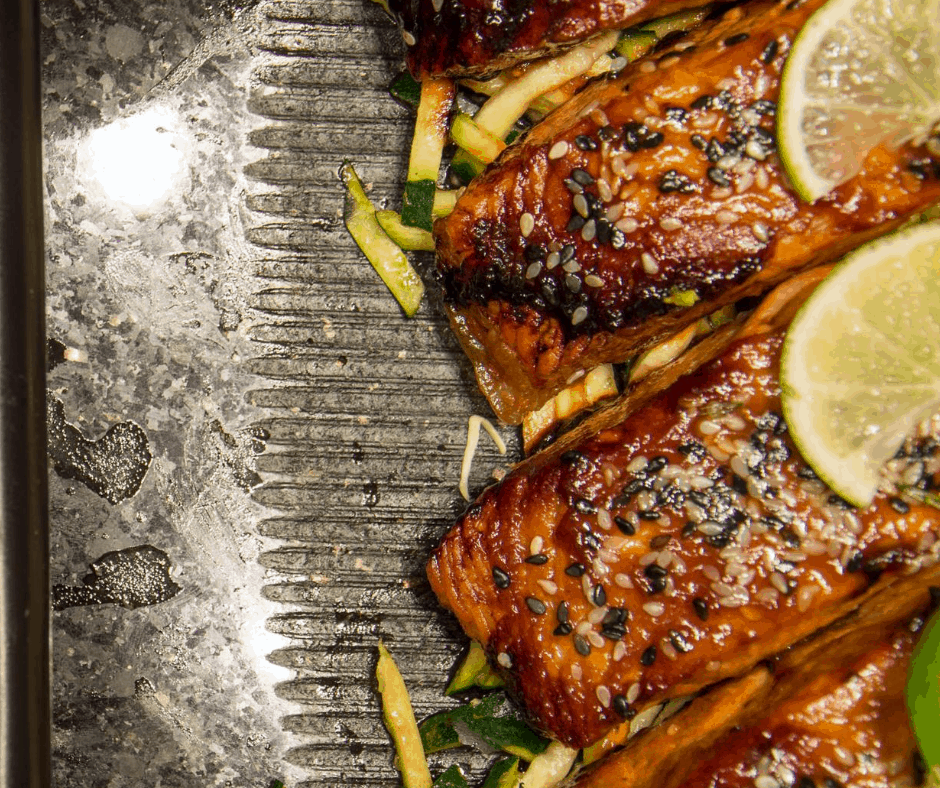 Kitchen Items Used: (Note: Affiliate links are included in this post)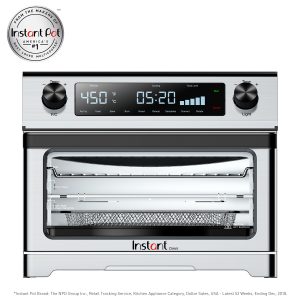 J.A. Henckels 6-Inch High Carbon Stainless Steel Chef's Kitchen Knife

Stainless Steel Measuring Cups, 5 Piece Set

RSVP International Endurance (DILL) Spice Measuring Spoons, Stainless Steel

Anchor Glass Measuring Set–This is one of the handiest tools in the Kitchen

OXO Good Grips 12 Inch Stainless-Steel Locking Tongs
Check Out This Book, everything to get you started and SUCCESSFUL in Air Frying.
DON'T FORGET TO PIN–
Being from Boston, my uncles were all fishermen. Therefore, I was treated to a LOT of seafood, over the years. There was absolutely nothing better than my uncles dropping off the days' catch to my mom, who would almost make something amazing. I remember my uncle's dropping off baby lobsters because no one would buy them, now we all know them as chicken lobsters, and if they were free, there would be a line around the block, to get them.
My husband grew up as a good old midwestern boy, but he vacationed every year at Cape Cod, where he ate his share of great seafood.
When I moved to Ohio after we got married, I noticed that the seafood was different, they didn't have lobsters, they had crab legs, and I literally remember going through the supermarket and saying, what are those? They just looked like something that came from outer space. Instead of cod, they ate salmon. I have never had salmon, so it was an acquired taste, my mother in law made the best salmon that I have ever had. I will probably be making it in the next couple of weeks, as we finish up Lent. She served it with a creamy dill dip, that even my son would eat (granted he would eat it without the salmon, but he would finish his bowl, LOL).
Seafood is important, it's a great source of protein without a lot of fat. It hits most of the marks, gluten-free, low carb, and other diets.
Today, I am bringing you salmon, which I did not eat, until my mother in law made it for me one fine day, but today it is air fried, and it is delicious, it is easy to prepare and it goes great with the homemade honey mustard sauce. Which, you only need a few ingredients, which are probably in your pantry. I promise y9ou, that once you make this, you will be making it over and over again.
Air frying salmon is the best way other than grilled, to cook a perfectly delicious salmon dish. It is easy, delicious, and with the use of parchment paper, there is virtually no cleanup. Just simply rinse the air fryer basket, throw after the parchment liner, and your clean up from dinner or lunch is complete. This can be served as the main entree, over rice or over a garden salad.

I love eating salmon it is a great source of protein, Omega 3's and can be flavored in a number of ways.
Here are some tips for cooking salmon.
Leave the skin on: It provides a great layer for the skin and the air fryer basket (or parchment paper). Since the skin crisps up, it's easier to flip it, halfway during the cooking process. Skin is perfectly edible, so you can choose to eat it or not eat it, it's totally up to you.
Do not Overcook The Salmon: This is actually a very common mistake for everyone cooking salmon. Once the salmon fillet starts to turn white, remove it from the air fryer because it is cooked.
The best way to cook salmon is medium-rare to a medium is a perfect way, since it will not be dried out, in the middle.
Here are some tips for purchasing salmon:
Look for brightly colored fish in the supermarket. There should be no brown spots on the flesh and absolutely no bruising on the skin. Look for firm, smooth and glossy flesh.
There should be no distinct odor to the fish, no odor of fishy smells.
Yield: 4 Servings
How to Make Frozen Salmon in the Air Fryer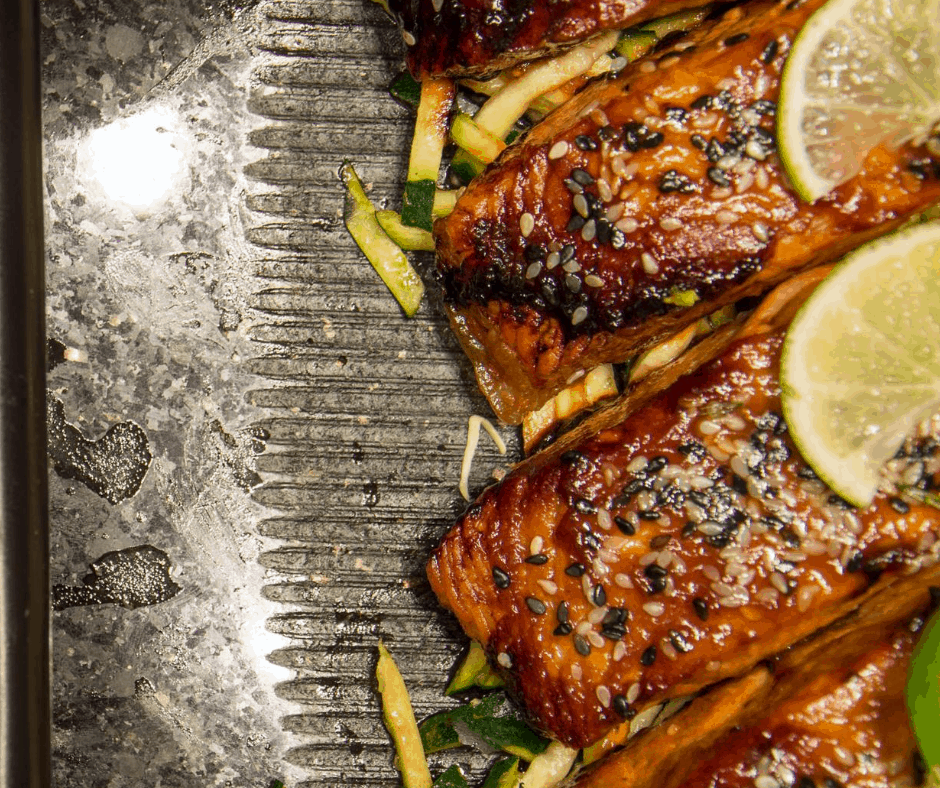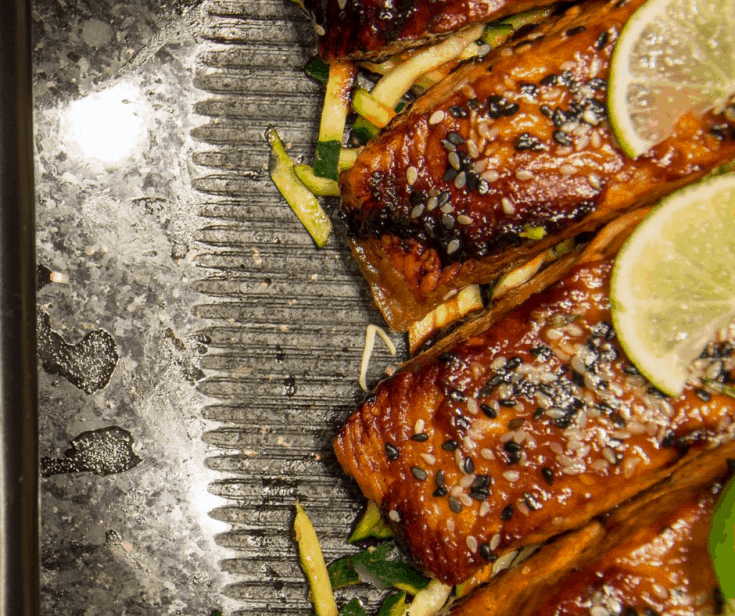 This is a really easy salmon dish, that is prepared with a few key ingredients and produces a great sauce for your salmon. 
How To Cook Frozen Salmon in the Air Fryer
Ingredients
2 (6-ounce) frozen salmon fillets
3 tablespoons Dijon mustard
2 teaspoons maple syrup
2 teaspoons minced garlic
1/2 teaspoon black pepper
1/2 teaspoon kosher salt
Instructions
1. Start by preheating the air fryer to 390 degrees F, for 5 minutes.
2. Add the frozen salmon to the air fryer basket.
3. Set the timer for 7 minutes.
4. In a small mixing bowl, mix together the mustard, maple syrup, minced garlic, salt, and pepper.
5. When the time is up, flip the salmon with a spatula, and then brush the sauce on top of the salmon, air fry for another 7-9.
6. Right before serving, brush with more of the sauce.