Air Fryer Rib Eye Steak — Is there anything better than a delicious, juicy steak? cooked to perfection? Well, maybe there is – but it's definitely up there. And guess what? You can make the perfect steak at home in your air fryer! This handy kitchen appliance uses hot air to cook food quickly and evenly, meaning you can have restaurant-quality steak without leaving home. So why not give it a try?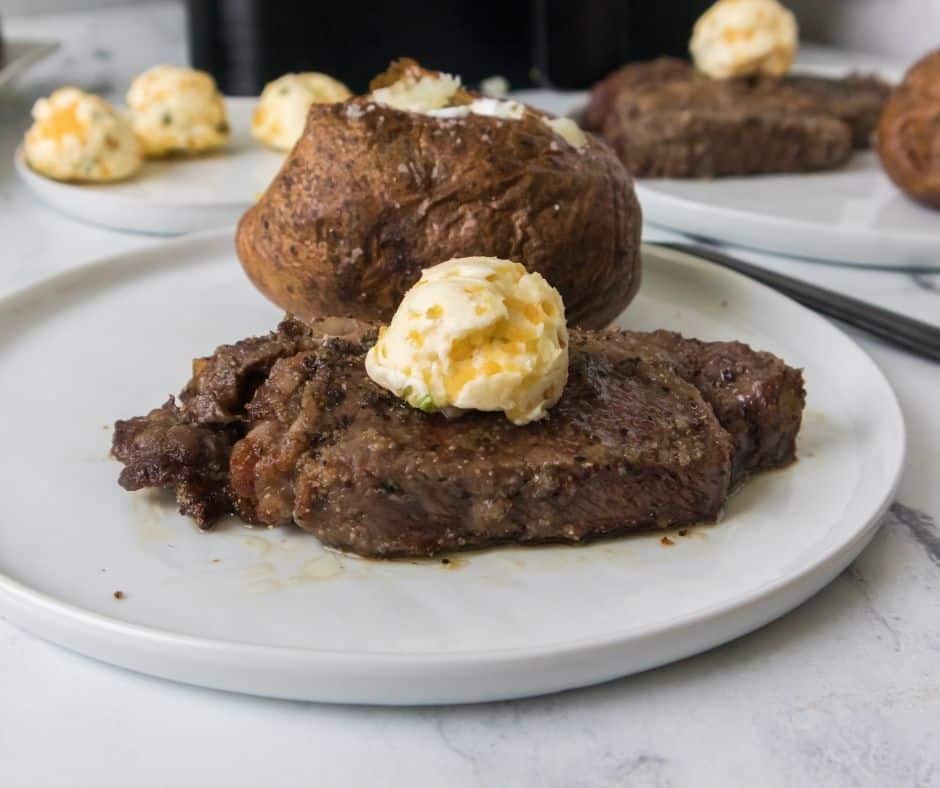 Air Fryer Rib Eye Steak is a very tender, juicy, and scrumptious meal!
The best thing about air frying your steak, besides the taste, is that you can cook it to any doneness you want. You are in complete control. Whether you want a medium-rare, rare, or even well done, the air fryer can do prepare it perfectly for you.
Now that winter is here, at least in the Northeast, and my grill is covered with snow, why shovel a path to it, stand in your warm kitchen, and prepare the perfect steaks for you and your family.
KETO friendly, low carb, and absolutely delicious, the air fryer does a great job at air frying steak.
Air Fryer Rib Eye Steak
There is a lot of debate in my Air Fryer Group about whether you should air fry a steak. There are tried-and-true BBQ people who tell you, it's better on the grill. While that might be the absolute truth, I myself love a great BBQ Steak.
If you are special about making a steak in the air fryer. Let me tell you, it's easy, and it is delicious (the two words I use over and over in my website because I am always looking for easy food, and it has to be good)
So grab a couple of rib eyes, make some air fryer baked potatoes that will literally blow your mind. They are so good, and make yourself the perfect air fryer steak dinner!
How To Make The Perfect Air Fryer Rib Eye Steak
You will not need much for this recipe, anything but the steaks (of course) and some seasoning. I personally love a good salt, pepper, and Montreal Steak seasoning on my steak. But it's your steak, and you love another brand, go for it.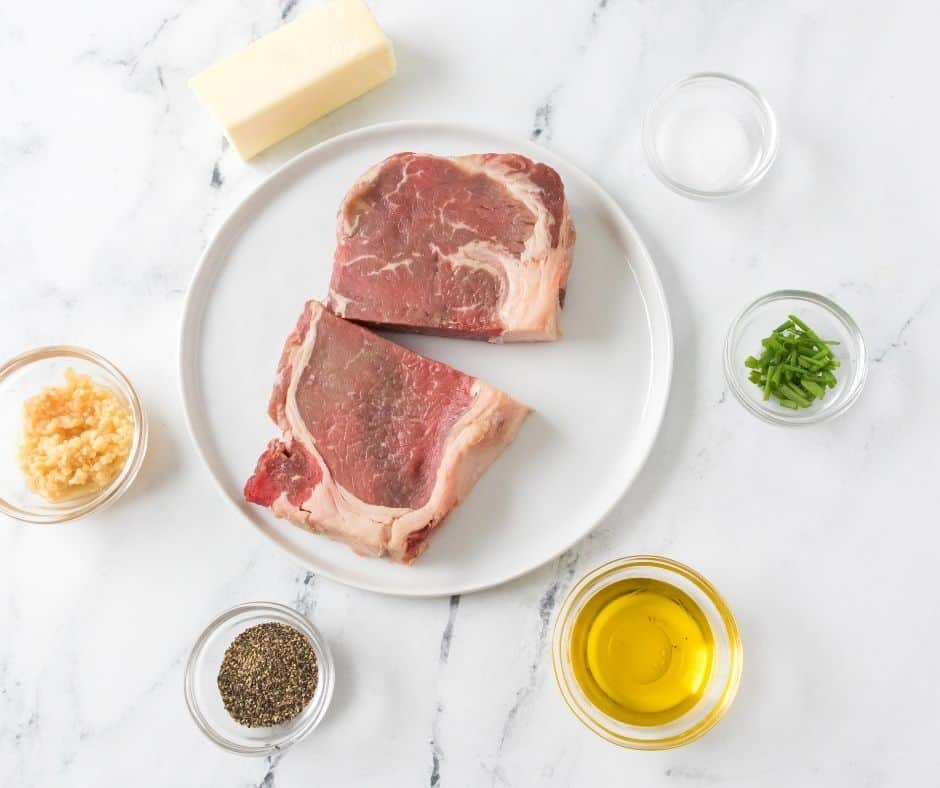 What You Need To Make Ribeye
Rib Eye Steaks
Extra Virgin Olive Oil
Salt
Black Pepper
Montreal Steak Seasoning (or your favorite Steak Seasoning)
How To Make Air Fryer RibEye Steak
Start by preheating your air fryer to 400 degrees for 5 minutes.
Season your steaks by rubbing olive oil over the steaks, then adding salt, pepper and your favorite steak seasoning.
Set them into the air fryer, for 9 to 12 minutes (depending on how you like your steaks) Flip halfway.
Let your steak rest for at least 10 minutes before serving.
Plate, serve, and enjoy!
How long does it take to cook steak in Air Fryer?
Start by seasoning your steak and rubbing it with olive oil. Then, place your steaks inside the air fryer basket, setting the temperature to 400 degrees F, and set the cooking time for 7 to 10 minutes depending on how you like your steaks. Flip the steaks halfway through the cooking process, remove them from the air fryer and let them rest for about 10 minutes before serving.
Is Steak good in an air fryer?
Yes, it is a great and easy alternative to BBQ your steaks. You will end up with a juicy and tender piece of perfectly cooked meat.
Air fryers work by circulating the air around the food, which causes them to be perfectly cooked.
Can you put raw meat in Air Fryer?
Yes, the air fryer is a small oven, you can put any meat into the air fryer that you want to cook, frozen or fresh (raw)
How long do you air Fry Red Robin steak fries?
Yes, tehse are some of my family's favoites, sicne theya re alreayd seassedon.
To Air Fry the Red Robin Fries in your air fryer, you will cook them at 380 degrees F, for 20-25 minutes.
Some Great Air Fryer Side Recipes-
SOME HELPFUL PRODUCTS, USED IN MAKING THIS RECIPE-
Disclosure: Some of the links below are affiliate links. At no cost to you, I will earn a commission if you click through and make a purchase.
Yield: 2 Servings
Air Fryer Rib Eye Steak
Air Fryer Rib Eye Steak is a very tender, juicy, and scrumptious meal!
Additional Time
30 minutes
Ingredients
Ribeye Steaks:
2 Rib Eye Steaks
olive oil
salt and pepper to taste
Compound Butter:
1/2 cup butter, room temperature
1 teaspoon minced garlic
1 tablespoon minced chives
Instructions
When making steak, the first thing I do is to let the meat rest at room temperature for AT LEAST 30 minutes, or until it's room temperature.
Start by preheating the air fryer. Steak is one of the few recipes that I preheat the air fryer for. But the meat will come out better, so turn the air fryer oven /basket on for 5 minutes at 400 degrees F, air fryer setting.
Then rub the olive oil or butter all over the steak and season with salt and pepper. I added some cut-up Montreal Seasoning over the steak.
Set the steaks in the air fryer for 5 minutes, then flip and air fry for another 5 minutes.
Let your steak rest for 5 minutes.
Plate serve and enjoy!
Notes
To make the sauce, simply add the ingredients to a food processor, and blend until smooth. Then place in the refrigerator for about 2 hours before serving.
Nutrition Information:
Yield:
2
Serving Size:
1
Amount Per Serving:
Calories:

700
Total Fat:

69g
Saturated Fat:

37g
Trans Fat:

2g
Unsaturated Fat:

28g
Cholesterol:

188mg
Sodium:

562mg
Carbohydrates:

1g
Fiber:

0g
Sugar:

0g
Protein:

22g
Don't Forget To Pin-