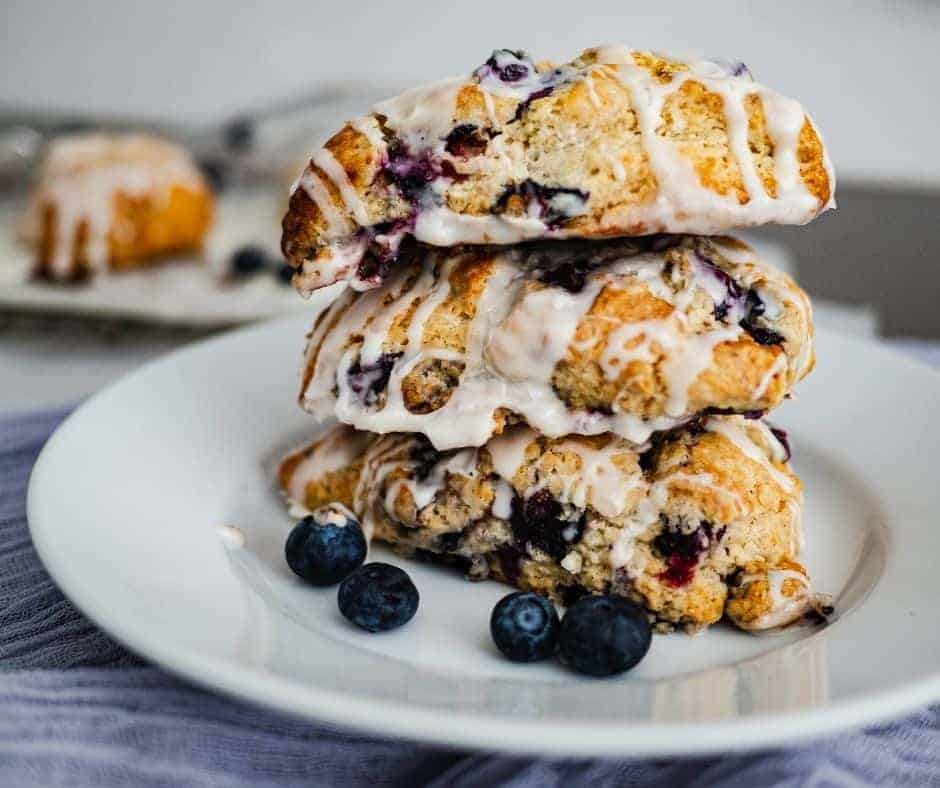 What is better for breakfast than Air Fryer Homemade Blueberry Scones. Today, I made a great batch this morning for the entire family! And we all loved them.
If you have never made scones or even eaten them, they are a fabulous breakfast treat or dessert. They are one of my favorite breakfasts on a lazy Saturday or Sunday morning, while a great big cup of hot coffee. My kids love them, with the fresh blueberries.
The air fryer does an amazing job at baking. So, if you have not baked as yet with your air fryer, this is a great recipe to start with. Easy and absolutely delicious.
If you are looking for even more Air Fryer Scone Recipes, some of my favorites are AIR FRYER EASY, GINGERBREAD SCONES, AIR FRYER CHERRY SCONES, AIR FRYER CRANBERRY SCONES, and AIR FRYER STRAWBERRY SCONES (ONE PERSON RECIPE).
Blueberry Scones
There is nothing better than a homemade scone or biscuit, as the British call them. In England, scones are typically served with Lemon Curd, Clotted Cream, or Jam. In America, we tend to eat them as they are.
Scones are very dry biscuits. They are best served with a hot cup of coffee or in England tea.
What Do You Need To Make Blueberry Scones?
The blueberry scones recipe is very straightforward, with most of the ingredients you probably have in your pantry. I always use fresh blueberries, but you can use frozen blueberries. Just do not thaw them, as they will make your dough soggy.
A

ll-Purpose Flour

Granulated

sugar
Baking Powder

S

alt
Butter
Egg
Milk
Blueberries
How To Make Blueberry Scones In The Air Fryer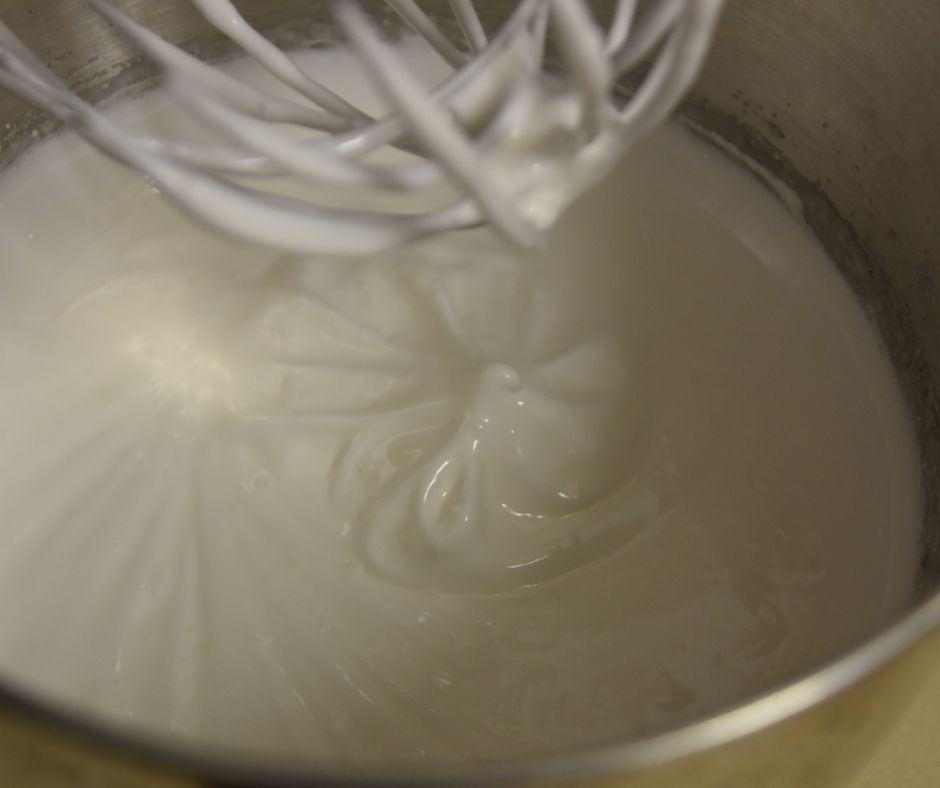 Start by mixing the flour, sugar, baking powder, and salt in a large mixing bowl. Then, add the butter, egg, and milk. Finally, mix well. Fold in the blueberries.
Then, spray your scone mold with olive oil spray. (see my notes about what pan I used)Finally, add your batter to the mold. Then, place the mold into the air fryer basket. Set the temperature to 340 degrees F for 12 minutes, air fryer setting. Meanwhile, make the icing/glaze: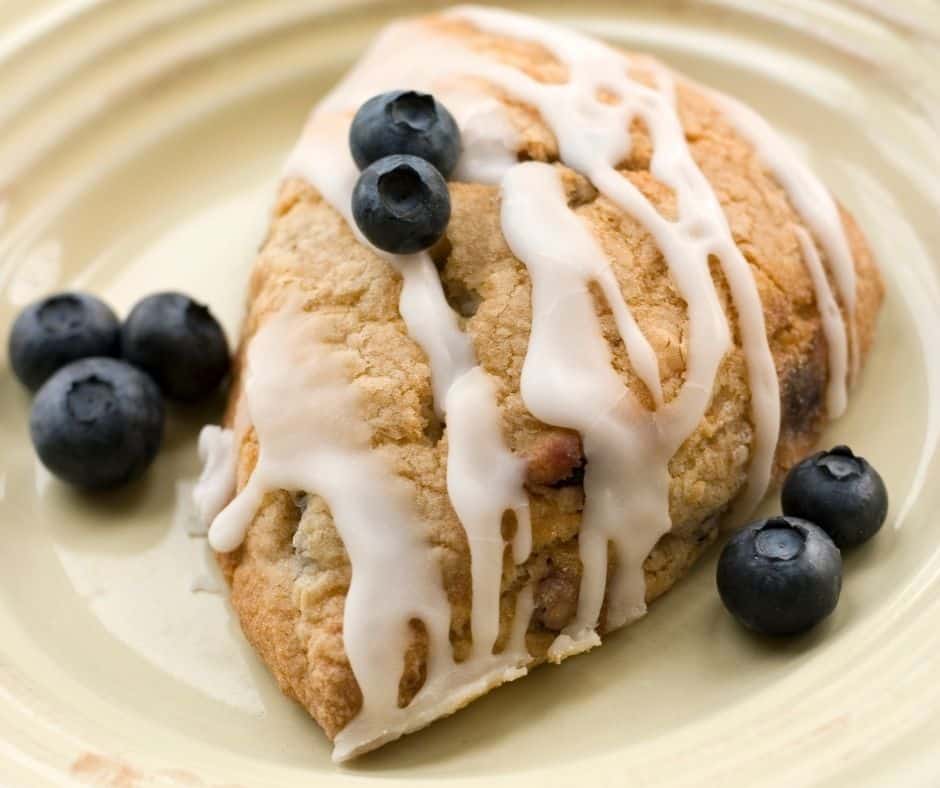 What Scone Pan Can I Use In The Air Fryer–
I ordered a silicone mold off of Amazon, 
And it came just like above. Same color and everything. Then I took out my trusty kitchen shears—
If you have the Omni Air Fryer, by Instant Pot or another large air fryer oven, then this is the pan I already had from my days of using a regular oven, and it's one of my favorite pieces, so of course, I pulled it out for this recipe,
Tips for Making the Perfect Air Fryer Scones-
The milk and butter need to be cold. This gives your scone a great flaky texture.
Do not preheat the air fryer, as it will not bake correctly.
If using frozen blueberries, do not thaw them before use, as they will cause your scones to become soggy and watery.
Once the dough is mixed, do not keep working the dough, or the gluten will break down and become tough.
Once the scones are done, allow them to cool before icing them.
How to Store The Scones-
If you have any uneaten baked scones, place them in a sealed or airtight container. For best results, eat them within two days.
How to Make Ahead Blueberry Scones-
Make the dough and shape them. Then wrap them individually in saran wrap, place them in the refrigerator until ready to air fry.  They are best if air-fried within 1 to 2 days.
If you want to freeze the dough, shape the dough and individually wrap them in saran wrap.  They will keep for about 1 month. When ready to air fry them, either air fry them from frozen (add a couple of minutes to the recipe) or let them thaw in the refrigerator.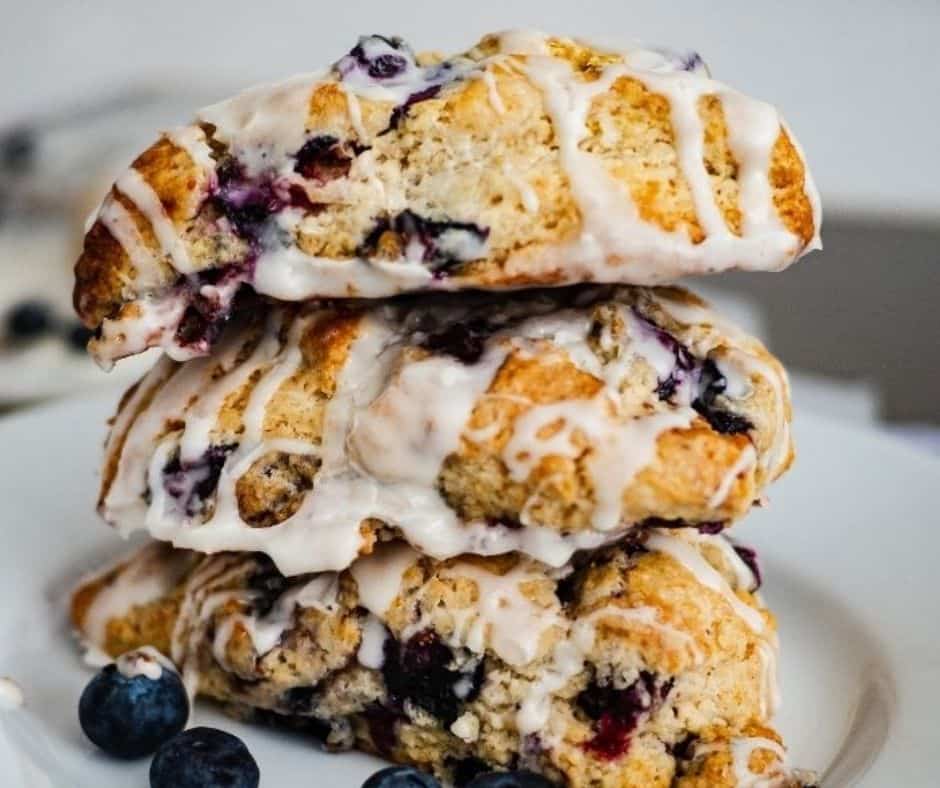 How Do I Get My Scones Not To be So Hard?
The scones are usually hard because they are overmixed. The key to a light and airy pastry is to stir just until the dough is combined. 
Overmxiing with cause your dough to be hard.
What Other Fruits & Add-Ins Can I Use in My Air Fryer Scones?
The most popular add-ins for American scones are Cherries, Chocolate Chips, Cranberries and cinnamon, and raisins. 
What Can I Put on My Scones?
Typically scones are served with either jam, butter, lemon curd, or clotted cream. 
Some Other and Great Easy Air Fryer Breakfast Recipes-
Don't Forget To Pin–
Yield: 8 Servings
Air Fryer Homemade Blueberry Scones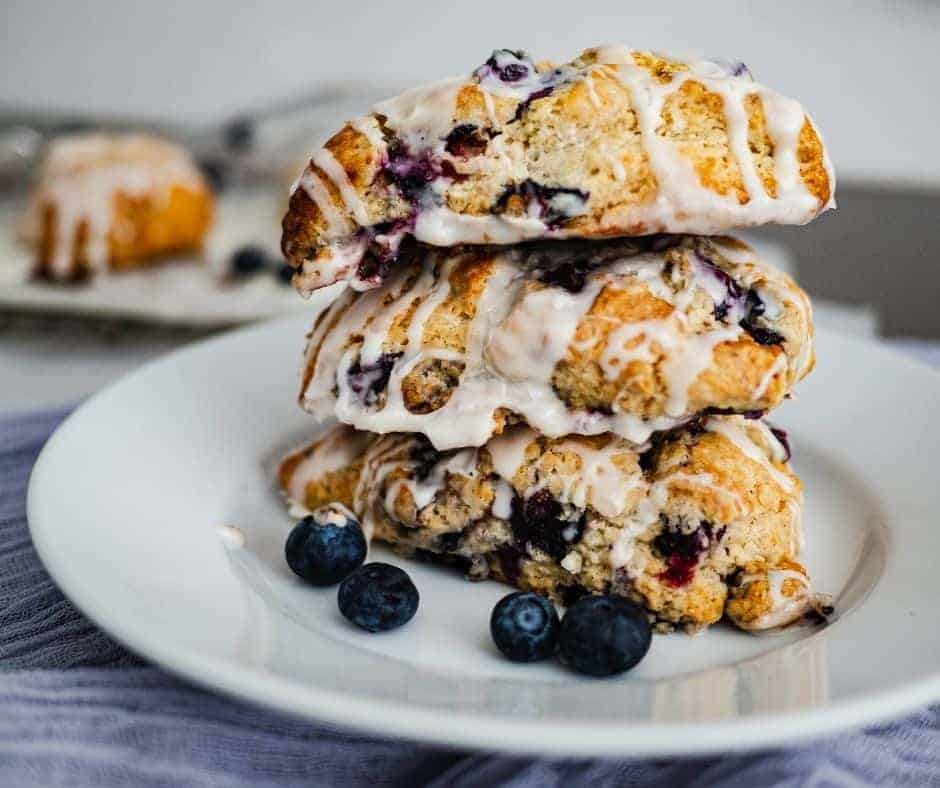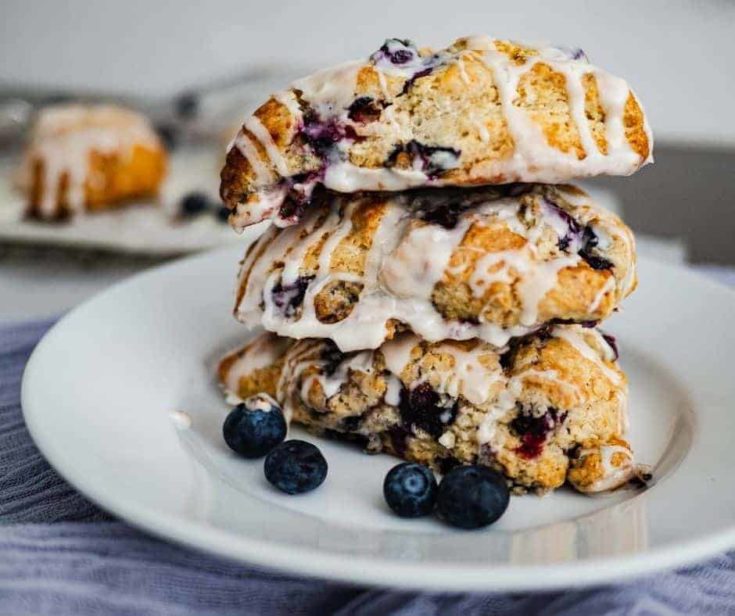 These are really delicious. I usually make a batch on Sunday and now can have a piping hot one with our Sunday coffee, and then have one on Monday, on our way to work or school. I love homemade scones, since I don't skimp on the blueberries, there is blueberry in every bite
Ingredients
1 cup flour
1/4 cup sugar
1 teaspoon baking powder
1 teaspoon ground cinnamon
1/2 teaspoon salt (omit if you are using salted butter)
1/2 stick cold unsalted butter
1/4 cup heavy cream
1 egg
1 teaspoon pure vanilla extract
1/2 cup fresh blueberries
Instructions
In a large mixing bowl, mix the flour, salt, sugar, ground cinnamon, and baking powder.
Then mix in the butter, eggs, heavy cream, and vanilla extract.
Mix well.
Fold in the blueberries, mix well until they are well distributed.
Generously spray your scone pan (either one you are using) with olive oil.
Fill the pan with the batter. Make sure to get the corners. Press well.
Set the pan or the scone silicone molds into the air fryer, and set the temperature to 320 degrees F (air fryer setting) for 12 minutes.
Plate, serve, and enjoy!
Notes
The exact time is used for a guide, the actual time will depend on the air fryer model and wattage you own. Make sure they are fully cooked before you pop them out.