Air Fryer Cinnamon Sugar Pretzels — If you're looking for a quick and delicious snack that will take your taste buds on an unforgettable journey, look no further than air fryer cinnamon sugar pretzels.
These warm and sweet treats are the perfect combination of salty, crunchy, gooey goodness – guaranteed to please your entire family!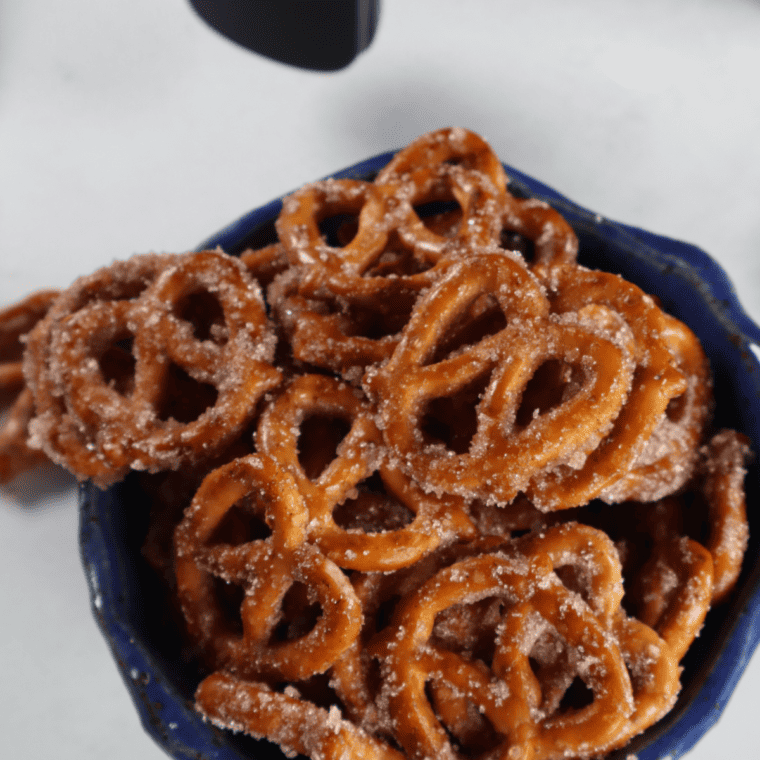 These sweet and spicy cinnamon sugar pretzels are a tasty snack you can make quickly. The crunchy exterior with soft dough inside will please anyone, especially those who love game day appetizers or DIY food gifts!
Is there anything better for a holiday appetizer or game-day snack than a batch of salty but sweet pretzels?
I think not! This recipe is easy to make, but it can be ready in just minutes, too. So, if you're on the hunt for something simple yet scrumptious that will treat your tastebuds, these air fryer cinnamon sugar pretzels are worth a try!
I love a great and easy Air Fryer Appetizer. Some of my favorites are AIR FRYER KIWI CHIPS, AIR FRYER JERK CHICKEN WINGS, AIR FRYER LASAGNA ROLLS, and AIR FRYER EVERYTHING PIGS IN A BLANKET.
Air Fryer Cinnamon & Sugar Pretzels
Dive into a world where the sweet embrace of cinnamon meets the rich sugar undertones; all wrapped up in pretzels' warm, soft texture. If you love an easy snack, this is one of my favorite air fryer snacks, with the classic pretzel flavor, only elevated.
With the air fryer revolutionizing our kitchen escapades, making these Cinnamon & Sugar Pretzels has never been more straightforward or healthier.
Gone are the days of deep frying or settling for store-bought alternatives. This recipe offers a delightful journey into creating a treat that is crispy on the outside, tender on the inside, and dusted with a sweet-spiced allure. These air fryer pretzels invite you to rediscover the joy of home-cooked indulgence, perfect for cozy evenings, festive gatherings, or a midday treat.
Why You Will Love These East Air Fryer Cinnamon Pretzel Bites
If you're looking for a quick and delicious snack that will take your taste buds on an unforgettable journey, look no further than air fryer cinnamon sugar pretzels. These warm and sweet treats are the perfect combination of salty, crunchy, gooey goodness – guaranteed to please your entire family!
This recipe is easy to make, but it can be ready in just minutes, too. So, if you're on the hunt for something simple yet scrumptious that will treat your tastebuds, these air fryer cinnamon sugar pretzels are worth a try! This is the perfect after-school treat, party snack, and perfect for game nights or movie nights!
If you are looking for even more Air Fryer Snack Recipes, my favorites are Air Fryer Frozen Pretzels, Air Fryer Soft Pretzel Bites, and Air Fryer Homemade Cheeze-Its.
Ingredients Needed For Air Fryer Cinnamon & Sugar Pretzels
Calling all fans of sweet and savory snacks: it's time to get creative in the kitchen! You can now make crunchy, delicious air fryer cinnamon sugar pretzels at home with just a few simple ingredients.
These treats are easy to whip up in your air fryer and incredibly satisfying – perfect for those days when you're craving something sweet and salty. So gather the ingredients listed below, and let's start creating this exciting snack-time!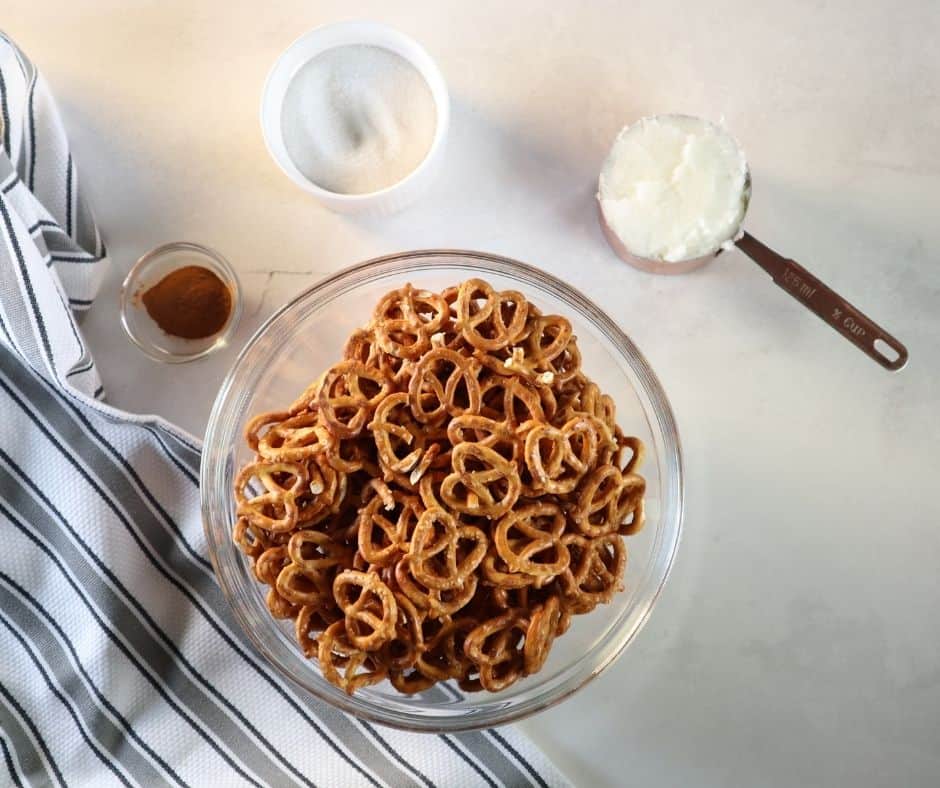 Remember the step-by-step directions and detailed ingredient list are below in the printable recipe card at the bottom of the post, as well as the nutritional information.
Coconut Oil: Coconut oil is the binding agent for the cinnamon sugar mix to adhere to the pretzels. In its melted form, it gives the pretzels a delicate coconut aroma and ensures they have a nice, even coating. Coconut oil can also impart a slight tropical note, subtly enhancing the depth of flavor.
Granulated Sugar is the primary sweetening agent, creating the delightful sugary crust on the pretzels. Combined with coconut oil, it sticks perfectly to the pretzel surface, ensuring every bite is filled with sweet goodness.
Ground Cinnamon: A key flavor profile in these pretzels, ground cinnamon provides the warming, aromatic spice that pairs beautifully with the sugar. Its sweet-spicy notes dance harmoniously on the palate, making these pretzels irresistible.
Pretzels: These are the canvas upon which the coconut oil, sugar, and cinnamon work their magic. The pretzels can be of any shape – traditional twisted, pretzel sticks, or bites. The crispy texture and saltiness of the pretzels provide a wonderful contrast to the sweet cinnamon sugar coating.
Each ingredient in this list plays a vital role in achieving the perfect balance of sweetness, spice, and crunch. Together, they form a delightful treat that's both nostalgic and innovative, thanks to the unique touch of coconut oil.
How To Make Air Fryer Cinnamon Sugar Pretzels In Air Fryer
If you love the flavor and crunch of traditional cinnamon sugar pretzels but don't have time to stand over a hot stovetop or deep fryer, you'll be delighted with this easy-to-make air fryer recipe.
Using just four simple ingredients and your air fryer, you can enjoy all the deliciousness of homemade pretzels in minutes. Ready to give it a try?
Read on for step-by-step instructions showing how easy it is to whip up a batch of heavenly air-fried cinnamon sugar pretzels!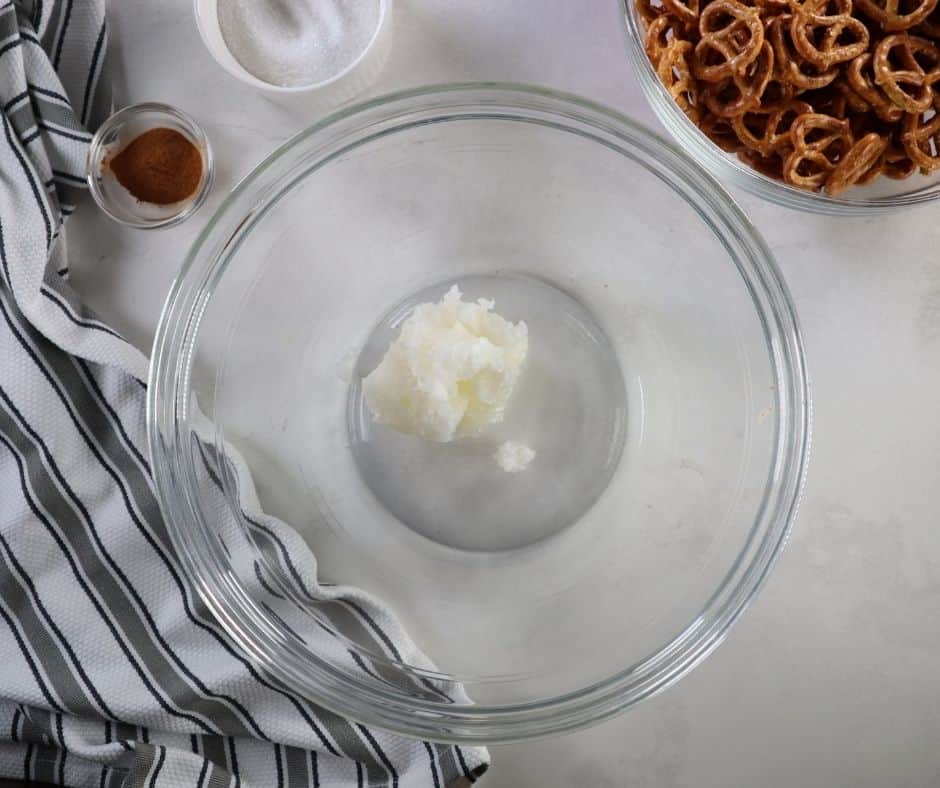 Step One: Prepare The Coating For The Pretzels
In a large microwave bowl, add the coconut oil, heat until the oil is melted, and stir well.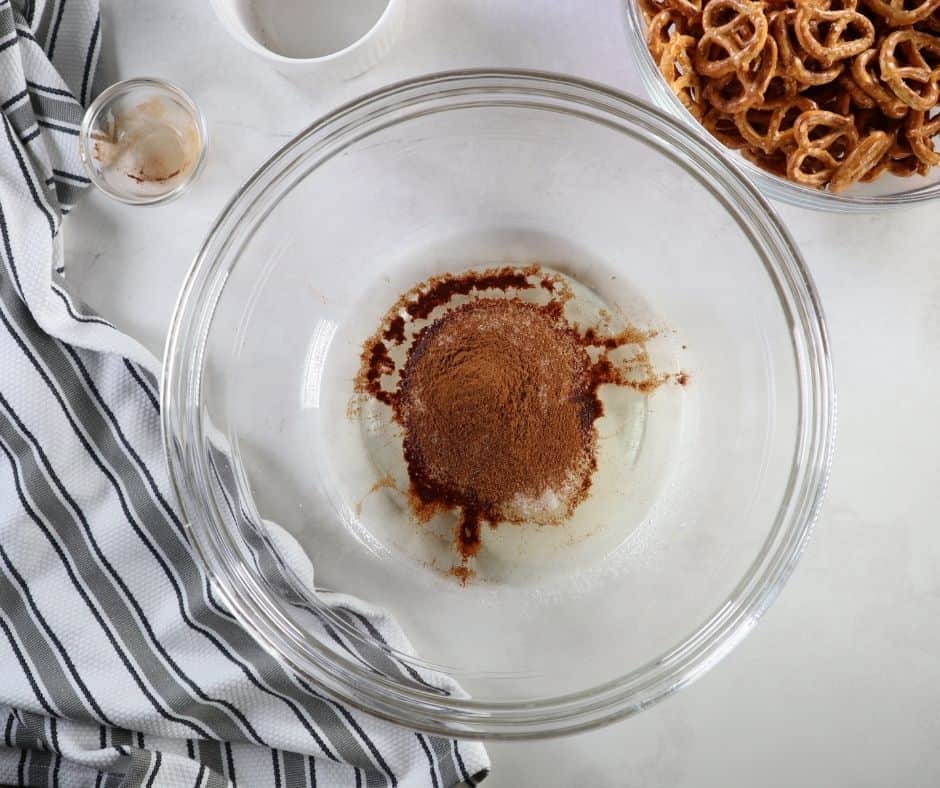 Cinnamon Sugar Mixture
Once the coconut oil is melted, add the granulated sugar and ground cinnamon and mix well until the sugar is dissolved.
Prepare the Pretzels
If your pretzels are large or in traditional twisted shapes, you may break them into bite-sized pieces for easier and more consistent coating. However, if you're using pretzel bites or sticks, you can proceed as they are.
Add the pretzels to the mixture, coating them.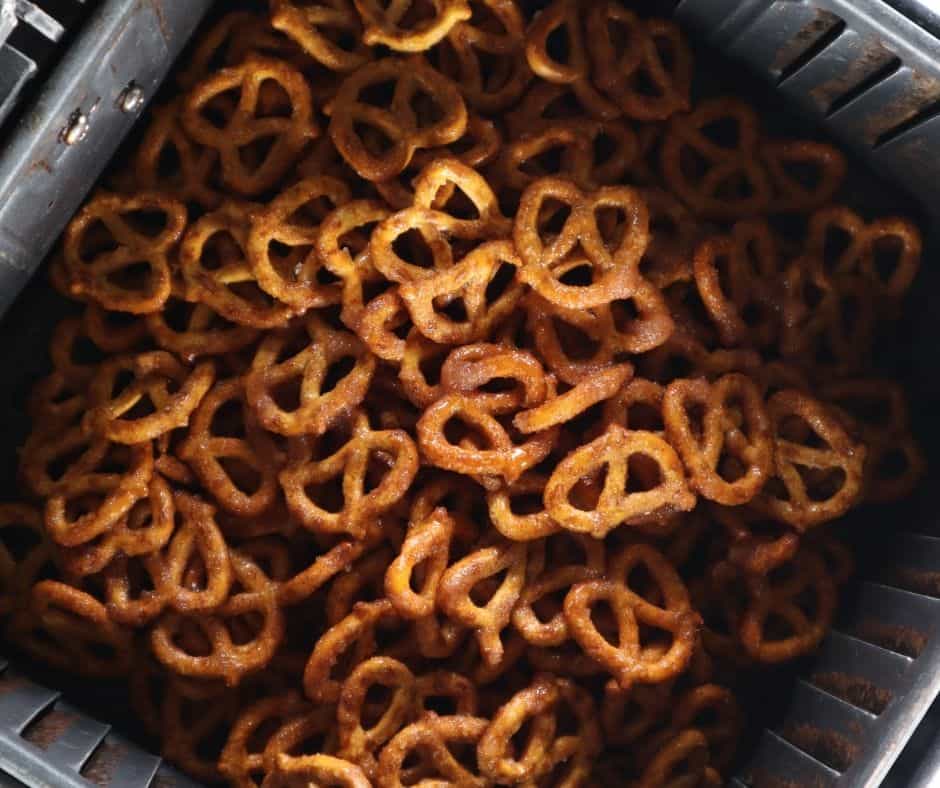 Coat the Pretzels
Transfer the coated pretzels to the air fryer, set the air fryer temperature to 350 degrees F, air fryer setting, and set the cook time to 4-6 minutes.
Cool and Serve
Once cooked, remove the pretzels from the air fryer with a slotted spoon and place them on a cooling rack. Let them cool for a few minutes, allowing the cinnamon sugar crust to set. Serve and enjoy your Air Fryer Cinnamon Sugar Pretzels while warm and crisp!
Note: Depending on the size of your air fryer and the amount of pretzels you're making, you might need to cook them in batches to ensure even cooking and prevent overcrowding.
With this easy method, you'll have a delightful batch of Cinnamon Sugar Pretzels ready quickly – a perfect treat for snacking or sharing with friends and family.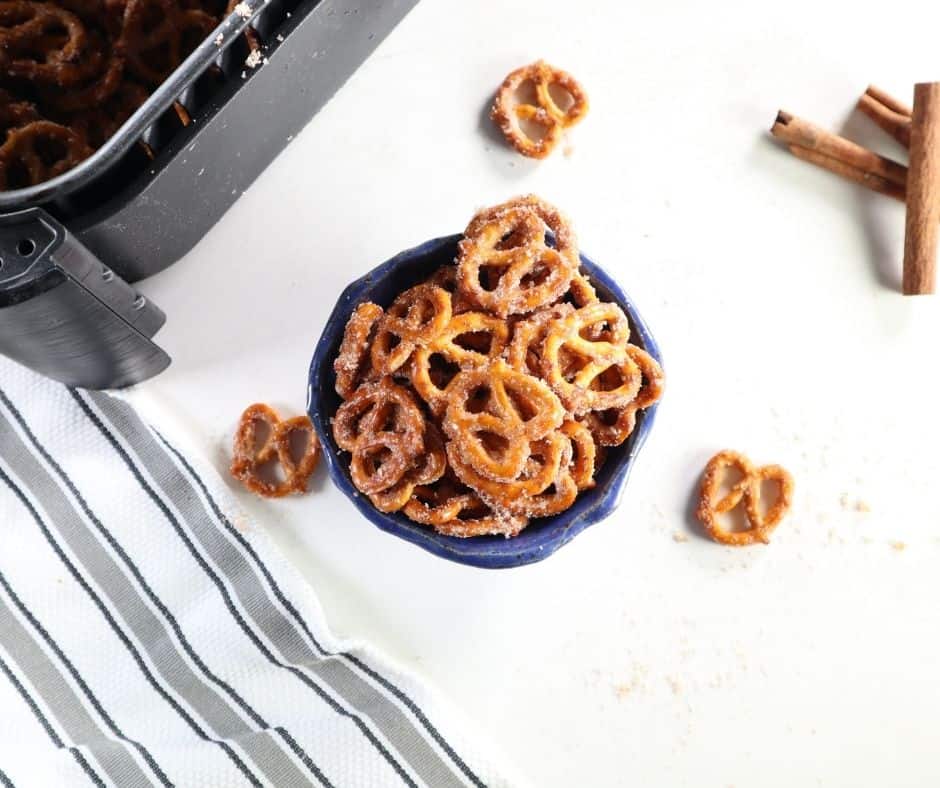 Pro Tips For Cooking Cinnamon Sugar Pretzels In Air Fryer
Making Cinnamon Sugar Pretzels in an air fryer is a breeze, but here are some pro tips to ensure you get perfectly crispy and flavorful results every time:
Even Coating: Ensure that the pretzels are evenly coated with coconut oil. This will help the cinnamon sugar adhere better and ensure that the pretzels brown uniformly.
Avoid Overcrowding: Place pretzels in a single layer without touching each other in the air fryer basket. This ensures that hot air circulates evenly around each piece, leading to even cooking.
Monitor Closely: Sugar can burn quickly, especially when combined with the high heat of an air fryer. Check the pretzels halfway through the suggested cooking time to ensure they aren't browning too fast.
Use Fresh Ingredients: Always use fresh ground cinnamon for the best flavor. Over time, spices can lose their potency, so it's a good idea to check the freshness of your spices.
Adjust to Taste: If you prefer a stronger cinnamon flavor, adjust the sugar-to-cinnamon ratio in your mixture.
Shaking is Essential: Shake the basket or use tongs to turn the pretzels halfway through cooking. This helps to prevent them from sticking and ensures even browning.
Cooling Phase: Allow the pretzels to cool on a wire rack for a few minutes after cooking. This will help the sugar coating to set and become crispy.
Storage: If you have leftovers (though it's doubtful!), store them in an airtight container to retain their crispiness. Avoid refrigerating as the moisture can make them soggy.
Experiment with Flavors: While cinnamon and sugar are classic, consider introducing flavors like nutmeg, cardamom, or even cocoa for a different twist.
Serve with Dips: Cinnamon Sugar Pretzels are fantastic, but consider serving with cream cheese dip, chocolate sauce, or caramel for an even more indulgent treat.
With these tips in mind, you're set to master the art of making Air Fryer Cinnamon Sugar Pretzels that will surely be a hit with everyone who tries them.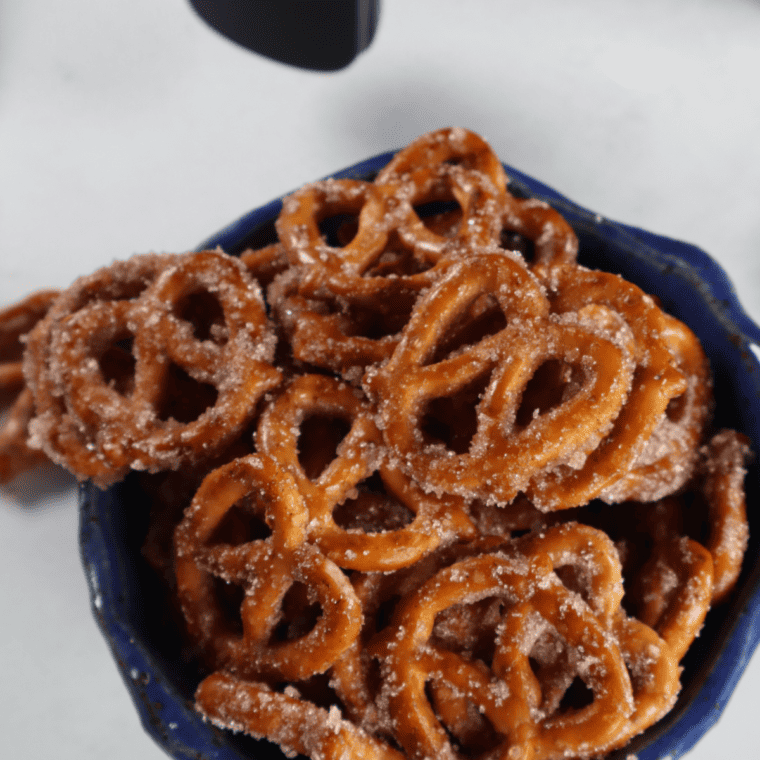 Different Coating Options For Pretzels
Pretzels, with their classic twisted shape and distinct taste, serve as an excellent base for various coatings. The possibilities are endless, from the traditional salted variety to more innovative and experimental flavors. Here are some coating options to elevate your pretzel game:
Traditional Salted: This is the classic pretzel coating using coarse salt.
Cinnamon Sugar: As previously mentioned, a mix of granulated sugar and ground cinnamon gives a sweet and warm touch.
Parmesan Garlic: Grated cheese mixed with garlic powder creates a savory and cheesy coating.
Everything But The Bagel Seasoning: This popular seasoning mix contains sesame seeds, poppy seeds, dried garlic, dried onion, and sea salt.
Ranch: A dry ranch seasoning mix can give pretzels a tangy and herby flavor.
Chocolate-Dipped: Once your pretzels are baked, dip them in melted chocolate (dark, milk, or white). You can even sprinkle nuts, coconut, or candy pieces for added texture.
Honey Mustard and Onion: A dried mix of honey powder, mustard powder, and onion powder can give your pretzels a tangy-sweet kick.
Spicy Chili Lime: A mix of chili powder, lime zest, and a touch of salt gives a zesty and spicy coating.
Sesame Seed or Poppy Seed: Brush the tops of the pretzels with water or melted butter and sprinkle with these seeds before baking.
Cheesy Jalapeño: Grated cheddar or pepper jack cheese combined with finely chopped jalapeños offers a spicy and cheesy twist.
Buffalo Spice: For fans of spicy buffalo wings, a mix of hot sauce powder or cayenne pepper with garlic powder can add that signature kick.
Almond Joy: Dip pretzels in melted chocolate and sprinkle with shredded coconut and chopped almonds.
Peanut Butter Drizzle: Melt peanut butter and drizzle over pretzels, which can also be combined with a chocolate dip.
Maple Brown Sugar: A blend of brown sugar and maple sugar or syrup can give a caramelized sweetness to pretzels.
Rosemary Olive Oil: Fresh rosemary chopped and mixed with sea salt, brushed onto pretzels with olive oil.
Pizza Pretzels: Tomato powder, dried oregano, basil, and grated Parmesan cheese can give pretzels a pizza-like flavor.
These are just a starting point. The beauty of pretzels is their versatility, allowing you to get creative with flavors and textures. Whether you like them sweet, salty, spicy, or savory, there's a pretzel coating out there to satisfy your cravings.
Favorite Dipping Sauces For Homemade Pretzel Bites
Homemade pretzel bites are delicious, but pairing them with the right dipping sauce can take the experience to a whole new level. Here are some favorite dipping sauces that complement the warm, salty, and chewy nature of pretzel bites:
Classic Mustard: A tangy and slightly spicy mustard dip is a traditional favorite with pretzels.
Cheese Sauce: A rich, creamy cheese dip, especially made with sharp cheddar or nacho cheese, pairs wonderfully with pretzel bites.
Honey Mustard: Combine honey and mustard for a sweet and tangy dip that adds a delightful contrast to the saltiness of the pretzels.
Sweet Cream Cheese Dip: Mix cream cheese with cinnamon and sugar for a sweet and creamy contrast, perfect for cinnamon-sugar-coated pretzel bites.
Marinara Sauce: The tangy, herbaceous nature of marinara sauce can pair surprisingly well with plain or garlic-flavored pretzel bites.
Ranch Dressing: The herby and creamy nature of ranch dressing offers a cooling dip, especially if your pretzel bites have a hint of spice.
Spicy Queso Dip: A blend of melted cheese with spicy elements like jalapeños or hot sauce can offer a fiery twist.
Caramel Sauce: For a sweet and salty combo, especially if you have cinnamon sugar pretzel bites, caramel sauce is divine.
Beer Cheese Dip: Combining cheese with beer creates a flavorful, aromatic dip that's a classic pairing with pretzels.
Chocolate Sauce: A rich chocolate sauce can be an indulgent choice if you're leaning towards dessert-style pretzel bites.
Peanut Butter or Nutella Dip: Melted peanut butter or Nutella can be a sweet and nutty pairing, offering a dessert-like experience.
Buffalo Sauce: For those who enjoy a spicy kick, a buffalo sauce dip can elevate the pretzel bite experience.
Garlic Aioli: A creamy garlic-infused mayo dip can be a hit, especially with garlic and herb pretzel bites.
Sour Cream & Onion Dip: A mix of sour cream with finely chopped onions and herbs can create a fresh and tangy dip.
Tzatziki: This Greek yogurt-based sauce with cucumber, garlic, and dill offers a refreshing contrast to warm pretzel bites.
The key is to pair the flavor of the pretzel bites with a complementing or contrasting dip. Whether you prefer sweet, spicy, tangy, or savory, there's a dip to elevate your pretzel bite experience.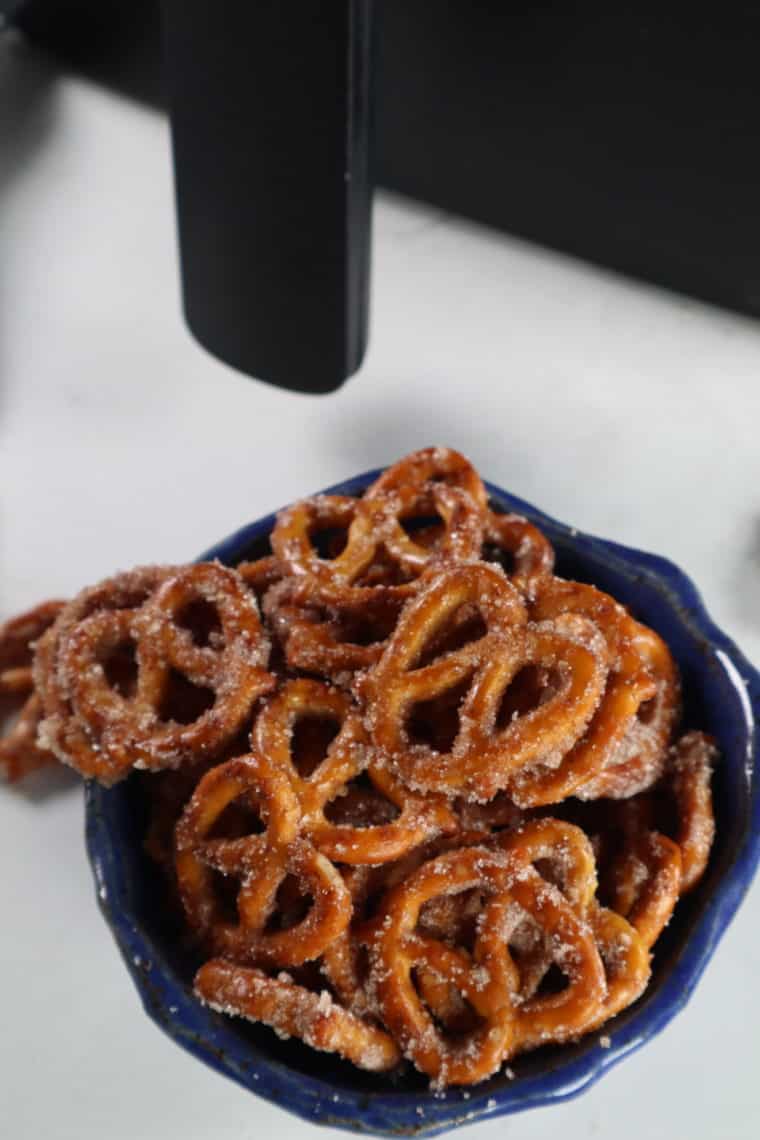 Variations For This Cinnamon Sugar Pretzel Recipe Snack
Pretzels: I used small twist pretzels because that is what I had on hand. However, you could use another size or shape for this recipe!
Some great options are:
Tiny Twist Pretzels
Rod Pretzels
Stick Pretzels
Flavored Cheddar Twists
Gluten-Free: You can easily make this recipe gluten-free by substituting gluten-free pretzels. A great option would be Snyders Of Hanover, Gluten-Free Pretzels.
Oil: You can easily use vegetable oil instead of coconut oil. Note, though, that the air fryer might smoke.
Frequently Asked Questions About Cooking Cinnamon Sugar Pretzel Bites In Air Fryer
​
Can I use store-bought pretzel dough for this recipe?
Yes, store-bought pretzel dough works perfectly for this recipe and can save you some preparation time.
Do I need to thaw frozen pretzels before air frying them?
It's best to follow the package instructions, but typically, you don't need to thaw them completely. Just ensure they're separated and not clumped together.
How do I store leftover cinnamon sugar pretzel bites?
Store them in an airtight container at room temperature for 1-2 days. Reheat the air fryer for a few minutes to bring back the crispiness.
Can I use butter instead of coconut oil?
Absolutely! Melted butter can be used as a substitute for coconut oil, giving the pretzels a rich, buttery flavor.
Why did my pretzels turn out too dark or burnt?
Sugar can caramelize and burn quickly in the air fryer. Monitoring the pretzels and reducing the cooking time or temperature is essential.
Can I make a large batch at once?
It's best to cook the pretzel bites in batches to prevent overcrowding, ensuring even cooking and optimal crispiness.
My cinnamon sugar isn't sticking to the pretzels. What can I do?
Make sure the pretzels are thoroughly coated in coconut oil or melted butter. The wet surface helps the sugar mixture adhere.
How can I avoid the pretzels from sticking to the air fryer basket?
You can lightly spray the air fryer basket with non-stick cooking spray or use parchment paper liners designed for air fryers.
Can I use this method for other flavors or coatings?
Absolutely! The air fryer is versatile, and you can use this method as a base for various other coatings and flavors.
Is there a gluten-free version for these pretzel bites?
You can use gluten-free pretzel dough or buy a gluten-free bag of pretzels to make this recipe.
How To Store:
This is a great recipe you can easily make, perfect for the holidays, get-togethers, or game days! Store the cooked pretzels in an airtight container that lasts 2 to 3 days. After that, the pretzels will start to harden.
More Air Fryer Recipes
Diving into the world of air fryer recipes has brought us to these delightful Cinnamon & Sugar Pretzel Bites, a treat that marries simplicity with indulgence. Using the air fryer ensures a healthier snacking alternative and guarantees consistent, golden-brown results each time.
The sweet warmth of cinnamon combined with the crystalline crunch of sugar creates an irresistible exterior to the soft, chewy pretzel within. Perfect for gatherings, movie nights, or a mid-afternoon snack, these pretzel bites encapsulate the joy of home cooking and modern convenience. Once you try them, you'll repeatedly reach for the air fryer to recreate this delectable treat. Happy snacking!
Don't Forget To Pin!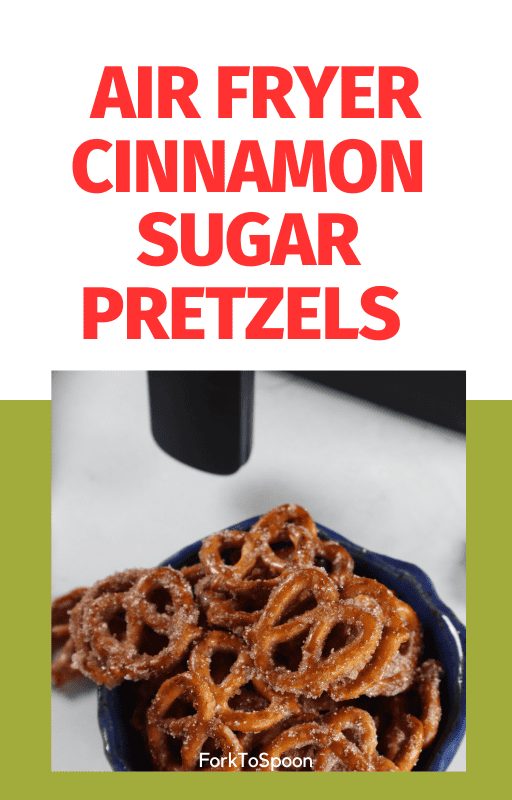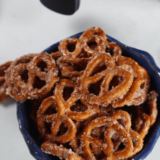 Air Fryer Cinnamon Sugar Pretzels
Description
Air Fryer Cinnamon Sugar Pretzels — Cinnamon sugar pretzels are the perfect, chewy snack for when you're craving something sweet. Making them in an air fryer makes it so much easier to get that crispy outside without all the oil. That plus, they cook in a few minutes!
Ingredients
3/4

cup

coconut oil

3/4

cup

granulated sugar

2

tablespoons

ground cinnamon

15

ounces

pretzels
Instructions
In a large microwave bowl, add the coconut oil, heat until the oil is melted, stir well.

Once the coconut oil is melted, add the granulated sugar and ground cinnamon, mix well until the sugar is dissolved. Add the pretzels to the mixture, coating them.

Transfer the coated pretzels to the air fryer and set the temperature to 350 degrees F, air fryer setting for 4 to 6 minutes.

Plate, serve, and enjoy!
Equipment
Air Fryer

Cooking Spray

Parchment Paper,

optional
Nutrition
Serving:
1
Serving
Calories:
569
kcal
Carbohydrates:
76
g
Protein:
6
g
Fat:
29
g
Saturated Fat:
23
g
Polyunsaturated Fat:
1
g
Monounsaturated Fat:
2
g
Cholesterol:
2
mg
Sodium:
571
mg
Potassium:
74
mg
Fiber:
3
g
Sugar:
25
g
Vitamin A:
8
IU
Vitamin C:
0.1
mg
Calcium:
44
mg
Iron:
3
mg