Air Fryer Glazed Ham Steaks — This Thanksgiving, give your oven a break and try out the new Air Fryer Glazed Ham recipe. This easy-to-prepare dish can be cooked in less than 10 minutes while providing all of the traditional flavors you crave!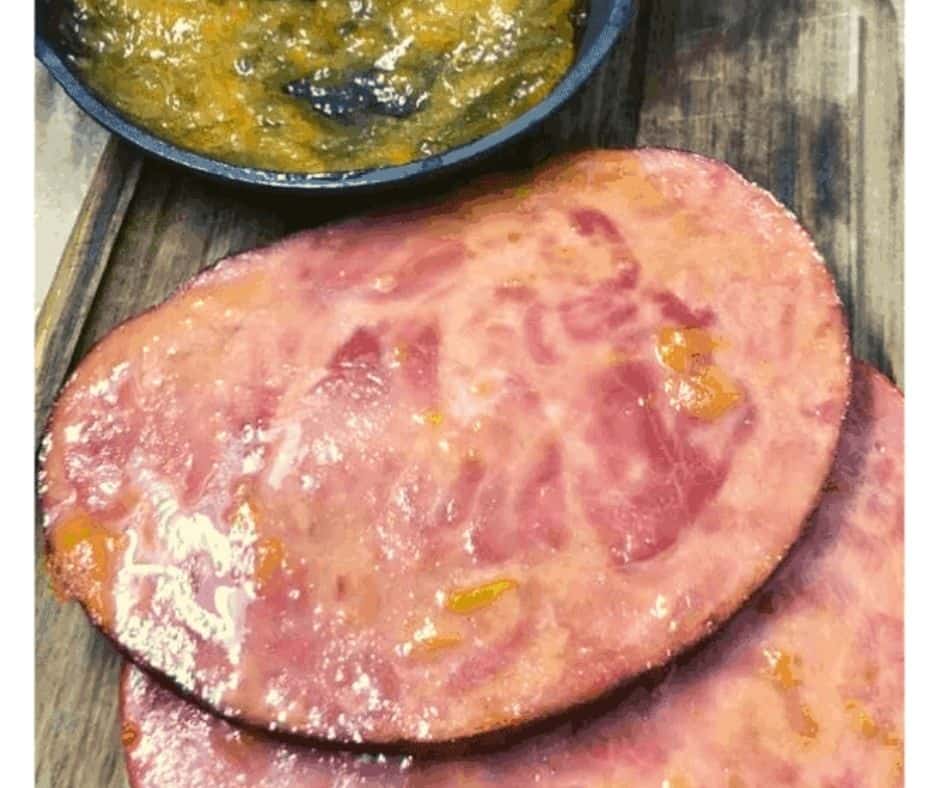 Let's face it, cooking ham can be time-consuming and difficult. This is where an air fryer comes in! Air frying is the latest trend in food, and this article will explain how to make your glazed ham steaks.
Your family will love you for making these delicious ham steaks. This recipe is one of the lunches I've ever had the privilege of making. They are super juicy and tender thanks to the air fryer. These are the tastiest air fryer ham steaks.
Pin this recipe, because once you make them, you will want to make them again and again.
If you love a great and easy meal, some of my favorite Air Fryer Recipes are AIR FRYER LAMB GYRO, AIR FRYER TANDOORI CHICKEN LEGS, AIR FRYER TRADER JOE'S FROZEN MANDARIN ORANGE CHICKEN, and THE BEST AIR FRYER ROASTED POTATOES.
We Love this Recipe Because…
How Do You Air Fryer A Ham Steak?
Air frying is one of the best ways to cook food because it uses less oil than other methods. This means that your meal will be healthier and have fewer calories! The bottom line? You can cook delicious food with little or no fuss using an air fryer.
Set the ham steaks into the air fryer, and then cook them until they are hot.
Where Does Ham Steak Come From?
Ham steaks come from the same place as a whole ham. The meat manufacturer actually just cuts a slice and packages them individually wrapped.
Ham is a delicious and versatile meat that is served in many dishes. One of the most popular ham steaks are honey baked ham, but what exactly is it? The cut of meat comes from the lower portion of the pig's leg below the knee joint. It's typically sliced into round pieces before cooking to ensure even cooking times.
Ingredients Needed For Air Fryer Glazed Ham Steaks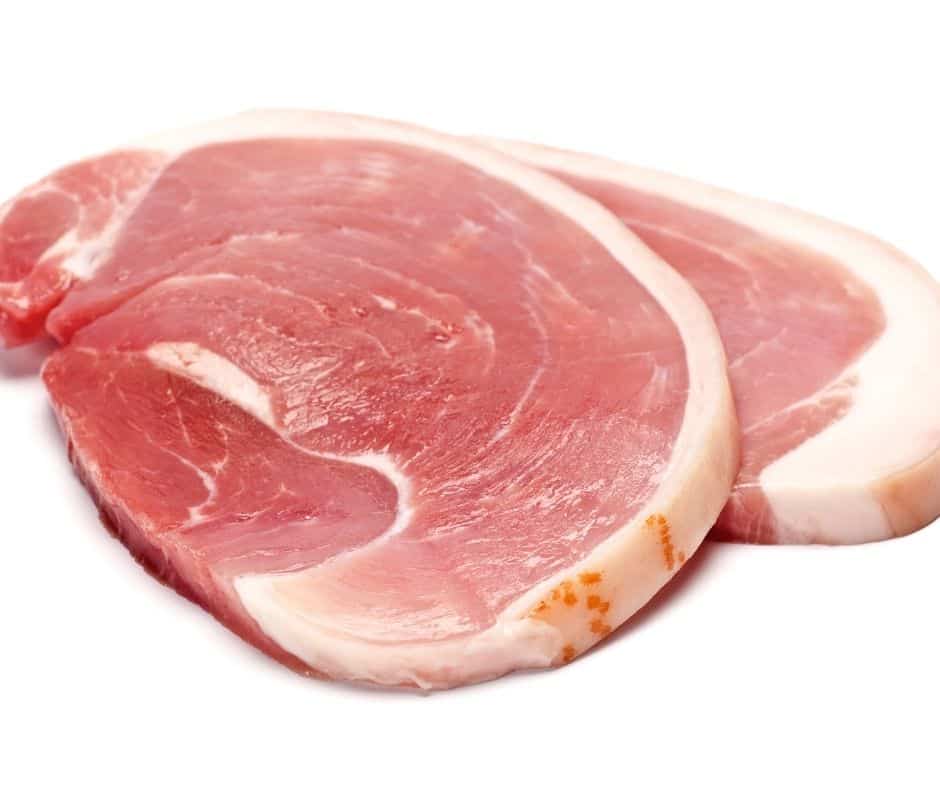 Ham Steaks
Lemon Juice
Mustard
Ground Cinnamon
How To Make Air Fryer Glazed Ham Steaks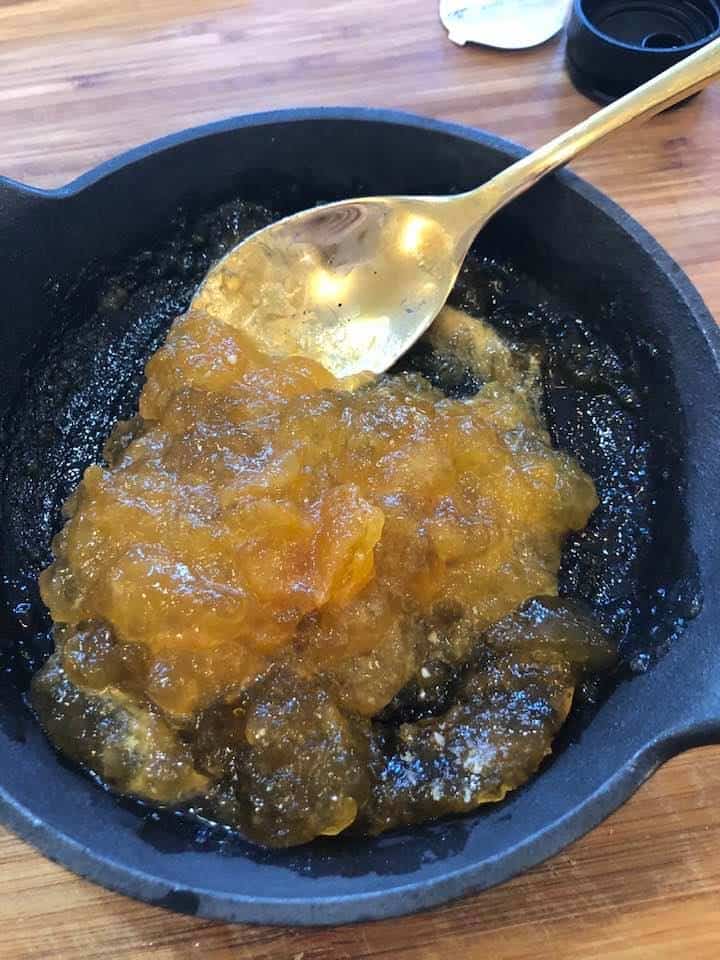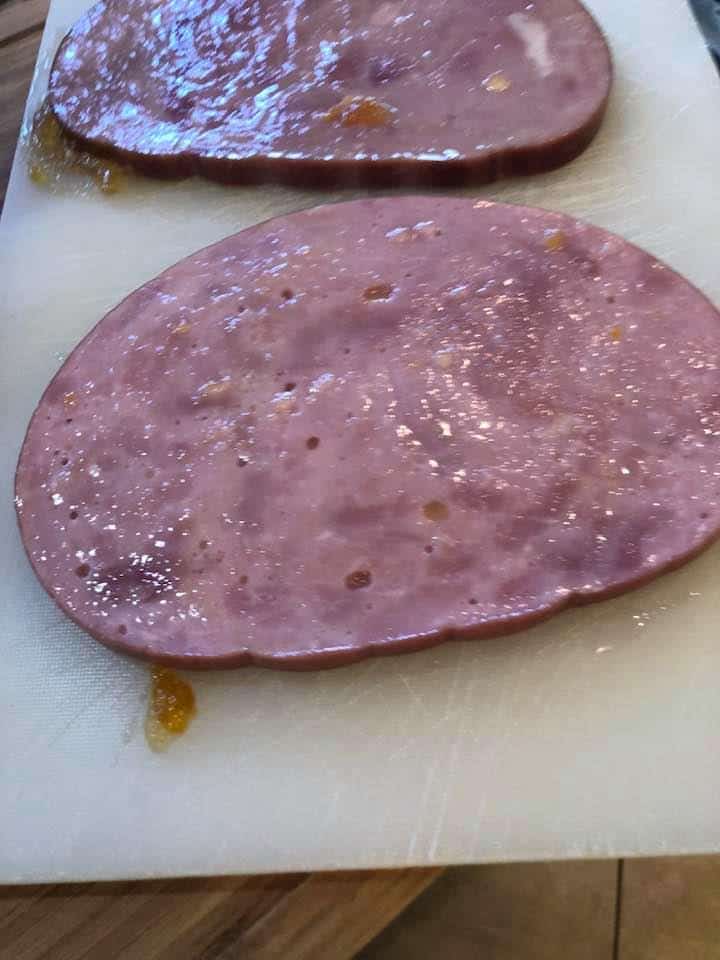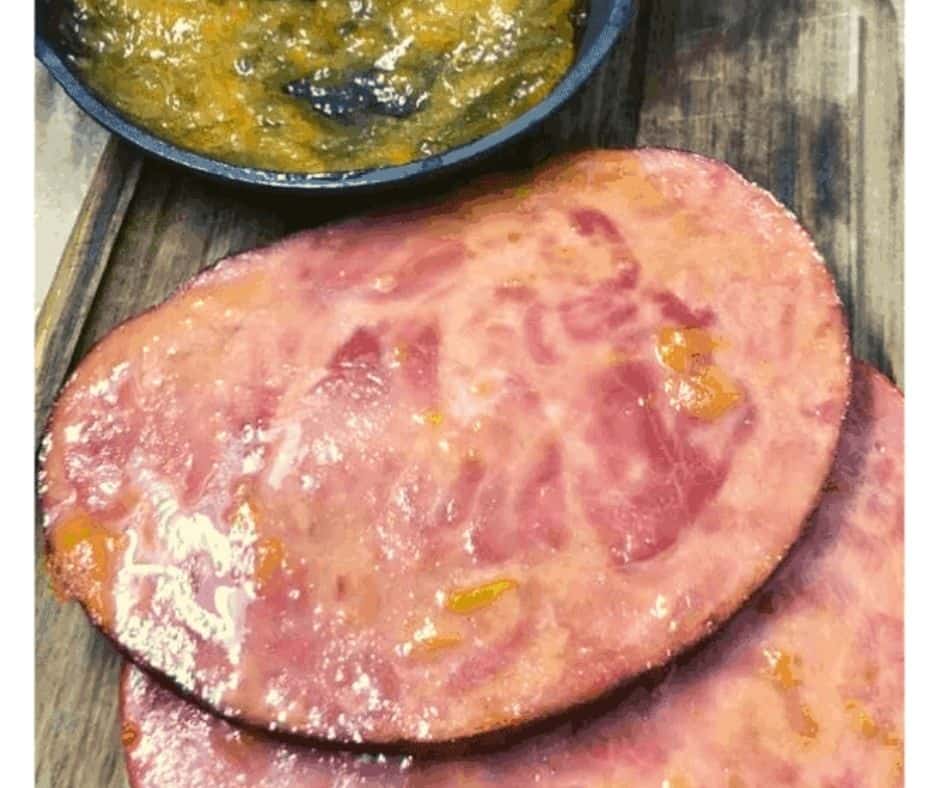 WHAT HAPPENS IF MY AIR FRYER STARTS SMOKING?
If your air fryer starts to smoke, all it usually means is that the fat dripping off the meat is hitting the hot air fryer pan.
There are two solutions for a smoky air fryer, they are to add a couple of tablespoons of water to the basket. This way, when the oil drips off the ham, it will mix into the water, and eliminate the smoke.
The second way would be to put a piece of bread under the air fryer basket so that the bread will collect the drippings.
Some Other Glazes For Ham:
There are so many different types of glazes to put on ham. You can use brown sugar, maple syrup, honey or even ketchup. But what if you want something a little less traditional? Here are five other options for your next Easter or Thanksgiving dinner!
Brown Sugar and Butter
Grape Jelly
Sriracha Sauce
Brown Sugar and Mustard Glaze
PIneapple and Ginger Glaze
What Should I Serve With Ham Steak?
This is a very versatile dish, and you can serve it with any of yoru favorite sides, some of my favorites are:
How To Store A Cooked Ham Steak?
Don't throw away your left over ham steak. Here's how to store it for later use.
Wrap the meat tightly in plastic wrap, foil or place it inside a resealable freezer bag and squeeze out as much air as possible before sealing. Store the wrapped meat in your refrigerator until ready to use or freeze for later use. It will last in the refrigetor for about 2 to 3 days.
How Do I Reheat Ham In An Air Fryer?
If you have any leftover ham, place it into the air fyrer basket, and air fry at 330 degrees F, air fryer setting for about 2 to 3 minutes.
Serve with additional glaze.
More Air Fryer Easy Meal Recipes:
Don't Forget To Pin: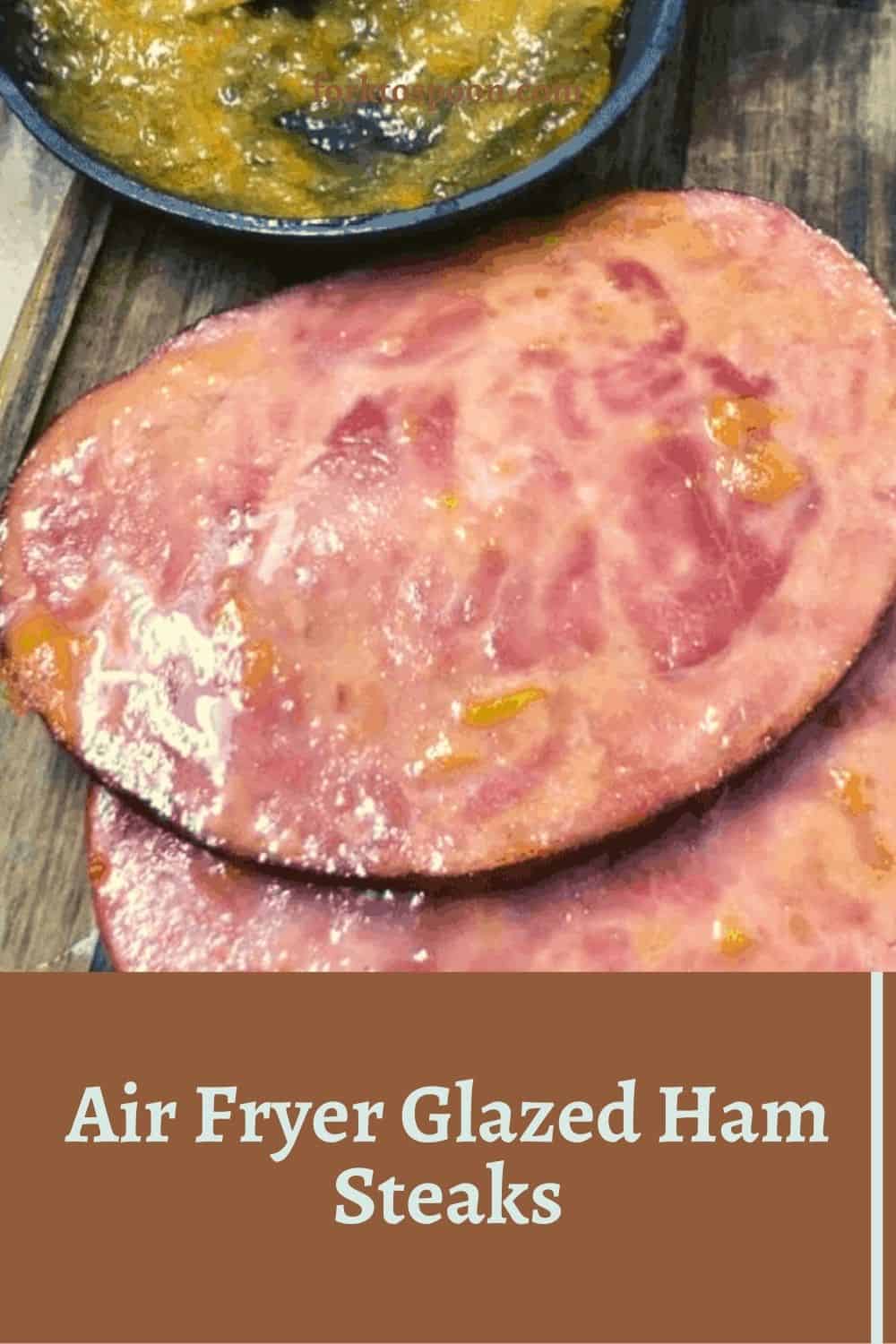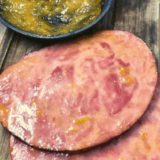 Air Fryer Glazed Ham Steaks
Description
Air Fryer Glazed Ham Steaks — This Thanksgiving, give your oven a break and try out the new Air Fryer Glazed Ham recipe. This is an easy-to-prepare dish.
Ingredients
2

ham steaks

1/4

cup

apricot preserves

1

teaspoon

lemon juice

1

teaspoon

mustard

1/2

teaspoon

ground cinnamon
Instructions
In a small bowl, mix the apricot preserves, mustard, lemon juice, and cinnamon.

Brush the sauce over the ham steaks. (I used a pastry brush)

Set the ham steaks in the air fryer for 5 minutes at 350 degrees F, air fryer setting, (I basted them again with the sauce, about 1/2 way through)
Nutrition
Serving:
1
g
Calories:
351
kcal
Carbohydrates:
20
g
Protein:
45
g
Fat:
10
g
Saturated Fat:
3
g
Polyunsaturated Fat:
1
g
Monounsaturated Fat:
4
g
Cholesterol:
102
mg
Sodium:
2907
mg
Potassium:
766
mg
Fiber:
0.5
g
Sugar:
13
g
Vitamin A:
64
IU
Vitamin C:
77
mg
Calcium:
22
mg
Iron:
2
mg