Ground beef is one of the most common meats purchased at the local grocery stores. The average person consumes about 221 pounds each year, which means that we are eating a huge quantity of meat. Some of the most popular dishes for ground beef are obviously burgers and tacos, but there are many more dishes that can be made. When ground beef goes on sale, I always stock up on it, because I love being able to stretch a dollar for my family.
I thought I would provide some guidelines for you,
Tips For Purchasing Ground Beef:
There are actually a number of different cuts of meat that are sold as "ground beef." The cuts include chuck, roast or sirloin. The label may or may not reflect this. the most common cut that is used in the United States supermarkets is chuck steak.
Also look for bright red meat, when you purchase it, anything that is brown or gray is old, and past the sell date (or close to).
The package should be free of any tears or cuts since exposure to the air will reduce the quality of the meat.
Use a freezer or refrigerated bags or better yet a cooler, to transport your meat home, especially during the summer or hot months.
How to Store Ground Beef:
The best way to store ground beef is in y our refrigerator or meat drawer, whichever one is colder.  It is best to use ground beef up within two days, once the meat turns from bright red to gray or brown, it is not safe to eat and should be disposed of. Cooked ground beef can be stored between 3 to 4 days.
Frozen ground beef can be safely stored for about 3-4 months, if uncooked. Cooked frozen ground beef can be
How to Defrost Ground Beef:
The best way to defrost ground meat is to take it from the freezer and place it directly into the refrigerator. Depending on how big the package is, the meat should be defrosted within a day. Be careful as the meat defrosts, some of the juices will come out, so it's best to place it in either another dish or a ziplock freezer bag, as it defrosts. Use the defrosted meat and any ground beef between 1 to 2 days.
What Do The Differences of Leanness Mean?
If you enter a meat department, you are suddenly faced with a number of choices and numbers, the price that you pay for ground meat will depend on the leanness of the meat that you purchase. The higher the percentage of leanest, the healthier the meat is, but at the same time, the less fat content has the less flavor it has as well since they both go hand in hand. Here is a quick reference chart, which will help you decipher those numbers.
73% Lean, means that the meat is really good for burgers, chili, soups, sloppy joes, etc. Since those dishes really do better with the extra juice that the fat provides.
80-85% Lean:, this meat is really ideal for meatballs, meatloaf, and hamburgers. It has a nice flavor, without having a lot of extra fat.
93% Lean: This ground beef works especially well in ground beef dishes that require crumbling, such as tacos, stuffed peppers, casserole, and other low-fat dishes.
Ground Beef Safely Cooked:
Ground beef should be tested with a meat thermometer, the internal temperature should be at LEAST 160 degrees F. To test for temperature, simply stick your thermometer into the thickest part of the meat.
My Recommendations for Air Fryers, which is a very common question, I receive. Here are my three favorites, at the time of the post.
GoWise Air Fryer, I think this is the best model to get you into the air fryer world, it doesn't mean that you are going to stick with it, but it's a solid machine, large enough for a chicken and inexpensive enough that you can upgrade later, and use it for sides.

Secura Air Fryer: This is MY first air fryer, I have had it since (Amazon tells me I ordered it on August 23, 2017), It is a fabulous machine, and I always recommend it to my Facebook group, when they are on sale because it works. And to be honest, once you get into the air fryer world, you want another one for side dishes (and, I'm so hoping that is true and not just me)

Omni Air Fryer, By Instant Pot: This is my newest addition and I am in love. There are a lot of things I love about this, but the main ones are that I can make a LOT of food for my family, and since I have 2 teenage boys, I really need the same. Also, this was my first air fryer oven, so I am loving making cookies, pancakes and other food that needed a flat surface.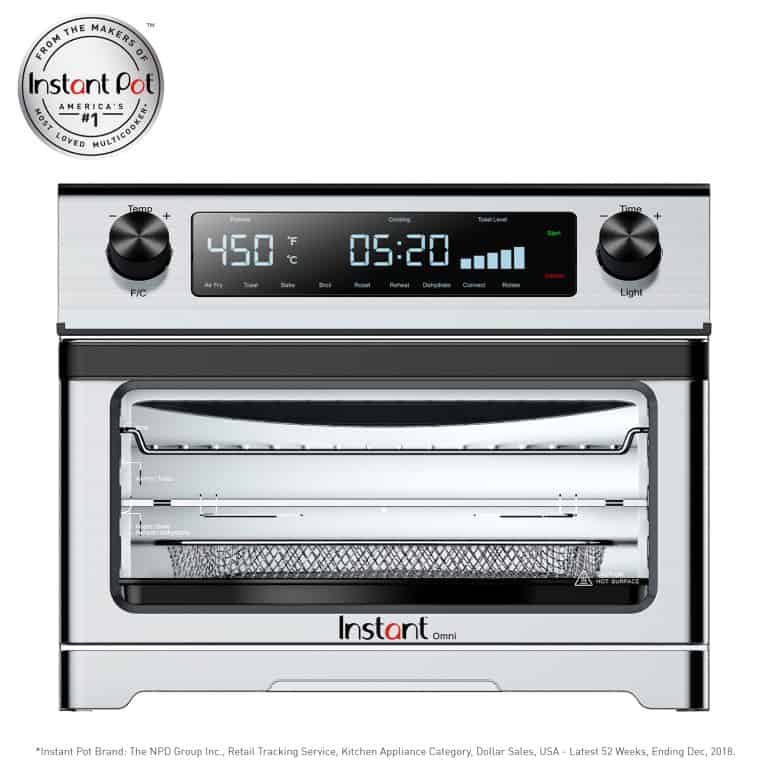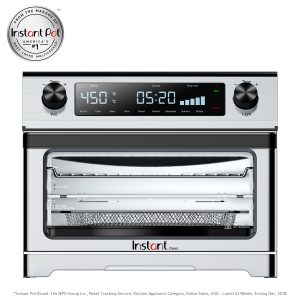 Print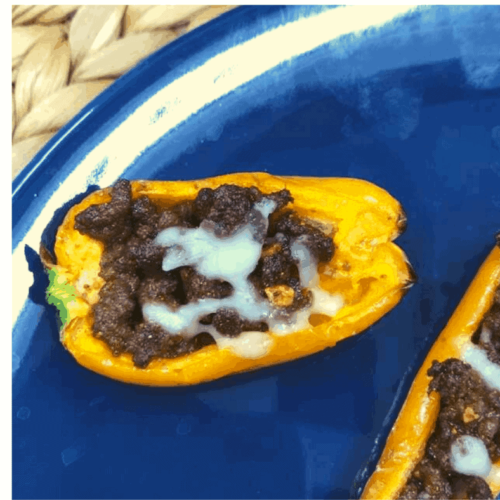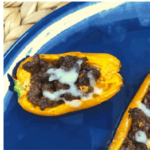 Air Fryer, Mini Taco Stuffed Peppers
Author:

ForkToSpoon.com

Prep Time:

5 minutes

Cook Time:

7 minutes

Total Time:

12 minutes

Yield:

12

servings

1

x

Category:

Appetizer

Cuisine:

Mexican
---
Description
These are the perfect appetizer, it's a great kid-friendly meal. I loved eating these, as you can eat a lot and not get filled. This is a family-friendly, and KETO friendly.
---
1/2

pound ground meat

1 1/2 tablespoons

taco seasoning

1/4 cup

either shredded cheddar or shredded Mexican cheese
---
Instructions
Start by browning your meat, in a large skillet.

Drain the grease from the meat, and then add it to a small mixing bowl. Mix in the taco seasoning, mix well, so the taco seasoning is well distributed.

Cut and scoop out the seeds from the peppers. I cut mine along the long side and then removed the seeds. Fill with the taco meat.

Set in the air fryer basket or on the tray, air fry for 6 minutes at 320 degrees F.

Then sprinkle the cheese on top. (I broiled for another 2 minutes, on 450 degrees F, to melt the cheese, but if you don't have a broiler function on your air fryer, just air fry at 400 degrees F, for 2 minutes, just enough so that the cheese is melted.

Plate, serve and enjoy!

---