Thousand Island Dressing — Thousand Island Dressing is an American classic dressing that can be made with mayonnaise, ketchup, relish, and spices. This dressing was first created to top a salad at a restaurant in San Diego where it was invented by a man named Alex Raymond back in the 1920s. Since then this savory dressing has been popular on salads as well as sandwiches and burgers. It's easy to make your own Thousand Island Dressing at home!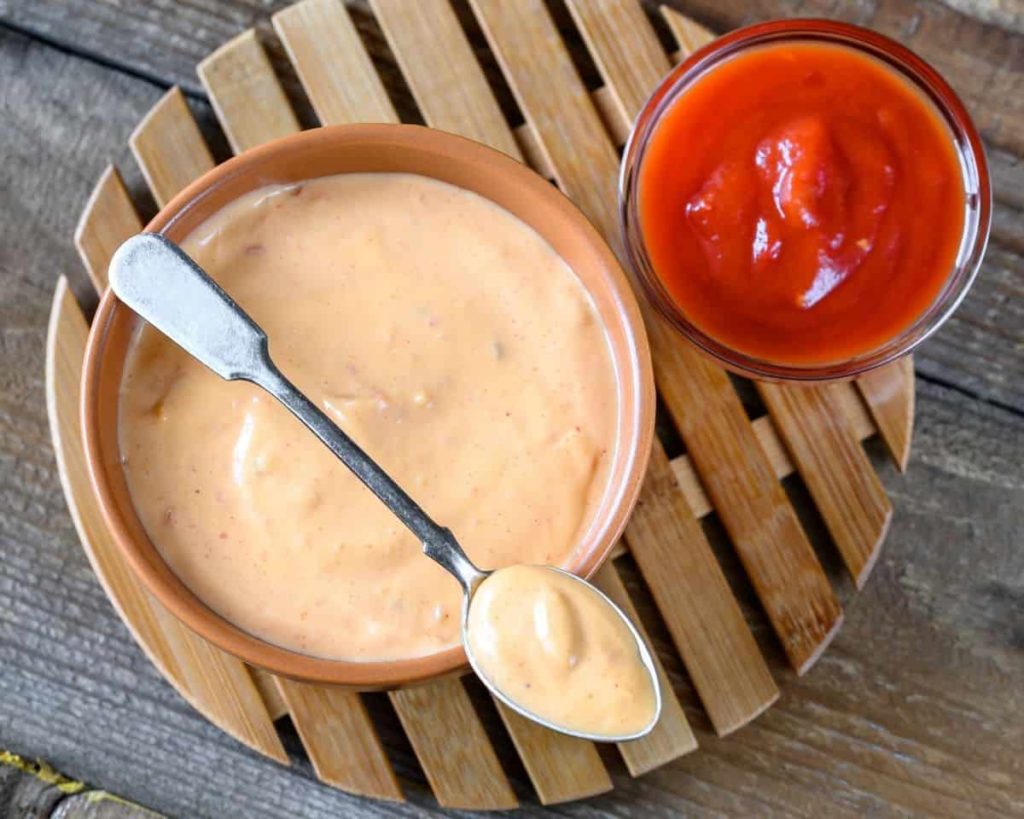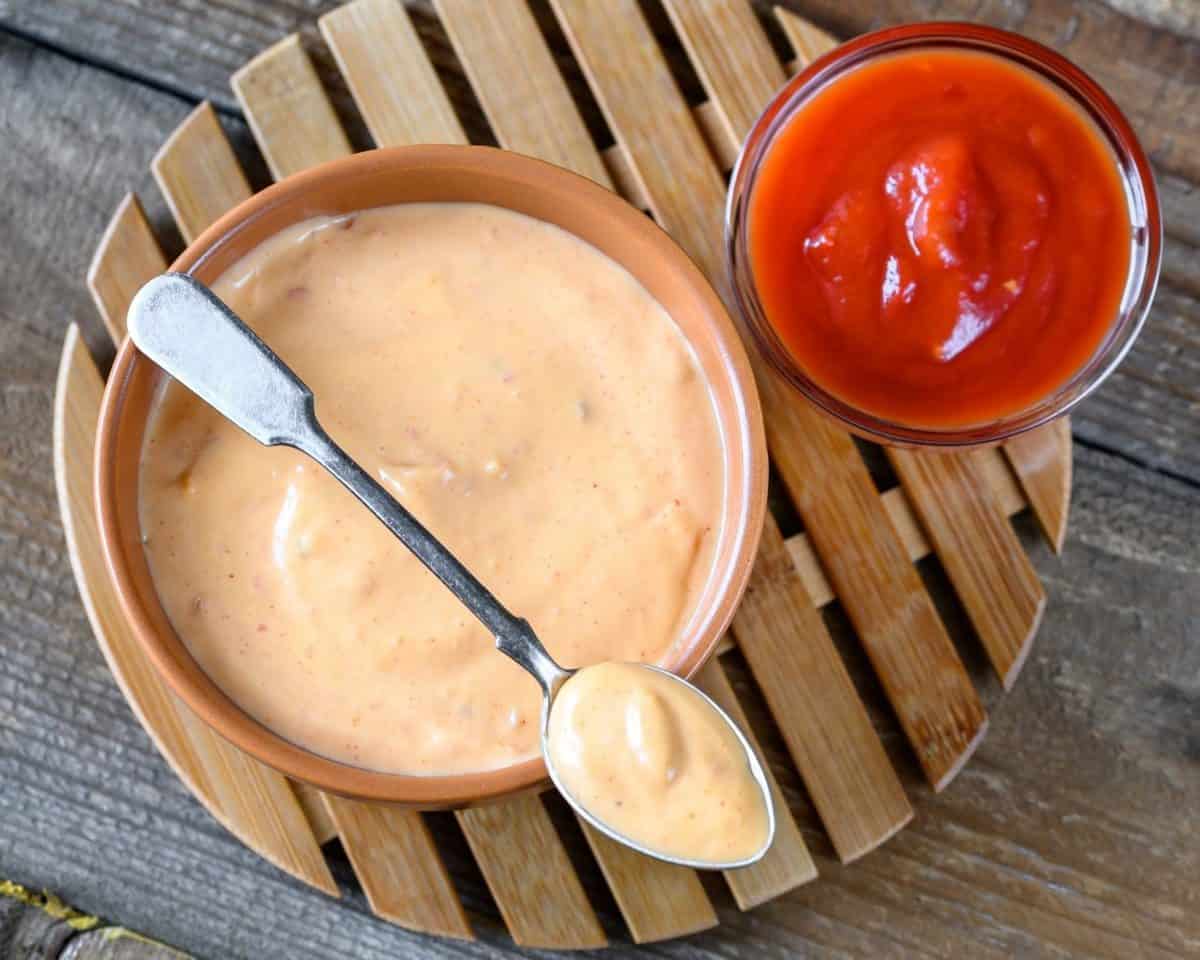 One of the easiest recipes for homemade Thousand Island Dressing. This recipe is sweet, creamy, and absolutely delicious. I love my Air Fryer Reubens, so today, I went out and made this easy recipe, which was so fabulous.
If you are looking for an excellent dip for Air Fryer Reuben Egg Rolls or for your Homemade Air Fryer Reubens, this recipe is easy and absolutely delicious.
Why is it called Thousand Island dressing?
The name came from the place where the dressing was first made, Thousand Island, New York. The tale says that Sophie Lalonde made the dressing for her husband's fishing trip.
Everyone loved it so much that one of the visitors who received it was George Boldt, who owned the New York Waldorf Astoria Hotel. He loved it so much that his restaurant immediately started serving it to their guests.
The rest is history.
How do you make Thousand Island dressing from scratch?
The very popular salad dressing is a blend of mayonnaise, ketchup, sweet pickle relish, diced onions, minced garlic, white vinegar, salt, and Tabasco sauce.
Add all the ingredients to a large mixing bowl, and use a whisk until it's smooth.
Hard-Boiled Eggs: Some recipes use hard-boiled eggs. I left it out today because I wanted a cream sauce to spread on my Reubens.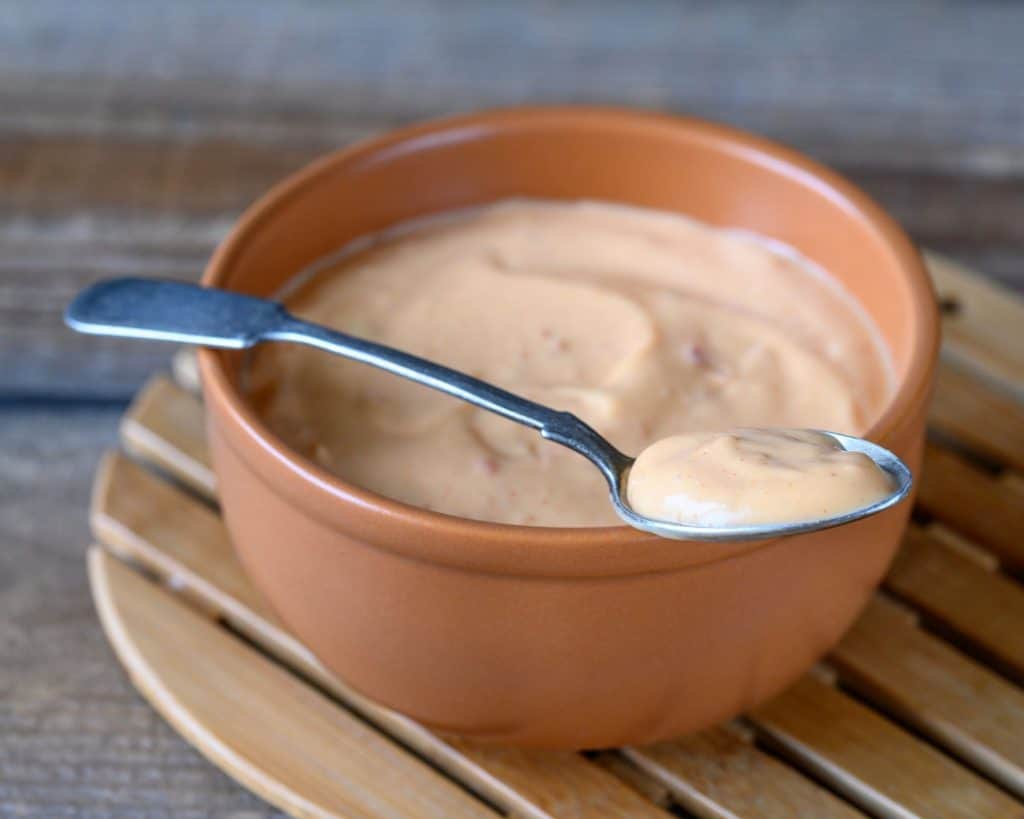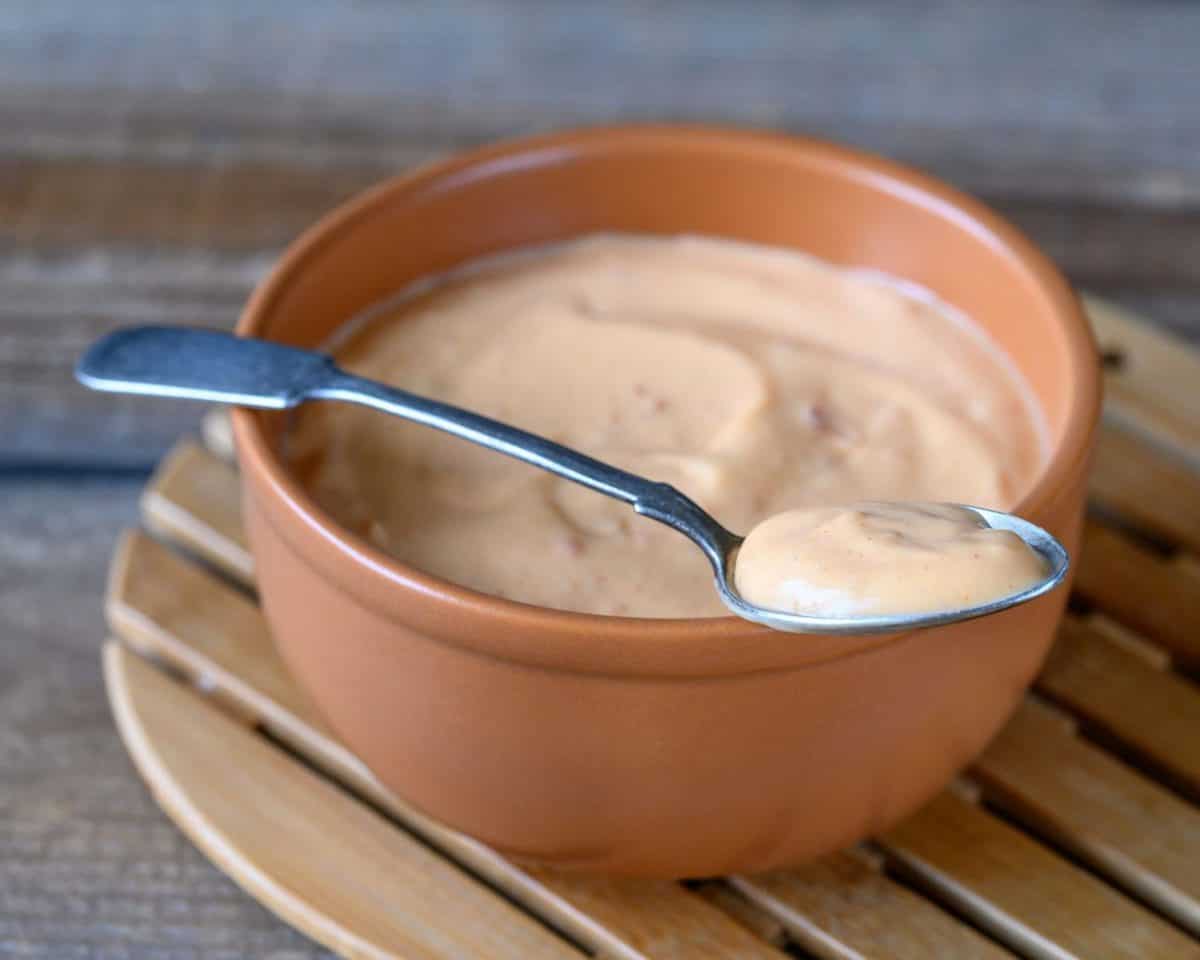 What is the difference between Russian and Thousand Island dressing?
It is probably true that Thousand Island Dressing is a variation of Russian Dressing. Russian dressing has been around since 1800;s and Thousand Island dressing didn't start to appear until the 1900s.
Both dressings include mayonnaise and ketchup. Although Russian dressing contains hot sauce and horseradish, Thousand Island Dressing includes pickles, onions, and traditionally hard-boiled eggs.
Russian dressing is spicy since it has horseradish and chili sauce as ingredients, whereas Thousand Island Dressing is sweeter, with sweet pickle relish.
Who makes the best Thousand Island dressing?
If you want to purchase it, here are some of my favorites:
Ken's Steak House Lite Thousand Island Dressing
Lighthouse 1000 Island Dressing
Heinz Thousand Island Salad Dressing
Wish-Bone Salad Dressing, Light Thousand Island
Amazon Brand, Happy Belly Thousand Island Dressing
Is Big Mac sauce just Thousand Island dressing?
Although they both contain some of the same ingredients, they are not the same. Big Mac Sauce includes yellow mustard, vinegar, garlic powder, onion powder, and paprika.
The sauces are similar but have differences. Therefore the taste is slightly different.
What do you call mayonnaise and ketchup mixed together?
That is fry sauce, which is amazing when you want a great dipping sauce for your French Fries.
SOME OTHER GREAT HOMEMADE SAUCE RECIPES–
SOME HELPFUL PRODUCTS USED IN MAKING THIS RECIPE-
ForkToSpoon.com may earn a small commission via affiliate links in this post. Please read our full disclosure policy here.
DON'T FORGET TO PIN,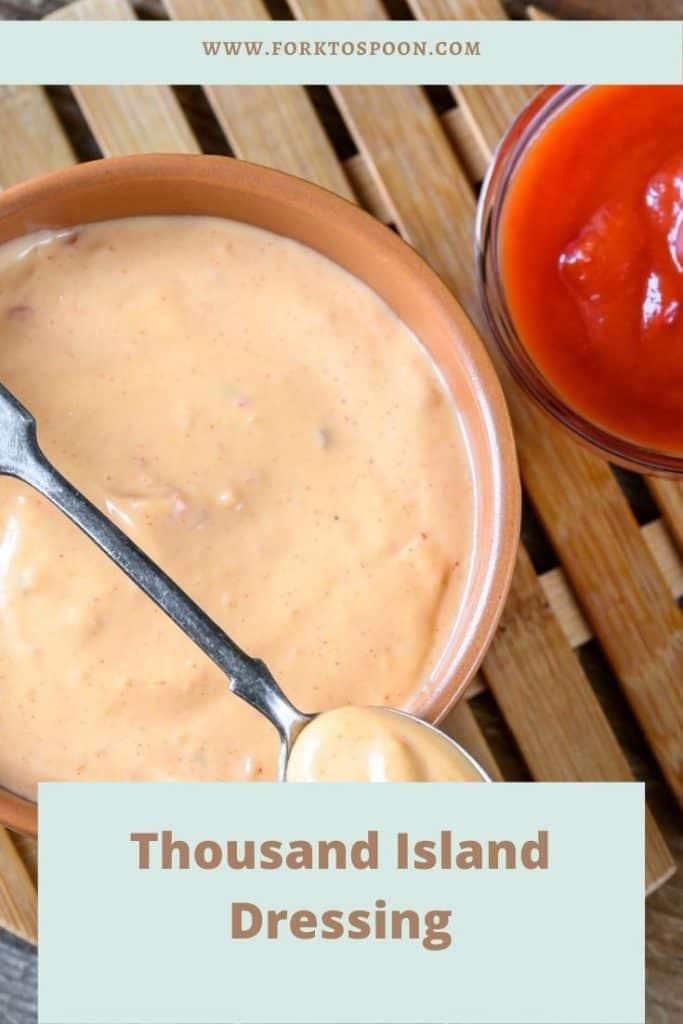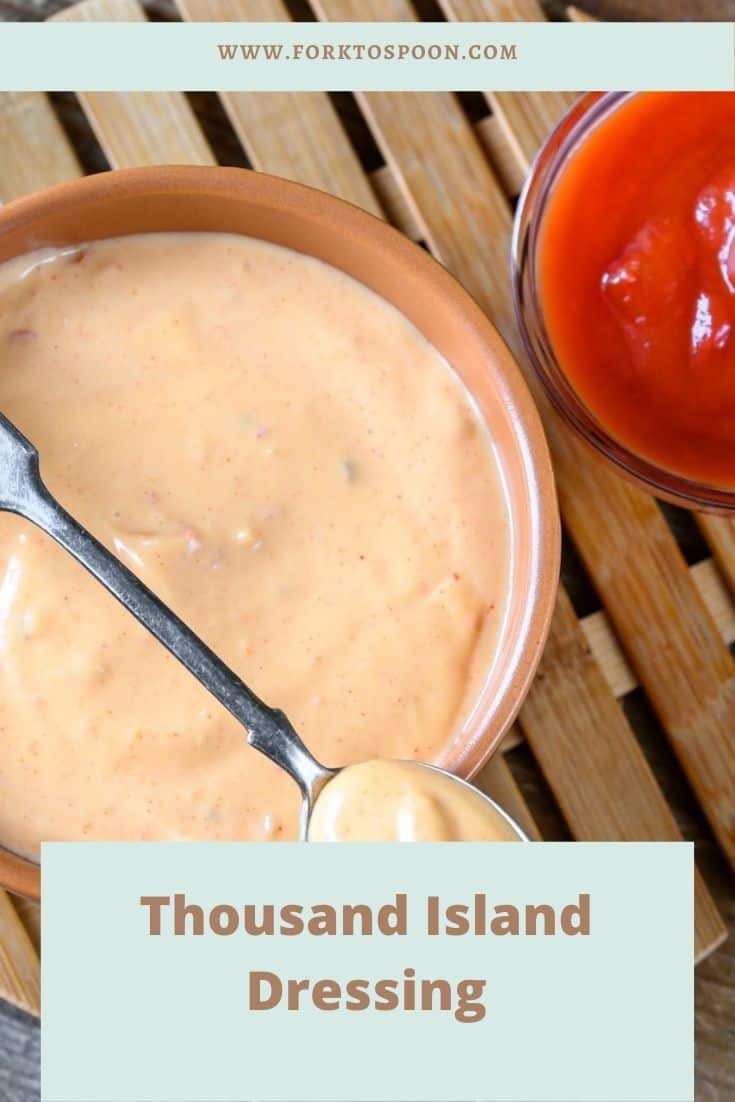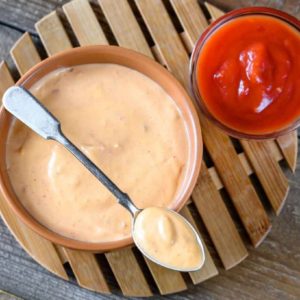 Thousand Island Dressing.
Description
This is such an easy recipe for a classic Thousand Island Dressing. For best results, chill in the refrigerator overnight.
Ingredients
1

cup

mayo

1/4

cup

onions

,

minced

2

tablespoons

ketchup

2

tablespoons

sweet pickle relish

1

teaspoon

lemon juice

1/2

teaspoon

sweet paprika

1/2

teaspoon

salt

1/2

teaspoon

black pepper
Instructions
In a small mixing bowl, mix all of the ingredients.

Cover and refrigerate overnight.
Nutrition
Serving:
1
g
Calories:
202
kcal
Carbohydrates:
3
g
Protein:
0.4
g
Fat:
21
g
Saturated Fat:
3
g
Polyunsaturated Fat:
13
g
Monounsaturated Fat:
5
g
Trans Fat:
0.1
g
Cholesterol:
12
mg
Sodium:
388
mg
Potassium:
30
mg
Fiber:
0.2
g
Sugar:
2
g
Vitamin A:
146
IU
Vitamin C:
1
mg
Calcium:
5
mg
Iron:
0.2
mg