Air Fryer BBQ Cheese Burgers are amazing! If you are looking for the BEST Air Fryer Burger recipe, it is delicious and easy!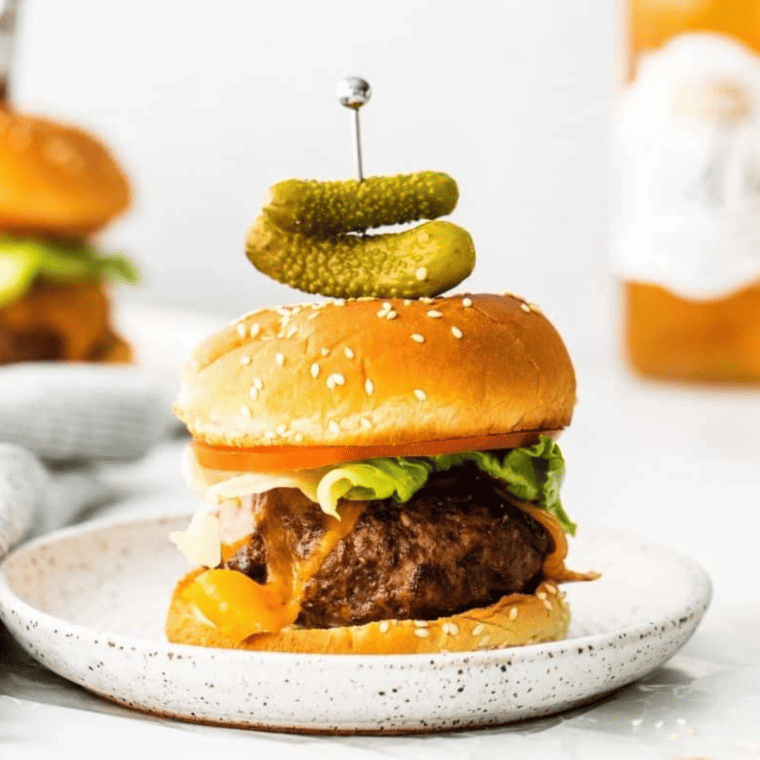 Nothing is better than a homemade burger; with the air fryer, you can skip the grill and head right to the air fryer. These burgers are easy and delicious!
So, even minus 10 degrees, you can still have a perfect Air Fryer BBQ Cheese Burgers without leaving your kitchen!
These burgers are wonderfully juicy, and they are perfectly seasoned with the right amount of ingredients to impress your family!
If you are looking for even more Air Fryer Easy Dinner Recipes, some of my favorites are AIR FRYER ROAST BEEF, AIR FRYER TRI-TIP STEAK RECIPE, AIR FRYER CHICKEN FRIED STEAK, and AIR FRYER ITALIAN MEATLOAF.
The Best BBQ Cheese Burgers Recipe Air Fryer
Prepare for a flavor explosion with our BBQ cheeseburgers cooked perfectly in the air fryer. These juicy beef patties are generously smothered in tangy barbecue sauce and crowned with a gooey slice of cheddar cheese. The magic of the air fryer ensures they cook evenly, with a mouthwatering char on the outside while maintaining that ideal medium-rare on the inside.
Ingredients Needed For Air Fryer BBQ Cheese Burgers
With a few simple ingredients, you can have this delicious burger recipe!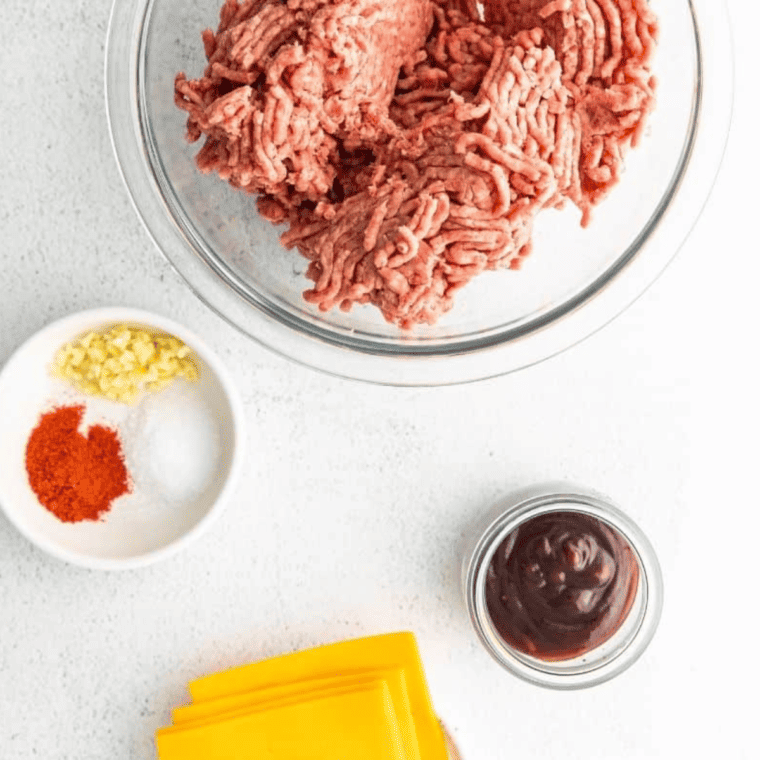 Remember the step-by-step directions and detailed ingredient list are below in the printable recipe card at the bottom of the post, as well as the nutritional information.
Ground Beef: Start with high-quality ground beef, preferably 80% lean to 20% fat, for juicy burgers that hold together well.
Cheddar Cheese Slices: Sharp cheddar cheese slices are the perfect choice for melting over the burgers, adding rich, cheesy goodness.
BBQ Sauce: Select your favorite barbecue sauce, smoky, sweet, or spicy, to coat the burgers with that classic barbecue flavor.
Salt and Pepper: Simple seasoning with salt and pepper enhances the natural beef flavor and balances the richness of the cheese and BBQ sauce.
Burger Buns: Choose fresh burger buns, classic or whole wheat, to serve your delicious BBQ cheeseburgers.
Toppings (Optional): Customize your burgers with your preferred toppings like lettuce, tomato, onion, pickles, or even bacon for added layers of flavor and texture.
These essential ingredients come together in the air fryer to create a delectable BBQ cheeseburger that's easy to make and burst with smoky, cheesy, and savory goodness.
How To Make Air Fryer BBQ Cheese Burgers
These air-fried BBQ cheeseburgers are quick to make and deliver that perfect balance of smoky, cheesy, and savory flavors. Customize them to your liking with your favorite toppings, and enjoy a mouthwatering burger right from your air fryer.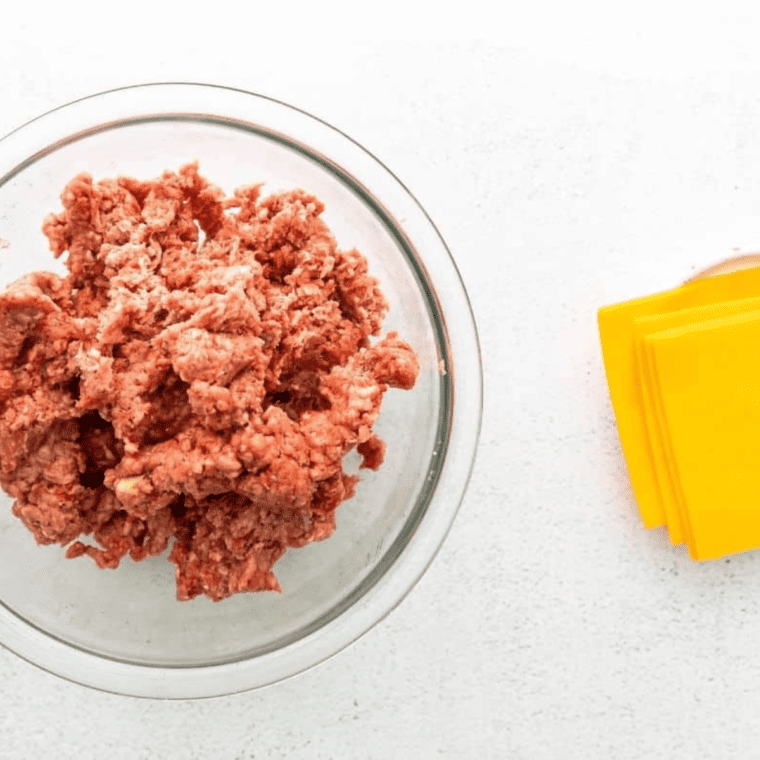 Preheat Your Air Fryer: Preheat your air fryer to 375 degrees F (190°C) for 3-5 minutes.
Form the Burger Patties: Divide the ground beef into equal portions and shape them into burger patties—season both sides of the patties with salt and pepper.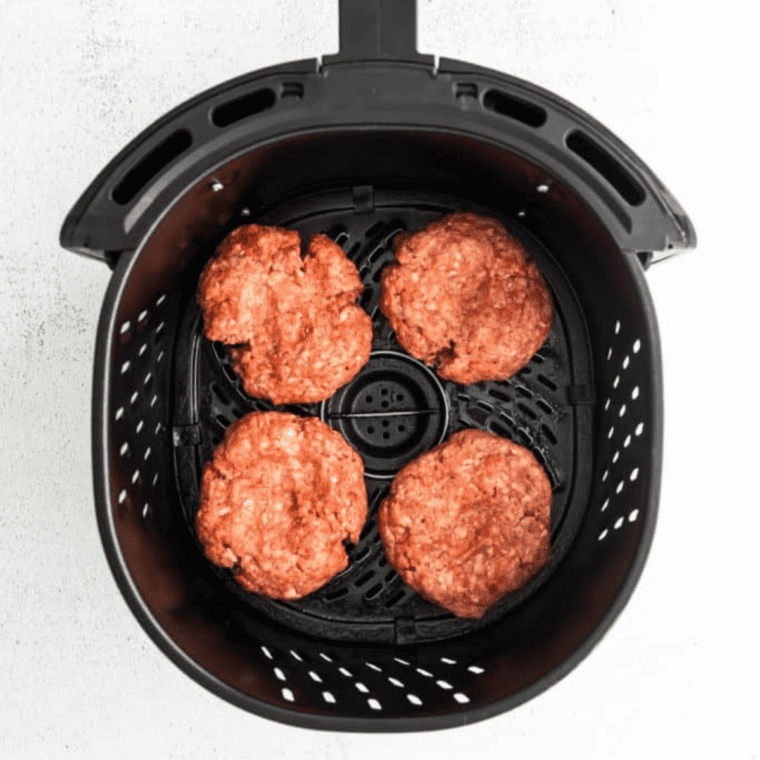 Air Fry the Patties: Place the burger patties in the preheated air fryer basket. Set cook time for about 5 minutes on one side.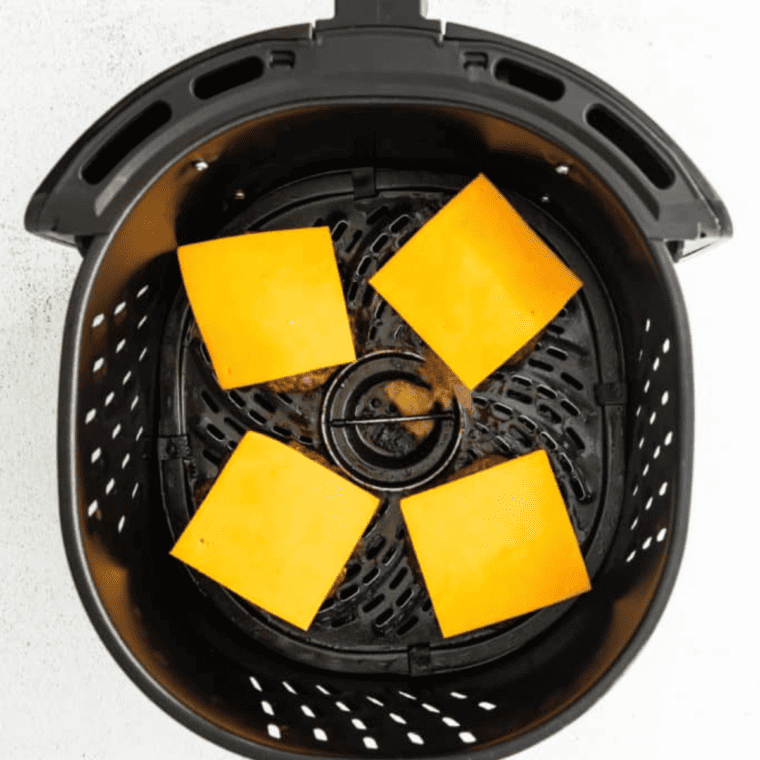 Flip and Add Cheese: Carefully flip the burger patties using tongs and cook for another 4-5 minutes. Add a slice of cheddar cheese to each patty during the last minute of cooking.
Toast the Buns (Optional): While the patties are cooking, you can optionally toast the burger buns in the air fryer for 1-2 minutes until they are lightly browned.
Baste with BBQ Sauce: Open the air fryer and brush a generous amount of BBQ sauce onto each burger patty. Close the air fryer and cook for 1-2 minutes, allowing the sauce to caramelize slightly.
Assemble the Burgers: Place the cooked BBQ cheeseburgers on the toasted buns. Add your favorite toppings and condiments, such as lettuce, tomato, onion, pickles, or additional BBQ sauce.
Serve and Enjoy: Serve your Air Fryer BBQ Cheese Burgers immediately while they're hot and the cheese is gooey. Dig in and savor the deliciousness!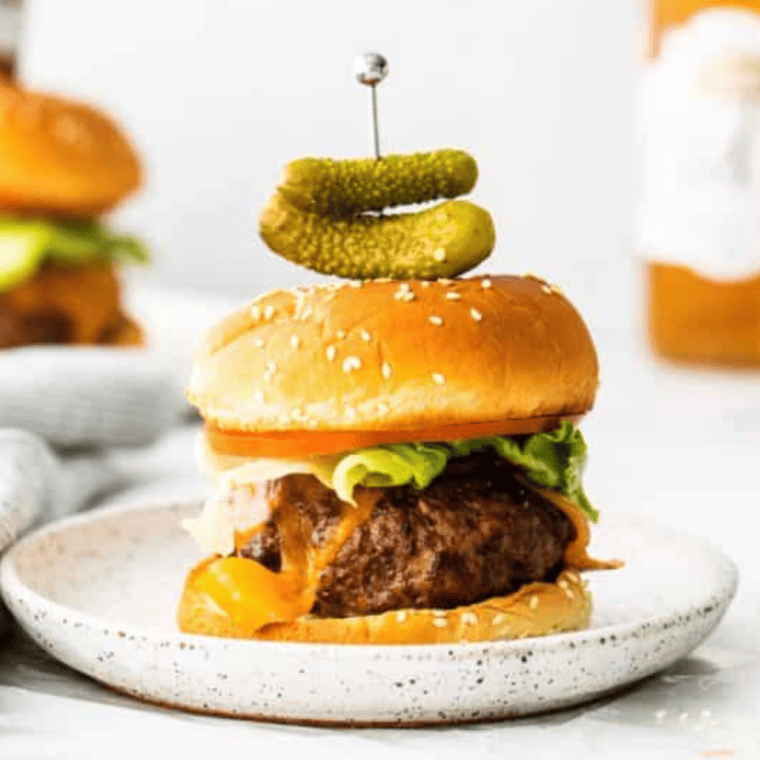 Pro Tips For The Best Air Fryer BBQ Cheese Burgers
To ensure your Air Fryer BBQ Cheese Burgers turn out absolutely delicious, consider these pro tips:
Choose Quality Ground Beef: Start with ground beef with a good fat balance (around 80% lean to 20% fat). The fat contributes to juiciness and flavor.
Season Generously: Don't be shy with the salt and pepper when seasoning your burger patties. The seasoning should be applied evenly on both sides of each patty.
Uniform Patties: Make sure your burger patties are of similar size and thickness. This helps them cook evenly in the air fryer.
Preheat the Air Fryer: Always preheat your air fryer before adding the burger patties. This ensures they start cooking immediately and develop a nice sear.
Avoid Overcrowding: Don't overcrowd the air fryer basket. If necessary, cook the burgers in batches to maintain good air circulation and even cooking.
Check for Doneness: Use a meat thermometer to check the internal temperature of your burgers. For medium-rare burgers, aim for 135-140°F (57-60°C), while medium should be around 145-160°F (63-71°C).
Add Cheese at the Right Time: Add the cheddar cheese slices during the last minute of cooking. This ensures that the cheese melts perfectly onto the patties without overcooking.
Choose Your BBQ Sauce Wisely: Select a BBQ sauce that you love since it's a central flavor component of your burger. Pick one that suits your taste, whether it's smoky, sweet, or spicy.
Baste and Caramelize: Brush the BBQ sauce onto the burgers during the last minute of cooking and allow it to caramelize slightly for that mouthwatering glaze.
Toast the Buns: If you like your buns toasted, consider air frying them for a minute or two for that extra crunch.
Let Them Rest: Allow your burgers to rest for a minute before assembling the sandwiches. This helps the juices redistribute, ensuring a juicy bite.
Customize Toppings: Customize your burger with your favorite toppings and condiments. Experiment with different combinations to create your signature burger.
By following these pro tips, you'll master the art of making Air Fryer BBQ Cheese Burgers that are flavorful, juicy, and a true delight.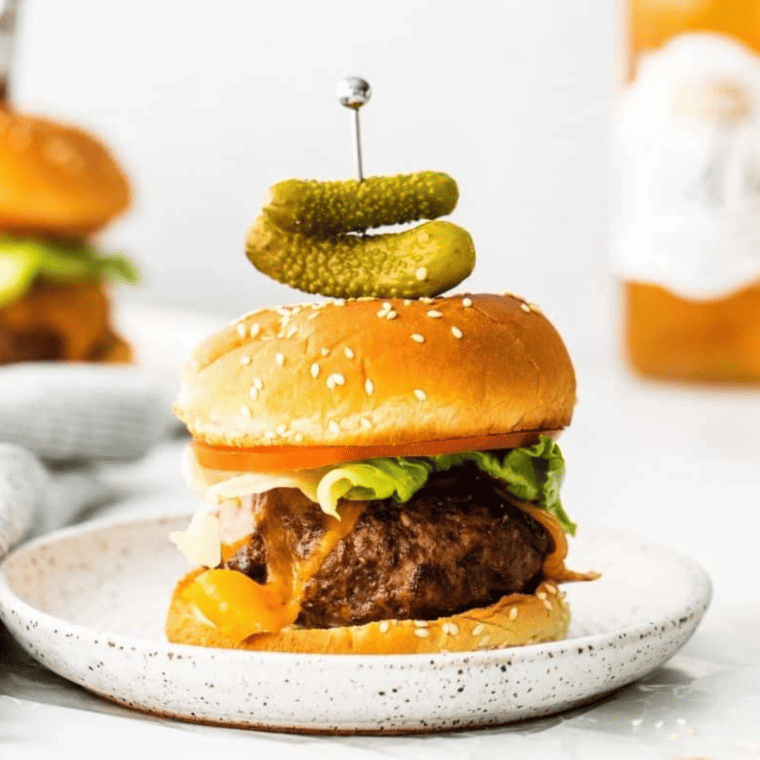 What's the best type of beef for making cheeseburgers?
Ground beef with a fat content of around 80% lean to 20% fat is ideal for making juicy and flavorful cheeseburgers.
Can I cook frozen burger patties in the air fryer?
Yes, you can cook frozen burger patties in the air fryer, but it may require a slightly longer cooking time. Preheat the air fryer and check for doneness with a meat thermometer.
How long should I cook burger patties in the air fryer?
Cooking times can vary depending on the thickness of the patties and your air fryer model. Generally, it takes around 10-12 minutes at 375°F (190°C), flipping halfway through.
Can I use different types of cheese for my cheeseburgers?
Absolutely! Cheddar is a classic choice, but you can use any cheese you prefer, such as Swiss, American, pepper jack, or even blue cheese, for a unique twist.
What toppings go well with BBQ cheeseburgers?
Toppings can vary based on personal preference, but popular choices include lettuce, tomato, onion, pickles, bacon, sautéed mushrooms, and additional BBQ sauce.
Can I make BBQ cheeseburgers without an air fryer?
Yes, you can make BBQ cheeseburgers on a grill, stovetop, or oven. Adjust the cooking method accordingly, but the flavor profile remains similar.
How do I keep my burgers from falling apart on the grill or in the air fryer?
Ensure your burger patties are well-formed and have a slight dimple in the center to prevent them from puffing up during cooking. Refrigerating them briefly before cooking can also help them hold their shape.
Can I make BBQ cheeseburgers with turkey or veggie patties for a healthier option?
Yes, you can substitute ground turkey or plant-based patties for a healthier version of BBQ cheeseburgers. Adjust the cooking time and temperature accordingly.
How do I prevent my BBQ sauce from burning during cooking?
To prevent BBQ sauce from burning, apply it during the last minute or two of cooking and watch closely. You want it to caramelize slightly without charring.
What type of buns work best for BBQ cheeseburgers?
Choose sturdy burger buns that can hold up to the juiciness of the patty and the BBQ sauce. Brioche, potato rolls, and sesame seed buns are popular choices.
More Air Fryer Recipes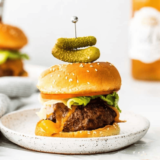 Air Fryer BBQ Cheese Burgers
Description
Air Fryer BBQ Cheese Burgers are amazing! If you are looking for the BEST Air Fryer Burger recipe, it is delicious and easy!
Ingredients
1

pound

ground beef

,

80/20

1/4

cup

BBQ sauce

,

divided

1

clove

garlic

,

minced

1

teaspoon

kosher salt

1/2

teaspoon

paprika

4

slices

cheddar cheese

,

optional
Garnishes optional: Toasted hamburger bun, ketchup, lettuce, pickles, or onion
Instructions
Spray your air fryer basket with olive oil spray and set it aside.

In a large bowl, add the ground beef, two tablespoons of BBQ sauce, minced garlic, kosher salt, and paprika.

Gently combine the mixture, making sure not to pack it too tightly.

Divide the meat mixture into four and shape them into patties (about ¾" thick).

Place the burgers into the greased air fryer basket and cook them at 375F, air fryer setting, for 8-10 minutes, or until your desired doneness.

Top each burger with 1-2 teaspoons of BBQ sauce and a slice of cheese.

Return the burgers to the air fryer for 2 minutes or until the cheese is melted.

Serve immediately with your choice of garnishes.

Plate, serve, and enjoy!
Equipment
Air Fryer

Cooking Spray

Parchment Paper,

optional
Nutrition
Serving:
1
Serving
Calories:
257
kcal
Carbohydrates:
8
g
Protein:
28
g
Fat:
12
g
Saturated Fat:
6
g
Polyunsaturated Fat:
1
g
Monounsaturated Fat:
4
g
Trans Fat:
0.4
g
Cholesterol:
87
mg
Sodium:
952
mg
Potassium:
451
mg
Fiber:
0.2
g
Sugar:
6
g
Vitamin A:
230
IU
Vitamin C:
1
mg
Calcium:
138
mg
Iron:
3
mg