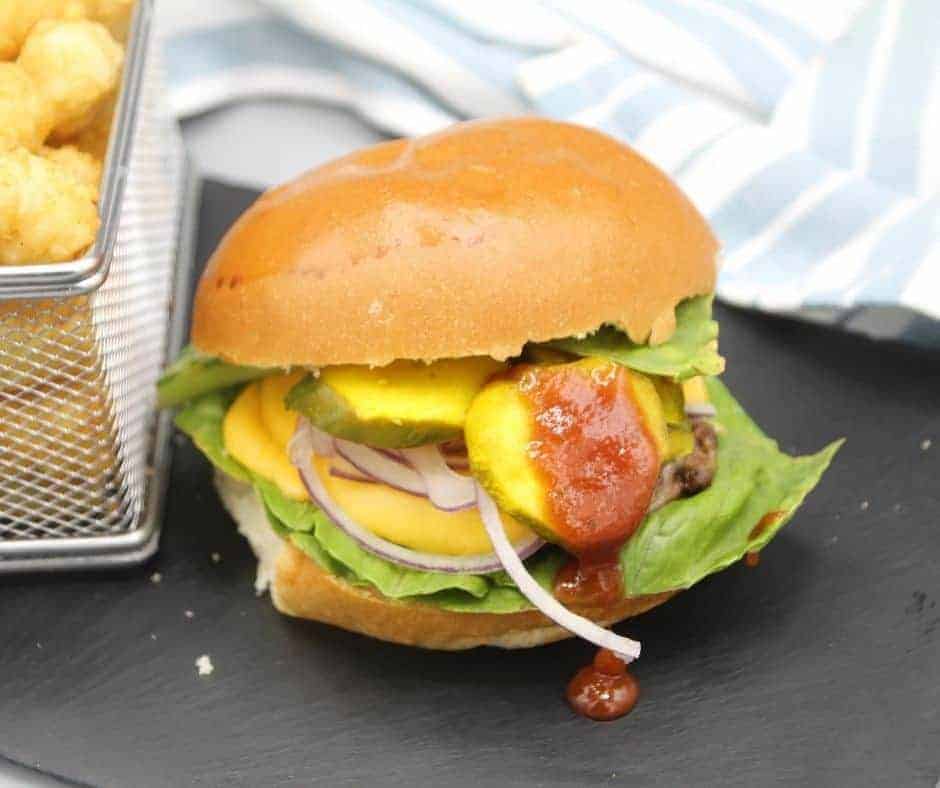 This is the perfect recipe for making a batch of juicy and tender Air Fryer Cheeseburgers. With summer coming and the burgers coming along with it, I wanted to share with you how to get a perfect and delicious air fryer cheeseburger every single time.
If you have not made a batch of cheeseburgers in the air fryer, you are truly missing out. Air Fryer cheeseburgers are restaurant-quality burgers in minutes, less time than in line at the drive-thru.
They make a quick and easy meal, a great meal to keep on hand on those busy nights.  Whether you are cooking frozen cheeseburgers or hamburgers with fresh meat, this recipe will have you covered.
If you are looking for other burger recipes, some of my favorites are AIR FRYER MUSHROOM & SWISS BURGERS, AIR FRYER BOURBON BBQ BURGERS, AIR FRYER TURKEY BURGERS, and my kid's favorite, AIR FRYER CHEDDAR AND BACON BURGERS.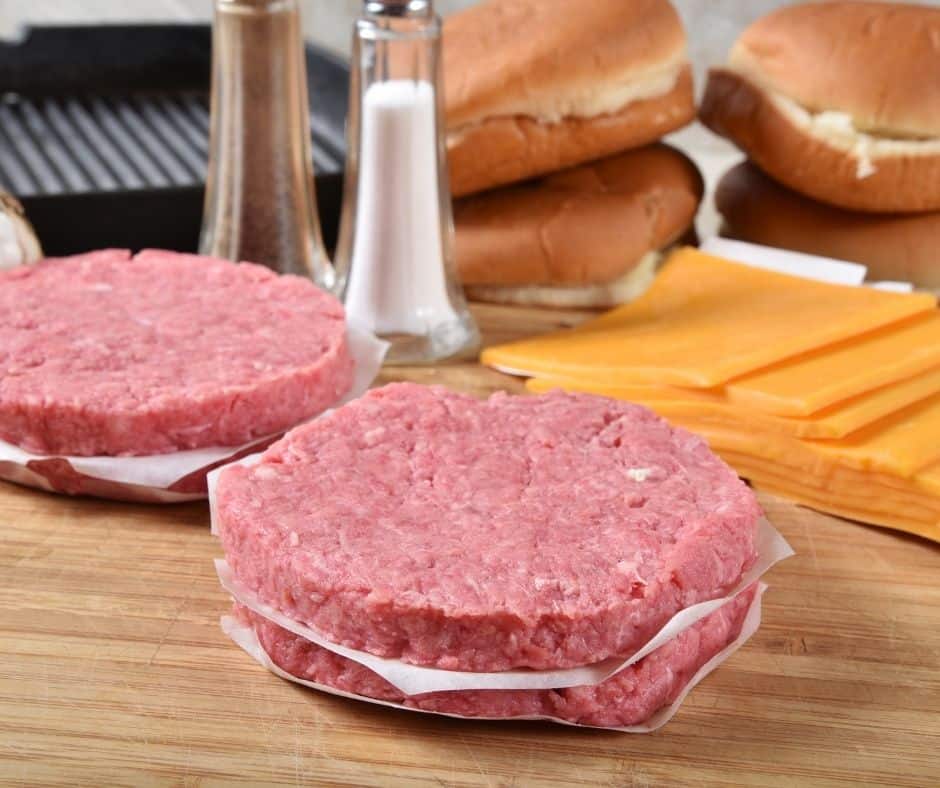 How Do I Make Air Fryer Cheeseburgers?
Whether you get the premade burgers at the grocery store, use frozen meat, or create your own. The instructions are practically the same.
My easy homemade Air Fryer Cheeseburger Recipe is below–
Ingredients:
Lean Ground Beef

Worcestershire sauce
Your Favorite Burger Seasoning
Salt & Pepper To Taste
Sliced American cheese
How To Make Cheeseburgers in Air Fryer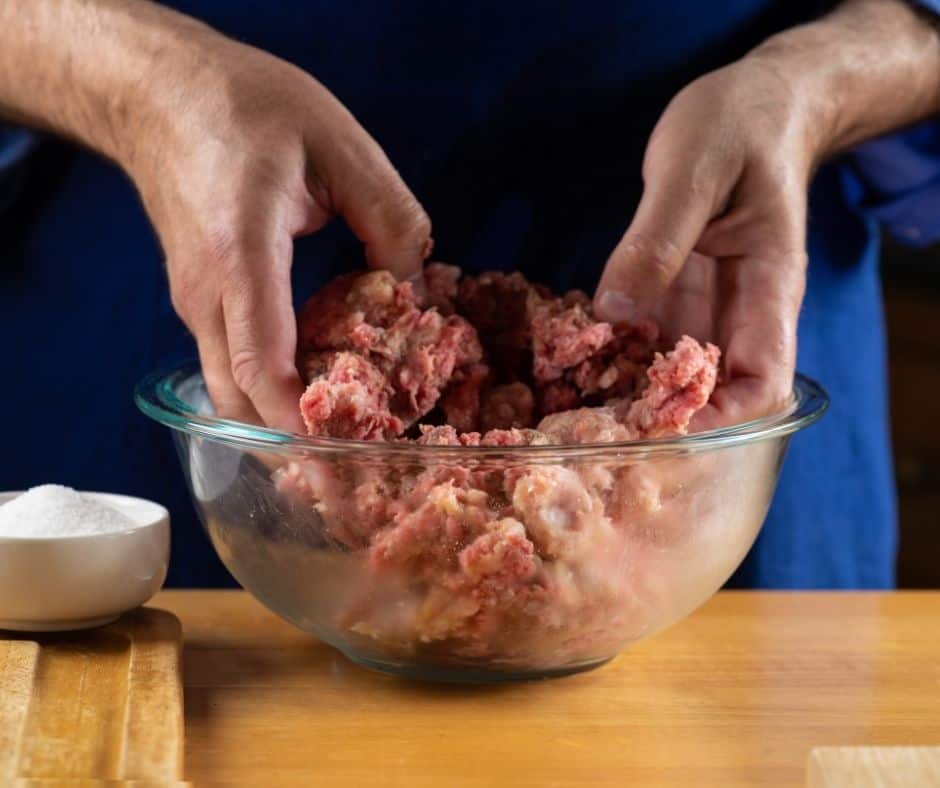 In a small mixing bowl, mix the ground beef, Worcestershire sauce, burger seasoning, salt, and pepper.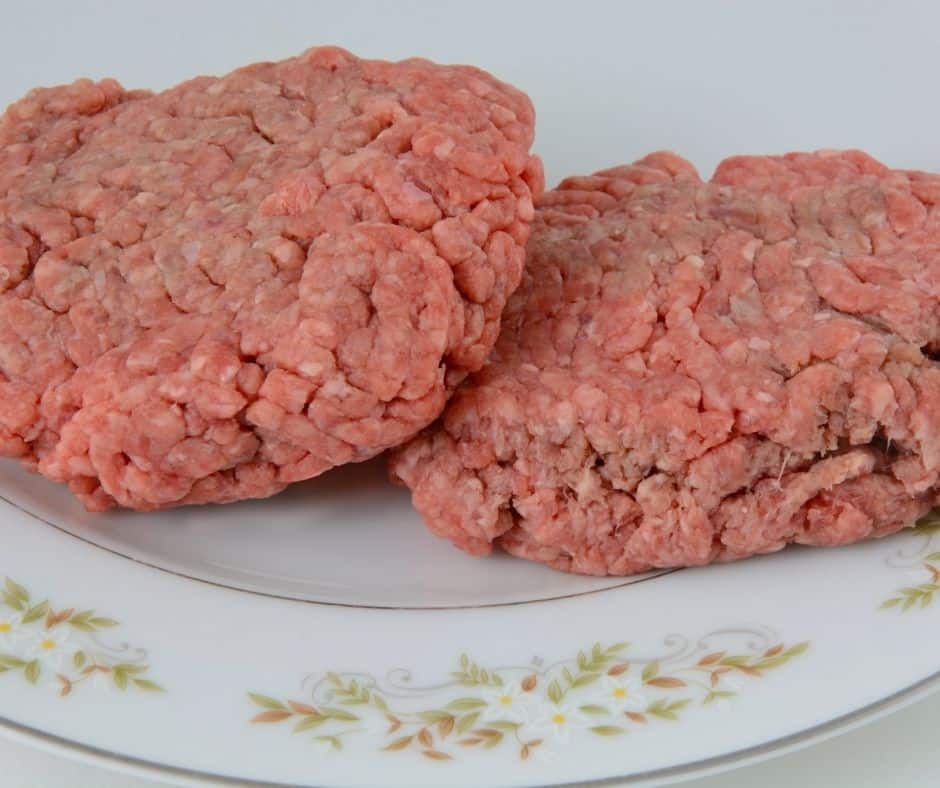 Shape the meat into hamburger patties. Depending on the size of your burgers, I was able to make 4.
How Long Do You Cook a Hamburger in the Air Fryer?
Then set the burgers into the air fryer basket or oven, with the temperature at 350 degrees for 5 minutes. After 5 minutes, flip the burgers and air fry for another 5 minutes.  (Air Fryer Setting)
Check the internal temperature with a meat thermometer; The internal temperature should be about 145°F for medium-rare for medium, 160°F.
Once the burger is cooked, add a piece of cheese on top, and air fry for another 2 minutes, to melt the cheese. As soon as the cheese is melted, remove it. The time for melting the cheese will depend on the air fryer you own.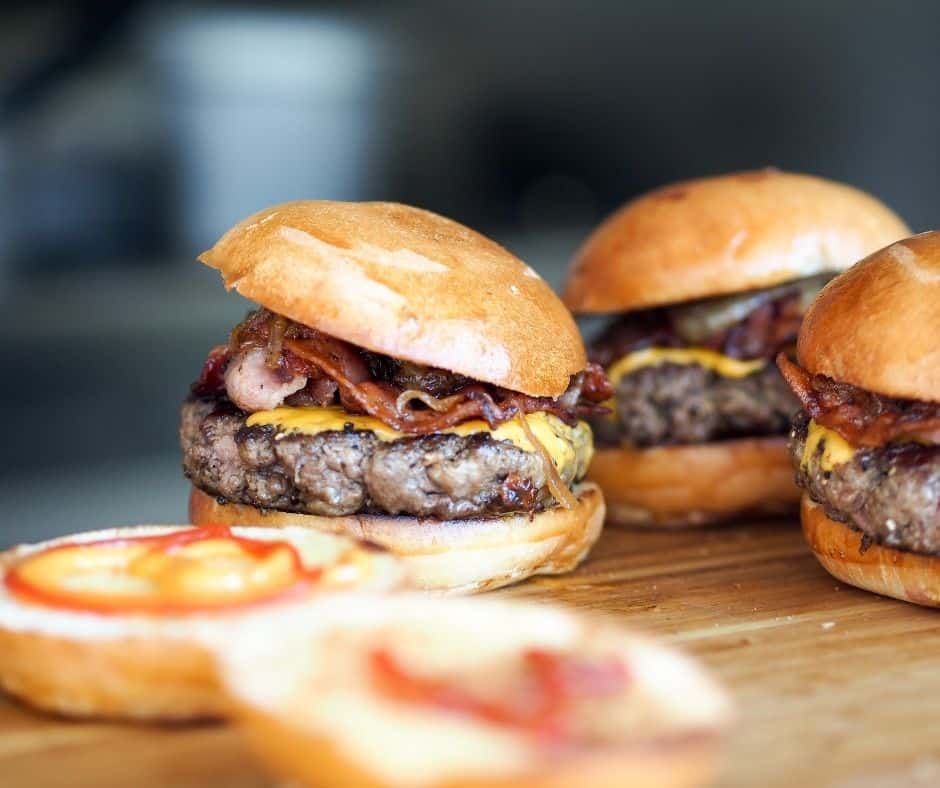 Some Common Questions Asked About Making Cheeseburgers In The Air Fryer–
How long does it take to cook a hamburger in an Airfryer?
The ideal temperature is 350 degrees F, for about 8 minutes, flipping halfway during the cooking process. The exact time will depend on how thick your hamburger patty is and what type of air fryer you own.
How do you cook hamburgers in an Airfryer?
Easy, follow the directions in the recipe below.
Can you air fry frozen hamburgers?
How Long Do You Cook Frozen Hamburger Patty in the Air Fryer?
Yes, absolutely. Put the frozen (keep them frozen) burgers into the air fryer basket and set the temperature to 380 degrees F for about 10 minutes, flipping after 5 minutes.
Can I Put Aluminium Foil in the Air Fryer?
Yes, although you should really read and check out your owner's manual since every air fryer is different.
Don't Forget to Download the FREE Printable Air Fryer Chart Here–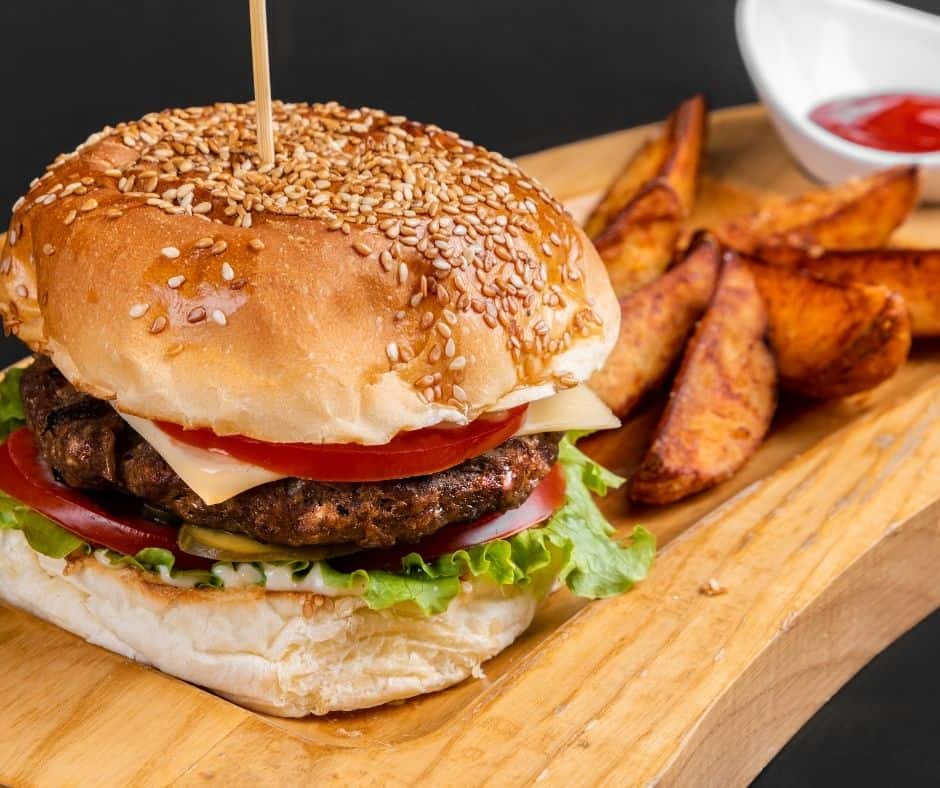 What Are Some Topping Ideas For These Cheeseburgers?
While the choices are endless, some of my families favorites are,
Vegetables: Sauteed Mushrooms, Onions, Red Peppers, Red Onions, Tomatoes, or Lettuce.
Condiments: Ketchup, BBQ sauce, mustard, etc. 
Do I Need To Add Oil To The Air Fryer?
No, the air fryer works by not adding any oil; besides, the fat from the cheeseburger will come out while you air fry them up.
If you find that you get a lot of grease in your air fryer basket or oven, you can always add a piece of bread underneath the basket to catch the oil spilling out of the burger.
Some Other Great Air Fryer Burger Recipes–
What Should I Serve With Cheeseburgers
These are some of our favorite pairings, 
SOME HELPFUL PRODUCTS USED IN PREPARING AIR FRYER CHEESEBURGERS-
We are a participant in the Amazon Services LLC Associates Program, an affiliate advertising program designed to provide a means for us to earn fees by linking to Amazon.com and affiliated sites.
DON'T FORGET TO PIN–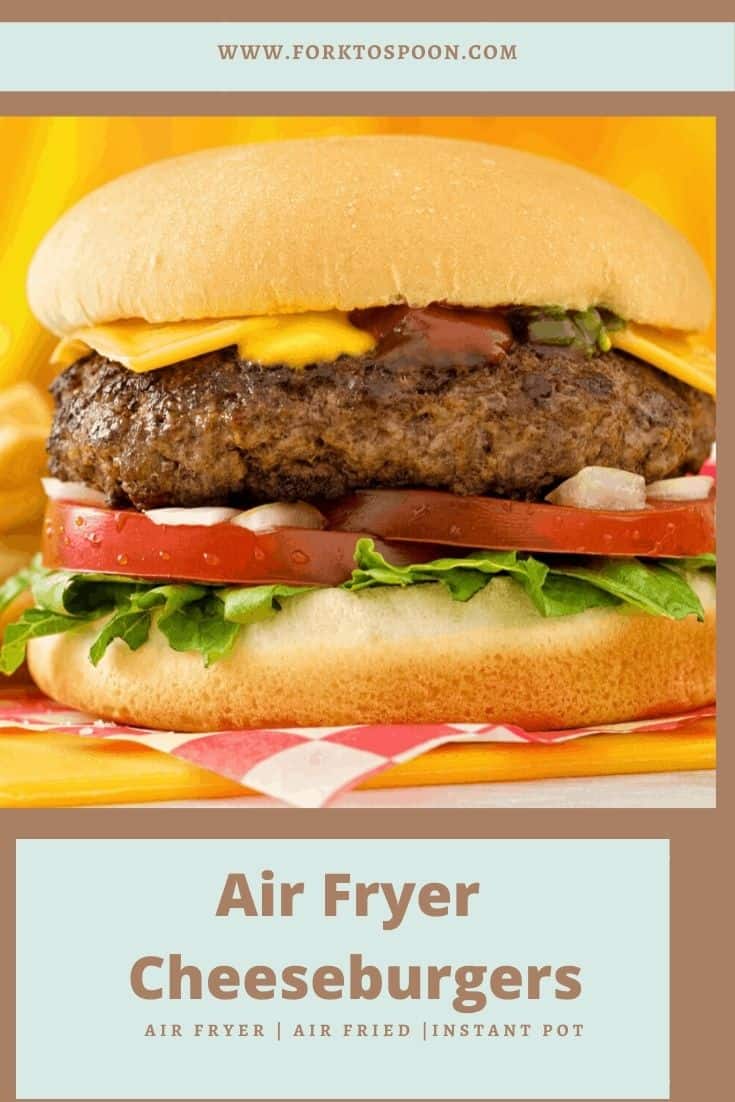 Print

Air Fryer Cheeseburgers

Author:

ForkToSpoon.com

Prep Time:

5 minutes

Cook Time:

12 minutes

Total Time:

17 minutes

Yield:

4

servings

1

x

Category:

Main Course

Method:

Air Fryer

Cuisine:

American

---

Description

A great alternative to grilling. My burger was juicy and very quick. This is a great way to get your hamburger or cheeseburger fix during the winter months.

---

1

pound lean ground beef

1 teaspoon

Worcestershire sauce

1 teaspoon

burger seasoning
salt and pepper to taste

4

slices American cheese

---

Instructions

In a small mixing bowl, mix the ground beef, Worcesthries sauce, burger seasoning, salt, and pepper.
Shape the meat into hamburger patties. Depending on the size of your burgers, I was able to make 4.
Then set them burgers into the air fryer basket or oven, with the temperature at 350 degrees for 5 minutes. After 5 minutes, flip the burgers and air fry for another 5 minutes.  (Air Fryer Setting) 
Check the internal temperature with a meat thermometer. The internal temperature should be about 145°F for medium-rare for medium, 160°F.
Once the burger is cooked, add a piece of cheese on top, and air fry for another 2 minutes, to melt the cheese. As soon as the cheese is melted, remove. The time for the melting will depend on the air fryer you own.
Plate, serve, and enjoy!

---

Keywords: Air Fryer Cheeseburger