Juiciest Air Fryer Turkey Burgers — If you're craving a juicy and flavorful burger but want a healthier twist, look no further than our Juiciest Air Fryer Turkey Burgers recipe.
These mouthwatering burgers are packed with savory goodness and cooked to perfection in your trusty air fryer. Get ready to sink your teeth into a delicious and guilt-free burger experience that's sure to become a family favorite.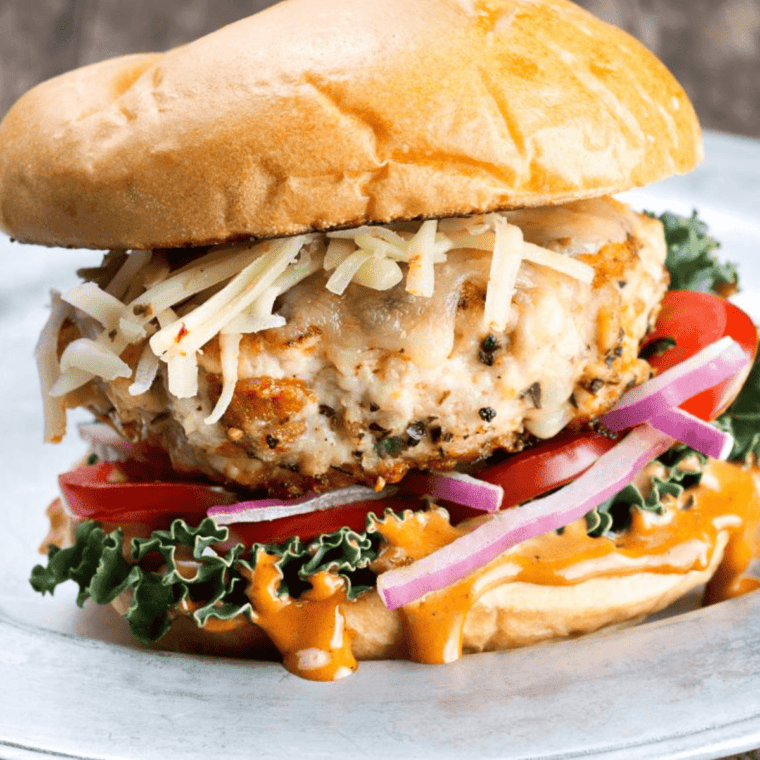 Best Juicy Air Fryer Turkey Burger Recipe
Indulge in a burger experience with our Best Juicy Air Fryer Turkey Burger Recipe. These turkey burgers are the epitome of flavor and juiciness and are about to take your burger game to a new level.
Made with lean ground turkey and a medley of delicious seasonings, these patties are air-fried to perfection, resulting in a mouthwatering burger that's both wholesome and incredibly satisfying. Get ready to savor the juiciest turkey burger you've ever tasted!
Why You Will Love Healthy Air Fryer Turkey Burgers
You're about to discover why Healthy Air Fryer Turkey Burgers are a game-changer for anyone looking to enjoy a delicious, guilt-free burger. These burgers are incredibly tasty and a healthier alternative to traditional beef patties.
Made with lean ground turkey and perfectly seasoned, they offer all the flavor and juiciness you crave without the excess fat. Plus, when cooked in the air fryer, they achieve that perfect crispy exterior while retaining moisture. Say goodbye to dry, flavorless turkey burgers and hello to a healthier, juicier burger experience that you'll love.
If you are looking for healthy weeknight dinner recipes, look no further than my healthy turkey burger recipe, a twist on my ground beef burger. Some of my favorite weeknight dinner recipes are Air Fryer Tomato Pie, Air Fryer Copycat Panera Fronega Chicken Sandwich, and Air Fryer Trader Joe's Savory Herb Chicken Thighs.
Air Fryer Turkey Burger ingredients
​Creating a twist on traditional ground beef burgers in your air fryer is easier than you might think. You can enjoy a healthier burger without sacrificing flavor with the right combination of ingredients.
Here's a breakdown of the critical components you'll need to make these mouthwatering Air Fryer Turkey Burgers.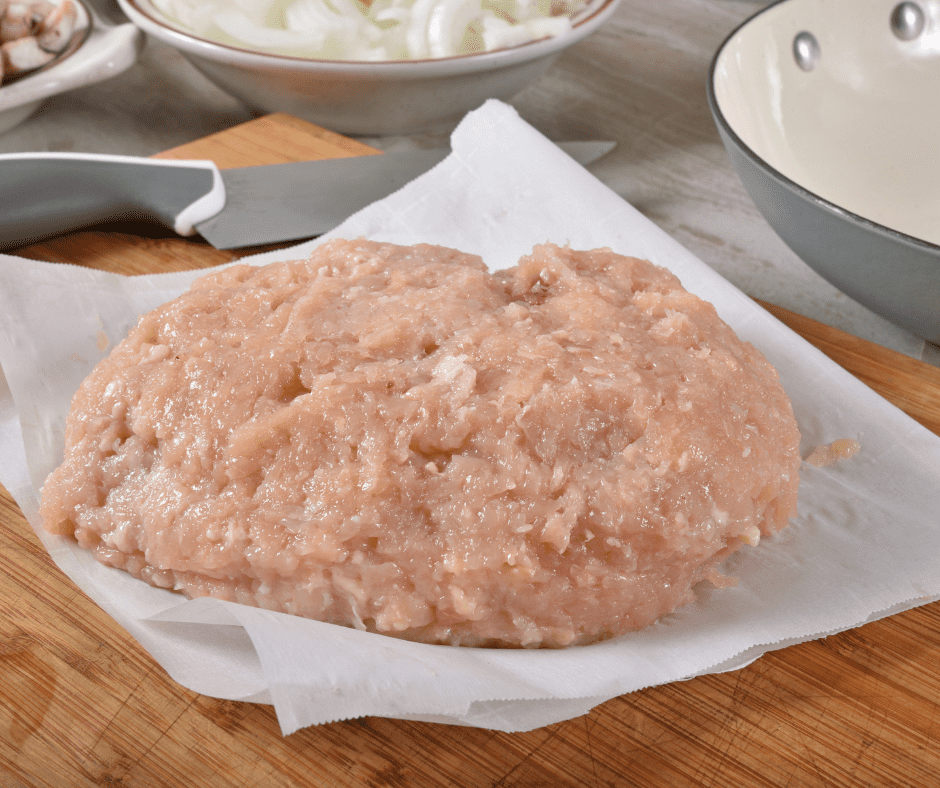 Remember the step-by-step directions and detailed ingredient list are below in the printable recipe card at the bottom of the post, as well as the nutrition information.
​Ground Turkey: Fresh ground turkey serves as the base for your burgers, providing a healthier alternative to ground beef.
Breadcrumbs: Breadcrumbs act as a binder and help absorb moisture, keeping your burgers tender.
Grated Parmesan Cheese: Parmesan cheese adds a rich, savory flavor to the turkey burgers, enhancing their taste.
Finely Chopped Onion: Onions provide flavor and moisture, contributing to the juiciness of the burgers.
Chopped Fresh Parsley: Fresh parsley imparts freshness and a hint of herbaceousness to the burgers.
Egg: The large egg acts as a binding agent, ensuring that your turkey burgers hold their shape during cooking.
Garlic Powder: Garlic powder infuses the burgers with a delicious flavor without needing fresh garlic.
Kosher Salt: Salt enhances the overall taste and helps season the turkey mixture.
Black Pepper: Ground pepper adds a mild spiciness and complements the other flavors.
Cooking Spray or Oil: This prevents the burgers from sticking to the air fryer basket and aids in achieving a crispy exterior.
These ingredients combine to create flavorful, juicy turkey burgers, perfect for a healthier meal option in your air fryer.
How To Make Air Fryer Turkey Burgers​
Incorporating healthier options into your diet doesn't mean sacrificing taste; these Air Fryer Turkey Burgers are the perfect example. With the magic of your air fryer and a few simple steps, you can whip up juicy and flavorful turkey burgers that are both delicious and nutritious. Let's dive into how to make these satisfying burgers that will leave your taste buds craving more.
This is an excellent recipe for juicy air fryer turkey burgers that are perfect for meal prep; after all, who doesn't love a batch of homemade turkey burgers?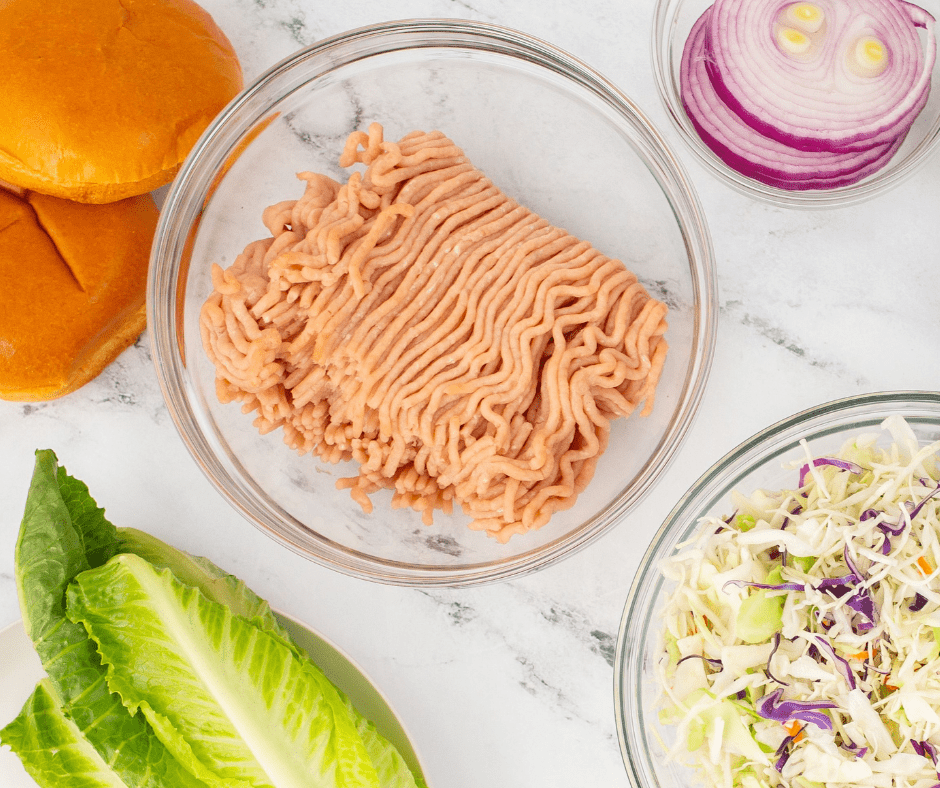 Step One: Prepare The Turkey Patties
Combine the ground turkey, breadcrumbs, grated Parmesan cheese, diced onion, bell pepper, mushrooms, minced garlic, dried oregano, salt, and pepper in a large bowl. Mix the ingredients until well combined. Be careful not to overmix, which can make the burger patty tough.
Divide the mixture into 4 equal portions and shape each into a patty.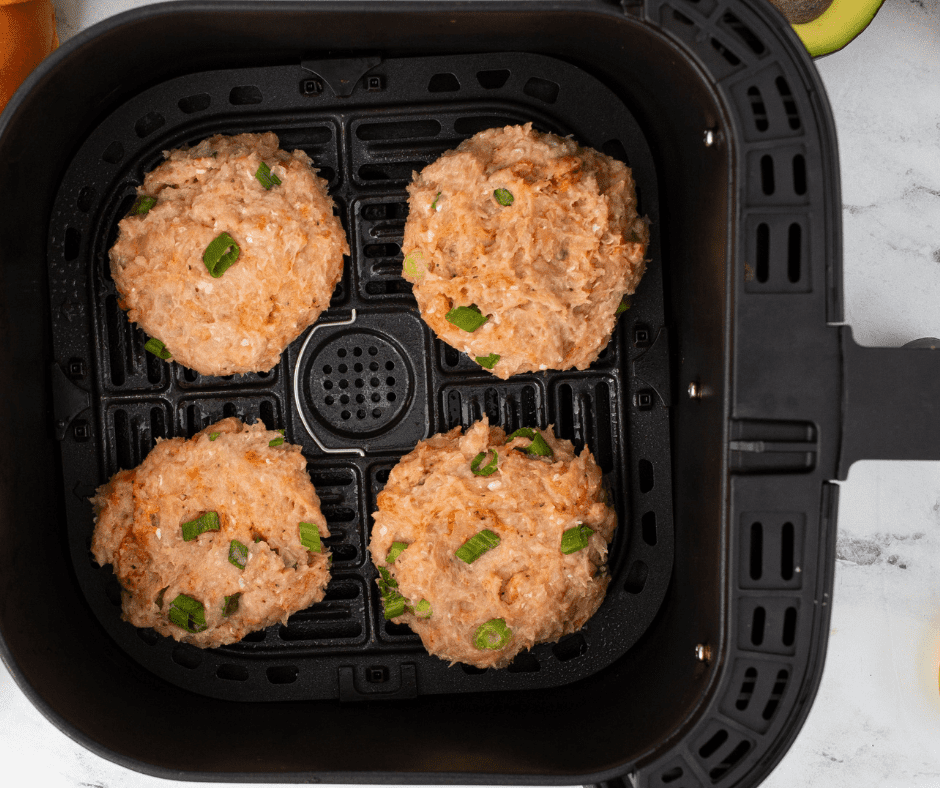 Step Two: Air Fry Healthy Turkey Burgers
Preheat your air fryer to 375 degrees F (190°C) for 3-5 minutes. Lightly spray the basket with cooking spray to prevent sticking, or line the bottom of the air fryer basket with parchment paper.
Place the turkey burger patties in the preheated basket in a single layer, ensuring they are not overcrowded. Depending on your air fryer basket size, you may need to cook them in batches. Set the cooking time for 10-12 minutes, flipping halfway through the cooking time. The internal temperature of the burgers should reach 165 degrees F (74°C) when done using a meat thermometer or instant-read thermometer.
Step Three: Serving
Once cooked, remove the turkey burgers from the air fryer and let them rest for a few minutes. Serve your Air Fryer Turkey Burgers on buns with your favorite toppings and condiments.
Pro Tips For Air Fryer Juicy Turkey Burgers
​Here are some pro tips to make the juiciest Air Fryer Turkey Burgers:
Use Lean Ground Turkey: Choose lean ground turkey with a lower fat content for healthier burgers. Lean turkey can produce a moist and flavorful patty without excess grease.
Add Moisture: Ground turkey can sometimes dry, so add ingredients to moisten your burgers. Ingredients like diced onions, bell peppers, mushrooms, and breadcrumbs can help retain moisture.
Season Generously: Turkey can be bland, so don't be shy with seasonings. Use a variety of herbs and spices to flavor your burgers, such as garlic, Italian seasoning, soy sauce, Worcestershire Sauce, onion powder, oregano, paprika, or your favorite seasoning blend.
Avoid Overmixing: Mix the ingredients gently until just combined. Overmixing can lead to tough burgers.
Preheat the Air Fryer: Ensure your air fryer is preheated before cooking the burgers. This helps to sear the patties quickly, sealing them in juice.
Use Cooking Spray: Lightly spray the air fryer basket with cooking spray before placing the burger patties to prevent sticking and make cleanup easier.
Flip Carefully: Flip the burgers halfway through the cooking time to ensure even cooking. Use a spatula to turn them to avoid breaking the patties gently.
Check Internal Temperature: To ensure food safety, use a meat thermometer to check that the internal temperature of the burgers reaches 165 degrees Fahrenheit (74°C).
Rest Before Serving: Allow the turkey burgers to rest for a few minutes after cooking. This helps redistribute juices throughout the meat, making them juicier when you bite them.
Add Toppings: Enhance the flavor and juiciness of your turkey burgers by adding fresh and flavorful toppings like lettuce, tomato, red onion, avocado, or your favorite sauce.
By following these pro tips, you'll have perfectly juicy and flavorful Air Fryer Turkey Burgers every time.
What To Serve With Turkey Burgers​
When serving turkey burgers, you can pair them with various sides and accompaniments to create a well-balanced and satisfying meal. Here are some ideas for what to serve with turkey burgers:
Hamburger Buns or Bread: Serve your turkey burgers in whole wheat or brioche buns. You can also use lettuce wraps or a bed of crisp lettuce for a low-carb option.
Condiments: Offer a selection of ketchup, mustard, mayonnaise, and barbecue sauce. Consider making homemade sauces or aiolis for extra flavor.
Cheese: Melted cheese on top of your turkey burger is a classic choice. Options like cheddar, Swiss, pepper jack, or feta can add a delicious layer of flavor.
Fresh Veggies: Load up on fresh vegetables like lettuce, tomatoes, onions, pickles, and avocado slices. These add freshness and crunch to your burger.
Sides: Choose from a variety of sides to complement your turkey burgers, such as:
French Fries or Sweet Potato Fries: Crispy fries are a classic burger side. Try my recipe for Air Fryer Potato Wedges, Air Fryer Sweet Potato Fries,
Coleslaw: Creamy or vinegar-based coleslaw can provide a refreshing contrast.
Grilled Vegetables: Grilled asparagus, red onion, zucchini, or bell peppers are healthy options.
Salad: A side salad with mixed greens, cherry tomatoes, and balsamic vinaigrette is a lighter choice.
Potato Salad: Creamy or tangy potato salad is a classic picnic side.
Fruit Salad: A colorful fruit salad adds sweetness and freshness to the meal.
Remember to consider your guests' preferences, and feel free to mix and match sides to create a meal that everyone will enjoy. Whether you go for classic choices or get creative with your sides, there are plenty of options to complement your turkey burgers.
FAQ's:
​Can I cook frozen turkey patties in the air fryer?
Yes, you can cook frozen turkey burger patties in the air fryer. Preheat the air fryer, place the frozen patties inside, and cook at a slightly lower temperature and for longer than fresh patties. Make sure to check the internal temperature to ensure they are cooked thoroughly.
How long should I air fry turkey burgers?
The cooking time for turkey burgers in the air fryer can vary depending on their thickness and the air fryer model. As a general guideline, cook fresh turkey burgers at 360 degrees Fahrenheit (190°C) for 15 minutes, flipping them halfway through. Frozen turkey burgers have a cook time of 15-20 minutes.
What's the recommended internal temperature for cooked turkey burgers?
The USDA recommends cooking turkey to an internal temperature of 165 degrees F (74°C) to ensure they are safe to eat. Use a meat thermometer to check the internal temperature of the burgers.
Should I preheat the air fryer before cooking turkey burgers?
Yes, it's a good practice to preheat the air fryer for a couple of minutes before adding the turkey burgers. This helps ensure even cooking.
Can I use a breading or coating on turkey burgers in the air fryer?
Yes, you can add a breading or coating to your turkey burgers before air frying. Just be sure to spray or brush them with a little oil to help them crisp up.
Can I cook turkey burgers with cheese in the air fryer?
Yes, you can melt cheese on turkey burgers in the air fryer. Add a slice of cheese during the last minute of cooking to allow it to melt. After cooking, you can also top them with cheese and briefly return them to the air fryer to melt the cheese.
Can I make turkey burger sliders in the air fryer?
Yes, you can make turkey burger sliders in the air fryer. Adjust the cooking time accordingly, as smaller patties will cook faster.
What are some seasoning ideas for turkey burgers?
You can season turkey burgers with a variety of spices and herbs, such as garlic powder, chili powder, onion powder, paprika, dried oregano, cumin, or thyme. Don't forget salt and pepper for basic seasoning.
Can I air fry turkey burgers from scratch or do they need to be pre-made?
You can cook turkey burger patties from scratch and cook them in the air fryer. Just shape the ground turkey mixture into patties before air frying.
Are air-fried turkey burgers healthier than traditional pan-fried or grilled burgers?– Air-frying can be a healthier cooking method compared to pan-frying in oil. It typically requires less oil, which can reduce the overall fat content of the burger. However, the overall healthiness of the burger also depends on the ingredients and toppings you use.
More Air Fryer Recipes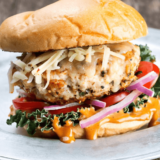 Air Fryer Turkey Burgers
Description
Do you love burgers but are looking for a healthier option? Well, look no further than air fryer heomemade turkey burgers! They are packed with flavor and will leave you feeling full and satisfied. Plus, they are much healthier for you than traditional burgers made with beef. Give them a try today!
Ingredients
1

pound

ground turkey

1

teaspoon

mayo

1/2

teaspoon

Dijon mustard

1/4

cup

breadcrumbs

1/2

teaspoon

salt

1

teaspoon

black pepper

1

teaspoon

garlic powder

1

teaspoon

onion powder

1/4

teaspoon

smoked paprika
Instructions
In a large bowl, add your ground turkey, mayonnaise, Dijon mustard, breadcrumbs, and seasonings.

Form the turkey patties. Use your hands, and divide the mixture, into four equal size turkey patties. Place the turkey patties into the refrigerator for about 10 to 15 minutes, to firm up.

either use parchment paper or spray your air fryer basket with cooking spray. And then add your turkey patties. Set the temperature to 400 degrees F, and cook for 6 to 8 minutes. Or until the internal temperature reaches 165 degrees F.
Nutrition
Serving:
1
Serving
Calories:
167
kcal
Carbohydrates:
6
g
Protein:
28
g
Fat:
3
g
Saturated Fat:
1
g
Polyunsaturated Fat:
1
g
Monounsaturated Fat:
1
g
Trans Fat:
0.02
g
Cholesterol:
63
mg
Sodium:
412
mg
Potassium:
372
mg
Fiber:
1
g
Sugar:
0.5
g
Vitamin A:
94
IU
Vitamin C:
0.1
mg
Calcium:
21
mg
Iron:
1
mg