Air Fryer Syracuse Salted Potatoes — Do you love salty potatoes? The perfect snack or side dish? If so, you'll love this Syracuse Salted Potatoes recipe! It's easy to make in the air fryer and so delicious. You'll never want to eat regular fries again!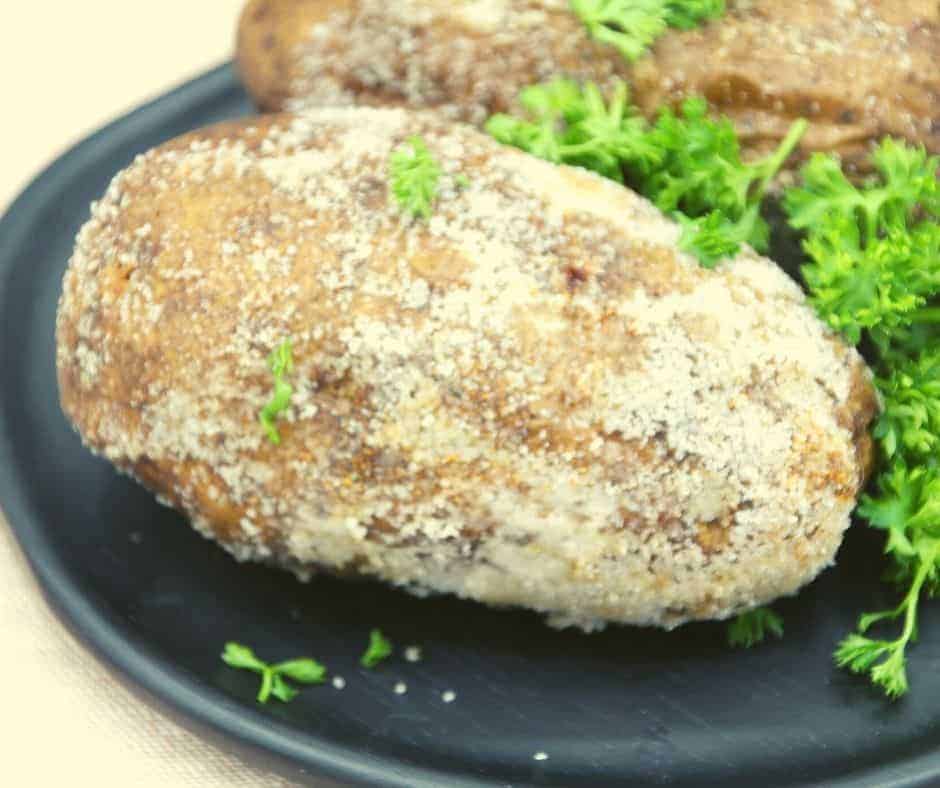 Is there anything better than an air fryer potato? Today, I kicked it up a notch and made a batch of Air Fryer Syracuse Salted Potatoes.
The incredible thing about this recipe is most of the time, it's a hands-off recipe. This means that you can go outside and BBQ or go off and change the laundry, and you will still get the most amazing air-fried baked potato that you have ever had.
My family is in love with this recipe. I think I made it about 3 times before I sat down and wrote about it. There is something magical about potatoes and salt, and add a bit of olive oil, and you have a great and easy side dish!
If you are looking for other easy side dishes, some of my favorites are AIR FRYER OVEN GOLD RANCH POTATOES, AIR FRYER HASSELBACK POTATO, AIR FRYER SPICY FRENCH FRIES, and AIR FRYER TACO BELL COPYCAT NACHO FRIES.
Air Fryer Syracuse Salted Potatoes
Suppose you are not familiar with Air Fryer Syracuse Salted Potatoes at all. They are really popular in New York, where they are a staple. They actually sell kits with the potatoes, salt, and seasonings, that you can buy in the grocery stores.
Today, since I live in Philadelphia, I made my own, and you only really need a few ingredients,
Potatoes: I used Russet, you can also use other baking potatoes. The recipe will work the same.
Salt: You can use any table salt for this recipe, or even use sea salt.
Olive Oil: Use enough to cover the potatoes.
How To Make Air Fryer Syracuse Salted Potatoes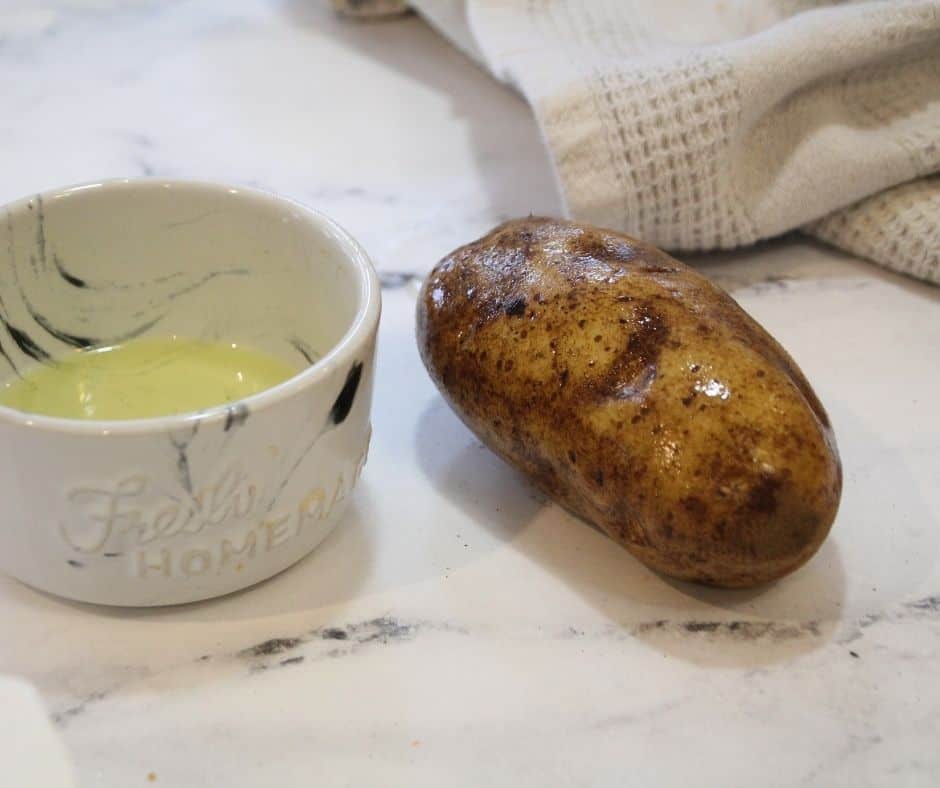 Start by rubbing the olive oil over the potato. Then add the salt to the potato.
Place the potato into the air fryer basket for 40-45 minutes, at 400 degrees F, air fryer setting. Flip halfway with a pair of tongs.
Plate, serve, and enjoy!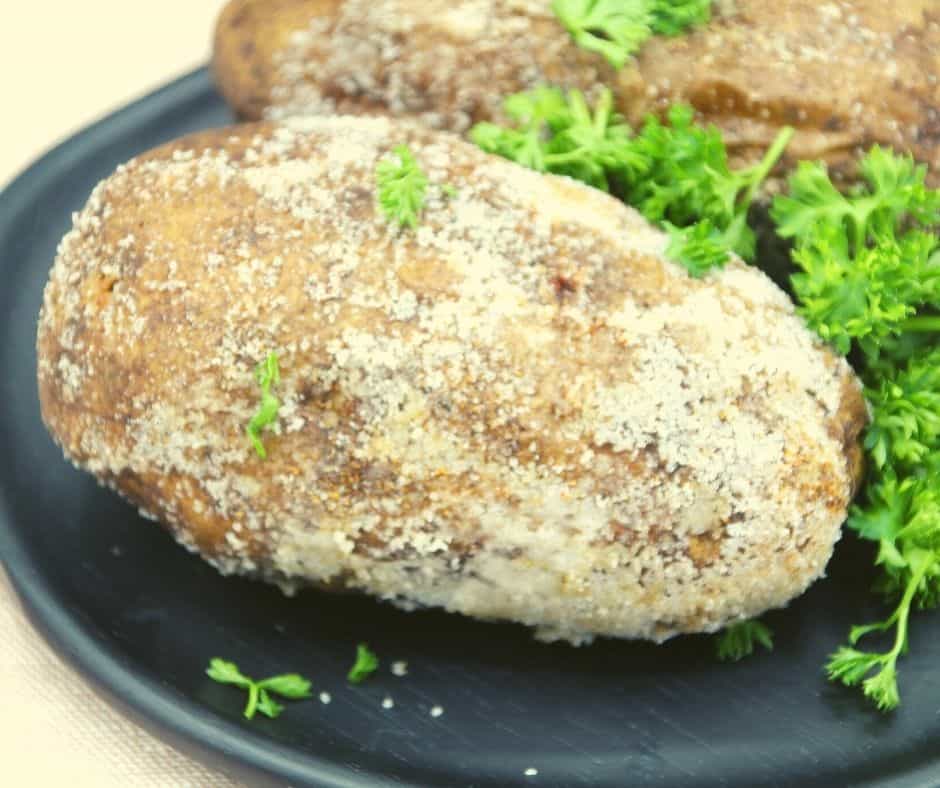 Tips for Making Air Fryer Baked Potatoes
Try to prepare potatoes at about the same time, so they cook evenly.
You do not need to pierce these potatoes with a fork; they will be fine. If you are anxious about them exploding, you can add a few holes, but it's unnecessary. The hot air will penetrate through the potato, cooking it perfectly.
Do not crowd the basket; you may need to run the air fryer several times for all of your family's potatoes to be cooked.
What Potatoes Do You Use for Salt Potatoes
If you've never had salt potatoes before, you're in for a real treat! These potatoes are simple to make but pack a lot of flavors. The key is using the right kind of potato so that they can absorb all that delicious salty goodness
I recommend using regular baking potatoes, whether Yukon Potatoes, Russet potatoes, or any baking potato.
Do Salt Potatoes Taste Overly Salty
Salt potatoes are a regional dish from upstate New York and parts of Canada. The dish is made by boiling new potatoes in heavily salted water, then serving them with melted butter and chopped fresh parsley. Some people love salt potatoes for their salty flavor, while others find them too salty.
If you don't want true salt potatoes, you can reduce the salt that you use for the recipe. I personally love the salty taste of the potatoes!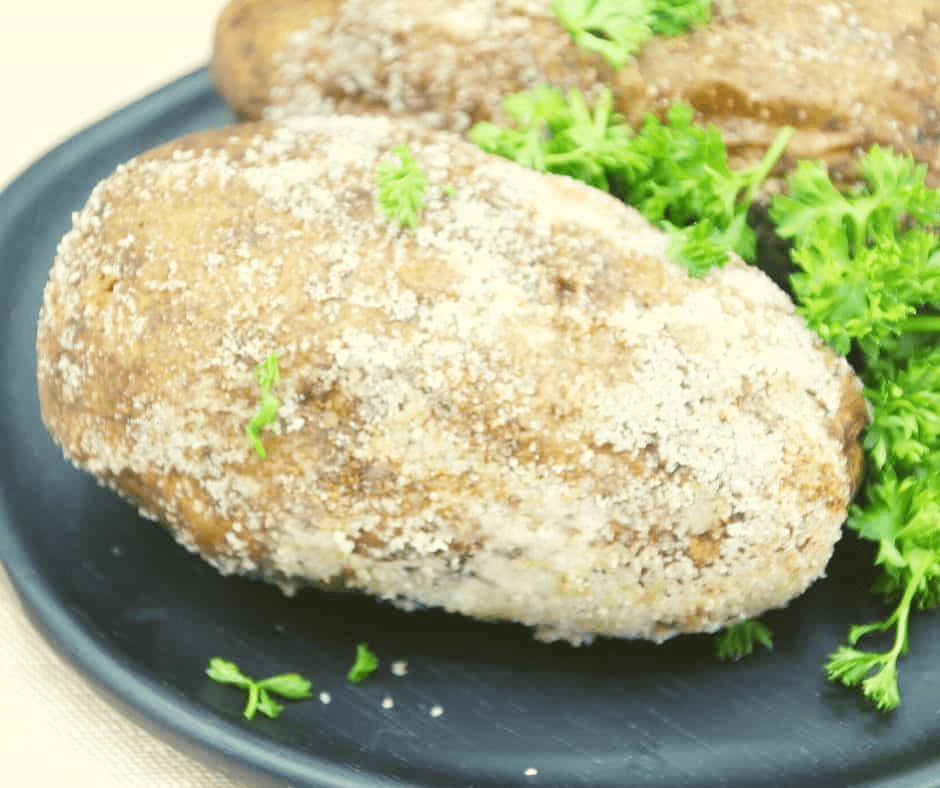 How To Make Salted Potatoes Instant Pot
Don't have an air fryer? You can easily make Syracuse salt potatoes instant pot. To make them, all you need to do is to add the ingredients to the Instant Pot but include 4 cups of water.
Then set the manual high pressure to 10 minutes, and then do a quick release. Drin the water and then rub the potatoes with olive oil, and season with salt.
How Long Do Syracuse Salt Potatoes Store In Fridge
If you have any leftover potatoes, let them cool to room temperature and then place them into an airtight container. They will last for 2 to 3 days in the refrigerator.
How Do I Reheat Leftover Salt Potatoes
You can either reheat your potatoes in the air fryer or the microwave, heat until warmed through. You may want to add some more olive oil and salt on, before reheating them, for even more flavor!
More Air Fryer Recipes:
AIR FRYER BEEF JERKY: Do you love beef jerky but hate the fact that it's not always the healthiest option? Well, worry no more! You can make delicious, healthy beef jerky at home with your air fryer. Check out this easy recipe to get started.
AIR FRYER CHEESESTEAK EMPANADAS: Cheesesteaks are a Philly classic, and for good reason- they're delicious! But who wants to deal with all the mess and calories that come with cooking them up? Not me. That's where these air fryer cheesesteak empanadas come in. They're easy to make, healthy, and absolutely crave-worthy. Plus, they're perfect for game-day snacking! Give them a try today.
AIR FRYER BLUE CHEESE MEATBALLS: If you love blue cheese as much as I do, then you're going to love these air fryer blue cheese meatballs. They are the perfect appetizer for your next party! These meatballs are so easy to make and they taste delicious. You won't believe how crispy they are! Trust me, you're going to want to make these meatballs ASAP. Enjoy!
Don't Forget To Pin: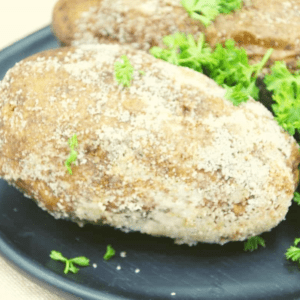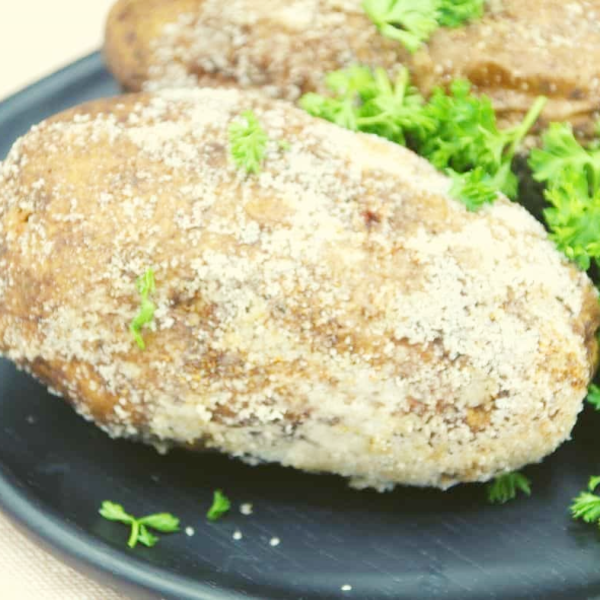 Air Fryer Syracuse Salted Potatoes
Description
If you're looking for a healthier alternative to french fries, look no further than air fryer Syracuse salted potatoes. These crispy potatoes are cooked in just minutes and are a perfect side dish for any meal. Plus, they're loaded with flavor and are perfectly salty. So give them a try today!
Ingredients
4

medium

Russet Potatoes

4

tablespoons

olive oil

4

teaspoons

table salt
Instructions
Start by rubbing the olive oil over the potato. Then add the salt to the potato.

Place the potato into the air fryer basket for 40-45 minutes, at 400 degrees F, air fryer setting. Flip halfway with a pair of tongs.
Nutrition
Serving:
1
Serving
Calories:
292
kcal
Carbohydrates:
38
g
Protein:
5
g
Fat:
14
g
Saturated Fat:
2
g
Polyunsaturated Fat:
2
g
Monounsaturated Fat:
10
g
Sodium:
2336
mg
Potassium:
889
mg
Fiber:
3
g
Sugar:
1
g
Vitamin A:
2
IU
Vitamin C:
12
mg
Calcium:
29
mg
Iron:
2
mg