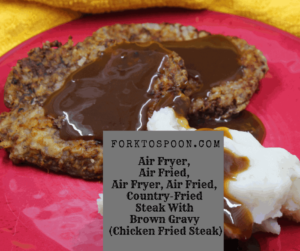 My youngest child Jason is an avid hockey player, he plays hockey at least 2 hours a day, followed by a strenuous workout. So, he is always craving protein, his favorite source of protein is steak.
Steak on the grill is amazing, but during the winter months, it's not always possible to get to the grill, since we have snow to contend with. The air fryer solves this problem.
Seasoning of the steak is important since both the grill and the air fryer will seal in the flavor.
If your mouth waters as you hear the menu selection of steak, you are not alone my son Jason, will drool over a nice steak, drenched with sauce.  My son's favorite meal is steak, with a side of mashed potatoes and a vegetable.
Here are tips for air frying steaks:
1. Choose the right cut of meat- Filet Mignon, Ribeyes, Strip Steaks, Top Sirloin, Porterhouse, and T-Bone are all great for the air fryer. They all have a great fat and meat ratio for the grill or air fryer.
2. Choose the right quality of meat-Purchase a good quality of meat, from a butcher or from the supermarket. They grade meat on marbling and the connective tissues. Marbling should be shown throughout the meat with white colored fat (marbling)  I always look for a thin coat of marble throughout the meat for the air fryer or Instant Pot, since it will melt and give a nice flavor to the meat, without it being greasy.
3. Season-Salt your meat before you place your meat in the air fryer. I let my meat sit on the counter for about 15 minutes and salt it before air frying.
4. Room Temperature (Before You Cook)-Take our your meat from the refrigerator and let it rest on the counter for about 15 to 30 minutes, before cooking. Steak at room temperature absorb the seasonings better. It also helps the fibers in the meat loosen, which will produce a tender cut of meat. Room temperature steaks (meat) also cook faster than cold steak (meats) seasonings better.
5. Let Your Cooked Steak (Meat) Rest Again-After cooking let your meat rest, just about 5 minutes. It helps to let the juices flow to the center of the steak so that when you cut the steak, all of the juices will not flow out. This will give you a better piece of meat for dinner or lunch.
Now the name of this recipe really confused me, so on my quest to find answers, I searched the web, where else. Because when I told my son, Jason, we were having Chicken Fried Steak, he said again mom, chicken. I said it's actually beef, he said, no mom, you said chicken fried steak.
So, here is the deal. the reason that we called fried steak (which is really what it is) chicken fried steak, is that it is prepared in the same way that we make fried chicken.  Did you know that there are actually two recipes that are:
Chicken Fried Steak
Country Fried Steak
Do they sound almost the same? Well, they are not. According to Wikipedia, it is believed that the Germans immigrants brought the fried steak version over with them, which was really called wiener schnitzel (or breaded and fried veal cutlets). The main difference between chicken fried steak and country fried steak is the gravy. The country fried steak is covered with brown gravy while the chicken fried steak comes in white gravy, usually peppery.
Kitchen Items Used: (Note: Affiliate links are included in this post)
Simple Living 5.8 Quart Air Fryer
J.A. Henckels 6-Inch High Carbon Stainless Steel Chef's Kitchen Knife
 Stainless Steel Measuring Cups, 5 Piece Set
Hudson Essentials Stainless Steel Measuring Cups Set-6 Piece Stackable Set with Spout
Anchor Glass Measuring Set–This is one of the handiest tools in the Kitchen 
OXO Good Grips 12 Inch Stainless-Steel Locking Tongs
Don't Forget to Pin: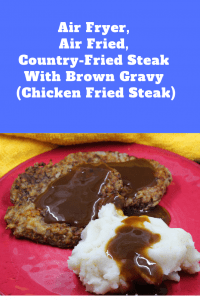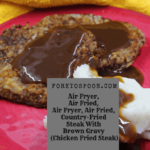 Air Fryer, Air Fried, Country-Fried Steak With Brown Gravy
Ingredients
Chicken Ingredients:
4

cube steaks

1

egg

1/4

cup

milk

1

cup

flour

1

package

brown gravy mix (found in the baking aisle)
Instructions
Start by cracking one egg, and pour the milk into a small bowl, large enough for your steak to fit. As you will be dipping it in there.

In another bowl, mix the flour into it, I added some salt and pepper to season the flour.

Spray the air fryer basket with cooking spray.

Dredge your cube steak into the egg/milk mixture.

As you lift the steak, shake it off a bit, so you get all of the residues off, then dip it into the flour/salt/pepper mixture.

As you coat the steaks, place them into the air fryer basket (already sprayed)

Spray your meat with the olive oil spray. What I do is spray the entire steak, so you don't see any flour, because if you see white spots before you air fry, you will see them when you are done, and that makes for meat to be tough.




Set your temperature for 400 degrees F, for 5 minutes, after 5 minutes flip the steaks and spray the other side with olive oil.

Meanwhile, make the gravy. As the steaks become cooked, remove them from the air fryer basket.