There is nothing better than a delicious batch of air fryer spaghetti squash! Truly amazing, and with only cooking for 25 minutes, you will love this amazing air fryer fall dish!
If you have never roasted spaghetti squash before, let me tell you, it's so good! Nothing makes for a delicious side dish! Serve with your favorite pasta sauce, or serve with freshly grated parmesan cheese and melted butter, and you have the perfect spaghetti squash!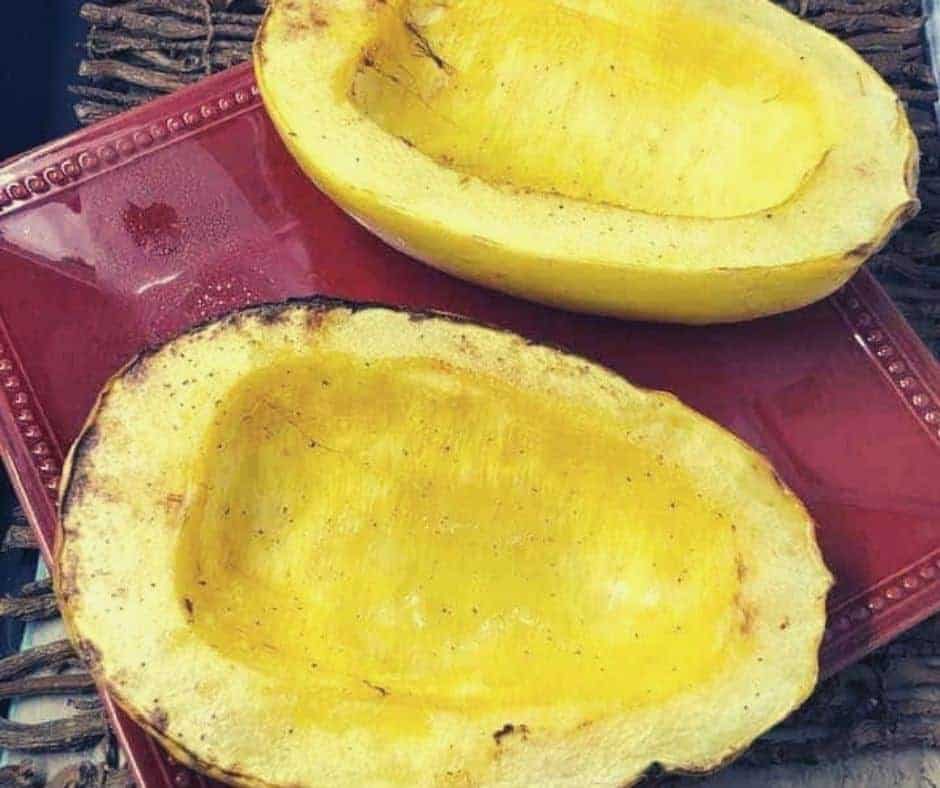 What Is Spaghetti Squash?
Spaghetti squash is a popular winter squash with an oblong shape that comes in a variety of colors. Buttery yellow is the most common color, but they can range from ivory to orange.
When cooked, the flesh of this squash becomes stringy and can be used to replace wheat pasta in dishes like spaghetti or lasagna. This vegetable is low in calories but high in fiber and vitamin C, Vitamin B, plus it is naturally gluten-free!
Can You Cook Spaghetti Squash In An Air Fryer?
Yes! Air fryers can be used to cook all sorts of food, including meats, vegetables, and even desserts. Today we're going to focus on one of the most popular ways to use an air fryer: cooking spaghetti squash in it!
Spaghetti squash is a popular type of winter squash and vegetable that cooks quickly and easily in an air fryer. It's a great way to get your pasta fix while cutting down on carbs and calories, making it both healthy and delicious.
Air fryers are easy to use and make cooking spaghetti squash a snap. Today we're going to explore exactly how you can do this for yourself! Keep reading for all the details.
Why You Will Love This Recipe For Spaghetti Squash Air Fryer Recipe
Low Carb and Keto-Friendly: This dish is low in calories and tastes fantastic!
Easy To Cook: Slice the squash in half, and the air fryer does the rest!
Tasty! Serve as a substitute for your favorite pasta; you will soon forget that you are not eating cooked spaghetti or angel hair pasta!
Versatile: Serve with your favorite air fryer roasted vegetables, serve with your favorite pasta sauce, or season with Italian seasoning! This vegetable has a lot of flavors!
How To Pick Spaghetti Squash
Looking for a delicious and nutritious way to enjoy your spaghetti squash? Look no further! Here are some tips on how to pick the perfect spaghetti squash for your next meal.
If you're buying from a store or market, look for spaghetti squash with a hard skin that doesn't have any soft spots. You should be able to push your finger into the squash without it giving in.
Spaghetti squash is also relatively heavy for its size, so don't be afraid to lift it up and test out how heavy it feels.
Once you bring spaghetti squash home, store it in a cool and dry area at room temperature. If you have trouble cutting through your spaghetti squash's skin, let it rest at room temperature on a cutting board for about 30 minutes before you try to cut it.
Why Air Fry Spaghetti Squash
What is the best way to enjoy spaghetti squash? We think it's air-fried! Air fryers are a great way to cook without adding tons of extra fat or oils. It doesn't matter what you're cooking — air frying will offer uniformity and crispiness to your food.
The best part about the spaghetti squash air fryer recipe is its versatility. The simple seasonings are enough to enhance the natural flavor of the vegetable, but they aren't overwhelming if you use the noodles in another dish. Plus, we can't resist the crispy edges of air-fried squash!
Why You'll Love Air Fried Squash
Light yet filling
Versatile
Easy to prepare
A perfect alternative to wheat pasta
Keto and gluten free
Great as a holiday side dish
Ingredients Needed For Air Fryer Spaghetti Squash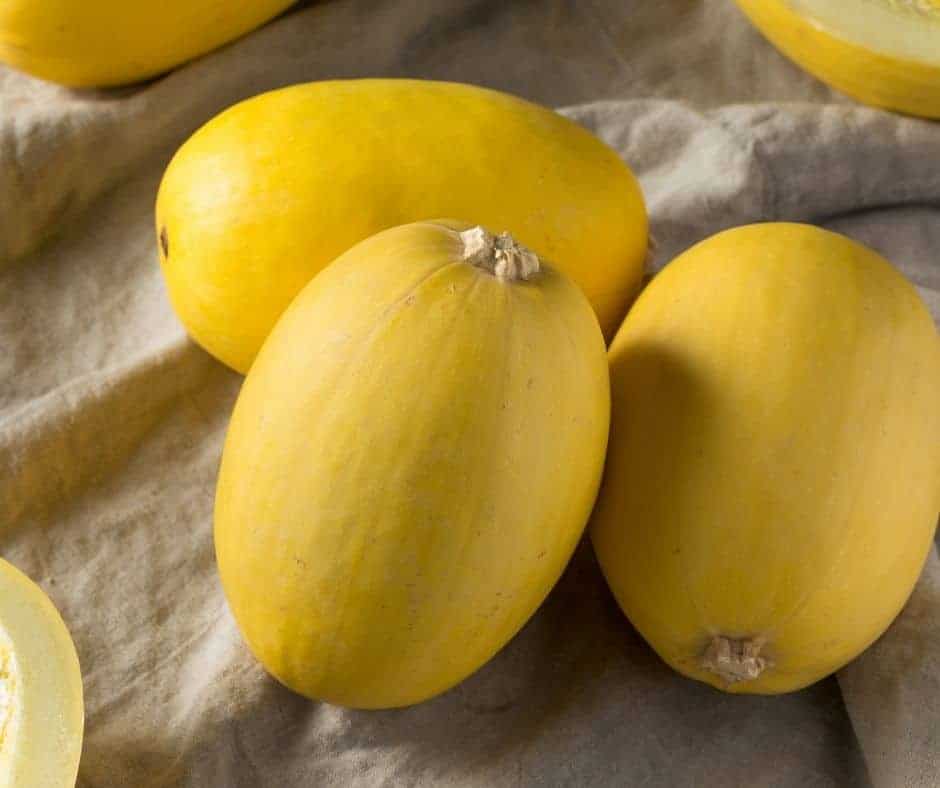 Remember all the step-by-step instructions below in the printable recipe card., at the bottom of this post.
Spaghetti Squash
Olive Oil, Avocado Oil,
Seasonings and Spices: Salt, Black Pepper, Garlic Powder,
Serve With: Pasta Sauce, Alfredo Sauce, your favorite sauce, or fresh herbs.
How To Cook Spaghetti Squash In Air Fryer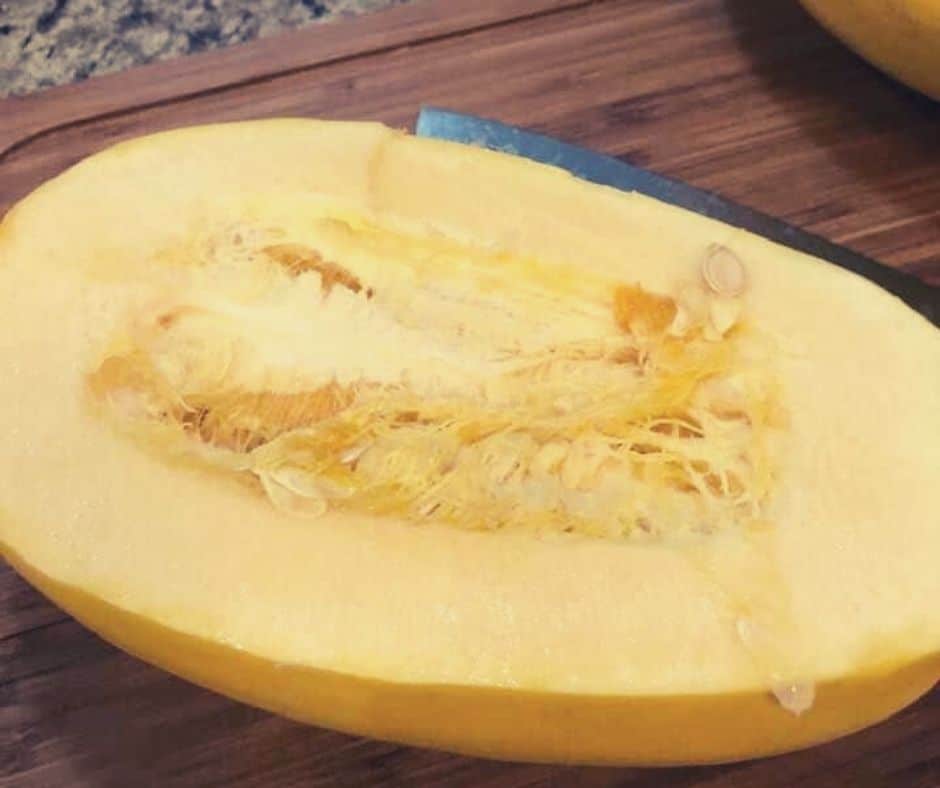 Step 1: Cut the squash in half
Hold the squash in place on a flat surface, then slice lengthwise through the center with a large, sharp knife. Use a spoon to scrape out the seeds and stringy bits, then discard. Depending on the size of your squash, you may need to cut the spaghetti squash.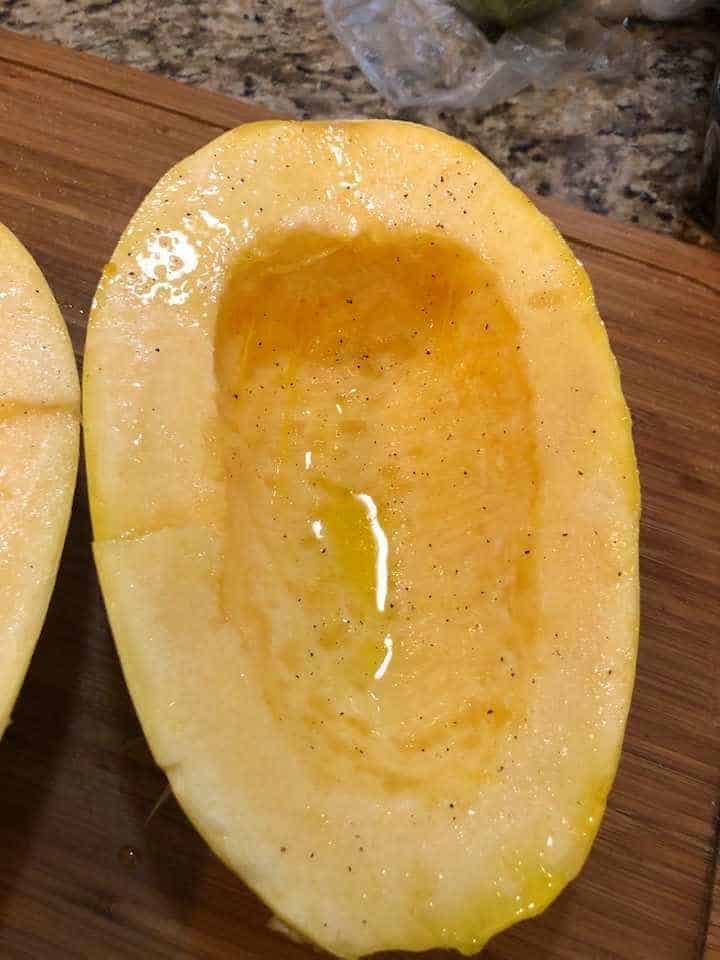 Step 2: Season and cook
Coat the inside of the squash with extra virgin olive oil, then season with salt and pepper.
Place the halves of the squash in the air fryer basket, cut side up. Set the temperature to 360 degrees F and cooking time for 25-35 minutes. (The time will depend on how big your squash is and the type of air fryer you own.) Remove the squash halves when it's fork tender.
Step 3: Serve
Air fryer spaghetti squash is delicious straight out of the shell, but you can also transform it into veggie noodles!
Let it cool slightly, then scrape a fork along the inside to remove the inner flesh in strings. Serve with your sauce of choice, or use the spaghetti-like strands in your favorite pasta dish.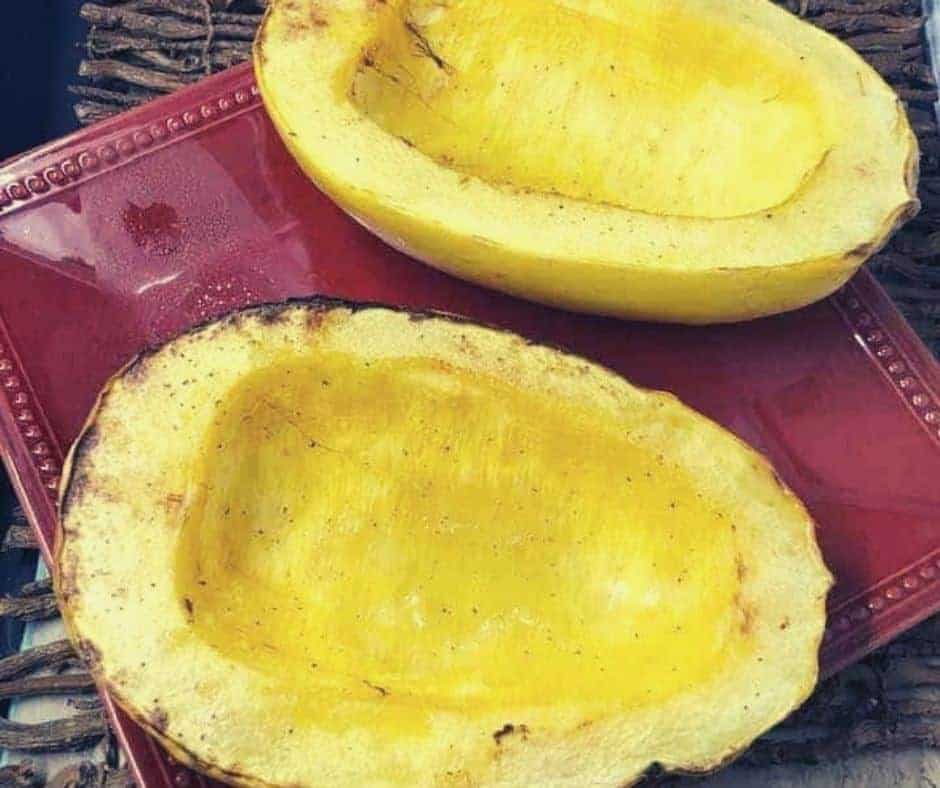 Storage and Reheating
Air fryer spaghetti squash is a great way to get your pasta fix without the extra calories. Air-fried squash can be stored in an airtight container, or wrapped tightly in plastic wrap, for one week or frozen up until 3 months, making it perfect if you plan on cooking more than one meal with this veggie!
To Freeze: Let the spaghetti squash cool to room temperature, then place it into a freezer bag. Be sure to squeeze out all of the air before sealing.
Reheating: You can reheat the leftover spaghetti squash in the air fryer or microwave. Simply heat until warmed through
What Model Of Air Fryer Will Work For This Recipe?
This recipe will work in either an Air Fryer Basket or Air Fryer Oven Model. This recipe will also work in a specialty air fryer, such as the Ninja Foodi, Instant Pot Vortex, Instant Pot Crisp Lid, or Mealthy Lid.
Remember that a larger air fryer will allow you to cook larger spaghetti squash. Or, you can simply cook one half at a time.
How To Serve Spaghetti Squash
Once the squash is cooked through and tender, use a fork to scrape the flesh out of each half into strands that resemble spaghetti noodles. You can top these with your favorite pasta sauce or other toppings, such as shredded cheese, herbs, sauteed vegetables, or a fried egg.
Spaghetti squash is also great when mashed up and added to soups, stews, and curries for extra texture and nutrition. It can even be used as an alternative to rice or pasta in many recipes, making it a versatile ingredient that's healthy and delicious!
How To Cook Spaghetti Squash In The Oven
If you don't have an air fryer, or if you want to cook a large spaghetti squash, you can easily follow the recipe and make it in the oven instead.
Prepare the squash as directed and place the halves (cut side up) on a baking sheet or in a casserole dish. Roast in a preheated 400-degree oven for 40 to 45 minutes or until fork-tender.
More Air Fryer Recipes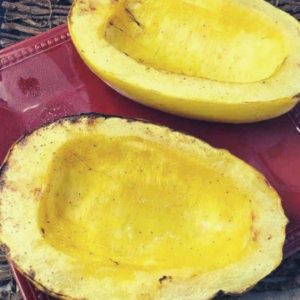 Air Fryer Spaghetti Squash
Description
Air Fryer Spaghetti Squash is ready in 25 minutes or less with a few simple ingredients. Serve as is or shred into tasty veggie noodles!
Ingredients
1

spaghetti squash

2-3

tbsp

olive oil

salt

,

to taste

pepper

,

to taste
Instructions
Use a spoon and scoop out the seeds.

Use olive oil and coat the inside of the squash and then season with salt and pepper.

Place the squash in the air fryer. Set the temperature to 360 degrees F for 25-35 minutes (the time will depend on how big your squash is and the type of air fryer you own)
Nutrition
Serving:
1
g
Calories:
91
kcal
Carbohydrates:
11
g
Protein:
1
g
Fat:
6
g
Saturated Fat:
1
g
Polyunsaturated Fat:
1
g
Monounsaturated Fat:
3
g
Sodium:
27
mg
Potassium:
174
mg
Fiber:
2
g
Sugar:
4
g
Vitamin A:
193
IU
Vitamin C:
3
mg
Calcium:
37
mg
Iron:
1
mg
DON'T FORGET TO PIN: