Air Fryer Squash and Zucchini — A simple recipe that you can use summer's fresh zucchini and some yellow summer squash for a fantastic side dish!
If you have been looking for an easy air fryer zucchini and summer squash recipe, this is the perfect way to cook this healthy veggie side dish!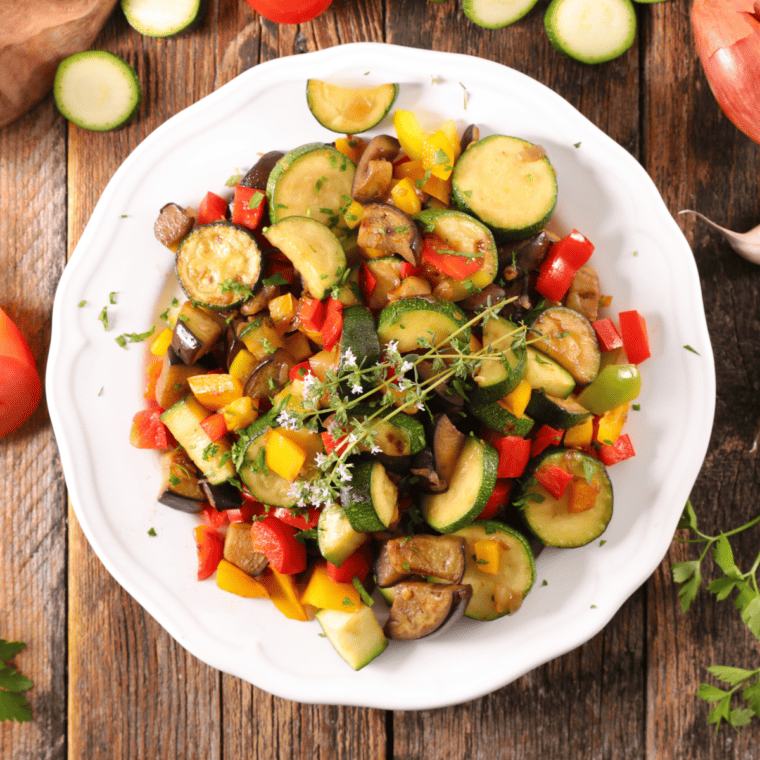 Air Fryer Squash
​Gone are the days when squash was just a side dish, taking a backseat to the main course. Enter the versatile world of the air fryer, which transforms this humble vegetable into a crispy, golden, and utterly delicious delight.
Whether you're a squash enthusiast or just someone looking for a healthier snack or side dish option, cooking squash in the air fryer will reduce cooking time and enhance its natural flavors and textures. Dive into our guide and discover the simplicity and savory results of Air Fryer Squash!
What Is Summer Squash?
Summer squash refers to squashes harvested while still immature, and the rind is still tender and edible. They are distinctly different from winter squashes, harvested at a more mature stage when the rinds have hardened. Some popular varieties of summer squash include:
Zucchini (Courgette): Probably the most popular type of summer squash, zucchini can be green or yellow and has a mild flavor. It's cylindrical in shape and is best when harvested at about 6 to 8 inches in length.
Yellow Squash: This squash is similar in shape to zucchini but has a vibrant yellow color. It can be straight or have a slight curve at the neck.
Pattypan Squash: Recognizable by its flat, round shape and scalloped edges, it is often white, yellow, or green. They're best when small and tender.
Crookneck Squash: This squash has a bulbous bottom and a curved neck, hence the name. It's often yellow with a slightly bumpy texture.
Straightneck Squash: Similar to crookneck but with a straighter neck.
Cousa Squash: A pale green, Middle Eastern variant of summer squash that's a bit shorter and more stout than the common zucchini.
Summer squash is known for its soft skin, high water content, and mild flavor, making it versatile in various dishes, from sautés to bread and raw salads. They're typically available from late spring to early fall, with their peak season being summer.
Ingredient Needed For Air Fryer Squash and Zucchini
These are basic ingredients for a simple air-fried zucchini and summer squash dish. Depending on your preferences, you can customize it with additional herbs, spices, or even breadcrumbs for a different texture.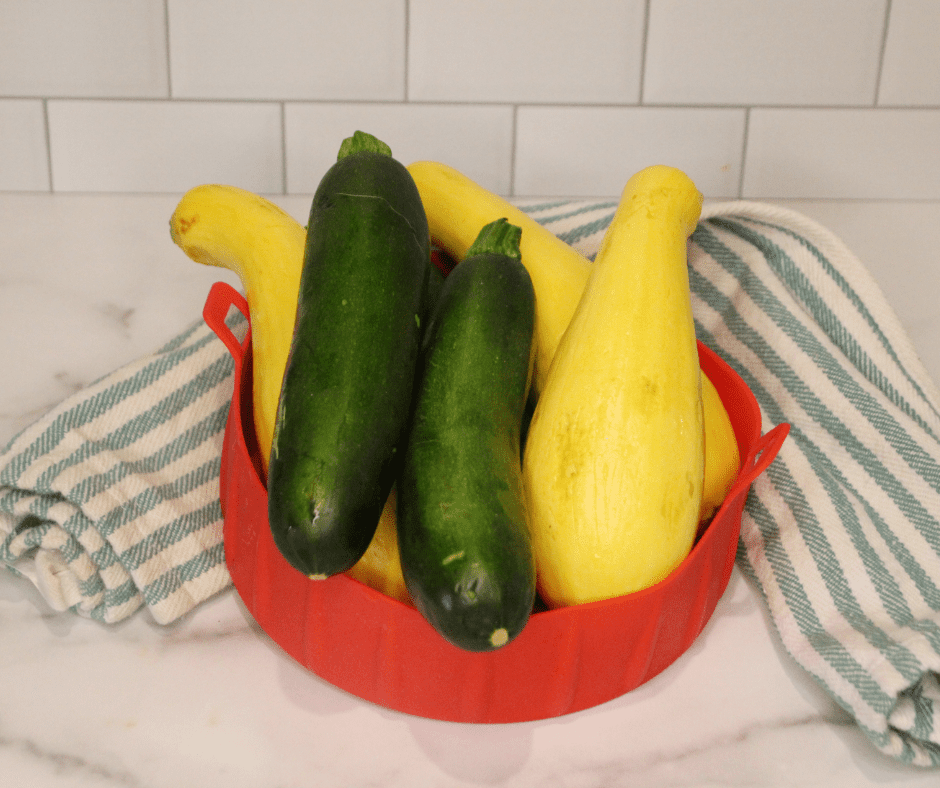 Remember the step-by-step instructions and detailed ingredient list below, in the printable recipe card at the bottom of the post, and nutritional information. ​
Zucchini: A popular summer squash with a mild flavor that tastes great when air-fried. Choose firm, medium-sized zucchinis for best results.
Summer Squash (Yellow Squash): This vibrant yellow squash complements the zucchini and has a slightly sweeter flavor. As with zucchini, opt for medium-sized, firm squash.
Olive Oil or Cooking Spray: To help the zucchini and squash get a crispy exterior when air frying. Olive oil adds a mild flavor and helps the seasonings adhere to the vegetables.
Kosher Salt: Essential for seasoning and bringing out the natural flavors of the zucchini and squash.
Black Pepper: Adds a touch of heat and enhances the overall taste.
Garlic Powder (optional): Provides an added layer of flavor, making the vegetables even more savory.
Parmesan Cheese (optional): A sprinkle of grated parmesan before air frying can give the veggies a delicious, crispy, cheesy crust.
Fresh Herbs (optional): Herbs like chopped parsley, onion powder, dill, or basil can be sprinkled over after cooking for added freshness and flavor.​
How to Cook Squash In An Air Fryer
Cooking squash in an air fryer is a quick and easy process. The high-speed circulation of hot air gives the squash a crispy exterior while keeping the inside tender and flavorful. Here's a step-by-step guide: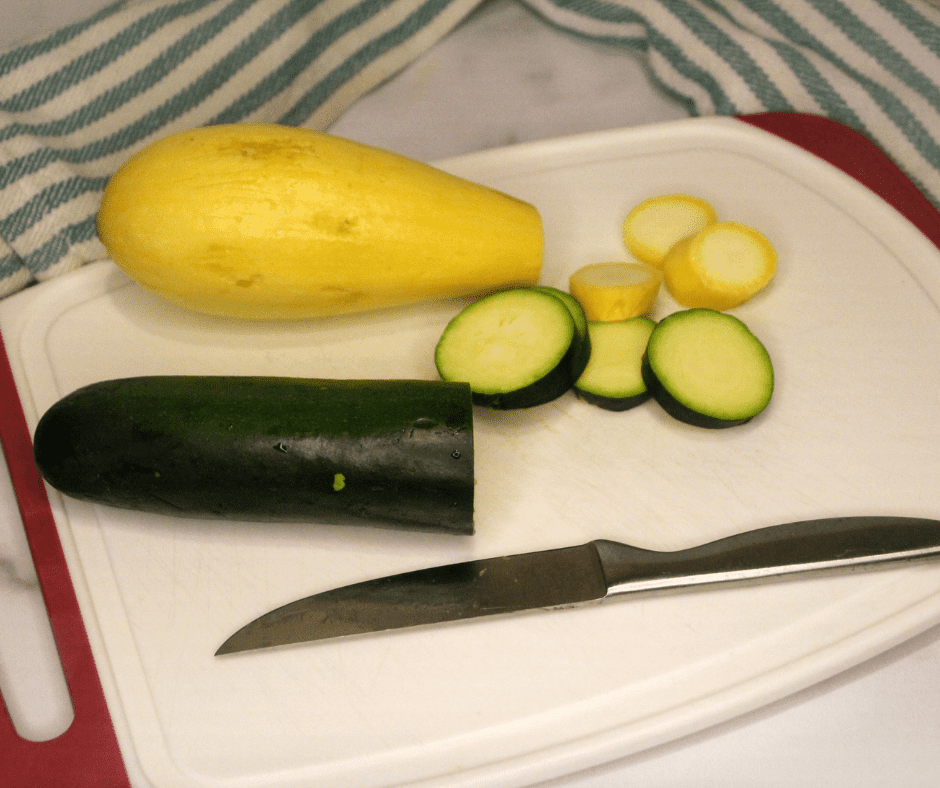 Preparation:
Wash the zucchini and summer squash thoroughly.
Slice the squash into rounds approximately 1/4-inch thick. If you prefer, you can also cut them into half-moons or wedges.
In a large bowl, toss the sliced squash with olive oil or spray them lightly with cooking spray. This ensures they get crispy while cooking.
Seasoning:
Sprinkle the squash slices with salt, pepper, and garlic powder (if using). Toss to coat evenly.
If you're using parmesan cheese, sprinkle it over the slices, ensuring they're evenly coated.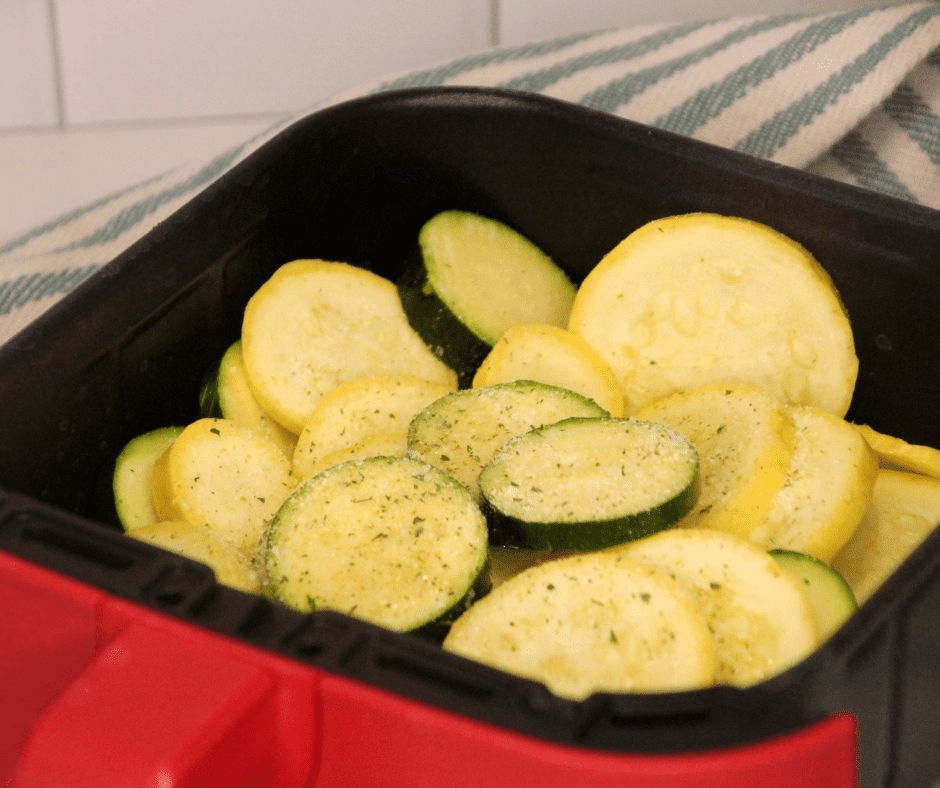 Air Frying:
Preheat your air fryer to 375 degrees F (190°C) for 2-3 minutes.
Arrange the seasoned squash slices in a single layer in the basket of the air fryer. Ensure they're not overlapping to get even cooking.
Set cook time for 10-12 minutes, flipping the slices halfway through until they're golden brown and crispy. Depending on the size of your air fryer, you might need to cook in batches.
Serving:
Once cooked, transfer the squash slices to a serving plate.
Garnish with fresh herbs if desired, and serve immediately.
Note: Cooking times can vary depending on the thickness of your squash slices and the specific air fryer model. It's a good idea to check on them a bit earlier the first time you make them to ensure they don't overcook.
Pro Tips For Air Frying Summer Squash and Zucchini ​
Here are some pro tips to ensure your air fryer squash turns out perfect every time:
Uniform Slices: Keep your slices consistent in thickness to ensure even cooking. Using a mandolin can be a great way to achieve uniformly thin slices.
Avoid Overcrowding: Place the squash slices in a single layer without overlapping in the air fryer. Overlapping or stacking may result in uneven cooking.
Season Creatively: While salt and pepper are basic seasonings, get creative! Add a sprinkle of smoked paprika, Italian seasoning, or a dash of cayenne for a spicy kick.
Freshness Matters: Use fresh squash for the best results. Older, softer squash might release more moisture and not crisp up as nicely.
Check for Doneness: Depending on the thickness of your slices and individual air fryer models, cooking times may vary. Start checking a bit early to ensure they don't overcook or burn.
Use Cooking Spray: If you want to minimize oil, a light spray of cooking spray can be used instead of tossing the slices in oil.
Rotate for Even Cooking: If your air fryer cooks unevenly, consider rotating the tray or flipping the slices more than once for even browning.
Serve Immediately: The squash is the crispiest right out of the air fryer. If left to sit, they might lose some of that delightful crunch.
Experiment with Dips: Air-fried squash pairs wonderfully with various dips. Consider a side of ranch, tzatziki, or a spicy aioli for dipping. Ever pasta sauce!
Reheating: If you have leftovers, the best way to reheat them is back in the air fryer for a few minutes. This will help them regain their crispiness compared to microwaving. Reheat your summer zucchini at 350 degrees Fahrenheit for 3-5 minutes.
Is Squash Keto?
Yes, squash can be incorporated into a ketogenic diet, but you must be mindful of portion sizes and the type of squash you choose. There are several varieties of squash, and their carb content can vary. For those strictly monitoring their carb intake on a keto diet, consuming higher-carb squashes like butternut and acorn in moderation is a good idea. However, zucchini and spaghetti squash can be consumed more liberally. Always check portion sizes and consider your daily carb allowance.
Frequently Asked Questions About Air Fryer Squash and Zucchini Recipe
Can I use any squash in the air fryer? While zucchini and summer squash are popular, you can also air fry other types like butternut or acorn squash. Just remember to adjust the cooking time accordingly.
Do I need to peel the squash before air frying? For zucchini and summer squash, the peel is edible and gets crisp when air-fried, so there's no need to peel. However, for harder squashes like butternut, peeling is recommended.
How do I prevent the squash from becoming too soft or mushy? Avoid cutting the slices too thin, and do not overcrowd the air fryer. Also, make sure not to overcook them.
Can I stack the squash slices in the air fryer? It's best to place them in a single layer for even cooking. If you must stack due to space limitations, stir or rotate halfway through cooking.
What oil is best to use for air frying squash? While any cooking oil will work, olive, avocado, or coconut oil are popular choices for their health benefits and flavors.
How do I clean the air fryer after cooking squash? Let the air fryer cool down. Then, remove the basket and tray and wash them with warm soapy water. If there are stubborn spots, soaking might help.
Can I make other veggie chips using the same method? Absolutely! Using a similar method, you can air fry veggies like sweet potatoes, carrots, or even kale.
How long do air-fried squash slices stay fresh? They are best consumed immediately. If you have leftovers, store them in an airtight container and reheat them in the air fryer to regain crispiness.
Can I use frozen squash slices in the air fryer? Yes, but they might release more moisture. It's best to increase the cooking time slightly and ensure they are in a single layer for even cooking.
Is air frying a healthier method of cooking? Air frying requires significantly less oil than traditional frying methods, making it a healthier alternative.
How to store: let the air fryer squash cool to room temperature and place it into an airtight container or freezer bag. Place into the refrigerator, which will keep for 3-4 days.
More Air Fryer Recipes
​
Air frying has revolutionized how we enjoy our favorite dishes, offering a healthier alternative without compromising flavor or texture. Cooking summer squash and zucchini in the air fryer is no exception.
These vegetables, already lauded for their versatility and health benefits, achieve a delightful crispness and an enhanced, natural flavor when air-fried. Whether enjoying them as a standalone snack, a side dish, or as part of a larger meal, air-fried squash and zucchini offer taste and nutrition. So, the next time you're looking for a quick, tasty, and healthy dish, let your air fryer transform these humble vegetables into a culinary delight.
Don't Forget To Pin: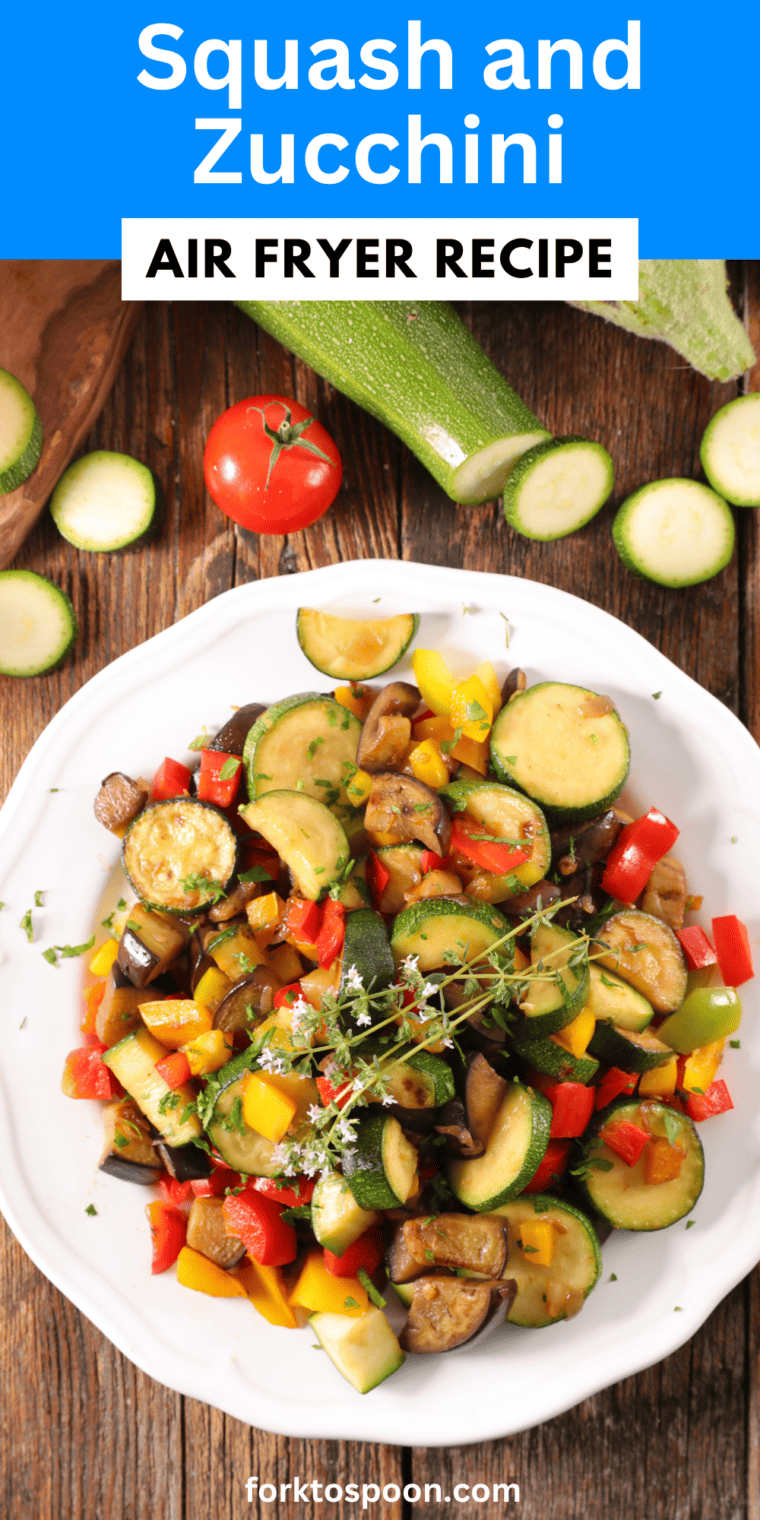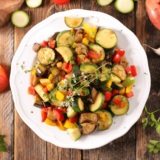 Air Fryer Squash and Zucchini
Description
Do you have an air fryer? If not, what are you waiting for? They're so much fun to use and can help you create some delicious dishes. Today, we're going to show you how to make air fryer squash and zucchini. This is a great side dish that's perfect for summertime cooking. Let's get started!
Ingredients
2

zucchini

2

summer squash

1

tablespoon

olive oil

1

teaspoon

salt

1/2

teaspoon

black pepper

1/2

teaspoon

garlic powder

1/2

teaspoon

parsley flakes
Instructions
Start by preheating your air fryer to 400 degrees F, for 3 to 5 minutes. Slice your zucchini and summer squash, with a sharp knife, and discard the ends.

In a large mixing bowl, mix together the sliced zucchini, summer squash, oil, and seasonings, and mix well, to coat the squash.

Add your squash to the air fryer basket, and cook for 10 to 15 minutes, shaking the basket frequently as it cooks up. Add some fresh seasonings, right before serving.
Equipment
Air Fryer

Cooking Spray

Parchment Paper
Notes
Notes: Storing Cooked Zucchini
Refrigeration: Store cooked zucchini in an airtight container in the refrigerator for up to 3-4 days. Ensure the zucchini has cooled to room temperature before refrigerating to prevent excess moisture buildup.
Freezing: While it's best enjoyed fresh, you can freeze cooked zucchini for longer storage. Place cooled zucchini pieces on a parchment-lined baking tray in a single layer. Freeze until solid, then transfer to a zip-top freezer bag, squeezing as much air as possible. Store in the freezer for up to 3 months. Be mindful that the texture might be a bit softer once thawed.
Reheating: To reheat, microwave for a minute or two or warm in a skillet over medium heat until heated. If frozen, you can reheat directly from the freezer, but it may require more time.
Usage: Cooked zucchini can be easily added to stews, casseroles, and stir-fries or enjoyed as a side dish. If the texture has softened considerably during storage, consider blending into soups or sauces.
Nutrition
Serving:
1
Serving
Calories:
65
kcal
Carbohydrates:
7
g
Protein:
2
g
Fat:
4
g
Saturated Fat:
1
g
Polyunsaturated Fat:
1
g
Monounsaturated Fat:
3
g
Sodium:
592
mg
Potassium:
521
mg
Fiber:
2
g
Sugar:
5
g
Vitamin A:
394
IU
Vitamin C:
34
mg
Calcium:
32
mg
Iron:
1
mg